On the tip of the Nicoya Peninsula, far from Costa Rica's airports and busy cities, is the must-see town of Santa Teresa. Despite its remote location, this jungle-covered beach town is anything but boring. In fact, it grew to be one of the hottest beach towns in recent years, thanks to hip restaurants, boutique shops, beach parties, and awesome beaches.
When choosing where to stay in Santa Teresa, knowing how the area is laid out is important. The town is long and skinny and stretches along Santa Teresa Beach for a few kilometers, so walking around can be super time-consuming. Also, you'll find no sidewalks along the road, so getting around on foot isn't really that ideal.
For this reason, it's best to stay in the area you plan on spending the most time in. The town's central area, Playa Carmen, spanning all the way to North Santa Teresa, is where the action is. Here, you'll be within a short distance of dining places and other conveniences.
For a quieter stay, choose a hotel in Mal Pais or Playa Hermosa. They are much more hidden and will help you escape the hustle and bustle of the main street in Santa Teresa.
In this post, I'll give you more pointers on the pros and cons of each of these areas and the best hotels you can find so that you can choose wisely where to stay in Santa Teresa.
What are the Best Areas to Stay in Santa Teresa, Costa Rica
If you want to make the most out of your visit to the area, you have to know exactly where to stay in Santa Teresa. To make it easier for you, I've listed four of the best neighborhoods here for you to choose from: North Santa Teresa, South Santa Teresa/Carmen Beach, Playa Hermosa, and Mal Pais.
North and South Santa Teresa are technically in Santa Teresa town. If you want a fancy beachside experience paired with vibrant nightlife, then staying in North Santa Teresa is for you. The South is more chilled, though, and is perfect for surfing and budget-friendly activities.
Meanwhile, Playa Hermosa is a ten-minute drive north of Santa Teresa and is a pristine beach known for beginner surfing waves and epic sunsets. It's a more luxurious part of town, though, so expect hotel prices to be pretty steep.
Lastly, Mal Pais is a short ten-minute drive away to the south and is a sleepy fishing village. This is the ideal spot for travelers wanting a laid-back beachside holiday away from the bustling touristy streets.
Keep reading the guide to find out my top recommendations for hotels in Santa Teresa that will fit your budget.
North Santa Teresa
Known as the most upscale area of all Santa Teresa, North Santa Teresa typically has the most going on. It stands close to the main club in town, so staying here means you'll get to party all night long. The area is also home to many beach parties and events hosted in funky bars, hostels, and art galleries.
However, the main draw of North Santa Teresa is its main street lined with clothing boutiques, surf shops, and many great bars and restaurants. They're pretty expensive, though, so make sure to account for them in your vacation budget.
Advantages to staying in North Santa Teresa:
Lively nightlife
Tons of cafes and delicious restaurants to try
Lots of beautiful accommodation, both budget-friendly and luxurious
Disadvantages of staying in North Santa Teresa:
Prices of everything are expensive.
Far from other beaches like Carmen and Mal Pais.
Can be loud on the weekends, so pack some earplugs.
5 BEST Hotels in North Santa Teresa
1. Hotel Nantipa – $$$
Set just steps away from the ocean, Hotel Nantipa is Santa Teresa's definition of a true beachfront vacation. This luxurious accommodation is an incredible beachfront resort that offers you nothing but a trip worth remembering. After all, with private bungalows and easy access to the beach, what's not to love about this boutique hotel?
Walking into your bungalow (which, by the way, is framed by tastefully landscaped flora for privacy), you'll immediately notice its interiors inspired by Costa Rica's coastline. Photos of the beach hang on the wall, and the furnishings have a wooden touch to them. You'll also enjoy the modern amenities found inside the rooms, such as a smart TV, air conditioning, Wi-Fi, and mini-bar.
My favorite part of the bungalow, though, is definitely the patio, where you can take in the ocean, pool, or garden view before heading out to start your day.
From your room, head to the hotel's in-house restaurant, Manzú, which sits on the beach and provides you with a panoramic view of the ocean and the sunset. Grab your à la carte breakfast and try out one of the unique cocktails offered here that mixes Costa Rican tropical fruits with local liqueurs. After having your fill, unwind by the large pool while you mingle with the other guests.
You can find Hotel Nantipa on the northern end of Playa Carmen. Bungalows start at $370 to $465 USD.
Check availability and book Hotel Nantipa online in advance here.
2. Manala Hotel – $$
As soon as you arrive at Manala Hotel, what will immediately catch your attention is its unique architecture and interiors combining Caribbean and Mediterranean styles. You'll also love how the place is framed with lots of local flora, making you feel like you're staying in the midst of the wilderness.
Checking into your bungalow, you'll find that it isn't really close to the other bungalows on the property and is enveloped in more tropical plants, so you'll have lots of privacy. Your suite includes all the standard amenities you'll expect in a hotel: TV, air conditioning, and a well-appointed bath and shower in the bathroom.
But beyond the usual en-suite facilities, you also have access to your very own spacious terrace. Feel free to sit here while you admire the surrounding landscape and the sounds of the local wildlife filling the air.
If you're in the mood to explore Santa Teresa outside of Manala Hotel, you can just walk to the beach, which is only two minutes away. The location makes exploring all of the best things to do in Santa Teresa easy.
Back on the property, enjoy dipping in the large pool after a day exploring. There is also an area for sunbathing by the pool, in case you want to suntan and relax. Finally, if you've had your fill of water for the day, approach the front desk for a relaxing massage or yoga session.
You can book the Twin Bungalow here for as low as $172 USD per night.
You can check availability and book Manala Hotel online in advance here.
3. Fuego Lodge – $$
A family-owned hotel just five minutes from the beach, Fuego Lodge is one of the best hotels in Santa Teresa if you're looking for a tropical staycation that isn't too expensive.
Right on the property, you'll have everything you need to make the most out of your stay. Take a swim in the outdoor pool that's shaded with towering palms. There's also a spacious jungle deck nearby, where you can just chill while surfing the internet and soaking in the beauty of the surrounding gardens.
If you're in the mood for some serious R&R, join the on-site daily yoga and pilates lessons, treat yourself to some Reiki sessions, and indulge in a relaxing massage.
Fuego Lodge has something in store for its active guests, too. Just approach the front desk, and they'll happily arrange your tour of choice, whether that's horseback riding or snorkeling excursions. You can also just go the DIY route, especially since plenty of beaches are within a quick walk or drive away. Some traditional restaurants, coffee shops, and car rentals are also close.
When it's time to hit the hay, head to your cozy room with air conditioning and TV. Some units come with fully equipped kitchens and outdoor seating areas for your convenience.
Rates here begin at $120 USD per night. You can check availability and book Fuego Lodge online in advance here.
4. Point Break Santa Teresa – $
On a budget? Point Break can make your stay in Santa Teresa just as memorable while keeping you within your budget. Choose from the room type that best fits your need (dorm, apartment, double, twin, triple, or quadruple), all of which come with air conditioning, complimentary toiletries, and a safety box.
Unlike other hostels in the area, Point Break's rooms aren't stuffy and are individually designed to make you feel at home. But what you'll really love about your room is its furnished private terrace! Enjoy the view of the surrounding garden here as you breathe in the fresh morning air.
Point Break won't disappoint in terms of on-site facilities, too. If you don't like heading out to the restaurants for breakfast, just make your own in the shared kitchen or use the BBQ facilities. After your meal, feel free to approach the hotel's concierge desk to help you sort out your itinerary for the day. You can also try the surfing lessons hosted by the hotel staff.
If you're more of a DIY kind of traveler, you can just ask for the shuttle to give a lift to anywhere for a surcharge. The beach, which is only two minutes on foot from the property, is open to accommodate you anytime, as well.
A single bed in the dormitory room here costs $13 USD per night. If you want to stay somewhere more private, rates begin at $41 USD per night for the other rooms.
You can check availability and book Point Break Santa Teresa online in advance here.
Related Read: If you're visiting Santa Teresa on a tight budget, check out all these fun free things to do in Santa Teresa!
5. Selina Santa Teresa North – $
Selina Santa Teresa North has been luring surfers, yogis, and artists for years now, and once you arrive at the property, you'll immediately see why. Set along white-sand beaches and surrounded by natural wonders, this humble hotel is designed with bohemian vibes in mind, giving you that authentic beachy feel.
Of course, besides Selina's charming exterior, what will make you fall in love with the property is its guest-centric amenities. Start your morning right with a hearty breakfast at the juice bar before walking down to the beach for your surf class. There are various surf classes and packages you can book directly with Selina, and they are known to offer some of the best surf lessons in Santa Teresa.
For those who like a more laid-back staycation, Selina has your back, too. Chill in the outdoor pool or play billiards with your newfound friends in the communal area. Grab a drink at the on-site bar before heading to the cinema room for some chick-flicks.
There's also a shared kitchen for preparing your meals. If you're working while on vacation, have no fret as Selina offers a coworking space that you can take advantage of (for a small fee.)
Accommodations here are separated into dorms and private rooms, outfitted with basic amenities. The Standard Room with a private bathroom costs around $83 USD per night, while a bed in the dorm rooms ranges from $13 to $25 USD.
You can check availability and book Selina Santa Teresa North either on Hostelworld or Booking.com.
About Staying in South Santa Teresa/Carmen Beach
Playa Carmen, also known as South Santa Teresa, is slightly less prestigious than North Santa Teresa. It has a good beach break that attracts intermediate and advanced surfers. But you'll find dozens of surf schools, too, so if you're a beginner surfer, you won't have to go far to catch some waves.
It was Playa Carmen's picture-perfect, steady waves that initially caught the attention of tourists. Since then, though, it has become more than just a typical beach for surfing.
This tiny little Costa Rican coastal town attracts an increasing number of tourists each year who are looking for adventure, sumptuous cuisine, and beautiful scenery. There are plenty of beach clubs here and a variety of inexpensive and posh restaurants to choose from. It's easily one of the best places to stay in Costa Rica.
Of course, to accommodate the crowd, the beach is dotted with a slew of budget-friendly Santa Teresa hotels and rental villas to stay in.
Advantages of staying in South Santa Teresa:
Prices of hotels are pretty budget-friendly.
Great waves for those learning to surf
Plenty of beach clubs for lazing by the shore to your heart's content
Lots of places to stay in
Disadvantages of staying in South Santa Teresa:
3 BEST Hotels in South Santa Teresa
$$$ – Vista del Alma Boutique – Adult Only
Nothing beats a beachside vacation that takes you away from rowdy and noisy kids. This is exactly what you'll find in Vista del Alma, an adults-only boutique resort sitting on a mountaintop in South Santa Teresa.
There are three things that you'll definitely love about staying in Vista del Alma. The first one is its super idyllic location. Since it's tucked away on a mountaintop overlooking the Pacific, you'll be treated to views of the sunset that are definitely to die for. The beach is still pretty close to you, though. You'll only need to walk for four minutes, and you'll find yourself in the splashing waves.
The second thing that will make you fall in love with this boutique hotel is the villas. I cannot stress this enough, but Vista del Alma's luxurious villas are the perfect base for your honeymoon or romantic vacation in Costa Rica! Right from the comfort of your bed, you'll enjoy wide-open ocean views.
If you want something more luxurious, pick a room with a furnished balcony and chill in the private pool or jacuzzi while watching the sunset. There is also a personal chef ready to serve you a unique cuisine, so you don't have to prep it yourself. Other en-suite amenities at your disposal include an espresso machine, smart TV, mini bar, and fully equipped kitchen.
The third, but definitely not least, thing you'll love about Vista del Alma is its top-notch amenities. Pose for some Instagrammable photos at the terrace that overlooks the beach. Want a break from the scorching heat? Dip in the outdoor pool or book one of the spa treatments in the comfort of your villa.
You can also join the yoga session in the yoga deck facing the ocean to connect with your inner peace.
If you're up for some adventure, you can have the staff organize a tour specifically for you. Just tell them what kind of vacation you want to experience, and they'll tailor-fit a daily schedule of activities to match your expectations.
At Vista del Alma, you have nine villas to choose from, with rates ranging from $360 to $850 USD per night.
You can check availability and book Vista del Alma Boutique Hotel online in advance here.
$$ – Armadillo Eco Bungalows
With its eco-friendly, humble chalets fitted with a mini kitchen and private bathroom, Armadillo Eco Bungalows may be pretty basic at first look. But what this hotel lacks in luxurious amenities it makes up for in its strategic location.
Just a quick three-minute walk from Playa Carmen, Armadillo Eco Bungalows lets you enjoy the beach whenever you like. Surf to your heart's content and stroll barefoot along the beach while watching the sunset.
If you're up for an adventure, head to the nearby Iguana Divers, a dive center only ten minutes by car away. The Mal Pais town center is also within easy reach (20 minutes on foot) should you like to try out more restaurants and go shopping.
Back on the property, enjoy the refreshing tropical garden surrounding your chalet as you drink your cup of tea to cap off the day.
Staying here costs $154 USD to $329 USD, depending on how many you are. You can check availability and book Armadillo Eco Bungalows online in advance here.
$ – Selina Santa Teresa South
When traveling on a budget, Selina Santa Teresa South is one of the best hotels in Santa Teresa for you.
Want to bunk up with other guests to save money? There are shared dorm rooms available here. Want your own space? Then, the standard room is just what you need.
Traveling with family or friends? Book the four-person private family room that comes complete with a bathroom, sitting space, and refrigerator.
Aside from the variety of accommodation choices, what makes Selina South perfect is that you're close to practically everything. There's a handful of restaurants and shops within walking distance. Most importantly, the local beach is just a quick walk down the trail.
After waking up in the morning, you can start your day by grabbing breakfast at the on-site food truck. Head to the beach afterward to join your surf instructor for the day. Feel free to join the other outdoor activities organized by the hotel's sister location, Selina Santa Teresa North.
Back at Selina, join the other digital nomads at the co-work space if you're bringing work with you on vacation. Once you've finished work, laze in the pool that's bordered by beautiful murals.
Afterward, sip on a cocktail at the bar before taking a restorative yoga class at the in-house wellness center. There's a library and massage room on the property, too, if you just want to chill during your downtime.
Like Selina Santa Teresa North, Selina South offers different room types to accommodate different budgets. For the Standard Room with a private bathroom, a night's stay costs $110 USD. A bed in the dorm room starts at $33 USD.
You can check availability and book Santa Teresa South online in advance here.
Related Read: Heading inland to La Fortuna? Check out the best hotels in La Fortuna before you go!
About Staying in Playa Hermosa
A quick ten-minute drive away from Santa Teresa lies the beautiful beach of Playa Hermosa – which literally translates to "Beautiful Beach". Some travelers prefer to stay here since it is close enough to all that Santa Teresa has to offer while also being a quieter and more peaceful location. Considering Costa Rica is such a popular tourist destination, Playa Hermosa offers a good way to escape the crowds.
Just like Santa Teresa, Playa Hermosa is an excellent beach for surfing. It's the perfect spot for beginner surfers as the breaks aren't too overwhelming.
However, since this neighborhood is regarded as Santa Teresa's "Beverly Hills," expect to see a number of luxurious mansions and expensive hotels. There also aren't many establishments here, so you'll still want to visit the downtown area of Santa Teresa where all the action is.
For this reason, I suggest renting some kind of transportation (ATV, car, or scooter) to make getting around easier. The road to Playa Hermosa is not in great condition, though, so a vehicle with plenty of ground clearance is highly recommended.
If you prefer to save and just walk everywhere, then you're probably best off staying in North of South Santa Teresa instead.
Note: there are a few "Playa Hermosas" in Costa Rica; this one is specifically located just North of Santa Teresa.
Advantages to staying in Playa Hermosa:
Beautiful beach
You'll get to enjoy the peace and quiet
Plenty of wildlife to encounter
Waves are great for surfing
Still has a sense of community among locals despite the influx of tourists
Disadvantages of staying in Playa Hermosa:
Need your own transport
Not many choices for places to eat or things to do.
Have to go to Santa Teresa if you want somewhere fancy to dine in or wish to explore the area.
Only expensive villas to stay in.
The Best Hotels in Playa Hermosa
$$$ – Aguamadera Ocean View Villas
Set amidst tropical gardens and just a nine-minute walk from the beach, Aguamadera Ocean View Villas is the ultimate luxury retreat for traveling families. This is because, unlike other Santa Teresa hotels where you share amenities with other lots of other guests, this property lets you have a way more personalized expereince of the facilities and property as there are four private villas to choose from.
At your villa, enjoy a refreshing swim in the private outdoor pool, play some card games in the spacious living room, and prepare a feast in the fully-equipped kitchen or outside BBQ grill. Apart from having exclusive use of the amenities, what will make you fall in love with your villa is its cozy open-air design combined with rustic jungle elements.
The details at Aguamadera Villas will blow you away. The different spaces feature artisan rugs, local furnature, and homemade lighting fixtures and mirrors made from natural elemetns. It feels as though the jungle has stepped inside. Also, if you like exploring the area by yourself, you can just rent a bike or car from the property, too.
At Casas de Aqua, you have four villas to choose from, Villa Raíz, Villa Cedros, Villa Almendros, and Villa Pochoto, for as low as $534 USD per night.
You can check availability and book Aguamadera Ocean View Villas online in advance here.
$$ – Lua Villas
An apartment hotel just three minutes on foot from Hermosa Beach, Lua Villas is a true retreat in the middle of the wilderness. It's so close to the beach and the jungle that there are plenty of activities right at your fingertips, from quad biking through the jungle to catching some waves in the ocean. The best part is that Lua Villas can arrange all these tours for your convenience.
But aside from putting you near the beach, what makes Lua Villas unique from the other Santa Teresa hotels in this list is its rooms (or "villas"). The first thing that will catch your attention is the villas' Balinese-style architecture that incorporates a sense of modernity. In your unit, you'll have air conditioning for the hot summer days, a well-appointed kitchen for prepping your meals, and unique stone sinks imported all the way from Bali.
If you want to make the most out of your stay, make sure to get the unit with a terrace or patio, so you can enjoy a view of the pool or garden.
Exploring the property grounds, you'll come across the hotel's outdoor jacuzzi, where you can dip and chill whenever you like. Want to reconnect with your inner peace? Stay grounded with the free private yoga lessons offered on the yoga deck. If you're feeling lazy and want to relax with a good book, lounge on the hammocks as the refreshing jungle breeze cools you off.
Lua Villas offers three types of accommodations for all kinds of travelers. There are two-story villas that can sleep up to five people and cost as little as $208 USD to $282 per night. If you're with family but find the villas too big, there are also apartments that come complete with a terrace, bathroom, and kitchen for $188 to $239 per night. For visiting couples, the perfect unit is the Studio, a loft-style space that includes a king-size bed and an outdoor balcony for $99 to $149 USD per night.
You can check availability and book Lua Villas online in advance here.
Mal Pais
Mal Pais is a small fishing village that sits just south of Santa Teresa, and they're so close that many tourists typically see Santa Teresa, Mal Pais, and Playa Carmen as one town. But while Santa Teresa and Playa Carmen have evolved to become two of the country's most popular holiday destinations, Mal Pais has preserved its rustic and laid-back charm.
If you're planning a trip to Santa Teresa and wish to avoid the touristy parts of town, consider staying at Mal Pais instead. This tiny fishing village is only ten minutes south of South Santa Teresa, but it's a world apart from the bustling downtown area. This means you'll be able to immerse yourself in nature and enjoy a slower pace of life here.
Unfortunately, staying in this calm bay also has its drawbacks: there are few lodging options, and the only activities available are surfing and fishing (waves are too big for swimming). Also, if you want to visit the banks, pharmacies, supermarkets, etc. in Santa Teresa, you'll need a car or transoirt (ATVs are a popular choice in Santa Teresa.)
But if you aren't bothered by these downsides, then Mal Pais is the best spot for you.
Advantages of staying in Mal Pais:
Quiet relaxing holiday away from the hustle and bustle
World-class surfing
Excellent yoga studios
Disadvantages of staying in Mal Pais:
Not many restaurants and shops around, so you'll need a car to get to other beaches and Santa Teresa.
Not a lot to do.
The waves are too big to swim in.
Unpaved roads, so expect to get dusty
3 BEST Hotels in Mal Pais
$$$ – Casa Chameleon Hotel Mal Pais – Adults Only
Want a luxurious staycation that's far away from it all? That's exactly what you'll find at Casa Chameleon Mal Pais. Nestled in a remote corner of the jungle and reachable only via a 4×4 road, this adults-only Santa Teresa hotel combines the thrill of the waves with thriving wildlife, making it an ideal destination for explorers and nature lovers alike.
Each of the villas here comes with its own unique character that blends seamlessly with nature, so you get the feeling of being alone in the jungle without giving up any modern comforts. Right from your room, you're treated to an panoramic view of the ocean in the distance.
Spend the day lounging in your personal infinity-edge swimming pool or on the natural stone terrace as you take in the beauty of the surrounding jungle. Pose for some photos in the bedroom with the villa's eclectic décor as your backdrop. If that's still too simple for your taste, make sure to book the villa with an outdoor shower and a handmade bathtub. Other en-suite amenities at your disposal include a mini-bar, hammock, dining area, and coffeemaker.
Outside of your villa, you'll get to enjoy more of what Casa Chamaleon has to offer. Dig into the hearty breakfast and lunch at the in-house restaurant, where you can watch your private chef prepare the meals. Want to enjoy some serious R&R? Head to the shared pool that also offers a stunning view of the ocean, or treat yourself to a full-body massage.
You'll never run out of things to do outside of the hotel, too. Go surfing on the nearby beach, explore the Curu Wildlife Refuge, or explore the area in an ATV.
The Villas here start at $356 USD per night, while the Villa Suites start at $716 per night.
You can check availability and book Casa Chamaleon online in advance here.
$$ – Las Mangas
If you're sick of staying in stuffy hotel rooms, Las Mangas is the breath of fresh air that you need. This one-bedroom holiday home is located just four minutes on foot from the beach, providing you with the privacy and exclusivity you're craving for.
Your unit includes all the standard amenities you need for a comfortable stay. You'll have air conditioning to make the hot days tolerable, a kitchen for making your meals, and a work desk for checking emails. There's also a furnished patio, where you can lounge and listen to the sound of the local wildlife.
Thanks to Las Mangas' close proximity to the beach, you have plenty of water activities lined up. Go fishing along the coast, swim to your heart's content, and try surfing in the nearby hotspots.
Back at Las Mangas, you can end your day with a relaxing full-body massage right in your bedroom.
You can book this entire holiday home for $155 USD per night (2-night minimum) – a great deal when it comes to holiday homes in Santa Teresa!
You can check availability and book Las Mangas online in advance here.
$$ – Cuatro Vientos Lodge & Apartments
If you're after a rad, beachy escape with a side of pura vida, Cuatro Vientos Lodge & Apartments is where you want to be. This property sits just 10 minutes walking from the beach and on a forested hill amid the unspoiled jungle of Mal Pais.
While many areas of Santa Teresa can be noisy and dusty from the traffic off of the main road you won't have any issues with that here as the location is far enough from the road.
To start your mornings, make your breakfast in your room's well-equipped and open kitchen before exploring the property.
There a lots of common areas so if you're looking just to laze all day, head to the outside patio or lounge from one of the hammocks shaded by swaying trees.
When you finally retreat to your room, you'll notice it's perfectly clean with modern white wash walls and concrete floors.
Other en-suite facilities to make your stay more convenient include air conditioning, a dining area, high speed wireless internet, and some units have their own balcony or terrace.
If you're into yoga you can sign up for one of the classes or have the staff help you rent an ATV so you can explore the area more in depth.
This stay has a nice coffee place with delicious food and a very good pizzeria just around the corner! There is also a supermarket within five minutes of a walk.
You can choose from the Double Room, Luxury Triple Room, Quadruple Room, or Apartment, costing between $99 USD to $228 per night.
You can check availability and book Cuatro Vientos Lodge & Apartments online in advance here.
Getting Around Costa Rica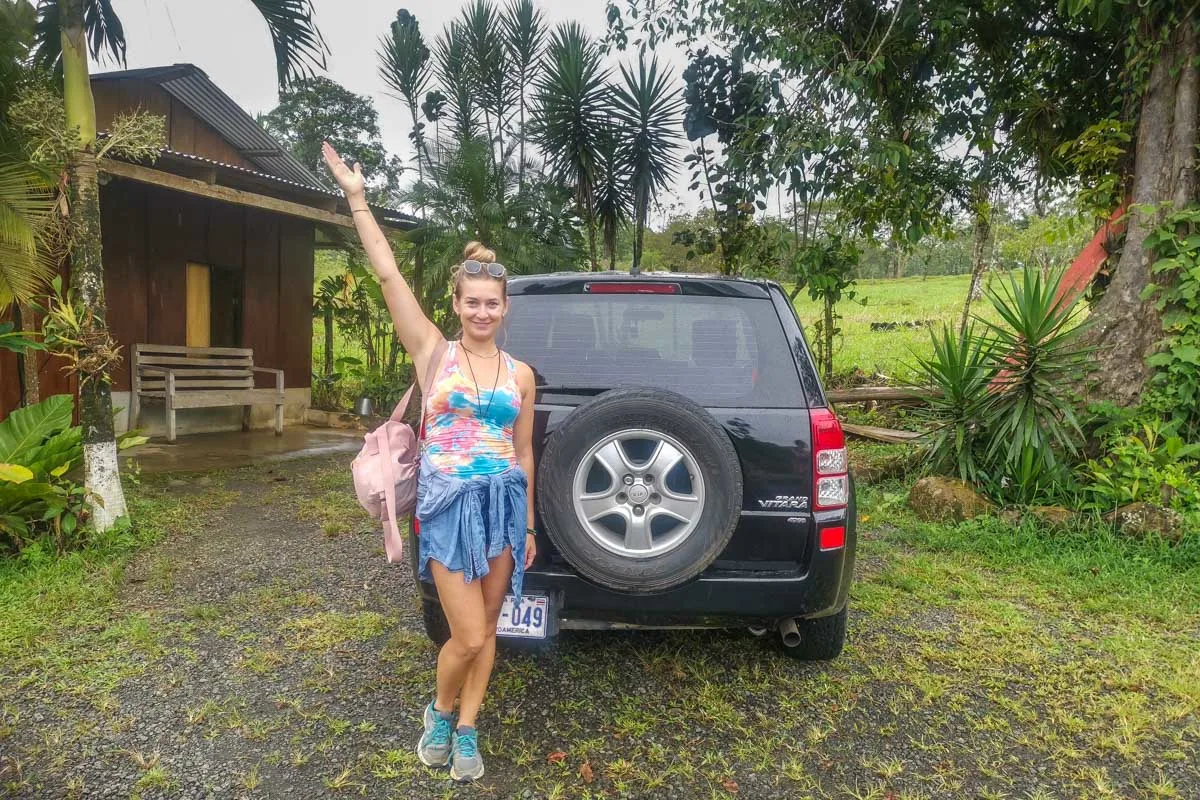 How you choose to get around Costa Rica is one of the biggest decisions you'll make when planning your holiday here! How you do it depends on your budget, travel style, and comfort level.
Renting a Car
Without a doubt, the number one way to explore Costa Rica is in a rental car. We book rental cars on the Discover Cars website as we have had good experiences with them in the past.
One of the things you need to watch for when renting a car in Costa Rica is the mandatory insurance that the government requires you to have. There are a lot of very cheap rentals that don't include this mandatory insurance (TPL) in the original booking price, but there are also ones that do. To avoid additional surprise charges when you pick up your rental car, be sure to rent a car that includes the mandatory insurance when you book.
Thankfully, on Discover Cars it's easy to tell apart the companies that include the mandatory insurance and those that don't. The trick is you can't pick any car on their website. In the picture below, you can see this rental car, with pick up in Jaco, includes the TPL. That means the mandatory insurance is included in the price. Any cover you get above that is extra.
Of course, I still suggest getting the full coverage offered by Discover Cars, which covers you even more.
You can browse cars on Discover Cars here.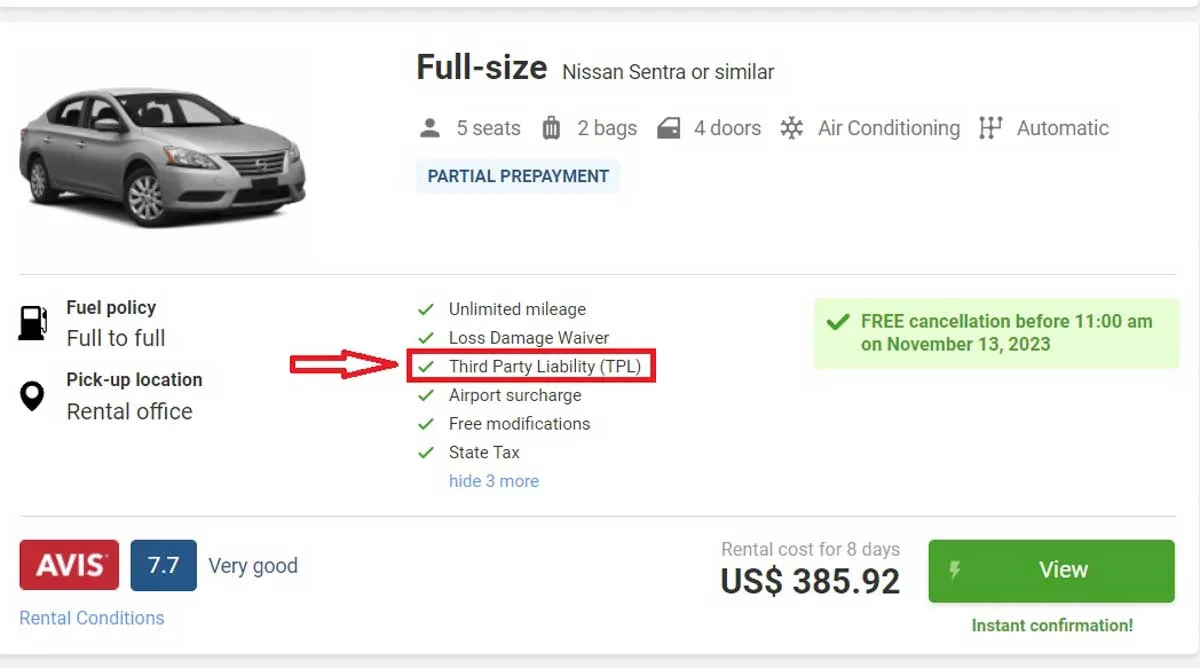 Book Shuttles
If renting a car isn't in your budget, you don't feel comfortable driving in Costa Rica, or you just don't like driving, shuttles are the next best option. There are hundreds of shuttle routes available all over the country, and they are very affordable.
Shuttles in Costa Rica are specifically for tourists and often include pick up and drop off at your selected hotels and airports. The drivers also speak some English, and the vehicles have air conditioning. You'll also be guaranteed a seat when you book a shuttle (which isn't the case with the public bus system.)
To get the best price, use the website Bookaway. They compare all the offers and prices of shuttle companies in Costa Rica so you get the best price! Honestly, we have saved so much money using Bookaway!
You can search for shuttles online on Bookaway here.
Public Bus
Lastly, you can use the public bus system. On short journeys, such as from San Jose to La Fortuna or Uvita to Manuel Antonio, this system is great. However, the longer the journey the more hassle and time spent on a bus. It's undoubtedly best to save the public bus in Costa Rica for short and straightforward trips!
The public buses are definitely the cheapest way to get around Costa Rica, but they are not always very reliable and schedules often change without notice and delays are to be expected. The buses can also be very crowded and hot – so just be prepared!
It's also good to speak some Spanish if you plan on riding the public bus since most drivers and ticket booth operators don't speak English.
Invest in Travel Insurance
Paying out of pocket for trip interruptions or medical treatment will add to what might already be a stressful situation. Not to worry, SafetyWing is here to help!
This affordable travel and medical insurance is perfect for digital nomads, long-term travelers, and remote workers. The best part is that it only costs $45 USD per 4 weeks.
To start coverage you must purchase it after leaving your home country. We usually purchase it as soon as we land at the airport.
Since using SafetyWing we've been reimbursed thousands of dollars when we've gotten sick. During the pandemic, they've even gone as far as to pay for our last-minute flights back to Canada before the border closed!
Pura Vida!
Santa Teresa is a little piece of paradise nestled on the Nicoya Peninsula, wrapped in a thriving, tropical wilderness. Over the last several years, it's been on a lot of travelers' radar, thanks to its mellow hippy culture and stunning surfing beaches.
If you're one of those people who's been itching to experience what this little seaside town has to offer, I hope that this comprehensive guide has been helpful in your search for where to stay in Santa Teresa.
If you enjoyed this blog be sure to read some of our other related articles including:
FUN Things to do in Santa Teresa