Costa Rica is known for its diverse regions. From rolling green hills, white sand beaches, and an abundance of wildlife, there is no shortage of beautiful areas. One of the most striking areas is the cloud forest of Monteverde. Only about 1% of the world's forests are cloud forests, so this area is rare in form, making this a must-see when you're traveling to Costa Rica!
One of the unique aspects of the Monteverde Cloud Forest is that it is best experienced at night! As the temperatures drop, many nocturnal animals come out making it a completely different atmosphere than visiting in the daytime.
I don't know about you, but tromping through the jungle at nighttime on my own sounds a bit spooky. Luckily, there are some great night tours that take you into the cloud forest with local guides who are experts in the area. We've put together a list of the 5 best night tours in Monteverde so you add this to your Costa Rica itinerary!
About Monteverde Cloud Forest
The Monteverde Cloud Forest Reserve has been around since 1972, making it one of the oldest private reserves in Costa Rica. It all started when a grad student named George Powell noticed how hunters and squatters were harming the Monteverde area. So, he came up with the brilliant idea of creating a reserve to protect it!
At first, not many people were into it. In 1975, only about 431 people, mostly biologists, visited the reserve. But then, in the late '70s, a small bed and breakfast opened up, and things started to change. The '80s brought a tourism boom, and now, around 250,000 people visit the reserve every year!
Let me tell you, Monteverde is a sight to behold. The name itself means "green mountain," and trust me, it lives up to its name. The whole place is covered in this lush, vibrant forest that just takes your breath away.
The Monteverde Cloud Forest Reserve is made up of 26,000 acres of cloud forest. At this point, I should probably stop and explain what a cloud forest is…
Imagine a tropical forest constantly surrounded by thick mist and fog. It's so damp and humid inside that it's like the forest is wrapped in clouds. That's what a cloud forest is like, and Monteverde is one of them!
Monteverde Cloud Forest Reserve is divided into six ecological zones, each with its own unique climate and ecosystem. And guess what? It's home to over 100 mammal species, 400 bird species, and more than 2,500 plant species. Can you believe that?
And let me tell you, the cloud forest is alive both day and night. A lot of the animals that call it home are creatures of the night, so it's just as exciting after the sun goes down.
Quick Pick: Our Top Choice for a Night Tour in Monteverde
While we love all of the night tours that we detail below in this blog, if we have to choose just one, this tour would be our top pick!
Why? Well, this tour really is the most extensive, lasting over 6 hours in total! It starts in the afternoon so you'll get to experience the cloud forest both in the daytime and after dark. It also includes snacks and pick-up from most hotels in the Monteverde area. You can read all about it and book the tour online here!
The BEST Night Tours in Monteverde
1. 2-Hour Night Tour in Monteverde (the cheapest tour!)
As the sun sets, the cloud forest starts to get active! This is the best time to begin a night tour. 80% of the animals in the Monteverde cloud forest are nocturnal, so this tour is a great way to see wildlife and the forest in its lively state.
This tour departs at 6 pm every evening, the perfect time to begin seeing animals. It only accommodates up to 8 travelers, making it for a small group experience where you are able to ask questions and learn about the animals and area!
The highlight of this tour is the naturalist guides who have an eye for wildlife. They always seem to spot insects and critters hidden in the bushes and are able to point them out, so you too can see these wonders! You might catch a glimpse of sloths, tree frogs, bats, snakes, and more.
This tour also offers roundtrip transportation from your hotel in the Monteverde area. It is welcome to all travelers, but you should be prepared for a couple of hours of jungle walking. It is also recommended to bring warm clothes because the temperature certainly drops when the sun goes down!
This tour can be reserved online here for only $30 USD per person, and they offer discounts for seniors and children. It is the most affordable of all of the night tours in Monteverde, so it's a great pick for those on a limited budget!
Related Read: Traveling Costa Rica on a budget? Find out if Costa Rica is expensive and how to save a few dollars!
2. Day and Night Tour Combo in Monteverde (most in-depth tour!)
Seeing the cloud forest during the day is very different than at night, so we love this day-and-night combo tour! Not only does it give you a whole day of exploration, but it also allows you to experience the area in both ways.
Your tour will start in the afternoon where you will get to choose to visit the Monteverde Reserve, Curi Cancha Reserve, or SkyWalk bridges. Each of these places has tons of wildlife and unique beauty to the area, so you can't go wrong either way!
Once the sun goes down, you will head into the cloud forest for a natural history walking tour and to spot some animals.
My favorite part of this tour is that it's completely private. It is just you and your group, plus the guide so you can go at your own pace, get one on one time with the expert, and really tailor it for you!
This tour includes roundtrip transportation from your accommodation, entrance fees, and authentic Costa Rican snacks, which are always refreshing and delicious. This tour lasts about six hours, so you really get to see a lot during that time! It can be booked online here for $205 USD.
3. 2.5-Hour Monteverde Cloud Forest Night Walk (best reviews!)
The Monteverde cloud forest is known as "one of the 7 wonders of Costa Rica", especially at night! This two-hour Cloud Forest Night Walk tour gives you a great look into this unique ecosystem.
This tour begins by picking you up from your hotel in Monteverde or Santa Elena. You will then head into the Monteverde cloud forest with your expert guide to begin the nighttime trek!
The forest becomes alive at night, making this tour a truly unique experience. Your guide will lead the group to spot all sorts of nocturnal animals, such as raccoons, tarantulas, sloths, olingos, and kinkajous. Many of these critters are local to Costa Rica, so spotting them can only happen here. It is honestly impressive how well the guides know the area and can find tiny insects in the dark jungle!
This tour accommodates up to 15 travelers, which is enough to still feel small, but also gives you the chance to make new friends and share in this incredible experience. It is open to all ages of travelers. It isn't a strenuous trek, but it is about a two-hour walk, so be sure to wear comfy and warm clothing!
This tour can be reserved online here for $42 USD per person.
Related Read: While in the area, be sure to dine at some of the best restaurants in Monteverde!
4. Monteverde Night Tour at the Monteverde Wildlife Refugee (the original night tour in the area!)
Here is another great night tour that takes you into the nighttime wonders of the cloud forest. You'll be traveling with a certified tour guide who will share all their knowledge of the nocturnal animals and the biodiversity of the forest.
This tour gives a little more flexibility, as you can choose to depart at 6 pm or 8 pm. Each tour accommodates 10 people, keeping it nice and small so you can really get to know the guide and the area. I personally love small tours, as I feel like I get to ask questions and experience the area in an intimate way!
You will meet your guide at the Monteverde Wildlife Refuge (one of the best wildlife rescue centers in Costa Rica!), which is a 55-acre property dedicated to preserving the biodiversity of the cloud forest. It is home to a variety of bird species, insects, reptiles, and mammals. This location is also one of the first organizations to start night tours! They are experts, to say the least.
You'll spend two hours exploring the protected area, enjoying the environment, and learning a lot along the way! This tour includes your guide and entrance fees. It is open to travelers ages 5 and older and can be booked online here for $45 USD.
5. Monteverde Coffee, Chocolate, and Night Tour (best combo tour!)
Not only is the Monteverde area home to the cloud forest, but it is also the ideal conditions for coffee and chocolate production. This Coffee, Chocolate, and Night Tour might be my favorite on this list because you get to experience it all in one day!
You'll meet at Don Juan Tours in Santa Elena, which is actually a huge coffee and chocolate farm! Here, you'll go through the entire production process of these two important (and delicious) exports. The whole area is beautiful, and it was insightful to see the process from beginning to end. This part ends with tasting the coffee and chocolate – which was my favorite part by far!
The tour will then head into the Santa Elena reserve, where your guide will help spot animals and give lots of information about these nocturnal creatures.
What we love about this tour is it is conveniently located in Santa Elena, and you get to see more than other tours. The guides were very accommodating and executed to share their passion for farming and the biodiversity of the area. This tour gives you a good look at what makes Monteverde so unique!
This 2.5-hour tour can be booked online here for $50 USD. Be sure to reserve your spot before it fills up!
Related Read: There are a few different coffee tours in Costa Rica that you should consider joining!
Other Things to do while You're in Monteverde
Where to Stay in Monteverde, Costa Rica
Monteverde may be a small tourist town but there are some great hotels in Monteverde to choose from!
If you're budget traveler or backpacker, there are lots of nice hostels in Monteverde. If you like modern features and outstanding facilities, Selina Monteverde is the best option. The hostel is beautiful, has great reviews, and lots of activities including yoga. The only downside is Selina is a high-end backpacker hostel. You can book Selina on Booking.com or Hostelworld.
For the more budget-conscious, I recommend the Monteverde Backpackers which is almost half the price and includes breakfast. You can book Monteverde Backpackers on Booking.com or Hostelworld.
For those well past their backpacking days who can spend a little more, I love Camino Verde B&B Monteverde Costa Rica. This boutique hotel has beautiful rooms, deck with magnificent views, and includes breakfast. It's a comfortable hotel that comes at a great price.
If you're a luxury traveler I highly suggest choosing what we call a "destination hotel". These hotels are an attraction in themselves because of the unique experience they offer. In Monteverde one of the best is Chira Glamping Monteverde which offers luxury cam
Getting Around Costa Rica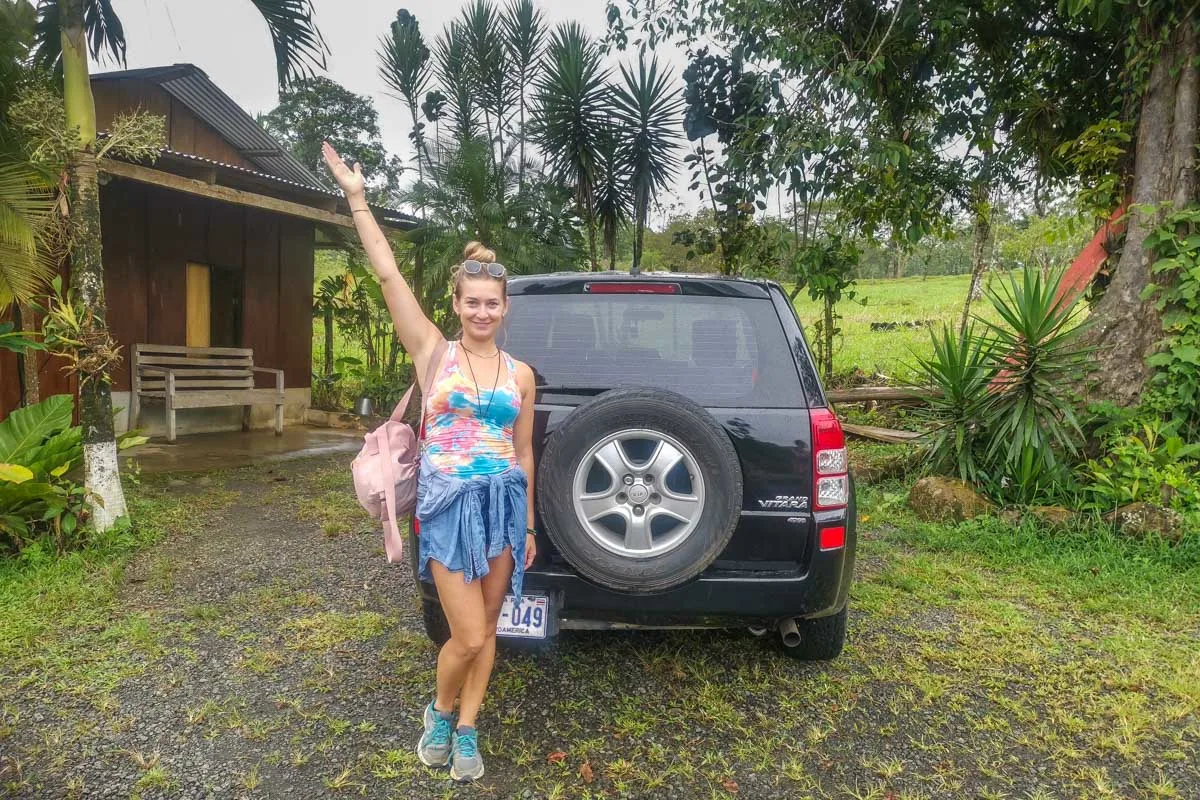 How you choose to get around Costa Rica is one of the biggest decisions you'll make when planning your holiday here! How you do it depends on your budget, travel style, and comfort level.
Renting a Car
Without a doubt, the number one way to explore Costa Rica is in a rental car. We book rental cars on the Discover Cars website as we have had good experiences with them in the past.
One of the things you need to watch for when renting a car in Costa Rica is the mandatory insurance that the government requires you to have. There are a lot of very cheap rentals that don't include this mandatory insurance (TPL) in the original booking price, but there are also ones that do. To avoid additional surprise charges when you pick up your rental car, be sure to rent a car that includes the mandatory insurance when you book.
Thankfully, on Discover Cars it's easy to tell apart the companies that include the mandatory insurance and those that don't. The trick is you can't pick any car on their website. In the picture below, you can see this rental car, with pick up in Jaco, includes the TPL. That means the mandatory insurance is included in the price. Any cover you get above that is extra.
Of course, I still suggest getting the full coverage offered by Discover Cars, which covers you even more.
You can browse cars on Discover Cars here.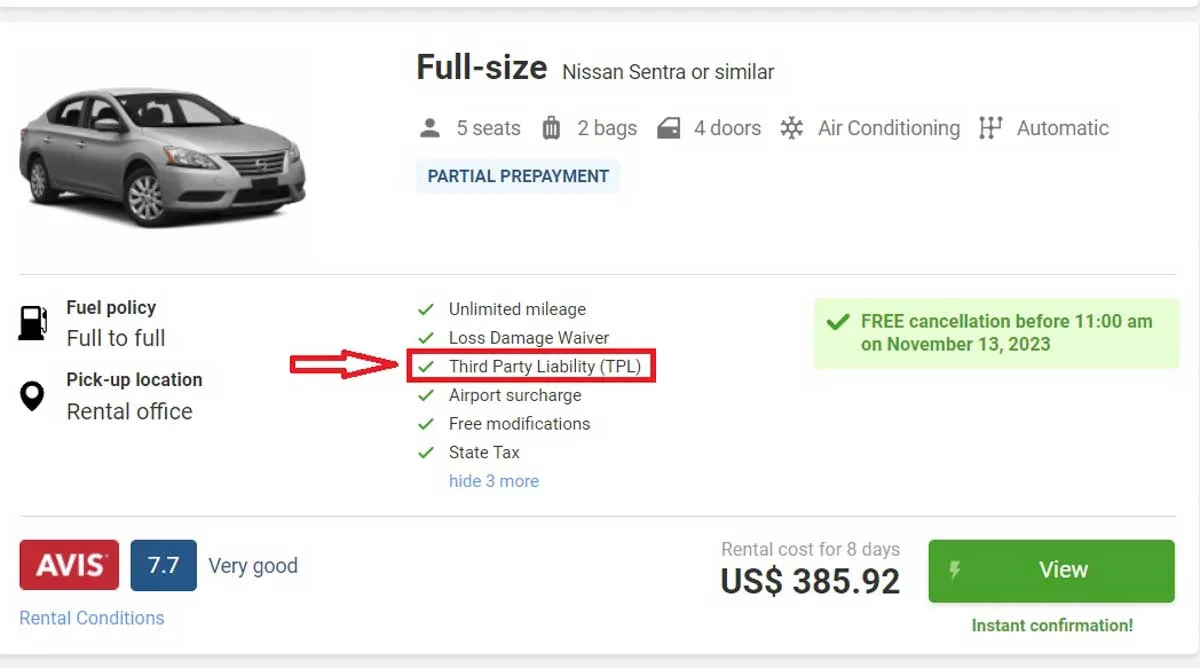 Book Shuttles
If renting a car isn't in your budget, you don't feel comfortable driving in Costa Rica, or you just don't like driving, shuttles are the next best option. There are hundreds of shuttle routes available all over the country, and they are very affordable.
Shuttles in Costa Rica are specifically for tourists and often include pick up and drop off at your selected hotels and airports. The drivers also speak some English, and the vehicles have air conditioning. You'll also be guaranteed a seat when you book a shuttle (which isn't the case with the public bus system.)
To get the best price, use the website Bookaway. They compare all the offers and prices of shuttle companies in Costa Rica so you get the best price! Honestly, we have saved so much money using Bookaway!
You can search for shuttles online on Bookaway here.
Public Bus
Lastly, you can use the public bus system. On short journeys, such as from San Jose to La Fortuna or Uvita to Manuel Antonio, this system is great. However, the longer the journey the more hassle and time spent on a bus. It's undoubtedly best to save the public bus in Costa Rica for short and straightforward trips!
The public buses are definitely the cheapest way to get around Costa Rica, but they are not always very reliable and schedules often change without notice and delays are to be expected. The buses can also be very crowded and hot – so just be prepared!
It's also good to speak some Spanish if you plan on riding the public bus since most drivers and ticket booth operators don't speak English.
Invest in Travel Insurance
Paying out of pocket for trip interruptions or medical treatment will add to what might already be a stressful situation. Not to worry, SafetyWing is here to help!
This affordable travel and medical insurance is perfect for digital nomads, long-term travelers, and remote workers. The best part is that it only costs $45 USD per 4 weeks.
To start coverage you must purchase it after leaving your home country. We usually purchase it as soon as we land at the airport.
Since using SafetyWing we've been reimbursed thousands of dollars when we've gotten sick. During the pandemic, they've even gone as far as to pay for our last-minute flights back to Canada before the border closed!
Pura Vida!
While there are plenty of fun things to do in Monteverde and Santa Elena, a night tour or night walk should definitely be on the top of your list! Seeing nocturnal wildlife safely in the dark is such a unique experience and one you're sure not to forget anytime soon.
If you want more tips and advice for visiting this area, be sure to browse all of our blogs about Monteverde including a couple related reads below:
How to Stay Safe in Costa Rica
The BEST Places to go Snorkeling in Costa Rica