This blog may contain affiliate links. Read our disclosure policy for more info.
The tiny town of Tortuguero lies on the northern Caribbean coast of Costa Rica. Both the town and Tortuguero National Park are named after marine turtles (Tortuguero means turtle.) This area of the country is one of the most important nesting sites in the Caribbean for various species of sea turtles.
What's unique about Tortuguero is that it's a collection of canals and rivers interspersed with dense jungle and beaches. There's no road here! So you'll either be getting to Tortuguero by flying in a small aircraft from San Jose or by boat from nearby cities such as Puerto Limon.
The main draw to Tortuguero is the turtle nesting season – this is one of the best places to see turtles in all of Costa Rica! However, even outside the season, you should also explore the amazing Tortuguero National Park. Because of the remote location, this is one of the wildest national parks in the country. Some call it the "Amazon" of Costa Rica because you will feel transported to the rainforest!
Exploring the park is certainly one of the most popular things to do in Tortuguero, however, there are other activities to enjoy.
To help inspire and plan your upcoming visit, here are the 14 best things to do in Tortuguero. I've also included other essential tips for visiting in this complete guide to Tortuguero National Park.
Don't have time to read the full article? Check out our list of our absolute favorite things to do in Tortuguero:
Explore Tortuguero National Park by water on this kayaking tour.
Take this guided day hike through Tortuguero National Park to learn about the park's flora and fauna.
Visit the Turtle Museum (Sea Turtle Conservancy Visitor Center).
Stroll along the shore at Tortuguero Beach.
Hike Cerro Tortuguero (Turtle Hill)–it's the highest peak on the Caribbean side of Costa Rica!
About Tortuguero National Park, Costa Rica
As I mentioned above, Tortuguero is one of the most important turtle nesting sites in the world. Every year from July until the end of October, thousands of sea turtles come to the beach here to lay eggs. The national park was established in 1975 after a sea turtle researcher alerted the Costa Rican government about how important this area was.
Now, 35 kilometers (22 miles) of the beach is set aside as part of the national park. While sea turtle populations have decreased around the world, nesting here has actually gone up 500% since the park was created! Now, 20,000 green sea turtles nest here each year – the largest remaining colony in the world.
Besides the incredible turtles, other wildlife in Tortuguero is abundant with everything from howler monkeys to jaguars to sloths. You might also spot some of the 300 species of birds or 111 species of reptiles. This protected area is home to so many amazing critters!
You can explore the park on your own without a tour, but there are some once-in-a-lifetime tours offered here – including seeing the sea turtles that make this area famous. The park is open every day from 6 am to 4 pm – but the entrance closes at 12 pm for an hour for lunch.
Admission to Tortuguero National Park is $15 USD for adults and $5 USD for kids under 12. Just note that if you bring cash, bills over $50 USD are not accepted, so have smaller bills or a credit card on hand.
This area also has unique and fun activities around Tortuguero Village like a floating restaurant, a cocoa tour, and hiking up an inactive volcano if you want to base yourself here for a few days.
If you don't plan to stay in the Tortuguero area, I also have information below on day trips to Tortuguero National Park from either San Jose or Puerto Limon. That way, you can still see this amazing area but return to a home base elsewhere.
Tortuguero, Costa Rica FAQs
Things to do in Tortuguero, Costa Rica
1. Kayaking tour in Tortuguero National Park
The most ideal way to explore Tortuguero National Park is from the water! I recommend booking a kayaking tour like this one to explore the meandering, narrow canals that wind throughout the park.
This tour sets off first thing in the morning (6 am), right when the park opens. This is one of the best times to spot wildlife as lots of animals are active in those early morning hours. You might be lucky enough to spot a manatee, several different types of monkeys, or a crocodile (don't fall in!)
Accompanied by an experienced guide, this three-hour adventure is a great way to experience the stunning beauty of the park and get views that simply aren't possible if you're hiking. The tour price of $45 USD includes the kayak, paddles, and life vest but doesn't include the park entrance fee of $15 USD.
Without a doubt, a kayak was my favorite way to explore Tortuguero National Park. You get so close to the action and get some exercise at the same time! Be sure to book your kayaking tour in advance to ensure you don't miss out – this is easily one of the most popular things to do in Tortuguero.
2. Go on a hike through Tortuguero National Park
While much of Tortuguero National Park is only accessible by water, there is the main trail that leads through a section of the park that you can hike along.
You can pay the park entrance fee and explore the short trail on your own or hire a guide to take you on a hiking tour. This tour for a day hike is really helpful for spotting wildlife as the experienced guides know what to look for and can often spot animals you would have missed. The guide is also great at explaining all the flora and fauna around you and some of the history of the park.
Another advantage of this tour is that it includes binoculars, ponchos, and rubber boots. This trail is notoriously muddy, especially if it has been raining recently. If you don't go on a tour, be sure to rent a pair of rubber boots from one of the vendors located outside of the park. Tip – bring tall socks to wear in your rubber boots – it will make them slightly more comfortable for a longer hike.
The hiking tour with a guide should last about two hours and costs around $30 USD, and doesn't include the $15 USD park entrance fee.
Why We Book Tours with Viator
Viator is a trusted online booking system for tours around the world! We almost always book our tours using Viator for a couple of reasons:
Free cancellation on most tours – Most of the tours on Viator allow you to cancel and get a full refund up to 24 hours in advance. This is handy in case plans change, or if booking an outdoor activity, the weather forecast is looking grim.
Reserve now and pay later – You can secure your spot on some of the most popular tours well in advance and not pay until closer to the day of the tour.
Pay in your chosen currency – Avoid costly international transaction fees by choosing to pay in your home currency.
Peace of mind – When booking with tour operators you find in person on the street or in small booking offices, you are often promised one thing and given another. This online platform holds tour operators accountable with a written description of inclusions as well as the opportunity for customers to leave reviews.
Check out the Viator website here!
3. Enjoy fine dining at Katonga floating restaurant
This is a unique and memorable way to enjoy an excellent meal in Tortuguero. Climb aboard the Katonga floating restaurant for breakfast, lunch, or dinner as it takes you on a short tour of the Tortuguero canals.
Katonga is a restaurant that is part of the Mawamba Lodge, but you can eat here even if you aren't staying at the lodge. Make sure you make reservations, though, as they are required for this experience.
Once you make reservations, you'll be picked up by boat and taken to the floating restaurant. There's a set menu to choose from, and the entire experience will take about two hours.
The tour takes you to the mouth of the river, where it meets up with the ocean. While dinner is a nice option, go for breakfast or lunch if you're interested in the best views as it does get dark earlier in the evening. Although stargazing at night from the floating restaurant is fun too!
4. Turtle nesting tour
Of all the things to do in Tortuguero National Park, this is a must-do if you're here during turtle nesting season (July 1-October 31). Book a turtle nesting tour in the park to get the chance to see the amazing turtles here lay their eggs.
This area is so important to sea turtles, and getting the chance to witness the turtles nesting on the beach is a truly special experience. A guide will give you some of the history of sea turtles and then help you find a turtle to observe. You'll see a turtle lay her eggs, camouflage the nest, and then return to the sea.
The nesting season is from July 1 to October 31, so the tour can only be booked within those dates. Turtles will only lay their eggs at night, so this tour happens completely in the dark, with the experience starting at 8 pm.
Unfortunately during my visit, we missed the sea turtles laying eggs because we visited in December. However, we still got lucky and watched baby turtles walk to the ocean. Although not the highlight, it was still really special!
Related Read: Seeing sea turtles lay eggs is also one of the best things to do in Santa Teresa.
5. Visit the Turtle Museum (Sea Turtle Conservancy Visitor Center)
After (hopefully!) getting the chance to see turtles in the park, learn more about the species at the small museum and conservation center in Tortuguero. It has great information on the life, habitat, and history of sea turtles.
Take some time to watch a video about the history of turtles in Tortuguero in the small theater inside the museum. You can also learn about the research that started back in the 1950s and still carries on today, and find out how to get involved.
The museum and small souvenir shop are open daily from 10 am to 12 pm and then from 2 pm to 5 pm Admission to the museum is only $2.50 USD.
6. Have a coffee at Dorling Bakery
This little bakery and café opens really early (5 am!), so it's a perfect spot to stop in for coffee before an early morning tour in the park.
Dorling Bakery is located right on the water, so it's a beautiful place to leisurely enjoy coffee and breakfast or even a pizza for lunch.
They are famous for their baked goods, so grab some homemade banana bread, lemon and orange cake, or even chocolate cake if you can. Dorling Bakery is open every day from 5 am to 6 pm.
7. Canoe tour through Tortuguero National Park
Enjoy the quiet beauty of this area with a relaxing canoe tour through Tortuguero National Park.
There are two types of canoe tours you can do. Both are aboard large canoes that seat around 4 to 6 people and you can either choose the paddle or take a small electric motor. With the electric motor, you'll certainly be able to enjoy the trip a lot more. Sit back and let your guide show you around while you take photos. This is what I did and I loved it!
If you choose to paddle, there is no loud motor to scare animals away, and it's easier to weave through the tight canals to get to more remote areas. A professional guide will be on the lookout and can help point out animals along the way and you'll have time to stop and get some pictures.
What's great about these tours is you're typically in a small group, so it's easier to ask questions or just quietly take in the amazing scenery. This park is truly best viewed from the water!
This specific tour is on a motor canoe and the tour starts early at 6 am and lasts for three hours. It's $32 USD, which doesn't include the park entrance fee of $15 USD.
8. Night walk
Exploring Tortuguero National Park in the dark is one of the more popular Tortuguero tours. Taking a night walk tour through the park is the best way to spot all the critters that only come out in the dark.
You might spot bats, tarantulas, snakes, birds, lizards, lots of frogs, and maybe even a sloth sleeping! The park also comes alive with all the sounds of the animals who are awake in the dark.
The tour is led by a professional guide and includes a flashlight to help you spot wildlife. The guide will also keep you safe because poisonous snakes and frogs live in the national park. For $30 USD, the two-hour tour is great value, and night tours should not be done without a local guide.
9. Canopy Tour
Explore the treetops with a canopy tour that will have you soaring above the rainforest. I love ziplining in Costa Rica – it's such a fun way to see the scenery, but also get an adrenaline rush!
The tour with Tortuguero Adventures includes 7 cables, 11 platforms, 4 hanging bridges, a rock-climbing wall, and a leap of faith. There's also a short tour of the amphibian farm here that you can walk through before or after ziplining.
The tour is around $35 USD and includes transportation – just mention that you will need transportation to the facility. The adventure park is only about five minutes from Tortuguero Village.
Make sure to wear shoes like runners for this activity and bring water, insect repellent, and your camera!
Related Read: Ziplining is one of the best activities in Monteverde – where the country's longest zipline is located!
10. Relax at Tortuguero Beach
This is a huge, wild beach connected to the national park. Tortuguero Beach is perfect for taking a walk along or watching sea turtles, but it isn't for swimming. The water here has strong currents, and some sharks and crocodiles live in it.
The beauty of Tortuguero Beach is that it stretches along the Caribbean coast on a rainforest-covered sandbar. The long beach with soft sand makes for a nice stroll. Come here at sunset for a particularly nice view!
Tortuguero Beach is also where I saw the baby turtles hatching – so keep an eye out!
11. Casa Cecropia Cacao Tour
This is by far the sweetest experience in Tortuguero! Take a cacao tour with Casa Cecropia in Tortuguero Village and learn all about the traditional chocolate-making process.
The experience starts with a visit to the orchard to see the cocoa trees with their flowers and fruits. Then inside the Caribbean-style house, you'll learn about the harvest, fermenting, and drying process for cocoa beans. You'll hear about the importance of cocoa as a ceremonial drink for ancient cultures and even some Caribbean pirate stories!
The best part of the tour is how hands-on it is – everything from getting the chance to taste the cocoa fruit, roast the beans, crush the beans on the table stone, and then grind them into a paste to make your own chocolate. To me, this is one of the most unique things to do in Tortuguero for around $60 USD.
12. Enjoy an Italian meal on the water at Budda Café
This small restaurant is the place to eat and enjoy the view! The Budda Café is located inside of the Budda Home Hotel and the hotel is right on the river with tables on a covered deck facing the canals of Tortuguero.
The food is European with some delicious pizza and pasta along with milkshakes (try the banana one!) and cocktails. If you're gluten-free or vegan they have different versions available for you too.
The music and ambience make it a really nice place to enjoy the sunset.
Budda Café is located right in the center of Tortuguero Village in front of a souvenir store.
13. Cerro Tortuguero Hike
Cerro Tortuguero (Turtle Hill) is a small, inactive volcano that has a hiking trail with a spectacular view at the top! It's the highest peak on the Caribbean side of Costa Rica, and the views are worth the climb.
You can go on your own or book a tour with Mawamba Lodge to have transportation taken care of and an experienced guide to point out all the interesting plants and animals you'll spot along the way.
Make sure to bring water and take breaks along the way as the climb up the flights of stairs can be challenging in the Costa Rican heat and humidity. Take advantage of the resting platforms along the staircase trail to catch your breath.
When you reach the top, the observation deck here is amazing! You'll be able to see the Caribbean Sea, Tortuguero town, San Francisco town, and the forest canopy of Tortuguero National Park stretching across the horizon.
The tour is $40 USD per person – check-in for available times when you are there. If going on your own, you'll have to pay about $2 USD for an entrance fee and take a public boat from the Tortuguero main dock.
14. Fishing Tour
Fishing is a huge industry in Tortuguero, and it's one of the most popular spots on the globe for sport fishing!
Take a tour with a pro from Mr. Eddie Brown's Company and get the chance to catch and release fish like the Tarpon, Snook, Marlin, and Sailfish. The catch and release policy ensure the fish population is protected.
The prehistoric-looking Tarpon is a species that is over 80 million years old and is one of the toughest game fish to catch. The Tarpon fishing season lasts from January to June. Bass can typically be caught from September to December. You'll find large quantities of Sailfish, Marlin, and Tuna offshore as well.
These tours have specialized fishing boats and all the required permits and insurance, so you can just head out and enjoy. There are half-day ($400 USD for two people) and full-day options ($600 USD for two people) to choose from.
Day trips from San Jose or Puerto Limon to Tortuguero
If you're hoping to pay a visit to Tortuguero and are short on time, it's totally possible to do day trips to Tortuguero National Park. This lets you immerse yourself in this amazing wetland rainforest for the day and then return to a larger center to continue your time in Costa Rica. I'll take you through a couple of options for day trips to Tortuguero from San Jose and Puerto Limon.
San Jose
The only way to get to Tortuguero is by plane or boat. Taking a boat is the more popular option as it's cheaper and typically more convenient. You'll need to drive yourself or take the bus from San Jose to Moin or La Pavona and then take a boat to Tortuguero.
There are daily flights from San Jose to the small landing strip in Tortuguero that will take under an hour. However, this is typically more expensive (about $100 USD one-way), so not the best choice for a budget-friendly day trip.
I recommend booking a guided day trip tour to Tortuguero, so your transportation is completely taken care of! This full-day tour from San Jose to Tortuguero National Park includes a boat trip through the jungle of the park and a walk through Tortuguero Village. It's 12 hours long, and the $195 USD per person price tag also includes breakfast, lunch, and the park entrance fee.
Related Read: Read about the best day trips from San Jose for other fun tours and activities!
Puerto Limon
If you're leaving from Puerto Limon, you're very close to the Moin's Private Dock. The tour around Tortuguero from here is around 3-3.5 hours, and boats typically leave around 10 am.
I'm a big fan of booking a day trip tour with this option as well to take all the guesswork out of navigating your schedule. This tour from Puerto Limon to Tortuguero is four hours long and really reasonable at $75 USD per person.
The tour includes transportation to the national park and then a tour aboard an open-sided jungle pontoon boat to explore the canals. Your guide will help point out animals like monkeys, toucans, and sloths, as well as plants like gorgeous orchids and water lilies.
Note: You can also visit Tortuguero on a day trip from Puerto Viejo. The drive from Puerto Viejo to Puerto Limon or Moin's Dock is only about an hour or so.
Where to Stay in Tortuguero, Costa Rica
Tortuguero may be one of the most remote towns in Costa Rica but there are still plenty of great places to stay.
Aracari Garden Hostel – $
For budget travelers, Aracari Garden Hostel is the top choice and is "the place to stay" for backpackers. The hostel is centrally located, clean, and they have comfortable beds. Although this is not the absolute cheapest option, it's the best value for money.
Private and shared room options are available. Rates begin at $13 USD/night for a bed in a dorm and $36 USD/night for a private room. You can book the hostel on Booking.com here and Hostelworld here.
La Baula Lodge – $$
If you're on a medium budget, there are a lot of options in Tortuguero. My personal favorite is La Baula Lodge. It's a basic hotel with a pool, simple rooms, includes a great breakfast and friendly staff.
The property has a restaurant with live music during dinner. Room rates begin at $162 USD/night. You can check availability and book La Baula Lodge on Booking.com here and on Expedia here.
Mawamba Lodge – $$
For luxury travelers, Mawamba Lodge is a beautiful resort-style hotel with a stunning pool and property surrounded by nature. The rooms are the perfect mix between modern features and staying true to the wild nature of Tortuguero. The hotel includes breakfast and has a restaurant too.
All of the rooms have a private balcony with a hammock. Rates begin at $150 USD/night You can check availability and book a room at Mawamba Lodge on Expedia here and on Hotels.com here.
Getting Around Costa Rica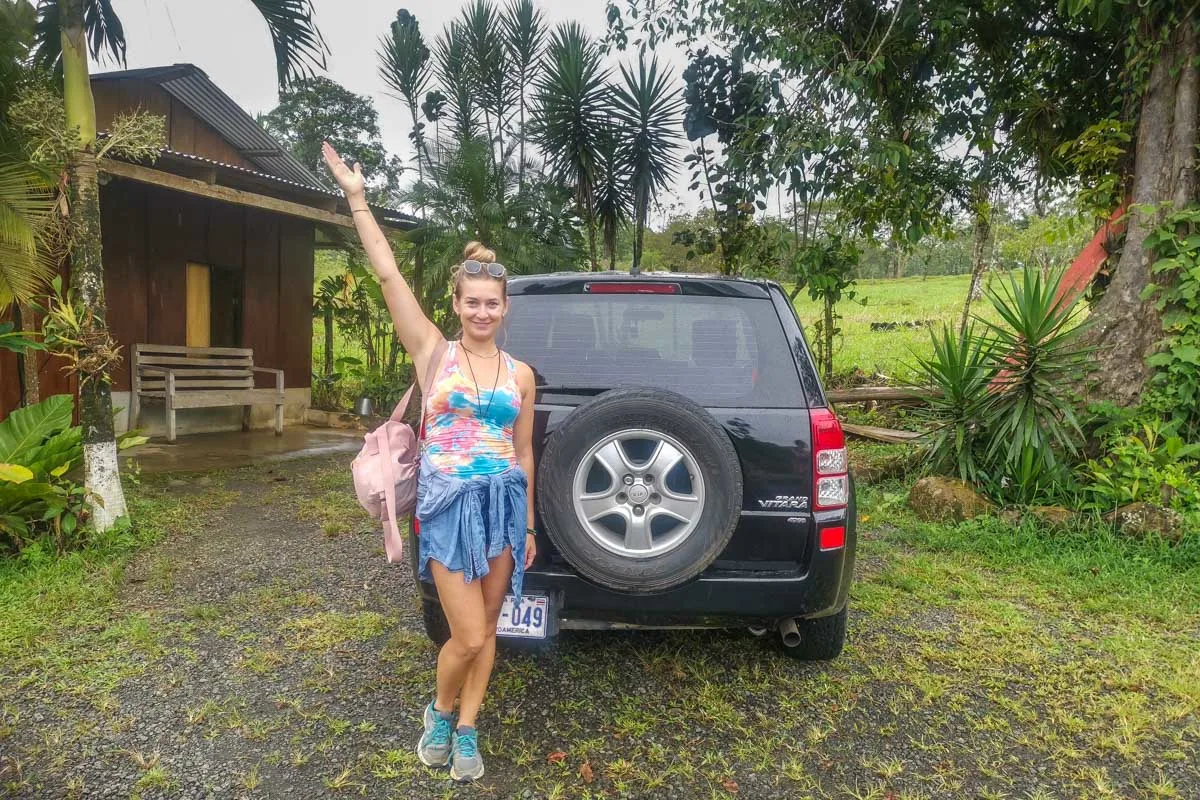 How you choose to get around Costa Rica is one of the biggest decisions you'll make when planning your holiday here! How you do it depends on your budget, travel style, and comfort level.
Renting a Car
Without a doubt, the number one way to explore Costa Rica is in a rental car. We book rental cars on the Discover Cars website as we have had good experiences with them in the past.
One of the things you need to watch for when renting a car in Costa Rica is the mandatory insurance that the government requires you to have. There are a lot of very cheap rentals that don't include this mandatory insurance (TPL) in the original booking price, but there are also ones that do. To avoid additional surprise charges when you pick up your rental car, be sure to rent a car that includes the mandatory insurance when you book.
Thankfully, on Discover Cars it's easy to tell apart the companies that include the mandatory insurance and those that don't. The trick is you can't pick any car on their website. In the picture below, you can see this rental car, with pick up in Jaco, includes the TPL. That means the mandatory insurance is included in the price. Any cover you get above that is extra.
Of course, I still suggest getting the full coverage offered by Discover Cars, which covers you even more.
You can browse cars on Discover Cars here.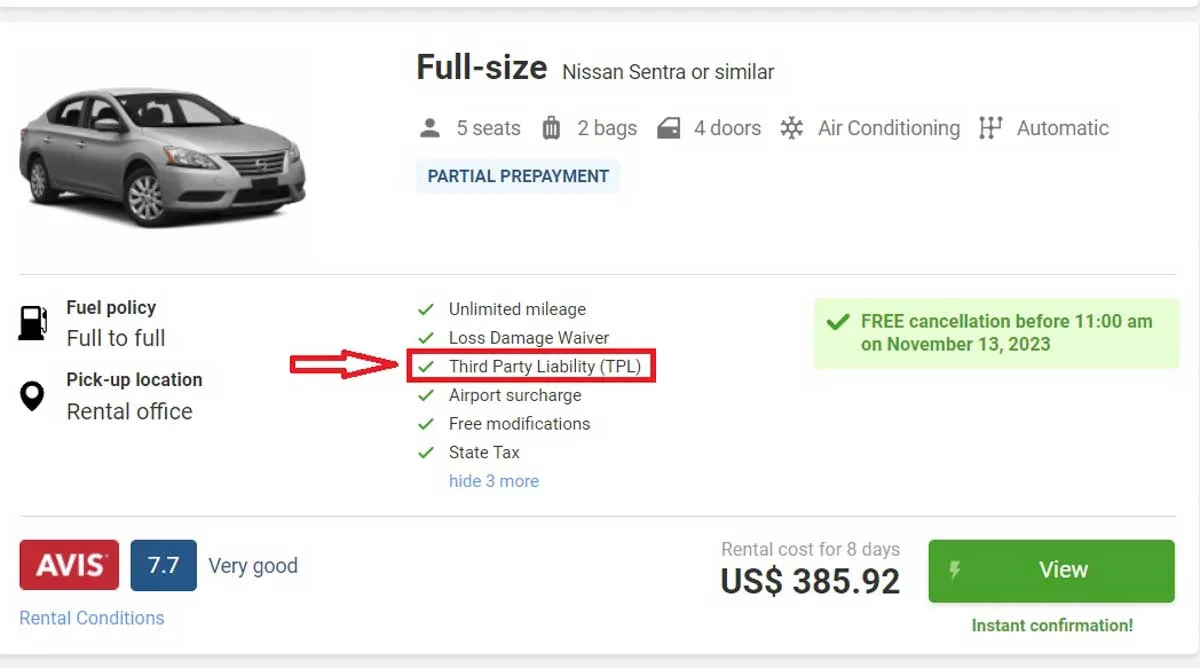 Adobe Rental Rent A Car is another rental company that we most often use in Costa Rica. We love them because Adobe has 15 offices around Costa Rica and delivers door-to-door around their offices at no extra cost. We also are pleased that all of their cars are new. In fact, they are never older than 2 years to the date. They are also the only company to include mandatory insurance and promise no hidden fees. You can get a free quote for a rental car from their website here.
Book Shuttles
If renting a car isn't in your budget, you don't feel comfortable driving in Costa Rica, or you just don't like driving, shuttles are the next best option. There are hundreds of shuttle routes available all over the country, and they are very affordable.
Shuttles in Costa Rica are specifically for tourists and often include pick up and drop off at your selected hotels and airports. The drivers also speak some English, and the vehicles have air conditioning. You'll also be guaranteed a seat when you book a shuttle (which isn't the case with the public bus system.)
To get the best price, use the website Bookaway. They compare all the offers and prices of shuttle companies in Costa Rica so you get the best price! Honestly, we have saved so much money using Bookaway!
You can search for shuttles online on Bookaway here.
Public Bus
Lastly, you can use the public bus system. On short journeys, such as from San Jose to La Fortuna or Uvita to Manuel Antonio, this system is great. However, the longer the journey the more hassle and time spent on a bus. It's undoubtedly best to save the public bus in Costa Rica for short and straightforward trips!
The public buses are definitely the cheapest way to get around Costa Rica, but they are not always very reliable and schedules often change without notice and delays are to be expected. The buses can also be very crowded and hot – so just be prepared!
It's also good to speak some Spanish if you plan on riding the public bus since most drivers and ticket booth operators don't speak English.
Invest in Travel Insurance
Paying out of pocket for trip interruptions or medical treatment will add to what might already be a stressful situation. We always travel with SafetyWing travel medical insurance.
The best part is that it costs only a fraction of what most insurance policies charge, which makes it perfect for digital nomads, long-term travelers (like us), and budget travelers. It only costs $45 USD per 4 weeks!
To start coverage, you must purchase it after leaving your home country. We usually purchase it as soon as we land at the airport.
Since using SafetyWing we've been reimbursed thousands of dollars when we've gotten sick. During the pandemic, they've even gone as far as to pay for our last-minute flights back to Canada from Colombia before the border closed!
You can click here to get a quote and read all the details!
Pura Vida!
I hope this blog has given you plenty of ideas of things to do in Tortuguero National Park as well as Tortuguero Village. This is a magical and remote part of Costa Rica that is amazing to explore whether you are here for a day trip or plan to stay a few days. Happy traveling!
BEST Things to do in Costa Rica
Things to do in Manuel Antonio