This blog may contain affiliate links. Read our disclosure policy for more info.
Monteverde is one of my favorite places to visit in Costa Rica. Although the weather is a little colder than most tourists destinations in Costa Rica, the landscapes are just amazing, and the number of things to do in Monteverde is countless.
It's worth staying at least a couple of days to see as much as possible, and while you're there, you need to fuel your body correctly for your adventures! Thankfully, Monteverde is also a top destination to try delicious food both from Costa Rica and other parts of the world.
There are many restaurants in and around Monteverde, aka Santa Elena, which is the actual name of the town in Monteverde. To help you choose the best option, we have narrowed it down to the absolute 10 best restaurants in Monteverde. Enjoy!
Don't have time to read the full article? Our personal favorite restaurant in Monteverde/Santa Elena is Taco Taco Taqueria. It's a Mexican restaurant that uses fresh local ingredients (including Costa Rican avocados) in their tacos, enchiladas, fajitas, chilaquiles, and other options. I highly recommend trying their original desserts like their Tamarindo cheesecake and the orange and "uchuva" chocolate mousse!
The BEST Restaurants in Monteverde/Santa Elena
1. San Lucas Treetop Dining Experience – Best dinner experience
Location: Chira Glamping Hotel, a short walk from downtown Santa Elena
Average Price: $140 USD for a 7-course meal per person
Come here for: Romantic dinner (ideal for those in Costa Rica for their honeymoon!)
Takes reservations: Yes, you need a reservation
Remember when you were a kid and wanted a treehouse (or were lucky enough to have one!) – channel that and dine above the trees! The San Lucas Treetop Dining Experience reminds me of the view from a treehouse (or one of those amazing treehouse hotels) paired with a delicious meal.
There are only eight tables here, with each set inside a private glass box on a deck platform raised 50 feet (15 m) in the air. You'll have views of Monteverde and the surrounding forest – it makes for a very memorable evening! The menu is a surprise, with the chef utilizing what's in season to create an incredible seven-course meal.
Because there are only a few tables, reservations are required (they are one of the best restaurants in Monteverde after all.) You can book at 5 pm or 8:30 pm – I recommend the earlier time so you can enjoy the sunset! The experience is $140 USD per person and lasts for 2.5 hours. The tables are enclosed, so you won't get rained on. But make sure to bring layers as the evenings can be chilly.
Related Read: One of the best restaurants in Santa Teresa has a view that rivals San Lucas!
2. Taco Taco Taqueria- Best Mexican
Location: Next to Banco Nacional (National Bank) in Santa Elena
Average Price: $12 USD for 2 tacos, $15 USD for a burger
Come here for: Mexican food!
Takes reservations: Yes
Mexican food is one of my favorites when I travel. I always enjoy going for a taco or other Mexican deli when I am abroad. The freshness and local sourcing of ingredients is almost guaranteed in the Tropics, and Costa Rican avocado is tasty enough to envy Mexicans – and Taco Taco does it best in Monteverde!
At Taco Taco Taqueria, I recommend you to try their tacos (well duh!) They have plenty of options, from tacos al pastor to veggie ones. They also have enchiladas, fajitas, chilaquiles, chalupas, burgers, and even salad bowls. The prices are pretty affordable. For $14 USD, you can have a main dish that comes with potato chips and salad.
I would also recommend their original desserts like their Tamarindo cheesecake, the orange and "uchuva" chocolate mousse (Uchuva is a Peruvian Physalis grown in Costa Rica that is just delicious, commonly known as goldenberry), or the sopapilla, which is a fried dough served with a sweet jalapeno sauce!
Besides that, this place just looks amazing, very colorful and spacious! It's a perfect spot to enjoy a meal with friends and family in a laid-back atmosphere. The dishes are simple, nothing too fancy. The presentation of the plates could be improved, but the portions are generous.
Taco Taco Taqueria is open daily from 11 am to 11 pm, and if you feel lazy and prefer to stay at your hotel, they have a delivery option! You can view their menu here.
3. The Green Restaurant – Best Healthy Food
Location: Downtown, at the Monteverde Commercial Center (Centro Comercial Monteverde)
Average Price: Less than $12 USD for a main dish
Come here for: Healthy meals
Takes reservations: No
One of the best healthy restaurants in Monteverde/ Santa Elean is The Green Restaurant. The restaurant is located on the second floor of an open Commercial Plaza in Monteverde and is my go-to for a fresh meal.
It's a great option if you need to purchase some groceries or go shopping after or before your lunch since there is a supermarket and a few stores at this plaza. The big plus is that there is plenty of space to park your car given that finding a free parking space in Santa Elena downtown can be challenging.
Their menu is varied, and the prices are affordable. They have different types of appetizers like salads, soups, or carpaccio. They have burgers, paninis, pasta, and meats for their mains. One thing that I like about this restaurant is that all the dishes are served with lots of fresh veggies and homemade ingredients. They also have great coffee and desserts for an afternoon snack!
I had the Aglio The Green (pictured above), a pasta dish that comes loaded with vegetables and shrimp. It was a welcome change from my recent Casado binge! When I go back, I really want to try their tuna steak. I had meal envy when the table next to us got there's only minutes after I ordered!
The Green Restaurant is open from 12 pm to 9 pm every day and you can view their menu here!
4. Bon Appetit – Best Pasta in Monteverde
Location: In front of Mini Super la Estrella, downtown Santa Elena
Average Price: $15 USD for main meals
Come here for: Italian cuisine
Takes reservations: Yes
Bon Appetit in Santa Elena is the perfect restaurant in Monteverde for fine dining. Don't be fooled by its name; they serve authentic Italian food!
The ambiance is very charming. The tables are simple, but everything is made of wood, even the ceiling, and there are glazed windows all around, so you have an amazing view of the mountains and nature outside.
They offer a little bit of everything, from pizza to pasta, meats, and chef's specials. Every dish is nicely presented, and portions are just right. Prices are a little higher than the average, but the restaurant is elegant, and the food is very good.
If you like pasta, I recommend you try their homemade ones. They have shrimp, spinach, or salmon ravioli, which are delicious and what we ordered. On top of that, they can make gluten-free pasta and pizza for those who are intolerant.
However, if you are on the run and don't want to spend too much, they have "fast casuals," like hamburgers, paninis, and wraps for $10 to $12 USD. They also have a lot of different desserts like apple pie and crepes as well as hot beverages for a quick coffee break.
Bon Appetit is open daily from 11 am to 10 pm and you can view their menu here.
Related Read: The only place to get better pasta is one of the best restaurants in Tamarindo!
5. Raulito's Pollo – Best Cheap Restaurant in Monteverde
Location: In front of the Orquideas Garden, downtown Santa Elena
Average Price: $5 to $12 USD
Come here for: Cheap meals that will fill you up
Takes reservations: No
Raulito's Pollo is the number one place to eat in Monteverde if you're after something cheap and on the go. It's a small chicken rotisserie in Santa Elena. If you are lucky, you will find some available seats to eat and watch the street life of this small picturesque town.
This hidden spot is one of the locals' favorites since it's cheap and makes great food. The staff is also warm and friendly. For $5 USD you can have a portion of chicken with different sides – for example, salad, tortillas, diced tomato, or French fries. For $12 USD, you can have a whole roasted chicken, so prices are pretty affordable.
You can even enjoy other chicken specialties like "arroz con pollo", which is fried rice with legumes and, of course, chicken. Or, chicken cassava roll, commonly known as "enyucado," and "empanadas" which is a patty made with corn flour filled with chicken.
Raulito's Pollo is open from 8 am to 11 pm Monday through Saturday and 8 am to 3 pm on Sunday.
6. Pizzeria e Ristorante Tramonti – Best Italian in Monteverde
Location: In Santa Elena, near the Bellavista Lodge
Average Price: Mains are between $12 and $25 USD
Come here for: Authentic Italian cuisine
Takes reservations: Yes
Pizzeria e Ristorante Tramonti is a very exclusive and modern Italian restaurant in Monteverde that sits in the hills of Monteverde, far from the crowd of the street life of Santa Elena. The décor and the view are just a delight for your eyes. At night the place is even more beautiful and the atmosphere very romantic. It was founded by Gianni and Adriana, Italian and Costa Rican, respectively.
There is a dish for every palate. The menu is huge. They offer seafood, fine cuts, and meats but what I come for is the homemade pasta, pizza, and Italian desserts! My favorite dish is the Carbonara, which is a dish I typically do not order. However, after seeing a photo of theirs – I just had to! Their wine list is also pretty impressive, so this is the place for you if you like wine.
The prices are fair given that the restaurant is fancy and the portions are generous. You have to try their fire wooded pizza. The dough is so crusty, and they have the right amount of ingredients on top, all very fresh. They are perfect for sharing with friends or family!
Pizzeria e Ristorante Tramonti is open from 12 pm to 3 pm for lunch and again from 4:30 pm to 9 pm for dinner Monday through Thursday and their menu is available on their website!
7. Choco Cafe Restaurant and Coffee Shop – Best Cafe in Monteverde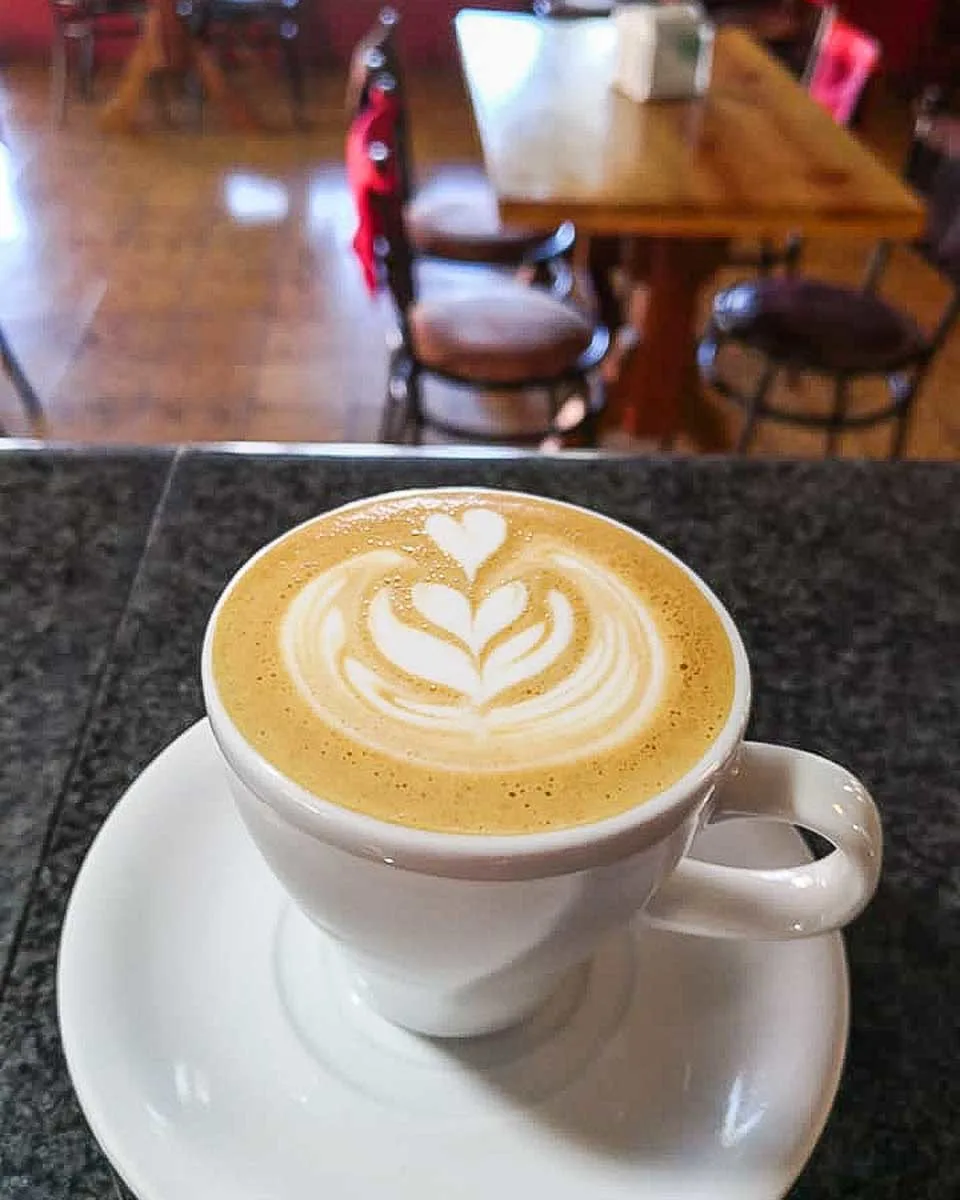 Location: In front of Centro Comercial Monteverde
Average Price: $4.10 USD for a big cappuccino, $10 to $15 USD for the main dish
Come here for: For specialty coffees and desserts
Takes reservations: No
If you need a good coffee, I would highly recommend you visit Choco Cafe Restaurant and Coffee Shop. The cafe is in Santa Elena downtown, just in front of the main Commercial Center. They are well known for serving the coffee grown in Monteverde, which has a signature taste.
Indeed, the coffee of this region is pretty acidic and citric but also very floral and tasty. If you have the time, I would recommend you to take a coffee plantation tour at one of the coffee farms in the area. The coffee tours in Monteverde are among the best in the country, so it's well worth it!
At this coffee house, they can prepare the coffee with the method you prefer for better taste and aroma, and they offer many desserts and sweets. Their cinnamon bun is as good as it gets and I get one every time! Their pecan pie and their banana bread are also to die for.
If you are looking to have breakfast or lunch, they have tones of options too, like Casados, pasta, quesadillas, sandwiches, burgers, meats, and salads. They even have beers and cocktails. The service is very welcoming, and the prices are fair.
Choco Cafe is open daily from 8 am to 8:30 pm.
8. Orchid Cafe – Best Breakfast and Brunch
Location: Santa Elena downtown
Average Price: Less than $12 USD for breakfast
Come here for: Breakfast and brunch
Takes reservations: No
Orchid Cafe is another great place to have a good coffee and also enjoy a more substantial breakfast. It's in the center of Santa Elena, and it has its own parking space. The place is very nicely decorated, and the ambiance is charming and laid-back.
Their menu and cuisine are very tasty but with a healthy twist. They serve crepes, waffles, lots of different paninis, pitas, bowls, and big breakfasts with eggs, bacon, pancakes, and fruit. You can also make your smoothie blend with different fruits and veggies.
Their breakfast and brunches are why I visit. You can order from pancakes and waffles to eggs and French toast. They are very nicely presented, and the portions are generous. They even have Chia and gluten-free pancakes too.
I recommend that you try their Orchid Eggs which are eggs in a bed of sauteed potatoes and veggies, spinach, and chipotle sauce. I also love fresh fruits with granola or granola with milk, and you can order one of your choice, soy, milk, or even homemade yogurts.
Orchid Cafe is open from 8 am to 6 pm every day.
9. Tico y Rico – Best Costa Rican Food
Location: Santa Elena downtown
Average Price: $12 USD for a casado
Come here for: Authentic Costa Rican food
Takes reservations: No
Tico Rico Monteverde is a small restaurant in the center of Santa Elena serving authentic Costa Rican food. The food is simple but tasty, and the prices are fair. You can have a typical Casado with rice, beans, fried plantains, salad, a handmade corn tortilla, an egg, cheese, and a meat of your choice for around $12 USD.
Another common dish in Costa Rica is fried rice with chicken, shrimp, or seafood. It's very delicious and served with a green salad and French fries. I also love pumpkin cream and patacones or plantain chips with guacamole and mashed beans, other Costa Rican specialties found at this restaurant.
Tico Rica Monteverde is open from 7 am to 10 pm every day.
10. Villa Burger – Best Burger
Location: Santa Elena downtown, next to supercompro
Average Price: $7 USD for a basic burger
Come here for: Amazing burgers
Takes reservations: No
Villa Burger is a small fast-food restaurant in downtown Santa Elena. The prices are cheap, for $7 USD you can have a basic burger. However, their menu of hamburgers is pretty large, the food is good and uncomplicated.
They have chicken, pork, tuna, and beef burgers, served with potato chips and the sauce of your choice. There is even a vegan burger, salads, and hot dogs. This is my favorite restaurant in Monteverde when I just want a taste of home that won't cost too much.
Villa Burger is open all day from 12 am to 10 pm.
Related Read: The best burgers in Costa Rica are at a restaurant in Jaco!
5 Must-Do Activities in Monteverde
Go ziplining – Ziplining is such a fun way to see some fantastic scenery (as it flies past you!) and have an adrenaline-filled adventure. Visiting the 100% Aventura Park is easily one of the most exciting things to do in Monteverde while you're here.
Night walk – There are some great night tours in Monteverde, including some tours of the Monteverde Cloud Forest! One of the best ways to experience the wildlife nightlife is with this Monteverde Rain Forest Night Walk. Almost 80 percent of the animals in Monteverde are nocturnal, so nighttime is the perfect time to spot them. See sloths, porcupines, snakes, lizards, frogs, birds, or one of the many felines that call the rainforest home.
Selvatura Park – Selvatura Park is a nature and adventure park located inside 850 acres of protected rainforest. This park has a network of hanging bridges in Monteverde above the tree canopy that give you incredible aerial views of the rainforest. Get the chance to explore all the bridges and the surrounding trail with the Selvatura Park Hanging Bridge Tour. This gives you two hours to explore and enjoy the forest from unique viewpoints.
Go bungy jumping – Bungy jumping is one of the fun Monteverde attractions you have to try … if you're brave enough! The Extreme Bungee Jumping in Monteverde Tour has a daring jump from over 460 feet. That's the highest in Costa Rica and all of Central America!
Horseback riding – This is a great way to give your feet a break and explore the Monteverde Cloud Forest on horseback! This Monteverde Cloud Forest horseback riding tour lets you cover a lot of ground as you trek through the farmland and surrounding landscape in Monteverde. Keep an eye out for toucans, parrots, monkeys, and other critters as you experience the rural side of Costa Rica, far from any crowds or traffic.
Where to Stay in Monteverde, Costa Rica
Monteverde may be a small tourist town but there are a surprisingly large amount of great hotels in all budget ranges.
Selina Monteverde – $
If you're budget traveler or backpacker, there are lots of nice hostels in Monteverde. If you like modern features and outstanding facilities, Selina Monteverde is the best option. The hostel is beautiful, has great reviews, and lots of activities including yoga.
The only downside is Selina is a high-end backpacker hostel. Prices begin at $97 USD for a one-night stay. You can book Selina on Booking.com or here on Hostelworld.
Camino Verde B&B Monteverde – $$
For those well past their backpacking days who can spend a little more, I love Camino Verde B&B Monteverde Costa Rica. This boutique hotel has beautiful rooms, deck with magnificent views, and includes breakfast. It's a comfortable hotel that comes at a great price.
Rates begin at $176 USD/night. You can check availability and book a room here on Booking.com.
Chira Glamping Monteverde – $$$
If you're a luxury traveler I highly suggest choosing what we call a "destination hotel". These hotels are an attraction in themselves because of the unique experience they offer. In Monteverde one of the best is Chira Glamping Monteverde which offers luxury camping with the option to have your own private hottub surrounded by nature.
The view from the property is incredible! Rates begin at $375 USD/night. You can check availability and book a spot online on Booking.com.
Getting Around Costa Rica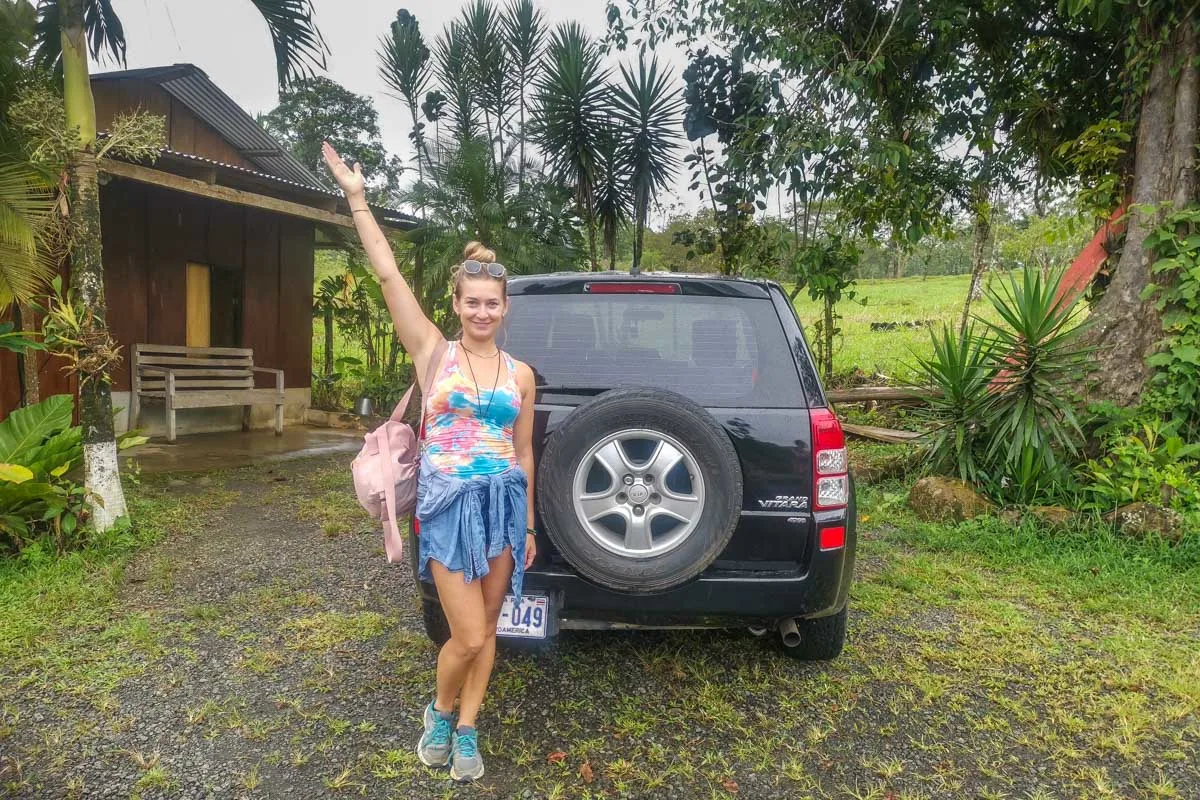 How you choose to get around Costa Rica is one of the biggest decisions you'll make when planning your holiday here! How you do it depends on your budget, travel style, and comfort level.
Renting a Car
Without a doubt, the number one way to explore Costa Rica is in a rental car. We book rental cars on the Discover Cars website as we have had good experiences with them in the past.
One of the things you need to watch for when renting a car in Costa Rica is the mandatory insurance that the government requires you to have. There are a lot of very cheap rentals that don't include this mandatory insurance (TPL) in the original booking price, but there are also ones that do. To avoid additional surprise charges when you pick up your rental car, be sure to rent a car that includes the mandatory insurance when you book.
Thankfully, on Discover Cars it's easy to tell apart the companies that include the mandatory insurance and those that don't. The trick is you can't pick any car on their website. In the picture below, you can see this rental car, with pick up in Jaco, includes the TPL. That means the mandatory insurance is included in the price. Any cover you get above that is extra.
Of course, I still suggest getting the full coverage offered by Discover Cars, which covers you even more.
You can browse cars on Discover Cars here.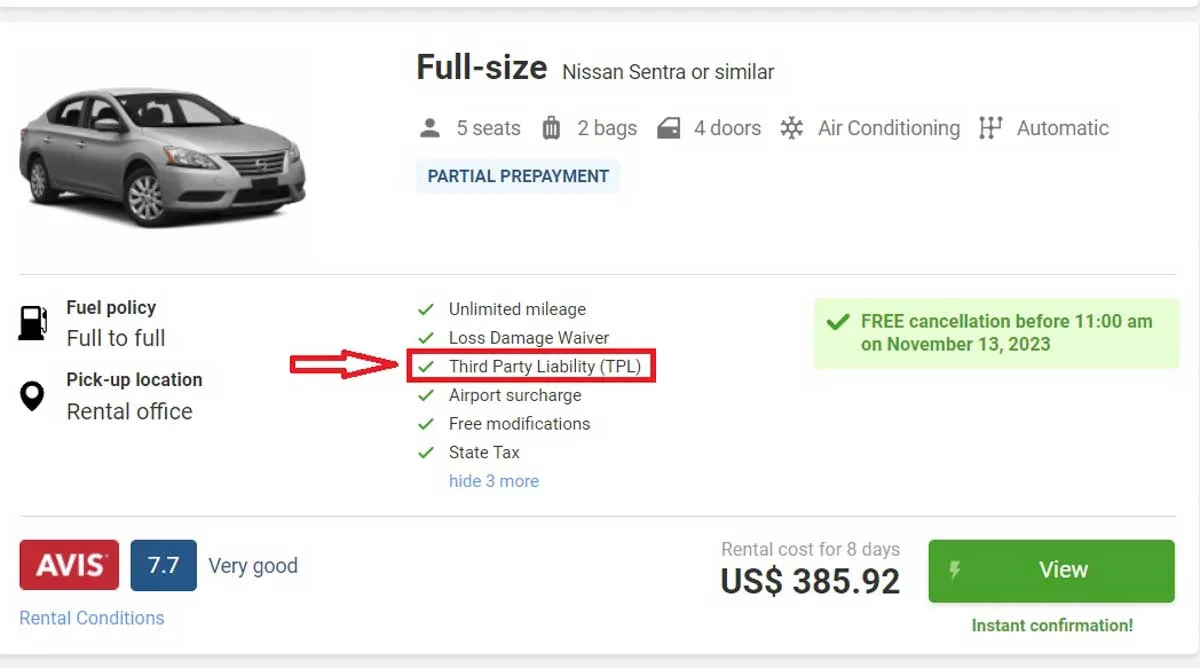 Adobe Rental Rent A Car is another rental company that we most often use in Costa Rica. We love them because Adobe has 15 offices around Costa Rica and delivers door-to-door around their offices at no extra cost. We also are pleased that all of their cars are new. In fact, they are never older than 2 years to the date. They are also the only company to include mandatory insurance and promise no hidden fees. You can get a free quote for a rental car from their website here.
Book Shuttles
If renting a car isn't in your budget, you don't feel comfortable driving in Costa Rica, or you just don't like driving, shuttles are the next best option. There are hundreds of shuttle routes available all over the country, and they are very affordable.
Shuttles in Costa Rica are specifically for tourists and often include pick up and drop off at your selected hotels and airports. The drivers also speak some English, and the vehicles have air conditioning. You'll also be guaranteed a seat when you book a shuttle (which isn't the case with the public bus system.)
To get the best price, use the website Bookaway. They compare all the offers and prices of shuttle companies in Costa Rica so you get the best price! Honestly, we have saved so much money using Bookaway!
You can search for shuttles online on Bookaway here.
Public Bus
Lastly, you can use the public bus system. On short journeys, such as from San Jose to La Fortuna or Uvita to Manuel Antonio, this system is great. However, the longer the journey the more hassle and time spent on a bus. It's undoubtedly best to save the public bus in Costa Rica for short and straightforward trips!
The public buses are definitely the cheapest way to get around Costa Rica, but they are not always very reliable and schedules often change without notice and delays are to be expected. The buses can also be very crowded and hot – so just be prepared!
It's also good to speak some Spanish if you plan on riding the public bus since most drivers and ticket booth operators don't speak English.
Pura Vida!
Monteverde may be a popular destination for its outdoor activities, but as you can see, there are plenty of amazing restaurants in Monteverde too. Now all you have to do is fit as many of them into your trip as possible.
Thanks so much for reading! I really hope you found this guide helpful and have a list of restaurants you want to visit in Monteverde! If you did, check out these articles below you also might love:
Don Juan Coffee Tour Monteverde Review – Is it Worth it?