Costa Rica is quite the destination for volcano lovers (like myself.) In fact, there are 66 well-identified volcanoes here, five active and another 61 dormant or extinct. With that said, there are believed to be over 200 volcanic structures in the country, with many still undiscovered and hidden by dense rainforests. Pretty cool, right?
All of these volcanoes run along the center of the country, on what is known as the Central American Volcanic Arc. This area has the greatest density of volcanoes of anywhere else in the world and stretches from Mexico to Panama.
The five active volcanoes, and most popular, in Costa Rica include Poas, Arenal, Rincon de la Vieja, Irazu, and Turrialba. The sixth is Miravalles, but it's not that popular to visit.
In this blog, I will detail the seven must-visit volcanoes in Costa Rica. I will let you know why you should visit each one as well as cover how to get there, how much tickets cost, and some other helpful tips like when to go and what guided tours are the best-rated!
It's your complete guide to Costa Rica's best volcanoes!
Best Volcanoes in Costa Rica
1. Poas Volcano
The super-active Poas Volcano is just an hour and a half drive from the center of San Jose. It towers over Parque Nacional Volcán Poás at 2,697 meters (8,848 feet)! Would you believe it's erupted 39 times since 1828!
This volcano is most well-known for its blue acid lake, which is, in fact, one of the biggest craters in the world! It's quite a sight to see this massive crater in person – it's a whopping 1.5 km (0.9 miles) in diameter. It's no wonder this is one of the top attractions in Costa Rica!
For the best view of the crater, pick a sunny day and start climbing as early as possible to avoid the clouds that tend to cover the volcano in the late afternoon. This is my top tip for Poas Volcano because I learned this the hard way – the first time climbed all the way up, only to see nothing but clouds!
After arriving at the volcano, you'll enjoy a short brief and safety video about the volcano and what to do in an emergency. After, it's time to hike to the volcano. The hiking trail to the observation deck over the crater is only short and mostly along an access road which takes around 15 minutes. Once at the crater, you can stare into the volcano and take a look around for about 20 minutes.
Poas Volcano National Park is open every day from 8 am to 3:30 pm, and tickets cost $15 USD for adults and $5 for children (there are discounts for nationals.) You MUST book your ticket online in advance via the SINAC website because not only are a limited number of tourists allowed per time slot to the crater, but they do not sell them at the entrance. During peak season, the early morning time slots book up days in advance. Note, if you book a guided tour, entrance tickets are often already included.
To get to Poas Volcano National Park, renting a car is best – especially considering it's just a 2-hour drive from San Jose. That way, you can take your time at the crater, go on some hikes and even visit some traditional villages close to the entrance to the park, such as Varablanca and Fraijanes.
If you love strawberries like me, then you're in luck because this area of Costa Rica is famed for its delicious strawberries. On your drive to the volcano from San Jose, you will come across some roadside stalls selling large varieties of these berries. You can also pick up other unique delicacies from vendors like the area's famous Palmito Cheese!
If you don't have a car, it's best to book a guided tour; heaps of highly recommended tours depart from San Jose on a day trip like this tour, which leaves the city at 8 am and includes your entrance fee to Poas National Park. What's great is that if you book this particular tour, you can skip the typically long lines at the volcano.
If you want to combine two of the best attractions near San Jose into one day, then consider booking this full-day tour which visits the volcano as well as La Paz Waterfall. It departs from San Jose and is 12 hours in duration.
Related Read: Check out our top safety tips for visiting Costa Rica!
2. Arenal Volcano
A 3-hour drive from San Jose is the 1,657-meter (5,436 feet) tall Arenal Volcano; it's considered an active volcano and last erupted in 2010. Before this, Arenal was considered the most active volcano in Costa Rica and had a major eruption in 1968. It's illegal to climb to the top of Arenal, but many people still make the 10 to 11-hour hike!
If you plan to drive here from San Jose, it's best to leave early in the morning so that you can take your time. If you have time, stop at the Arenal Lagoon, which is a lovely place to relax, or tick off some of the hot springs in the La Fortuna area off your list.
With that said, the closest town to Arenal is La Fortuna, which sits only 15 minutes from the entrance to the park. La Fortuna is a popular place to visit in Costa Rica and is home to plenty of things to see and do!
Within La Fortuna town, there are plenty of vantage points of the volcano. But, as is the case with many other volcanoes on this list, clouds can often cover the summit, especially later in the day, making it invisible. It's best to avoid the area during the rainy season, which is from May to November – if seeing Arenal is important to you, then aim to visit in February!
If you're keen to get a good look at the volcano (or hike up it, which I don't recommend as it's illegal), it's best to spend a few nights in the town of La Fortuna, which is the gateway to the National Park. Luckily, there are loads of great hotels in La Fortuna, as well as fantastic places to eat.
Exploring the park is quite an adventure, and you can explore around the volcano's base. You can experience the park on your own and hike one of the many hiking trails there. The great thing about the trails is that there are different viewpoints of the volcano to be enjoyed along the way. There's even a section where you can see where lava from the last major eruption flowed down its side.
I visited Arenal Volcano National Park on a guided tour simply because I love hearing all about the area from a knowledgeable guide. This specific tour is a great option as it includes all your fees, water, transport, and a guide. If you're short on time, you should consider booking a combination tour. This full-day tour visits Arenal and La Fortuna Waterfall, a butterfly garden, Maleku Indian village, and the free hot spring river.
As mentioned, Arenal Volcano is located within Arenal Volcano National Park. The admission is $15 USD for adults and $5 per child, and the entrance to the park is from 8 am to 4 pm.
3. Chato Volcano
UPDATE: The last part of the hike up Chato Volcano, although accessible (the lodges will still let you access the trail for a fee), is now illegal to use. The area has been closed to try and preserve the landscape from extreme erosion. This means that hiking the trail all the way is no longer a responsible thing to do and should be avoided. You can still access the bottom part, as it is not part of the closure.
Chato Volcano (or Cerro Chato) is also located in the La Fortuna district and is 1,140 meters (3,740 feet) tall. It's the smallest volcano by height on this list. It's only a short drive from La Fortuna and actually sits right next to Arenal Volcano. It's an inactive volcano and is last estimated to have erupted over 3,500 years ago!
Unlike Arenal, hiking up Chato Volcano is completely legal. This hiking trail can be rated as either moderate or difficult, depending on the weather, and leads to a breathtaking turquoise crater lake. You can swim in this 500-meter-wide lake, which is a great option on a hot day!
It should take most people between 3 and 4 hours to hike up and down again, but my advice is to start the hike before 10 am so that you can take your time at the top and you're not hiking back in the dark. If it's raining, I don't advise hiking this trail!
There are two routes up to the top of Chato Volcano; the first is the 'locals' way to the top, which starts from the Green Lagoon Lodge near the La Fortuna Waterfall entrance. This is the most convenient option for those without a car, but because the trail is no longer maintained it's not recommended in the rainy season as sections of the trail can get washed out, and it's hard to navigate. Green Lagoon Lodge charges $10 USD to use their entrance, which also gives you pool access, shower facilities, and parking.
The second route to the top starts from Arenal Observatory Lodge. This is much further from La Fortuna town (over 30 minutes drive), but the trail is more maintained (but still in no way easy.) The lodge charges $12 USD to enter the trail, and that doesn't include access to any facilities.
The route to the top is up to you, but personally, I took the second option. From what I have heard, it was a great choice!
4. Irazu Volcano
In the province of Cartago, you will find the Irazu Volcano. This is Costa Rica's highest volcano at 3,432 meters (11,259 feet), and it's still active, having last erupted in December 1994. It's located not too far from San Jose, at an hour and 20-minute drive, which means it's a popular day-trip option from San Jose. Irazu is, without a doubt, one of the most popular volcanoes to visit in Costa Rica!
Irazu's summit is most well-known for having several craters, including the huge main crater and the Diego de la Haya crater.
What's great about Irazu is that you don't have to hike all the way to the summit; you can drive to the main parking lot at the top and access the main crater via a short and easy trail. It's just 3 minutes each way, and you can see some unique plant and bird life along the way.
Once you reach the main crater, you will be awed – it's a whopping 1,050 meters in diameter and over 300 meters deep! In the rainy season, there's a green lake at the bottom of the crater, while in the dry season, you can see evidence of old lava flows.
To the right of the main crater, along the trail, is the smaller Diego de la Haya crater which is 690 meters in diameter and is a unique bright green color.
You can take the public bus to the main parking lot at Irazu from downtown San Jose, which will take approximately an hour and 40 minutes (without traffic) and is operated by Buses Metropoli. The bus departs at 8 am and heads back to San Jose at 12:30 pm. I've personally not done this as I had a rental car.
At the main parking lot, there are toilet facilities and a small shop selling snacks, drinks, and some souvenirs. There are also some picnic benches here.
The entrance to the national park is $15 USD; you must reserve your tickets online on the SINAC website in advance. The opening hours are from 8 am to 4 pm.
This half-day tour to the volcano is a great option if you prefer a guided tour. It includes transportation to/from San Jose and snacks! You will have 3 hours at the volcano as part of this tour. On the way back, it will also stop to tour the Basilica de Los Angeles, in Cartago, the Costa Rican Cathedral of la "virgencita" the patron saint of Costa Rica to whom the Costa Ricans pay homage every August during its pilgrimage.
Another great option is this 7-hour guided tour which includes a few hours at the volcano and also visits the city of Cartago and the Basilica of the Angels. Lunch and pick-up from your hotel in San Jose are also included in the price.
5. Rincon de La Vieja Volcano
The Rincon de la Vieja Volcano is 1,916 meters (6,286 feet) tall and is one of the most-visited volcanoes in Costa Rica. It is located within the Rincon de la Vieja National Park, an hour's drive from the city of Liberia in the province of Guanacaste. This national park is interestingly also home to another volcano, the dormant Santa Maria Volcano. The Rincon de la Vieja Volcano is indeed active, and the last large eruption here was in 1998. In fact, 1-2 small volcanic events occur here daily!
The Rincon de la Vieja National Park is a whopping 35,000 acres in size and is also home to the Rio Negro Hot Springs, waterfalls, and hiking trails. It's undoubtedly one of the best National Parks in Costa Rica. As well as that, there's an awesome adventure center here that offers horseback riding, ziplining, and tubing!
Directly translated from Spanish, Rincon de la Vieja means 'the old woman's corner' and is named so by the native tribe who believe a witch at the top of the mountain causes it to bubble and steam (like a cauldron!)
While you can explore this volcano independently, tours are quite popular here.
There are some great hiking trails within the park; I recommend the short 20-minute trail to the Las Pailas (boiling mud pots) – a cool feature of the area where the mud is so hot it bubbles in small pools! Another good hike is the Catarata La Cangreja trail (about 3 miles each way) which leads to a beautiful waterfall. There are also guided hiking tours, such as this tour, on offer.
As I mentioned, the closest city to the Rincon de la Vieja Volcano is Liberia (just an hour's drive away), and booking a full-day adventure tour from the city is one of the best ways to explore the volcano. This 6 to 8 hour tour is a great option as it includes a guided hike along the Las Pailas loop trail, where you can see bubbling mud pools and spot spider monkeys and iguanas. As well as that, you will visit Oropendola waterfall and Rio Negro hot springs. Lunch in Curubande Village is also included in the price.
Rincon de la Vieja National Park is just over two hours' drive from other popular tourist towns like Playa Flamingo and Tamarindo. This tour from both towns is highly recommended and is 8 to 10 hours in duration. This tour is less about the adventure activities on offer here and more about exploring the national park.
Rincon de la Vieja National Park is open Tuesday to Sunday (closed Mondays) and costs $17 USD for adults and $5.60 USD for kids – if you don't have a tour booked.
6. Tenorio Volcano
The inactive Tenorio Volcano is 1,916 meters (6,286 feet) tall and is located within the national park of the same name – the Tenorio Volcano National Park in Guanacaste Province. The national park is most well-known for being the home of the Rio Celeste waterfall – one of the best waterfalls in Costa Rica.
Visitors to the park have increased massively since 2019, and as a result, there are visitor quotas in place, meaning only a limited number of people can visit here every day. No more than 500 people are allowed in at one time, and no more than 1,000 per day. For that reason, it's important to arrive early.
The summit of the volcano is closed to the public, but special permission can be granted to climb to the top in some circumstances. If you did go to the top, you would see a large walled crater and a lake, as well as an abundance of wildlife (most likely thanks to the lack of visitors.)
To be honest though, the reason to visit Tenorio is for Rio Celeste and not the volcano itself. In fact, the top attraction, and one of the best things to do in Costa Rica, is the highly-trafficked out and back hiking trail within the park that travels along Rio Celeste.
The trail passes by some of the most beautiful natural attractions in Costa Rica, like the aforementioned Rio Celeste Waterfall. Also to be seen along this 5.5 km (3.5 miles) trail is La Laguna Azul, a bright blue lagoon; Los Borbollones, a section of the river where you can see volcanic bubbles; and El Tenidero, the point where the two rivers that cause the blue color meet. The trail is relatively easy, besides one steep set of stairs that leads to the viewing platform of the waterfall.
Tenorio Volcano is one hour and 40 minutes from Liberia, one hour and 25 minutes from La Fortuna, and 3.5 hours from San Jose.
This 8-hour full-day trip from La Fortuna is a good option if you don't want to make your own way to the park. It includes a guided hike where you can spy on wildlife like monkeys and birds. Lunch in the park is included in the price.
I personally visited on my own and had a fantastic time. We left La Fortuna before 7 am to get through the gates just after they opened and got to enjoy the waterfall without the crowds. I highly recommend this!
The park is open every day (including weekends and holidays) from 8 am until 4 pm. However, the last entry is at 2 pm. If you have a rental car, keep in mind that parking at any of the car parks at the entrance is $3.50 USD per car. The Tenorio Volcano National Park entrance fee for adults is $12 USD and $4 for children. You pay the fee on arrival with card, no cash is accepted.
There are restrooms and restaurants at the entrance to the park and fresh coconuts for when you finish the trail!
7. Turrialba Volcano
Turrialba Volcano National Park in the Cartago Province is believed to be one of the least-visited areas in Costa Rica, despite being home to one of the most active volcanoes in the country – Turrialba Volcano. Turrialba is explosively eruptive, having had two major eruptions as recently as 2016 and 2017. It's the second tallest volcano in Costa Rica (behind Irazu) at 3,340 meters (10,958 feet)!
Increased volcanic activity in January 2022 resulted in the National System of Conservation Areas (SINAC) temporarily closing the park to the public. A reminder that although volcanoes are fun to visit, they still pose a danger to visitors.
Turrialba isn't as developed as the other national parks on this list, and the official road into the park is only paved for the first 10 km (6.2 mi). With that said, the unpaved sections are in good condition.
A 10.5 km (6.5 mile) hiking trail (out and back) leads you to the summit, and it's considered a moderate hike, so a reasonable level of fitness is required. It should take most people under 3 hours to complete this trail. At the top of this volcano is a world full of unique Costa Rican wildlife like giant toads, toucans, and howler monkeys within a unique cloud and rain forest. So the adventure getting here is well worth it, in my opinion. You can also spot several old lava flows on the trails here.
Turrialba Volcano is a two-hour and 15-minute drive from San Jose and only 10 km from the popular Irazu Volcano, which I mentioned earlier. The entrance to the park is $12 USD per adult and $5 for children. It is open from 7 am to 3 pm daily.
It's important to point out that anyone wanting to hike the trail MUST be led by an accredited guide. This is why tours are very popular.
If you've limited time in Costa Rica, then this full-day tour which includes a visit to both Irazu and Turrialba, is ideal. This 10-12 hour tour departs from San Jose and also includes a guided coffee tour! Coffee tours in Costa Rica are a must (the coffee is world-famous!) so this is a nice add-on.
Getting Around Costa Rica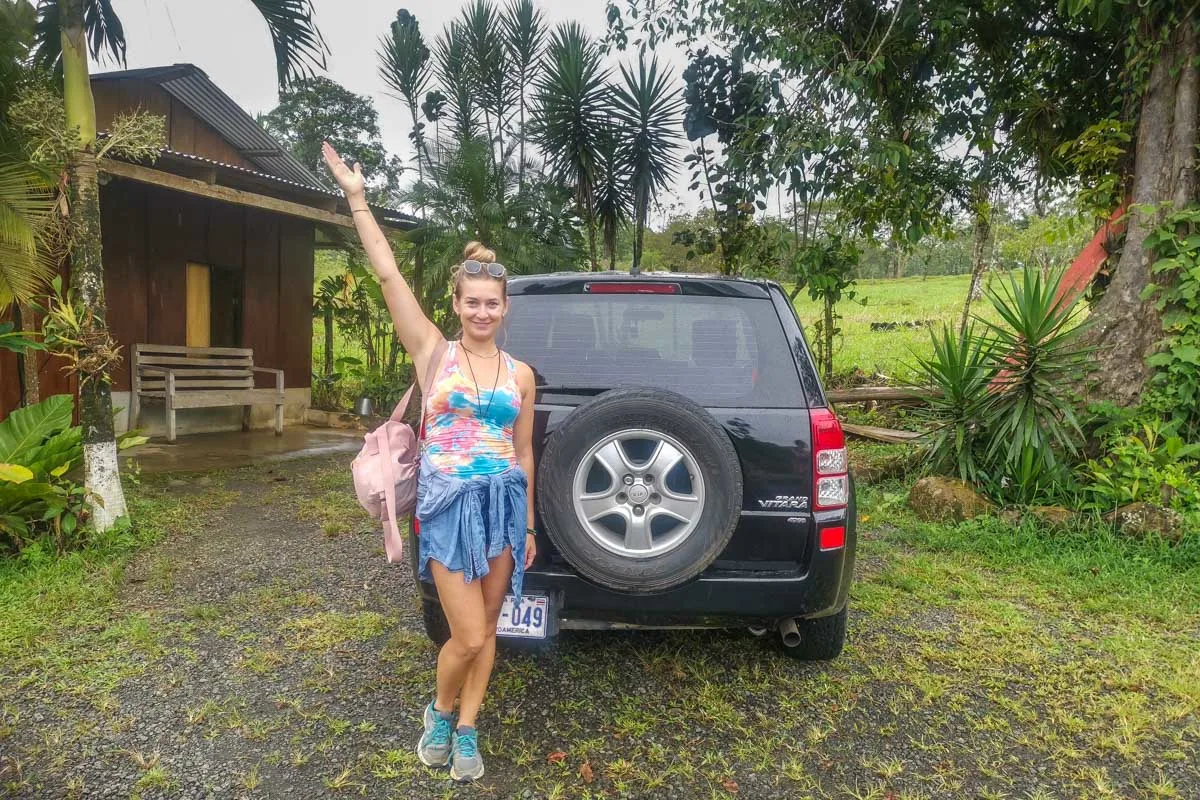 How you choose to get around Costa Rica is one of the biggest decisions you'll make when planning your holiday here! How you do it depends on your budget, travel style, and comfort level.
Renting a Car
Without a doubt, the number one way to explore Costa Rica is in a rental car. We book rental cars on the Discover Cars website as we have had good experiences with them in the past.
One of the things you need to watch for when renting a car in Costa Rica is the mandatory insurance that the government requires you to have. There are a lot of very cheap rentals that don't include this mandatory insurance (TPL) in the original booking price, but there are also ones that do. To avoid additional surprise charges when you pick up your rental car, be sure to rent a car that includes the mandatory insurance when you book.
Thankfully, on Discover Cars it's easy to tell apart the companies that include the mandatory insurance and those that don't. The trick is you can't pick any car on their website. In the picture below, you can see this rental car, with pick up in Jaco, includes the TPL. That means the mandatory insurance is included in the price. Any cover you get above that is extra.
Of course, I still suggest getting the full coverage offered by Discover Cars, which covers you even more.
You can browse cars on Discover Cars here.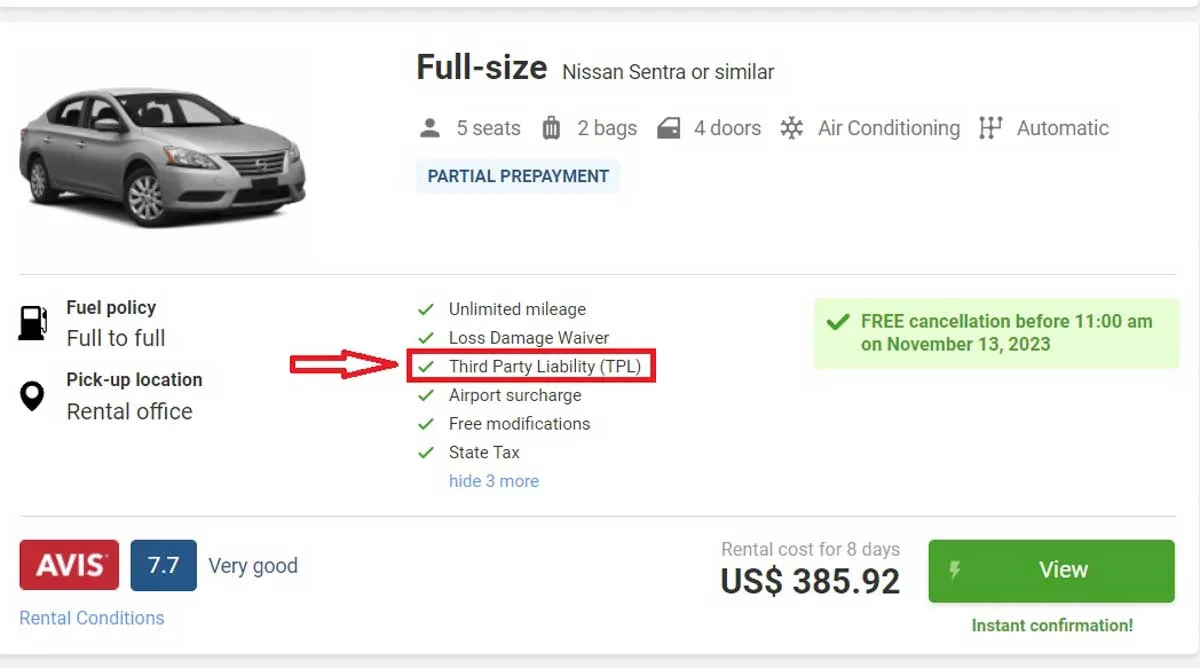 Book Shuttles
If renting a car isn't in your budget, you don't feel comfortable driving in Costa Rica, or you just don't like driving, shuttles are the next best option. There are hundreds of shuttle routes available all over the country, and they are very affordable.
Shuttles in Costa Rica are specifically for tourists and often include pick up and drop off at your selected hotels and airports. The drivers also speak some English, and the vehicles have air conditioning. You'll also be guaranteed a seat when you book a shuttle (which isn't the case with the public bus system.)
To get the best price, use the website Bookaway. They compare all the offers and prices of shuttle companies in Costa Rica so you get the best price! Honestly, we have saved so much money using Bookaway!
You can search for shuttles online on Bookaway here.
Public Bus
Lastly, you can use the public bus system. On short journeys, such as from San Jose to La Fortuna or Uvita to Manuel Antonio, this system is great. However, the longer the journey the more hassle and time spent on a bus. It's undoubtedly best to save the public bus in Costa Rica for short and straightforward trips!
The public buses are definitely the cheapest way to get around Costa Rica, but they are not always very reliable and schedules often change without notice and delays are to be expected. The buses can also be very crowded and hot – so just be prepared!
It's also good to speak some Spanish if you plan on riding the public bus since most drivers and ticket booth operators don't speak English.
Invest in Travel Insurance
Paying out of pocket for trip interruptions or medical treatment will add to what might already be a stressful situation. Not to worry, SafetyWing is here to help!
This affordable travel and medical insurance is perfect for digital nomads, long-term travelers, and remote workers. The best part is that it only costs $45 USD per 4 weeks.
To start coverage you must purchase it after leaving your home country. We usually purchase it as soon as we land at the airport.
Since using SafetyWing we've been reimbursed thousands of dollars when we've gotten sick. During the pandemic, they've even gone as far as to pay for our last-minute flights back to Canada before the border closed!
Pure Vida!
If you're planning a vacation to Costa Rica and just have to see a volcano, then I hope this list has helped you narrow down which ones to see. Those were 7 must-visit volcanoes in Costa Rica, but of course, there are lots more for you to explore – Costa Rica is known for its volcanoes, after all.
Thanks so much for reading. I hope you enjoyed reading our guide to the best Volcanoes in Costa Rica. If you did, then be sure to browse around and check out more of our in-depth guides, such as:
The Best Time to Visit Costa Rica
Ultimate Guide to the Nicoya Peninsula, Costa Rica