Puerto Limón, Costa Rica is one of the largest cities in Costa Rica and definitely worth your time to explore! It's a beautiful port city, also known as Port Limon, located on the eastern coast of the country. Limon is also a destination location for many cruise ships, so there are always things happening at Port Limon.
As the capital of Limón Province, Puerto Limón is the hub of activity and has a good mix of tourism and culture. All around the Limón Province, you will find everything Costa Rica has to offer from ziplining to river cruises, great food to amazing beaches, and everything in between. There are so many things to do both culturally and recreationally in Puerto Limón that you will not want to miss this amazing Caribbean city!
In this blog, we have gathered up the top 15 things to do in Puerto Limón that will give you all the best parts of Costa Rica in one centralized location!
Things to do in Limón, Costa Rica
1. Explore Cahuita National Park
When visiting Costa Rica, spending time in nature is a must! A hike in Cahuita National Park will show you some of the best of the wildlife that Costa Rica has to offer. Spot monkeys in the trees, snakes, and lots of rare birds of Costa Rica.
Cahuita National Park is located just south of Cahuita town around 45 minutes south of Puerto Limón. The park is open every day from 8 am to 4 and the park asks for a $5 USD entrance donation (cash only) per person to keep the park beautiful and preserved.
Exploring Cahuita is done by walking the 5-mile (8-kilometer) hiking trail (one way) through the park. Visitors can walk as far as they want before turning around. Along the trail, there are stunning beaches to explore as well as lots of wildlife.
One of the main attractions of the park, and the reason it was created in the first place, is the snorkeling on the reef. With that said, the reef was damaged during an earthquake in 1991 which lifted the seabed 10 feet (3 meters.) You need to book a tour in order to snorkel the reef as a permit is now required.
While you can visit and explore this park on your own, there are multiple guided tours you can choose from to have a more in-depth experience. This tour will give you an amazing wildlife experience along with the fauna of the park. It includes transportation to and from your hotel and even snacks!
If you have your own transportation and can meet the guide at the entrance, this tour is an excellent walking tour of the park.
2. Explore Veragua Rainforest
Veragua Rainforest is located about an hour west of Limón and is one of the best places to see a sloth and other wildlife near Limón. Along the hiking trails through the park, you can see amazing biodiversity including frogs, butterflies, monkeys, and of course, sloths.
There is also an ariel tram that takes you up into the trees and up close with all the amazing animals living there!
The park is open Tuesday to Sunday from 9 am to 3 pm, and standard admission which includes the walking trails and aerial tram, is $62 USD. If you have your own vehicle, you can just drive out to the park and purchase your ticket, exploring on your own.
This guided tour costs $153 USD and will provide transportation from Puerto Limón, your entrance ticket to the park, and a ride on the aerial tram. You'll also get to explore the stunning trails that wind their way around the forest and visit a waterfall. The best part is, with a guide, you'll see a lot more wildlife!
3. Cruise the Tortuguero Canal
The Tortuguero Canals are known as Costa Rica's Amazon. A part of Tortuguero National Park, these canals are a true maze of waterways that run down the coast of Costa Rica. They are rich with wildlife and the views are spectacular.
The park was set up in 1971 to protect the rare wildlife here which includes the Green Turtle and the best way to travel these canals is to take an open-air boat tour.
This tour will provide transportation both ways to and from Port Limón. It also includes a guide that will be able to point out the amazing animals that live along the riverfront. Tours start at only $107 USD and start running early in the morning until late.
If you have your own transport to Tortuguero then you can simply purchase tickets for the boat tour and meet at the Almonds Dock.
4. Go ziplining
If you want to get up close and personal with the rainforest surrounding the Tortuguero Canal, take a zipline and canopy tour! A trip to Costa Rica is not complete until you are soaring through the canopy of the rainforest, and Tortuguero Canal is one of the most beautiful places to experience it.
This tour is a great combination adventure of both the Tortuguero Canals river cruise and zip line tour. It's perfect for those short on time. You will see animals in the rainforest and the water as well as get a great introduction to the area. The tour starts at 8 am and leaves from Puerto Limón.
5. Relax at Playa Bonita
The name itself, Playa Bonita or Beautiful Beach, should convince you to visit this amazing beach. It is located on the north side of the Limón region in a little inlet that allows for great surfing, relaxing on the beach, or playing in the sand.
This beach can be reached by taxi if you plan to visit on your own and spend as much time as you would like. If you are looking for a quick visit to the beach but still be able to walk on the sand, you can take a combination tour like this one that will give you the best of the beaches as well as the entire Puerto Limón including a banana plantation. The tour costs around $60 USD and lasts upwards of 4 hours.
6. Go snorkeling
One of the most unique spots in Limón, Costa Rica is located just off the coast, and snorkeling is the best way to see it all. Cahuita, Playa Bonita, Playa Cieneguita, as well as others along Puerto Limón offer excellent snorkeling spots and scuba diving where you will get the chance to see beautiful coral reefs, amazing fish, and other wildlife. You may even get to encounter turtles swimming by!
If you travel further south to Puerto Viejo, you can take a snorkeling tour out to see a shipwreck sight. It is a beautiful and adventurous way to get in the water and get in touch with nature.
This specific Cahuita National Park snorkeling tour is an excellent option if you are looking for a basic, private snorkeling tour that is safe and has all the gear included and will take you to see amazing coral reefs and creatures.
It's a private tour too so only your group will go which means you'll have more opportunity to learn from your guide and ask questions.
Related Read: Want to spend more time in Puerto Viejo? Check out the best hotels in Puerto Viejo!
7. Whitewater rafting
Whitewater rafting down Pacuare River is a must-do for adventure seekers. This river is located about 60 minutes north of Limón and is accessible by taxi or through a guided tour.
The Pacuare River is considered one of the most scenic and beautiful rivers in all of Costa Rica and offers a range of rapids all in one trip. You will get to see lots of wildlife and amazing plants while on your trip down the river, as well as paddle over level III-IV rapids.
It should come as no surprise that this is one of the best places to go whitewater rafting in all of Costa Rica!
Check out this tour for an all-day whitewater rafting adventure priced at $132 USD. You will travel over 18 miles of river, and transportation from Limón is included in the package.
8. Visit a Banana Plantation
Costa Rica is one of the world's largest exporters of bananas, which means there are many places to see them growing and harvested. There are several plantations near Limón.
You can visit one on your own or tour a plantation with a guide like this experience. It includes a cruise on the Tortuguero Canal with a tour through the Del Monte banana plantation along the way. You can learn about how bananas are grown, watch how the very skilled workers harvest the bananas, and even purchase fresh bananas to enjoy!
9. Head to Puerto Viejo
This cute town is located down the coast from Limón and is excellent for spending a day in town, on the beach, or both! Puerto Viejo arguably has some of the most breathtaking beaches in all of Costa Rica!
From the black sand beach of Playa Negra to the crystal blue waters of Playa Puerto Viejo, it is a must-see when visiting Limón Province. But Puerto Viejo offers many more things to do than just beaches!
Animal lovers will enjoy visiting a wildlife refuge (more on that below, #13 in this blog) as well as snorkeling among the amazing sea creatures. For those a bit more adventurous, Puerto Viejo offers amazing surfing and even a dive into a sunken ship off the coast.
There is so much to do in Puerto Viejo you may need to make it a separate trip!
10. Make chocolate the traditional way
When you think chocolate, you probably don't think of Costa Rica first, but you will now! Costa Rica has a rich culture and many indigenous tribes throughout the country. You can escape the more touristy areas of Costa Rica and visit a village of the Bribri tribe to learn how to make chocolate in a very traditional way.
This experience will get you to the village and back, as well as experience making chocolate, and learning all about the Bribri tribe including their language and lifestyle. It is a unique and very memorable way to experience the culture of Costa Rica.
11. Visit Vargas Park
This park is located just off the coast in Limón near the port itself. While it is not a very large park, it is a great balance of culture, tourism, and wildlife. It is free to enter and does not close, but you will want to go during the day. This is when food vendors are there, and you are more likely to see sloths hanging in the trees.
Enjoy a walk around the park, take pictures in the iconic gazebo or with the many other art installments, or just sit on one of the many benches and enjoy searching for sloths. You may have to convince a local to help point them out to you though, as they can be difficult to spot if you don't know what you are looking for!
This park is a great choice if you have an hour or two of extra time in downtown Limón.
12. Eat at amazing restaurants in Limón
Since this region of Costa Rica is located on the coast it has been influenced by Jamaican culture so in turn, a lot of the food here is much different than in the rest of Costa Rica. Dishes are made with unique spices and Caribbean cooking methods.
If you want true Costa Rican food, there are many small restaurants called "sodas" are located on almost every block in Limón. These hole-in-the-wall places will serve you amazing Gallo pinto, Casado, plantains, chicken, and Arroz con Leche for a very good price.
Some of the most amazing restaurants include:
Taylor's Restaurant – This restaurant is a local favorite, and you can find all the typical Costa Rican foods here along with Caribbean dishes. It is open every day from 7 am to 6:45 pm and is highly rated.
Maestros Wine & Grill – It has a cozy feel to it and offers a wide selection of wine and food. This upscale restaurant is open every day from 11 am to 10 pm on Monday and Tuesday, 10 am to 10 pm on Wednesday, 10 am to 11 pm on Thursday and Friday, 10 am to 11 pm on Saturday, and 9 am to 10 pm on Sunday.
13. Visit the Jaguar Rescue Center
Animal lovers or not, you will love to see amazing wildlife up close and in person at the Jaguar Rescue Center. Here, they care for all types of animals from sloths to toucans!
You can learn about how they live, what dangers are facing these animals, why they are in the center, and how they are working to get these animals back in the wild. The aim of the game at all wildlife rescue centers in Costa Rica is to release the animals back into the wild – and that's just what they do at the Jaguar Rescue Center.
You can get there on your own by car or taxi from Puerto Viejo. Their 1.5-hour public tour costs just $24 USD and happens each day the center is open at 9:30 am and 11:30 am sharp. Private tours happen at 2 pm daily and cost $75 USD. Here is their website to learn more about their amazing work.
You can also book a tour that will provide transportation. This is a great choice for a few hours tour that includes pick up and drop off at Port Limón. Personally, it is one of my absolute favorite things to do in Limon.
14. Go shopping
As with any large city, there are always great places to shop and explore in the city itself. Limón offers a large central market that includes several different vendors, both food and other goods.
You can barter for a good price and find amazing things from this market. There are also several little shops and boutique stores located all around town to explore. Spend some time and find amazing, handcrafted souvenirs walking from shop to shop in the streets of Limón.
15. Go on a guided night tour
There is so much to see in Limón…even at night! There are amazing species of wildlife that only come out at night in the rainforests. Frogs, insects, and even big cats can be seen during a night tour.
This guided tour is a great option for a night tour leaving from Limón and costs just $45 USD. Any night tours should be done with a guide to make sure you stay safe and avoid getting lost in the rainforests!
Getting to Puerto Limón, Costa Rica
Puerto Limón is about a 3-hour drive from the capital of San Jose. You can get there easily by bus or even taxi, depending on how much you want to spend.
The cheapest way to get there will be to take the public bus from San Jose. The quickest way to get to Puerto Limón is to fly, as Limón is home to one of the four airports in the country. You can fly directly from locations outside of Costa Rica or take a short flight from San Jose to Puerto Limón.
Another common way to get to Puerto Limón is to go by Cruise Ship. Port Limon is a major stopping point for many cruise ships and is a part of many affordable packages. Ships stop all along the port and vary in how long they stay and give you time off the boat. You can still experience a lot of what Limón has to offer with even just a day to explore and enjoy!
Note: Puerto Limon isn't the safest place in Costa Rica, so you should take extra precautions while here.
Where to Stay in Puerto Limón, Costa Rica
In Puerto Limón, there aren't that many options for places to stay. To be honest, most people visit for the day from their cruise. However, if you are planning on spending a few nights in Puerto Limón, you can find an ideal place to stay.
For budget travelers, Casa Caribe is a top choice if you don't mind staying in a self-check-in apartment. They are clean, comfortable, and have great reviews. If you want something closer to the water, Marta's Guesthouse is a good option.
If you have a rental car, Hotel Playa Westfalia is a good option. It's located 7 kilometers (4.3 miles) south of Puerto Limón, but that means you're closer to Cahuita and Puerto Viejo. The hotel is also located right on the beach and has a pool!
Other than that, most other options are either very similar to the above or not suitable to recommend. Instead, consider staying in Cahuita. You can find lots of nice places to stay there, such as Wildlife Lodge Cahuita, Bungalows Aché Cahuita, and Passion Fruit Lodge.
Getting Around Costa Rica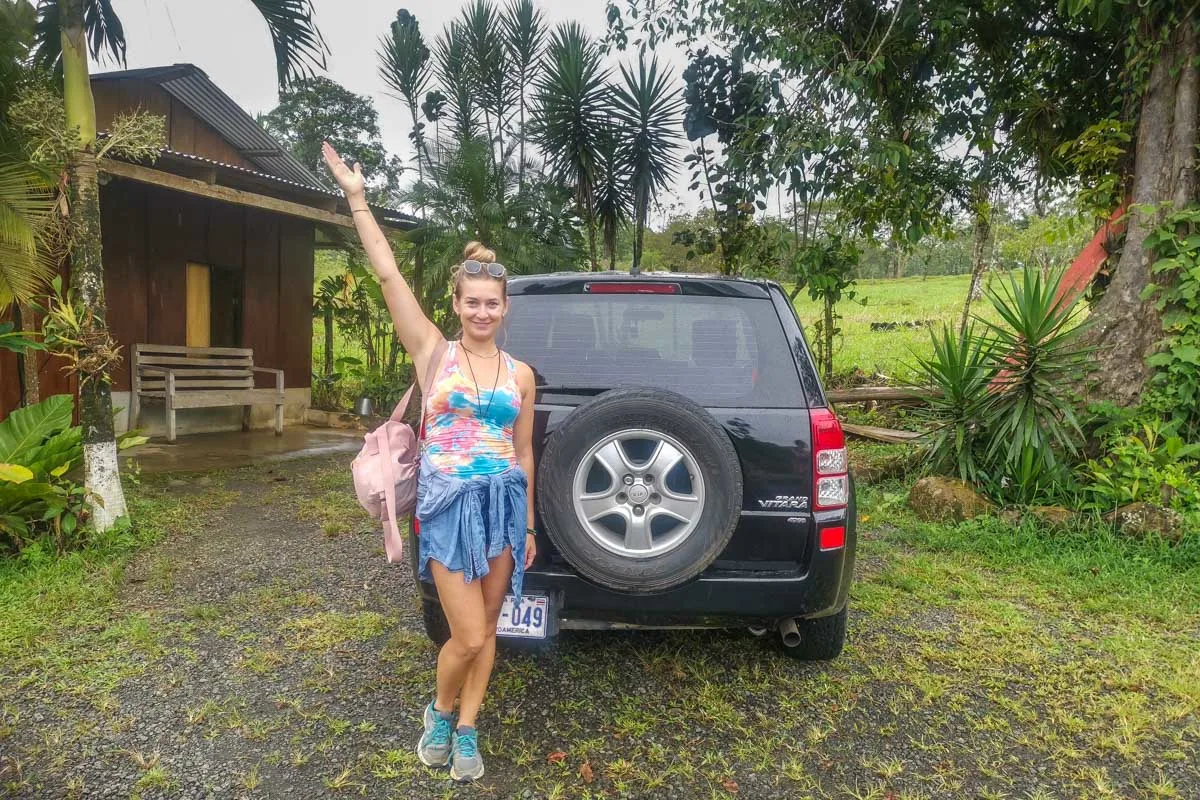 How you choose to get around Costa Rica is one of the biggest decisions you'll make when planning your holiday here! How you do it depends on your budget, travel style, and comfort level.
Renting a Car
Without a doubt, the number one way to explore Costa Rica is in a rental car. We book rental cars on the Discover Cars website as we have had good experiences with them in the past.
One of the things you need to watch for when renting a car in Costa Rica is the mandatory insurance that the government requires you to have. There are a lot of very cheap rentals that don't include this mandatory insurance (TPL) in the original booking price, but there are also ones that do. To avoid additional surprise charges when you pick up your rental car, be sure to rent a car that includes the mandatory insurance when you book.
Thankfully, on Discover Cars it's easy to tell apart the companies that include the mandatory insurance and those that don't. The trick is you can't pick any car on their website. In the picture below, you can see this rental car, with pick up in Jaco, includes the TPL. That means the mandatory insurance is included in the price. Any cover you get above that is extra.
Of course, I still suggest getting the full coverage offered by Discover Cars, which covers you even more.
You can browse cars on Discover Cars here.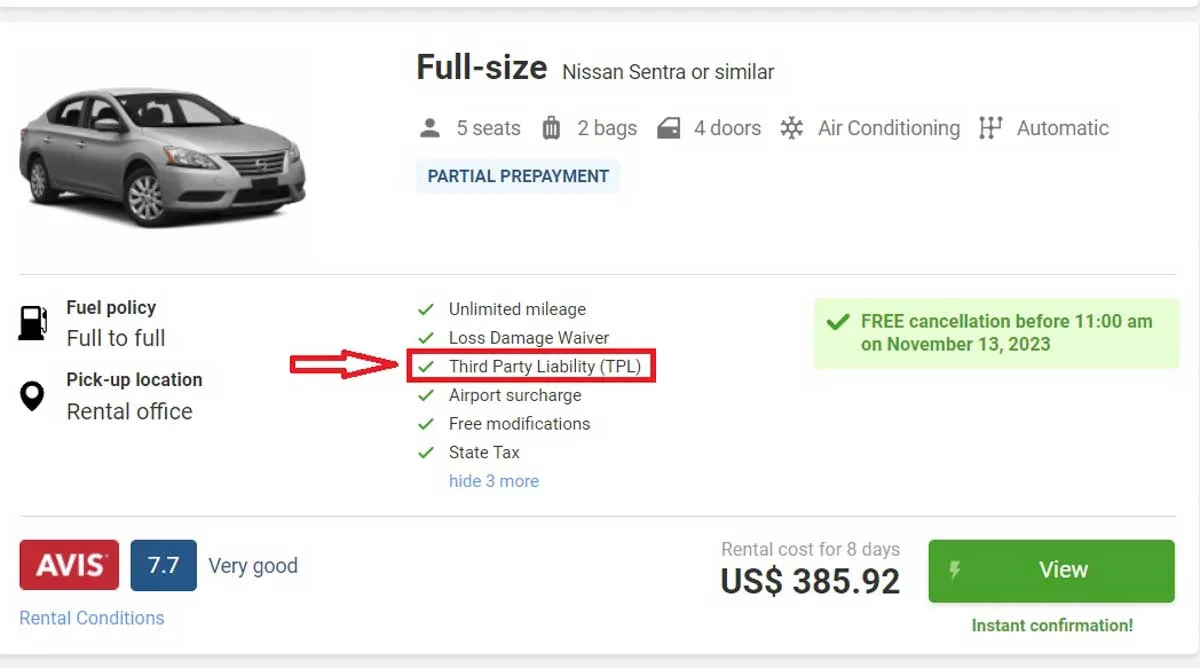 Book Shuttles
If renting a car isn't in your budget, you don't feel comfortable driving in Costa Rica, or you just don't like driving, shuttles are the next best option. There are hundreds of shuttle routes available all over the country, and they are very affordable.
Shuttles in Costa Rica are specifically for tourists and often include pick up and drop off at your selected hotels and airports. The drivers also speak some English, and the vehicles have air conditioning. You'll also be guaranteed a seat when you book a shuttle (which isn't the case with the public bus system.)
To get the best price, use the website Bookaway. They compare all the offers and prices of shuttle companies in Costa Rica so you get the best price! Honestly, we have saved so much money using Bookaway!
You can search for shuttles online on Bookaway here.
Public Bus
Lastly, you can use the public bus system. On short journeys, such as from San Jose to La Fortuna or Uvita to Manuel Antonio, this system is great. However, the longer the journey the more hassle and time spent on a bus. It's undoubtedly best to save the public bus in Costa Rica for short and straightforward trips!
The public buses are definitely the cheapest way to get around Costa Rica, but they are not always very reliable and schedules often change without notice and delays are to be expected. The buses can also be very crowded and hot – so just be prepared!
It's also good to speak some Spanish if you plan on riding the public bus since most drivers and ticket booth operators don't speak English.
Invest in Travel Insurance
Paying out of pocket for trip interruptions or medical treatment will add to what might already be a stressful situation. Not to worry, SafetyWing is here to help!
This affordable travel and medical insurance is perfect for digital nomads, long-term travelers, and remote workers. The best part is that it only costs $45 USD per 4 weeks.
To start coverage you must purchase it after leaving your home country. We usually purchase it as soon as we land at the airport.
Since using SafetyWing we've been reimbursed thousands of dollars when we've gotten sick. During the pandemic, they've even gone as far as to pay for our last-minute flights back to Canada before the border closed!
Pura Vida!
Puerto Limón, Costa Rica might not be the most popular tourist destination in Costa Rica but that doesn't mean there isn't plenty to see. As you can see from the list above, there are a ton of awesome things to do in Puerto Limón!
Thanks so much for reading! If you liked this blog then you'll love some of our other guides. So, check them out below, and don't forget to let us know if you have any questions about your trip to Costa Rica. Pura Vida!
Best places to go kayaking in Costa Rica
Top ziplining tours in Costa Rica