This blog may contain affiliate links. Read our disclosure policy for more info.
Jaco is one of my favorite places in Costa Rica because not only is it stunningly beautiful, it's home to some of the best surf in the region, but the lush wildlife haven of Carara National Park is also nearby. Surprisingly, you don't need to have a big budget to have fun in Jaco – in fact, some of the best things to do in Jaco are free or very cheap!
Because Jaco is so naturally pretty, it will come as no surprise to you to learn that some of the best free things to do here involve the great outdoors, like surfing and hiking. As for cheap things to do in this coastal town, why not enjoy drinks with a view at one of the most famous hotels in the area or join a tour of a craft brewery?
So, to help you plan your vacation and convince you that Jaco can be enjoyed on a tight budget, I've come up with this list of 10 free and cheap things to do in Jaco, Costa Rica!
Don't have time to read the full article? Check out our list of our absolute favorite free and cheap things to do in Jaco:
Hike up to an abandoned hotel known as El Miro.
Go surfing at the beach. (We recommend this 2-hour surf lesson for beginners.)
Spend the day at nearby Playa Mantas and Playa Blanca.
See the famous crocodile bridge that runs over the Tarcoles River.
Explore Carara National Park on this cheap tour.
The BEST FREE & Cheap Things to do in Jaco
There are lots of free and cheap things to do in Jaco that make this surf town well worth visiting – you just need to know where to look!
The Best FREE Things to do in Jaco
1. Hike up to El Miro
One of my favorite free things to do in Jaco is to hike up to an abandoned hotel known as El Miro. The road up to the hotel is now closed, so the only way to reach this quirky attraction is on foot. El Miro is located at the southern end of Jaco, and the hike to the hotel takes approximately 25 minutes, not including getting to the base of the trail from town. It's an easy hike, but there are a few steep sections, so a decent fitness level is recommended.
Along the way, keep an eye out for Costa Rican wildlife like toucans, white-faced monkeys, and a scenic viewpoint about halfway up. Make a quick stop at this viewpoint and then keep going because the main attraction will truly leave you in awe. You'll find the abandoned hotel on your left after you hike around quite a steep left-hand turn. Then, walk along El Miro's ancient balcony to the main building; from here, you can see Jaco city and the ocean. It's quite a sight!
Plus, there's a cool spiral staircase with a colorful mural painted on the base of the staircase!
Hiking to El Miro for sunset is one of the most popular hikes in the region, but we recommend hiking in a group and leaving before it gets dark.
2. Go Surfing!
It's a well-known fact that Costa Rica is one of the best surfing destinations in the world! But its notoriously big surf can be a little nerve-wracking for beginners. That's why Jaco is a great option for newbies because the waves on Jaco beach aren't too powerful, but they're still strong enough to be a bit of a challenge. I love that the beach area is so large that you can practice without worrying about too many people watching you.
If you have your own surfboard, surfing here is completely free!
If you're a complete beginner, then I recommend this two-hour surfing lesson for $50 USD to learn the basics. During the lesson, your instructor will teach you water safety, how to paddle, how to stand up on a board, and finally, how to catch a wave! You should certainly ride your first wave before the end of the two hours!
The best thing about this option is that the price includes the use of surfboards and rash guards for the day so you can keep on practicing after the two hours is up. What's great too is that beach chairs and umbrellas are also included so you can get some well-deserved sun time after all your hard work in the water.
Experienced surfers are best to just rent a surfboard on the beach or from one of the many surf shops in Jaco – these cost from $10 to $15 USD per day.
It's worth noting that the best surfing in Jaco is from mid to high tide, and of course, the weekends are much busier, so if you can, try to catch waves during the week. If you're a beginner, stay on the south side of Jaco beach. While if you have some experience, the middle or north end is best. And advanced surfers should head out to Playa Hermosa, which boasts some of the biggest waves in the region. Swimming is banned on this beach due to the big swells and strong currents, so being confident in the water is a must.
If you don't fancy surfing while in Jaco, then why not check out a local surf competition – there are multiple events held here throughout the year!
Related Read: Love surfing? Check out the best things to do in Nosara, Costa Rica too!
3. Visit Playa Mantas and Playa Blanca
Just a 20-minute drive from Jaco are two stunning beaches that are some of my favorites in Costa Rica – Playa Mantas and Playa Blanca. It's worth noting that they are pretty tricky to access but with some pre-planning, you can easily spend a whole day here.
If you have a rental car, take Highway 34 and turn left shortly after Los Guarumos restaurant. If you come to the main entrance to the Punta Leona Hotel, you've driven too far! The road into the beach parking lot is a mix of paved and dirt roads, so go slowly. It costs 1,000 colones ($1.50 USD) per hour to park here, and it's cash only. This car park fills up quickly on weekends, so be sure to get there early!
The first beach Playa Mantas is just a short walk from the car park and is considered a hidden gem. It boasts turquoise water and lovely, gentle waves, making it an ideal swimming beach. It's so photogenic, too, with a lush jungle backdrop where you may see white-faced monkeys playing in the trees; these monkeys often come onto the beach to try to steal food. Cheeky! Playa Mantas is also THE BEST place to SUP in Costa Rica – I've never seen a bay this calm on the Pacific Coast before!
While visiting Playa Mantas, allow enough time to walk to Playa Blanca. You can only walk between the two at low tide. To get there, walk south on the sand from Playa Mantas to a rocky path that connects to Playa Blanca. Playa Blanca has the softest sand and lovely calm waves, and it's a great spot to relax in the sunshine.
Both these beaches are located in front of the Punta Leona Resort. And although they are not private beaches, the only way to directly access Playa Blanca (besides walking over from Playa Mantas) is through Punta Leona either as a guest or by purchasing an expensive day pass. Avoid this by getting there from Playa Mantas, and then you can enjoy both beaches!
4. See Crocodiles in the Tarcoles River
One of the best activities in Jaco is just a 25-minute drive north of the town. And yep, you guessed it; it's completely free!
The famous crocodile bridge runs over the Tarcoles River and offers the unique opportunity to see crocodiles in the wild. In fact, the Tarcoles River is home to one of the biggest populations of crocodiles in the world. When we visited this spot, we were lucky enough to see 15 crocodiles, and one big guy was almost 15 feet (4.6 meters) long!! We found the best place to see the crocs was to stop about halfway across the bridge, which gives an excellent vantage point of a sandbank where most of these huge creatures tend to hang out!
The drive here from Jaco is pretty easy; as I mentioned, it's 25 minutes, and it follows Route 34. If you don't have a rental car, you can catch the 655 bus to Carrara National Park and hop off at Tarcoles and then walk approximately 2 km (1.2 mi) to the bridge. Alternatively, we rented scooters for the day, which cost us $45 USD for eight hours. You'll need a valid driver's license for that and a credit card for a deposit.
The entrance to the bridge is completely free!
Another great way to get up close to the crocs and learn some interesting facts about them is on a crocodile cruise like this one. Of course, this is a paid tour, but you'll get to explore the Tarcoles River on a guided boat cruise, spotting crocodiles, reptiles, and birds along the way. You will also be able to sample some Costa Rican coffee and refreshments on the boat ride. To us, it is one of the top tours available in Jaco!
Related Read: Visiting the Crocodile Bridge is also one of the best things to do from Puntarenas!
5. Chase Waterfalls!
Costa Rica truly is a waterfall-lovers paradise, and you just have to visit a couple while you're here – even if it's just a quick stop to take some photos or go for a refreshing swim in the natural pools at the base of the waterfall! What's great too is that the waterfalls in Jaco are free to visit!
There are lots of waterfalls in Jaco, but they can be hard to find on your own as many of them are located on private land, so be sure to do your research beforehand. Many of the best falls (over 10 of them) are located in Las Monas Rainforest, which is an 8-minute drive from town. It's about a 15-minute walk through the rainforest before you see any waterfalls, but soon you will be seeing one every couple of minutes! So cool!
To find these waterfalls, it's best to ask around. The receptionist at your hostel or hotel should have some info. There are plenty of waterfalls around, some are better in different seasons, though, and the locals should know this.
But we think an easier way to see the waterfalls here is to join a guided tour; although it's not a free activity this 10 Hidden Waterfalls experience is highly recommended. This particular tour will take you to 10 waterfalls within Las Monas Rainforest; it includes a professional guide. On the tour, you can swim in the natural pools below the falls and even jump from the top of a waterfall if you're feeling brave!
If you're after a more fast-paced tour, then why not consider this action-packed half-day tour which involves seeing the waterfalls (as well as rivers, the rainforest, and a small village) via ATV? It's one of the best ATV tours in Jaco, so you're sure to love it! The tour begins in the mountains behind Jaco and includes a delicious lunch. You'll even get the chance to go fishing for tilapia fish at a small pond along the way!
If you fancy going slightly further afield, then why not drive the 1.5 hours to visit the famed Nuayaca Waterfalls, which are located near the towns of Dominical and Uvita! I must admit, these are my favorite falls in Costa Rica and are well worth the long drive. They're not-so-easy to reach as you must hike along a 2.5 mile (4 km) dirt road first, but the view of the falls is so worth it! I advise hiking to the top waterfall first and then down to the lower falls for a refreshing dip!
Related Read: If you're visiting Uvita, be sure to also visit Uvita Waterfall, where there is a natural slide down the falls!
6. Visit Mirador de Jaco Viewpoint
If you want to snap an epic Instagram photo, then you just have to stop at Mirador de Jaco Viewpoint, which is home to the iconic, colorful JACO sign and is backed by Jaco beach. You can find the sign on the road up to Miro Mountain!
It's particularly nice here at sunset. While you can walk here, it will take you 45 minutes (3.7 km/2.3 mi), but because you'll be walking beside a busy road, it's not recommended. Instead, we advise you to get a taxi, or if you have a rental car, you can drive the 5-minute journey yourself and park along the side of the road.
This is a very popular spot, and you may have to queue to take a photo!
The Best CHEAP Things to do in Jaco
7. Explore Carara National Park
A great cheap activity in Jaco is to explore the beautiful Carara National Park, which is just a 30-minute drive from Jaco. This park is, in fact, the most northern Pacific coastal rainforest in the country and features epic jungle trails! You can drive here yourself and pay the $10 USD entrance fee or book a cheap group tour which costs just $30 USD per person!
The word "Carara" directly translated from the indigenous Huetar language meaning "River of lizards." So as you can guess, you will see lots of reptiles here, including crocodiles! As well as that, expect to see abundant birdlife like macaws! The park is open every day from 8 am to 4 pm from May to November and from 7 am to 4 pm from December to April.
If you visit without a tour, this is definitely one of the cheapest things to do in Jaco. Even on your own, you should be able to spot the abundant wildlife here. My top tip is if you see a group looking into the canopy, chances are they've spotted something, so follow their line of sight, and you should be in luck! As I mentioned earlier, the entrance fee to Carara National Park is just $10 USD!
If you don't want to DIY it, then a cheap guided tour from Jaco is a great choice; this particular tour is between 3 and 5 hours in duration and costs just $30 USD; it is a group tour, but if you want a private tour that costs $50 USD. Both are very reasonable options, in my opinion! For the best chance to see wildlife we recommend this tour as the knowledgable tour guides are experts at spotting animals and birds and are a wealth of knowledge when it comes to facts about the park itself.
Related Read: Carara National Park is one of the best National Parks in Costa Rica – read about all the others!
Why We Book Tours with Viator
Viator is a trusted online booking system for tours around the world! We almost always book our tours using Viator for a couple of reasons:
Free cancellation on most tours – Most of the tours on Viator allow you to cancel and get a full refund up to 24 hours in advance. This is handy in case plans change, or if booking an outdoor activity, the weather forecast is looking grim.
Reserve now and pay later – You can secure your spot on some of the most popular tours well in advance and not pay until closer to the day of the tour.
Pay in your chosen currency – Avoid costly international transaction fees by choosing to pay in your home currency.
Peace of mind – When booking with tour operators you find in person on the street or in small booking offices, you are often promised one thing and given another. This online platform holds tour operators accountable with a written description of inclusions as well as the opportunity for customers to leave reviews.
Check out the Viator website here!
8. Watch the Sunset at Villa Caletas
I don't know about you, but I just have to watch the sunset every night of my vacation! I find it's a great way to end my day! Well, luckily, one of the best sunset spots I've ever been to is located right here in Jaco – at Villa Caletas. This hotel is built on the side of a mountain overlooking the coast about 15 minutes from Jaco.
And although there's no entry fee to access this location, non-hotel guests do need to buy drinks or dinner to sit here and watch the sunset. That's why I've listed this spot as one of the best cheap things to do in Jaco!
To watch the sunset, head to the Greek-themed amphitheatre, but it's essential to get here early to get a table as people typically start arriving around 4:30 pm!
When we visited, they had a happy hour between 4 pm and 6 pm, and I enjoyed some delicious cocktails. As I mentioned, you can also dine here at one of the two restaurants.
9. Visit Puddlefish Brewery
While we're on the topic of drinks, I just have to include my favorite spot for craft beer in Jaco – PuddleFish Brewery on this list. I just love craft beer and always try to taste the local varieties on my travels. So, I was delighted when I saw that this local microbrewery had opened up in Jaco. Serving a selection of craft beers, including a mango pale ale and a strong IPA, as well as yummy cocktails, this is a great spot to spend a few hours in the evening!
The brewery and tasting room here is inspired by surf, sail, and the sea, and it's a great place to meet locals. There's also a food-truck-style kitchen here that offers pub food like chicken wings. The menu is pretty reasonably priced, too, averaging $15 USD for a main!
If you're a big beer fan (like me!), then you'll love the 30-minute behind-the-scenes tour they provide, which offers the chance to see the malting, brewing, and packaging processes. It also includes beer tasting, so you can try many of their beers and decide which one you like the best.
Related Read: Puddlefish is one of the best craft breweries in Costa Rica – see where the rest are located!
10. Eat Taco's at El Chicano
A fantastic cheap eat in Jaco is El Chicano which serves up the freshest, most authentic Mexican food in Costa Rica, in my opinion. Make sure you order their tacos which are fresh and full of original flavors. They often do special deals, like three tacos and one beer for as little as 5,000 colons ($9.50 USD)!
The restaurant itself is spacious and air-conditioned, and if you're a sports fan, they show many games on their large-screen TV.
If you come here while visiting Jaco, ensure you try their famous marinated pork tacos, which are cooked on a slow vertical rotating spit, then served wrapped in a fresh corn taco filled with guacamole, onions, parsley, and special sauces. My top tip – ask them to add pineapple to it!
We loved El Chicano Mexican Food and will be back! It's a great choice for a restaurant in Jaco!
El Chicano Mexican Food is open from 11 am to 10 pm every day, and you can view their menu here.
Related Read: If you don't mind spending a little more, there are some really affordable zipline tours available in Jaco that I'm sure you would love!
Where to Stay in Jaco on a Budget
There are some really nice hotels to choose from in Costa Rica and the best part is that some of them are fairly cheap. Here are the best budget-friendly stays in Jaco!
1. Hotel Mirasol
Offering family accommodation near the Planetarium Arcade, Hotel Mirasol comes complete with the standard amenities to make your stay as memorable as possible. Enjoy a swim in the outdoor pool or chill on the terrace while you update your Instagram profile. There is also a shared kitchen on the property should you want to prep your own meal.
Your room is also well-appointed with a TV, a dining area, and a private bathroom and is kept clean by friendly housekeepers.
Room rates here only start at $25 USD per night for a dorm bed or $90 USD for a private queen room making it one of the cheapest hotels in Jaco. You can book Hotel Mirasol here on Booking.com.
2. Room2Board Hostel
A boutique hostel and surf camp tucked away on the southern end of the beach, Room2Board is probably one of the best Jaco hostels. It boasts a social and friendly atmosphere and while the rooms at this hostel are pretty basic, the hotel-like amenities and varied activities offered right on the property easily make up for it.
Go on a quick movie date at the in-house movie theater, dip in the pool, or enjoy the romantic sunset on the rooftop while you down your cocktail and chill on the hammocks. Join your new friends for lunch at the on-site restaurant or cook your own meal in the communal kitchen if you like.
The rooms at Room2Board come as private, shared, or dorm-style. If you prefer rooms with a private bathroom, rates start at $90 USD per night. Meanwhile, beds in dorms range from $25 to $33 USD per night. There is an additional charge for air conditioning.
You can book Room2Board on Booking.com here, Hostelworld here, Hotels.com here, or Expedia here.
3. Wipeout Hostel
At Wipeout Hostel the rooms are pretty basic but comfortable and come with air-conditioning and a shared bathroom. But what really gives Wipeout its charm is its great location that sets you 6 km (3.7 mi) out of the craziness of the town center. You will also be within walking distance to the best beachfront pubs, restaurants, and minimarts in the area. What's more, Hermosa Beach is a quick 15-minute walk away
Amenities we loved here include the BBQ facility by the outdoor pool, the shared lounge and kitchen!
Wipeout offers rooms for as low as $70 USD per night, inclusive of an American breakfast. They also offer dorm beds which are some of the cheapest in Jaco and area! Wipeout Hostel can be booked here on Hostelworld.
Getting Around Costa Rica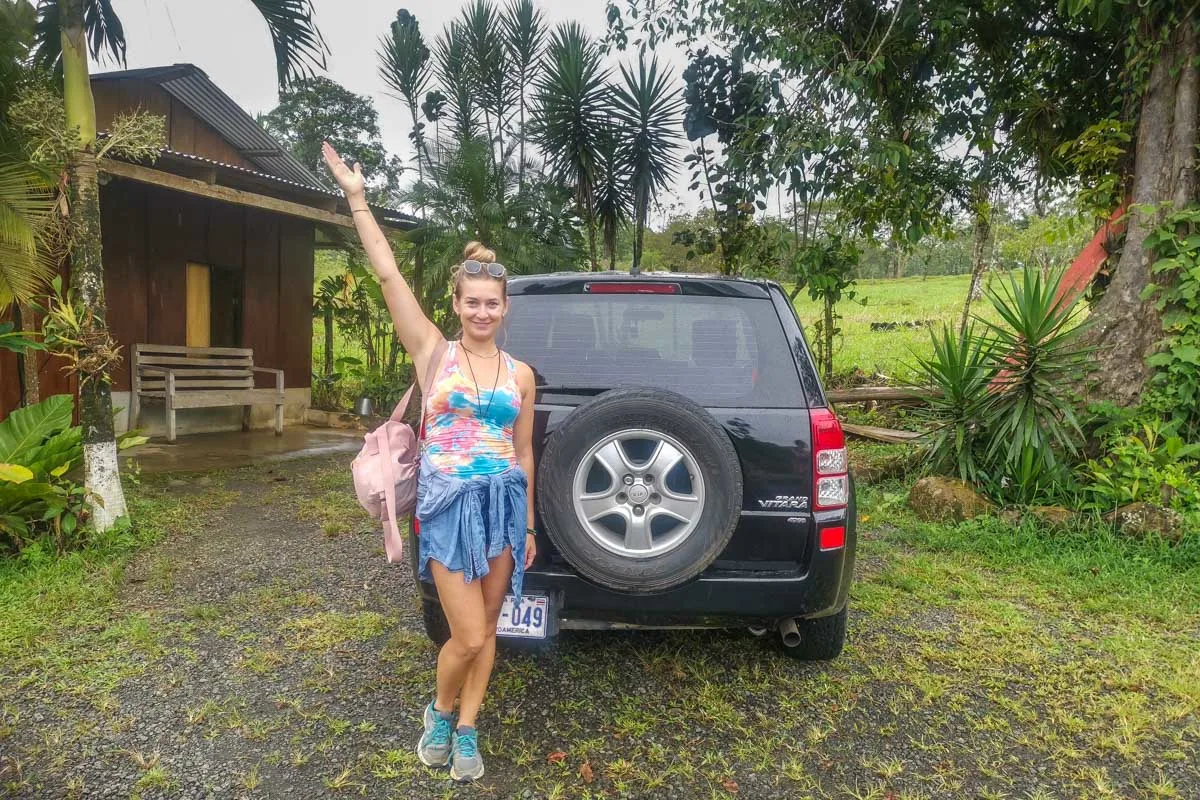 How you choose to get around Costa Rica is one of the biggest decisions you'll make when planning your holiday here! How you do it depends on your budget, travel style, and comfort level.
Renting a Car
Without a doubt, the number one way to explore Costa Rica is in a rental car. We book rental cars on the Discover Cars website as we have had good experiences with them in the past.
One of the things you need to watch for when renting a car in Costa Rica is the mandatory insurance that the government requires you to have. There are a lot of very cheap rentals that don't include this mandatory insurance (TPL) in the original booking price, but there are also ones that do. To avoid additional surprise charges when you pick up your rental car, be sure to rent a car that includes the mandatory insurance when you book.
Thankfully, on Discover Cars it's easy to tell apart the companies that include the mandatory insurance and those that don't. The trick is you can't pick any car on their website. In the picture below, you can see this rental car, with pick up in Jaco, includes the TPL. That means the mandatory insurance is included in the price. Any cover you get above that is extra.
Of course, I still suggest getting the full coverage offered by Discover Cars, which covers you even more.
You can browse cars on Discover Cars here.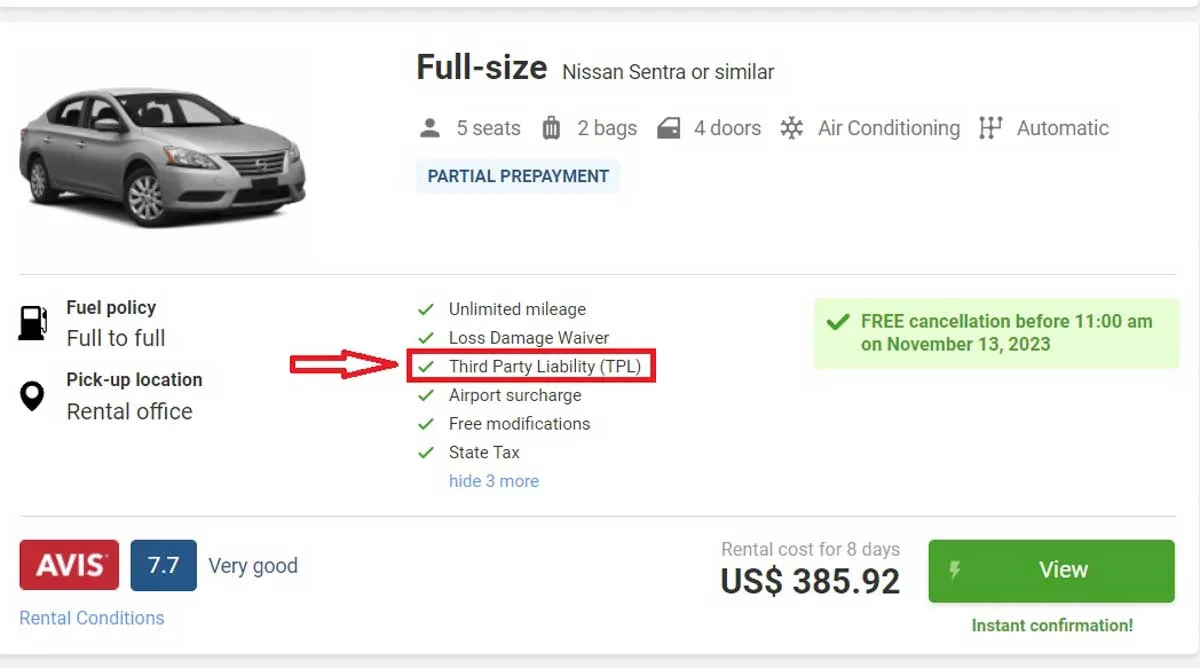 Adobe Rental Rent A Car is another rental company that we most often use in Costa Rica. We love them because Adobe has 15 offices around Costa Rica and delivers door-to-door around their offices at no extra cost. We also are pleased that all of their cars are new. In fact, they are never older than 2 years to the date. They are also the only company to include mandatory insurance and promise no hidden fees. You can get a free quote for a rental car from their website here.
Book Shuttles
If renting a car isn't in your budget, you don't feel comfortable driving in Costa Rica, or you just don't like driving, shuttles are the next best option. There are hundreds of shuttle routes available all over the country, and they are very affordable.
Shuttles in Costa Rica are specifically for tourists and often include pick up and drop off at your selected hotels and airports. The drivers also speak some English, and the vehicles have air conditioning. You'll also be guaranteed a seat when you book a shuttle (which isn't the case with the public bus system.)
To get the best price, use the website Bookaway. They compare all the offers and prices of shuttle companies in Costa Rica so you get the best price! Honestly, we have saved so much money using Bookaway!
You can search for shuttles online on Bookaway here.
Public Bus
Lastly, you can use the public bus system. On short journeys, such as from San Jose to La Fortuna or Uvita to Manuel Antonio, this system is great. However, the longer the journey the more hassle and time spent on a bus. It's undoubtedly best to save the public bus in Costa Rica for short and straightforward trips!
The public buses are definitely the cheapest way to get around Costa Rica, but they are not always very reliable and schedules often change without notice and delays are to be expected. The buses can also be very crowded and hot – so just be prepared!
It's also good to speak some Spanish if you plan on riding the public bus since most drivers and ticket booth operators don't speak English.
Invest in Travel Insurance
Paying out of pocket for trip interruptions or medical treatment will add to what might already be a stressful situation. We always travel with SafetyWing travel medical insurance.
The best part is that it costs only a fraction of what most insurance policies charge, which makes it perfect for digital nomads, long-term travelers (like us), and budget travelers. It only costs $45 USD per 4 weeks!
To start coverage, you must purchase it after leaving your home country. We usually purchase it as soon as we land at the airport.
Since using SafetyWing we've been reimbursed thousands of dollars when we've gotten sick. During the pandemic, they've even gone as far as to pay for our last-minute flights back to Canada from Colombia before the border closed!
You can click here to get a quote and read all the details!
Pura Vida!
I hope that the above list has given you inspiration for a budget-friendly vacation to Jaco, Costa Rica. As you can see there are lots of free and cheap things to do in this tourist town!
Be sure to have a look around my website a little more, I have plenty of blogs about Costa Rica that I'm sure you're going to absolutely love, such as –
7 Day Costa Rica itinerary: How to spend one week in Costa Rica!
Best things to do in Costa Rica