Costa Rica is a small but gorgeous country full of lush rainforests, mountains, and pristine beaches, all of which attract visitors from around the world each year. Over the past decade, it has become one of the most popular destinations in Latin America due to its fantastic climate, friendly locals, and wildlife encounters.
If you've never experienced traveling in Latin America, a trip to Costa Rica might seem intimidating and might leave you wondering if Costa Rica is a safe place to visit.
While it's important to exercise common sense and good judgment during any trip abroad, travelers from around the world agree that Costa Rica is one of the safest countries to visit in all of Latin America.
The economy of Costa Rica is highly dependent upon tourism, and many of the locals make their livelihoods from working in tourism and hospitality-related fields. The result is an extremely friendly attitude towards foreigners and increased safety measures in tourist hotspots around the country. If you're still wondering how safe Costa Rica is, read on to learn everything safety-related to make your adventure worry-free!
Safety in Costa Rica Overview
Costa Rica is still growing and developing, especially economically. Like many places in Latin America, there is often a big wealth gap between tourists and locals. For these reasons, there is a chance that you might experience some crime like petty theft or getting scammed in some of the larger cities, but violent crime is rare. Overall, Costa Rica is extremely safe. It's one of the safest countries in Latin America and is especially friendly for tourists.
Even though Costa Rica is safe, it doesn't mean you should totally let your guard down. It's important to use common sense and keep your wits about you anytime you travel abroad, and Costa Rica is no exception. Keep a good eye on personal belongings, especially electronics – if you leave your IPad on the beach, there is a good chance it will get swiped.
Another important thing to keep in mind when it comes to safety in Costa Rica is that not all danger comes from people. Costa Rica is a wild country with tons of species of animals that call the country home. The most dangerous things you will face in Costa Rica have nothing to do with crime. Many dangerous species are nocturnal – and if you're in certain parts of the country or within the national parks, it's a good idea to keep a flashlight with you at night to watch for snakes!
Don't feed wild animals or try to pet them – they may seem super cute, and like they're used to people, but they are wild animals, and if they feel scared or threatened, they will bite you, which can lead to nasty infections.
Also, make sure you shake out clothes and shoes before you put them on so that you don't get stung by a scorpion.
Wear shoes when swimming on rocky beaches so that you don't get cut on sharp coral rocks. The tropics are ripe with bacteria, so cuts can become easily infected. Make sure you clean even small open wounds.
Also, be sure to practice sun safety! Always wear sunscreen, look for shade, and keep hydrated.
Saftey in Costa Rica FAQs
15 Safety Tips for Costa Rica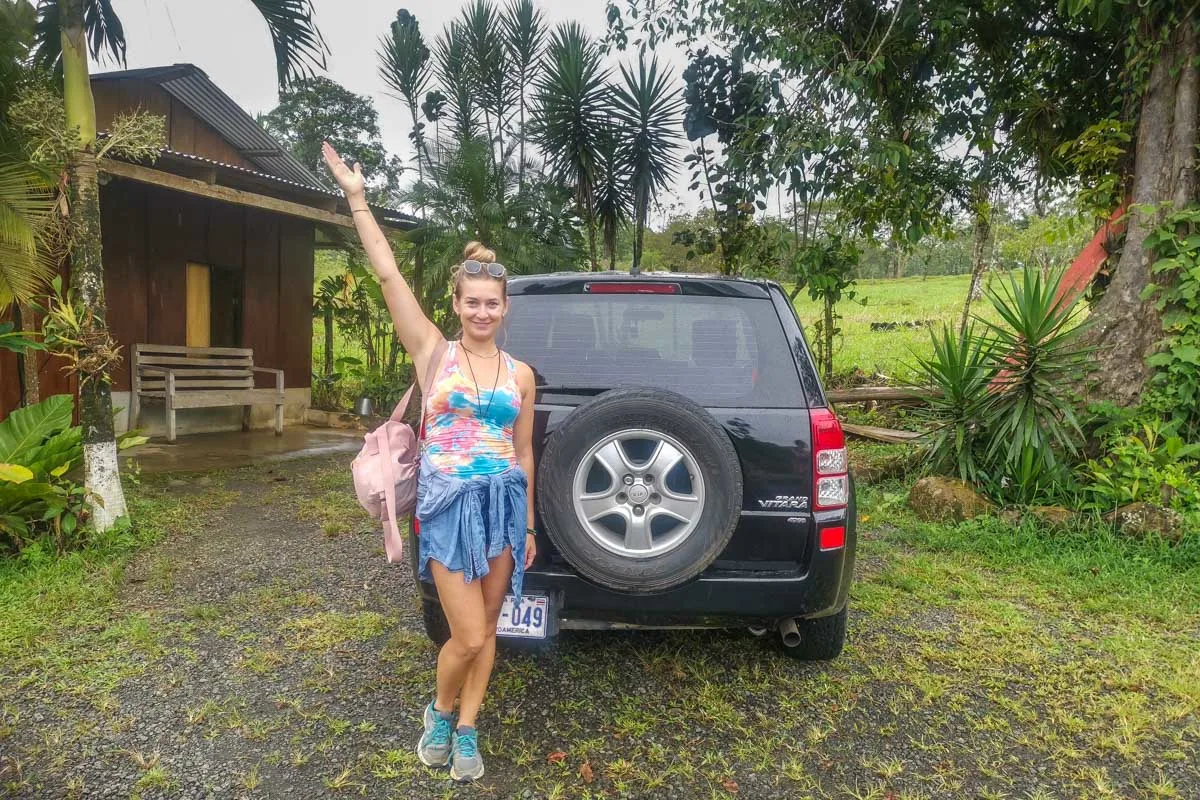 Don't leave your belongings unattended
Avoid walking around alone at night
Keep bags close on public transportation and at all times
Know some basic Spanish
Don't wear overly flashy clothing or jewelry
Avoid carrying your passport
Avoid carrying large sums of cash
Lock up valuables at your hotel or vacation rental
Wear bug repellent to avoid insect-borne diseases
Walk with a flashlight after dark in the jungle
Lock vehicles when unattended and don't leave any valuables in them
Avoid illegal purchases
Check the license plate of your Uber or take an authorized taxi
Check in with friends and family, especially if you're traveling solo
Stay in well-lit areas in larger towns and cities
Avoid becoming overly intoxicated
Travel with a cellphone that works in Costa rica (or buy a Costa Rica sim card to use during your travels)
Food and Drink Safety in Costa Rica
The food safety standards in Costa Rica are in line with the rest of the world, and the street food is some of the safest in Latin America.
As a traveler, your body might not be used to some of the bacteria that can be found in the produce, so it is a good idea to peel fruits and veggies before eating them so that you don't get an upset stomach on your trip.
The water in Costa Rica is also widely accepted as being safe to drink. Most travelers never have any issues with the water. That being said, it is still a good idea to ask a staff member at your hotel, hostel, or vacation rental whether or not the water is deemed drinkable.
I myself drink the water in every town in Costa Rica, including San Jose. To this day, I have not had any problems. In fact, I prefer the water in Costa Rica more than in Australia and Canada.
Safest Places to Visit in Costa Rica
The safest places to visit in Costa Rica all have one thing in common – they're tourist hot spots. Many of these communities thrive on tourism, and the locals make their living through working in eco-tourism and hospitality. They're friendly places for travelers to visit and safe for everyone to enjoy.
Nosara
Nosara is known as an extremely safe place to visit and a great destination for families. The beautiful beaches and soft sand attract tons of travelers and expats who winter in Costa Rica or call it home year-round. There are also tons of beautiful hotels and holidays home to choose from in Nosara as well as plenty of trendy restaurants!
Samara
Samara is a safe place and a popular destination for solo travelers and solo female travelers. There are beautiful beaches and tons of fun activities and yoga classes. It's also a family-friendly spot with very little drug activity, lots of hotels to choose from, and delicious local restaurants.
Tamarindo
Located in the Guanacaste Province, Tamarindo is a mid to large-sized town by Costa Rican standards. It has some great beaches and exciting nightlife without being quite as busy as other cities of comparable sizes. You'll also find a huge selection of restaurants in Tamarindo to choose from! It is a lively place that is still super safe.
Hot Tip: Read our blog about where to stay in Tamarindo before you go to stay in the best area!
Santa Teresa
If you're looking for a good balance of nightlife and beach vibes without sacrificing safety, Santa Teresa is a great option. This town features awesome surfing, and the crowd is younger, with a lot of European travelers on their gap year visiting for extended periods of time. It's a small town, but it's super lively with lots of bars and restaurants. You might experience pety theft, but generally, it's all good vibes and surf culture.
Related Read: There are some really amazing hotels in Santa Teresa that you should consider!
Montezuma
Montezuma is a laid-back bohemian beach town located in the Nicoya Peninsula of Costa Rica. It's a great place to visit if you're looking for a blend of jungle and beach. It's harder to get to, which means it is not as busy as some other spots making it even safer for visitors.
Related Read: Check out the best hotels in Montezuma as well as our favorite restaurants!
Drake Bay
Drake Bay is an extremely remote part of Costa Rica and is one of the safest places in the country due to the lack of people. On top of being an amazing place to spot wildlife and enjoy the natural side of Costa Rica, there is hardly any crime in this area. Stay at one of the hotels near the beach for the best experience!
Puerto Jimenez
Puerto Jimenez is a small town located on the Osa Peninsula in Costa Rica. It used to be a gold mining town and now offers a quiet retreat in one of the wildest places in Costa Rica. It's small, and there isn't much nightlife, which makes it super safe and a great option for families who are really looking to get up close and personal with nature.
Hot Tip: Some of the best hotels in Puerto Jimenez are located outside of town in nature!
Uvita
Uvita is a little town that is home to the famous Whale's Tail landmark and beautiful beaches. The beach is regularly patrolled, which keeps crime to a minimum. It's very relaxed and easygoing, with a good mix of locals, expats, and tourists. You'll also find a good selection of hotels and restaurants in Uvita that are safe.
La Fortuna
La Fortuna is one of the safest urban parts of Costa Rica. It's a major hub for tourism and a jumping-off place for a lot of amazing tours. There is a decent nightlife scene, and most visitors feel very safe, even walking at night. You can wander around checking out the different bars and restaurants in La Fortuna without having to worry too much.
With that said, there is a drug economy in La Fortuna, so it's best to avoid bars late at night.
Related Read: Check out the best hot springs in La Fortuna while you're there.
Monteverde
Monteverde is also known as the Monteverde Cloud Forest and offers a stunning natural retreat for hiking through the protected habitat. Monteverde itself is super tiny and is geared towards travelers with a sprinkle of small cafes and restaurants as well as hostels and lodges. It's a quiet place without crazy nightlife and is mostly frequented by eco-tourism-minded visitors which makes it a safe spot to visit.
Places to use more Caution in Costa Rica
Although Costa Rica as a whole is incredibly safe for tourists, there are a few areas where it is appropriate to use a bit more caution. This is by no means an attempt to discourage you from visiting these areas – all of Costa Rica is incredibly beautiful, but these areas are often bigger and more traveled and have higher rates of crime than some of the smaller tourist hubs around the country.
It's good to use a bit more caution when visiting any of these spots during your trip to Costa Rica. In general, the Caribbean Coast is thought to be a bit more dangerous than the Pacific side of Costa Rica due to the larger towns and ports that focus on shipping and commerce. Again, don't overlook it all together – the Caribbean side is home to some of the country's best cuisine and music, so it's well worth a visit.
When visiting these areas, pay attention to your surroundings. Don't leave personal items unattended, and consider leaving important items locked up in a safe at your accommodations. Pick-pocketing and petty theft are the main things you'll run into, but there is also an increase in drug trafficking in women in these places, which can get seedy. Be aware, and take care!
Puerto Limon
Puerto Limon is the most violent province in Costa Rica. It is the center of the drug trafficking that happens throughout Costa Rica, which leads to huge upticks in violent crime. If you aren't buying drugs – you should be okay, but there is also all of the other crime that sort of commerce brings into an area. In Limon, theft is common. Use extra caution to keep your personal belongings safe.
San Jose
San Jose is the largest city in Costa Rica and the nation's capital. It's a sprawling city within the Central Valley region and is home to more than a third of the country's population. Most people just use San Jose as a stop-over point on their way in or way out, but it's still worth visiting. There are cool museums and an emerging foodie scene that make it worthwhile.
Generally speaking, it is still a safe city to visit, but it's important to know which neighborhoods to avoid. The areas to stay away from include Los Guido, Desamparados, Pavas, La Carpio, Leon XIII, El Carmen, and the El Infiernillo area of Alajuela.
The crime rate has increased over the past few years, but most of it is petty theft. Keep your personal belongings safely strapped to your body to avoid becoming a victim of theft in San Jose. Avoid walking alone at night or down unlit streets. The city has many beautiful parks, but it is best to avoid all of them at night.
Puerto Viejo
Crime is more of a problem in Puerto Viejo than in other similar beach towns in Costa Rica. Most of the crime is still limited to petty theft, but there have been increases in violent crime over the past several years, especially in regard to drug trafficking.
Be extremely watchful of your belongings, and don't walk alone after dark. Be cautious and careful if you visit this part of Costa Rica.
I want to leave a special mention to female travelers. As a female myself, it is very important to be careful in Puerto Viejo. There have been rare crimes involving groups of men, and it is very important to travel in large groups if you can late at night.
Although I still love Puerto Viejo, and it is one of my favorite towns in Costa Rica, I am extremely disappointed at the local authorities who have let crimes like this go unpunished.
You can read more about a recent incident in Puerto Viejo here.
Hot Tip: If you do visit, check out our blog on the best areas to stay in Puerto Viejo for the safest and most touristic areas!
Jaco
Jaco is a popular tourist destination on the Pacific side of Costa Rica, located just a few hours from San Jose by car. There is a pretty active nightlife in Jaco combined with the beachy vibes. It attracts throngs of tourists looking to party. While Jaco can be a lot of fun, it's a busier city, and the party/drug culture means there is more crime.
With that said, we both really enjoy Jaco. There are tons of activities to enjoy as well as top-rated restaurants, bars, as well as hotels and resorts!
Is Solo Travel in Costa Rica Safe?
Solo travel in Costa Rica is extremely safe, as long as you use common sense. Most travelers and locals speak some amount of English, so even if you aren't a Spanish speaker, you'll still be able to get around relatively easier and find people to help you navigate during your travels. There's a great infrastructure and a safe and reliable public transportation system throughout the country.
Solo female travelers feel particularly safe traveling in Costa Rica. It's one of the best countries for solo female travelers and even first-time solo female travelers. For one thing, it's easy to get around and has a thriving hostel culture which makes it easy to make friends and find groups to go out with at night.
The whole country is set up to be tourist friendly and there are a variety of tours and experiences geared towards solo travelers available for solo females to book during their stay. Out of anywhere in Latin America, we would vote Costa Rica as the perfect destination for solo female travelers and especially first-timers.
Travel Scams to Watch Out for in Costa Rica
Like any tourist destination, you may run into some scams that are geared toward travelers during your trip to Costa Rica. It's nothing to worry about, just be aware. Remember, if something feels off – it probably is. Trust your gut and watch out for some of these common travel scams.
Broken taxi meters
Short changing or incorrect currency exchange
Car rentals that seem cheap but have huge fees for insurance
Fake vacation rentals online
To avoid these scams, make sure that you have a good idea of the currency and what things cost, and do some research before booking rental cars and vacation rentals.
Diseases in Costa Rica (H2)
Like many tropical destinations, certain diseases and illnesses are more common in Costa Rica. It's a good idea to make sure you're up to date on your routine vaccinations before you go as well as getting your Hepatitis shots if you haven't already.
Mosquito-borne illnesses like Malaria, Dengue, and Yellow Fever are more common in Costa Rica. It's a good idea to wear a high-quality insect repellent, and if you are traveling to certain areas, you may want to consider taking a Malaria medication during your trip. Check with your doctor for suggestions.
Rabies is more common as well. If you're bitten or scratched by a dog or another wild animal, it's important to get a rabies vaccination right away.
To avoid pesky parasites, it's a good idea to be cautious of contaminated water. When swimming in fresh water, make sure not to get any in your mouth. Agricultural runoff, including animal urine, often ends up in freshwater swimming holes, which can lead to parasites. If you do develop symptoms of a parasite, visit a doctor for treatment.
Costa Rica Travel Insurance
Always get travel insurance before you travel. This is especially true in Costa Rica because things are not very cheap here. Medical bills add up very quickly if you end up in hospital, not to mention, if you are a victim of theft, travel insurance will replace your items. Travel insurance isn't just a piece of mind, but to us, it's essential!
When we are going on a trip, the insurance provider we always use is SafetyWing. Their travel medical insurance is very affordable at only $42 USD per every 4-weeks. The only thing to note is that the insurance must be purchased once you've left your home country – we typically buy it as soon as we land at the airport.
We've both personally used both SafetyWing for different trips, and we've been reimbursed for countless expenses when we've fallen ill. SafetyWing even covered our flights back to Canada when the pandemic first happened (when last-minute flights before the borders closed were super expensive.)
It's safe to say that travel insurance has saved us thousands over the years!
Getting Around Costa Rica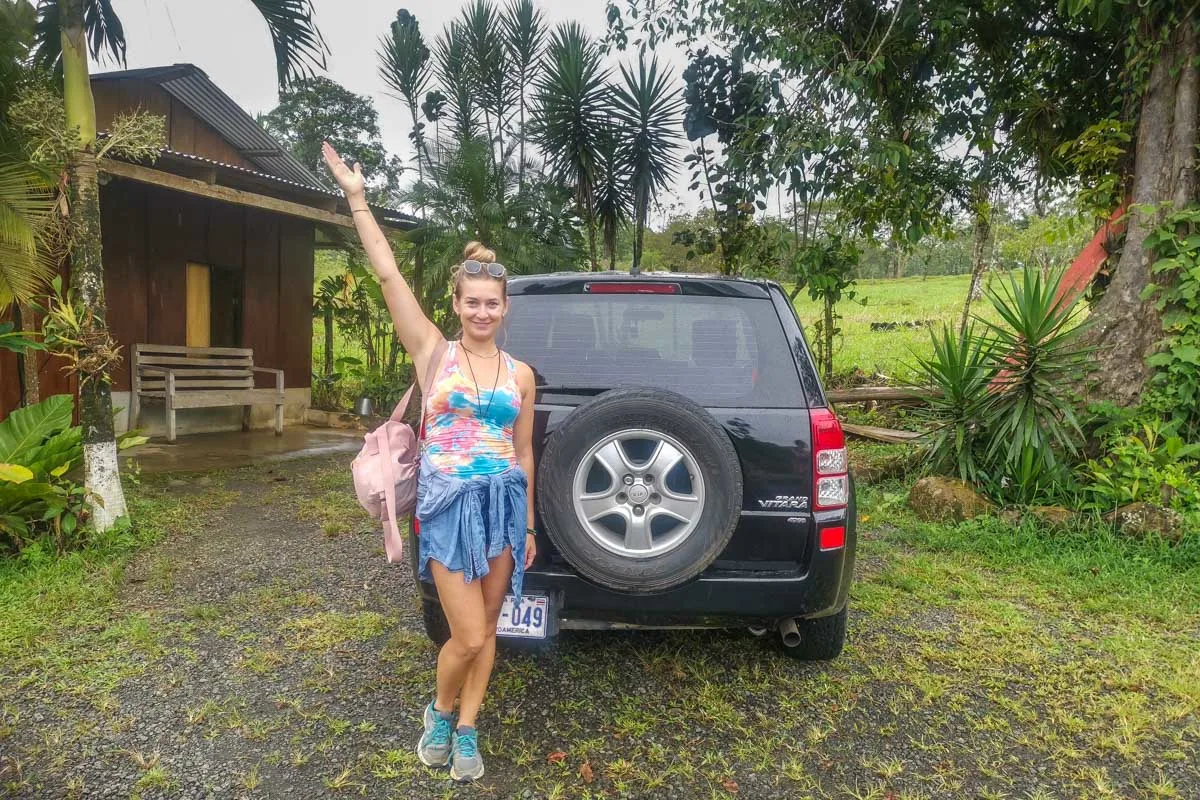 How you choose to get around Costa Rica is one of the biggest decisions you'll make when planning your holiday here! How you do it depends on your budget, travel style, and comfort level.
Renting a Car
Without a doubt, the number one way to explore Costa Rica is in a rental car. We book rental cars on the Discover Cars website as we have had good experiences with them in the past.
One of the things you need to watch for when renting a car in Costa Rica is the mandatory insurance that the government requires you to have. There are a lot of very cheap rentals that don't include this mandatory insurance (TPL) in the original booking price, but there are also ones that do. To avoid additional surprise charges when you pick up your rental car, be sure to rent a car that includes the mandatory insurance when you book.
Thankfully, on Discover Cars it's easy to tell apart the companies that include the mandatory insurance and those that don't. The trick is you can't pick any car on their website. In the picture below, you can see this rental car, with pick up in Jaco, includes the TPL. That means the mandatory insurance is included in the price. Any cover you get above that is extra.
Of course, I still suggest getting the full coverage offered by Discover Cars, which covers you even more.
You can browse cars on Discover Cars here.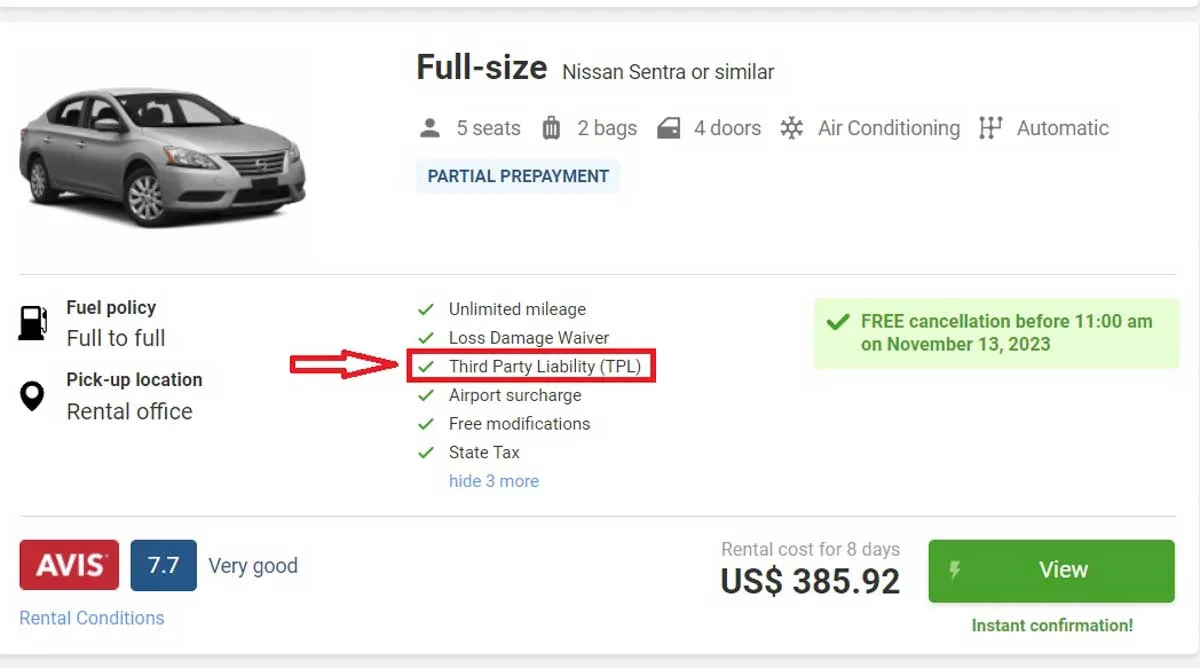 Book Shuttles
If renting a car isn't in your budget, you don't feel comfortable driving in Costa Rica, or you just don't like driving, shuttles are the next best option. There are hundreds of shuttle routes available all over the country, and they are very affordable.
Shuttles in Costa Rica are specifically for tourists and often include pick up and drop off at your selected hotels and airports. The drivers also speak some English, and the vehicles have air conditioning. You'll also be guaranteed a seat when you book a shuttle (which isn't the case with the public bus system.)
To get the best price, use the website Bookaway. They compare all the offers and prices of shuttle companies in Costa Rica so you get the best price! Honestly, we have saved so much money using Bookaway!
You can search for shuttles online on Bookaway here.
Public Bus
Lastly, you can use the public bus system. On short journeys, such as from San Jose to La Fortuna or Uvita to Manuel Antonio, this system is great. However, the longer the journey the more hassle and time spent on a bus. It's undoubtedly best to save the public bus in Costa Rica for short and straightforward trips!
The public buses are definitely the cheapest way to get around Costa Rica, but they are not always very reliable and schedules often change without notice and delays are to be expected. The buses can also be very crowded and hot – so just be prepared!
It's also good to speak some Spanish if you plan on riding the public bus since most drivers and ticket booth operators don't speak English.
So, is Costa Rica safe?
Hopefully, this article leaves you feeling confident about embarking on your adventure in Costa Rica. The tiny country is one of the safest places for tourists to visit in Central America, with reliable infrastructure, tourist-friendly locals, and low crime rates in most places.
If you're still left wondering whether or not Costa Rica is safe, remember that crime exists everywhere in the world. It's important to stay aware and use common sense anytime you venture abroad, but out of all the countries out there, Costa Rica is one of the safest spots for everyone and anyone to enjoy!