So, you're planning a vacation to Costa Rica – great choice! This stunning country is on many people's travel bucket lists and for a good reason – not only is the nation known for its relaxed 'Pura Vida' lifestyle but it's also home to breathtaking beaches, lush rainforests, powerful waterfalls, an abundance of wildlife from sloths to jaguars to sea turtles. I mean, what's not to like so far?
With hundreds of amazing things to do in Costa Rica, from surfing epic breaks to riding a high-powered ATV through the jungle, it can be hard to know where to even start when planning your holiday.
I know, I've been there. There are just too amazing places to visit in Costa Rica!
So, when deciding on where to stay in Costa Rica, you may feel a little overwhelmed. I mean, there are so many towns and cities worth visiting that narrowing it down to just one or two can feel like a momentous task.
And that's where this incredibly detailed guide comes in – I've spent a lot of time in Costa Rica (even living there for a period), so I know the best things about each destination as well as the top things to do in each one.
I've narrowed the list down to 15 of my favorite places in Costa Rica – from the busy tourist zone of Santa Teresa on the Nicoya Peninsula to Manuel Antonio, one of the most visited towns in the whole country. But I've also included some lesser-known gems like Drake Bay on the secluded Osa Peninsula to what I think is one of the best places to visit in Costa Rica – the lush, picture-perfect region of Montezuma!
So without further ado, here are the absolute best places to visit in Costa Rica!
1. Jaco
First up on the list of the best places to visit in Costa Rica is Jaco, a small city on Costa Rica's Pacific Coast. It's famous for its epic surf and even better party scene. Yep, people from all over the world visit this bustling beach town to enjoy the best of both worlds – relaxing beaches during the day and the fun nightlife in the evening!
Jaco is one of the busiest beach city's in the country, and that's because of its close proximity to San Jose International Airport. It's about a 1.5-hour drive to get to Jaco from there.
Jaco beach is the focal point of the city, and it's 2 miles (3.2 km) long with dark brown sand (in some light, it almost looks black), big waves, and is fringed by lush green vegetation. It really is one of the prettiest beaches on the Pacific Coast. Plus, it's one of the best sunset spots in the country – so be sure to catch one here!
Related Read: Check out the best restaurants in Jaco that you should try during your stay!
Best Activities in Jaco
Carara National Park
If you came to Costa Rica to experience pristine jungle trails, then Carara National Park, a 30-minute drive from Jaco, is a must-visit. This is the closest national park to Jaco and is also the most northerly Pacific coastal rainforest in the country. Interestingly, the park's name translates to "river of lizards," so as you can imagine, you will come across plenty of reptiles, including lizards, during your time here.
There is a fee of $10 USD to enter for foreigners (a discounted rate is available for Costa Ricans.) And if you do it on your own, just watch out for the tour groups with their eyes on the canopy – that usually means they're looking at something. If you prefer, a guided tour is a great option and includes return transport from Jaco as well as a knowledgable tour guide who will point out all the wildlife.
This particular tour is one of the best half-day tours available in Jaco; it's between 3 to 5 hours long tour and is really cheap at $30 USD for the group tour. You can also do private tours for $50 USD per person.
ATV
Hopping in an ATV and speeding through the rainforest is an awesome way to cover a large distance while having fun. And the great thing about Jaco is that it's close to some incredible landscapes, so even if you're short on time, you can still enjoy an ATV tour!
This two-hour ATV tour begins in Jaco, where your guide will teach you to drive an ATV and give you a safety briefing. You'll then drive the high-powered vehicle through rivers, over rugged mountain landscapes, pass a waterfall, and end with an epic view of the Pacific Ocean, the Agujitas Mountains, and the Nicoya Peninsula!
While if you have slightly more time on your Jaco itinerary, then this three-hour ATV tour is a great choice. That's because it stops at two different waterfalls, so you can have a refreshing dip after driving through mud and dirt! So, should you choose this tour, be sure to bring your swimsuit with you. And if you consider yourself a bit of an adrenalin junkie, then you have to try the 15-foot jump into the natural pool at Pura Vida waterfall. This particular tour also stops at the Cascada del Zorro waterfall.
Surfing
If you're new to surfing, you're in luck – Jaco beach is one of the best beaches in Costa Rica for beginners! The waves here are consistent and strong and perfect to learn on – and what's great, too, is the beach is so big, and people spread out on it, so you don't feel like you have a crowd watching you.
If you're a complete newbie, I recommend you take a class like this two-hour surfing lesson. During the lesson, you'll learn about water safety, paddling, how to stand up on the board how to ride the waves. You should be able to catch your first wave before the end of your lesson!
And what's cool is that you can keep the rash guards and surfboards for the rest of the day – so you can keep practicing your newfound skills even after the lesson is finished. Beach chairs and umbrellas are included in the rate, too, ideal for relaxing after a few hours hitting the waves!
While if you have experience surfing, your best option is to rent a surfboard, which costs $10-$15 per day. The best surf conditions are during mid to high tide, and it goes without saying that weekdays are much quieter than weekends. Less-experienced surfers should stick to the Southern end of Jaco beach, and more experienced surfers should head out to the famed Playa Hermosa, notorious for its huge waves. It's worth noting though, that swimming is banned here; only surfing is allowed because of the strong currents
Day trip to Tortuga Island
The tiny Tortuga Island is part of the stunning Islas Negritos Biological Reserve and is home to great white-sand beaches, snorkeling, and lots of coconuts! Tours to the island are a very popular day trip option from Jaco, but they do require a fair amount of travel, which is why we recommend booking a tour that offers a speed boat such as this one. The boat leaves from Punta Arenas, and transport from Jaco to there is included as well as a stop at the famed Tarcoles River where you can see crocodiles (more on that below.)
The boat ride itself is 45 minutes long, and on the tour, you'll get to snorkel in two different spots – where you'll likely come across sharks, turtles, and lots of colorful fish! After exploring the underwater world, you'll have to chance to enjoy lunch on Tortuga Island, together with a few hours to explore the island!
Visit the famed Crocodile Bridge
One of the best free activities in Jaco is to drive a short 25 minutes out of town to the famous crocodile bridge, which goes over the Tarcoles River and is home to several crocodiles!
In fact, this river is home to one of the biggest crocodile populations in the world. For the best chance of seeing these huge reptiles, simply park your car at either end of the bridge and walk over the bridge, stopping intermittently to take photos of the crocs.
Would you believe when we last visited, we spotted over 15 crocodiles? Some were huge – I reckon over 15 feet long! The best spot to see the crocs is at the sandbar, which can be seen about halfway across the bridge.
If you don't have a rental car or scooter, then the best way to see crocodiles is on a crocodile cruise like this one.
Related Read: Zipling tours in Jaco are also very popular – learn all about them!
Where to Stay in Jaco
Hotel Club del Mar Oceanfront is tucked away on the southern end of Jaco Beach, where you'll be far from the hustle and bustle of the town center. But aside from the more peaceful surroundings and the gorgeous view of the Pacific, what you'll immediately notice upon arriving at the hotel is its very 50s beachfront vibe. This property is styled in a contemporary way with a nice blend of local art and rustic wood throughout. The beachfront apartment-style units here are equally as homey.
Plus, there's an awesome oceanfront pool, Tiki bar, a Spa, and a large on-site restaurant.
Wipeout Hostel is one of the best budget hotels in Jaco. The rooms can be pretty basic with air-conditioning and a shared bathroom. But what gives Wipeout its charm is its great location that sets you 6 km out of the craziness of the town center. Plus, you can check out the BBQ facility by the outdoor pool. There is also a shared lounge and kitchen on the property.
2. Tamarindo
Tamarindo, in the Guanacaste Province on Costa Rica's Pacific Coast, is one of the most popular tourist destinations in the country! That's because it's home to excellent hotels, delicious restaurants, stunning beaches, and a vibrant atmosphere that just makes you feel good about everything!
Because Tamarindo is just over an hour and 15-minute drive from Liberia International Airport, it's a great option for a short vacation because the transport time from the airport is so short, unlike many other beach destinations in Costa Rica! Plus, it's a very safe town – an important factor when deciding where to stay!
Best activities in Tamarindo
Surf
Even though Tamarindo isn't known as one of the best places to surf in Costa Rica, it's without a doubt the perfect spot to learn how to surf!
The waves are calm, making them ideal for those not comfortable in the water. Plus, because the waves are so gentle, your chances of being able to stand up on your board are greatly increased! If you're a beginner, the best thing you can do take a surf lesson, and luckily, there are heaps of surf schools in Tamarindo! FYI – your average two-hour lesson should cost you around $50 USD.
This two-hour surf lesson in Tamarindo is highly rated and has a huge 1,100 five-star reviews. The instructors are helpful and friendly, and our top tip is to choose a morning slot so you can spend the rest of the day practicing.
On the other hand, if you're an experienced surfer, you should hit up Witch's Rock – an iconic surf spot that attracts pro surfers from all over the world. This reef break is arguably the best place to surf in the whole country if you're experienced, that is!
Visit Playa Grande
It's a well-known fact that Tamarindo beach is the most popular beach in Tamarindo; however, for a quieter, more relaxing experience, you should head over to Playa Grande – a pristine beach right next to it. It's worth noting, though, that Playa Grande is separated from Tamarindo beach by a river, so you'll need to take a water taxi across. This is very cheap at just 1,000 colones ($1.60 USD)! Once you reach Playa Grande, you're in for a treat as there's miles of beach for you to explore and a cool village called Palm Beach Estates, where you'll find hotels, cafes, restaurants, and a brewery.
You may be lucky enough to see turtles on the beach, too; we've seen baby turtles waddling into the ocean here! Which was such a memorable experience!
Related Read: Playa Grande is one of the best cheap things to do in Tamarindo, read about the others here!
Sunset Sail
A truly romantic activity in Tamarindo is to hop on board a catamaran and set sail for sunset. Along the way, you'll be treated to wildlife viewings as well as stunning scenery. Plus, many of the tours include fun water activities like kayaking, snorkeling, and SUPs.
This specific 5-hour sunset cruise is one of the best options in town. You can choose from a morning or afternoon tour (pick the afternoon if you want to see the sunset), and an open bar, water activities, plus a meal are included for $85 USD! To us, it is one of the best tours in Tamarindo, hands down!
Rincón de la Vieja Volcano National Park
If you want to escape the crowds and get in amongst nature, then a day trip to Rincon de la Vieja Volcano should be on your Tamarindo itinerary. This huge national park is a 2-hour drive from downtown.
One of the best things to do here is to go on a hike, and the best trails include the Las Pailas trail, which leads to some very unique boiling mud pots; it's an easy walk and will take 20 minutes each way. Alternatively, hike the Catarata La Cangreja trail, which is longer at 3 miles each way, but it leads to a breathtaking waterfall, so it's definitely worthwhile.
You'll also find the Rio Negro Hot Springs within Rincón de la Vieja Volcano National Park, plus awesome adventure centers which offer horseback riding, ziplining, and tubing. I will say these centers are best enjoyed on a guided tour like the Guachipelin Adventure Volcano tour.
The entrance fee to this park is $17 USD per adult and $5.60 for children.
Tama Markets/Night Market
I don't know about you, but I just love visiting local markets when I'm on vacation. And so I was delighted to learn about the Tama Market, which is held every Saturday between 7 am and 1 pm behind Plaza Tamarindo near the skatepark. Here, you can pick up some quirky clothing, jewelry, and even fresh fruit and vegetables. There are also several food stalls and coffee stalls here, so you won't go hungry while shopping!
Another great market in the town is the Tamarindo Night Market, which is held every Thursday from 6 pm to 9 pm. Not only will you find heaps of yummy food at the stalls, but there's also live music!
Plus, you'll also find your usual handmade souvenirs as well as jewelry and clothing!
Where to stay in Tamarindo
Are you looking forward to a quiet Tamarindo holiday without dealing with the constant rowdiness of kids around? Then a stay at Jardin del Eden Boutique Hotel is just what you need.
As one of the best hotels in Tamarindo, Jardin del Eden will pamper you with top-notch amenities in your suite and world-class facilities on the property. The rooms include flat-screen TVs and high-speed Wi-Fi, plus a huge (beautiful!) bathroom.
If you prefer more luxurious accommodation, stay in one of the suites that come with a large terrace with your very own jacuzzi and a panoramic view of the ocean.
Selina is every traveler's go-to accommodation provider for a budget-friendly stay in Costa Rica. But apart from its affordability, what makes Selina Tamarindo stand out from the other hotels in the Tamarindo downtown area is its unbeatable surfing school program.
Nestled between Playa Grande and Playa Langosta, at Selina, you'll have the choice of staying in a dorm or a private room, both of which are equipped with air conditioning. You can find the best deals on either Hostelworld.com or Booking.com.
3. La Fortuna
Costa Rica is well known for its beaches, but another side to the country is hot springs, volcanoes, hanging bridges, and magnificent waterfalls! So, if you're after a more adventurous vacation, then La Fortuna, stunningly situated beneath the Arenal Volcano, is the place for you!
La Fortuna is a small, relaxed town located just a few hours north of San Jose in Central Costa Rica. There are some great restaurants here, quirky accommodations with stunning views, and plenty of adrenaline-pumping activities to keep your days filled. But the main thing that keeps drawing tourists back to this stunning region is the incredible scenery!
Best activities in La Fortuna
Hot springs
After a jam-packed day of adventure in La Fortuna, there really is no better way to relax than by soaking in one of the many hot springs in the area. There's a hot spring suited to every type of traveler and budget in La Fortuna, and I've listed two of my favorites ones below –
Tabacón Hot Springs is one of the most popular hot springs in La Fortuna. The various pools and natural hot springs here wind through a lush garden, which exudes a relaxing atmosphere and makes you feel as though you're in the heart of the jungle. There are five different hot springs here that boast mineralized, naturally heated water! These springs then feed the dozens of pools within the complex, and the pools range in temperature from 72 F to 105 F (22 C to 40 C). So, you'll easily find your perfect pool here.
An added touch of luxury is the swim-up bar and waterslide, which can be found in the main area of the property!
The Baldi Hot Springs is another one of the most visited hot springs in La Fortuna, and it has a fun and lively atmosphere! This is larger than Tabacaon, with no less than 25 thermal water pools to be found here. And the temperatures in these pools range drastically from 93°F to 152°F. What's unique about this spot, though, is the massive jacuzzi which can fit up to 60 guests
La Fortuna Waterfall
If you've done any amount of research in the La Fortuna area, it should come as no shock to you that La Fortuna Waterfall is one of the most popular things to do in La Fortuna. This 230-foot (70-meter) waterfall is impressive, and the water shoots out from a steep cliff into the natural spring pool below. It's also surrounded by lush jungle, so it really is a photogenic spot!
And the great thing is that if you're on a budget visiting this waterfall is a no-brainer, that's because the entrance fee is just $18 USD per person, and you don't need a tour to the waterfall to visit it – meaning if you have a car or scooter, it's a super cheap thing to do from La Fortuna.
The trail to the falls is short at just 15 minutes into the falls, and it's well maintained, but I will add that there are 500 steps you need to climb down, which can be grueling, especially on the way back up!
At the bottom, though, you can snap some great photos or even take a refreshing deep in the natural pool; plus, if you're after a more relaxing swim, you can visit the calmer pools down river.
Caving
A truly unique tour in La Fortuna is caving through the Venado Caves; this slightly scary but super-fun tour involves exploring an underground cave system with a guide!
On the tour, you will enter the large caverns first and then head off and explore the smaller caverns – but the nerve-wracking part for me was when you have to squeeze through tight holes. But it's all worth it, I promise because you'll get to see bats, insects, underground waterfalls, and even a 6-million-year-old Stalagmite!
The guides are very helpful, and if you really don't want to, it's worth remembering that some of the tight sections can be avoided. You will be in the caves for around 45 minutes in total. We did this tour, and we had such an amazing time!
Sloth watching tour
The chance to see a sloth in the wild in Costa Rica is such a bucket-list-worthy experience. They are synonymous with the country, and they are so so cute! Luckily, there are tons of great sloth tours in La Fortuna since this area is notorious for sloth spotting! In fact, on numerous occasions, I saw sloths in the town as I was walking through it! However, you may not be so lucky, so your best bet to see these unique mammals is to book a sloth-watching tour.
This particular tour takes place at a sloth sanctuary run by a local family about a 10-minute drive from La Fortuna. Here, you have the opportunity to view two and three-toed sloths and maybe even adorable baby sloths! Plus, you can see toucans, frogs, parrots, and hummingbirds too.
I learned so much about sloths and the other animals who call this property home, and I highly recommend it to other animal-loving visitors to La Fortuna!
Arenal Volcano National Park
Exploring Arenal Volcano National Park is an adventure like no other, and on a hike, through the park, you can climb slightly up the steep face of the volcano itself, which is such a cool experience! Along the hike, you will take in magical views and even see up-close evidence of where the lava from the last eruption oozed down the side of the volcano!
You can explore the park on your own or with a knowledgeable guide; entry to the park is $15 USD for adults and $5 for children. Our top tip is to get there as soon as they open at 8 am, so you have lots of time to explore (they close at 4 pm.)
Whereas if you'd prefer to explore the park with the expertise of a guide, then this specific tour is a great option. It includes entrance fees, transport, and a great guide.
Where to stay in La Fortuna
Hotel Secreto La Fortuna is one of the best La Fortuna hotels for exploring the town. It has easy access to the Arenal Volcano and Baldi Hot Springs, both are only a short drive away.
When it comes to rooms and amenities, the hotel provides free private parking, ticket service, and free Wi-Fi on-site. Feel free to dip in the outdoor pool or enjoy the refreshing scenery on the terrace and garden. The view of the volcano here is impressive!
With an outdoor pool, bar, garden, and complimentary wireless Internet access, Arenal Poshpacker is a low-budget stay with excellent amenities. In addition, you'll also find a terrace, a shared kitchen, a tour desk, and even ticket service for your convenience all at the property. Should you also need a lift to the airport or the beach, Arenal Poshpacker offers a paid shuttle service, too. We're BIG fans of shuttles in Costa Rica, so this is a nice perk.
The location of Arenal Poshpacker puts you in the center of La Fortuna town, yet you're still just 10 minutes away from Kalambu Hot Springs and La Fortuna Waterfall.
4. Puerto Viejo
Situated on the Caribbean Coast, Puerto Viejo, also known as Puerto Viejo de Talamanca, is a beachy paradise. And heaven for those looking to chill out on stunning beaches. But other than the beaches, Puerto Viejo also offers epic restaurants, lovely hotels, and a chilled-out vibe that is certainly going to put you in a good mood!
Located in the Limon province, the small town is a long distance from San Jose (it's a 4.5-hour drive)! But the closest city, Limon, is just an hour away.
You'll find the people in Puerto Viejo are so friendly and truly living the "Pura Vida" life.
Best activities in Puerto Viejo
Cahuita National Park
Cahuita National Park is considered by many to be the best national park in Costa Rica. It's widely known for its coral reefs, and in fact, the park was set up in 1970 to protect the reefs as well as the mangroves and tropical rainforest within its boundary.
On the reef, there are over 500 types of fish to be found together with two shipwrecks, so as you can guess, this is one of the best places to go snorkeling in the whole country. You can swim on many of the beaches in the park. Just look out for the signs that show you which ones you can swim in, while snorkeling is only permitted with a certified guide. That's so as to protect the coral!
The park is located about 20 minutes from Puerto Viejo and is accessible by public transport from Puerto Viejo!
If you're a keen hiker, you can explore the park on foot via the long trail that winds through the native forest; here, you're likely to see both monkeys and sloths in the trees above.
If you want to see the best of the park, a good idea is to book a guided tour so that he/she can help point out all the wildlife, like sloths, white-faced monkeys, snakes, raccoons, and more! It includes transport to/from Puerto Viejo and ends with a swim in a waterfall!
Relax at beaches
Playa Cocles is one of my favorite beaches in Puerto Viejo and is just a 10-minute drive from downtown. This beach boasts a clear blue ocean and soft sand and is very quiet!
While at Playa Punta Uva, you can swim up to a coral reef; it's also nice and quiet if you come here on a weekday (weekends are much busier). If you want to stretch your legs, you can walk the short trail at the end of the beach that leads to Playa Arrecife.
Playa Manzanillo is a great family-friendly beach that has white sand and bright blue water – it looks like something from a postcard. Kids can swim in the water here because the waves are calm, and there are lots of trees dotted along the beach providing shade.
Jaguar Rescue Center
Animal lovers simply must include a visit to the Jaguar Rescue Center on their Puerto Viejo itinerary. This awesome facility has helped to rescue and rehabilitate various animals since 2008. It is also a research hub and attracts scientists worldwide. For me, it's one of the best wildlife rescue centers in Costa Rica!
The center, as you can probably guess, is named after the first animal they rescued – a jaguar. Now, wild cats are rare to see, but you will be able to view plenty of other animals like monkeys, sloths, opossums, deer, toucans, snakes, and more.
For us, a highlight was seeing the baby sloths! They are so cute!
When you book a tour here, it's important to remember that you won't be able to touch or hold the animals as the plan is to release them back into the wild. And so it's essential they don't get used to human contact.
There are two options for tours at the center – a group tour which costs $24 USD per person. This option doesn't require advance booking; simply show up about 15 minutes before the tour starts at 9:30 am or 11:30 am every day. While if you're keen on a more personalized experience toy can book a private tour for $75 USD each. These are offered Thursday through Monday at 2 pm and must be booked at least two weeks in advance.
Whitewater rafting on the Pacuare River
Without a doubt, one of the best adventure activities in Puerto Viejo is a white water rafting tour down the Pacuare River. These are Class III-IV rapids, so they are very fast-paced and exciting, and along the way, you can take in the stunning scenery, which includes rainforests, cliffs, and waterfalls!
This 6.5-hour full-day rafting excursion is certain to get your heart pumping. And on the tour you'll understand why they nickname some of these rapids "double drop" and "pinball"!
As you paddle the numerous twists and turns of the Pacuare River, it will be easy to understand why Puerto Viejo is considered one of the best places to go whitewater rafting in Costa Rica!
Chocolate making
Oh, chocolate! one of the world's favorite treats and at the top of my favorite desserts list. Well, you may be surprised to learn that not only is Costa Rica known for growing coffee it's also famous for the cacao grown here.
So, during my time in Puerto Viejo, I was so excited to try this hands-on chocolate-making class. It was a great experience, and I learned about the history of cacao, as well as how they actually make the chocolate you see in the stores. And, of course, you get to taste test along the way! You'll also have the chance to make a chocolate bar, which you will be able to wrap up and take home with you.
This 3-hour tour is run by a local family and costs $32 USD. Tours run at 10 am on Sunday, Monday, Wednesday, and Friday.
Where to stay in Puerto Viejo
Offering a fresh blend of exclusivity and luxury, Umami Hotel stole my heart from the get-go, and it's easy to see why. The moment you step into the property, its refreshing minimalist white theme with coral and wood finishes will be the first to greet you. Add this to the fact that the property is surrounded by towering trees, and you have a tropical haven just five minutes away from the beach.
There's an outdoor pool just outside the ground floor suites that comes complete with sunbeds and is surrounded by tropical plants. You'll find a spa on-site, too, where you can be pampered with the famous coffee treatment. I also love the hotel's Mar & Sal restaurant. It's right beside the pool area, so you can dig into a sumptuous feast of international cuisine while taking in the view of the pool and garden.
Hotel Pura Vida is a brilliant budget-friendly option in Puerto Viejo. The rates here start at $35 USD (rooms with a shared bathroom) and $48 (rooms with a private bath). But despite the inexpensive prices, the property offers you all you need and more.
The rooms are pretty breezy and immaculate, with polished wood, ceramic-tile floors, and comfy canopy beds. You have a reading light by the bed and fans to keep you cool at night, plus the showers have warm water from the hotel's solar heater.
5. Santa Teresa
Santa Teresa is very well known on the worldwide surf scene, and pretty much every tourist comes to town to try out the pumping surf breaks at Santa Teresa beach. What's great is the waves are epic here all year-round, plus the surfboard rentals are cheap, and there's such a laidback vibe that it's obvious why so many surf fans flock here!
But, in saying that, Santa Teresa is more than just a surf town; it's an all-round fantastic beach destination with plenty of restaurants, cafes, and beach clubs. Not to mention that there are so many awesome things to do here – from fishing to watching the sunset to practicing yoga!
Santa Teresa is quite a distance from San Jose and the International Airport there – at a 5-hour and 15-minute drive. In comparison, Liberia International Airport is a little closer, at 3 hours and 45 minutes!
Best activities in Santa Teresa
SURF!
As I mentioned above, surfing is, without a doubt, the number one activity in Santa Teresa. It's the sport that put the town on the tourist map, and although the waves here are most suitable for advanced surfers, beginners can also enjoy the epic surf conditions here.
This specific lesson is top-rated in Santa Teresa and includes your board rental, go-pro photos/ video, and a rash guard UPF 20+.
If you're experienced and don't need a lesson, then surfing is a very cheap activity in Santa Teresa, with surfboard rentals averaging $10 USD per 24 hours. High tide is the best time of day to surf, but that also means it's the busiest time. A few popular surf spots include "Suck Rock," located across from Red Palm Villas and Resort. And right next to it is La Lora, a consistent break that can get very crowded.
But, I'll let you in on a local secret – a great small point break is situated near Mal Pais. To reach it, drive to this point and then walk right along the beach. After a short time, you will come to a small secluded bay – which is where you can surf the wave that hugs the rocks to the left of the bay.
Spend time at Playa Hermosa
Even if you're not a surfer, you should visit Playa Hermosa – a large beach with plenty of room to spread out from other beach-goers. With fewer rocks and smaller swells than other beaches in the area, it's perfect for swimming.
The flat sand is great for beach volleyball and other sports, and because there are fewer people, you can enjoy a game of beach football without worrying about other people nearby!
Playa Hermosa is located approximately a 10-minute drive from Santa Teresa.
Enjoy the spectacular sunsets
I don't know about you but catching the sunset while on vacation is one of my top priorities! So, if you're like me, you'll want to read on to learn about the best sunset spot in Santa Teresa!
The Sunset Lounge at Vista de Olas is aptly named and boasts breathtaking, uninterrupted views of Santa Teresa's coastline. The hotel is perched on the mountain, and visitors can access the Sunset Lounge for free, provided they purchase a drink. A top tip, though, is that if you pay $24 USD (which can be used as credit at the restaurant and bar), you can also swim in the infinity pool, with arguably the best view in Santa Teresa!
In my opinion, this is one of the best cheap things to do in Santa Teresa!
Fishing
In Santa Teresa, you can join this inshore fishing charter for only $250 USD for up to 6 people. That means with a full crew, it's just over $40 USD per person!
The tour is 3.5 hours long, and the experienced crew knows where to go to catch fish like mahi-mahi, yellowfin tuna, snapper, and roosterfish. Plus, you may be lucky enough to see whales and dolphins. All your fishing equipment is included, and the charter can be customized to suit the group!
Where to stay in Santa Teresa
Set just steps away from the ocean, Hotel Nantipa is Santa Teresa's definition of a true beachfront vacation. This luxurious accommodation is one of the top beachfront resorts in Costa Rica and offers you nothing but a trip worth remembering. After all, with private bungalows and easy access to the beach, what's not to love about this boutique hotel?
From your room, head to the hotel's in-house restaurant, Manzú, which sits on the beach and provides you with a panoramic view of the ocean and the sunset. Grab your à la carte breakfast and try out one of the unique cocktails offered here that mixes Costa Rican tropical fruits with local liqueurs. After having your fill, unwind by the large pool while you mingle with the other guests.
$ – Point Break
On a budget? Point Break can make your stay in Santa Teresa just as memorable while keeping you within your budget. Choose from the room type that best fits your need (dorm, apartment, double, twin, triple, or quadruple), all of which come with air conditioning, complimentary toiletries, and a safety box.
6. Montezuma
Montezuma is a laidback, authentic small village in the South of the Nicoya Peninsula, and although it's quieter than many of the other towns on the peninsula, we don't think its hidden gem status will last for long! It's a place at the cusp of mass tourism, and seeing it before it gets too popular is a must-do, in my opinion!
What it lacks in size, it more than makes up for in awesome things to do, from seeing turtles hatching to exploring stunning biological reserves to chasing waterfalls – Montezuma really does pack a lasting punch!
Montezuma is a 3.5 hours drive from the closest international airport in Liberia. And our top tip – get there quickly because the secret of Montezuma won't last much longer.
Related Read: These are the very best restaurants in Montezuma!
Best activities in Montezuma
Montezuma Waterfall
Montezuma Waterfalls is one of the few free waterfalls you can visit in the country. Plus, there are not only one but three waterfalls you can visit there!
It's possible to walk to Montezuma Waterfalls from downtown Montezuma, but the trail into the falls is slightly confusing, so be prepared before you go! The lower falls are the easiest to reach, and the trail follows along the right-hand side of the river for 20 minutes. But if you want to go for a swim, it's best to head to the upper or middle falls. You can read our detailed guide about getting to Montezuma falls and all about the waterfall in general!
Although visiting Montezuma Waterfall is free, there is a 1,000 colones fee (cash only) to use the trail up to the upper waterfalls. Be sure to bring suitable footwear and be prepared to get them wet.
Cabo Blanco Reserve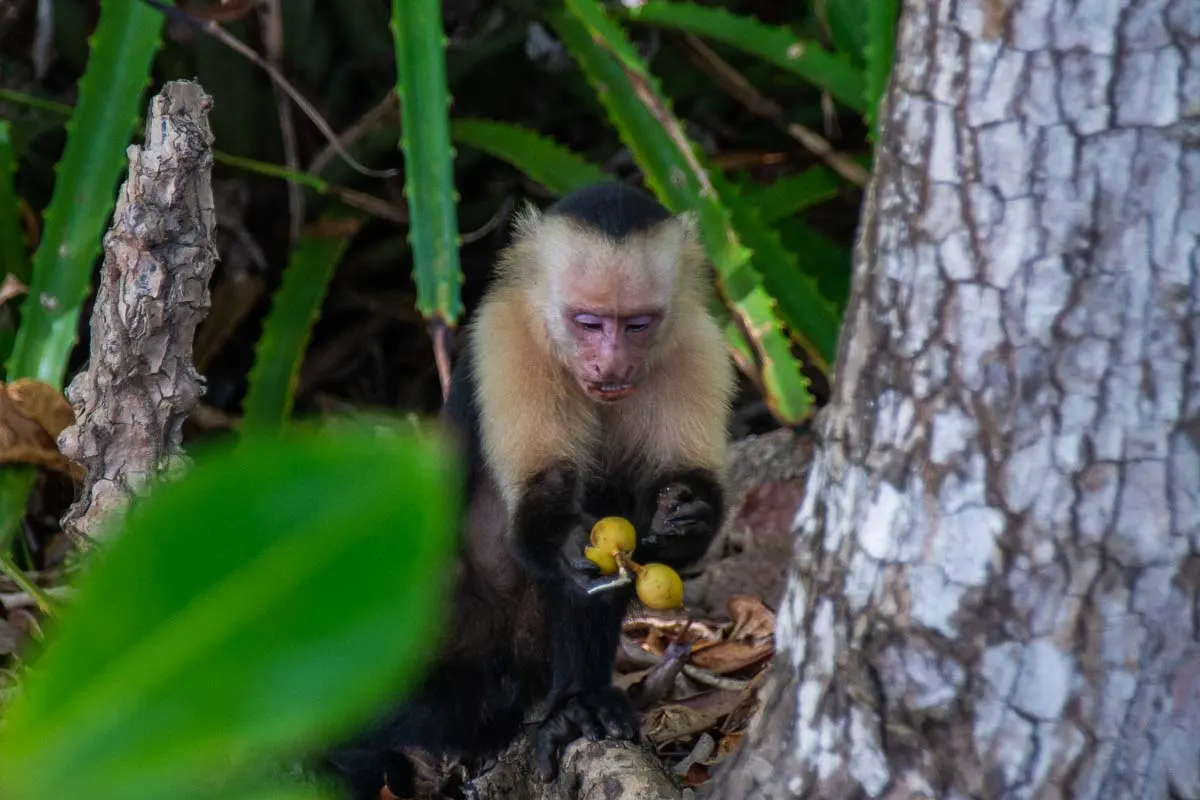 Reserva Natural Cabo Blanco is a special reserve in Costa Rica that was set up by Karen Mogensen (from Denmark) and Nicolas Wessberg (from Sweden). In fact, it was the first-ever protected area in the country.
There are two hiking trails within Cabo Blanco – Danes Trail and Sueco Trail. The first is just 1.2 miles (2 kilometers long) and leads through the forest. The latter is more popular and is the main reason tourists visit the park. This trail is 3.1 miles (5 kilometers) each way and starts at the ranger station and ends at Playa Cabo Blanco.
On both of these trails, you'll be treated to sightings of an abundance of wildlife, such as bats, monkeys, various birds, lizards, and ants. There are plenty of beautiful trees and wildflowers to be seen here too.
Cabo Blanco Nature Reserve is open from Wednesday to Sunday from 8 am to 4 pm. The entrance fee is $12 USD.
Markets
Each Saturday morning, a small organic market is set up near the beach, across from the Plaza de Fútbol de Montezuma. It operates until lunchtime, and you can purchase healthy treats, fresh fruit and vegetables, and even clothing and jewelry here. It's a great way to meet the locals and see the goods they grow or make, and it has such a vibrant atmosphere!
Turtle release
One of the coolest experiences on the Nicoya Peninsula is the daily turtle release that happens on Montezuma Beach at 4 pm.
At this time, the conservation project releases teeny-tiny baby turtles into the ocean, and you can watch them slowly make their way into the sea, from a safe distance, of course!
This magical event happens on the North side of Montezuma Beach at ASVO Sea Turtle Hatchery and is pretty easy to find as you'll likely see a crowd of people gathered there before 4 pm. From town, walk in the direction of Playa Grande on Montezuma Beach until you get to the rocks at the very end of the beach. The turtle nesting area is inland from there (you'll spot a small hut.)
Please note: The time of the turtle release may change with the season. So, be sure to ask your accommodation for an updated time. For example, it was 4 pm in December.
Where to stay in Montezuma
Hotel Nya is a 4-star hotel only 150 meters from the beach, an ideal location if you ask me. The décor blends into the greenery of its tropical garden. It has a large outdoor swimming pool and a restaurant. If you want an intimate and upscale environment while staying in Montezuma, this place is for you.
Luz en el Cielo Hostel and B&B is located a bit out of the city center, but only 650 meters away from the beach and town. It offers a healthy organic breakfast every morning made with local products. This place is awesome if you are traveling with friends or solo since they have dorm beds available.
The rooms are rustic and spacious. Prices are pretty affordable, starting at $22 USD per night and per person in a 4 or 6 mixed dorm. A 6-bed private ensuite is also available at $118 USD per night – this is ideal for a group of friends.
7. Tortuguero
Tortuguero is a tiny town located on the northern Caribbean coast of the country, and both the town and the National Park nearby are named after the reptiles they're most famous for (Tortuguero means turtle.) This region is, in fact, one of the most important nesting sites in the Caribbean for varied different species of sea turtles – making it one of THE places to go if you want to spot turtles in Costa Rica.
With all of this going for it, it's no surprise that Tortuguero is often rated as one of the best places to visit in Costa Rica.
The landscape here is truly unique – it's a combination of rivers and canals that are interspersed with beaches and a thick, lush jungle. Interestingly too, there's no road here, so the only way in is by boat from cities like Puerto Limon that is close by or flying in a small aircraft from San Jose!
As the name suggests, the biggest drawcard to Tortuguero is the turtle nesting season which runs from July to October. But, even if you plan on coming outside these months, there's still plenty to do here, from hiking to kayaking to going on a night walk to see the nocturnal creatures that call this place home. This area is often referred to as the "Amazon" of Costa Rica, so if you're an animal or nature lover or simply love heading off the beaten track, then a vacation in Tortuguero will be right up your street!
Best activities in Tortuguero
Visit the national park!
There are approximately 35 kilometers (22 miles) of beach within the national park, and much of that is designated for sea turtle nesting. Interestingly, since the park's creation, nesting here has risen by 500%, which is a huge feat considering sea turtle populations are decreasing across the world. Would you believe that 20,000 green sea turtles nest here every year, the largest remaining colony in the world?
But there are lots of other things you can enjoy within the park besides seeing the turtles; there's abundant wildlife here, and on a hike through the park, you can expect to see jaguars, sloths, and howler monkeys to name but a few. There are also over 300 different species of birds and 111 species of reptiles! I think it's fair to say that many amazing creatures call this protected area home.
You can explore the park on your own, but there are several once-in-a-lifetime Costa Rica tours on offer here – including the chance to view the sea turtles that make this area famous.
Tortuguero National Park is open daily from 6 am to 4 pm – but the entrance gate closes at 12 pm for an hour for lunch.
Admission to Tortuguero National Park is $15 USD for adults and $5 USD for kids under 12. Just note that if you bring cash, bills over $50 USD are not accepted, so have smaller bills or a credit card on hand.
Kayaking
I think the best way to see the National Park is from the water, which is why I highly recommend booking a kayaking tour like this one to explore the winding, narrow canals that flow through the park.
This tour sets off bright and early at 6 am, as this is one of the best times to see wildlife as many animals are active in the early morning hours. Expect to see a manatee, several different types of monkeys, and a crocodile!
This three-hour tour costs $45 USD and includes the kayak, paddles, and life vest, but the park entrance fee of $15 USD is extra!
Hiking
Most of Tortuguero National Park can only be accessed via the water, but there is a main trail through a section of the park that you can hike.
You may choose to hike the short trail on your own, but we highly recommend hiring a guide. This tour for a day hike is great because your knowledgeable guide will point out any wildlife (he/she will know exactly where to look) as well as tell you the history of the park and the flora and fauna that's grown here.
This particular tour includes the use of binoculars, rubber boots, and ponchos – the latter two are essential because it tends to rain a lot here, and as a result, the trail can be really muddy! If you decide to walk the trail without a guide, then it's a good idea to rent rubber boots from a vendor outside the park.
Turtle nesting
The number one reason tourists come to Tortuguero National Park is to watch the turtles laying their eggs. This is called turtle nesting season, and it happens between July 1st and October 31st!
To see this phenomenon, you should book a turtle nesting tour. On the tour, your guide will teach you about the history of sea turtles and will then assist you in finding a turtle to observe. You'll watch as a turtle lays her eggs, then camouflages the nest, and finally returns to the sea. It's definitely an experience for your bucket list!
It's important to note that this tour happens at night only (starting at 8 pm); that's because turtles only lay their eggs at night!
Night walk
Imagine wandering through Tortuguero National Park in complete darkness; this slightly scary but amazing experience is one of the best ways to see a plethora of animals. Because many of the park's animal residents are nocturnal, which means they only come out in the dark. On a night walk tour, you can expect to see tarantulas, bats, snakes, birds, different types of frogs, lizards, and, if you're lucky, a sloth sleeping!
The tour costs just $30 USD, and on the walk, you will be accompanied by a professional guide with a powerful flashlight. The guide will also keep you safe because poisonous snakes and frogs live in the national park.
Where to stay in Tortuguero
For luxury travelers, Mawamba Lodge is a beautiful resort-style hotel with a stunning pool and property surrounded by nature. The rooms are the perfect mix between modern features and staying true to the wild nature of Tortuguero. The hotel includes breakfast and has a restaurant too.
For budget travelers, Aracari Garden Hostel is the top choice and is "the place to stay" for backpackers. The hostel is centrally located, clean, and they have comfortable beds. Although this is not the absolute cheapest option, it's the best value for money.
8. Samara
If you are looking for the perfect family vacation spot, then look no further than the laidback coastal town of Samara on the Nicoya Peninsula. The reason it's such an ideal destination for families is that the bay here is protected, making for calmer waves and, thus, great swimming conditions.
Samara offers plenty of fun activities to families, couples, and solo travelers. In fact, you're sure to find a tour in Samara to suit your taste here, from a kayaking tour to Isla Chora to exploring waterfalls and relaxing in some unique tidal pools – Samara has all of the above and more!
Best Activities in Samara
Tidal pools
Izquierda beach is a bit of a hidden gem in Samara, yet, it's located only a short walk from town – so I was surprised that so few tourists know about it. As a matter of fact, we found the beach by chance after searching on the Maps.me app for a new beach to explore.
Come to this secluded, quiet beach at low tide to see the many little tidal pools dotted along the beach. Take your pick and relax in one for a while; the water in these pools is much warmer than the ocean, too, which is a big plus!
To get to Izquierda beach, follow the road to Casa Maya Samara. After a while, you will see two gates at the end of this road with a sign saying 'private property.' Look to the left of the red gate, and you will see a small path that travels along a barbed-wire fence. This is the beginning of the trail – all in allow 45 minutes to reach the beach from Samara!
Visit waterfalls
The most-visited waterfall in the region is Belen Waterfall, which is a 25-minute drive from Samara. The falls are about 15 feet tall, which isn't that tall as waterfalls go, but they're still very impressive to see.
The best time to visit the falls is in December/ January as this is when the falls are at their most powerful, and in fact, we've heard the falls aren't so impressive at the end of the dry season (which is in April!) That's because the falls become stagnant, and algae bloom in the pool due to the lack of rain!
The waterfall does get quite busy on weekends, but you can visit with very few people around during the week.
Mountain views at Sabor de la Montaña
Another secret spot we discovered in Samara was Sabor de la Montaña, a small family-run restaurant that boasts one of the best views in the whole of Samara. It's a 45-minute drive from town to the restaurant, and the views as you eat your lunch stretches as far as Nosara beach. It's without a doubt one of the best restaurants in Samara!
For lunch, we ordered a woodfired pizza, and it was so yummy and cheap, too, at just 8,000 colones for a large pizza! Drinks-wise you can't go wrong with their tasty Pina Colada!
It is pretty hard to get to Sabor de la Montana without a car, we actually rode our scooter here, but we only recommend that for experienced drivers in Costa Rica as the road condition isn't the best!
So, if you have a rental car, you should definitely drive up the mountain to Sabor de la Montaña. Along the way, you'll enjoy spectacular views and pass through authentic, remote towns.
Isla Chora
Isla Chora, a small island located within the reef that helps to protect Samara from heavy ocean swells, is a great place to spend a relaxing day away from the hustle and bustle of town. This island boasts secluded beaches and incredible snorkeling!
In fact, one of the best tours available from Samara is this kayaking tour which involves a 30-minute paddle to the island where you can relax on the beach and swim out to go snorkeling in the reef just off-shore. The underwater world here is just teeming with marine life, from turtles to pufferfish and lots of small colorful reef fish.
Rent a scooter
As you can see, there are a few activities on the list that require you to have a set of wheels to visit; we rented a scooter for our time in Samara and made getting around the town and surrounding area so easy! We rented ours from El Cactus Scooter Rental, and it costs $35 USD for 24 hours!
Of course, on a scooter, there are a few roads that you will not be able to drive on due to bad road conditions or because of a river crossing. You are in remote Costa Rica, after all.
Relax at a beach club
When I'm on vacation at a beachy place, I always try to spend at least one full day at a beach club. These fun spots serve delicious food and cocktails and will serve you right from your lounge chair. So you don't have to get up! Bliss!
On my vacation in Samara, I spent time at two beach clubs – Gusto Beach Restaurant Pizzeria Bar and La Dolce Vita. At Gusto Bar, when you buy a meal, you get free use of the beach chairs, which is a great deal, I think.
While La Dolce Vita is a great sunset spot that often has live music in the evenings, in fact, this beach club is so popular that you need to reserve a table during peak season.
Of course, there are other beach clubs in Sámara, but these are two of my favorites!
Where to stay in Samara
What makes me a fan of Villas Kalimba is their reasonably priced villa-style rooms. Sure, the rooms lean more into the modest and basic side with standard amenities like a private bathroom, air conditioner, cable TV, and fully-equipped kitchen.
Strategically built just a minute's walk away from the beach, Villas Kalimba is right in the center of Samara but offers you a private retreat away from the noise. It's not as posh and luxurious as the other accommodation providers in town, but the traveler's choice award for 2018 on Trip Advisor is a testament to the hotel's stellar reputation.
A tropical oasis in Samara? Tico Adventure Lodge has everything you need and more. Providing accommodations in Samara to locals and tourists since December 2004, this jungle-style lodge sits away from the bustling streets of the downtown area, giving you the peace and quiet you crave.
Take a quick walk around the property, and you'll come across a year-round outdoor pool and indoor hot tub. There's also a garden courtyard, where you can lounge and chitchat with the other guests.
9. Nosara
Once upon a time, Nosara was a little-known surf break, but today its popularity as a bustling tourist town on the Nicoya Peninsula is evident in the many amazing hotels, restaurants, Cafes, and activity providers present in the town! Nosara is an epic surf destination, with perfect surf conditions pretty much year-round, and it has an upmarket, bohemian vibe that I love.
I will say, though, that due to its soaring popularity, the prices in this once off-the-beaten-track beachside town have soared, and so you will need to allow a slightly bigger budget to stay here than, say, Santa Teresa or Samara. The town lies a 2.5 hour drive from the closest international airport in Liberia, so, it's easily accessible.
From surfing at the iconic Guiones Beach to hiking through Nosara Biological Reserve to seeing hundreds of turtles laying their eggs at Playa del Ostional, I think it's fair to say that there's something for every type of traveler in Nosara!
Best activities in Nosara
Surfing
The main reason tourists started flocking to Nosara was due to the incredible breaks at Guiones Beach. There are both left and right waves here, and because the beach is spread over 7 kilometers, there's lots of space for everyone.
You can surf here at any time of the year, but the best waves can be found between March and November – which, luckily enough, is the low season, so that means lower prices!
If you have experience surfing, you can rent a surfboard in town from around $15 to $20 USD per day, or if you plan on staying in town longer, there are weekly rentals available!
If you're a newbie surfer, it's best to tackle the waves on a surf lesson first. That's because the swells tend to be large, so having an experienced guide by your side is highly recommended for your first time. There are loads of surf schools in town, but we highly recommend Agua Tibia Surf School in South Nosara or Nosara CR Surf School, close to North Nosara!
See turtles at Playa del Ostional
Playa del Ostional is where you can witness one of the most amazing wildlife phenomena in the country. This memorable event is known as an "arribada," and it is when hundreds of turtles come to shore to dig and lay their eggs on the beach at the same time. This magical event happens during the rainy season, about a week before a new moon.
You can book a group tour to the reserve for around $60 USD. These leave very early in the morning or after dark and visit the beach during the arribada. But these group tours typically only include transport to and from the beach.
On the other hand, if you want an in-depth education on the arribada and the turtles, then you should book your tour with the Wildlife Conservation Association. Their tour includes an expert guide who will tell you all about the arribada, transport, and a guided tour on the beach. And it costs $150 USD!
Hike through Nosara Biological Reserve
Located near Nosara beach, at the north end of town – Nosara Biological Reserve is a small nature reserve of 90 acres owned and protected by the Lagrata Lodge. The reserve is home to lots of wildlife and hiking trails, and the Rio Nosara borders the reserve.
On a visit here, you can expect to see howler monkeys, iguanas, anteaters, and armadillos!
Entrance to the Nosara Biological Reserve is only $6 USD, while hotel guests can enter for free. The fee includes a map of the trails and information about the reserve. They also have an option for a guided tour which costs extra depending on group size. And the best time to visit is in the cooler early hours of the morning, as this is when the majority of the wildlife is most active.
Mirador Hermosa Nosara
During our time in Nosara, we were lucky enough to stumble upon an epic viewpoint between Playa Pelada and Playa Guiones. Mirador Hermosa Nosara can be accessed via a short but steep walk up a cliff and is best visited at sunset!
You can get to this viewpoint by walking to Playa Guoines and then continuing as far north along the beach as you can go; here, you will see a huge rock wall, and this marks the start of the steep pathway to the viewpoint.
Because the trail is so steep and due to the fact that there's a cliff face on the other side – we don't recommend this hike for kids or those with mobility issues.
Boutique shopping
I didn't expect to see so many clothing boutiques in Nosara, but when we stayed here, I was pleasantly surprised by the unique, great-quality clothing I found in the stores along the main street.
Some of my favorite shopping spots in Nosara include WLDFLWRS, connected to the Butterfly Brewing Company, as well as Love Nosara and MaderArte. Although their prices are on the pricier side, as I said, the quality was excellent, so they're sure to last you forever!
Where to stay in Nosara
The Gilded Iguana is a classic beachside getaway that'll satisfy your Vitamin Sea craving. Known as Nosara's "original surfer spot", this luxury hotel has been accommodating surfers from all across the globe since 1988. This is thanks to its strategic location that puts you not only 200 meters from Playa Guiones but also just less than two miles from Playa Pelada. this hotel is also just around the corner from the downtown area of Nosara
Traveling on a budget but still want to stay somewhere cozy and clean? Nosara Beach Hostel has your back. Pretty much the ONLY budget backpacker accommodation in all of Nosara, this hostel gives you the best value for your money. Staying here means you're only a quick five-minute walk to Playa Guiones' incredible waves but still be surrounded by the sounds of local wildlife roaming around.
10. Playa Flamingo
With beautiful beaches, even more beautiful sunsets, and water activities a-plenty, it's no wonder Playa Flamingo is considered one of the best tourist destinations in all of Costa Rica.
Despite its name, unfortunately, you won't find any flamingos here, but the sand can look pink in certain lights, which is how this beach got its name.
Playa Flamingo is located in Guanacaste, just under an hour's drive from Liberia International Airport. And its easy access is one of the main reasons it's so popular, that, together with the fact the beach here is a stunning mile-long stretch of white sand with turquoise water and in a crescent shape!
Best activities in Playa Flamingo
ATV
A fun way to access multiple beaches and cover a lot of ground in Playa Flamingo is on this ATV tour which combines beach driving with driving over rivers, whizzing through forest trails, topped off with incredible mountain views and tropical scenery.
All the equipment needed is included, and you can do it even if you don't have previous ATV experience! A full safety briefing, as well as a short introduction to driving this powerful vehicle, will be done at the beginning of the tour, so there is no need to feel nervous if you've never driven one before!
As you drive through the forest section, keep your eyes peeled for the rare trees here – like Guanacaste trees which are recognizable by their huge branches and teak and pochote trees. If you're lucky, you may even spy birds and monkeys on the branches of these trees! The tour also includes stops at Puerto Viego Beach and Pirates' Bay Beach!
Sunset Catamaran Cruise
Witnessing a magical Costa Rican sunset from the water aboard a catamaran is a memorable way to end your day. This Sunset Catamaran Tour from Flamingo Beach sets sail in the afternoon and returns early in the evening.
But the best thing about this tour is the fact that the catamaran is equipped with kayaks, trampolines, a stairway to the sea, freshwater showers, and not forgetting an open bar!
So, when the sun starts to sink into the ocean, you can relax on board with a delicious cocktail or ice-cold beer!
Rincón de la Vieja Volcano National Park
Rincón de la Vieja Volcano National Park is a two-hour drive from Playa Flamingo and is well worth visiting on a day trip!
This park is home to not one but two volcanoes – Rincon de la Vieja Volcano, the largest and most active volcano in Guanacaste, and the dormant Santa Maria Volcano!
You can pay the $17 USD entrance fee and explore this park on your own from Tuesday- Sunday. If you do, we recommend hiking the short 20-minute path into the Las Pailas (boiling mud pots), which is a very cool area in the park where the mud is so hot, it bubbles up in small pools.
While if you'd prefer to join a guided tour of the park – this Volcano, Waterfall, and Hot Springs Tour is a fantastic way to see all the best parts of the park, and it includes return transport from Playa Flamingo.
Horseback riding
A horseback riding adventure along Playa Flamingo is a brilliant way to enjoy the beach and see it from a totally different perspective!
This particular Horseback Riding Jungle and Beach Tour is excellent. It's two hours long and first takes you along rainforest trails to see iguanas, howler monkeys, and parakeets. Then you'll be taken to the beach where you can relax and take in the scenery from horseback.
What's great about this tour is that it includes return transport, and before you begin, your guide will help you to pick out a horse that is best suited to your ability.
Scuba diving
Just off the coast of Playa Flamingo are the Las Catalinas Islands, which are some of the best scuba diving spots in Costa Rica. This region is famous for its white-tip reef sharks, giant manta rays, dolphins, sea turtles, and humpback whales.
If you're an experienced scuba diver with your certification, this specific tour is a great option; it includes two 45-minute dives. While if you're a beginner, you can complete your PADI Open Water Diver Certification as part of this course, and it also includes the opportunity to scuba dive off the Las Catalinas Islands.
Where to stay in Playa Flamingo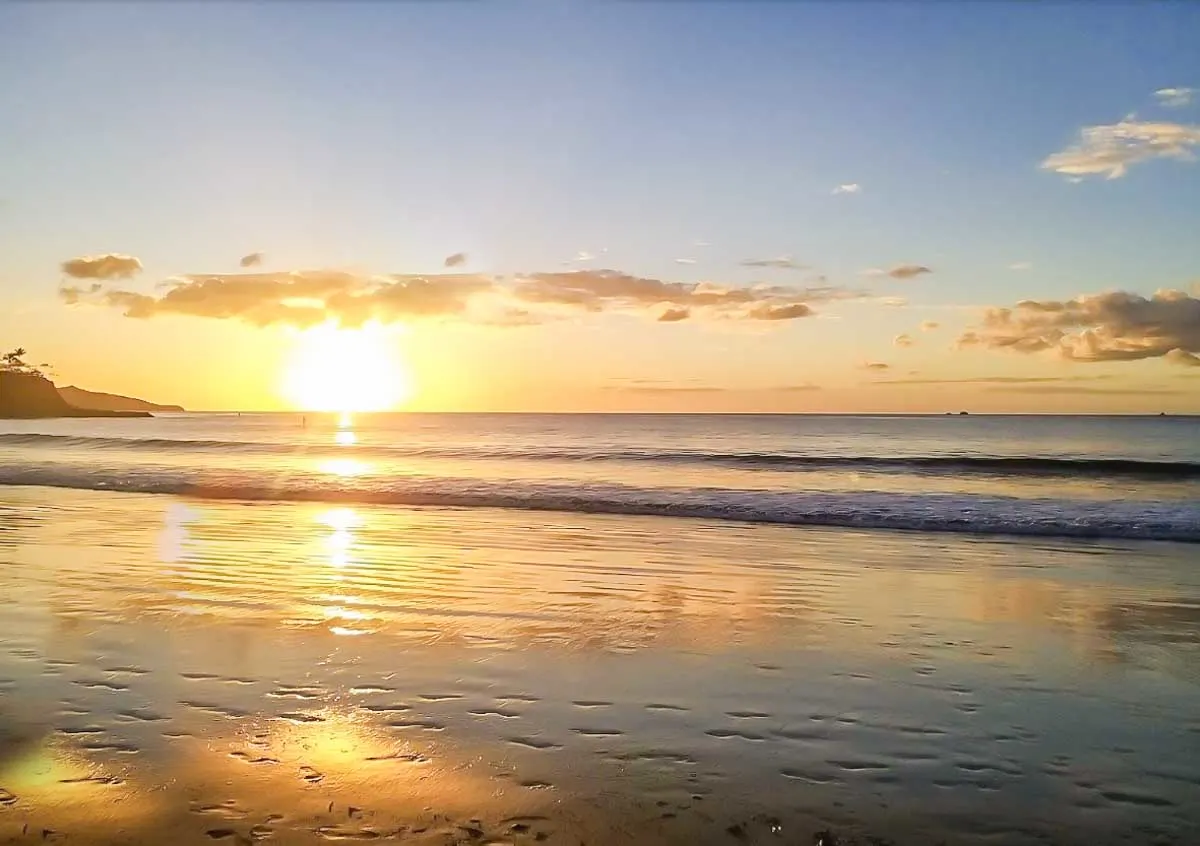 Those that can spend a little more will be able to enjoy places closer to the ocean. Most of the options in this budget range are individual apartments. These are great, and some of the best are Oceanica 827, Sunset Heights 402, Flamingo Villa #12, Oceanica 804, and more.
Massai Apartments saves the day (and your budget.) This beautiful hotel has fantastic reviews, a pool, and its apartments come with full kitchens! Although the hotel is a short walk to the beach, you're also not far from Playa Potrero.
11. Monteverde
Monteverde literally translates to "Green Mountain" in Spanish, and as soon as you set foot in this lush green part of the country, you'll understand why it got its name. The surrounding scenery of rainforests and rolling green hills is what makes this one of the best places to visit in Costa Rica. But, in fact, the main reason tourists visit this area is to see the maginificent cloud forests here. As the name indicates, these areas are forests where clouds hang low throughout a tropical rainforest. They are considered one of the rarest habitats in the world and are home to incredible species of animals and plants.
Although the cloud forests are a unique selling point of Monteverde, there are so many other amazing activities to be enjoyed here, from ziplining, walking across stunning hanging bridges, and even visiting a frog pond! Monteverde is an adventure lover's dream, and I, for one, can't wait to return one day again soon!
Related Read: Check out 10 of the best restaurants in Monteverde!
Best activities in Monteverde
Monteverde Cloud Forest
As I said above, the Monteverde Cloud Forest is the most popular attraction in Monteverde. Walking through here feels like you are walking through the sky because the cloud hangs so low, and it feels like you have entered a new undiscovered world!
The Monteverde Cloud Forest Reserve was set up in 1972 to protect the area, and it now spreads across over 35,000 acres. It's home to a huge variety of wildlife – such as over 100 kinds of mammals, 400 different types of birds, and 1,200 species of reptiles and amphibians.
There's a trail network here that covers 8 miles (13 kilometers), and you can choose to hike one or a few of the six main trails here. Some of the trails are super-short, while others are kilometers long and pass by waterfalls and through swamps. My favorite trail here is the Sendero Camino Trail which leads to a suspension bridge with a spectacular view over the rainforest canopy.
Hanging bridges
Selvatura Park is an adventure and nature park situated within a whopping 850 acres of protected rainforest. The park is most famous for its network of hanging bridges, which hang above the tree canopy, thus, giving breathtaking aerial views of the rainforest!
The hanging bridges here are the widest in the country at 5 feet wide, and they're the longest in Monteverde. There are eight bridges here, and they stretch between 150-510 feet in length and tower 36-180 feet above the forest floor.
On a Selvatura Park Hanging Bridge Tour, you have two hours to explore the park with a knowledgeable guide and see parts of the park most other tourists don't get to see!
Zipline
Ziplining is one way to get your adrenalin pumping in Monteverde while getting to see some fantastic scenery. At the 100% Aventura Park just outside the town of Santa Elena, you can tackle the exciting 10-cable ziplining course and the rope suspension bridges on a tour.
This ziplining tour has it all – it's three hours long and includes Aventura favorites, including the Superman zipline, the highest and longest zipline in Costa Rica, and all of Latin America! This zipline has a special back-clip harness, so you get to "fly" facing forward and hands-free for 1.2 miles (1.9 kilometers.) On the tour, you'll also get the chance to experience the thrilling Tarzan Swing Ride
Frog pond
The frog pond is a short activity in Monteverde, and on a stop here, you will see more than 25 different species of frogs and toads, including the Red-Eyed Tree Frog and the colorful Poison Arrow Frog!
Tickets to the Monteverde Frog Pond cost $20 USD, but they can be used for two separate visits – one in the daytime and the second at nighttime. The price also includes a guided night tour, which typically begins at 6 pm. Most of the frogs are more active at night, so it's on the night tours that you will see and hear them most!
Hot tip: You can also opt for one of the guided night tours in Monteverde if you want to see more than just frogs!
Where to stay in Monteverde
If you're a luxury traveler I highly suggest choosing what we call a "destination hotel". These hotels are an attraction in themselves because of the unique experience they offer. In Monteverde one of the best is Chira Glamping Monteverde which offers luxury camping with the option to have your own private hottub surrounded by nature.
If you're budget traveler or backpacker, there are lots of nice hostels in Monteverde. If you like modern features and outstanding facilities, Selina Monteverde is the best option. The hostel is beautiful, has great reviews, and lots of activities including yoga. The only downside is Selina is a high-end backpacker hostel.
12. Manuel Antonio
2.5 hours from San Jose International Airport, Manuel Antonio is a perfect holiday destination for nature lovers. It's one of the most visited and best places to visit in Costa Rica because it sits on the doorstep of Manuel Antonio National Park, the smallest in the country but one of the most popular national parks in the country.
Located in North Puntarenas, visitor numbers to the town have soared in recent years, and as a result, heaps of great hotels (including epic treehouse hotels!), restaurants, and cafes have popped up all over the region. But what's good is that despite its abundance of tourist amenities, it still maintains a delicate balance with nature – the town is surrounded by rainforest, and there's heaps of wildlife to be spotted!
Apart from the national park, there are lots of other fun things to do and awesome tours around Manuel Antonio, from kayaking out to Damas Island, going wildlife spotting at Rainmaker Park Hanging Bridges, and hanging out at the stunning North Espadilla beach!
Best activities in Manuel Antonio
Manuel Antonio National Park
I'm sure it won't surprise you to learn that the top attraction in Manuel Antonio is Manuel Antonio National Park; as I said above, it's one of the most-visited national parks in the country, and for a good reason!
And one of the best things to do within the park is go on a hike; there are several short hiking trails here where you can spot plenty of native wildlife and plant life. The trails vary in length, but it is possible to hike most of the trails in one day. Or, if you'd prefer to walk at a slower pace, just choose one or a few trails – because walking slowly gives you a better chance of seeing wildlife like macaws, monkeys, sloths, snakes, and more.
Some of my favorite trails in Manuel Antonio National Park include – the Sloth Trail, the Mangrove Trail, and the Waterfall Trail.
If you would prefer a guided hike, luckily, there are many options like this specific tour. The tour costs just $25 USD and includes a 2-hour guided walk through the park. After the tour, you'll have some free time to enjoy the beaches in the park.
Playa Biesanz
Playa Biesanz, also known as Biesanz Beach, is often referred to as a "secret beach" in Manuel Antonio. This small secluded beach is within easy walking distance of the town. On the way there, the path is mostly downhill, and the path into the beach itself is a dirt trail. In this section, be sure to keep your eyes peeled for monkeys – when we went, we spotted around 15 in the trees, as well as toucans!
You can rent a lounge chair here to relax on, or if you're feeling more adventurous, rent a kayak or snorkeling equipment. There is even a small bar on the beach selling soft drinks, beers, cocktails, and fresh coconuts.
North Espadilla Beach
North Espadilla Beach, or simply "Espadilla beach," is the main beach in Manuel Antonio, and it always has a fun/vibrant atmosphere. You'll see lots of vendors walking the beach selling fresh coconuts and other drinks as well as food.
Take a walk along the beach to find the perfect spot for you – be it under the shade of a tree or at a beach club. Then you can go for a swim, surf, or simply sit back and relax with a good book. When I go, I try to avoid the southern area near Manuel Antonio National Park as that tends to be the busiest area!
Rainmaker Park Hanging Bridges & Waterfalls
One of the best places to view wildlife in Manuel Antonio is the Rainmaker Hanging Bridges, which is just 30 minutes from Manuel Antonio. Best described as an off-the-beaten-path conservation park, it's a huge 2,000 hectares (5,000 acres) and is home to tons of wildlife.
The best things to do here include crossing the scenic hanging bridges, spotting wildlife, and swimming in waterfalls.
Entrance to Rainmaker Hanging Bridges costs $20 USD for a self-guided tour and $60 USD for a guided tour. If you need transport, consider booking this guided tour from Manuel Antonio that includes return transfers.
Damas Island Kayak tour
Costa Rica's mangroves are some of the most important wildlife ecosystems in the world, and they are filled with some very fascinating species.
Conveniently, the Damas Island Mangroves are situated just 20 minutes from town, and you can choose to do a relaxing kayaking tour or a boat tour. Personally, I preferred the kayak tour because it allows you to get deeper into the mangroves. Both options are pretty cheap and include your lunch as well as transport and an expert guide.
On either of the above tours, you will be able to see plenty of wildlife, from sloths to monkeys to anteaters, plus many different species of birds!
Where to stay in Manuel Antonio
You may be in Manuel Antonio to get up close and personal with the wildlife in the National Park, but it wouldn't hurt to add a sprinkle of luxury to your vacation. That is exactly what you'll get at Hotel La Mariposa. Standing on the town's highest point, La Mariposa treats guests to a majestic 180-degree view of the Pacific Ocean, the National Park, and even the neighboring town of Quepos.
For something that's right in the town proper of Manuel Antonio, Teva Jungle Hotel and Hostel is easily one of the most budget-friendly accommodation providers.
You can pitch your own tent on the 20-hectare property for as low as $10 USD per night. And if rustic camping is not your thing, there are plenty of room options to choose from. The hotel has several private rooms ($40 to $110 per night) for those who want peace and quiet and lots of dorm beds ($10 to $30 per night) for those who like to meet new travel buddies.
13. Uvita/Dominical
Uvita, a small town on Costa Rica's Pacific Coast, is just a short distance from Manuel Antonio National Park. And within easy reach of the town, you'll find beautiful beaches, waterfalls, and great surfing spots.
The most famous attraction in Uvita is the "Whale Tail," which is located in Marino Ballena National Park, but other than that; tourists can visit Nauyaca Waterfall, surf at Playa Hermosa, join a whale watching tour, eat at a great restaurant, and so much more! The town is best described as an up-and-coming tourist destination, but in recent years, its popularity has exploded; even with this surge in tourism, I still view Uvita as a hidden gem!
Just north of Uvita sits the laid-back, hippy surf town of Dominical. Dare I say that I actually prefer it as a place to stay over Uvita? There is so much to do in Dominical, but one of the top things to do here is surfing – in fact, it's one of the most underrated surf towns in the whole country!
Best activities in Uvita/Dominical
Nauyaca Waterfalls
Nauyaca Waterfalls are two spectacular waterfalls that stand a huge 197 feet tall (60 meters) and are surrounded by lush rainforest! It's just a 30-minute drive to the ticket office from Uvita; tickets cost $12 USD at the office or $10 USD if you pre-book online. From the ticket office, it's a further 1.2-mile drive (2 kilometers) into the parking lot, which is where you'll start the hike to the base of the waterfall.
This trail is 4 kilometers (2.5 miles) each way along a dirt road. We recommend starting this hike first thing in the morning so that you avoid the hottest part of the day, as it's a pretty open trail with lots of hilly sections. But hiking the steep hills will be worth it as soon as you see the falls.
My advice is to visit the top waterfall first to see the view and then walk down to the bottom waterfall for a swim – it's not recommended to swim in the top one!
Suppose you don't fancy walking the 4 kilometers or have mobility issues, no need to worry – as you have options. Your first option is to take a tour in the back of a truck, which costs $32 USD plus your entry ticket. The next option is to take a horse, which costs $80 USD!
Marino Ballena National Park
There's no doubt about it; the most popular thing to do in Uvita is to walk out to the "Whale Tail" within Marino Ballena National Park.
This National Park is a small coastal and marine park that protects this stunning stretch of coastline. At low tide, the shape of the sandbar looks exactly like a whale's tail, and it's a completely natural wonder. It's also very fitting, considering Uvita is one of the best places in Costa Rica to go whale watching!
As I said, for the best experience, you should aim to visit the park at around low tide when you can walk out onto the Whale Tail.
Although the Whale Tail is the big draw card at the park, the beach here is also spectacular and is surrounded by rainforest. You may even be lucky enough to spot a whale swimming in the water here.
Surf
Playa Hermosa, a short drive north of town, is the best surf spot in the region. Dotted along the beach, you'll see loads of surfboard rental vendors from where you can rent a board for as little as $10 USD a day.
But if you're a beginner, a good shout is to book a surf lesson; this specific surf lesson is 2 hours long and starts from Playa Hermosa. The price includes your board rental, a super-experienced and friendly surf instructor, digital photos, snacks, and water.
I should mention that if you're a newbie surfer, then you should avoid surfing here between May and September, as tropical storms at this time of year mean bigger swells. Instead, aim to visit between November and April when the waves are calmers, and the current isn't as strong!
Whale watching
Whale watching is a must-do activity while in Uvita; in fact, it's one of the best places in Costa Rica to see these majestic creatures. On this incredible tour in Marino Ballena National Park, you will spend over three hours on the water exploring the coastline as far as Caño Island in search of whales, dolphins, and sea turtles.
Whale watching in Uvita is best done during one of two seasons. The first and best season runs from July to November, and during these months, it's common to see multiple whales each day, including baby whales! The second season runs from January to April, and although not as good, you still have great chances of seeing these giants of the sea!
Where to stay in Uvita/Dominical
A cozy accommodation provider just 300 meters north of Marino Ballena National Park's main entrance, Bungalows Ballena makes you feel like you're right at home with all of their comforts. Here, you can enjoy a beautiful two-bedroom stand-alone villa, which is nestled in the property's well-manicured garden of flowering plants and towering palm trees.
When you get to your bungalow, the first thing that will catch your attention is its tropical vibe. The room is made out of wood, and the furniture and decor are just as rustic while still appearing trendy and luxurious.
Say you're a digital nomad looking to soak up those Pura Vida vibes without breaking the bank? Don't worry, Whale Tail Hotel has your back. Whether you're traveling alone and planning a family vacation on a budget, this Uvita hostel offers everything from private suites to shared dorm rooms.
14. Drake Bay
Drake Bay is a small, sleepy fishing village on the Osa Peninsula with a laid-back vibe. There are no big resorts or luxury hotels here. Instead, you will find plenty of small, family-run lodges and hotels – which I personally prefer. Known as the gateway to Corcovado National Park, the village is an authentic place to visit and a Costa Rican gem!
Don't let its small size fool you – there are a plethora of activities on offer here, from horseback riding to river tubing to whale-watching tours. Or you could simply relax at the beach for the day and catch a stunning sunset in the evening with a drink in hand!
Best activities in Drake Bay
Visit Corcovado National Park
Corcovado is one of the biggest and most biologically diverse national parks in Costa Rica because it holds 50% of the species found in the whole country. Plus, it's one of the last remaining areas of lowland tropical rainforest in Central America.
On a visit here, you'll feel a million miles from civilization as you get lost in the dense rainforest, which is filled with a wide variety of wildlife. Some of which are endangered. The park's most famous resident is perhaps Baird's tapir – the largest land mammal in Central America. But the Harpy eagle is also worth keeping your eyes peeled for because it's one of the biggest and most powerful eagles in the world! There are also Bull sharks, ocelots, White-faced capuchin monkeys, and pumas in the park!
Exploring the pristine beaches in the park is also a good idea; there are over 37 kilometers (23 miles) of coastline here, and the beaches really are breathtaking!
This particular tour is a great option if you want to see as much of the park as possible in a day. On this 9-hour tour, you'll have the chance to explore some of Corcovado's lesser-known hiking trails with a local guide. All in all, you'll be hiking 12.5 miles (20 kilometers), almost as long as a half marathon, so you're guaranteed to feel tired at the end, but it will be worth it, I assure you! During this epic day, you will visit waterfalls and beaches and have lunch in the middle of the rainforest!
Cano Island
Cano Island is one the best places to scuba dive and snorkel in the country, and it's located close to Drake Bay – just off the coast of Uvita, to be exact. This protected area is home to a magical underwater world teeming with diverse marine life!
The visibility is excellent in the waters off Cano Island, which is why it's such an epic dive spot, plus it's home to incredible flora and fauna and stunning landscapes! The island is a biological reserve that is managed by the Osa Convention Area and is a huge 2,900 hectares (7,166 acres) in size. There is a permanent ranger station here whose role is to keep wildlife and plant life safe.
It's important to note that you can't actually step foot on the island; instead, it's just the water surrounding the island that you can explore. Lucky then that it's full to the brim of 19 different coral species as well as marine life such as turtles, sharks, and pufferfish!
If you are departing from the Drake Bay area, there is a great 6-hour snorkeling tour that leaves from there. You'll have the chance to visit not one but two snorkeling sites to ensure that you see all of the incredible marine life possible!
Where to stay in Drake Bay
If you're looking for a luxury Drake Bay hotel, Las Caletas Lodge is one of the top choices to consider. It is perfect if you're wanting to escape from the hustle and bustle of Drake Bay as it is situated in the middle of the rainforest, and only accessible by boat – talk about a secluded getaway!
The lodge is complete with a variety of facilities, which will ensure you have an amazing stay even though you are quite literally in the middle of nowhere. The onsite bar and restaurant serves delicious meals made with as many locally sourced ingredients as possible.
The lodge only has 8 rooms on offer, making it a small boutique hotel where you can enjoy personalized service.
$ – Life for Life Hostel Drake Bay
Life for Life Hostel Drake Bay is one of the best budget options outside of Drake Bay town near Rincon del San Josecito. On-site facilities include a garden, a shared kitchen, BBQ facilities, and a designated smoking area. What's more, the hostel has a restaurant that serves three meals per day, so there's no need to leave the property for food. Complimentary Wi-Fi is also available in common areas.
15. San Jose
And last on this huge list of the best places to visit in Costa Rica is the bustling metropolis of San Jose. This city is the starting point for most visitors to Costa Rica, that's because it's home to the most-serviced international airport – Juan Santamaria International Airport. It's also a large city filled with lots of awesome things to do, and it is the capital city of Costa Rica! San Jose is home to a fascinating culture, vibrant nightlife, and plenty of museums, parks, and art galleries that will definitely fill a few days.
While many tourists only spend a night here or head straight from the airport to their destination – we recommend spending at least a few nights here. And because it isn't as touristic as other Costa Rican destinations, you won't regret taking the time to see how the locals live in this busy city.
Best activities in San Jose
Explore downtown/tour
Sure, San Jose isn't the prettiest city, and even though there are a few interesting museums and well-rated restaurants to check out in the downtown area, the list of things to do in the CBD area is a little limited!
This is why we recommend that the first thing you do when you get to San Jose is to book a city tour because it's the best way to get a true feel for the city and find your bearings. There are several companies that offer city tours in San Jose, all of which offer hotel pick-up and transport around the city to see the sights. But most of them require a lot of walking.
So, if you don't fancy the idea of a long walking tour, then you should book a private paid tour with transport and lunch included. On this particular tour, you'll cover a lot more ground in a vehicle and enjoy listening to the history of the city and its sights by an expert guide.
National Theatre
The National Theater of Costa Rica is not only a beautiful place to see operas, plays, ballets, classical concerts, and other performances, but it is also a source of great pride among the locals.
A tour of the National Theater costs 3,500 Colones ($5 USD) per adult, and kids under the age of 12 are free. These tours are 45 minutes long and are done in English or Spanish. On the tour you will get an in-depth look at the theater – even going to see the stage, and your guide will relay fascinating facts about the artworks housed here.
You will leave having learned so much about the history of the theater, the important events that were held here, and even the reasoning behind the design of the theater.
Poas Volcano
During your stay in San Jose, you shouldn't miss the opportunity to head on a day trip to Poas Volcano. It's one of five volcanoes in Costa Rica that remains active today; visitors can experience the bubbling, sulphuric, green glory of the volcanic lake that fills the gigantic crater from the safety of the observation deck!
Poas Volcano is located in the Central Valley region, around an hour's drive from downtown San Jose. In fact, I say it's one of the best day trips from San Jose!
The ticket price for Poas Volcano is $15 USD for non-residents (foreigners) over the age of 13 and $5 USD for non-residents under 13. There are discounted rates available for Costa Rican residents.
This half-day small group tour is excellent and includes an early morning pick-up from your accommodation in San Jose so that you get there before the clouds roll in. It's a small group tour, and you'll end the day having learned so much about the volcano and the area surrounding it.
La Paz waterfall gardens
La Paz Waterfalls Gardens is one of the biggest private wildlife sanctuaries in Costa Rica, and it's situated about a 45-minute drive from San José. The gardens are home to five breathtaking waterfalls, which you can reach via paved trails. It's home to abundant wildlife, too, so keep your eyes peeled for sloths, jungle cats, monkeys, frogs, snakes, and various different birds.
Other than the falls, one of my favorite things to see here is the butterfly observatory. While fishing fans must check out Trout Lake here; if you catch something, they will prepare the fish for you for lunch! How great!
The entrance ticket is $48 USD for adults and $32 USD for kids aged 3-12 years old, and the park is open from 8 am to 5 pm. If you don't have a rental car, consider joining this organized day tour from San Jose.
Where to stay in San Jose
Located right in the city center, the Gran Hotel Costa Rica is only a 5-minute walk from the National Theatre and San José Cathedral. It has been designated as a historical and architectural landmark by the government, the only hotel in San José to receive such title.
Renovated last 2016, this luxurious property boasts a graceful combination of historical architecture and contemporary flair. You can find an impressive lobby here, as well as an executive lounge, conference space, and an innovative brand restaurant.
Hotel Cultura Plaza is a contemporary hotel nestled in the heart of the city center and close to the Metropolitan Cathedral, the National Theater of Costa Rica, and the Pre-Columbian Gold Museum.
It features a tour desk, a massage service, and free Wi-Fi. Meanwhile, the rooms are fitted with a flat-screen TV with satellite channels and an attached bathroom.
If you prefer there are several great hotels located near the International Airport in San Jose!
Getting Around Costa Rica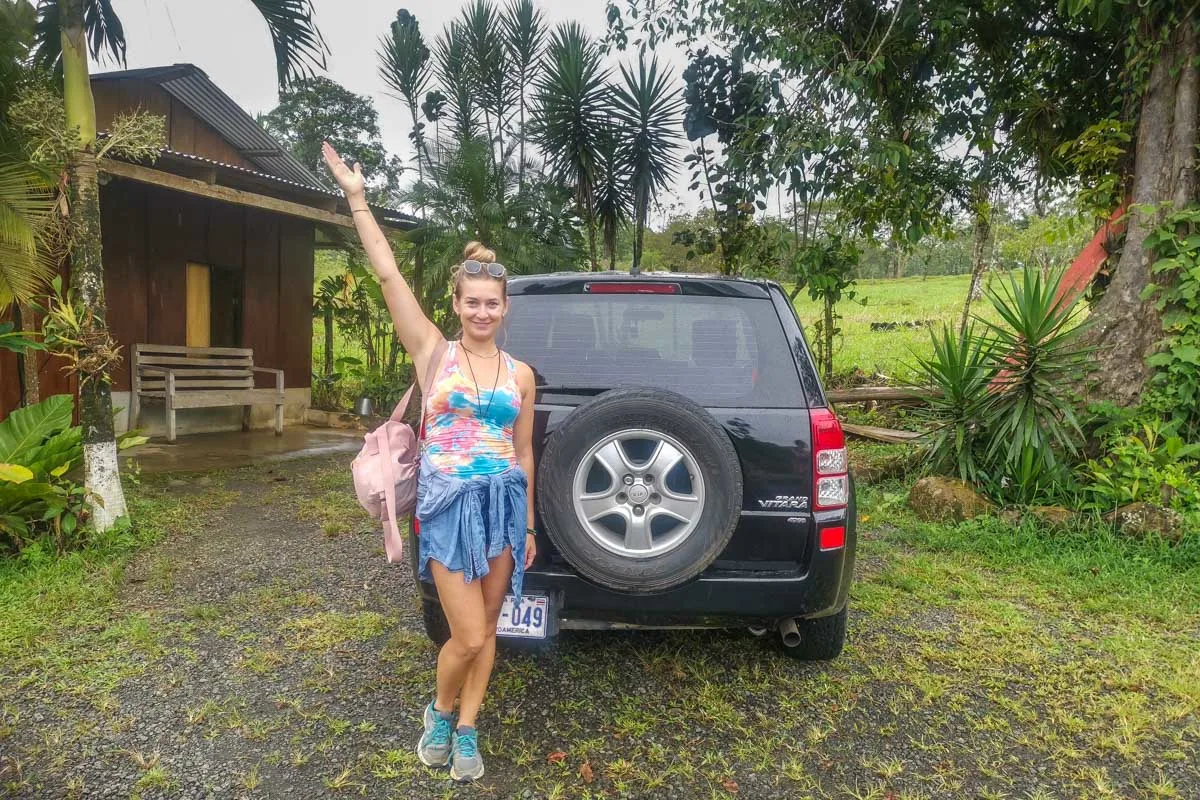 How you choose to get around Costa Rica is one of the biggest decisions you'll make when planning your holiday here! How you do it depends on your budget, travel style, and comfort level.
Renting a Car
Without a doubt, the number one way to explore Costa Rica is in a rental car. We book rental cars on the Discover Cars website as we have had good experiences with them in the past.
One of the things you need to watch for when renting a car in Costa Rica is the mandatory insurance that the government requires you to have. There are a lot of very cheap rentals that don't include this mandatory insurance (TPL) in the original booking price, but there are also ones that do. To avoid additional surprise charges when you pick up your rental car, be sure to rent a car that includes the mandatory insurance when you book.
Thankfully, on Discover Cars it's easy to tell apart the companies that include the mandatory insurance and those that don't. The trick is you can't pick any car on their website. In the picture below, you can see this rental car, with pick up in Jaco, includes the TPL. That means the mandatory insurance is included in the price. Any cover you get above that is extra.
Of course, I still suggest getting the full coverage offered by Discover Cars, which covers you even more.
You can browse cars on Discover Cars here.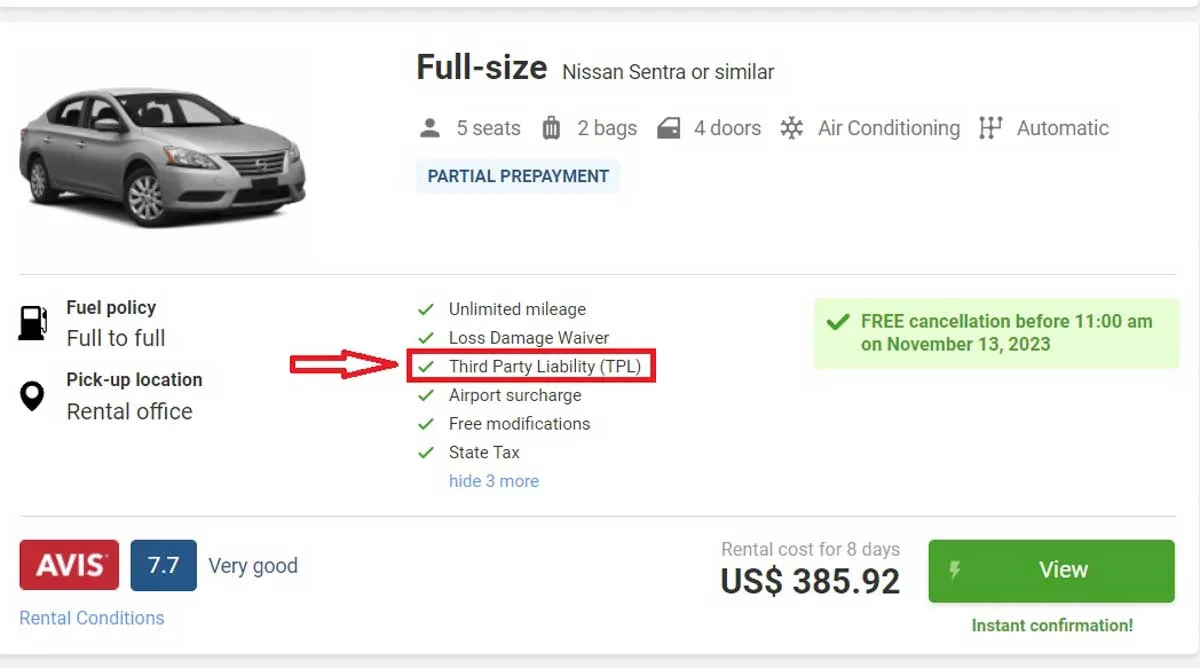 Book Shuttles
If renting a car isn't in your budget, you don't feel comfortable driving in Costa Rica, or you just don't like driving, shuttles are the next best option. There are hundreds of shuttle routes available all over the country, and they are very affordable.
Shuttles in Costa Rica are specifically for tourists and often include pick up and drop off at your selected hotels and airports. The drivers also speak some English, and the vehicles have air conditioning. You'll also be guaranteed a seat when you book a shuttle (which isn't the case with the public bus system.)
To get the best price, use the website Bookaway. They compare all the offers and prices of shuttle companies in Costa Rica so you get the best price! Honestly, we have saved so much money using Bookaway!
You can search for shuttles online on Bookaway here.
Public Bus
Lastly, you can use the public bus system. On short journeys, such as from San Jose to La Fortuna or Uvita to Manuel Antonio, this system is great. However, the longer the journey the more hassle and time spent on a bus. It's undoubtedly best to save the public bus in Costa Rica for short and straightforward trips!
The public buses are definitely the cheapest way to get around Costa Rica, but they are not always very reliable and schedules often change without notice and delays are to be expected. The buses can also be very crowded and hot – so just be prepared!
It's also good to speak some Spanish if you plan on riding the public bus since most drivers and ticket booth operators don't speak English.
Invest in Travel Insurance
Paying out of pocket for trip interruptions or medical treatment will add to what might already be a stressful situation. Not to worry, SafetyWing is here to help!
This affordable travel and medical insurance is perfect for digital nomads, long-term travelers, and remote workers. The best part is that it only costs $45 USD per 4 weeks.
To start coverage you must purchase it after leaving your home country. We usually purchase it as soon as we land at the airport.
Since using SafetyWing we've been reimbursed thousands of dollars when we've gotten sick. During the pandemic, they've even gone as far as to pay for our last-minute flights back to Canada before the border closed!
Pure Vida!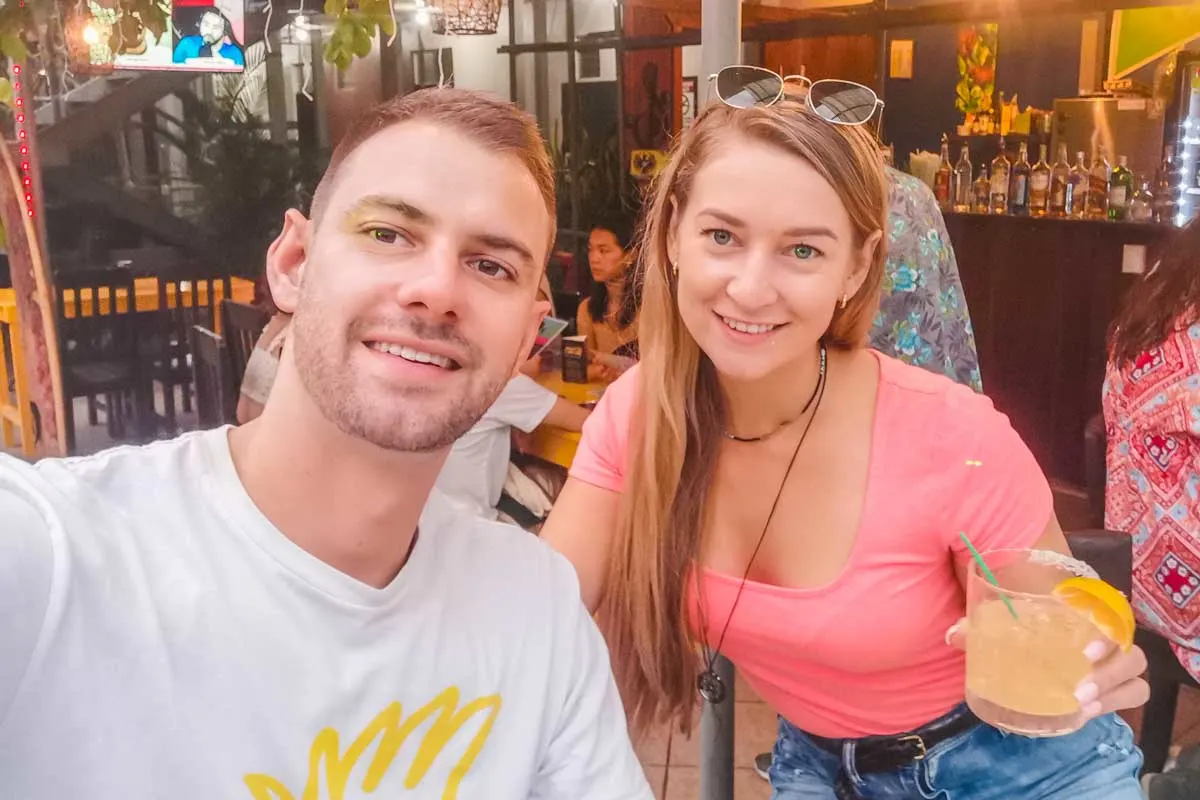 If you've read this far – congratulations, that was a whopper of a blog post, and I hope it has helped you decide where to spend the bulk of your time in Costa Rica. I really enjoyed writing this guide to the best places to visit in Costa Rica, and I can't wait to return soon to one of my favorite countries in the world!
While planning your dream getaway to the best places to visit in Costa Rica, have a look at our other blogs. We've fallen in love with this country so much that we even moved here for a while! We have tons of tips and ideas to share to help make your trip extra special.
ULTIMATE Guide to Planning your Romantic Honeymoon in Costa Rica
Is Costa Rica Expensive? Cost of Traveling to Costa Rica
7 Day Costa Rica Itinerary: How to Spend One Week in Costa Rica!