Costa Rica is well known for its adventure activities, from ziplining to ATVing; this stunning nation is heaven for adrenalin junkies. But would you believe that one of the best things to do in the home of 'Pura Vida' is whitewater rafting? Yep, this extreme sport is the ideal heartstopping activity to try whilst visiting Costa Rica.
In this blog post, I list 6 of the best places in Costa Rica to go whitewater rafting, including Puerto Viejo and La Fortuna, as well as some lesser-known rafting hotspots like Dominical and Manuel Antonio!
So, consider this detailed blog post the ultimate guide to the best places to go whitewater rafting in Costa Rica! I've included some helpful tips that you should know before booking any whitewater rafting experience in Costa Rica!
About Whitewater Rafting in Costa Rica
Thanks to its mountainous terrain and heavy annual rainfall, Costa Rica is home to some of the best whitewater rapids in Central America. And the best time to visit Costa Rica to try out this activity is during the rainy season, which runs from June to October, as this is when the rivers are at their fullest and fastest-flowing.
As you can imagine, there are numerous rivers throughout the country where you can try whitewater rafting, from the Pacuare River in Puerto Viejo, which boasts over 52 rapids, to the family-friendly Rio Balsa near La Fortuna – there's a whitewater rafting tour for everyone no matter where in the country you base yourself.
The general rule of thumb here is that the higher up the river is located, the wilder it is, and thus the higher the class of its rapids (think class IV and above), so rivers like Pacuare and Tenorio, which are situated in mountainous regions are best suited to those who have rafted before. Whereas in low-lying regions like Manuel Antonio, you can enjoy a gentler adventure on the Naranjo River.
What's good, too, is the water in the rivers in Costa Rica is quite warm, averaging around 80 Fahrenheit (26 Celsius), unlike in other popular rafting destinations like Canada and Utah.
Where can you go Whitewater Rafting in Costa Rica?
There are many rivers in Costa Rica where you can enjoy whitewater rafting, but the best ones include the Pacuare River in Puerto Viejo, the Balsa River and Sarapiqui River near La Fortuna, the Tenorio River in Guanacaste, the Naranjo River near Manuel Antonio and Jaco, and finally the Chorro River and Coto Brus River near Dominical!
But honestly, any of the above rivers can be accessed from anywhere in the country if you truly have your heart set on rafting. And there are full-day tours available to all of the above rivers, as well as multi-day tour options leaving from Puerto Viejo.
Below, I've provided details on the best whitewater rafting tours in Costa Rica from popular tourist destinations. This way, no matter where you are choosing to base yourself for your time in Costa Rica, you can find a highly-rated rafting tour!
The BEST Costa Rica Whitewater Rafting Tours/Experiences
1. Puerto Viejo (Pacuare River)
First up, and one of the best places to go whitewater rafting in Costa Rica, is Puerto Viejo, or more specifically the Pacuare River located close to the town. Puerto Viejo is an idyllic town on the Caribbean coast and is a very popular tourist destination within the province of Limon. This town is a 4.5-hour drive from San Jose and an hour from the city of Limon.
Now, let's dive into some fun facts about the Pacuare River, also known as Rio Pacuare, starts in the Cordillera de Talamanca and ends in the Caribbean; it is a whopping 108 kilometers long! It is a very popular spot for whitewater rafting thanks to its abundance of class III and IV rapids. In fact, National Geographic rated the rapids on this river as one of the top 5 in the world!
Rafting tours on this particular river commonly depart from either San Jose, Puerto Viejo, or Puerto Limon. Although one of the best day trips from San Jose, it's worth noting that tours from San Jose are very long at over 12 hours. That's why I recommend choosing Puerto Viejo as your starting point, as it involves just over 2 hours of driving each way!
The Pacuare River boasts 52 rapids in total and winds through thick jungle and past cliffs and waterfalls. And on any rafting tour here, there are plenty of opportunities to see wildlife such as sloths, monkeys, and birdlife.
This full-day rafting excursion from Puerto Viejo is certain to get your heart pumping because, on this tour, you'll find out why some of these fun rapids have been nicknamed monikers, such as "pinball" and "double drop." The river also features plenty of twists and turns, which your professional guide will help you navigate safely.
What's great too is that breakfast and lunch are included in the price! This exciting tour is 6.5 hours long and runs daily, starting nice and early at 6 am! Hotel pick-up from Puerto Viejo is included, too, and prices start at a reasonable $125 USD per person
Related Read: if you plan on spending the night in Puerto Viejo, check out my detailed blog about the best places to stay in Puerto Viejo!
2. La Fortuna (Balsa River and Sarapiqui River)
La Fortuna, also known as the adventure capital of Costa Rica, is located just a few hours north of San Jose, and it is the perfect spot to embark on a whitewater rafting tour.
From this small town at the base of the Arenal Volcano, there are two great rivers that offer rafting tours – the Balsa River and the Sarapiqui River. Both of these rivers offer different classes of rapids, and which one you choose will depend on your experience. Both rivers require a bit of traveling to reach, but they are all easily accessible from La Fortuna.
The Rio Balsa is situated 45 minutes from La Fortuna and boasts class II and class III rapids, making it the ideal option for a family adventure! The river isn't too powerful, but it still has plenty of twists and turns to make it exciting. Plus, you will be treated to stunning views of the jungle and wildlife within it (think animals like sloths and howler monkeys) as you paddle along it!
So if you're after a gentler version of whitewater rafting, then I recommend going with this specific tour on the Rio Balsa. As I mentioned, the rapids on this river are Class II and III, so they are more suited to beginners. On the tour, your guide will teach you the paddling techniques needed for the 6 miles (9.6 km) trip. Roundtrip transport from La Fortuna is included as well as a snack break halfway through, during which you can also swim in the river!
Further to the east and a 2-hour drive from La Fortuna is the Sarapiqui River, which is a popular choice for those hoping to join a more exciting whitewater rafting adventure. The Sarapiqui River features both class III and class IV rapids, which have names like the Terminator, the Pipeline, and Dos Locos!
There are a few different tours available on the Sarapiqui River, and this particular one is a great option! You'll tackle some crazy rapids, so it's not for the faint-hearted. This river is at its most exhilarating between the months of June to October. These tours from La Fortuna also includes transportation (it's about a two-hour drive from La Fortuna) and lunch.
Related Read: Another awesome thing to do in La Fortuna is checking out the famed La Fortuna Waterfall!
3. Guanacaste (Tenorio River)
Guanacaste province is nestled between the Nicoya Peninsula to the South and Nicaragua in the North. This region is essentially a 121-kilometer stretch of the Pacific Coast and is home to tourist towns like Tamarindo, Playa Flamingo, and Playa Coco – some of the most beautiful places in the whole country!
It's also one of the driest parts of the country, so you may be surprised to learn that the whitewater rafting here is epic! So, one activity you must try out while in the Guanacaste is whitewater rafting down the thrilling rapids of the Tenorio River.
This full-day whitewater rafting tour will take you down 7.5 miles (12 kilometers) of the Tenorio river paddling through both Class III and IV rapids. This particular tour includes pick-up from most areas in the Guanacaste including Tamarindo, Playa Flamingo, Playa Grande, Playa Hermosa, and more! The drive to the launch spot on the Tenorio River is about 2 hours, give or take, depending on your collection point.
While paddling along, you'll navigate a whopping 22 different rapids! While on the gentler parts of the river, you'll be able to relax a little and take in wildlife sightings of monkeys, tropical birds, and iguanas. The best part about this tour is near the end, though, where your guide will expertly navigate you down a 12-foot waterfall drop called "Cascabel Falls." Also included in the price is a Costa Rica-style lunch called a Casado with rice, beans, salad, and plantains.
4. Manuel Antonio (Naranjo River)
Even though whitewater rafting is most commonly associated with mountainous regions, the relatively flat Manuel Antonio is actually within close proximity to the Naranjo River, an awesome rafting destination.
Manuel Antonio is a popular destination in its own right because it's next to Manuel Antonio National Park and just 15 minutes away from the bigger city of Quepos. But one of the big draw cards for tourists coming here is the opportunity to raft down the thrilling Naranjo River.
As I mentioned, in this region the Naranjo River is the best choice for rafting enthusiasts. The 80 km (50 miles) stretch of river here is filled with class III and class IV rapids and boasts stunning jungle scenery. And because this river borders Manuel Antonio National Park, you're highly likely to spy lots of wildlife as you paddle along.
This specific tour takes on class III and IV rapids along a 7-mile (11.3-km) section of the Naranjo River. It's a thrilling 5-hour adventure that will excite the bravest adrenalin junkies. It's worth noting, though, that due to the fast-paced nature of this option – you do have to be over 8 years old to book it.
While if you're looking for a gentler, more family-friendly tour, then this class II and III white water rafting tour is the perfect alternative. Children as young as 6 can join this tour, and a safety kayaker will accompany you along the way – meaning you have the highest possible safety rating. Because of this, it is more expensive than the others – but it's also one of the most popular (and highly rated) whitewater rafting tours in all of Costa Rica! Pick-up from many of the hotels in Manuel Antonio or Quepos is included.
Related Read: Check out my guide to the best restaurants in Manuel Antonio while you're there!
5. Dominical (Chorro River and Coto Brus River)
Dominical is a small, off-the-beaten-path gem in South Puntarenas and is known as one of the best surf destinations in Costa Rica. It attracts many ex-pats who come here to experience the laidback lifestyle and, of course, surfers from across the world. An added bonus is it's just 30 km (18.6 miles) from Manuel Antonio National Park.
But did you know some of the best whitewater rafting in Costa Rica is located not far from Dominical?
The two most popular rivers to raft near Dominical include the Coto Brus River and the Chorro River. Both of these boast class III and class IV rapids; therefore, they are only suitable if you are confident in white water.
The Chorro River is also known as 'El Chorro,' which translates to "jet gorge" thanks to the way this powerful section of river propels the raft. In the rainy season, the class IV rapids increase to class V so as you can imagine, it's a very challenging ride and only suitable for the brave!
On this specific tour, you will make your way through the gorge as well as a variation of different drops and bends. If you can (while you're going slower, that is), make sure to take in the beautiful scenery of Manuel Antonio National Park.
On the other hand, the Coto Brus River tour is a slightly gentler option with class III and class IV rapids. It's renowned for its stunning scenery, diverse wildlife as well as its peaceful setting. In fact, you'll rarely come across anyone else on a tour here!
The tour down the Coto Brus River costs $130 USD + VAT, and the Chorro river is $103 USD + VAT.
There are more rafting tours available depending on your budget, and Dominical Adventures is the best company in Dominical to book with.
6. Jaco (Naranjo River)
And finally, Jaco, a small city on the Pacific Coast renowned for being a party town is also a lesser-known but equally epic rafting destination.
Jaco is the closest beach city to San Jose, at just an hour and 40 minutes' drive, and has an awesome 3.2 km (2 miles long) beach! But one of the best things to do here is to go whitewater rafting in the nearby Naranjo River.
A 45-minute drive from Jaco will bring you to the upper section of the Naranjo River, which has both class III and class IV rapids and so is only suitable for both beginner and experienced rafters.
On this half-day tour, you will be accompanied by a trained guide who will assist you in paddling through rapids and steep drops. Take in the lush jungle scenery on the less-exciting sections of the river, and keep your eyes peeled for native wildlife. Lunch is included in the price as well as pick-up and drop-off from most Jaco hotels!
Related Read: Another fun adventure activity in Jaco is riding an ATV – read about our favorite tours!
What is the Most Thrilling Whitewater Rafting Tour?
Now, that's a tough call because all of the whitewater rafting tours on the list are thrilling. But, when it comes down to it, this rafting tour down the Naranjo River which departs from the town of Jaco, is undoubtedly the most hair-raising!
The nickname of this particular stretch of the river is "El Chorro," which literally translates to "jet gorge" because of the way the fast-flowing river propels your raft forward, as well as that, there are numerous steep drops and bends, making for a challenging ride. Although the rapids on this river are rated as class III or class IV but during particularly heavy periods of rain, these can increase to class V. Therefore, this particular tour is only recommended for experienced rafters.
What is the Best Family-Friendly Whitewater Rafting Tour?
The best family-friendly whitewater rafting tour in Costa Rica is this class II and III white water rafting tour, which departs from the town of Manuel Antonio. The gentle nature of the river here and the fact that the rapids on this river are just class II and class III means that children as young as 6 can join this tour.
Plus, for the added security factor, a safety kayaker will accompany you as you paddle along– meaning you can rest assured that the highest possible level of safety is being followed. Pick-up from most hotels in Manuel Antonio or Quepos is included in the price.
What should you bring Whitewater Rafting?
If you're wondering what you should bring on your upcoming whitewater rafting tour, fear not, I've got you covered. This list includes everything that you should take with you on a rafting tour in Costa Rica:
Comfortable, lightweight clothing that will dry easily. For example, for men, a quick-dry T-shirt and swim shorts are a good option. While for women a bathing suit paired with a pair of quick-dry shorts is a good shout. Another great option is a surf rashguard.
For your feet – be sure to wear comfortable but sturdy shoes such as wetsuit boots, trainers/runners, or sandals with straps
A waterproof camera like a Go-Pro (if permitted by the tour operator) to snap some awesome selfies
A brimmed hat to protect your face from the sun
Sunglasses with a strap (so you don't lose them)
Insect repellant
Waterproof suncream
How Much do Whitewater Rafting Tours in Costa Rica Cost?
Whitewater rafting tours in Costa Rica vary significantly in price depending on the length of the tour and where it begins.
For example, this Balsa River tour from La Fortuna is reasonably priced at $76 USD per person because it's 4 hours long and navigates gentle class II and class III rapids. In contrast, this tour from Manuel Antonio is more expensive at $120 USD because it includes a safety kayaker who will accompany you along the class III rapids.
In general, though, I recommend allowing around $100 USD per person for a whitewater rafting tour in Costa Rica.
Is it safe to go Whitewater Rafting in Costa Rica?
Whitewater rafting is one of the safest activities in Costa Rica, and there's a river suitable for every skill level. In fact, many rafting tour operators say that whitewater rafting is safer than driving in Costa Rica! Now that's a bold statement but let me explain why they say this.
First off, if the rivers are too high (or even too low), the operator will cancel the trip. Secondly, every guide (provided you book with a reputable operator, like the tours I've mentioned above) has first aid and river rescue certifications which are re-evaluated regularly.
When you join a rafting tour, you will be given high-quality safety gear like helmets, lifejackets, and paddles. And before you actually put the raft in the water, you will be given a detailed safety briefing and taught some rafting techniques to ensure you are adequately prepared.
With that said, you should be somewhat confident in the water and know how to swim before going whitewater rafting in Costa Rica. And, you should always check the safety precautions taken by your chosen company before booking. Always wear a lifejacket and helmet that fit properly, too.
Are there Overnight Rafting Trips in Costa Rica?
Yes, there are two overnight rafting trips available from Puerto Viejo – both of which take place on the Pacuare river.
This rafting and hike 2-day Expedition is perfect for thrill-seekers looking for a new challenge. You will paddle the class III and IV rapids, hike to waterfalls, swim in unique swimming holes, and explore the jungle by day. While at night, you will sleep in the comfortable Pacuare River Lodge. Pick-up from Puerto Viejo, San Jose, Tortuguero, or Arenal is included in the price. This particular tour costs $282 USD per person.
While the unique 3-day Rafting, Hiking, and Indigenous Visit tour truly are one for the bucket list. Paddle 22 miles (35 km) and 49 class III and class IV rapids on this thrilling adventure! It costs $367 USD per person, and pick-up from San Jose, Arenal, and Puerto Viejo is included.
Additionally, you can also do this 2-day rafting adventure on the Pacuare River that will pick you up in with San Jose or La Fortuna, too! It's a great option for those who aren't already traveling to Puerto Viejo but also want to experience one of the best whitewater rafting tours in all of Costa Rica.
Because of the amount of paddling involved and the high class of rapids on this stretch of river, I only recommend these overnight tours for those with previous whitewater rafting experience!
When is the best time to go Whitewater Rafting?
From June through to October, also known as the green season or the wet season, are the best months to go whitewater rafting in Costa Rica. Because when the rain falls, the rivers rise – making it the best time for adventurers to hit the country's rivers in search of whitewater.
With that said, you can go whitewater rafting almost all year round in Costa Rica. Just check in with your tour operator about what size of rapids to expect based on the current weather if you're worried about it.
Getting Around Costa Rica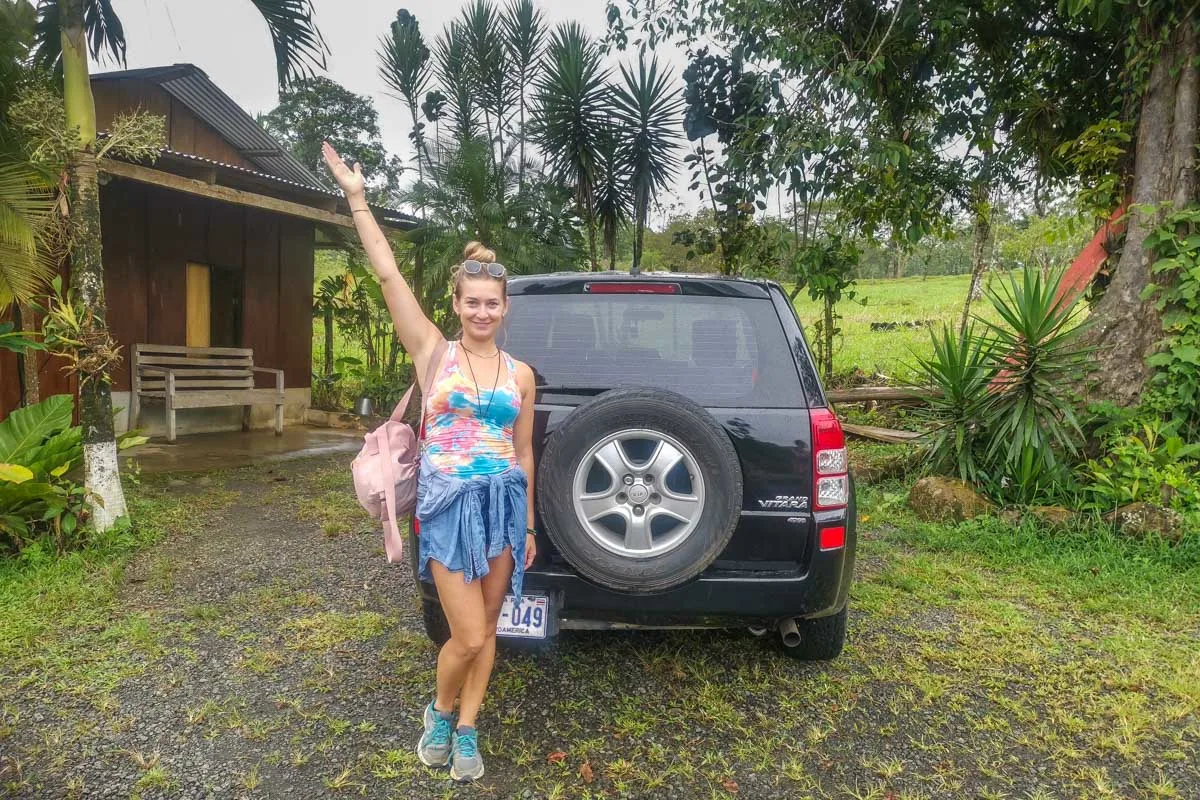 How you choose to get around Costa Rica is one of the biggest decisions you'll make when planning your holiday here! How you do it depends on your budget, travel style, and comfort level.
Renting a Car
Without a doubt, the number one way to explore Costa Rica is in a rental car. We book rental cars on the Discover Cars website as we have had good experiences with them in the past.
One of the things you need to watch for when renting a car in Costa Rica is the mandatory insurance that the government requires you to have. There are a lot of very cheap rentals that don't include this mandatory insurance (TPL) in the original booking price, but there are also ones that do. To avoid additional surprise charges when you pick up your rental car, be sure to rent a car that includes the mandatory insurance when you book.
Thankfully, on Discover Cars it's easy to tell apart the companies that include the mandatory insurance and those that don't. The trick is you can't pick any car on their website. In the picture below, you can see this rental car, with pick up in Jaco, includes the TPL. That means the mandatory insurance is included in the price. Any cover you get above that is extra.
Of course, I still suggest getting the full coverage offered by Discover Cars, which covers you even more.
You can browse cars on Discover Cars here.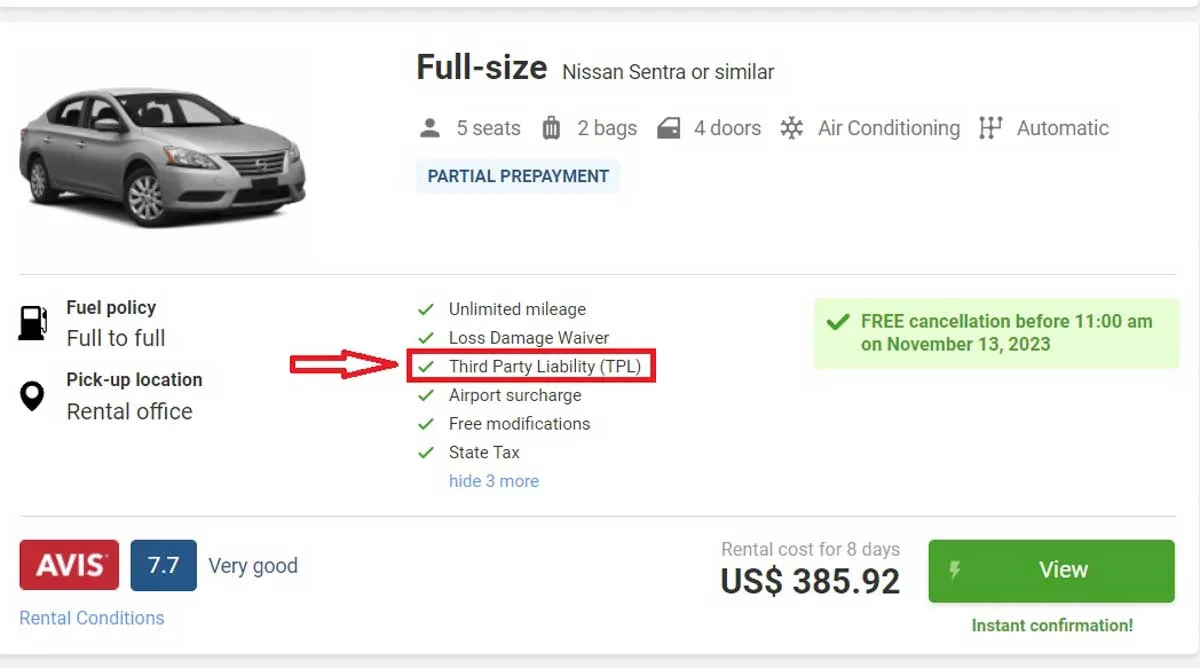 Book Shuttles
If renting a car isn't in your budget, you don't feel comfortable driving in Costa Rica, or you just don't like driving, shuttles are the next best option. There are hundreds of shuttle routes available all over the country, and they are very affordable.
Shuttles in Costa Rica are specifically for tourists and often include pick up and drop off at your selected hotels and airports. The drivers also speak some English, and the vehicles have air conditioning. You'll also be guaranteed a seat when you book a shuttle (which isn't the case with the public bus system.)
To get the best price, use the website Bookaway. They compare all the offers and prices of shuttle companies in Costa Rica so you get the best price! Honestly, we have saved so much money using Bookaway!
You can search for shuttles online on Bookaway here.
Public Bus
Lastly, you can use the public bus system. On short journeys, such as from San Jose to La Fortuna or Uvita to Manuel Antonio, this system is great. However, the longer the journey the more hassle and time spent on a bus. It's undoubtedly best to save the public bus in Costa Rica for short and straightforward trips!
The public buses are definitely the cheapest way to get around Costa Rica, but they are not always very reliable and schedules often change without notice and delays are to be expected. The buses can also be very crowded and hot – so just be prepared!
It's also good to speak some Spanish if you plan on riding the public bus since most drivers and ticket booth operators don't speak English.
Invest in Travel Insurance
Paying out of pocket for trip interruptions or medical treatment will add to what might already be a stressful situation. Not to worry, SafetyWing is here to help!
This affordable travel and medical insurance is perfect for digital nomads, long-term travelers, and remote workers. The best part is that it only costs $45 USD per 4 weeks.
To start coverage you must purchase it after leaving your home country. We usually purchase it as soon as we land at the airport.
Since using SafetyWing we've been reimbursed thousands of dollars when we've gotten sick. During the pandemic, they've even gone as far as to pay for our last-minute flights back to Canada before the border closed!
Pura Vida!
Those were 6 of the best places to go whitewater rafting in Costa Rica! I hope this blog post has given you inspiration for places to add to your Costa Rica itinerary! If you're planning a trip here, check out our list of all the best things to do in Costa Rica. Happy traveling and check out these blogs below:
18 Best Waterfalls in Costa Rica
7 MUST-VISIT Volcanoes in Costa Rica