Cahuita National Park is one of the best national parks in Costa Rica! This stunning area near Puerto Viejo offers an escape to a tropical jungle full of sloths and monkeys and beaches with coral reefs housing more than 500 species of fish.
While it is among the most well-known national parks here, it's also one of the least commercialized. For travelers exploring the Caribbean coast of Costa Rica, it provides a unique opportunity to spot wildlife for a fraction of the cost of other parks. In fact, it's possible to visit Cahuita National Park for free (although donations for park upkeep are welcomed.)
With that said, visiting Cahuita National Park does require some planning. Not only are there some very specific rules to Cahuita National Park, but because it's rather underdeveloped, you need to prepare.
For that reason, I decided to put together 21 things you need to know before you visit to help make your trip go smoothly. So, here's everything you need to know before heading to Cahuita National Park!
1. About Cahuita National Park
Every year, travelers from around the world flock to Costa Rica's gorgeous Caribbean coastline to experience Cahuita National Park. Established in the 1970s, Cahuita National Park was designed to protect an extensive reef system just off the shore. The park encompasses a massive 2,732 acres of land and 55,200 marine acres.
Cahuita National Park is a favorite tourist destination with sugary white sand beaches and abundant wildlife. It's one of the top things to see in Costa Rica for wildlife lovers, snorkelers, hikers, and adventurous travelers of all kinds.
Sadly, the reef is struggling to survive after an earthquake devastated the area in 1991. A large portion of the reef was upturned almost 10 feet, causing it to rapidly perish in the light, air, and heat of the harsh tropical sun. Combined with fertilizer runoff from the nearby banana plantations, the reef at Cahuita National Park is a highly threatened environment.
Because of this, snorkeling the reef is only allowed during guided tours with professionals trained to protect the reef from further damage.
While the reef is undoubtedly one of the main attractions at Cahuita National park, there is plenty more to experience. Hiking trails, rare wildlife, and a picturesque coastline are just a few of the reasons the area remains one of our favorite destinations in the country.
In fact, I found the trail through Cahuita National Park to be the highlight of my visit. I saw tons of Costa Rican animals including monkeys, lots of birds, sloths, and even a viper snake.
2. Where is Cahuita National Park?
Cahuita National Park is located on Costa Rica's Caribbean coast within the Limon province. It's about a 20-minute drive north of the popular tourist town of Puerto Viejo, making it a fantastic day trip from Puerto Viejo or Limon.
I love that this park is just outside of the bustling tourist towns, so you can easily immerse yourself in the natural wonder of Costa Rica's diverse ecosystems.
The park itself is located within a town of the same name. Cahuita town is a small local village that remains relatively quiet. Even though Cahuita National Park attracts a lot of tourists, the town is much less busy than nearby Puerto Viejo and can make for a fantastic place to stay for a few days if you want to escape the hustle and bustle and enjoy nature.
There are a few great places to stay in and around Cahuita, a thriving community of ex-pats and locals, and a few places to eat, but other than that, most tourists visiting the town wake up early to hike the national park, and there isn't much else to do.
Related Read: If you're visiting Cahuita from Puerto Viejo, be sure to read our complete guide to deciding where to stay in Puerto Viejo before you go!
3. How much does it cost to visit Cahuita National Park?
Technically, visiting Cahuita National Park is free if you use the main entrance at Kelly Creek Station. It's by donation, so you can pay whatever is affordable to you.
Donations fund the park and help preserve the delicate ecosystem of the reef, so it's a wonderful gesture to Costa Rica to donate whatever you can, especially as a tourist. There is, however, a strongly suggested $5 USD minimum donation.
At the second entrance, through the Puerto Vargas sector, there is an entrance fee of 1,000 colones for Costa Ricans and $5 USD for foreigners. Many tourists choose this route as it is closer to Puerto Viejo. You can still choose to pay more as a donation if you want to support the conservation efforts at Cahuita National Park.
4. Do you need to book your ticket to Cahuita National Park in advance?
It's not necessary to book your ticket to Cahuita National Park in advance; you can simply pay when you enter the park.
This is not the case for some national parks in Costa Rica, but Cahuita doesn't see the same traffic other parks do – another reason why I love Cahuita National Park!
Related read: In contrast, you MUST purchase tickets in advance to see Manuel Antonio National Park. Check out our complete guide to Manuel Antonio National Park, so you're prepared to visit another amazing park in Costa Rica!
5. Can you pay for your ticket with a credit card or cash?
The entrance fee from the Puerto Vargas sector and the donations at the main entrance are cash only. Make sure you've visited an ATM before leaving the nearest town so that you have cash on hand to pay the fee or offer a donation to enter the park.
You can, however, pay in either colones or USD at both entrances.
6. Entrances to Cahuita National Park
There are two separate entrances to access Cahuita National Park. The main entrance from Cahuita town is called Kelly Station. This entrance is by donation and is highly recommended for tourists. The bus drops off near the entrance, and you can easily walk there from the center of Cahuita town.
The alternative is to enter from Puerto Vargas. The entrance at Puerto Vargas has a parking lot if you're traveling by car. This entrance is slightly closer to Puerto Viejo. However, I personally prefer the main entrance.
Both entrances are connected by a 5-mile (8-kilometer) trail that circles the perimeter of the park along the coast. To hike from one entrance to another and then back to your starting point will be 10 miles (16 kilometers) and take an entire day.
Some travelers park at one entrance, hike the trail towards the other, and then take a taxi back. This is the best way to explore the park in my opinion.
7. When is the best time to visit Cahuita National Park?
When you're thinking about the best time to visit Costa Rica and Cahuita National Park, you'll want to take into account when it will be the busiest. Because the park is extremely popular, the peak tourist season (which is also the country's dry season) from late November through March is particularly busy.
With that said, the Caribbean coast experiences different seasons, with February to April and August to October being the top months to visit for the best weather. You'll want to visit during those times or the dry season, especially if you plan to go snorkeling. During the rainy season, muddy water from the rivers can cause the water in the reef to cloud significantly, which makes visibility extremely poor.
If you aren't planning on snorkeling and prefer to avoid crowds, it's much less busy during the rainy season (May to early November).
Whenever you visit Cahuita National Park, arrive as early as possible (8 am is best) to beat the crowds of visitors and feel like you have the beautiful landscape all to yourself.
8. Cahuita National Park hours
Cahuita National Park is open daily from 8 am to 4 pm.
You will want to arrive before 2 pm to allow yourself enough time to experience the park as workers start to turn people away at the trailhead between 2-3 pm.
9. Is there parking at Cahuita National Park?
There are parking lots at both entrances of Cahuita National Park, but they cost a few dollars. It's around 3,000 colones ($4.50 USD) to park in the parking lots for the day.
The parking lot for the main park entrance is near the center of Cahuita town, and the Puerto Vargas entrance is close to the ranger station.
Both lots are guarded, but it is still a good idea not to leave anything valuable in your vehicle.
Related read: Besides not keeping valuables in your car, we've put together a list of safety tips for traveling in Costa Rica so you can be confident to travel here.
10. Can you visit Cahuita National Park without a tour?
Exploring Cahuita National Park on your own is perfectly acceptable without a guide. The hiking trails are clearly marked and easily accessible, and most travelers feel confident exploring the hiking trail and beaches on their own.
The only exception is that a guide is needed if you plan on snorkeling the reef. Signing up for a guided snorkeling tour ensures that the small portion of the surviving reef remains safe and that you will experience the best ocean life. You are not allowed to snorkel without a guide!
Also, a guide makes spotting wildlife much easier. So if seeing wildlife it a top priority, hiring a guide is a good idea.
11. How long is the hiking trail in Cahuita National Park?
The entire hiking trail stretches from one park entrance to the other for 5 miles or 8 kilometers. It is an end-to-end trail and not a loop, so the only way to hike back is to take the same trail back the way you came for a total of 10 miles or 16 kilometers.
There is no need to hike the entire trail, though. It's still a wonderful experience to hike a portion of the path, enjoy the views, and then turn around. Some travelers choose to take a taxi from their endpoint back to the entrance that they started at after their hike, which makes a nice option if you don't want to do a full day of roundtrip hiking, but still want to experience the trail in its entirety.
The trail is well-maintained and almost entirely flat, but sections can get really muddy after rain. I recommend wearing hiking boots if possible, but a pair of runners will also be suitable. Just be prepared to get them dirty!
12. How long does it take to explore Cahuita National Park?
Cahuita National Park is big, with an extensive hiking trail, many gorgeous beaches, and so much wildlife. It's definitely a good idea to give yourself at least 3 to 4 hours to explore the park at a minimum.
Many visitors stay all day to enjoy everything Cahuita has to offer, including the hiking trails, stunning white sand beaches, and all of the biodiversity.
I spent around 5 hours in the park and loved every minute of it. Be sure to allow time to take it easy and relax on the sand.
13. What wildlife can you see in Cahuita National Park?
Cahuita National Park is abundant in wildlife of all kinds. It's one of the best places on the Caribbean Coast to get up close and personal with Costa Rica's biodiverse animal, plant, and ocean life.
On a trip to Cahuita National Park, you might see monkeys like howlers and capuchins, sloths, and armadillos. In addition to adorable mammals, there are amphibians and reptiles galore. Tree frogs, lizards, and snakes can also be spotted throughout the park.
Birds like toucans, egrets, herrings, and parrots can be seen soaring in the sky above the park or perched on the treetops, while the reef is home to countless species of marine life. In addition to rare coral species, there are over 500 species of colorful fish that call Cahuita home.
Of course, one of the most popular animals to spot is the humble sloth. Although they are in the park, they are hard to find without a guide. So, if seeing a sloth is high on your bucket list, get yourself an expert guide or join a guided tour.
Related read: One of the best places to see sloths in Costa Rica is in La Fortuna, where one of the best things to do is take a sloth tour!
14. Can you swim in Cahuita National Park?
Yes, Cahuita National Park has some of the most beautiful beaches in Costa Rica! There are two main beaches within the park that are perfect for swimming.
Both Playa Blanca and Puerto Vargas have beautiful beaches with soft white sand and calm waters. The waters are the perfect shade of bright Caribbean blue, and the palm trees that scatter the coastline provide much-needed shade from the tropical sun. Both beaches are lovely for swimming and splashing the day away.
Swimming is permitted at the beaches only, and it's important to remember that snorkeling is not permitted without booking a guided tour.
15. What should I bring to Cahuita National Park?
To enjoy your day at Cahuita National Park to the fullest extent possible, it's a good idea to pack a few necessities to make yourself more comfortable throughout the day. We suggest packing a large day pack full of the following items.
Plenty of water for drinking – it's hot, and you'll be thirsty on the trail! Plus, there are no shops inside the park.
Bug spray to ward off pesky mosquitoes and flies.
Reef-safe sunscreen – especially if you plan on swimming.
Cash – Cahuita is one of the more underdeveloped national parks in Costa Rica.
Snacks or a picnic lunch if you plan to spend the day. But be careful of raccoons; they will steal your bag!
Swimsuits
Beach blanket or towel
Dry change of clothes
Lightweight rain jacket
Shoes for hiking
Sunglasses
Camera so that you can take photos of the amazing scenery.
Binoculars if you have some.
16. Facilities in Cahuita National Park
Within Cahuita National Park, the natural surroundings are left alone, and there are no facilities except some tables and a small trail. With that said, public bathrooms are located at each entrance at the ranger stations.
17. Is Cahuita National Park suitable for kids?
Cahuita National Park is an excellent place to travel with children. The beaches are beautiful with plenty of shade and have calm waters that are perfect to relax and swim with kids of all ages.
Unlike some of the other beaches in Costa Rica's national parks, which have big waves and strong riptides, parents can feel good about letting little ones splash around in the water here.
The hiking trails in the park are also relatively easy and suitable for kids because they are relatively flat. But hiking the entire trail may take a little too long for small children. Five miles can feel like a long way!
The only concern with children in a wild environment is their interaction with wildlife. Be sure to keep them close so they don't touch any animals or, worse, reptiles. Some are deadly, and sticking to the trail under supervision is important for kids.
18. Should I hire a guide to explore the park?
If you're looking to get the most out of your experience at Cahuita National Park and want to see all the wildlife, hiring a guide is a good idea. Local guides are trained to spot animals that you might miss and are sure to give you lots of interesting information about the park and its vibrant plant and animal life.
I often love to do things without a tour, but spotting wildlife just isn't one of them. For that reason, I used a guided tour in Cahuita, and after spotting so much wildlife, I was so glad I did! You can choose to either hire a guide at the entrance and negotiate a fee or book one of the recommended tours we mention later on in this blog.
With that said, while hiring a guide might add to your experience, it certainly isn't necessary. It's an added expense, and you'll still have a perfectly wonderful time exploring on your own. We would recommend skipping a guide for budget travelers. But if you do so, take your time in the park, so you have more chances of spotting wildlife.
19. How do you get to Cahuita National Park from Puerto Viejo?
From Puerto Viejo, it's easy to reach Cahuita National Park as a day trip or even a half-day excursion. You can choose to take a bus, drive a rental car, or hire a taxi to reach the park entrance.
If you choose to take the public bus, they depart several times throughout the morning from Avenida 73, the main street in Puerto Viejo. It's very easy, and the journey takes around 40 minutes. There is a small booth on this street that sells tickets and also has updated bus times (they often change in Costa Rica.)
The morning buses leave around 6:30 am, 7:30 am, 9:30 am, and 11:30 am. While afternoon buses are available, they aren't likely to get you to the park with enough time to explore. There are plenty of buses back to Puerto Viejo throughout the day, and you'll simply have to swing by the bus stop in Cahuita town and wait for one that is heading in your direction.
If you choose to take a taxi, the cost is around $20 to $25 USD. If you're renting a car in Costa Rica, you can just type Cahuita National Park into GPS. It's an easy drive and only takes about 20 minutes or so. Remember, you'll need extra cash for parking.
Getting to Cahuita National Park from Limon or Puerto Viejo is easy, so it's not something you need to stress about before arriving.
20. What are the best things to do in Cahuita National Park?
There is so much to see at Cahuita National Park that you'll never run out of things to do during your trip. From hiking and wildlife spotting to swimming, it will be an unforgettable adventure that allows you to experience the beauty and nature that make Costa Rica one of the most popular tourist destinations in the world.
If hiking isn't your thing, you can choose to simply relax all day on the beach and enjoy the beautiful blue water and the palm trees swaying gently in the ocean breeze. One of the most popular activities is snorkeling in the stunning coral reefs on a guided tour, which you can book ahead of time.
21. What are the best tours of Cahuita National Park?
For an amazing half-day guided hike option through Cahuita National Park, this is the tour for you. Shuttle service to the park is included and will pick you up from your hotel in Puerto Viejo before taking you to the entrance to the national park. Then you will embark on a tour with a knowledgeable guide who will teach you about the park's history and point out all the unique species of plants and animals.
As a bonus, your guide will take you to a secret waterfall within Cahuita National Park, where you can swim and enjoy snacks before returning back to your hotel. Snacks are included throughout your day, and the total cost is about $80 USD per person. This is also one of the top tours in all of Costa Rica, in my opinion.
For a one-of-a-kind adventure at Cahuita National Park, consider embarking on the Chocolate Forest Experience. The entire tour takes about 6 hours and includes a shuttle to and from your hotel. You will hike through a cacao forest with a guide and learn about the sustainable production of cacao.
You will also have the opportunity to try cacao in its ceremonial form and even create your own chocolate bar. The tour also includes a stop at Cahuita National Park before returning you back to your hotel.
Departing at 8 am daily, the tour costs $120 USD per person. It is an excellent way to add a unique cultural experience to your visit to Cahuita National Park.
This full-day tour is a great option if you're traveling from Puerto Limon. It includes transportation from your hotel in the Limon area to the port where you will embark on a boat. Set sail along the stunning Caribbean coastline of Costa Rica and explore various beaches and the Tortuguero Canals, where your local guide will point out the best wildlife.
You'll have the opportunity to get off of the boat in Cahuita National Park and explore on a nature walk before returning to the boat and sailing back to Puerto Limon.
The tour includes bottled water, juice, and a fruit snack, but lunch is not included, so it is a good idea to pack some snacks. The cost is about $95 USD a person.
Getting Around Costa Rica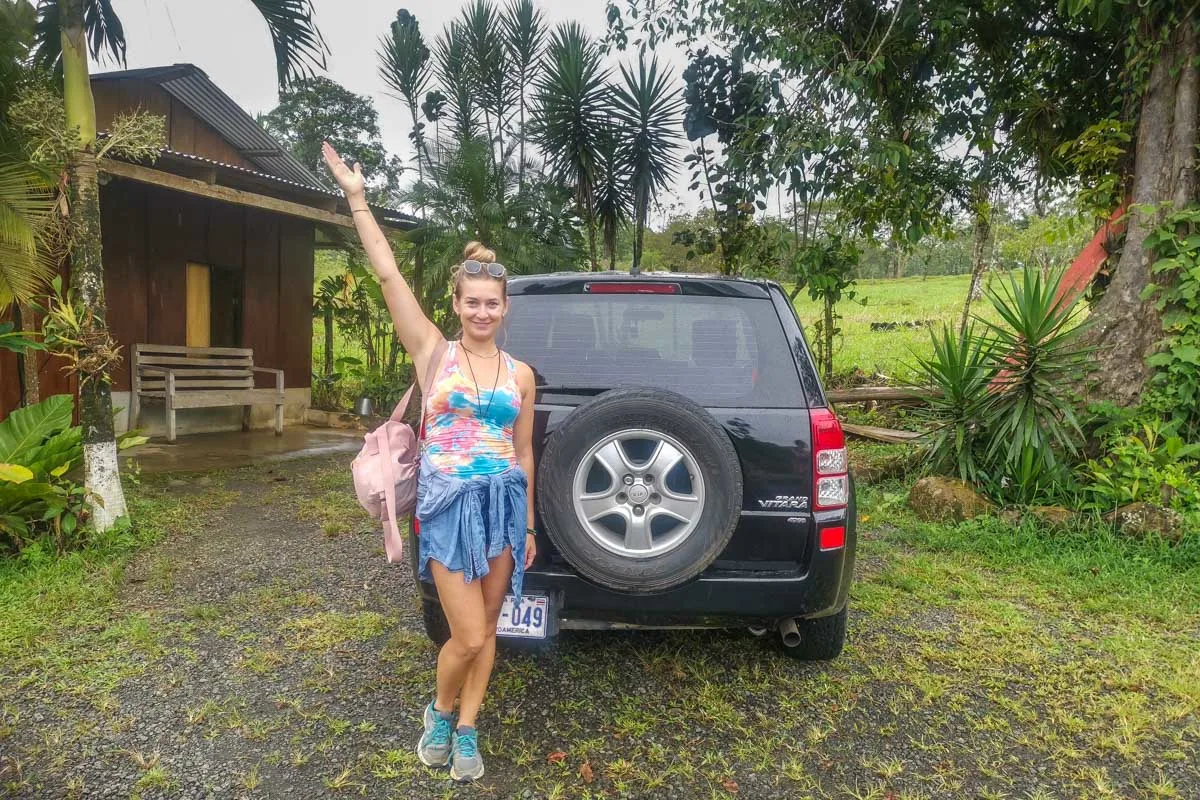 How you choose to get around Costa Rica is one of the biggest decisions you'll make when planning your holiday here! How you do it depends on your budget, travel style, and comfort level.
Renting a Car
Without a doubt, the number one way to explore Costa Rica is in a rental car. We book rental cars on the Discover Cars website as we have had good experiences with them in the past.
One of the things you need to watch for when renting a car in Costa Rica is the mandatory insurance that the government requires you to have. There are a lot of very cheap rentals that don't include this mandatory insurance (TPL) in the original booking price, but there are also ones that do. To avoid additional surprise charges when you pick up your rental car, be sure to rent a car that includes the mandatory insurance when you book.
Thankfully, on Discover Cars it's easy to tell apart the companies that include the mandatory insurance and those that don't. The trick is you can't pick any car on their website. In the picture below, you can see this rental car, with pick up in Jaco, includes the TPL. That means the mandatory insurance is included in the price. Any cover you get above that is extra.
Of course, I still suggest getting the full coverage offered by Discover Cars, which covers you even more.
You can browse cars on Discover Cars here.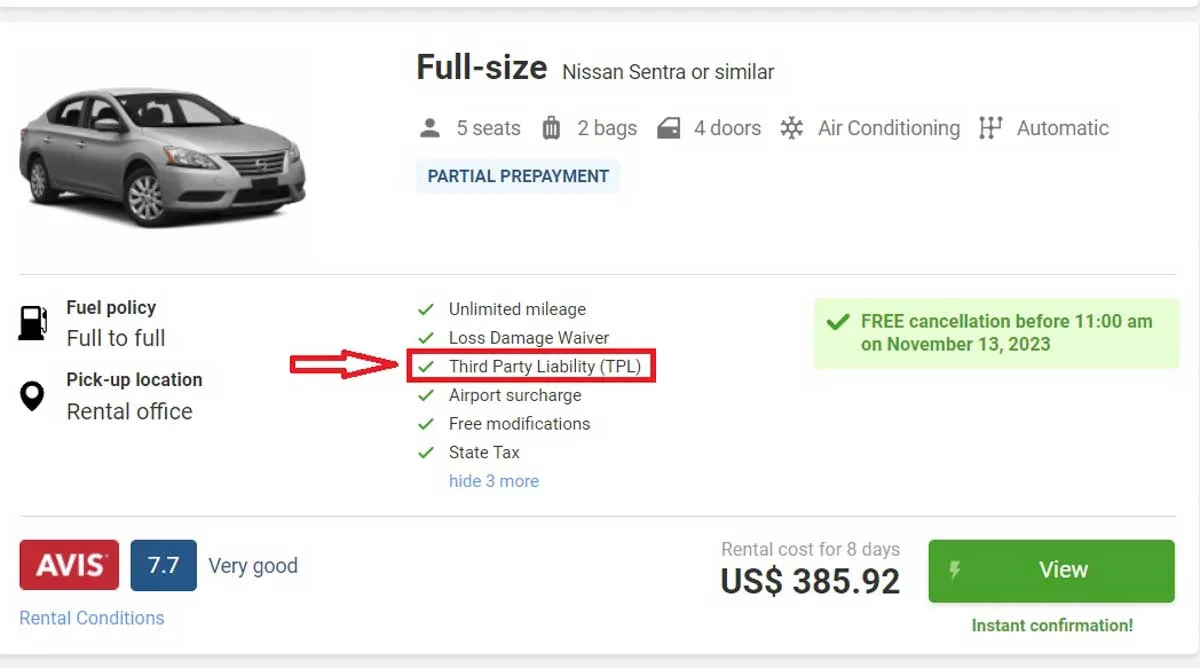 Book Shuttles
If renting a car isn't in your budget, you don't feel comfortable driving in Costa Rica, or you just don't like driving, shuttles are the next best option. There are hundreds of shuttle routes available all over the country, and they are very affordable.
Shuttles in Costa Rica are specifically for tourists and often include pick up and drop off at your selected hotels and airports. The drivers also speak some English, and the vehicles have air conditioning. You'll also be guaranteed a seat when you book a shuttle (which isn't the case with the public bus system.)
To get the best price, use the website Bookaway. They compare all the offers and prices of shuttle companies in Costa Rica so you get the best price! Honestly, we have saved so much money using Bookaway!
You can search for shuttles online on Bookaway here.
Public Bus
Lastly, you can use the public bus system. On short journeys, such as from San Jose to La Fortuna or Uvita to Manuel Antonio, this system is great. However, the longer the journey the more hassle and time spent on a bus. It's undoubtedly best to save the public bus in Costa Rica for short and straightforward trips!
The public buses are definitely the cheapest way to get around Costa Rica, but they are not always very reliable and schedules often change without notice and delays are to be expected. The buses can also be very crowded and hot – so just be prepared!
It's also good to speak some Spanish if you plan on riding the public bus since most drivers and ticket booth operators don't speak English.
Invest in Travel Insurance
Paying out of pocket for trip interruptions or medical treatment will add to what might already be a stressful situation. Not to worry, SafetyWing is here to help!
This affordable travel and medical insurance is perfect for digital nomads, long-term travelers, and remote workers. The best part is that it only costs $45 USD per 4 weeks.
To start coverage you must purchase it after leaving your home country. We usually purchase it as soon as we land at the airport.
Since using SafetyWing we've been reimbursed thousands of dollars when we've gotten sick. During the pandemic, they've even gone as far as to pay for our last-minute flights back to Canada before the border closed!
Pura Vida!
Cahuita National Park is one of those spots in Costa Rica that lets you escape into nature and the natural beauty of this country. Whether you're hiking, catching some rays on the beach, or capturing photos of the incredible wildlife, this park is a fantastic and affordable stop on your vacation.
I hope you found this guide to Cahuita National Park helpful before you plan your own trip here!
If you have any other questions about this park or visiting Costa Rica, please leave us a comment or check out some of our other guides like:
The Best Places to go Surfing in Costa Rica & Complete Surfers' Guide
15 Things To Know Before Visiting Rio Celeste – ULTIMATE GUIDE
Things to do in Santa Teresa, Costa Rica + Guide to Visiting