On the Caribbean coast, Puerto Viejo de Talamanca or simply Puerto Viejo is a slice of paradise in Costa Rica. It's a seaside town known for its stunning beaches, incredible food, and chill vibe that is perfect for a relaxing vacation.
Puerto Viejo is located in the province of Limon. It's around 4.5 hours from San Jose and 1 hour from the city of Limon.
Once you've booked your stay in Puerto Viejo, take in the incredible Costa Rican beaches as you soak up the sunshine and the charm of this small fishing village that has transformed into a must-visit destination.
You'll find the people in Puerto Viejo are so friendly and truly living the "Pura Vida" life. The best way to join the locals is by finding out the top things to do and places to see while you're here.
Don't worry, I have you covered! After spending plenty of time in Puerto Viejo, these are the top 25 things to do along with a guide to the area so you're prepared for your time here. This is your complete Puerto Viejo travel guide!
Getting to Puerto Viejo
From San Jose
I arrived in Puerto Viejo by bus from San Jose, which is what most people do. San Jose has the largest and closest international airport. There are plenty of buses that depart San Jose regularly and you can buy tickets online in advance or at the bus station.
The bus ticket cost about $9 USD, and it took roughly 4.5 hours for the trip. Once you arrive, the bus stop is located near the center of Puerto Veijo town, right next to the beach. Once the bus drops you off, you will find tuk-tuk drivers nearby who will be happy to drive you to your accommodation. You can also purchase bus tickets for your next adventures at the bus shelter located across the street.
If navigating the public bus system sounds like too much effort, you can always book a shuttle instead. Shuttles in Costa Rica are great because they offer door-to-door transport (pick up from your hotel in San Jose and drop off at your hotel in Puerto Viejo) for an affordable price. Shuttles are typically in mini-vans and the drivers speak English.
From Panama
Many travelers come from Panama to Puerto Viejo, which is the closest town in Costa Rica to the border. This journey is a lot more complicated and longer because you'll have to switch buses at the border. For this reason, if you're coming from Panama, we recommend that you book a shuttle. It is much easier and faster!
Getting Around Puerto Viejo
Although a small town, if you want to experience all of the best attractions in Puerto Viejo, you'll need some way to get around. Many of the best things to do in Puerto Viejo are quite spread out, so walking isn't always feasible. The easiest way to get around is either on a bicycle or by hiring a tuk-tuk.
Rent a Bicycle
While you're here, you'll find that most people get around on bicycles. A lot of the roads are simply dirt roads, so it's much easier to bike around than get around by car. You can get out of the way of potholes more quickly!
Plus, riding a bike here made me feel like a kid again! It's a blast to ride to the beach during the day and then back into town for supper at night. If you are planning to ride a bike in the evenings, it does get dark very quickly. If you can, try to have some type of light on your bike so cars can see you. Even though the cars drive slowly around this tourist town, it's still better to be safe.
While you can usually rent bikes from wherever you're staying, I recommend heading to a local rental spot like Puerto Viejo Bike Rentals. You'll find bike shops have bikes that are better maintained and typically at a cheaper rate. You can expect to pay around $10 USD for a 24-hour rental, but the daily price gets cheaper the longer you rent for. I was able to rent mine for $32 USD for the entire week the last time I was in Puerto Viejo!
Take a Tuk-Tuk
If biking isn't your style, you can also catch a ride in a tuk-tuk. You will often see them driving around near the shops and restaurants located around Playa Puerto Viejo. You can expect to pay around 3000 colones ($4-5 USD) per trip.
If you ask them for their card, the tuk-tuk drivers will give you their contact info so that you can message them on Whatsapp and request a ride. I found this extremely convenient when I needed a ride to the bus stop and didn't want to walk with my heavy backpack after returning my bicycle.
Things to do in Puerto Viejo
1. Beach day at Playa Cocles
Playa Cocles is a favorite beach of mine located only 10 minutes from the center of Puerto Viejo on the Caribbean coast. Playa Cocles won me over with its beautiful soft sand, clear blue waters, and the fact that there were fewer tourists than most of the other beaches in Costa Rica.
If you're getting here with a rental car, there is parking along the long stretch of beach, but it fills up pretty quickly on the weekends. If you are biking, there are plenty of places for you to lock your bike up.
Spend the day soaking up some sunshine, building a sandcastle, or playing in the ocean. This beach is also popular among surfers. While the waves were too big for me, there are pros here that are fun to watch.
One of the most popular things to do at Playa Cocles is to play beach volleyball. There's no shortage of travelers here, which means it's never too hard to round up a group of friends for a game. Ask your hostel/hotel if they have volleyballs available to rent for the day, and then head down to the beach.
You can also test your balance on the slackline they have set up. See if you can make it all the way across – it's more of a challenge than it seems! The best part is that you can cool down with a dip in the ocean after you work up a sweat.
If you just want to relax, you can do that too. Grab a snack at one of the many street food stands and find a peaceful stretch of sand and just soak up that Caribbean sun.
Regardless of what you choose to do, spending a day at Playa Cocles is a must while you're in Puerto Viejo! Weekends here can get fairly busy with locals hitting the beach and people driving in from other cities. I suggest checking it out during the week when the crowds clear out and you can kick back and enjoy.
Related Read: As you plan your Puerto Viejo trip, when should you go? Check out this guide to the best time to visit Costa Rica to find out!
2. Day Trip to Cahuita National Park
Cahuita National Park is one of the best national parks in Costa Rica known for its incredible coral reefs. The park was established in 1970 to protect the reefs here along with the mangroves and tropical rainforest. There are more than 500 different types of fish and along with two shipwrecks to explore, snorkeling here is a treat.
The park is located about 20 minutes from Puerto Viejo, so you can drive or take the bus. I suggest heading out earlier in the morning so you can spend more of the day here and not compete with any crowds. There are buses at the park that can take you back to Puerto Viejo at the end of your visit.
If you want to explore Cahuita by land, there's a long trail that winds through the forest. This is a great area to spot sloths and monkeys! If snorkeling is on your bucket list, there are a few beautiful beaches – keep an eye out for which ones allow swimming. Snorkeling is only allowed with a certified guide to ensure the coral is protected.
If this is your first time in the park, it's a good idea to book a tour so you'll have an experienced guide to help you spot all the wildlife hiding in the trees. This hiking and waterfall tour takes you from your hotel in Puerto Viejo to the national park for a day of exploring. You'll spot white-faced monkeys, sloths, snakes, and raccoons as you hike through the rainforest and then finish off the experience with a swim in an amazing waterfall! The tour is $75 USD per person.
If you're coming from Limon, this guided tour gives you the full experience of Cahuita National Park. You'll explore the jungle and marshes and get to swim at one of the park's gorgeous white-sand beaches. The tour is $106 USD per person and includes round-trip transportation.
Cahuita National Park is open from 8 am to 4 pm. daily. Admission is free, but the park runs on donations, so a $5 USD donation is recommended.
3. Get your caffeine fix at Caribeans Chocolate and Coffee
This quaint and cozy cafe located near the beach in Puerto Viejo is a must-stop for chocolate and coffee lovers – which basically is a perfect description of me! Caribeans Chocolate and Coffee is both a coffee shop as well as a chocolate factory.
Indulge in decadent chocolate, freshly-roasted coffee beans, and delicious fruit smoothies all organically grown and ethically sourced. Upstairs there is a cozy lounge area where you can kick back and relax to enjoy the fresh air and some delicious treats. I recommend trying their blackberry macarons – they're sinful.
While you're here, try some free samples of the yummy organic chocolate and if you're interested, go on a chocolate tour. For $32 USD, you'll have a chance to hike through a cacao forest, taste the fruit from the cacao trees and then see how chocolate is made. The tours are offered at 10 am and 2 pm. from Monday-Saturday and are on a walk-in basis, so no need to book ahead.
Caribeans is open every day except Sundays from 8:30 am to 6 pm.
4. Surf!
Surf some waves at the best surf spot on the Caribbean coast! Playa Cocles is one of the most popular places for surfing in Costa Rica
The waves can get pretty big at times, so keep an eye out for a red flag that will be put up indicating that it isn't a safe time for swimming. During these times, you will see the more advanced surfers out riding the powerful swells, but if you're a beginner, just stick to wading in the waves.
If you are hoping to learn to surf while you're here, once you are on the beach, there are plenty of surf instructors willing to give you a lesson. The instructors will be able to help you out with when the best times for a lesson would be if it isn't safe to head out when you arrive.
Even though the waves can get pretty intense here, I still know a lot of travelers who learned to surf on this beach and had a great time.
5. Tour the Jaguar Rescue Center
A stop at the Jaguar Rescue Center is a must for all animal lovers! This incredible facility has been helping rescue and rehabilitate animals in Puerto Viejo since 2008. The center not only helps animals in need but is also a hub for research, attracting scientists from around the world. It's also one of the best wildlife rescue centers in all of Costa Rica!
The center is actually named after the first rescued animal that was brought in, which was a jaguar. Nowadays, wild cats are rare to see at the center, but you will see lots of other animals like sloths, monkeys, opossums, toucans, deer, snakes, and more.
For us, a highlight was seeing the baby sloths. Honestly, they were the cutest ever!
The best way to see the animals and the work the center is doing to help them is through a tour. Just remember that you won't be able to hold or touch the animals as the hope is to release them back into the wild and not get them too used to people.
There are two options for tours. If you want to join a group tour, it's $24 USD. No need to book in advance, just show up about 15 minutes before the tour starts at 9:30 am or 11:30 am daily. If you want a more personal experience, book a private tour for $75 USD per person. These are offered Thursday through Monday at 2 pm and must be booked at least two weeks in advance.
6. Eat at the BEST Soda – Cocomar
During my time in Puerto Viejo, Daniel and I quickly became regulars at this soda. A soda is what local restaurants are called in Costa Rica!
Cocomar has delicious local cuisine including many traditional foods from Costa Rica. Plus, it's located right in the center of town, so it's handy to get to. The women working here are incredibly kind and welcoming, and they sure do know how to cook! Plus, we were addicted to the homemade chunky salsa picante.
This soda was one of the most inexpensive places we found with the tastiest meals. One of my favorite dishes was the whole fried fish, which they cooked to perfection.
7. Whitewater rafting on the Pacuare River
Hands down, the most adrenaline-packed way for you to check out the incredible scenery around Puerto Veijo is by whitewater rafting. There are Class II-IV rapids to navigate along the Pacuare River and when you aren't paddling, take in the landscape around you with cliffs, rainforest, and waterfalls!
This full-day rafting excursion is sure to get your heart rate up. Find out why they nickname some of these rapids "pinball" and "double drop" as you paddle through the magnificent twists and turns of the Pacuare River. Your guide will ensure you navigate these rocky waters safely during your tour.
With breakfast and lunch included, you will be well fueled for your 6.5-hour adventure-packed day. Tours run seven days a week and begin bright and early at 6 am. There is hotel pickup included, so you are taken care of from the very beginning. The tour is $125 USD per person.
It should come as no surprise that Puerto Viejo is one of the best places to go whitewater rafting in Costa Rica!
8. Indulge in brunch at Bread and Chocolate
After your morning surf lesson, or maybe just reading by the beach, treat yourself to brunch or a snack at Bread and Chocolate. This little bakery and cafe has its specialties right in the name!
This is one of the best restaurants in Puerto Viejo and you have to stop in for the fresh baking and to marvel at the display cases full of chocolate delights!
They specialize in homemade goodness with everything from their pancake and waffle mixes made from scratch daily to breakfast sandwiches and handcrafted chocolate and desserts. It's like a little slice of heaven!
All of the lattes come "deconstructed" so you can try out your barista skills and maybe even impress yourself with the creation of some latte art at the table. Expect to pay about $16 USD for a full-spread brunch.
9. Drop into a Yoga Class
Get your flow on, and attend a yoga class in a beautiful jungle yoga studio. I love making some time for a yoga class while traveling. It's a great way to center myself and enjoy some amazing views.
Costa Rica's temperatures mean that all classes are warm or hot yoga! This is actually good news because the warm and humid temperatures allow your body to move through the poses with greater ease and less resistance.
AmaSer Yoga Center has a beautiful studio that allows you to feel fully immersed in the jungle while also soaking in the magnificent view of the ocean. True heart and soul went into the creation of this space. They offer yoga, massage therapy, reiki, and a vegan/gluten-free eatery. You can drop into a class for $5 USD, just check the online schedule to see what is offered, or book a group wellness retreat.
You don't have to be a guest at the Selina Hostel in Puerto Viejo to drop into their daily yoga classes. They have rotating instructors who come from all over the world to share their knowledge of yoga with you in their cozy jungle shala. The style of yoga will vary depending on the instructor, but they are always willing to offer modifications to accommodate all levels of yoga. The classes are offered daily at 8 am for a drop-in fee of $8 USD.
Related Read: Nosara, Costa Rica is known as a health and wellness hub with yoga studios all over. Dropping into a yoga class is one of the top things to do around the Nicoya Peninsula!
10. Bike ride to Punta Uva
Take your bike down the main road (which runs along beside the ocean) all the way from Puerto Viejo to Punta Uva. If you are biking at a leisurely pace, it will take roughly an hour to get there.
This is an extremely easy bike ride on flat roads that wind through the jungle, and there are plenty of shops and bakeries along the way where you can pick up a snack.
You will know you are almost there when you see a white hotel on the left side of the road called "Toucan Stay Inn." Take a left down the dirt road before the hotel, which will lead you all the way down to the beach.
Make sure to pack some beach stuff for your bike ride so you can enjoy a beach day at Playa Punta Uva. This is a nice quiet beach during the week and you can actually swim right up to a coral reef. If you want to keep exploring, walk along the short trail at the end of the beach (around the peninsula) to enjoy the view and get to another beach in Punta Uva – Playa Arrecife.
11. Kayaking adventure in Punta Uva
Once you make it down to the beach, make sure you check out Sloth Point. Scarlett and her family will welcome you to this local spot to get you set for a kayaking adventure.
You can rent a kayak for $5 USD per hour and explore where the ocean meets a quiet river running deep into the jungle. If you're not an experienced kayaker or would like a guided tour, there are also guides here who will take you out.
You can expect to see plenty of turtles and sloths if you paddle slowly and keep your eyes open. This is such a peaceful experience and was easily one of my favorite adventures during my stay on the Caribbean coast.
After returning from my kayak ride, I was invited to enjoy a cold coconut and check out the beautiful display of homemade jewelry.
12. Discover local art at the Old Harbor Craft Market
Check out the incredible talents of local artists at the Old Harbor Art and Craft Market. I loved looking at all of the original artwork and having a chance to meet the artists behind the beautiful creations.
If you are interested in extremely detailed handcrafted jewelry or looking to bring home some unique souvenirs, then this is the place for you. You'll want to make sure you're here on the weekend as the market is only open Thursday to Sunday from 3 pm to 8 pm. It's definitely one of the best things to do in Puerto Viejo!
13. Join a chocolate-making tour
Calling all chocolate lovers! Take your chocolate craving to the next level on a chocolate tour. This region of Costa Rica is a hot spot for the cacao tree and the delicious chocolate made from its seeds.
During this hands-on chocolate making class, you will learn all about the history of cacao, as well as the process of chocolate making. The best part is you'll get to taste test along the way! You'll also get the opportunity to make your very own chocolate bar, which you will be able to wrap up and take home with you.
Spending the day with a local family who will walk you through the chocolate process from cacao seed to finished chocolate bar is truly a once-in-a-lifetime experience. Expect to pay around $32 USD for this 3-hour tour. Tours run at 10 am on Sunday, Monday, Wednesday, and Friday.
14. Try delicious Caribbean-style food at Tamara's
One of the things that sets Puerto Viejo apart from other destinations in Costa Rica is its Caribbean flare! Much of the food here all has a Caribean influence which is delicious. Tamara Restaurant is another one of my favorite restaurants in town. It offers traditional Caribbean food at a great price – around $10 USD for a full meal.
The Caribbean chicken with rice and beans is my pick here, but you also can't go wrong with a whole fried fish. Since it is located in the center of one of the busiest streets in Puerto Viejo, this is a great place to check out the nightlife going on around you.
Stop in for their happy hour drink specials (2 for 1!), or for a tasty fruit blended cocktail before you hit the town. You're sure to feel right at home and taken care of by the lovely staff at Tamara's.
15. Cool down with some gelato at Gelateria Deelite Italian Gelato
It's right on the door here "Gelateria artigianale Italiana" – which means Italian gelato made on-site! The creamy, smooth, and delicious gelato at Gelateria Deelite Italian Gelato is my go-to place in Puerto Veijo town when I have a sweet tooth. After a busy day exploring all of the fun things to do in Puerto Viejo, grabbing a gelato is the perfect treat on a hot day!
With a variety of flavors to choose from, the hardest part is deciding which one to choose. I couldn't pick just one, so I came back every day to try out a new kind! It was seriously some of the best gelato I have ever tried. My favorite flavor was the Tiramisu.
This gelato place is located on the corner by the bus stop, so it's also a great treat to grab before you head out on a day trip or when you get back. Expect to pay between $3-4 USD for a cup of gelato.
16. BriBri Sparkling Waterfalls
Experiencing the beauty and wonder of the BriBri Sparkling Waterfalls is easily one of the top things to do in Puerto Viejo. These gorgeous hidden waterfalls are some of the best waterfalls in Costa Rica! While they may be a bit off the beaten path, it's worth setting aside some time to explore.
It can be a little bit tricky to find your way to this series of waterfalls on your own, but it is still possible. If you aren't comfortable exploring rocky paths and terrain on your own, you may be better off with a guide.
The largest of the falls, "Volio" is marked on Google maps as "BriBri Waterfall" and it is closest to the town of Volio. There will be signs marking the falls, and often people located near the parking lot who will be happy to direct you or guide you to the falls for a fee. This waterfall is spectacular with water cascading down a 50-foot drop into a hidden jungle cove.
Two Waters Waterfall, also called BriBri Hidden Waterfall is a smaller waterfall that drops into a calm pool of water that's great for swimming. This waterfall is off of Highway 36, so keep an eye out for a sign pointing you to the parking lot off the highway. The path leading towards the falls is tricky terrain, so I would recommend wearing proper shoes, not just your flip flops!
If you're interested in learning more about the Bribri people (Costa Rica's largest Indigenous group), there are tours available to help. This cultural tour lets you learn about the BriBri tribe, try medicinal plants, make chocolate by hand and then visit a beautiful waterfall. The entire experience is only $60 USD!
17. Gandoca-Manzanillo Wildlife Refuge
Visiting a wildlife sanctuary is one of the best things to do in Costa Rica! You'll not only help support the animals but also get to see some amazing creatures!
The Gandoca-Manzanillo Wildlife Refuge protects some of the most endangered plants and animals. Located about 15 minutes from Puerto Viejo, this refuge encompasses the small villages of Punta Uva, Manzanillo, Punta Mona, and Home Creek along route 36. You will find multiple trails to explore, and hidden beaches to discover.
Because this area is a protected ecosystem, there is a lot of Costa Rican wildlife here. Make sure to keep an eye out! The swampy areas are a popular spot for turtle nesting, so you can expect to see several species of turtles and even crocodiles. This refuge also protects the only natural mangrove oyster beds along the reef.
There is no entrance fee for visiting this protected area, so you are literally free to explore. There is a spot for donations though, if you want to leave one.
There are also several restaurants, shops, bakeries, and hotels located around this area, making it easy to spend a day exploring this refuge.
18. Lounge in a hammock with a good book
One of the best things to do in Puerto Viejo is actually doing nothing at all! This town is known for relaxation, so be sure to schedule some downtime during your holiday. And the best way to do that? Catch up on some reading or enjoy the soothing sounds of the ocean as you relax in a hammock on the beach.
Many of the best places to stay in Puerto Viejo have hammocks available for you to use – whether you're in a hotel or hostel. If you're at a hostel, there might even be a local pup around who will be happy to keep you company!
Didn't bring a book with you? Most hostels have a bookshelf of books left behind by past travelers. Or you can just take the opportunity for a siesta in the sunshine.
19. Overnight trip to Tortuguero National Park
If you're up for an overnight adventure, make the trip to Tortuguero National Park. This is a truly special part of Costa Rica and one of the most important nesting sites for sea turtles. An astonishing 20,000 green sea turtles come here annually from July to October to lay their eggs, making it one of the best places in Costa Rica to see turtles!
Besides the incredible turtles, there are tons of other wildlife from howler monkeys to jaguars to sloths and hundreds of types of birds and reptiles.
The national park can only be reached by boat or plane, so one of the best ways to see it is by booking a tour package that includes all your transportation. This three-day Tortuguero tour or five-day Caribbean tour leave from San Jose and both include lots of time to explore the park. All meals, transportation, and accommodations are also included in these tour packages.
If you have more time to spend here to discover all the amazing things to do around Tortuguero, I recommend taking a boat from Puerto Limon – about an hour's drive from Puerto Viejo. Then you can set your own schedule whether you want to go on a turtle nesting tour (available from July to October) or kayak through the canals.
Tortuguero National Park has an entrance fee of $15 USD, which is not included in tour packages. The park is open daily from 6 am to 4 pm.
Related Read: If you can't get enough of the incredible scenery in Costa Rica, don't miss exploring the cloud forests in Monteverde. There are also lots of other fun things to do in Monteverde too!
20. Hangout on the swings at Hot Rocks Bar & Restaurant
Hot Rocks Bar & Restaurant is a popular spot to go for a happy hour drink, and to enjoy their daily live entertainment. This place really gets swinging! With swings hanging from the ceiling for their guests to enjoy, this is a fun place to "hang" out with friends.
Located across from the beach on the main strip, I found this to be one of the busier bars in the town, filled with locals and tourists. They had different live entertainment from music to fire shows, which always seemed to draw in a crowd!
This is a great place to enjoy a night out in Puerto Viejo! Sit back and enjoy the show, dance, or play a round of pool with your pals.
21. Snorkeling at the Playa Manzanillo Reef
After exploring the nature refuge, walk down to Playa Manzanillo and enjoy the soft white sand and clear blue ocean. This is an ideal beach spot for families to come since the waves tend to be smaller and there are plenty of trees to provide you with shade.
This is the perfect spot for snorkeling with a majestic reef to explore that is home to colorful tropical fish. I always suggest bringing your own snorkel gear, but there are options to rent as well.
If you'd like to head out further in the water, look for a shack on the beach. There you can arrange a private boat tour, where they will take you out on a snorkeling excursion that includes lunch.
This beach is less popular with tourists, making it a wonderful private beach to escape to during the week. When the weekend rolls around, be prepared for things to get a little crowded when all of the locals come to enjoy this spot.
After you have worked up an appetite snorkeling around here, there are several restaurants on the beach where you can stop and get a bite to eat.
22. Visit Salsa Brava Beach Bar
Enjoy Puerto Viejo nightlife by stopping in for a drink at Salsa Brava. This beachfront Caribbean bar located in Puerto Viejo is the place to be to have a drink while enjoying the beautiful beach views. You can even see a shipwreck out on the beachfront!
With a fun reggae atmosphere, tasty Caribbean food, and cold drinks, this is a great place to drop in on your night out. They often will have live music playing, and you can even sign up for salsa lessons!
Later in the evening, they'll have a DJ spinning beats so you can dance the night away.
23. Explore Finca la Isla Permaculture Farm
Enjoy the true beauty of Costa Rica as you stroll through this farm that feels more like a rainforest nature park. Finca la Isla Permaculture Farm is an organic working farm with a plant nursery and botanical garden to wander through.
It's located only 5 minutes from the center of Puerto Viejo or about a 20-minute walk. As a guest, you are welcome to explore freely on a self-guided tour through a vast number of fruits and crops. There are more than 150 different types of fruit, nut, and spice trees!
Take a self-guided tour for $6 USD and pick up an informational booklet for an extra $1 USD. Guided tours are available for three or more people at a cost of $30 USD. Expect to spend 1-2 hours exploring and enjoying, since you are also able to taste the in-season tropical fruits, and sample chocolate as you learn about the crops grown here.
There are also a number of in-house workshops offered if you are interested in learning about fermentation, chocolate making, or permaculture.
The farm is open Friday to Monday from 10 am to 4 pm.
24. Kekoldi Indigenous Reserve
The Kekoldi Indigenous Reserve has 8,500 acres of rainforest and is home to the Kekoldi people who are dedicated to conservation. If you visit here, you'll have the chance to learn about the reserve, hike in the area, explore medicinal herb gardens, see homemade crafts, and tour the iguana farm.
The Kekoldi people established the iguana farm in 1990 to protect the green iguana species as it was facing extinction. They've released more than 30,000 iguanas into the wild from here since then!
It's a special experience to immerse yourself in the culture here with welcoming guides who will show you their way of life.
25. Party on the beach at Johnny's Place
On the weekend, there is no better place than Johnny's for a beach party. You'll find cheap drinks, DJs, and all kinds of dancing. It's the nightlife at its finest on the Caribbean Coast!
This is one of the most popular hot spots, and everyone is free to join. With a mixture of tourists and locals, this place draws quite the crowd. At night, you get to dance on the beach under the twinkling lights and it's so much fun.
There are great cocktails, and for food, the seafood ceviche and freshly-caught fish are amazing. You can relax in one of their beach chairs, watch sports on the TV and eat inside or outside depending on your mood.
Where to Stay in Puerto Viejo
Now that you know all the best things to do in Puerto Viejo, all that's left is to book your stay! While this is a smaller center, there are still plenty of options to choose from. Whether you're a budget traveler looking for a chill hostel or craving a bit of resort luxury, there's something for you. Check out our top picks for all price ranges.
Playa 506 Beachfront Hostel – $
For a relaxing stay, check into the chill vibe of Playa 506 where you can listen to the ocean as you dream in a hammock. This property walks right out onto the beautiful sandy beachfront of Playa Cocles. With clean rooms and friendly staff who are always willing to help, this is a place where I felt right at home.
This hostel offers convenient group living accommodations including shared kitchen and hangout areas while having a more low-key vibe. Things really quiet down after dinner time here, so if you want to party, you'll have to head into town. Expect to spend around $26 USD per night when you book a stay on Booking.com or HostelWorld.com.
Selina – $$
Selina Puerto Viejo offers great accommodation for mid-range travelers with shared dorm-style rooms or private accommodations including rooms with bunk beds or two-bedroom suites. There are even unique teepee tents (with a double bed inside!) for a fun take on camping. You'll pay around $30 USD per night for a bed in a dorm room, around $80 USD for a teepee tent, and more in the $100-150 range for suites and family rooms.
Seline also offers outdoor shared kitchen space, pool, yoga shala, and exciting events on the weekends. If you are looking to socialize and participate in fun group activities, this is the hostel for you. There is always something going on at the Selina! Start the day with a yoga class at 8 am, try out group fitness activities and wellness classes or participate in a guided medication.
There is also a co-work option for the digital nomads who are looking for longer-term accommodations. They have a separate co-work room with desks that you can set up in. During the weekends, Selina is one of the top places to go for events and parties. With different DJs and themed events, this is the place to go for young travelers looking to dance and let loose. Book your spot on Booking.com or HostelWorld.com.
Cariblue Beach and Jungle Resort – $$$
If you are looking for an affordable luxury stay, this is the place for you. At the Cariblue Beach and Jungle Resort, you'll stay in your own private bungalow in the heart of the jungle. Lounge by the infinity pool, pamper yourself at the spa, and enjoy the convenience of being directly across from Playa Cocles.
Every room comes with a terrace overlooking the gardens! Expect to pay between $110-200 USD per night, depending on the size of the room you choose, but they are all pretty large!
Getting Around Costa Rica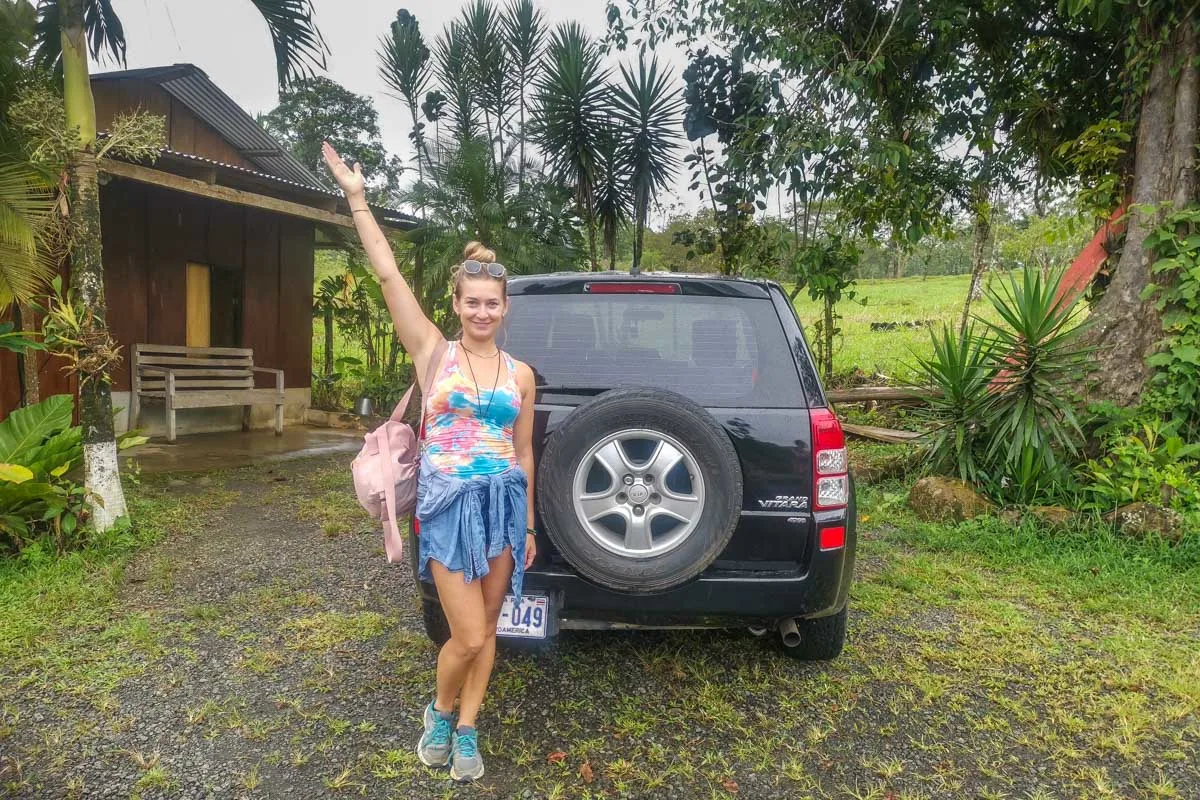 How you choose to get around Costa Rica is one of the biggest decisions you'll make when planning your holiday here! How you do it depends on your budget, travel style, and comfort level.
Renting a Car
Without a doubt, the number one way to explore Costa Rica is in a rental car. We book rental cars on the Discover Cars website as we have had good experiences with them in the past.
One of the things you need to watch for when renting a car in Costa Rica is the mandatory insurance that the government requires you to have. There are a lot of very cheap rentals that don't include this mandatory insurance (TPL) in the original booking price, but there are also ones that do. To avoid additional surprise charges when you pick up your rental car, be sure to rent a car that includes the mandatory insurance when you book.
Thankfully, on Discover Cars it's easy to tell apart the companies that include the mandatory insurance and those that don't. The trick is you can't pick any car on their website. In the picture below, you can see this rental car, with pick up in Jaco, includes the TPL. That means the mandatory insurance is included in the price. Any cover you get above that is extra.
Of course, I still suggest getting the full coverage offered by Discover Cars, which covers you even more.
You can browse cars on Discover Cars here.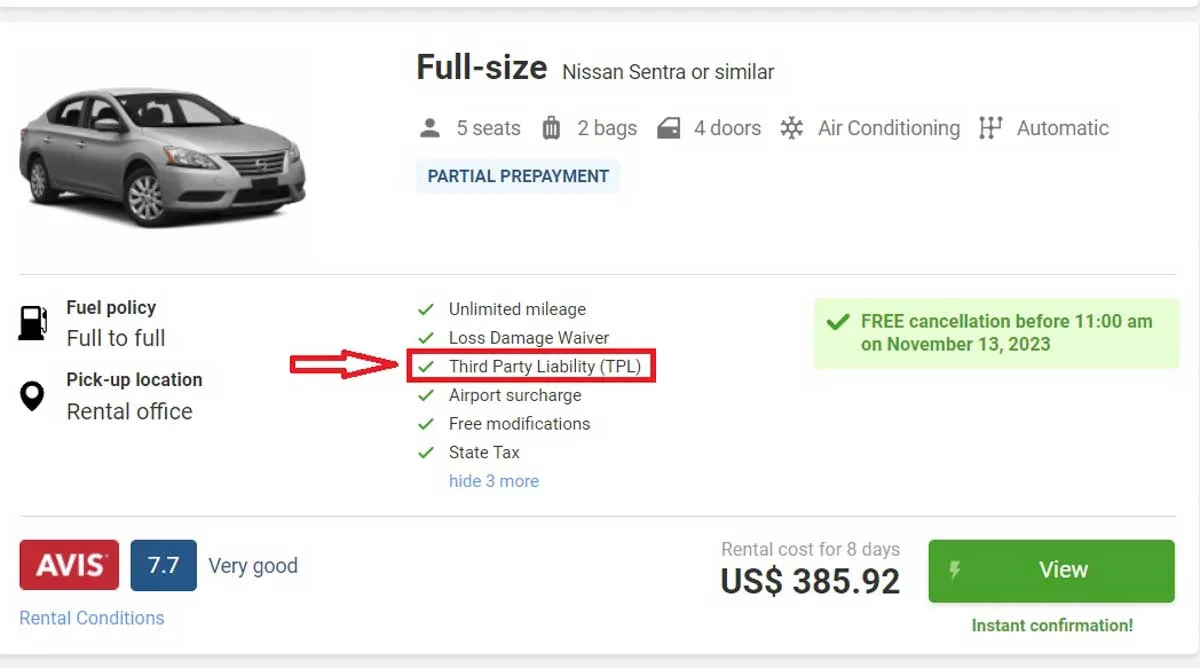 Book Shuttles
If renting a car isn't in your budget, you don't feel comfortable driving in Costa Rica, or you just don't like driving, shuttles are the next best option. There are hundreds of shuttle routes available all over the country, and they are very affordable.
Shuttles in Costa Rica are specifically for tourists and often include pick up and drop off at your selected hotels and airports. The drivers also speak some English, and the vehicles have air conditioning. You'll also be guaranteed a seat when you book a shuttle (which isn't the case with the public bus system.)
To get the best price, use the website Bookaway. They compare all the offers and prices of shuttle companies in Costa Rica so you get the best price! Honestly, we have saved so much money using Bookaway!
You can search for shuttles online on Bookaway here.
Public Bus
Lastly, you can use the public bus system. On short journeys, such as from San Jose to La Fortuna or Uvita to Manuel Antonio, this system is great. However, the longer the journey the more hassle and time spent on a bus. It's undoubtedly best to save the public bus in Costa Rica for short and straightforward trips!
The public buses are definitely the cheapest way to get around Costa Rica, but they are not always very reliable and schedules often change without notice and delays are to be expected. The buses can also be very crowded and hot – so just be prepared!
It's also good to speak some Spanish if you plan on riding the public bus since most drivers and ticket booth operators don't speak English.
Invest in Travel Insurance
Paying out of pocket for trip interruptions or medical treatment will add to what might already be a stressful situation. Not to worry, SafetyWing is here to help!
This affordable travel and medical insurance is perfect for digital nomads, long-term travelers, and remote workers. The best part is that it only costs $45 USD per 4 weeks.
To start coverage you must purchase it after leaving your home country. We usually purchase it as soon as we land at the airport.
Since using SafetyWing we've been reimbursed thousands of dollars when we've gotten sick. During the pandemic, they've even gone as far as to pay for our last-minute flights back to Canada before the border closed!
Pura Vida!
Thanks so much for reading our guide to Puerto Viejo and all the amazing things you can do while you're here. As you can see, this small town packs a lot in! You could spend your entire vacation in Costa Rica just around this area and still have an incredible time.
If you're planning to visit other Costa Rican destinations or are interested in reading more about our favorite spots, check out more of our detailed posts including:
Ultimate Guide to Guanacaste, Costa Rica and Fun Things to do
Things to Know Before Visiting La Fortuna Waterfall + Complete Guide
Where to Stay in Montezuma – The BEST Hotels & Areas in Montezuma