Costa Rica is an epic country famed for its natural beauty, biodiversity, and huge variety of bucket-list-worthy activities! So it should come as no surprise that it's an amazing place to go scuba diving!
We go diving every chance we get, and traveling around Costa Rica gave us plenty of opportunities for underwater exploring. So if you're wondering where you should go scuba diving while you're in the country, don't worry, because we've got you covered.
And if you haven't completed your diving certification yet, then we've also included some of the best diving courses in the country so that you can get out there and see all of the amazing marine life that Costa Rica has to offer.
When is the best time to go scuba diving in Costa Rica?
You can go scuba diving in Costa Rica all year round, but some seasons are considered better than others! Surprisingly, the rainy season (from May to November) is generally considered the best time to go scuba diving. Most boats leave in the morning, and the rain usually falls for a few hours in the afternoon, so you won't actually be heading out in the rain.
The best visibility is generally between June and September, while you will enjoy the calmest waters between August and December, so that's the best time to go if you're a beginner. And July and August are an especially great time to go scuba diving in Costa Rica because you're likely to see lots of humpback whales and turtles. If you ask us, it doesn't get much better than that!
Meanwhile, for more experienced divers, the rainy season causes nutrient swells around the Cocos Islands and the Bat Islands, attracting hammerhead and bull sharks, so it's an ideal time to go if you're seeking serious thrills.
So all in all, when you're thinking about the best time to visit Costa Rica, the dry season is better for snorkeling while the rainy season is the best time to dive!
Plus, the rainy season means that Costa Rica will be SUPER green and accommodation prices tend to be cheaper during this time.
What are you most likely to see scuba diving in Costa Rica?
Costa Rica is home to over 7,000 different marine species, which means that 3.5% of all of the world's sea creatures can be found here. Not bad for such a small country, right?
So, in short, there's a TON of wildlife to see in Costa Rica.
Rays are one of the most exciting creatures to spot when you go scuba diving in Costa Rica, and it's actually home to seven different species, including giant manta rays and bullseye electric rays.
There are also over 800 different kinds of tropical fish in Costa Rica. When we went, we saw way too many to count, but some of the most exciting ones were puffer fish, parrotfish, seahorses, angelfish, and triggerfish.
And of course, you can't forget about sharks (cue the "Jaws" theme tune). You can even dive with bull sharks on the Bat Islands in Costa Rica, but if that's a bit too extreme for you, you can spot whitetip reef sharks all over the country. These sharks are much more relaxed than bull sharks, although they are very curious creatures and sometimes approach divers to check them out! Plus, they don't need to keep swimming in order to breathe, so you can even spot them taking a rest on the ocean floor.
One of the things Costa Rica is most known for is being a haven for turtles! In Guanacaste, you can spot leatherback sea turtles, which are the biggest sea turtles in the world, weighing up to 1,500 lbs/680 kg! Meanwhile, if you're lucky, there are a handful of great turtle-spotting places throughout the country where you might spot the rare hawksbill sea turtle, but you're much more likely to see green and Olive Ridley sea turtles.
Best Places to go Scuba Diving in Costa Rica
1. Caño Island
Okay, so Caño Island itself is actually off-limits to humans, but the biological reserve around the island is teeming with amazing marine life. It's famed for its bright blue waters, and for being a popular place to see dolphins, Olive Ridley sea turtles, several different kinds of sharks, and even humpback whales.
We absolutely loved exploring around here and saw so many amazing creatures, so we had to put it at the top of our list!
The reserve covers an area that's around 750 football fields in size, so there are a ton of amazing dive sites to explore. From Shark Cave (which you can only peek inside) to El Bajo del Diablo, a series of rocky pinnacles that you can explore alongside reef sharks and giant manta rays.
El Barco Hundido (aka The Shipwreck) is also really cool to check out, and while there's no shipwreck, it's actually earned the nickname "El Sharko" because there are so many sharks around here! You can also spot giant stingrays here and check out the beautiful coral gardens.
You can access Caño Island Biological Reserve from Uvita and Sierpe, but we think that the best place to go from is Drake Bay, which is exactly what we did.
This scuba diving tour will take you from Main Beach in Drake Bay to two different dive sites in the biological reserve where you can experience Caño Island's amazing marine life to the fullest. You'll then head to the gorgeous and secluded San Josecito Beach to relax with a beer in hand before heading back to Drake Bay, where you'll have lunch at a local restaurant.
It costs $186 USD per person and lasts for around 6 hours, and we love that you also get some time to chill on one of Costa Rica's best beaches in addition to the spectacular dives! Plus, there's a maximum of 6 people per group so it's a nice, close-knit experience. This diving tour tends to sell out because it's so popular, so make sure to reserve your spot online!
2. Santa Teresa
Santa Teresa is Costa Rica's surf capital, but make no mistake: this place is upscale. In fact, even A-listers like Leonardo DiCaprio and Bono have visited Santa Teresa to see what all the fuss is about! But aside from surfing and celebrity spotting, Santa Teresa is also one of the best places to go scuba diving in Costa Rica.
When you go diving in Santa Teresa you can see sharks, lobsters, and stingrays pretty much all year round, but you can also spot manta rays between January and April, and humpback whales in August and September. Honestly, we can't think of anything more exciting than diving alongside humpback whales.
Iguana Divers is widely considered to be the best dive center in Santa Teresa, and we love that they only take out a few small groups per day to ensure that everyone has the best possible experience. Plus, they take you to special spots that they have discovered themselves and marked with a GPS signal, so no one else will be around!
You can go diving with Iguana Divers any day of the week, and trips tend to last for about 4 hours. You'll do two dives in that time, and get a quick snack on the boat to ensure you keep your energy levels up. It costs about $150 USD per person to go diving as a certified diver, but if you're not certified, there are also beginner discovery dives available for $190 USD.
And if you want to do your PADI course while you're in Costa Rica, you can do that through Iguana Divers too for $700 USD. To be honest, we think that staying in Santa Teresa and learning to dive sounds like the ideal way to spend a week in Costa Rica.
Related Read: Splurge on a dive or two and then check out the best free and cheap things to do in Santa Teresa!
3. Catalina Islands
The Catalina Islands are a group of over 20 uninhabited rocky islands and islets, which are affectionately known as "the Cats." You can't actually see any cats here, of course, but you can swim alongside turtles, octopuses, and whitetip reef sharks, and spot devil rays doing backflips out of the water.
The Catalina Islands are known for their super clear water, so you'll have great visibility around here, and there are lots of amazing dive sites to explore. Two of the most famous are the Big Cupcake and Little Cupcake, where you can spot an insane array of tropical fish – including angelfish and parrotfish. Honestly, there are more neon colors here than at a rave!
For more experienced divers, The Wall is an incredible spot filled with fascinating underwater rock formations and lots of eagle rays, moray eels, and a ton of tropical fish. You can also swim alongside whitetip reef sharks or watch them laying on the sand, and you might even spot some babies!
You don't even need a diving certification to enjoy the beauty of the Catalina Islands' marine life, which we think is really great. If you're staying in (or near) Playa Flamingo or Tamarindo, then you can do this discovery dive, which will teach you the basics and give you a practice session before you head out into open water to do two dives. The guides are super kind and patient, so we think that this tour is an ideal choice if you've never dived before, and the $195 USD fee includes underwater photos of your dive. Usually, footage of your experience costs extra so it's nice to have it already included.
Meanwhile, if you're already a certified diver, then this scuba tour includes two dives around the Catalina Islands. There's a maximum of five participants per group, which is always something we appreciate because you just don't get the same kind of experience when a dive site is overcrowded. Plus, the guides are super knowledgeable and will actually teach you about the area as you go, so you come away having learned a lot. This tour costs $150 USD per person if you book online here and it includes bottled soft drinks and snacks along the way.
If you want to learn to dive while you're in Costa Rica, then the Catalina Islands really are an incredible place to do it. For $705 USD, you can take a 3-day diving course to get your certification, with theory lessons and practice sessions at either Tamarindo, Flamingo, or Potrero Beach, and then you'll do your open water dives around the Catalina Islands themselves. So not only do you get to come away with your diving certification, but you also get to experience some of the most incredible scuba diving in the world!
Plus, we really like the fact that there's a maximum of four people per course group, so you'll get lots of personal attention from your instructor. You can book your course online here through Viator to take advantage of the book now, pay later option to secure your spot!
Why We Book Tours with Viator
Viator is a trusted online booking system for tours around the world! We almost always book our tours using Viator for a couple of reasons:
Free cancellation on most tours – Most of the tours on Viator allow you to cancel and get a full refund up to 24 hours in advance. This is handy in case plans change, or if booking an outdoor activity, the weather forecast is looking grim.
Reserve now and pay later – You can secure your spot on some of the most popular tours well in advance and not pay until closer to the day of the tour.
Pay in your chosen currency – Avoid costly international transaction fees by choosing to pay in your home currency.
Peace of mind – When booking with tour operators you find in person on the street or in small booking offices, you are often promised one thing and given another. This online platform holds tour operators accountable with a written description of inclusions as well as the opportunity for customers to leave reviews.
Check out the Viator website here!
4. Bat Islands
As part of Santa Rosa National Park, the first of Costa Rica's national parks, the Bat Islands have been well protected by the government for years. This means the marine life here is nothing short of spectacular thanks to minimal human influence.
The Bat Islands are not exactly easy to get to though. It's a 30-minute boat ride from Playas del Coco in Guanacaste to get here, but this means that you'll see very few – if any – other divers.
If you ask us, the scenery here is some of the most beautiful in all of Costa Rica. The islands are uninhabited, so their mountains are covered in lush greenery and the beaches are pristine. The water, meanwhile, is bright blue, crystal clear, and teeming with incredible creatures, including dolphins, turtles, manta rays, and, perhaps most famously, bull sharks!
That's right – you can go scuba diving alongside bull sharks in the Bat Islands between May and November. In fact, it's one of the very few places in the world where you can dive alongside these majestic (and, depending on who you ask, fearsome) creatures.
This bull shark diving experience will take you from Tamarindo to the Big Scare dive site on the Bat Islands, where you can swim alongside bull sharks! Honestly, we get shivers down our spines just thinking about it. You will need to have your advanced PADI certification for this experience since it's more dangerous than your typical dive. It's a full-day experience that costs $390 USD, including lunch on the boat, soft drinks along the way, and hotel pickup if you're staying close to Tamarindo. It involves three dives and can be booked online here. Trust us, you won't forget this one in a hurry!
Of course, you might also want to experience the beautiful Bat Islands without coming face-to-face with bull sharks. This scuba diving tour from Playa Hermosa can take you to the Bat Islands for two tank dives, although you will still need an advanced diving certification to go. The tour costs $105 USD per person, although it's worth noting that this doesn't include scuba equipment rental, so you'll need to pay extra for that. This company has been offering diving tours for more than 50 years and some of their guides are third-generation divers, so safe to say when you book this tour, you'll be in good hands.
5. Jaco
Jaco is a beautiful coastal city that attracts holidaymakers in droves, not least because it's only 90 minutes away from the country's main international airport in San Jose. So if you don't have very long to spend in Costa Rica, heading to Jaco is a super convenient option.
To be fair, it can feel a bit too touristy at times, but there's so much to do in Jaco. It's definitely one of Costa Rica's most popular party destinations, but there's a lot more to Jaco than just partying – we're talking about beaches, ATV adventures, ziplining, and of course scuba diving!
If you want to go scuba diving while you're in Jaco, we highly recommend Jaco Guides, which is a reputable, locally-owned company that offers great tours in Jaco.
For $135 USD, they can take you diving close to Jaco, where you can explore the volcanic rock beneath the water and all the coral that lives on its surface. You can also check out underwater caves and spot whitetip reef sharks, moray eels, seahorses, lobsters, and more. And if you're not certified, you can do a discovery dive instead for $185 USD.
However, the diving around Jaco isn't as spectacular as the Caño Island Reserve, but Jaco Guides can take you there if you haven't got time to get yourself to Uvita or Drake Bay, where most tours leave from. It costs $265 USD per person, which is more expensive than your typical dive tour, but considering that you'll travel over 100 kilometers/62 miles and get to visit the best diving spots in Costa Rica, we think it's justifiable.
Related Read: If you're planning to hang around this area for a while, check out the best places to stay in Jaco for our top recommendations!
6. Tortuga Island
Tortuga Island is one of our favorite places that we've ever visited in Costa Rica. It's pretty difficult to find a white sand beach in Costa Rica, but Tortuga really delivers with its pristine white, sandy shores. We went from Jaco and had an amazing day lounging on the beach here, but it's also a fantastic place to go scuba diving!
As you might be able to guess from the name, Tortuga Island is primarily known for being home to a ton of turtles! You can spot green sea, leatherback, and hawksbill turtles here – it's basically turtle heaven.
But that's not all there is to see! The stunning reefs around the island are also home to angelfish, coral fish, reef sharks, manta rays, octopus, and so much more. Plus, the visibility is amazing here. In fact, on a bright day, you can see at least 100 feet/30 meters ahead of you, if not further.
We visited Tortuga Island from Jaco with Zuma Tours, and they can also take you there from Montezuma, Santa Teresa, Tambor, Cabuya, or Mal Pais. They run day trips as well as scuba diving tours, and different kinds of tour guests will take the same boat to Tortuga, and then if you're scuba diving you'll be picked up by the diving boat once you arrive.
Since you can't stay overnight on Tortuga Island, you have to visit as part of a day trip. For this reason, Zuma Tours only offers one dive per tour, but trust us, it's still 100% worth doing because the marine life here is so incredible. Plus, it's nice to spend some time on the shore too, since we found the beach here to be one of the most beautiful in the whole country!
Scuba diving tours in Tortuga for certified divers cost between $145-$160 USD, depending on where you're coming from, while discovery dives cost $170-$180 USD.
7. Puerto Viejo
We love Puerto Viejo – in fact, we think it's one of Costa Rica's top beach towns. We always enjoy traveling to underrated destinations that are a little off the beaten path, and Puerto Viejo fits that description perfectly. It's a small town that's super easy to cycle around, and it's got a really nice, laidback pace that makes it easy to slow down and appreciate the beautiful scenery.
And of course, not all of that scenery is above ground. Spanish news site 20 Minutos even ranked Puerto Viejo as one of the best places to go diving in the entire world!
It's along the Caribbean Coast of Costa Rica, close to a large fringing reef that's home to an incredible array of tropical fish, from scorpion fish and barracuda to trunk fish and green moray. You can even spot nurse sharks here, which are pretty rare! There's also a high volume of dolphins, turtles, and manta rays here – so basically, it's like a real-world aquarium.
There aren't actually a ton of dive centers in Puerto Viejo since it's not that touristy, but Punta Uva Dive Center has an excellent reputation and we highly recommend them. They offer shore discovery dives from $85 USD and boat dives from $95 USD, and then you can add a second dive for $55 USD.
You can also do regular open-water dives with Punta Uva, or even go on a night dive to see octopus, white-tip reef sharks, baby manta rays, and bioluminescent plankton.
And of course, if you've got a couple of days to stay in Puerto Viejo, you can also do your PADI certification here. Punta Uva Dive Center has a flexible schedule, so you can set your own schedule and get your open water certification in 2-4 days. They also offer e-learning so you can do the theory portion before you travel to Costa Rica, rather than wasting your precious vacation time in the classroom. I mean, who wants to be indoors when you could be on the beach?
It costs $530 USD to get your diving certification through Punta Uva, which is really good value when compared with the rest of Costa Rica. If you've already got your open water (i.e. "standard") diving certification, you can also complete your advanced, Divemaster, or even rescue diver certifications here, too!
8. Manuel Antonio
Manuel Antonio National Park might just be our favorite of all the national parks in Costa Rica. It's got it all – jungle to trek through, tons of wildlife, and beautiful beaches to lounge on. And since it's right on the coast, it's an excellent place to go scuba diving, too!
Basically, it's our idea of heaven.
There are plenty of dive sites off the Manuel Antonio coastline. The Starfish Garden is great for beginners. As you can probably already guess, it's a rocky reef where you can see a huge amount of starfish, as well as lots of tropical fish. Meanwhile, you can see bigger fish and visit a shark cave at the Punta Quepos site, or you can find octopus and eels at Ola Quinta.
You do need to pay around $18 USD per adult to enter Manuel Antonio National Park, or $5.65 USD for kids, so bear that in mind when considering the cost of a scuba diving tour.
If you want to scuba dive in Manuel Antonio National Park, then we highly recommend a tour with Oceans Unlimited. They operate out of the nearby town of Quepos and offer half-day trips, which involve a two-tank dive. Each dive lasts for about 45 minutes, so you'll get to explore two different sites in Manuel Antonio, and the dive master will use your experience level and personal preferences to create the right itinerary for you. It costs $124 USD per person, which is fairly cheap for Costa Rica!
Related Read: If you'd like some time above the water and not just under it, one of our fav Manuel Antonio tours is grabbing a kayak and exploring one of best spots to go kayaking in Costa Rica!
9. Marino Ballena (Uvita)
Marino Ballena National Park is a marine park, which you can access from Uvita, which just so happens to be one of our favorite places in Costa Rica.
Ballena is actually Spanish for whale, so naturally, whales are one of the top animals to see inside Marino Ballena National Park. You can find humpback whales, Bryde's whales, and even orcas inside the park's waters, as well as three different species of dolphins, and all four types of turtles found in Costa Rica.
There are also around 70 species of fish and 18 different types of coral to be found inside Marino Ballena, so it's safe to say that there's plenty to see on a scuba diving trip here.
Interestingly, the best time of year to dive in Marino Ballena differs from much of Costa Rica. The visibility is pretty poor during the rainy season, so tours here generally run from December to May. A big advantage of this is that December to April is one of the best times of year to see whales!
We recommend going with Costa Rica Dive and Surf who offer tours for certified divers in both mornings and afternoons. Tours last for around 4 hours and you get 2 dives during that time, as well as bottled water and fruit to snack on. At $125 USD per person (including all taxes), this is one of the cheapest scuba diving tours on offer in Costa Rica, but they're also very highly rated so you don't need to worry that you'll be getting a sub-par experience.
If you can, make sure to stick around here for enough time that you can get out on a boat to see whales! It is what this area is known for after all. We had a blast on this whale-watching tour that took us to some of the best spots to see both whales and dolphins. We even got to swim and snorkel! It's only $95 USD per person for the 4-hour tour and tends to book up quickly.
10. Sámara
Sámara is an awesome place to experience the authentic pura vida in Costa Rica. There's some nightlife and a few more upscale restaurants in Sámara, but we definitely wouldn't define it as touristy. It's in the Guanacaste Province, which is home to lots of protected marine areas, so there's plenty to discover around here.
If you're looking for a laid-back trip with some great scuba diving, we think Sámara is the perfect place to go. There are some fantastic dive sites here, like the unique rocky reef at Carrillo Island or Manta Point, where you can see manta rays, guitar fish, colorful rabbitfish, and turtles. And since Sámara isn't super touristy, you can often have these sites all to yourself!
If you want to go scuba diving in Sámara, then Samara Dive School is definitely the way to go. It's a super friendly, family-owned dive center and they have a ton of different tours in Samara on offer. If you're not a certified diver, then you can do a discovery dive for $160 USD, which lasts for around 4 hours and includes two dives.
Or if you are certified, you can do a 2-dive tour for $100 USD, plus an extra $25 USD for equipment rental. They also have a 3-dive adventure available for $160 USD, or you can even opt for a private charter for $520 USD per group. So basically, you can really build your own adventure here!
And of course, Samara Dive School also offers several PADI courses. You can do your open water diving certification (which is the "standard" certification) for $470 USD or go all the way from beginner to advanced in one fell swoop for $750 USD. One thing we really like about these courses is that they include food, and you can do the e-learning before you arrive in Costa Rica so you don't need to spend time studying when you could be in the water.
Is scuba diving in Costa Rica safe?
Yes! Costa Rica is an amazing place to go scuba diving. There's so much marine life here that you'll feel like you're in the middle of Finding Nemo, only without getting chased by a great white shark (they don't like Costa Rica's warm waters!).
Of course, there are always some risks associated with scuba diving, but that's not specific to Costa Rica. As is the case anywhere in the world, you need to be in pretty good physical shape to go diving. You shouldn't go diving if you've got any potentially dangerous heart or respiratory conditions, for example. If in doubt, you should always get clearance from a doctor before you go diving.
The most important way to stay safe in Costa Rica while you're diving is to go with a reputable tour operator. Saving a buck or two really isn't worth risking your safety. And once you're in the water, listen to the dive master or instructor, because they have to have a lot of experience and really know their stuff in order to qualify.
If you follow the rules, you will be fine!
Getting Around Costa Rica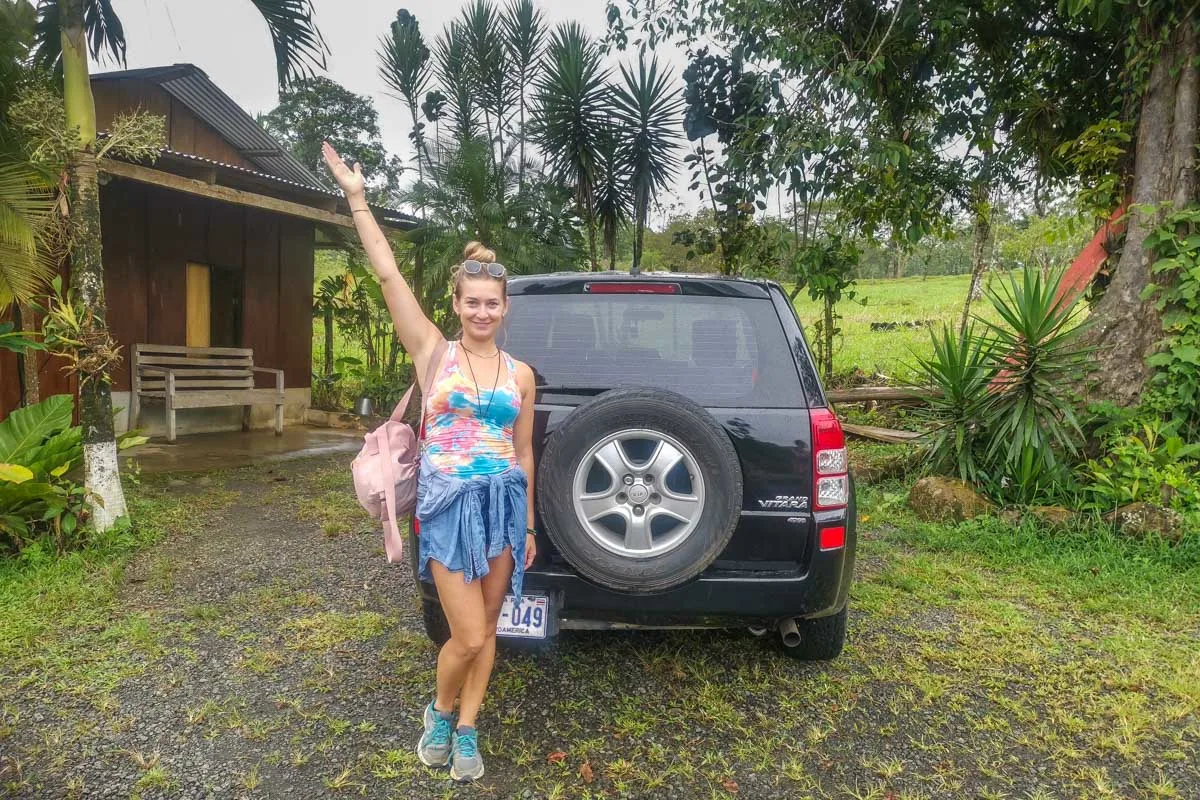 How you choose to get around Costa Rica is one of the biggest decisions you'll make when planning your holiday here! How you do it depends on your budget, travel style, and comfort level.
Renting a Car
Without a doubt, the number one way to explore Costa Rica is in a rental car. We book rental cars on the Discover Cars website as we have had good experiences with them in the past.
One of the things you need to watch for when renting a car in Costa Rica is the mandatory insurance that the government requires you to have. There are a lot of very cheap rentals that don't include this mandatory insurance (TPL) in the original booking price, but there are also ones that do. To avoid additional surprise charges when you pick up your rental car, be sure to rent a car that includes the mandatory insurance when you book.
Thankfully, on Discover Cars it's easy to tell apart the companies that include the mandatory insurance and those that don't. The trick is you can't pick any car on their website. In the picture below, you can see this rental car, with pick up in Jaco, includes the TPL. That means the mandatory insurance is included in the price. Any cover you get above that is extra.
Of course, I still suggest getting the full coverage offered by Discover Cars, which covers you even more.
You can browse cars on Discover Cars here.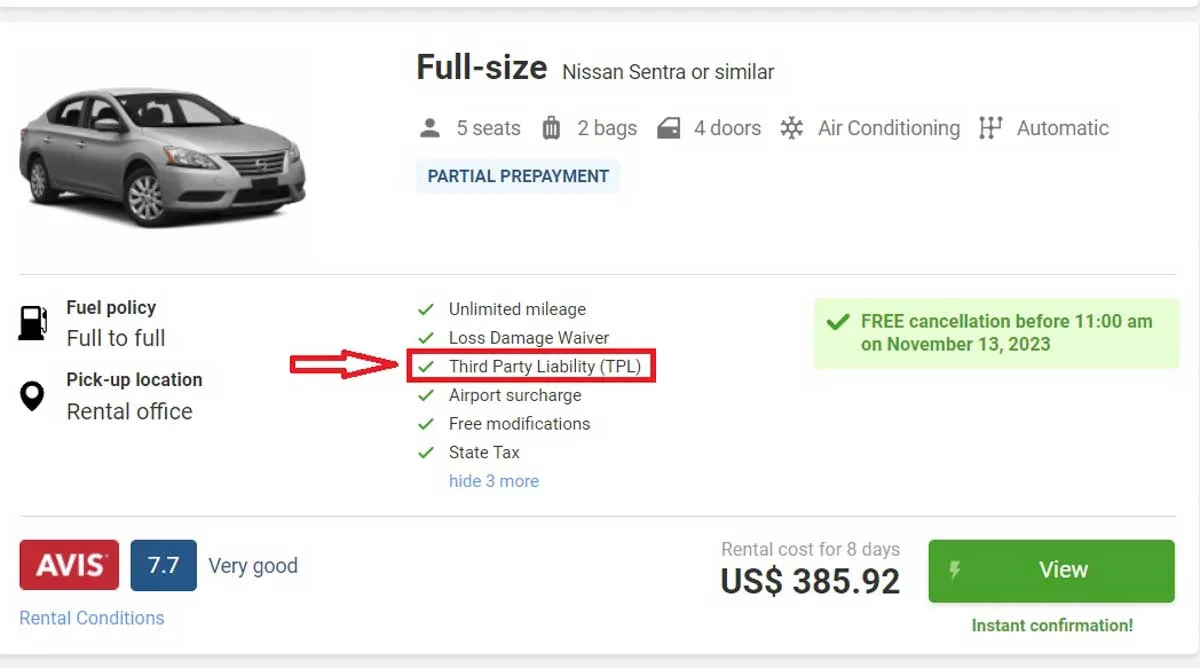 Book Shuttles
If renting a car isn't in your budget, you don't feel comfortable driving in Costa Rica, or you just don't like driving, shuttles are the next best option. There are hundreds of shuttle routes available all over the country, and they are very affordable.
Shuttles in Costa Rica are specifically for tourists and often include pick up and drop off at your selected hotels and airports. The drivers also speak some English, and the vehicles have air conditioning. You'll also be guaranteed a seat when you book a shuttle (which isn't the case with the public bus system.)
To get the best price, use the website Bookaway. They compare all the offers and prices of shuttle companies in Costa Rica so you get the best price! Honestly, we have saved so much money using Bookaway!
You can search for shuttles online on Bookaway here.
Public Bus
Lastly, you can use the public bus system. On short journeys, such as from San Jose to La Fortuna or Uvita to Manuel Antonio, this system is great. However, the longer the journey the more hassle and time spent on a bus. It's undoubtedly best to save the public bus in Costa Rica for short and straightforward trips!
The public buses are definitely the cheapest way to get around Costa Rica, but they are not always very reliable and schedules often change without notice and delays are to be expected. The buses can also be very crowded and hot – so just be prepared!
It's also good to speak some Spanish if you plan on riding the public bus since most drivers and ticket booth operators don't speak English.
Invest in Travel Insurance
Paying out of pocket for trip interruptions or medical treatment will add to what might already be a stressful situation. Not to worry, SafetyWing is here to help!
This affordable travel and medical insurance is perfect for digital nomads, long-term travelers, and remote workers. The best part is that it only costs $45 USD per 4 weeks.
To start coverage you must purchase it after leaving your home country. We usually purchase it as soon as we land at the airport.
Since using SafetyWing we've been reimbursed thousands of dollars when we've gotten sick. During the pandemic, they've even gone as far as to pay for our last-minute flights back to Canada before the border closed!
Pura Vida!
We are avid divers with over 150 dives between the two of us and the scuba diving in Costa Rica still leaves us in awe! In our opinion, Costa Rica is one of the best places in the world to go scuba diving. There are so many amazing locations to go, that chances are you won't be far from a great dive site, no matter where you're vacationing.
I hope this blog helped you plan your own epic scuba adventure whether you're looking to dive for the first time or are a pro with a ton of dives under your belt. Make sure to check out our other blogs for more ideas on how to plan an epic vacation in Costa Rica!
Is Costa Rica Expensive? Cost of Traveling to Costa Rica
7 BEST Coffee Tours in Costa Rica (Local Coffee Plantations You Should Visit!)