This blog may contain affiliate links. Read our disclosure policy for more info.
You can experience the magic of Rio Celeste Waterfall deep within Costa Rica's lush cloud forest. Each year tourists from around the world flock to Costa Rica to experience the biodiversity, lush jungles, untouched beaches, and exciting wildlife encounters – but no trip is complete without a visit to one of the country's gorgeous waterfalls.
Rio Celeste Waterfall is a stunning jungle waterfall with bright blue water plummeting into a pristine jungle pool below the thick jungle canopy. Located within Tenorio Volcano National Park, Rio Celeste (Celeste River) and the waterfall are famous for their bright blue water color. But besides that, this is the perfect place to enjoy a jungle hike where you have the chance to see plenty of wildlife in one of Costa Rica's best national parks.
If you're planning a trip to Rio Celeste (and you should!) there are some things you really should know before you go. In this guide, we've outlined the most recent information about visiting Rio Celeste including what to bring, how to get there, and other essential tips you probably didn't already know – did you know they will not accept cash to enter the park?! So without further ado, let us help you prepare with our ULTIMATE guide to visiting Rio Celeste!
Don't have time to read the full article? Rio Celeste is an incredibly popular site in Costa Rica thanks to its 98-foot-tall waterfall and stunning turquoise-blue water. The river and waterfall are located in Tenorio Volcano National Park in the Guanacaste province. Without a car, a guided tour like this one with multiple pickup options throughout the Guanacaste province is the best way to get to Rio Celeste.
What is Rio Celeste?
Rio Celeste is a river located in the Tenorio Volcano National Park in Costa Rica with attractions that include a famous waterfall, hiking trails, and geothermal pools. The name Rio Celeste means 'light blue river' in Spanish, and it is aptly named. The beautiful color of the river and waterfall is something out of this world. You'll feel like you've stepped into an oasis as soon as you see the turquoise-colored waters. It's a nature lover's dream come true, and a photographer's paradise.
The Rio Celeste Waterfall plunges a majestic 98 feet (30 meters) into the river below, and the entire area is surrounded by thick jungle. It's the kind of location that makes you feel like you've stepped straight into a tropical dreamland.
Local legend tells a beautiful story of how the river got such a beautiful hue. The story goes that when the gods were painting the skies blue, they washed their paintbrushes in the river, and the color of the sky blended into the water forever, causing the turquoise color that makes the river and waterfall famous.
Why is the Water in Rio Celeste Blue?
An optical phenomenon actually causes the vibrant blue hue of the Rio Celeste's waters. It was previously believed that the blue color was the result of a chemical reaction from minerals like copper sulfate, sulfur, and calcium carbonate from the Tenorio Volcano.
It turns out that the water itself isn't blue at all! What causes the blue color is a mineral that covers the rocks at the bottom of the river. The mineral is a combination of aluminum-silicon and oxygen that is incapable of absorbing the color blue. Therefore, when the sun passes through the water and hits the rocks, it reflects the color blue.
Where is Rio Celeste Located?
Rio Celeste and Rio Celeste Waterfall are both located within the gorgeous Tenorio Volcano National Park in the Guanacaste province in the Northern part of Costa Rica. In the lowlands of Guanacaste, the area is part of the extensive Arenal Tempisque Conservation Area.
If you're flying into San Jose, Costa Rica, it's only a 3.5-hour journey to reach the national park and Rio Celeste Waterfall. The short distance to Costa Rica's largest city and the international airport makes for an easy day trip from San Jose at the start or end of your Costa Rica vacation. it's also popular to visit Rio Celeste from La Fortuna and other destinations around the Central Valley.
Regardless of where you're staying in Costa Rica, there are plenty of options to reach Rio Celeste, including public transportation, rental cars, and private tours (more on tours further down in this blog) with included shuttles. If you want to rent a car you can book here with Discover Cars.
How long is the Rio Celeste Trail?
To reach Rio Celeste Waterfall, you'll have to hike the Rio Celeste Trail. This hiking trail first takes you to the waterfall and then further along the river's edge passing geothermal pools, suspension bridges, and various viewpoints. The trail ends at the point where the river begins to turn blue (where is mixes with another river) and this is where you'll turn around and head back the way you came.
The Rio Celeste Trail is about 3.7 miles (6 kilometers) long and takes about 3 hours to complete (return). The hike can definitely take longer if it's raining because the trails can get muddy and slick. The trail is pretty straightforward, with ample signage throughout. Once you enter the national park, you will begin the trail.
The Rio Celeste trail hike is rated moderate. While it isn't extremely long, certain portions may be difficult for inexperienced hikers, and it is unfortunately not handicap accessible. This hike is best for intermediate to experienced hikers, but almost anyone can take it on if they remember to take it slow and take plenty of breaks on the steep portions and the stairs.
The section of the trail from the entrance to the waterfall takes about 30 minutes, and then you'll reach a set of steep stairs that you can descend to the base of the falls. There are quite a few stairs (a couple hundred or so would be my best guess), so be ready for a workout! With that said, you don't have to go all the way down the stairs to see the waterfall and many people choose to only go about halfway down.
Should you hike the entire Rio Celeste Trail?
Good question! Let's be honest, the main attraction is the waterfall, so many tourists only hike the trail to the waterfall and back. This is definitely a good option if you're short on time.
We hiked the entire trail and really enjoyed it, there are lots of viewpoints and information boards along the way. Plus, the entire walk is within lush jungle – it's stunning!
So if you have the time and energy, I'd recommend hiking the entire trail.
How much does it cost to visit Rio Celeste?
IMPORTANT*: The cost to enter Rio Celeste costs $12 USD per person and must be paid online in advance on the SINAC website. They will no longer take payment at the entrance. If you're driving a rental car and need to park, an additional $5 USD parking fee can be paid upon arrival (this we paid in cash.)
The only other fee that you might want to take into consideration is boot rental. The trails can be super muddy, so depending on the conditions when you visit, you may consider a rental. There are vendors near the parking lot who charge around $5 USD to rent boots for the duration of your hike.
When is the Best Time to Visit Rio Celeste?
Rio Celeste is a popular tourist destination and one of the best things to do in Costa Rica, so it can get quite busy during the peak season. If you are traveling between December and April, it's best to arrive as early as possible, before 9 am if possible. If you want to enjoy the natural beauty without the crowds, the earlier you can reach the entrance, the better.
If you're visiting outside the peak tourism months in Costa Rica, it will be less busy, so anytime between 9 am and 2 pm works well. The least busy time of year to visit is between May and November, so if you visit, you'll have a much better chance of enjoying the beauty all by yourself.
One thing you do have to be aware of is the weather. This brings me to my next point…
Can You Visit Rio Celeste in the Rain?
The Rio Celeste area gets a lot of rain, and it is absolutely still possible to visit most of the time. Occasionally the park or portions of the trail might close due to extreme weather or flooding. If it's just some rain, the trail will remain open, but it gets super muddy. That boot rental might be a good idea!
Another important thing to remember is that the water won't have the bright blue turquoise color it is famous for after heavy rain. When the water is high and muddy due to lots of rain, it blocks the light from reflecting from the rocks below, which gives the water it's bright blue color it's well known for.
While it's still amazing to view the falls and the river with muddy water, if you can plan your visit during the dry season, you'll have the best chance of seeing Rio Celeste in all of its turquoise glory.
Note: During light rain, the water should still be blue. It usually loses its color during or after a few hours of heavy rainfall. Watch the weather network and plan your visit accordingly if the blue-colored water is what you want to see!
Rio Celeste Opening Hours
Rio Celeste opens at 8:30 am, but you can arrive at 8 am to get tickets. Pre-purchase tickets are not possible, and the park is first-come, first-serve. If you are visiting around the Christmas Holiday, you'll want to get there super early to ensure you get a ticket, as it's a popular spot for locals and tourists alike.
The latest admission to the park is 2 pm, and everyone has to exit by 4 pm.
Is there Parking at Rio Celeste?
A large parking lot is located at the Rio Celeste entrance, making it easy for visitors who are arriving by car. The cost to park is $5 USD. Click here for directions to the car park.
While you must pay for the park entrance fee with card, we paid for parking with cash. So, I highly recommend bringing both cash and card with you to Rio Celeste!
Can you Swim at Rio Celeste?
In the national park, swimming is prohibited, so you cannot swim at Rio Celeste Waterfall or in the river within the park. This rule is in place to preserve the delicate ecosystem.
If you're really dying to cool off in the water, there is a free public entrance by the nearby bridge where you can take a nice dip in the cool water after your hike. There is even a designated parking spot on the side of the road near the swimming hole. If you're visiting by car, type "Rio Celeste Free Pool" into Google maps.
Budget-Saving Tip: If you are on a really tight budget, you could skip entering the national park altogether and just visit the Rio Celeste Free Pool. This pool also has the same bright blue color but is located outside of the national park, and as such, is free to visit. With that said, you'll miss out on the waterfall (the best part, in my opinion) as well as the hike in the park. So, I only recommend this option if you really don't want to pay the $12 entrance fee.
What Should/Shouldn't You Bring to Rio Celeste?
To have the perfect visit to Rio Celeste and the Rio Celeste Waterfall, it's a good idea to come prepared. These are some things you might want to include in packing for your day trip:
Rubber boots or hiking shoes – the trails can get muddy!
Mosquito repellent – this is a must. It's very buggy along the route.
Hiking clothing – it's hot and humid most of the year in this area so moisture-wicking shorts are probably the safest bet.
A swimsuit – if you're planning on stopping by the swimming hole.
Rain gear – pop-up showers are frequent. Pack a raincoat!
Hiking poles – if you like to use them on hikes.
A reusable water bottle – plastic water bottles are banned in the park, and there is no place to buy water other than the visitor center. Pack a big environmentally friendly reusable bottle, so you have plenty to drink on the sweaty hike!
Snacks – just like the water bottle, it's a good idea to pack your snacks as there aren't a lot of places to buy them nearby. Even if you just pack a granola bar or some trail mix, you'll be glad you have something to munch on after the hike.
A camera – you'll want to snap all the photos on your beautiful adventure!
Cash and card – you'll probably need both!
There are also some items you cannot bring into the park. Plastic is the big one and this includes ponchos. The sign pictured above gives you examples of things you cannot bring into the park.
Facilities at Rio Celeste
The Tenorio Volcano National Park Visitor Center, where you can purchase your tickets for Rio Celeste, has bathrooms, snacks, and water, but that is the last stop with facilities. There aren't any near the entrance to Rio Celeste and the waterfall. Make sure you use the facilities before you leave the visitor center!
How Long do You Need to Visit Rio Celeste?
The Rio Celeste hiking trail takes about 3.5 hours to complete, and you will want to save enough time to take in the plummeting waterfall and the other natural wonders all around. It's easily a half-day or a full-day trip if you take your time to really enjoy it. You'll also want to factor in driving or travel time via public transportation from your hotel or vacation rental.
Is Rio Celeste Suited to Kids/Families?
Rio Celeste is a great place to immerse children in the natural beauty of the rainforest and the majestic river and waterfall. That being said, the trail to the falls is moderately tricky and involves a lot of stairs, so kids need to be able to take on the path. It's definitely too far to carry them and is not accessible for strollers.
Do You Need a Guide to Visit Rio Celeste?
No guide is needed to visit Rio Celeste. Visitors are welcome to enjoy the self-guided hike to the falls, where plenty of signage guides them. If you are interested in a tour, check out our favorites below!
What are the Best Tours to Rio Celeste?
Without a car, the only way to get to Rio Celeste is on a guided tour. Guided tours are great because all of the logistics are sorted out for you, and all you have to do is follow the guide's lead. Most tours also include hotel pick-up/drop-off and the guide provides a ton of knowledge along the way. Tours are super informational and interesting.
Below are the best tours to Rio Celeste departing from different destinations around the country. This way, you can choose a tour based on where you are staying easily.
Tour to Rio Celeste from Guanacaste Province (Tamarindo, Liberia, Playa Flamingo, etc)
If you're looking for a full-day tour to get up close and personal with all the beauty of Rio Celeste, this particular tour is all that and more. The tour will pick you up from your hotel or rental property in a variety of destinations in Guanacaste (check the tour pick-up points for details) with Tamarindo being the most common starting point.
After a drive past all the best beaches, you'll arrive at Tenorio Volcano National Park first, where you will embark on a two-hour hike to see Rio Celeste as well as the waterfall.
The tour also stops by an excellent swimming hole. After the hike and waterfall, the tour stops by Finca Verde Lodge, an organic farm, a sloth and frog sanctuary where you will enjoy a delicious lunch and a stop at a second waterfall. The cost of this Rio Celeste tour is $135 USD per person.
Related Read: Planning a holiday in Tamarindo? Check out the best hotels in Tamarindo for all budgets and vacation styles.
Tour from La Fortuna
If you're staying near La Fortuna, try this fantastic full-day tour. You can meet up with the tour from the La Fortuna Bus terminal at 8 am before arriving at Rio Celeste for a four-hour hike. The knowledgeable guides will point out local flora and fauna and scout for animal sightings.
After the hike, you will have the opportunity to enjoy a traditional Costa Rican lunch that is included in the cost. After lunch, you'll be shuttled back to your hotel in La Fortuna. The price is $87 USD per person and this particular tour is often rated as one of the best things to do in La Fortuna.
Related Read: While in La Fortuna, be sure to check out the best hot springs!
From San Jose
If you're making the trip from San Jose, Costa Rica's largest city, you'll be excited to know that you can still experience Rio Celeste as a day trip. This specific tour takes 8 hours from start to finish departing from San Jose. It will arrive at Rio Celeste, where you can hike through the rainforest and Tenorio Volcano National Park for about 4 hours. Breakfast and lunch are included before the shuttle takes you back to San Jose.
From the National Park Entrance
Already have a rental car and just want a guide to accompany you on the hike to provide information? There are a few different options for that too including unique experiences that will take your Rio Celeste visit to the next level!
This half-day option is a great choice if you're staying near Tenorio National park and searching for a guided tour. It's about 4 hours from start to finish. Take a private tour of Rio Celeste and the surrounding rainforest with a knowledgeable guide who will point out monkeys, sloths, and birds. After the hike, enjoy a swim at the swimming hole outside the park.
To switch it up a little bit and add some more adventure to your trip to Rio Celeste, take this two-hour tour that allows you to explore the rainforest on horseback. Adventure along the bright blue waters of Rio Celeste and swim in the natural pools. This is an excellent option for people who want to experience the beauty of Rio Celeste without the strenuous hike. Best of all, the cost is just $45 USD per person!
Don't just view the Rio Celeste; experience it in all its glory through an adventure tubing on the river. The adventure takes about 2 hours, and you will float down the river with a small group and a guide who makes sure all safety considerations have been taken into account. The cost is $51.29 USD per person.
Why We Book Tours with Viator
Viator is a trusted online booking system for tours around the world! We almost always book our tours using Viator for a couple of reasons:
Free cancellation on most tours – Most of the tours on Viator allow you to cancel and get a full refund up to 24 hours in advance. This is handy in case plans change, or if booking an outdoor activity, the weather forecast is looking grim.
Reserve now and pay later – You can secure your spot on some of the most popular tours well in advance and not pay until closer to the day of the tour.
Pay in your chosen currency – Avoid costly international transaction fees by choosing to pay in your home currency.
Peace of mind – When booking with tour operators you find in person on the street or in small booking offices, you are often promised one thing and given another. This online platform holds tour operators accountable with a written description of inclusions as well as the opportunity for customers to leave reviews.
Check out the Viator website here!
Where to Stay near Rio Celeste?
While many people choose to visit Rio Celeste on a full-day trip from popular tourist destinations such as La Fortuna, San Jose, and Tamarindo, there are some really nice hotels and guesthouses located just down the road from Rio Celeste. These are a great option if you have a rental car since you'll be able to get to the national park early than those traveling from the other destination – and beat the crowds.
Some of the best places to stay near Rio Celeste are:
Tenorio Lodge – $$$
Tenorio Lodge is the best place to stay near Rio Celeste if you're looking for a bit of luxury. Every room here has amazing views of the Tenorio volcano. Although in a remote location, this hotel has modern amenities and the decor is very classy. Breakfast is included in the room rate. The hotel is located 12 km (7.5 mi) from the entrance to Rio Celeste.
Rates begin at $173 USD/night. You can reserve a room in advance here on Booking.com.
Finca Amistad Cacao Lodge – $$
Finca Amistad Cacao Lodge is located on a 60-hectare cocoa farm! It isn't a luxury stay, but it is an interesting and comfortable place to meet a local family and even do tours of the farm. This is also a bird lovers paradise! Many of the rooms feature mountain views and there is a restaurant onsite.
Rates begin at $130 USD/night. You can reserve a room in advance here on Booking.com, here on Hotels.com, or here on Expedia.
Posada Rural Rio Celeste – $
For those on a budget, you can't pass up this cute hotel. Posada Rural Río Celeste is a great choice near Rio Celeste. Although really affordable, all rooms feature an ensuite bathroom and breakfast is included in the room rate. It's located just down the road from Rio Celeste too.
Rates begin at $45 USD/night for two guests. You can reserve a room in advance here on Booking.com.
Getting Around Costa Rica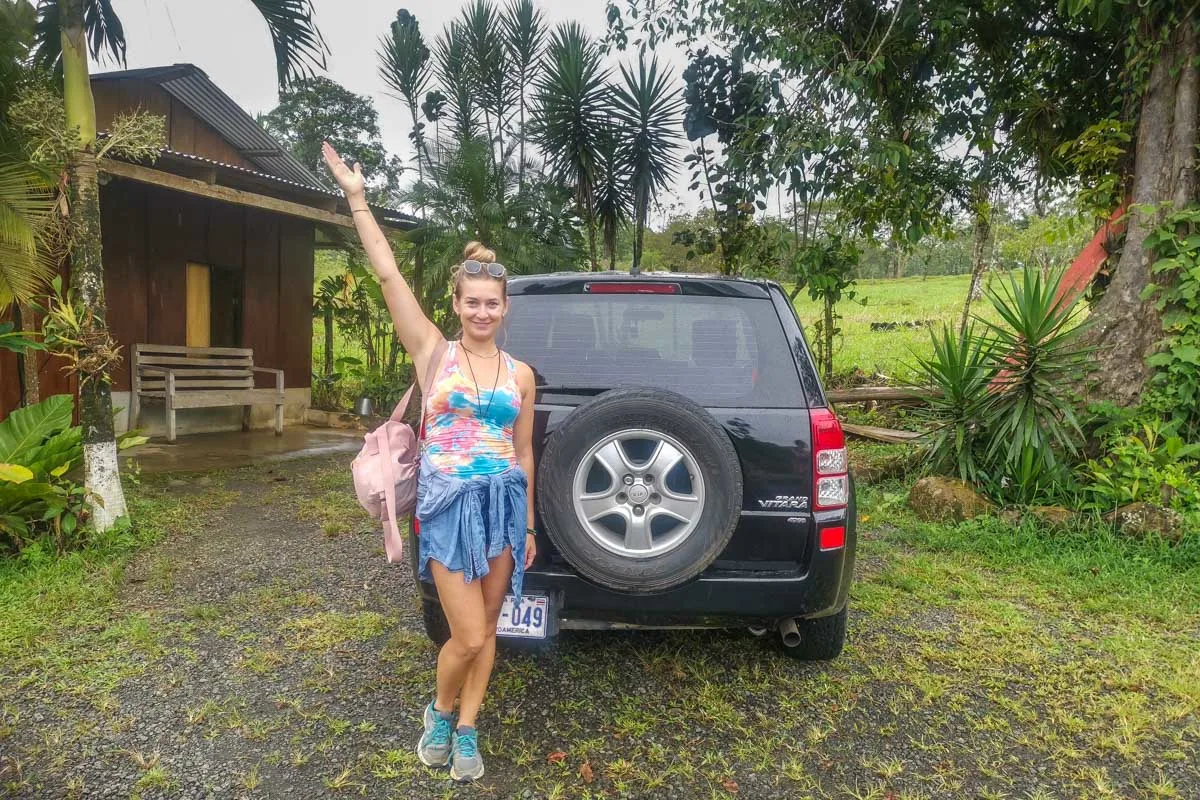 How you choose to get around Costa Rica is one of the biggest decisions you'll make when planning your holiday here! How you do it depends on your budget, travel style, and comfort level.
Renting a Car
Without a doubt, the number one way to explore Costa Rica is in a rental car. We book rental cars on the Discover Cars website as we have had good experiences with them in the past.
One of the things you need to watch for when renting a car in Costa Rica is the mandatory insurance that the government requires you to have. There are a lot of very cheap rentals that don't include this mandatory insurance (TPL) in the original booking price, but there are also ones that do. To avoid additional surprise charges when you pick up your rental car, be sure to rent a car that includes the mandatory insurance when you book.
Thankfully, on Discover Cars it's easy to tell apart the companies that include the mandatory insurance and those that don't. The trick is you can't pick any car on their website. In the picture below, you can see this rental car, with pick up in Jaco, includes the TPL. That means the mandatory insurance is included in the price. Any cover you get above that is extra.
Of course, I still suggest getting the full coverage offered by Discover Cars, which covers you even more.
You can browse cars on Discover Cars here.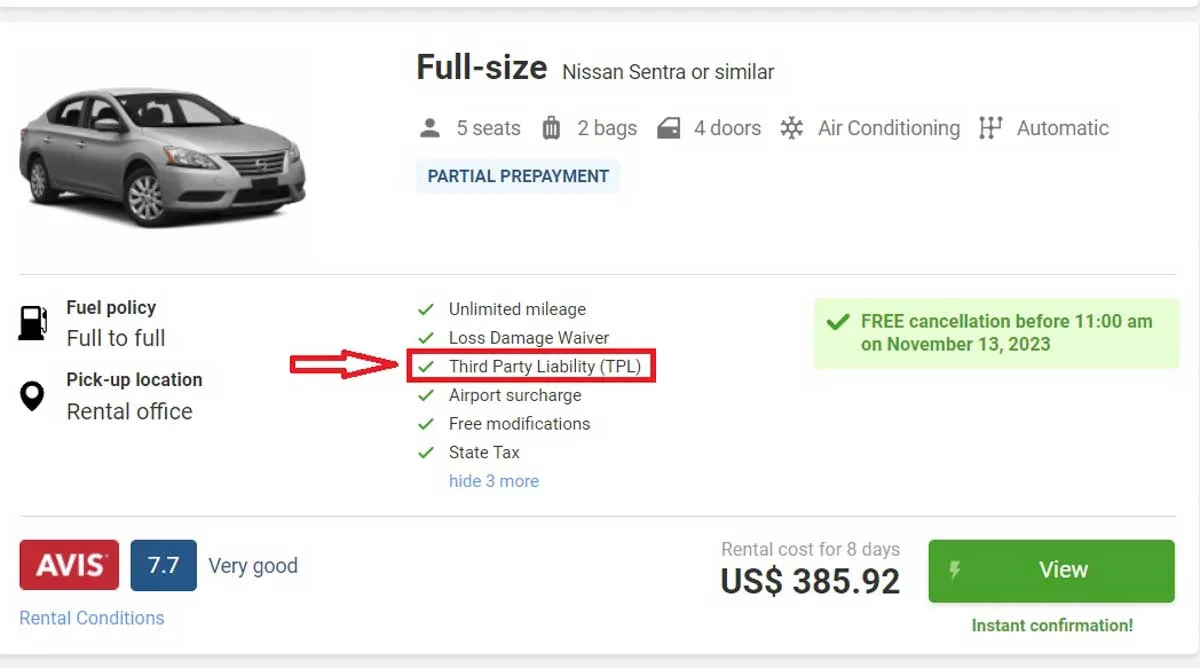 Adobe Rental Rent A Car is another rental company that we most often use in Costa Rica. We love them because Adobe has 15 offices around Costa Rica and delivers door-to-door around their offices at no extra cost. We also are pleased that all of their cars are new. In fact, they are never older than 2 years to the date. They are also the only company to include mandatory insurance and promise no hidden fees. You can get a free quote for a rental car from their website here.
Book Shuttles
If renting a car isn't in your budget, you don't feel comfortable driving in Costa Rica, or you just don't like driving, shuttles are the next best option. There are hundreds of shuttle routes available all over the country, and they are very affordable.
Shuttles in Costa Rica are specifically for tourists and often include pick up and drop off at your selected hotels and airports. The drivers also speak some English, and the vehicles have air conditioning. You'll also be guaranteed a seat when you book a shuttle (which isn't the case with the public bus system.)
To get the best price, use the website Bookaway. They compare all the offers and prices of shuttle companies in Costa Rica so you get the best price! Honestly, we have saved so much money using Bookaway!
You can search for shuttles online on Bookaway here.
Public Bus
Lastly, you can use the public bus system. On short journeys, such as from San Jose to La Fortuna or Uvita to Manuel Antonio, this system is great. However, the longer the journey the more hassle and time spent on a bus. It's undoubtedly best to save the public bus in Costa Rica for short and straightforward trips!
The public buses are definitely the cheapest way to get around Costa Rica, but they are not always very reliable and schedules often change without notice and delays are to be expected. The buses can also be very crowded and hot – so just be prepared!
It's also good to speak some Spanish if you plan on riding the public bus since most drivers and ticket booth operators don't speak English.
Invest in Travel Insurance
Paying out of pocket for trip interruptions or medical treatment will add to what might already be a stressful situation. We always travel with SafetyWing travel medical insurance.
The best part is that it costs only a fraction of what most insurance policies charge, which makes it perfect for digital nomads, long-term travelers (like us), and budget travelers. It only costs $45 USD per 4 weeks!
To start coverage, you must purchase it after leaving your home country. We usually purchase it as soon as we land at the airport.
Since using SafetyWing we've been reimbursed thousands of dollars when we've gotten sick. During the pandemic, they've even gone as far as to pay for our last-minute flights back to Canada from Colombia before the border closed!
You can click here to get a quote and read all the details!
Pura Vida!
I hope this blog has helped you prepare for your trip to Rio Celeste – I'm sure you'll enjoy it! If you found this blog helpful, be sure to browse around a little more, we have a ton of useful guides about enjoying all that Costa Rica has to offer including:
The BEST restaurants in Tamarindo
Most beautiful beaches in Costa Rica