Tamarindo is one of the most popular tourist towns in Costa Rica. Not only is it home to loads of stunning beaches, excellent surf, and fantastic restaurants, but also amazing National Parks like Rincon de la Vieja National Park and Tenorio Volcano National Park are within easy driving distance of the town.
Would you believe me then if I told you that some of the best things to do in Tamarindo are either completely free or very cheap?
Contrary to what you might've heard, many activities and attractions in Tamarindo are actually not expensive at all! Yep, you don't have to have a big travel budget to enjoy the best of this beachside town. In fact, there are beaches, markets, and surfing which you can enjoy for free. While if you have a little money to spend, why not join a cheap guided tour to a volcano or hop on a turtle nesting tour?
So, to help you plan your vacation and convince you that Tamarindo can be enjoyed on a tight budget, here are 16 FREE and cheap things to do in Tamarindo, Costa Rica!
The Best FREE Things to do in Tamarindo
1. Go beach hopping!
Spending a nice relaxing day at a stunning beach is one of my favorite things to do on vacation; it's one of life's simple pleasures, and thankfully it's completely free!
There are lots of awesome beaches in Tamarindo, including Playa Tamarindo and Playa Grande, which are both walkable from town and, as a result, are incredibly popular. But for a truly relaxing experience, we recommend heading to one of the below nearby beaches (provided you have a rental car in Costa Rica, that is) –
Playa Flamingo: this slice of paradise and one of my favorite beaches in the area is Playa Flamingo which is a 45-minute drive from Tamarindo. It's much quieter than Playa Tamarindo, and there's also a great lunch spot here called Coco Loco, which is directly on the beach!
Playa Avellanas: 30-minutes from Tamarindo is a great swimming/surfing beach – Playa Avellanas is less-crowded and peaceful than the beaches in town. I just love the calm waters here!
Playa Langosta: Only a 7-minute drive from Tamarindo, Playa Langosta is one of my favorite places to watch the sunset; that's because this beach faces west, making it the ideal position to watch the sun sink into the ocean. Because it's so close to Tamarindo, you don't have to have a rental car to get here, simply walk 30 minutes or hop in a cheap uber.
Hitting one of the beaches here is one of the best free activities in Tamarindo!
2. Wander through the Tama Market
Another awesome free activity in Tamarindo is to wander the many colorful stalls at Tama Market, which is held every Saturday from 7 am to 1 pm. It's the perfect place to pick up some unique souvenirs like quirky clothing, natural beauty products, and jewelry, and you can even buy some fresh fruit and vegetables here.
Or why not come here to try out one of the delicious food stalls or a simple coffee – I had an amazing cold brew coffee from one of the stalls here that I still think about.
Entrance to the market is free, but you'll need a little cash to purchase any souvenirs or food.
The Tama Market is located behind Plaza Tamarindo near the skatepark.
3. Learn to surf!
Tamarindo beach is one of the best places in Costa Rica to learn to surf. That's because the calm waters here are ideal for beginners, and the soft waves make it much easier to stand up on your board! So, if you're not so confident in the water, then why not try surfing on Tamarindo beach?
Of course, if you have your own board with you, this is a completely free activity; however, if you didn't pack your board, you will either need to rent one on the beach for as little as $10 a day or book a surf lesson.
If you're inexperienced, I don't recommend renting a board and going out on your own. Because there are rocks hidden beneath the water in Tamarindo, and the local guides know how to avoid them.
You can do surf lessons every day here, and there are heaps of surf schools in town. On average, a two-hour lesson costs $50 USD, these are usually done in small groups of four people or less. The trick is to find a good school that's highly rated.
This two-hour surf lesson in Tamarindo is top-rated and has over 1,100 five-star reviews.
4. Visit Playa Grande
If you're spending a few days in Tamarindo, chances are you'll spend at least a few hours at Playa Grande, which is a short distance from the town's main beach Playa Tamarindo. It's much less crowded than Playa Tamarindo, and we come here often during our time in Tamarindo to swim, sunbathe and even go turtle watching. Yep, you may be lucky enough to spy some turtles walking into the ocean! When we were there, we saw a little baby plodding into the water. It was so cute!
Playa Grande is separated from Tamarindo by a river, so to access it, you need to take a short water taxi which costs just 1,000 colones ($1.60 USD).
And Playa Grande is indeed a 'grand beach' it's a huge 4.5 km (2.8 miles) long so you have lots of beach to explore and there's also a cool village here, called Palm Beach Estates which has a lot of beautiful hotels as well as cafes, restaurants, and even a craft beer brewery.
Las Olas Brewing Playa Grande is situated at the north end of the beach and serves up refreshing craft beer. Another cool stop is Cafe Mar Azul. They have a banana bread ice cream sandwich, and it's so so delicious!
Related Read: Playa Grande is one of the best beaches in Costa Rica, read about the others here!
5. Watch the sunset!
Watching the sunset is one of my favorite ways to end my day on vacation, and luckily in Tamarindo, there are lots of places to do this. Playa Grande, as I mentioned above, is a popular sunset-watching spot, and Playa Langosta, which is under a 10-minute drive from town, is also incredibly beautiful at sunset.
Of course, these are completely free to access; just pack a picnic and a few beers if you wish and sit and watch the sky turn various shades of orange and pink.
If you prefer to watch the sunset somewhere a little more comfortable, the beach clubs in Tamarindo are a great option. Watch the sunset while listening to music and drinking a delicious cocktail or ice-cold beer.
Ocho Beach Bar is one of my favorite beach bars in Tamarindo and is located on the southern end of Tamarindo. Honestly, the drinks here are so good – especially the sangria! Also, the service is amazing too!
Another great beach club, and my second favorite, is El Be. They also have creative cocktails and a more central location.
6. Tamarindo Night Market
Another awesome free activity in Tamarindo is the Tamarindo Night Market which is held every Thursday from 6 pm to 9 pm. Spend a few hours here, taking in the fun atmosphere and eating your way around the many delicious food stalls in attendance. Definitely come here with an empty belly!
There's also live music and other entertainment, and it's a great place to meet other travelers. If you want to go shopping, there are lots of stalls selling unique wares as well as several selling pretty jewelry and clothing.
This vibrant market is one of the best things to do in Tamarindo on a Thursday night.
The Best CHEAP Things to do in Tamarindo
7. La Leona Waterfall
First up on our list of cheap things to do in Tamarindo is one of Costa Rica's most popular and stunning waterfalls.
La Leona Waterfall is located near Rincón de la Vieja Volcano National Park in the town of Curubandé. Because you need to wade through a canyon for an hour to access the falls, it is necessary to hire a guide, as doing it on your own is too dangerous!
The cheapest way to visit La Leona Waterfall is to drive yourself to a tour office in Curubande. We recommend booking with Guanaverde Experiences, which is just 2 hours from Tamarindo. You can either book your tour when you get there or book it online in advance, as I did. The price of the tour depends on the type of experience you want; for example, do you want lunch and other activities included?
It's worth noting that different companies use different entrances to the waterfall, which means that your walk into the falls may be slightly longer or shorter depending on which operator you choose.
We did this $41 USD guided tour with Guanaverde Experiences, which is super-affordable and one of the cheapest activities available in Tamarindo! It includes a guided walk (which is 4 km long) to the waterfall and a snack and takes between 3 – 4 hours.
If you don't have a rental car to drive to their office yourself, they can pick you up from your hotel for an extra fee. There are three guided tours on offer every day, one at 9 am, one at 11 am, and the last tour at 1 pm.
I should note that ten travelers maximum are allowed per tour, so it's best to book in advance.
Related Read: La Leona Waterfall is one of the most epic waterfalls in the country, you can read about the other great waterfalls in Costa Rica here!
8. Head to Rio Celeste
One of the prettiest waterfalls/rivers in Costa Rica is located a 2.5-hour drive from Tamarindo – Rio Celeste is a natural phenomenon and is the point where two rivers meet, which causes the water to turn an epic shade of blue. The bright blue color is, in fact, caused by particles in both rivers mixing together and becoming heavy enough to reflect light, thus causing the blue color. Of course, the river is at its most vibrant on a sunny day.
Because Rio Celeste is 151 km (94 miles) from Tamarindo, you will either need to drive there yourself or join a guided tour. If you decide to do it yourself, it's one of the cheapest things you can do in Tamarindo, as the entrance fee to Tenorio Volcano National Park (where Rio Celeste is located) is just $12 USD!
Top Tip: If you have your own vehicle, I recommend leaving Tamarindo very early so you can arrive at the park at 8 am, which is the opening time. This is the best time to visit without the crowds.
If you like the sound of a guided tour through the National Park as well as a guided visit to Llanos de Cortez Waterfall, then this specific tour is a great option. It departs Tamarindo at 6:30 am and also includes a visit to Finca Verde Lodge, where you can see sloths and other Costa Rican wildlife. This full-day tour is pretty reasonably priced at $137 USD, considering all it includes!
9. Go SUP!
Another awesome cheap activity in Tamarindo is stand-up paddleboarding (aka SUP), and Tamarindo beach is a great place to try out this sport. The calm waters here mean it's easy to navigate, and the small waves mean you won't fall off so easily! Spend a few hours on the water, paddling up and down the beach and out into the bay!
You can rent a SUP board for as little as $20 USD for 2 hours or $40 USD for an entire day. I rented my board from Kelly's Surf Shop, but there are loads of rental places along the beach. Advance booking is not necessary; simply show up on the day, and one of the companies will sort you out!
10. Rincon de la Vieja National Park
One of the best places to experience the great outdoors near Tamarindo is Rincón de la Vieja Volcano National Park. The park is around a 2-hour drive from Tamarindo and is a whopping 34,000 acres in size. It's also home to the Rincon de la Vieja volcano, which is 1,916 m tall!
Those with their own vehicle can drive to the Rincón de la Vieja and enjoy one or a few of the hiking trails within the park. These include the trail to the Las Pailas (boiling mud pots) – an easy walk that takes around 40 minutes return. Another popular hike here is the Catarata La Cangreja trail, which leads to a stunning waterfall. It will take most people around 3 hours to hike it and is 4.8 km (3 miles) each way.
Rincón de la Vieja Volcano National Park is also where the Rio Negro Hot Springs (one of the most popular hot springs in all of Costa Rica) is located and an adventure center offering horseback riding, ziplining, and tubing!
The park entrance fee costs just $17 USD for adults and $5.60 for children, which is very reasonable. You can then explore the park on your own, this is the cheapest way to experience the park. If you prefer, there are plenty of guided tours from Tamarindo you can book, such as this guided hiking tour which costs $127 USD. With that said, it's more popular to book the adventure tours like the Guachipelin Adventure Volcano tour which costs $137 USD per person. It is also one of the top-rated tours in all of Tamarindo!
11. Do a Turtle Nesting Tour
For as little as $47 USD, you can join this turtle nesting tour to the beaches near Playa Grande to see Olive Ridley and Green Pacific turtles laying their eggs, or you may be lucky enough to see them hatching and watch the teeny-tiny baby turtles make their way to the ocean for the first time. It's such a special experience!
Witnessing these magnificent creatures and their babies is easily one of the best cheap things to do in Tamarindo!
The tour starts at 6 pm when it's getting dark, so getting photos is difficult as using your flash is not allowed. On the tour, you will be given a red light torch that won't disturb the turtles.
The turtles can be seen on the beaches here pretty much year-round; however, November to April is the best time to book a tour!
12. Visit the Monkey Park Foundation
The Monkey Park Foundation was established to rescue, rehabilitate and release animals back into the wild. It was set up to avoid further wildlife contact with humans and to help protect the native species of Costa Rica!
It's a not-for-profit foundation (as are all wildlife rescue centers in Costa Rica) and visiting is a great way to support the great work the staff here are doing. Entrance to the Monkey Park Foundation costs just $20 USD, and that includes a guided walk through the park with a knowledgeable guide who will tell you about all the animals here and their efforts to rehabilitate them.
It's important to note this center is not a zoo but a rehabilitation center that works closely with wildlife experts and conservation specialists to better the lives of the animals within it. Despite its name, the Monkey Park Foundation is not filled with monkeys; in fact, we saw just two during our time here! Instead, the park is filled with a massive variety of Costa Rica's native species, including jaguars, sloths, macaws, and more.
13. Dine at the El Mercadito de Tamarindo Food and Cocktail Market
The El Mercadito de Tamarindo Food and Cocktail Market is the perfect place to visit if you're traveling in a large group. It's essentially a large outdoor food court with about 15 restaurants, bars, and cafes. So, you're spoiled for choice on where to eat! Plus, the decor is gorgeous, and it feels more like a luxurious restaurant as opposed to a food court.
There's Italian, seafood, steak, burgers, traditional Costa Rican food, and more – and they're all very reasonably priced. On top of that, you can grab a cocktail at the bar or even ice cream. Once you've decided what you want, grab your food and find a table in the food court.
It's a great option for dining in Tamarindo because everyone can eat together, but there are so many cuisine choices!
Related Read: For more epic restaurants, check out our guide about where to eat in Tamarindo!
14. Drink Craft Beer!
I'm a massive craft beer fan, and I'm so delighted that one of my favorite countries now has a thriving craft beer scene! In fact, breweries are opening up all over the country, and business is booming. Thankfully, Tamarindo has its own brewery – Volcano Brewing Co., but unfortunately, you can't visit the actual brewery (it's closed to the public). Instead, you can taste their delicious beer at the beachside bar and restaurant at Witch's Rock Surf Camp.
There were four types of craft beer on tap last time we visited, including an IPA and a Pale Ale, and both are excellent! A pint here costs $6 USD, which is pretty cheap for Costa Rica! They also serve food here; I highly recommend the pulled pork sandwich.
There's often live music here in the evenings as well as a great happy hour on certain days of the week, which typically runs from 4.30 pm – 6:30 pm.
15. Join a Estuary Boat Safari tour
Las Baulas National Park is a less-visited national park located about 36 minutes' drive (18.1 km) north of Tamarindo. It's best described as a hidden gem, and because a tour through the mangroves is only $38 USD per person, it's a great cheap activity that you must try near Tamarindo! The mangroves are full of fascinating wildlife such as howler monkeys, crocodiles, and many birds of Costa Rica.
On this tour through the mangroves, you'll enjoy a relaxing cruise while your guide shares lots of information about the area and the animals here. It's a super informative tour; if you haven't seen a large crocodile yet, this is your chance!
As I mentioned, the Estuary Boat Safari costs just $38 USD and often sells out!
16. Sunday Funday Beach and Pool Crawl
And finally, the last activity on our list of the best free and cheap things to do in Tamarindo is the Sunday Funday Beach and Pool Crawl, which is known as the best daytime party in Tamarindo. It's a must-do for party lovers or anyone wanting to meet new people!
The party on this beach and pool crawl starts early – from 12 pm and doesn't finish until 8 pm, so that's a full 8 hours of partying! On the tour, you will visit 3 bars, and you'll get drink discounts at each one as well as free shots! But, the best part is that a spot on this tour costs just $40 USD provided you book it in advance. That price includes transport, drink discounts, complimentary shots, drinking games, and a bonfire on the beach. It sure is a fun thing to do in Tamarindo!
Where to Stay in Tamarindo on a Budget
1. Selina
Selina Tamarindo stands out from the other hotels in the Tamarindo downtown area thanks to its unbeatable surfing school program. Nestled between Playa Grande and Playa Langosta, Selina is among the best hotels in Tamarindo for surfing, thanks to its incredible waves and expert guides.
If you're a non-surfer, there are plenty of other activities that the hotel can offer you, too. Back at the hotel, you can chill at the outdoor pool or enjoy some chick-flicks in the movie room. There is a lively restaurant and bar on the property, as well, where you can try the best Costa Rican dishes.
At Selina, you'll have the choice of staying in a dorm or a private room, both of which are equipped with air conditioning (a must in Tamarindo if you ask me.) Rates for a private room start at $86 USD per night, while a bed in the dorm rooms starts at $26 per night.
You can check availability and book Selina Tamarindo either on Hostelworld or Booking.com.
2. Playa Grande Surf Camp
Need to save money on accommodation but still want the best value for money? Then look no further than Playa Grande Surf Camp.
With laid-back surfer vibes and budget-friendly prices, this locally-managed hostel is the perfect option – all for the rate of under $100! It boasts an outdoor swimming pool and lounging hammocks, where you can waste your time away. Hungry for some Costa Rican dishes? The on-site Café Mar Azul (one of the best restaurants in Tamarindo) will happily serve you the meal of your choice made from fresh and locally-sourced ingredients.
There's also a self-catering kitchen and barbecue facilities. At the end of the day, you can retreat to your room outfitted with basic amenities like fans, air conditioning, and a private or shared bathroom.
Playa Grande Surf Camp is the only provider in the area that offers affordable accommodation in a shared dorm room (rates begin at $33 USD per night). If this isn't your style, you can always book private cabanas and open-air rooms for as low as $61 USD per night.
Check availability and book Playa Grande Surf Camp online here.
3. Sueno del Mar
With stucco buildings decorated with Guatemalan textiles and a Balinese-inspired outdoor shower, Sueño del Mar has a lot of character to show you. This charming bed and breakfast fronts the beach and features plenty of recreational amenities on-site to keep you busy.
Relax in the chairs and hammocks set up near the rocky shore. Go on a quick dip in the outdoor pool while you take in the beauty of the surrounding garden or grab a drink at the in-house bar to socialize with other guests. And at the end of the day, retreat to your cozy room outfitted with standard amenities like air conditioning, microwave, and deluxe poster beds. You also have your own private furnished balcony or patio, where you can enjoy the view of the garden below or the ocean in the distance.
Sueño del Mar's accommodation includes only four rooms and two casitas, starting at $190 USD per night and includes daily breakfast.
Check availability and book Sueno del Mar Beachfront Hotel online here.
Getting Around Costa Rica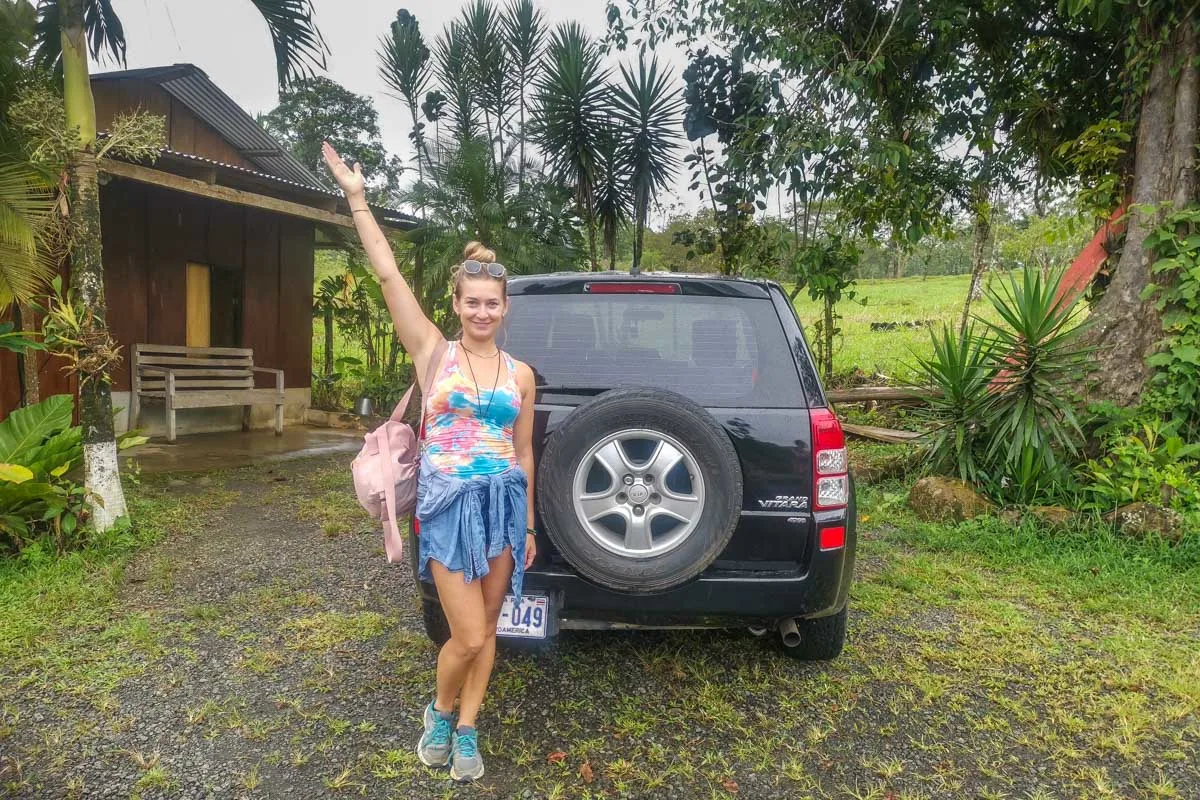 How you choose to get around Costa Rica is one of the biggest decisions you'll make when planning your holiday here! How you do it depends on your budget, travel style, and comfort level.
Renting a Car
Without a doubt, the number one way to explore Costa Rica is in a rental car. We book rental cars on the Discover Cars website as we have had good experiences with them in the past.
One of the things you need to watch for when renting a car in Costa Rica is the mandatory insurance that the government requires you to have. There are a lot of very cheap rentals that don't include this mandatory insurance (TPL) in the original booking price, but there are also ones that do. To avoid additional surprise charges when you pick up your rental car, be sure to rent a car that includes the mandatory insurance when you book.
Thankfully, on Discover Cars it's easy to tell apart the companies that include the mandatory insurance and those that don't. The trick is you can't pick any car on their website. In the picture below, you can see this rental car, with pick up in Jaco, includes the TPL. That means the mandatory insurance is included in the price. Any cover you get above that is extra.
Of course, I still suggest getting the full coverage offered by Discover Cars, which covers you even more.
You can browse cars on Discover Cars here.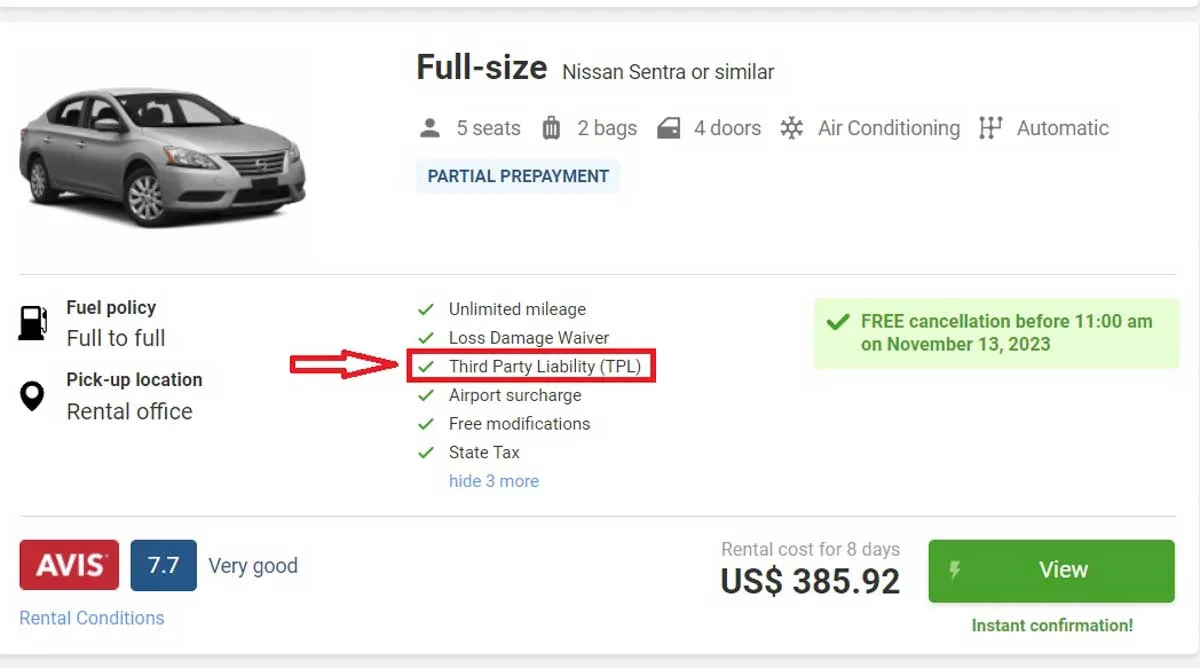 Book Shuttles
If renting a car isn't in your budget, you don't feel comfortable driving in Costa Rica, or you just don't like driving, shuttles are the next best option. There are hundreds of shuttle routes available all over the country, and they are very affordable.
Shuttles in Costa Rica are specifically for tourists and often include pick up and drop off at your selected hotels and airports. The drivers also speak some English, and the vehicles have air conditioning. You'll also be guaranteed a seat when you book a shuttle (which isn't the case with the public bus system.)
To get the best price, use the website Bookaway. They compare all the offers and prices of shuttle companies in Costa Rica so you get the best price! Honestly, we have saved so much money using Bookaway!
You can search for shuttles online on Bookaway here.
Public Bus
Lastly, you can use the public bus system. On short journeys, such as from San Jose to La Fortuna or Uvita to Manuel Antonio, this system is great. However, the longer the journey the more hassle and time spent on a bus. It's undoubtedly best to save the public bus in Costa Rica for short and straightforward trips!
The public buses are definitely the cheapest way to get around Costa Rica, but they are not always very reliable and schedules often change without notice and delays are to be expected. The buses can also be very crowded and hot – so just be prepared!
It's also good to speak some Spanish if you plan on riding the public bus since most drivers and ticket booth operators don't speak English.
Invest in Travel Insurance
Paying out of pocket for trip interruptions or medical treatment will add to what might already be a stressful situation. Not to worry, SafetyWing is here to help!
This affordable travel and medical insurance is perfect for digital nomads, long-term travelers, and remote workers. The best part is that it only costs $45 USD per 4 weeks.
To start coverage you must purchase it after leaving your home country. We usually purchase it as soon as we land at the airport.
Since using SafetyWing we've been reimbursed thousands of dollars when we've gotten sick. During the pandemic, they've even gone as far as to pay for our last-minute flights back to Canada before the border closed!
Pura Vida!
I hope that the above list has given you inspiration for a budget-friendly vacation to Tamarindo, Costa Rica. As you can see there are lots of free and cheap things to do in this surf haven!
Be sure to have a look around my website a little more, I have plenty of blogs about Costa Rica that I'm sure you're going to absolutely love, such as:
7 MUST-VISIT Volcanoes in Costa Rica
Ultimate Guide to Guanacaste, Costa Rica
Ultimate Guide to the Nicoya Peninsula and Best Things to do