This blog may contain affiliate links. Read our disclosure policy for more info.
Costa Rica is often a beach getaway for many visitors who come for the surf, sun, and relaxation in towns such as Jaco and Tamarindo. However, another side to Costa Rica involves volcanoes, hot springs, and breathtaking waterfalls. I myself love that version more!
One of the best places to visit so you can experience this is La Fortuna. It's located below Arenal Volcano, only a few hours north of San Jose in Central Costa Rica, making it an easy day trip. Although you'll likely want to stay longer than a day!
La Fortuna is a small, calm town that offers some great places to eat, lively bars, and lots of souvenir shopping. However, the main draw to La Fortuna is the surrounding landscape and the many incredible things to do and see.
In fact, I loved La Fortuna so much that I moved there at the start of 2022 and spent lots of time exploring the surrounding area. I discovered that La Fortuna is an adventure-lovers paradise and a great place to see wildlife.
To help plan your upcoming trip, here's everything I learned in this guide to visiting La Fortuna including the 30 best things to do in La Fortuna!
Don't have time to read the full article? Check out our list of our absolute favorite things to do in La Fortuna:
Take this guided tour of the Mistico Hanging Bridges.
See both La Fortuna Waterfall and Arenal Volcano on this full-day excursion.
Explore Venado Caves on this guided cave experience.
Visit El Salto (the Rope Swing).
Relax in the Free Natural Hot Springs River.
About La Fortuna, Costa Rica
La Fortuna is a small town in the central valley of Costa Rica known for its lush rainforests and milder climate. The town is the gateway to Arenal Volcano National Park, and from every angle in town, you can see the volcano towering above (of course, there are often a few clouds in the way.)
Arenal Volcano is an active volcano that last erupted in 2010. Before then, Arenal was Costa Rica's most active volcano, which began with a major eruption in 1968. Because of this, it's illegal to climb to the top of the Arenal Volcano. With that said, many still complete the 10 to 11-hour hike.
La Fortuna's weather can be unpredictable, and oftentimes, the volcano is completely covered in clouds. The worst months to visit La Fortuna are from May to November, which is known as the rainy season. The weather begins to get better in December, and by January, you get more clear days. If you're visiting Costa Rica and Arenal is going to be your highlight, choosing to visit in February is best.
Of course, Arenal Volcano is only a fraction of why people love La Fortuna. Any time of the year you can spot a huge variety of wildlife – sometimes even right in town! On top of that, La Fortuna is home to caves, waterfalls, beautiful hotels, hot springs, and more. It's a destination for adventure.
Things to do in La Fortuna, Costa Rica
1. Visit the Mistico Hanging Bridges
If you want to get out of town and amongst the treetops, I highly suggest visiting hanging bridges in La Fortuna. The Mistico Hanging Bridges are some of the best! The hanging bridges are located on a large property that a local family privately protects. Although not a national park, you'll find just as much wildlife here as you would in places such as Manuel Antonio.
In the park, there are 14 bridges that you can visit, with 6 of them being hanging bridges. The trail through the forest is 3.2 kilometers/2 miles long, and although the 6 hanging bridges are the main attraction, there's lots more to see. I loved the two viewpoints of Arenal Volcano. My favorite spot was behind the restrooms at the ticket office!
Tours at Mistico Hanging Bridges can be done self-guided or on a tour. On a self-guided tour, the entrance to the Mistico Hanging Bridges is $28 USD for adults, $18 for teens, and kids under 10 go free! You are then free to explore at your own pace, and 2 hours is more than enough time.
If you want to do a guided tour, I highly suggest this specific tour with Mistico. They know the property well and know exactly where to find wildlife such as sloths, monkeys, snakes, and more. It's a 2.5 hour guided walk that includes transport from La Fortuna, your entrance ticket, and an expert guide for only $48 USD.
Related Read: There are also some epic hanging bridges in Monteverde that you should check out!
2. Visit La Fortuna Waterfall
It should come as no surprise that La Fortuna Waterfall is one of the top attractions in La Fortuna. This stunning 230 foot (70 meter) waterfall shoots out from a tall cliff into a powerful pool below that's surrounded by lush forest. Visiting is nothing short of breathtaking.
Visiting La Fortuna Waterfall is easily done without a tour. You can get a taxi or drive yourself from La Fortuna town to this parking lot, where you'll pay the entrance fee and begin hiking. The trail is well maintained and leads down to the waterfall via lots of steps. It only takes 15 minutes to get down but a little longer on the way up – it's 500 steps!
Once at the bottom, you can get some great pictures and swim in the pool below the waterfall, or visit the calmer pools downriver for a more relaxing swim. The water is cold but super refreshing, and the entire area is gorgeous.
We spent around 1 hour at the waterfall before "enjoying" the 30-minute walk back up. This walk takes some people much longer, so be prepared and take your time. Keep an eye out for wildlife too. We saw lots of toucans during our visit.
Entrance to La Fortuna Waterfall is $18 USD, and you can purchase them at the gate or here online in advance and skip the line (it's the same price.)
If you don't have transport or would prefer a guide, there are some excellent La Fortuna Waterfall tours with bonus activities to really make a day of it. I recommend this specific full-day tour as you get to hike near the stunning Arenal Volcano, take a swim in La Fortuna Waterfall's cool waters, and then visit a natural hot spring – which you get to enjoy with a cocktail in hand. It's only $91 USD making it one of the best value tours in Costa Rica. It is popular though (and has hundreds of 5-star reviews!), so you'll want to book in advance here!
Related Read: La Fortuna is one of the places we suggest visiting on even a short 7-day Costa Rica itinerary!
3. Explore Arenal Volcano National Park
Arenal Volcano is obviously one of the best things to do in La Fortuna. Exploring the park is an adventure that takes you to the volcano's base and slightly up its steep face. Along the way, you can enjoy the magnificent views and even see where the lava from the last major eruption oozed down the side of the volcano.
Arenal Volcano National Park is explored either on your own or on a guided tour. Without a tour, entry to the park is $15 USD for adults and $5 USD for children. Once in the park, you can wander the many different hiking trails, ranging in length. Be sure to get to the park when they open at 8 am so you have plenty of time to explore (they close at 4 pm.)
I personally visited Arenal Volcano National Park on a tour from La Fortuna simply because I love having a guide to learn all about the volcano.
If you just want to explore Arenal as I did, this specific tour is a great option. It includes all your fees, water, transport, and a great guide for $73 USD. You'll learn a ton about the park and volcano!
With that said, those short on time should instead book a combination tour. This full-day tour visits not only Arenal but also La Fortuna Waterfall, a butterfly garden, Maleku Indian village, and the free hot spring river. It hits many of La Fortuna's highlights in one tour and is top-rated for just $18 USD more than the first tour.
4. Venado caves
One of the more unique things to do in La Fortuna is caving through the Venado Caves. This fun, and somewhat scary experience, takes you underground to explore the cave with an expert guide.
The tour involves entering a larger cavern before exploring smaller caverns, and at some points, you'll squeeze through holes barely big enough to fit through. Along the way, you'll see underground waterfalls, some creepy but harmless insects, bats, and even a Stalagmite that's over 6 million years old!
Some of the sections are a little daunting, but our guide was so good at leading our group, and we felt safe the entire time. Even better, some of the tightest areas can be skipped by individuals.
All up, you spend around 45 minutes in the cave and come out with a ton of knowledge and lots of smiles – we had such a great time! The tour we did was fantastic, and I highly recommend it to those who want to challenge themselves and see a side to La Fortuna almost none do!
Why We Book Tours with Viator
Viator is a trusted online booking system for tours around the world! We almost always book our tours using Viator for a couple of reasons:
Free cancellation on most tours – Most of the tours on Viator allow you to cancel and get a full refund up to 24 hours in advance. This is handy in case plans change, or if booking an outdoor activity, the weather forecast is looking grim.
Reserve now and pay later – You can secure your spot on some of the most popular tours well in advance and not pay until closer to the day of the tour.
Pay in your chosen currency – Avoid costly international transaction fees by choosing to pay in your home currency.
Peace of mind – When booking with tour operators you find in person on the street or in small booking offices, you are often promised one thing and given another. This online platform holds tour operators accountable with a written description of inclusions as well as the opportunity for customers to leave reviews.
Check out the Viator website here!
5. Rio Celeste
Costa Rica is home to lots of rivers, but few are as beautiful as Rio Celeste. Located around 1.5 hours north of La Fortuna. This natural attraction is one of the best things to do in Costa Rica.
Rio Celeste is famous for its bright blue color. This natural phenomenon is caused by the mixing of two rivers that literally turns the water Gatorade blue – I'm not joking!
This happens because acidic and neutral waters combine, and they create enough particle concentration to reflect light. It's similar to glacier lakes that reflect rock flour.
Rio Celeste is explored by hiking the Rio Celeste Trail, which is 3 kilometers/1.9 miles each way. Along the way, you'll see these main attractions:
Attractions at Rio Celeste
The main highlight at Rio Celeste is Rio Celeste Waterfall. It's arguably the most beautiful waterfall in Costa Rica and is located around a 30-minute walk from the entrance. You reach the waterfall via a stunning staircase that makes for some pretty spectacular photos.
Further along, you'll see the Borbollones or Bubbling Hot Pot. This part of the river is really hot, and you'll smell the sulfur before you see it!
Finally, you'll end your hike at the Teñideros, which is where the two rivers meet. Here, you can literally see the water turn blue as the stream meet – it's so cool! Teñideros is 3 kilometers (1.9 mi) from the entrance.
Tours/ Visiting on your own
You can choose to either do a tour to Rio Celeste from La Fortuna or visit on your own. Visiting on your own is easy. Just be sure to leave La Fortuna before 7 am so you can get to the park entrance before it gets really busy.
If you need to book a tour, this specific full-day tour to Rio Celeste is a top choice. It's highly rated and includes a Costa Rican lunch, transport, and an expert guide.
Important info
Parking at Rio Celeste costs 2,000 colones ($3.70 USD) per vehicle, and the park entrance fee is $12 USD for adults. Rio Celeste is open from 8 am to 4 pm, and it's best to visit early in the morning when it is less crowded. You need around 3 hours to hike the trail to the end and back again and enjoy the waterfall.
The trail is often really muddy, so you can rent boots at the entrance for 2,000 Colones ($3.70 USD) . Also, you are not allowed to bring plastic into the park. It's also important to note that after rain, the water can turn brown, so it's best to visit when it hasn't rained in a while.
6. Visit El Salto (Rope Swing)
After exploring La Fortuna for a few days, you'll realize that almost everything costs money. So, do as the locals do and explore some of the free things to do in La Fortuna!
One of the best is El Salto or "the rope swing." This beautiful river is so much more than a rope swing and, instead of a hidden paradise just off the main highway, complete with waterfalls, beautiful trees, deep swimming holes, and of course, a fun rope swing.
There are always lots of local kids at El Salto, and they know the swimming area well, so watch where they jump off and if you need help, just ask – they'll tell you where is safe to jump!
You can easily walk to El Salto from town, and when I lived in La Fortuna, I did this at least once a week for a swim. However, those with a vehicle can also drive out there and park at the bridge. There are also parking attendants here, and they charge around 1,500 colones ($2.80 USD).
7. Relax in the Free Natural Hot Springs River
Another one of the best free things to do in La Fortuna is the free hot springs!
The Free Natural Hot Springs River (as it's called) is a public river that runs through the Tabacon Hot Springs Resort – one of the most luxurious hot springs in La Fortuna. After it leaves the resort, visitors are free to enjoy the hot water without a charge.
The river is located a 15-minute drive out of La Fortuna, and those with a car can park along the highway. Unofficial parking inspectors charge you to park here and "protect your vehicle." They usually try to charge 3,000 Colones ($5.50 USD) but just tell them yesterday you paid 1,000 Colones ($1.85 USD). Of course, you are not legally required to pay them, but it's less than $2 USD, and they do direct traffic and make it safe to pull out.
Once out of your car, they'll point you down to the river just below the bridge. You can either head to the left or right of the bridge and sit back and enjoy the warm water. I prefer the left-hand side because you also get the sun, but on hot days, the right side of the bridge would be better.
This is by no means a luxury experience, but it's pretty cool to see a hot river. If you plan ahead, do down at sunset with some candles and enjoy the hot springs as the sunsets – this is very popular!
8. Arenal Sky Tram
For incredible views of Arenal Volcano and Lake Arenal, take to the sky! The Sky Tram is an open-air gondola that takes you high above the rainforest. It's located about a 30-minute drive from La Fortuna.
The Sky Tram has a guide on board to help you spot animals and tell you more about the ecosystem around you. At the top, there's an observation deck with beautiful views of rolling hills, the south side of Arenal Volcano, and Lake Arenal. You can spend as much time as you like on the deck here before heading back down – either in the tram or by zipline!
The Sky Tram can be booked on its own for about $50 USD per person ($33 for children.) If you go this route, then you'll simply ride the tram back down the way you came.
But if you want more adventure, take the ziplines down! There are 7 ziplines with a total length of 1.7 miles (2.7 kilometers) with a maximum height of 660 feet (201 meters). This guided tour offers both the Sky Tram and the zipline course as well as a guide and transportation from La Fortuna. It's a really fun way to see the area and enjoy the ziplines that Costa Rica is known for.
9. Whitewater rafting
Because of La Fortuna's central location in the country, it's not far from some great rivers that are perfect for whitewater rafting in Costa Rica. There are a few different levels of rapids, so you can find a tour that's great if it's your first time paddling or if you're an experienced rafter.
For those with experience who want a challenge, the thrilling Rio Sarapiquí has 30 Class III and IV rapids to try on this tour. The water is surrounded by lush tropical scenery – although you probably won't be focused on that! The rapids here have names like the Terminator, the Pipeline, and Dos Locos, and you'll get soaked as you navigate the river. The tour also includes transportation (it's about a two-hour drive) and lunch.
If whitewater rafting sounds fun but intimidating, I suggest going with this specific tour on a gentler section of Rio Balsa. These rapids are Class II and III, so still a challenge but more suited to beginners. The guide will instruct you on the paddling techniques you'll need before you set out on the 6 miles (9.6 km) trip. The tour includes a pitstop halfway through to have a snack and swim in the river. You'll also have roundtrip transportation from La Fortuna and lunch included too.
Regardless of which tour you choose, white water rafting is one of the best things to do in La Fortuna, and few destinations offer rafting this good!
10. Stay at a beautiful hotel with a view of the volcano
Waking up to a view of the Arenal Volcano is an amazing way to start the day. It's the centerpiece of La Fortuna, and what better way to see it than while relaxing in your room.
The Volcano Lodge is set at the foot of Arenal Volcano. It has hot springs and a lush, tropical garden on the property where you can see lots of the beautiful birds of Costa Rica, including hummingbirds! There are multiple outdoor swimming pools, all with a spectacular view of the volcano. Rooms here range from $300 to 400 USD per night.
Tifakara Boutique Hotel is located just outside Arenal Volcano National Park. The rooms feel almost like private villas in the jungle as you're surrounded by flowering tropical plants and all different types of birds. The views of the volcano here are great, and you'll feel completely emersed in the beauty of Costa Rica. Rooms here range from $200 to 300 USD per night.
Check out the Casa Torre Eco-Lodge for a more budget-friendly option. The property is among the best eco-lodges in Costa Rica and it's located just outside of La Fortuna. The lodge has an incredible view of the volcano, and the wildlife surrounding it includes toucans, howler monkeys, and sloths. You can get a private bungalow room for around $60 USD per night or a smaller room that has a shared bathroom for only $27 USD per night.
Of course, these are just a few of the spectacular hotels with volcano views in La Fortuna!
11. Go on a night walk
While La Fortuna is absolutely stunning during the day, it really comes alive at night! So, you have to do a night walk through the rainforest to see and appreciate all the critters that only come out after dark.
This Rainforest Night Walk and Dinner tour is the same tour I did in La Fortuna with Ecoterra. The tour includes a 90-minute hike, a visit to a frog sanctuary, and ends with a Costa Rican dinner prepared on a wood-burning stove. You'll follow your guide along an easy trail as you look for bats, birds, frogs, snakes, and other animals in the rainforest.
The trail goes around the mirrored lakes to a frog sanctuary where you can spot the red-eyed tree frog and the tiny dart frog. We saw so much wildlife, including a huge green lizard and even a bullet ant, which is known to have the most painful sting of any insect on the planet. Luckily, our guide kept us safe!
The dinner was also so tasty and one of the best local meals I enjoyed in Costa Rica!
12. Visit a luxury hot spring
This is one of the best things to do in La Fortuna – especially if you want to relax! There are so many different hot springs to visit in La Fortuna; you could visit a different one every day for weeks! There are a variety of hot springs for all budgets, from luxurious resorts to family-friendly pools and even natural hot springs.
One of the most popular hot springs in La Fortuna is Tabacón Hot Springs. The pools here are surrounded by a gorgeous tropical garden. The water temperatures range from 72 F to 105 F (22 C to 40 C), and the main area has a swim-up bar and waterslide. I love the incredible view of the Arenal Volcano from the secluded pools in the lower section. If you're staying at the resort, access to the hot springs is free, or if you aren't a guest, you can purchase a day pass for $81 USD, or for either lunch or dinner for $149.
For families, I recommend checking out Los Lagos Hot Springs. The passes here are reasonable at $16 USD and include admission to hot and cold pools and wildlife exhibits on-site. The large pools here are fed by crystalline rainforest springs and are surrounded by colorful plants and flowers. There are also fun waterslides, waterfalls, and a faux volcano.
The Baldi Hot Springs is one of the most luxurious and developed and visited hot springs in La Fortuna, not to mention the most lively one! Set amidst lush vegetation, this hot springs resort boasts 25 thermal water pools with temperatures ranging from 93°F to 152°F (doesn't it sound dreamy?!). It also comes complete with a massive jacuzzi for up to 60 guests. A day pass here will cost $27 USD, if you want to add lunch or dinner it is $49 USD, and for both lunch and dinner it will cost $71 USD.
13. Take a walk along a sloth watching trail
Seeing sloths in the wild here in Costa Rica is honestly so cool. They are such unique animals, and the area around La Fortuna is a great place to see them.
Of course, you can see them in the wild just randomly in town, and while I lived in La Fortuna, this happened a lot! However, those on a short trip might not have such luck. So, instead, go on a sloth-watching tour in La Fortuna with an expert guide in an area known for sloths.
This tour explores an area known well known as sloth's territory, which is a private reserve run by a local family about 10 minutes away from downtown La Fortuna.
You'll have the chance to see two and three-toed sloths (and if you're lucky baby sloths!) as well as other animals like frogs, toucans, hummingbirds, and parrots. The hike ends with a break to enjoy fresh fruit from the organic farm here.
It's a great chance to learn all about sloths and other animals. I found the tour very informative and left with an abundance of knowledge. Such as, did you know sloths come all the way down to the ground to use the bathroom once a week?!
The best part is that this sloth tour only costs $35 USD. It can be booked online here.
14. Go horseback riding
A great way to explore the lush rainforest around La Fortuna and Arenal Volcano is by horseback. This is a fun activity that is suitable for beginners who may have never ridden a horse before. Kids over the age of four are also able to take part.
This Arenal Horseback Riding Tour takes you to the forest around Arenal Volcano and right up to Pino Blanco Waterfall and the famous La Fortuna Waterfall. You can take a swim at the base of the falls! It also includes a visit to the Maleku Indian Cultural Rescue Center to learn about Costa Rica's Indigenous culture.
The tour includes roundtrip transportation and is only $98 USD for adults and $78 USD for children.
Remember to wear long pants and closed-toe shoes for the ride and bring a change of clothes if you want to go swimming.
Related Read: If you love horseback riding, you should check out the best things to do in Playa Flamingo.
15. ATV tour
For a faster-paced adventure in La Fortuna, jump on an ATV to get up close to Arenal Volcano. While you've seen the volcano in the distance in La Fortuna, it's worth getting closer to appreciate this landmark.
The Arenal ATV Tour takes you to a private farm right next to Arenal Volcano National Park. After instructions from your guide, you'll head out on the off-road trails. You'll see old impact craters from Arenal Volcano's eruption in 1968 and find a river with volcanic mud. The mud is known for its natural exfoliating benefits, and you're welcome to try it while you're here.
This is certainly one of the most enjoyable things to do in La Fortuna but be prepared to get muddy – especially if you do the tour in the wet season. There are also lots of chances to see monkeys and even sloths. In fact, the guides know the trees they love to hang out in, so fingers crossed!
16. Arenal Observatory and Trails
Spend an afternoon exploring a private nature preserve bordering Arenal Volcano and inside the Arenal Volcano National Park, only 30 minutes from La Fortuna. The 870-acre property is the home to the Arenal Observatory Lodge – a scientific research station turned hotel – but you don't have to be a guest here to enjoy it. The trails here offer some spectacular scenery and great opportunities to see wildlife on relatively easy walking paths.
Purchase a day pass when you arrive for $15 USD and explore 7 miles (11 kilometers) of trails, including observation towers and hanging bridges. You can see all of the trails over an afternoon or just pick a few. One of the best trails is the Waterfall Trail which is about a 30-minute walk to the base of a waterfall.
You also have to climb "The Nest" observation tower. Up almost 100 feet (30 meters) in the air, it offers 360° panoramic views of the rainforest, Arenal Volcano, and the Tilarán Mountain Range.
If you want a guide and a few extra perks, this tour includes transportation and a professional guide to help you spot wildlife and learn about the area. You'll still get to explore the rainforest trails, but you'll also have the chance to soak in a natural hot springs pool and get a volcanic mud facial and cocktail afterward.
17. Visit Lake Arenal
Lake Arenal is at the base of the Arenal Volcano, and this lake is the largest in Costa Rica! The lake provides hydroelectric power generation for the country and is a popular lake for all kinds of water activities. You'll want to get out on this lake while you're here!
For a relaxing evening on the water, this sunset cruise lets you drift on Lake Arenal and soak in the magnificent views. It includes snacks and Costa Rican moonshine to sip as the sky changes colors in the evening. Please note, this tour does not include transport.
Feel like you're walking on water by taking a stand-up paddleboard (SUP) tour to the middle of Lake Arenal. With the volcano beside you, gently glide across the water and enjoy the view. The tour includes a lesson on the shore if you've never been paddle boarding before and then a boat ride to the middle of the lake where you'll get on your board. The best part is, transport from La Fortuna is included.
Lake Arenal is also one of the best places in Costa Rica for kayaking. On this specific tour, you get all you need for a 2.5-hour paddle on the lake. You'll kayak on the calm waters with the volcano on one side of you and the rainforest on the other. This is a great way to spot birds including Great Blue Herons and Kingfishers, and you'll probably hear Howler monkeys too.
18. Drink craft beer at Lake Arenal Hotel and Brewery
Whenever I'm traveling, I love trying the local craft beer of the region. It's one of my favorite ways to get a taste of the local culture while enjoying a relaxing evening.
The Lake Arenal Hotel and Brewery is the perfect spot for this and a great day trip about 1.5 hours from La Fortuna. I recommend staying the night so you can enjoy a few drinks and explore the property and not have to drive back that day. The hotel only has 21 rooms overlooking the jungle and Lake Arenal, so it has a nice, private feel. You'll be able to get a room here for under $75 USD.
The Lake Arenal Hotel and Brewery is on a 15-acre organic farm with a focus on green energy. All the craft beer here is made with pure spring water and brewed with 100% solar electricity and bio-diesel. It's the first eco-brewery in the country!
Try the Paradise Pale Ale with a distinct hoppy flavor from Nelson, Centennial and Cascade hops. There's Costa Rica's first fruit beer, the Piña Blonde, made with organic pineapples that is always on tap. Or another favorite is the Chili Birra, a blonde ale with a spicy kick from campana chilis grown on the farm.
19. Visit the butterfly conservatory
Spread your wings and visit the small town of El Castillo, which is home to the largest butterfly conservatory in Costa Rica. It's about 30 minutes from La Fortuna and is a great destination on a rainy day.
Take the Metamorphosis Tour for $17 USD per person and learn about butterflies while being surrounded by them in the large atrium habitats. Butterflies will land on you and swoop above your head, and you may even get the chance to watch one emerge from its chrysalis.
Bring closed-toe shoes so you can explore the trails around here and other exhibits, including the exotic frog habitat, plant gardens, and greenhouses.
The conservatory is open every day from 10 am to 4 pm.
20. Explore on a canyoning tour
Take a canyoning and waterfall rappelling tour for an adventurous day-trip in the shadow of Arenal Volcano. You'll start the day riding a 4×4 into the forest and then gear up for the trek on this natural playground. Keep an eye out for animals, including sloths, monkeys, and toucans.
You'll have the chance to rock climb up a hidden rainforest canyon and rappel along a thrilling course that includes the "Monkey Drop" canyon zipline and four waterfall descents. Be prepared to get wet and conquer a fear of heights if you have one!
After canyoning, change into dry clothes at the ranch house and eat lunch with homemade tortillas, salsa, fresh tropical juice, and coffee.
The tour includes roundtrip transportation and is $113 USD per person.
21. Go ziplining
Ziplining is one of the best activities in La Fortuna, Costa Rica. It's thrilling to fly high above the rainforest and take in views from a totally unique perspective and La Fortuna is one of the best places to go ziplining in Costa Rica (my other favorite is Monteverde!)
There are not many places in the world where you can zipline right over a waterfall, but this is one of them! This zipline tour is one of the best and has you ziplining over La Fortuna Waterfall, an experience not offered by other tours. On top of that, you'll also get spectacular views of Arenal Volcano and Cerro Chato.
There are 12 different ziplines on this tour, and be prepared for a bit of a hike to get to the first zipline and in-between each one as well. The tour also includes a trip to the Maleku Cultural Resource Center once you're finished and roundtrip transportation from La Fortuna.
Related Read: Heading to Monteverde? Read about the best restaurants in Monteverde before you go!
22. Birdwatching
One of the best spots for birdwatching in La Fortuna is at the Mistico Arenal Hanging Bridges Park. This protected reserve is a biological corridor for birds as they move between the different mountain ranges in the area. More than 450 species of birds have been spotted here!
You can explore the park on your own as there's a 2-mile trail (3.2 km), including six hanging bridges. Reservations are required if you want to come here on your own. Admission is $28 USD per adult, $18 USD for youth, and free for kids 10 and under. Also, closed-toe shoes are mandatory!
If you want a birdwatching guide, this specific tour includes a professional guide, park entrance fee, and hotel transportation, all for only $61 USD for adults and $50 USD for children (select the second option.) The tour is early at 6 am as that's the best time to see birds here. Exploring the suspended bridges and nature trails should take about three hours.
23. Hike to Hule Lagoon
Hule Lagoon is a beautiful lagoon at the base of the Cerro Congo Volcano. This area is well known for great hiking trails, with the main trail stretching 4 miles (6.5 kilometers). This is one of the best hikes in La Fortuna!
You'll want to plan for an entire day for this from La Fortuna. Your best bet is to book a full-day tour with a guide to take you there. It's about a 1.5-hour drive and then a 3-4 hour hike once you arrive.
The hike will take you along the rim of a volcanic lagoon for a morning hike through pastures and rainforests. The tour also includes a homemade lunch in a local family's home and a stop to view waterfalls that reach up to 590 feet (180 m) at the Toro Hydroelectric Project.
Overall it's a pretty intense hike so come prepared and only book this tour if you consider yourself a hiker.
24. Learn all about coffee and chocolate on a tour
You can't come to Costa Rica and not taste some of the coffee and chocolate this country is known for!
This coffee and chocolate tour is on a family farm owned by Don Juan where you'll see coffee and cacao crops and get to taste the finished product. The Don Juan facility is located only five minutes from the center of La Fortuna. You'll taste farm-fresh coffee and chocolate right where they are made.
These two products are very important exports for Costa Rica, and it's really neat to see the entire process unfold before your eyes. You may even get the chance to grind cacao beans to make your own chocolate bar!
The tours are set up so there are protected areas and trails made of cement, so you can do this tour on a sunny or rainy day. It's $50 USD per person, which includes unlimited coffee tasting in the gift shop.
If you're not a coffee drinker, you can also do just a chocolate tour in La Fortuna instead. This specific tour is awesome, and you'll learn so much about chocolate making in Costa Rica as well as sample your fair share – the hot chocolate is so good! The tour is also much cheaper at $30 USD.
25. Listen to live music at the Lava Lounge
Right in the heart of La Fortuna is a great spot for live music. While you're here, go to the Lava Lounge on a Thursday, Friday, Saturday, or Sunday night. It has a relaxed, reggae vibe, and the live music here is the main draw.
You can also grab something to eat or drink with a variety of pizza, pasta, wraps and salad or cocktails, and craft beer, all served in an open-air dining atmosphere. Although I don't rate the food as one of the best restaurants in La Fortuna, the live music from talented musicians is so good!
I often spent my weekends here while I lived in La Fortuna! It definitely has a fun party vibe, especially on the weekends! Lava Lounge is open every day from 7 am to 10 pm.
26. Learn to cook on a cooking class
The food in Costa Rica is amazing! There are a few restaurants I wish could have fit in my bag on the plane ride home! Luckily, the next best thing is learning how to cook the dishes for yourself.
This three-course meal cooking class is the best you can book in La Fortuna and pairs you with Chef Scott Alan and other local chefs for an entire afternoon. You'll learn how to make a variety of dishes, including appetizers, mains, and desserts. And the best part is that you'll get to eat what you create!
Sample dishes include ceviche, mint mojitos, grilled pork loin with tropical chutney, and coconut flan with a caramel sauce. The tour has it all!
The class is good for beginners as well as experienced cooks. You'll also enjoy a view of the Arenal Volcano from the kitchen, and toucans are always spotted here, so bring your camera.
Related Read: Love food? Check out the absolute BEST restaurants in La Fortuna.
27. Hike Chato Volcano
UPDATE: The last part of the hike up Chato Volcano, although accessible (the lodges will still let you access the trail for a fee), is now illegal to use. The area has been closed to try and preserve the landscape from extreme erosion. This means that hiking the trail all the way is no longer a responsible thing to do and should be avoided. You can still access the bottom part of the trail, as it is not part of the closure.
Hiking Arenal Volcano is illegal, so I will not be mentioning it in this blog. However, a completely legal hike you can enjoy in La Fortuna is up Chato Volcano. This moderate to difficult trail (depending on the weather) leads to the gorgeous emerald green crater lake of Chato Volcano, where you can enjoy a refreshing swim.
There are two ways to hike Chato Volcano, depending on how much adventure you're after. The most convenient way for those without a car is to hike from the Green Lagoon Lodge near the La Fortuna Waterfall entrance.
This trail is no longer maintained, and while I lived in La Fortuna, it was the "local's" way to the top. If you go this way, be aware the trail is completely washed out and hard to navigate (although I found it fun!) The lodge charges $10 USD, and that gets you access to the pool, showers, and to park your vehicle on their property.
The other way to the top is from Arenal Observatory Lodge. This is much further from La Fortuna, but the trail is a little better. However, the lodge charges $12 USD to enter the trail, and they only own half of it.
All up it takes around 3 to 4 hours to hike up and back down but be sure to leave before 10 am in case it takes you longer. You do not want to get stuck on this trail in the dark! Also, if it is raining, do not attempt the trail!
28. Safari float
See the rainforest from a new perspective as you float along the Peñas Blancas river in a large raft. This safari float tour is a great way to get up close to wildlife. Typically, you'll see monkeys, sloths, iguanas, crocodiles, and lots of birds!
Because it is a peaceful trip down the river, you can also bring a camera to grab some pictures.
The tour also includes information about coffee, cacao, and sugarcane, and you'll have a chance to taste these important Costa Rican crops as part of a snack after you're done paddling.
This tour lasts for around 3.5 hours and costs roughly $86 USD.
Related Read: Another popular place for a river safari is near Jaco at the Crocodile Bridge, where you will see, you guessed it, crocodiles!
29. Party at Selina Hostel
While you can stay at Selina, you don't have to be a guest to come party here! This hostel has a large outdoor area with a bar and live music on most weekends. You can order a cocktail or a beer, sit by the bonfire, or dance to live folkloric music under the stars.
What's great about hostels like this is you'll meet other travelers from around the world. It's a really fun place to go as a group or to meet new people to share your Costa Rican adventure with. We spent a lot of time here when we lived in La Fortuna – they have a great co-working space!
If you do decide to spend a night at Selina, book a teepee! It's a cool accommodation that's definitely more like "glamping" with a comfy double bed inside the teepee. The cost for one of the teepees is around $83 USD but if you don't want to spend any more than you need to you can also grab a dorm bed for just $21 USD.
30. Shop for souvenirs
Taking a little piece of La Fortuna home with you is a great way to remember your time here. There are all sorts of traditional souvenir shops full of trinkets and the usual postcards, magnets, and t-shirts. But if you're looking for something a bit more unique, La Fortuna has that too, with specialized craft shops and art galleries in town or just outside of it.
Stop by the well-known shop Souvenir Leo just outside La Fortuna. It's owned by Costa Rican couple Leo and Marisol, who sell handmade items, including wood carvings and jewelry using natural materials like coconut, wood, seeds, and gourds. There's also a beautiful garden full of orchids and a few parrots who live in the yard that you can take photos with.
Coco Loco Art Studio and Gallery is a fair-trade gallery with original artwork from local artists. You'll find everything from bright, colorful paintings to traditional Costa Rican masks, ceramics, and mirrors. The owner here, Ruth, also has her personal art studio here, so you may even see the creativity in action!
Where to Stay in La Fortuna, Costa Rica
Because La Fortuna is such a big tourist town, there are a ton of amazing places to stay. Here are our top recommendations for every budget.
Selina La Fortuna – $
One of the go-to budget options is Selina La Fortuna. I've stayed in Selina hostels around the world and this is a great one. It has a fun party atmosphere and a great co-working space where we spent a lot of time.
Selina Fortuna is located right in the middle of town, so you have easy access to great bars and restaurants nearby. Rates begin at $26 USD for a one-night stay in a dorm and $124 USD for a one-night stay in a private room. You can check availability and book on Booking.com, Hostelworld.com, Hotels.com, or Expedia.
Casa Luna Hotel & Spa – $$
Those with a medium budget should check out Casa Luna Hotel & Spa. I stayed here on my first visit to La Fortuna and loved it. The property is beautiful, with a large pool and four hot tubs surrounded by nature. You can also enjoy the tropical botanic garden at the hotel.
Casa Luna Hotel & Spa is near Arenal Volcano National Park, and all the rooms have views of the volcano and the rainforest. The hotel also includes a delicious breakfast in the $204 USD room rate. Casa Luna is located a short drive from town and you can reserve a room online on Booking.com here, Hotels.com here, or Expedia here.
The Springs Resort & Spa at Arenal – $$$
For arguably the most luxurious hotel in La Fortuna, check out The Springs Resort & Spa at Arenal. While the rooms don't come cheap ($600 USD+), it's a bucket list place to stay that's perfect for visiting Costa Rica on a honeymoon!
You'll find 28 hot spring pools here, making the resort the perfect place if you really want to relax. There's also a resort-style pool, a fitness center, a swim-up bar, hot tubs, and a spa and wellness center. You can reserve a room at The Springs Resort & Spa at Arenal on Booking.com, on Hotels.com, or on Expedia.
For more in-depth info on the areas to stay in La Fortuna, check out our blog on where to stay in La Fortuna!
Getting Around Costa Rica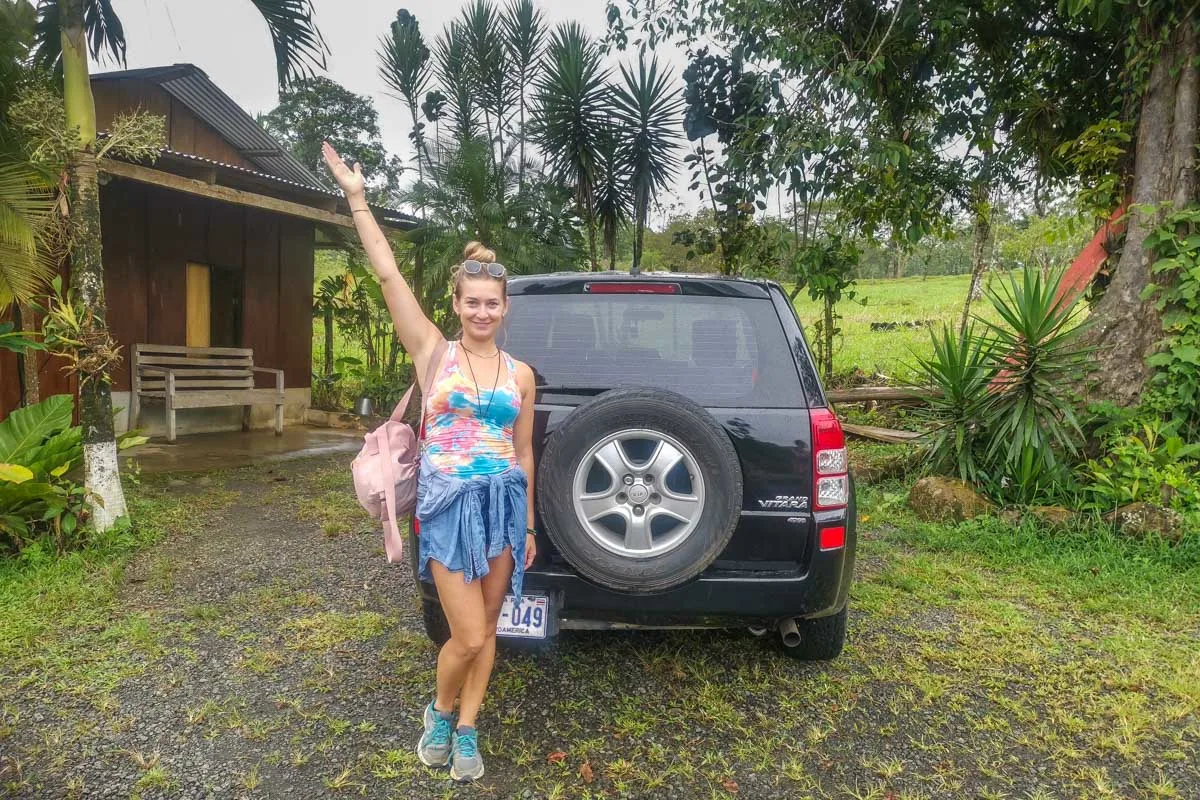 How you choose to get around Costa Rica is one of the biggest decisions you'll make when planning your holiday here! How you do it depends on your budget, travel style, and comfort level.
Renting a Car
Without a doubt, the number one way to explore Costa Rica is in a rental car. We book rental cars on the Discover Cars website as we have had good experiences with them in the past.
One of the things you need to watch for when renting a car in Costa Rica is the mandatory insurance that the government requires you to have. There are a lot of very cheap rentals that don't include this mandatory insurance (TPL) in the original booking price, but there are also ones that do. To avoid additional surprise charges when you pick up your rental car, be sure to rent a car that includes the mandatory insurance when you book.
Thankfully, on Discover Cars it's easy to tell apart the companies that include the mandatory insurance and those that don't. The trick is you can't pick any car on their website. In the picture below, you can see this rental car, with pick up in Jaco, includes the TPL. That means the mandatory insurance is included in the price. Any cover you get above that is extra.
Of course, I still suggest getting the full coverage offered by Discover Cars, which covers you even more.
You can browse cars on Discover Cars here.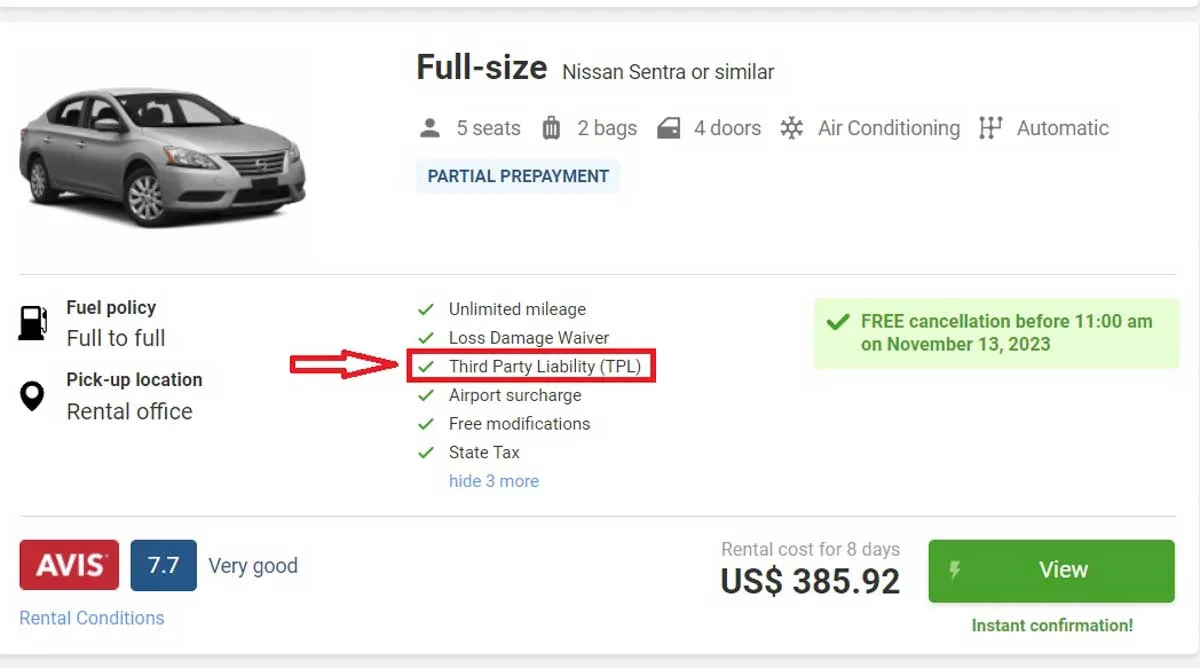 Adobe Rental Rent A Car is another rental company that we most often use in Costa Rica. We love them because Adobe has 15 offices around Costa Rica and delivers door-to-door around their offices at no extra cost. We also are pleased that all of their cars are new. In fact, they are never older than 2 years to the date. They are also the only company to include mandatory insurance and promise no hidden fees. You can get a free quote for a rental car from their website here.
Book Shuttles
If renting a car isn't in your budget, you don't feel comfortable driving in Costa Rica, or you just don't like driving, shuttles are the next best option. There are hundreds of shuttle routes available all over the country, and they are very affordable.
Shuttles in Costa Rica are specifically for tourists and often include pick up and drop off at your selected hotels and airports. The drivers also speak some English, and the vehicles have air conditioning. You'll also be guaranteed a seat when you book a shuttle (which isn't the case with the public bus system.)
To get the best price, use the website Bookaway. They compare all the offers and prices of shuttle companies in Costa Rica so you get the best price! Honestly, we have saved so much money using Bookaway!
You can search for shuttles online on Bookaway here.
Public Bus
Lastly, you can use the public bus system. On short journeys, such as from San Jose to La Fortuna or Uvita to Manuel Antonio, this system is great. However, the longer the journey the more hassle and time spent on a bus. It's undoubtedly best to save the public bus in Costa Rica for short and straightforward trips!
The public buses are definitely the cheapest way to get around Costa Rica, but they are not always very reliable and schedules often change without notice and delays are to be expected. The buses can also be very crowded and hot – so just be prepared!
It's also good to speak some Spanish if you plan on riding the public bus since most drivers and ticket booth operators don't speak English.
Invest in Travel Insurance
Paying out of pocket for trip interruptions or medical treatment will add to what might already be a stressful situation. We always travel with SafetyWing travel medical insurance.
The best part is that it costs only a fraction of what most insurance policies charge, which makes it perfect for digital nomads, long-term travelers (like us), and budget travelers. It only costs $45 USD per 4 weeks!
To start coverage, you must purchase it after leaving your home country. We usually purchase it as soon as we land at the airport.
Since using SafetyWing we've been reimbursed thousands of dollars when we've gotten sick. During the pandemic, they've even gone as far as to pay for our last-minute flights back to Canada from Colombia before the border closed!
You can click here to get a quote and read all the details!
Pura Vida!
La Fortuna certainly made its way into the top tourist destinations in Costa Rica for a reason. Although I love the beaches in Costa Rica, coming to explore the mountains and volcanoes is a highlight not to be missed.
Thanks so much for reading. I hope you enjoyed reading our guide to the best things to do in La Fortuna. If you did, then be sure to browse around and check out more of our in-depth guides such as:
Best restaurants in Manuel Antonio