With stunning beaches, water activities galore, and the most beautiful sunsets, Playa Flamingo is an incredible destination in Costa Rica.
Despite the name, you aren't likely going to come across any flamingos here! Although, the sand can take on a slight pink hue in certain lights which is where the beach got its name.
Playa Flamingo is located in Guanacaste on the country's famous gold coast. The mile-long stretch of brilliant, white sand combined with turquoise water and the crescent shape of the curved bay makes for spectacular views.
While a beach day is a must, there are so many other fun activities to do in and around Playa Flamingo. I'll take you through our Playa Flamingo guide and 16 of my favorite things to do while you're here.
About Playa Flamingo, Costa Rica
Playa Flamingo is along Costa Rica's northern coast in the Guanacaste province. The international airport in Liberia is the closest, located only an hour away. If you're flying into San Jose, it's about a five-hour drive to Playa Flamingo. If you're planning to rent a car, the drive here is relatively simple from both airports as you'll be on paved roads the entire time.
Once you're here, you'll notice the layout of the area is different from other towns in the country. Playa Flamingo is a well-known spot, but it's still private enough to feel like your own paradise. While there aren't any services located directly on the beach, you will find a variety of vendors selling everything from drinks and snacks to small souvenirs or rentals of umbrellas and beach chairs.
The beach here is about 1 mile long (1.6 km) and it's a beautiful swimming beach. The curved bay here gives some unique views of the coastline as well. The ocean water is typically crystal-clear and has soft waves. Of course, that can change, so always use caution while swimming.
There are also trees along the beach for shade, but make sure you're cautious here as there are some manchineel trees, which are a type of poisonous apple. Don't let the sap from any leaves, bark, or apples touch your skin as it can cause painful blisters and a rash.
There's development on either end of Playa Flamingo with a variety of stores, restaurants, and places to stay. The north side of the beach is typically busier as it's closer to hotels, beachfront resorts, and condos in the area. Walk over to the south side for a quieter experience.
The town itself is just a short walk from the beach and is mostly perched on the hillside looking south to Flamingo Beach or north to Potrero Beach. It's a small town, but there's everything needed to comfortably base yourself here for a few days.
There are lots of restaurants and shops including a grocery store and tons of things to do. Because it's small you can easily walk around the area or rent a golf cart in town to zip around on!
While you're here, Playa Flamingo is also close to other great beaches and beach towns. Rent a car to easily explore and plan a few day trips from here. Some of the nice beach towns around here include Potrero which has several nice beaches and is only five minutes away.
Take a 10-minute drive south to Brasilito which has a nice town square and beach area to explore. Playa Conchal is another nice spot with a developed beach and cove area at the edge of Brasilito.
For even more activities, plan a day trip to Tamarindo (see activity #6!). It's only 30 minutes away and this larger center has amazing surfing, shopping, and nightlife fun.
Now that we've covered the basics, here are some of the best things to do while visiting Playa Flamingo!
Things to do in Playa Flamingo, Guanacaste
1. Catamaran Cruise
Seeing a spectacular Costa Rican sunset from the water aboard a catamaran is an unforgettable way to end the day. This Sunset Catamaran Tour from Flamingo Beach sets off in the afternoon and then finishes early in the evening.
What's great about this catamaran is that it's equipped with fun activities like trampolines, a freshwater shower, kayaks, a stairway to the sea, and an open bar! You can relax in the tropical breeze with a cocktail (or two!) in hand.
Keep an eye out for marine life like sea turtles, manta rays, dolphins, and whales as you cruise along the water. Then, get the chance to jump off the boat for a snorkeling stop. All the gear is provided too, which is a nice bonus.
Truly, the sunsets here are spectacular and so amazing to view from the water where nothing is blocking your view. Watching the sunset here is one of my favorite things to do in Playa Flamingo!
2. Rent an ATV and explore
This is a fun way to cover a lot of ground and explore multiple beaches! This ATV tour takes you to beaches around Playa Flamingo along with river crossings, forest trails, mountain views, and tropical scenery.
I love combining a bit of adventure with sightseeing, and an off-road tour is a perfect way to do this. All the equipment needed is included and it's totally fine if you don't have previous ATV experience, you'll catch on quick!
Along the route, keep an eye out for some of the rare trees in the area including Guanacaste trees with huge branches as well as pochote and teak trees which are popular habitats for monkeys and birds.
The tour also includes stops at Pirates' Bay Beach and Puerto Viego Beach and there are upgrades available if you want to add on other Playa Flamingo activities like snorkeling or ziplining.
3. Rincón de la Vieja Volcano National Park
Visiting the Rincón de la Vieja Volcano National Park is a popular day trip fromPlaya Flamingo. It's just over two hours from Playa Flamingo and is definitely worth visiting.
This giant park is home to the largest and most active volcano in Guanacaste with the Rincón de la Vieja Volcano as well as the dormant Santa Maria Volcano. The Rincón de la Vieja Volcano is 600,000 years old and its last large eruption was back in 1998.
You can explore this park on your own from Tuesday- to Sunday (closed Mondays) for an entrance fee of $17 USD. If you're here for a hike, take the short 20-minute path to the Las Pailas (boiling mud pots) which are a neat part of the park where the mud is so hot, it bubbles up in small pools.
While exploring here on your own is an option, day tours are really popular. I think this Volcano, Waterfall, and Hot Springs Tour is a fantastic way to see all the best parts of the park and it includes transportation from Playa Flamingo.
The tour includes a guide who will take you hiking on some of the forest trails at the base of the active volcano. You'll also get the chance to swim in the pool at the bottom of the Oropendola Waterfall just outside the park and finish the day relaxing at the Rio Negro Hot Springs.
4. Surf Witch's Rock
If you consider yourself an experienced surfer, the ultimate place to surf near Playa Flamingo is Witch's Rock. This well-known reef break is arguably the best surf spot in Costa Rica, and it attracts a lot of famous faces.
Witch's Rock is located just north of Playa Flamingo, and you require a boat to get out there. The closest beach is called Naranjo Beach, and people often camp here so they can surf.
Of course, you can book tours from Playa Flamingo that will take you out there for the day. Unfortunately, Bailey and I are not confident enough to surf Witch's Rock, but if you do go be sure to let us know how it was in the comments below!
5. Relax at the beach
While in Playa Flamingo, Costa Rica don't forget to plan a few beach days! Flamingo Beach is located on the country's famous gold coast and it's everything you want a tropical beach to be – white sand, blue water, and the sound of waves.
The beach here is around a mile long (1.6 km) and sometimes you'll see the sand take on a slight pink color depending on the light. That's where the flamingo name comes from as you won't actually see any flamingos here.
Swimming is really popular here and the waves tend to be smaller, although that can vary depending on the time. The northern side of the beach is the busier side because it's closer to hotels and condos in the area, so walk to the south side if you're wanting a bit more peace and quiet.
You can rent chairs and umbrellas here to lounge with and enjoy the day – make sure to stay for the sunset!
6. Day trip to Tamarindo
Located only 30 minutes from Playa Flamingo, taking a drive to Tamarindo is well worth it. There's are so many activities to enjoy in and around Tamarindo, you'll easily fill a day!
Stop into Tamarindo Beach to try out surfing on the calm waves here. It's perfect for beginners or maybe those who've never tried surfing! There are surf lessons offered here every day with an average lesson costing about $50 USD for two hours.
While Tamarindo Beach can get crowded, I really like the nearby Playa Grande. It's separated from Tamarindo by the river, so grab a water taxi to take you across for about $1.60 USD. Once there, you'll have miles of open beach to walk around and a small village to explore. Keep an eye out for turtles too – we saw a baby turtle walking into the ocean when we were here!
Tamarindo is known for its nightlife! If you're here in the evening, head to one of the beach clubs to enjoy a few drinks and watch the sunset. We enjoyed the Ocho Beach Bar with its live DJs and happy hour specials. In the center of town, try out the popular Pacifico Bar which has a great vibe, especially if you want to meet people.
Shopping is also excellent in Tamarindo! There's a variety of great boutique shops to pick up unique clothing or a new bathing suit or explore a local market. On Saturdays from 7 am to 1 pm, the Tama Market has everything from fruits and vegetables to locally-made jewelry. The Tamarindo Moonlight Market is on Thursday nights from 6 pm to 9 pm and has delicious food along with live music and performances.
If you can, I recommend staying in Tamarindo a few nights, so you can really enjoy the vibrant city. There are lots of great restaurants in Tamarindo you'll want to try too!
7. Horseback riding
Riding a horse along a beautiful beach is really popular in Playa Flamingo, Costa Rica as well as across the country. It's a great way to enjoy the beach and view from a totally different perspective!
I recommend booking a tour for this and this particular Horseback Riding Jungle and Beach Tour is excellent as it also includes transportation there and back. Before you start, the team helps you pick out a horse that is suited for your level. They have horses good for beginners all the way to professional riders.
The two-hour tour includes rainforest trails where you might spot howler monkeys, iguanas, and parakeets and then a walk (or gallop!) along the beach. The experienced guides are great at pointing out wildlife and even taking a few photos of you to remember the trip.
Bring long pants, good shoes, and your camera!
8. Go sportfishing
Costa Rica has some of the best fishing spots in the world! Experiencing the thrill of reeling in a big catch is definitely one of the best Playa Flamingo activities. You'll need a tour for this and there are both half-day and full-day options.
The shorter option is this half-day sportfishing private charter tour to go inshore fishing around the islands off the coast of Playa Flamingo. You're likely to catch mahi-mahi, red snapper, yellowfin tuna, or jack carvelle depending on the season. You might even reel in a roosterfish – the crew calls it a "great fighting fish that will leave your arms tired but put a smile on your face." The cost is $480 for up to four people.
For a longer trip, this all-inclusive full-day charter takes you offshore fishing for $1,500 for a group of up to six. Offshore is where you're more likely to get some of the big game sportfish like sailfish, marlin, dorado, wahoo, and roosterfish. The captain and crew are all experienced fishermen and will help clean, bag, and ice whatever you catch so you can enjoy it later.
9. Go scuba diving
Scuba diving around the Las Catalinas Islands just off the coast of Playa Flamingo is an amazing way to see incredible wildlife in an underwater paradise. This area is known for its giant manta rays, white tip reef sharks, sea turtles, dolphins, and humpback whales.
If you're an experienced scuba diver with your certification, this specific tour is a great option that includes two 45-minute dives. You can be picked up from your hotel and taken to the Playa Flamingo Dive Centre where you'll get on a boat and head out.
If you're never been scuba diving before or are looking to get your certification, Costa Rica is a great place to do it. You can complete your PADI Open Water Diver Certification as part of this course that also includes the chance to scuba dive off the coast.
The course is completed over multiple days including dives in a pool and dives in the ocean. The great thing about this certification is that it's good for a lifetime, so you can scuba dive anywhere in the world!
10. Enjoy drinks and a meal at Coco Loco
Coco Loco restaurant in Playa Flamingo is beachfront …. with tables right on the beach! It's a fantastic place to watch a sunset or just enjoy a good meal.
This is a popular spot, but there's lots of seating inside and out. They feature local, fresh seafood and make amazing ceviche and fish tacos.
While you're here, you HAVE to try their signature drink named after the restaurant. The Coco Loco Cocktail is served frozen in a coconut and is made with coconut water, coconut cream, guaro, rum, and tequila.
Coco Loco is open every day from 11 am to 9 pm.
11. Go ziplining
Ziplining through the forests of Costa Rica is such a fun way to see the amazing scenery speeding by and get an adrenaline rush! I myself did a tour here and loved it!
The Guanacaste Forest Zipline tour takes place at a large farm that has been in the same family for generations. There's a zipline course of nine different cables suspended high up in the air at 390 feet! Some of the ziplines stretch as far as 1,800 feet long, so it makes for a great ride.
As you zip through the forest, you'll see a variety of birds, families of howler monkeys, iguanas, and horses and cattle from the farm.
There are three different times for the tour at 8 am, 10 am, and 1:30 pm with each tour taking about three hours. The morning tour is the best because it's much cooler and you're more likely to see wildlife.
12. SUP or kayak
Elevate your beach day at Playa Flamingo by renting an ocean kayak or SUP to enjoy the views and the gentle waves.
Flamingo Adventures offers rentals of these by the hour at $25 USD per hour for a kayak or $20 USD per hour for a stand-up paddleboard (SUP).
The guides at Flamingo Adventures are really helpful, so you can ask them for directions on how to kayak to secluded beaches like Playa Dantita or Playa Amor or one of the tiny islands nearby to explore. You can even rent snorkel equipment and make a day out of it!
13. Turtle nesting tour
If you get the chance to see turtles in Costa Rica, make sure you take it! This area of the world is so important as a nesting habitat for several species of turtles.
If you happen to be in Playa Flamingo during nesting season (more details on when below!), then you absolutely should book a turtle nesting tour. This night nesting tour with Flamingo Adventures will have an experienced guide take you to a secluded beach to watch turtles in the evening. You'll get a special light and be able to watch, but not disturb the turtles as they lay their eggs.
There are two different turtle nesting seasons in the Guanacaste area. The first is for Green and Black Pacific turtles and takes place from September to December. The second season is for Olive Ridley turtles and runs from September to April.
The tour is $59 USD and includes transportation.
Related Read: Watching nesting turtles is also one of the most popular things to do in Nosara, Costa Rica.
14. Watch the sunset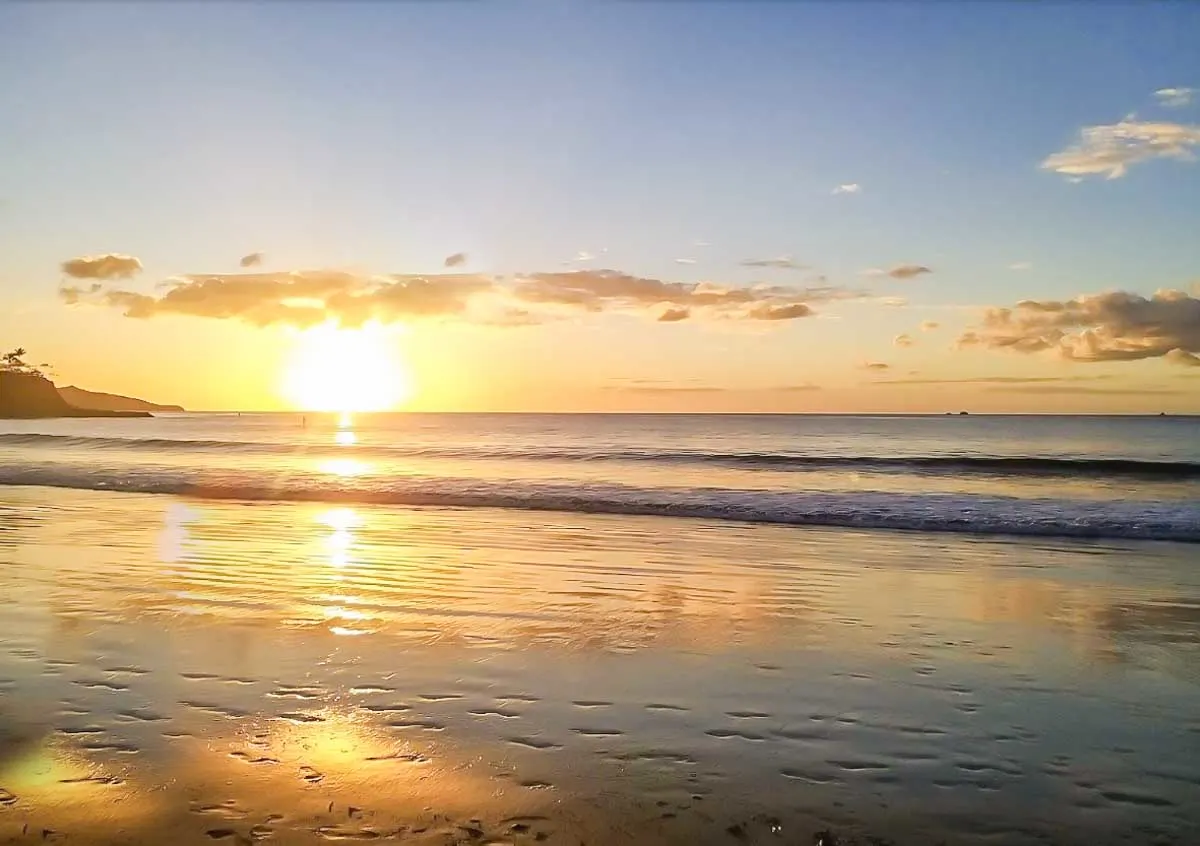 It sounds simple, but one of my absolute favorite things to do in Playa Flamingo is watching the sunset.
Whether you are watching from the beach at Playa Flamingo, on a cruise, while kayaking, from horseback while riding on the beach, at a dinner table at Coco Loco, or from one of the beach bars in Tamarindo, sunsets are gorgeous here. I never get tired of them!
It's worth planning a few of your evening activities to coincide with sunset to make for some beautiful pictures and experiences. Or, just take some time to get away from it all and sit on the beach watching the waves as the sun sinks in the sky. It may be one of your favorite activities too and it's completely free.
15. Whitewater rafting
One thing you have to do while in Costa Rica, is go on a thrilling ride navigating the rapids on the Tenorio River! It's one of my favorite whitewater rafting rivers in Costa Rica, with lots of fun rapids and drops.
This full-day whitewater rafting tour will take you along 7.5 miles (12 kilometers) of the river navigating Class III and IV rapids.
The tour starts with local pick-up from your hotel and then a drive of about two hours to the launch spot on the Tenorio River. While on the raft, you'll pass through 22 different whitewater rapid sections! During the smoother parts of the journey, you'll be able to spot tropical birds and wildlife in the trees including monkeys and iguanas.
The tour finishes with a 12-foot waterfall drop called "Cascabel Falls" – a great way to end the experience! Once you're out of the water (and have worked up an appetite!), enjoy a Costa Rica-style lunch called a Casado with rice, beans, salad, and plantains.
16. Go golfing
If golfing is your thing, you'll want to book a stay at The Westin Reserva Conchal to access their exclusive golf course. The golf course, designed by the legendary Robert Trent Jones, is only open to resort guests.
This 18-hole golf course is in the middle of a tropical paradise between beaches and tropical gardens. Tee off among lakes and ravines and perfectly manicured greens.
They also offer night golfing for a Glow Party on the greens! There are golfballs that glow in the dark, putting green laser games, driving range glow golf, and cocktails.
Where to Stay in Playa Flamingo, Costa Rica
Playa Flamingo is home to plenty of great places to stay. There's a good mix of small guest houses, single apartments, and even luxury all-inclusive resorts.
My first recommendation is for the budget travelers among us. Unfortunately, there aren't many options, but thankfully Massai Apartments saves the day (and your budget.) This beautiful hotel has fantastic reviews, a pool, and its apartments come with full kitchens! Although the hotel is a short walk to the beach, you're also not far from Playa Potrero.
Those that can spend a little more will be able to enjoy places closer to the ocean. Most of the options in this budget range are individual apartments. These are great, and some of the best are Oceanica 827, Sunset Heights 402, Flamingo Villa #12, Oceanica 804, and more. Browse them all on Booking.com, but these provide a luxurious and private place to stay for the price.
If you're a luxury traveler, then a beachside resort is probably going to be the best choice. Margaritaville Beach Resort Playa Flamingo is a top choice, and it comes with an all-inclusive option. The resort is as beachfront as you can get, and there's also a huge pool, fitness center, tennis court, movie theater, and restaurant.
Getting Around Costa Rica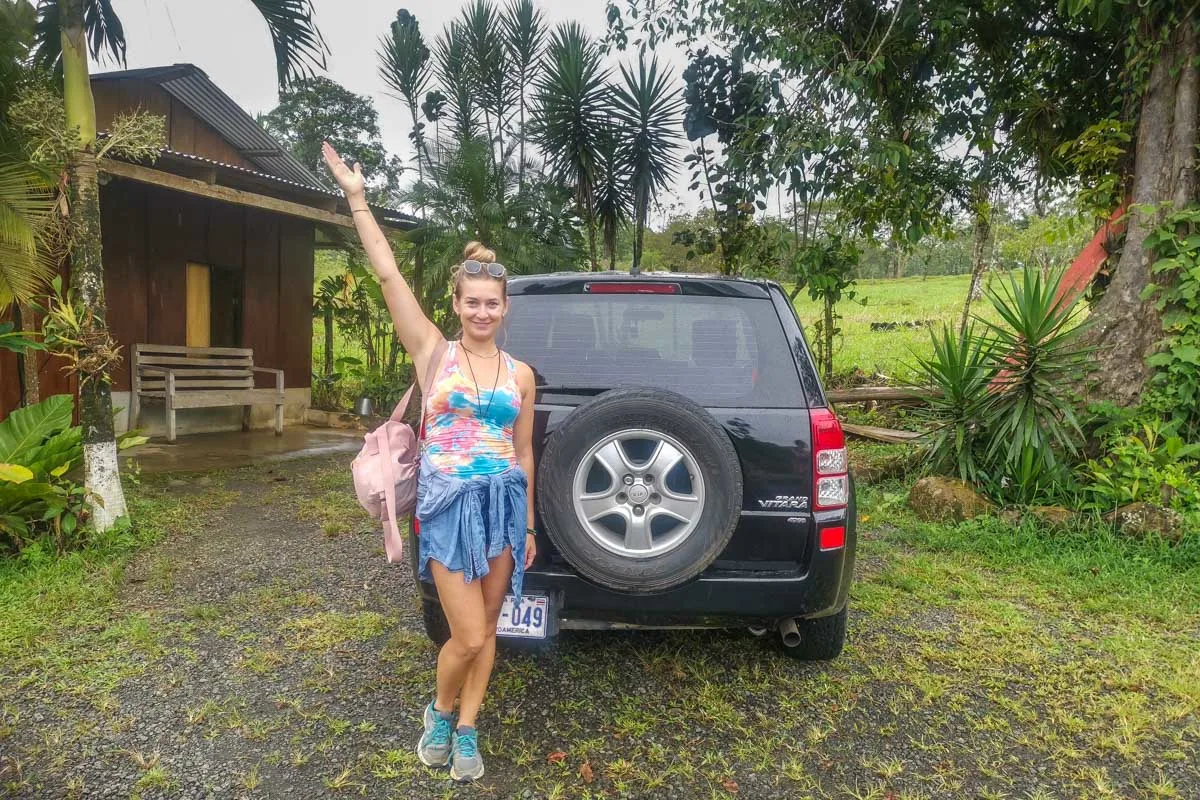 How you choose to get around Costa Rica is one of the biggest decisions you'll make when planning your holiday here! How you do it depends on your budget, travel style, and comfort level.
Renting a Car
Without a doubt, the number one way to explore Costa Rica is in a rental car. We book rental cars on the Discover Cars website as we have had good experiences with them in the past.
One of the things you need to watch for when renting a car in Costa Rica is the mandatory insurance that the government requires you to have. There are a lot of very cheap rentals that don't include this mandatory insurance (TPL) in the original booking price, but there are also ones that do. To avoid additional surprise charges when you pick up your rental car, be sure to rent a car that includes the mandatory insurance when you book.
Thankfully, on Discover Cars it's easy to tell apart the companies that include the mandatory insurance and those that don't. The trick is you can't pick any car on their website. In the picture below, you can see this rental car, with pick up in Jaco, includes the TPL. That means the mandatory insurance is included in the price. Any cover you get above that is extra.
Of course, I still suggest getting the full coverage offered by Discover Cars, which covers you even more.
You can browse cars on Discover Cars here.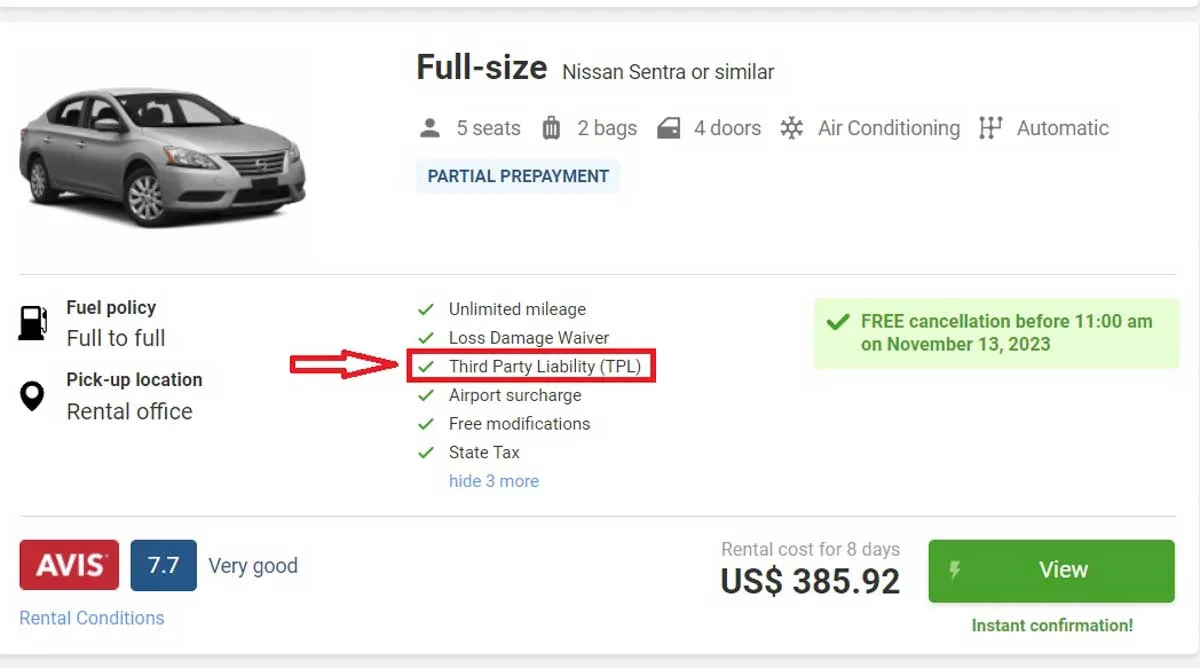 Book Shuttles
If renting a car isn't in your budget, you don't feel comfortable driving in Costa Rica, or you just don't like driving, shuttles are the next best option. There are hundreds of shuttle routes available all over the country, and they are very affordable.
Shuttles are specifically for tourists and often include pick up and drop off at your selected hotels and airports. The drivers also speak some English, and the vehicles have air conditioning. You'll also be guaranteed a seat when you book a shuttle (which isn't the case with the public bus system.)
To get the best price, use the website Bookaway. They compare all the offers and prices of shuttle companies in Costa Rica so you get the best price! Honestly, we have saved so much money using Bookaway!
You can search for shuttles online on Bookaway here.
Public Bus
Lastly, you can use the public bus system. On short journeys, such as from San Jose to La Fortuna or Uvita to Manuel Antonio, this system is great. However, the longer the journey the more hassle and time spent on a bus. It's undoubtedly best to save the public bus in Costa Rica for short and straightforward trips!
The public buses are definitely the cheapest way to get around Costa Rica, but they are not always very reliable and schedules often change without notice and delays are to be expected. The buses can also be very crowded and hot – so just be prepared!
It's also good to speak some Spanish if you plan on riding the public bus since most drivers and ticket booth operators don't speak English.
Invest in Travel Insurance
Paying out of pocket for trip interruptions or medical treatment will add to what might already be a stressful situation. Not to worry, SafetyWing is here to help!
This affordable travel and medical insurance is perfect for digital nomads, long-term travelers, and remote workers. The best part is that it only costs $45 USD per 4 weeks.
To start coverage you must purchase it after leaving your home country. We usually purchase it as soon as we land at the airport.
Since using SafetyWing we've been reimbursed thousands of dollars when we've gotten sick. During the pandemic, they've even gone as far as to pay for our last-minute flights back to Canada before the border closed!
Pura Vida!
The Playa Flamingo area is so beautiful not only for the stunning beach but also for the variety of activities you can do here. I recommend staying here for at least 3-4 days if possible or even a bit longer to enjoy all this area has to offer. Enjoy your trip!
Hopefully, you found this Playa Flamingo Guide helpful! If you did, then check out these related blogs:
20 Best Things to do in Monteverde
Things to do in Manuel Antonio