This blog may contain affiliate links. Read our disclosure policy for more info.
Imagine a big village in the city, with vegetation – plenty of mango trees everywhere; vibrant markets, an animal sanctuary, and chic malls all in one place. That is Alajuela!
Alajuela is the third-largest city in Costa Rica and home to the busiest airport in the country, the Juan Santamaría International airport, aka San Jose Airport. As part of the Great Metropolitan Area, Alajuela is a popular place to stay when first arriving in Costa Rica. It's close to the airport and also has many of the best attractions near San Jose. If you do want to visit San Jose city center though, you're only a short Uber away.
The region around Alajuela boasts fertile lands created by the surrounding volcanoes. This means fresh food is in abundance, and for coffee lovers, you get to see the most extensive coffee plantations in Costa Rica.
The best part is, there are tons of awesome things to do in Alajuela. From visiting volcanoes to wandering one of the best wildlife rescue centers in the country, don't miss the chance to explore the area.
In this blog, I'll share the best things to do in Alajuela as well as info on how to enjoy them! I've also included some other important information about visiting Alajuela, so you have everything you need right here in this guide.
Don't have time to read the full article? Check out our list of our absolute favorite things to do in Alajuela:
Spend the afternoon people-watching in General Tomas Guardia Park.
Discover local coffee, leather items, beautiful crockery, and so much more at the Central Market.
Visit the Poas Volcano Crater on this guided tour.
See curassows, spider monkeys, iguanas, scarlet macaws, and more with admission to the Rescate Wildlife Rescue Center.
Hike the Mantra Trail at Hacienda y Beneficio La Chimba to see the scenery from the "Mantra Hand," a giant wooden hand viewpoint.
Things to do in Alajuela, Costa Rica
1. Visit General Tomas Guardia Park
General Tomas Guardia Park is the central park and plaza in Alajuela. It's a gorgeous area to wander around and get a feel for the city and its people. The Plaza is small, with a few restaurants and shopping malls surrounding it.
What I loved most about this central park was the fresh air flow from its open space design that takes you away from the concrete jungle of the city. You can sit on stone benches encircled by the tropical palm trees while you watch the people go about their business.
There's a small fountain where you can relax as you relish Alajuela activities such as watching the local bands play and other outdoor shows. Enjoy fresh coconut drinks sold by the local vendors – they are delicious. You can get fresh-cut young coconut as an energizing drink as you enjoy the numerous Alajuela attractions around the Plaza.
The enormous Cathedral of Alajuela sits majestically east of the Parque Central in Alajuela, with sprawling gardens and striking red doors. Established in 1863, the church is legendary for its architectural style and religious influence. Inside the church, you will easily be drawn to the colorful pulpit featuring stunning ornaments and exceptional design.
2. Shop at the Central Market (Mercado Municipal de Alajuela)
The Mercado Municipal de Alajuela was founded in 1782. Here you'll find the famous central market consisting of hundreds of small-scale traders, local businesses, and vegetable vendors all centralized in one place.
There are plenty of exciting activities to do at the Mercado de Alajuela. You can buy just about anything from the central market; exotic spices and condiments, fresh vegetables, meats, local coffee, leather items including shoes, belts, wallets, saddles, aquarium fish, clothing, beautiful crockery, hammocks, jewelry, and so much more.
Enjoy Alajuela's unique cuisines at the cozy restaurants with steaming food served in big pots – it is delicious! Most of the food is made from ancient recipes with the chefs' creativity. Try the 'Casados' (a mixture of rice, plantains, meat, beans, salad, cheese, and tortillas), and the tasty sweet drink 'agua dulce.'
The Mercado Municipal de Alajuela is a unique look into a classic Latin American market I myself have seen all over South and Central America. If you haven't seen one before, don't miss this chance!
The market is located only one block from General Tomas Guardia Park and is open Monday to Saturday from 6 am to 6 pm.
Related Read: Find out about the absolute best restaurants in San Jose, Costa Rica.
3. Visit the Museo Histórico Cultural Juan Santamaría
Named after the famous hero Juan Santamaría, the Museo Histórico Cultural Juan Santamaría is located in General Tomas Guardia Park, adjacent to the Alajuela Cathedral. It is an important historic architecture in Alajuela and easily one of the best things to do in the area.
The museum has a rich history about the country, most notably the Riva battle of 1856 in Nicaragua. The museum building – a battle fortress-turned museum dates back to 1874 and was declared a "historic-architectonic interest building."
The museum hosts artworks from local artists, illustrations of fierce battles including the renowned soldier that died defending his country in battle, Juan Santamaría, army uniforms and old weaponry. There's a fantastic kiddies corner with several mind games like puzzles and history-based mind games.
The museum is approximately 3.21 kilometers (2 miles) from the Juan Santamaria International Airport and opens from Tuesday to Sunday from 9 am to 5:30 pm. Admission to the museum is free, and so are the guided tours.
4. Go to Poas Volcano
The Poas Volcano crater is the world's largest open volcano, dropping at a whopping thousand feet below (300 meters) and stretched over a mile (1.6 km) in diameter. It is a gigantic open pit only missing fire! Adventure buffs will love the spectacular view from the rim of the crater.
To get to Poas Volcano National Park, you can take a public bus that leaves Alajuela City Centre directly to the Park's entrance. It takes one hour to get to the Park. If you prefer to drive or take a chauffeured taxi/Uber, take the 712 Route north towards the city's exit and follow the signs. Drive carefully since the roads are curvy.
To access the Park, you NEED to buy your tickets online in advance, pick your visiting date and precise time for your entry. Once you arrive at the Park, ensure you have your ID and entry permits at hand. If you don't, you will be turned away and need to purchase your tickets from a nearby shop at a premium (security at Poas will tell you where.)
Once at the volcano, you'll watch a video once your time slot is ready (expect delays) and then enjoy a short 500-meter (1,640 feet) hiking trail that leads out to a viewpoint on the edge of the crater. You get a total of 20 to 30 minutes at the crater before you are ordered to return back to the visitor center.
If you can, get to the park as early as possible. It's well known that the best chance to enjoy a clear view is in the early morning – Poas is notoriously cloudy (see above.) Carry plenty of drinking water since the Park does not provide potable water. While the weather may appear warm in San Jose, the temperatures at the volcano are much lower, so bring a jacket to help keep you warm.
If you don't have a car or would prefer a guide you can join this guided Poas Volcano tour. The tour includes a visit to Poas Volcano Crater and La Paz Waterfall Gardens which begins with a romantic breakfast at the Doka Coffee Estate followed by a tour of the vast, magnificent coffee estate.
You then get a complete view of the staggering Poas Volcano Crater, followed by a walking trail to the La Paz Waterfall Gardens. Enjoy the striking scenery of colorful butterflies, a hummingbird garden, and so much more.
5. Visit Rescate Wildlife Center
The Rescate Wildlife Rescue Center was established in the late 1980s; it is home to thousands of endangered, injured, and stray animals including curassows, spider monkeys, iguanas, scarlet macaws, and many more.
In my opinion, it's the best rescue center in the area with the widest selection of animals and the largest rehabilitation project. In fact, only 2% of the animals at Rescate will live in the center for life.
It takes around 2 to 3 hours to walk the entire grounds at a slow pace enjoying the animals and taking photos. Be sure to keep your eyes on the ground as a few of the lizards and birds get to roam free! Honestly, it's such a cool place to visit near Alajuela.
Rescate is located on the outskirts of San Jose not far from Alajuela. You can take an Uber or a taxi to get to the Park from Alajuela city which won't cost you more than $10 USD. The rescue center opens every day from 8:45 am – 4:45 pm. You can purchase admission tickets for around $30 USD.
Book online if you prefer an exclusive private tour of the Rescate Wildlife Rescue Center. The tour van picks you up at your hotel residence at 8:00 am and brings you back in the evening.
Why We Book Tours with Viator
Viator is a trusted online booking system for tours around the world! We almost always book our tours using Viator for a couple of reasons:
Free cancellation on most tours – Most of the tours on Viator allow you to cancel and get a full refund up to 24 hours in advance. This is handy in case plans change, or if booking an outdoor activity, the weather forecast is looking grim.
Reserve now and pay later – You can secure your spot on some of the most popular tours well in advance and not pay until closer to the day of the tour.
Pay in your chosen currency – Avoid costly international transaction fees by choosing to pay in your home currency.
Peace of mind – When booking with tour operators you find in person on the street or in small booking offices, you are often promised one thing and given another. This online platform holds tour operators accountable with a written description of inclusions as well as the opportunity for customers to leave reviews.
Check out the Viator website here!
6. Go to Mariposario La Casa de la Morpho Azul Butterfly Garden
Mariposario La Casa de la Morpho Azul Butterfly Garden is enchanting! It is a beautiful, magical farm that has a variety of 30 species of butterflies. The tour guide, and co-owner of the family-owned farm, Jocelyn, is equally impressive and knowledgeable in her line of work.
She can pick a random butterfly and explain its anatomy, diet, reproduction, and lifespan to you in great detail. It's incredible how well the butterflies blend in with nature. A mixture of delicate beauty camouflaged with the surrounding foliage, simply breathtaking!
To get to the farm situated in Cerro Plano in Santa Elena, you can take an Uber from your hotel, which is about 9 miles (15 kilometers) from central Alajuela. When you get to the Butterfly Farm, the entrance fee is about $6.80 USD, plus there's a 7-minute introductory video before you enter the garden, then go for the tour and finally the lab where they do their research work.
The farm is small, so your tour should take about an hour, after which the kind hosts serve you free coffee, tea, or water. The tour offers a personalized experience with a great family atmosphere. I swear you will leave the place happy, with butterflies in your stomach!
7. Go on a coffee tour at Hacienda Alsacia – Starbucks Coffee Farm
Hacienda Alsacia is a Starbucks farmer support center and a critical coffee-producing establishment to the franchise. Starbucks Coffee farm is an important project to the people of Costa Rica for the numerous benefits it has projected to the local farmers.
The vast 240-hectare coffee farm is the research and development agronomy headquarters, currently owned by the global franchise Starbucks. It is open to the public as part of its sustainable coffee best practice to educate the local farmers and promote tourism in the region.
The goal of the coffee farm is to assist the local farmers in improving their crop quality, promoting high-quality sustainable coffee, and improving the overall profitability for everyone.
The tour is more of an informative one where you learn about the coffee crop quality, soil management, how the berries are plucked, and the coffee processing factory.
To get to Hacienda Alsacia in San Luis, you can take an Uber there from Alajuela or drive yourself. Hacienda Alsacia is located off the slopes of the Poas volcano and is about 20 minutes from Alajuela.
You can buy your entry tickets in advance, which cost around $30 USD for adults (cheaper prices for children and students) inclusive of private parking, a 90-minute guided tour, coffee tastings, and a souvenir bandana. The Estate is open to the public from 8 am to 4 pm daily. And the café and gift shop are open from 8 am to 6 pm.
8. Hike the Mantra Trail within Hacienda y Beneficio La Chimba
Costa Rica is naturally enclosed by stunning mountains, forming the Central Valley, with Alajuela, San José, Heredia, and Cartago Provinces. The Provinces are close, making movement in the Central Valley easy and convenient.
One of my favorite hikes in the Alajuela area is at Hacienda La Chimba called the Mantra Trail. This fun 4.5-kilometer/2.8 miles (each way) trail leads to a viewpoint over the coffee plantations with a giant hand made of wood. The trail is gorgeous and the views and serenity are beautiful to experience!
Along the trail, there's a giant Buddha statue in the heart of the coffee plantation, and you can stop here for photos as you catch your breath. Twenty minutes further in, you'll see the main attraction of the Mantra Trail Hike – the "Mantra Hand," a giant wooden hand viewpoint that stretches out high up in the air, giving you a stunning view of the mountainous topography. All up, it takes around 2 hours to enjoy this activity in Alajuela!
You can book your tickets at the entrance gate of La Chimba's Mantra Hiking Trail. Tickets cost $13 USD per person and the trail opens at 5:30 am (the best time to go!)
Remember to put on your hiking boots or sports shoes to give you a bit of balance with your strides and avoid falling on the slippery places. Once you check in with your tickets, the tour guide will give you the dos and don'ts before you begin your self-guided hike.
To get to Hacienda La Chimba, which is 25 minutes away from Alajuela by car, use Uber for convenience since the public bus will drop you off at La Chimba road where you walk for about 10 minutes to get to the hiking trail.
9. Ziplining at Hacienda y Beneficio La Chimba
While on the topic of Hacienda La Chimba – a coffee plantation and adventure center near Alajuela, I should mention their awesome zip lining experience! Because let's face it, everyone goes ziplining in Costa Rica – it's one of the most popular activities!
On the canopy tour at Hacienda La Chimba, you'll zip line through the canopies above the coffee plantation surrounded by nature. Although the ziplines aren't the largest in Costa Rica, for just $62 USD it's a great add-on to your hike and perfect for kids.
The tour guides, Mauricio and Ricardo, were super hilarious; you won't get bored because they make you feel easy while carefully helping you strap on for the adventure of a lifetime. You get to enjoy the spectacular scenery of Costa Rica on a robust and steady-moving zip line.
To experience the zip lining at Hacienda y Beneficio La Chimba, book your tickets on weekends and take an Uber as it is convenient and faster. Wear comfortable clothing and sports/hiking shoes for safety.
10. Head into downtown San José
Experience culture, street art, museums, street food and drinks, and a wealth of history splashed all over San José city downtown. It's such a vibrant place to be as you enjoy every bit of the locals' daily life, politics, and the beautiful architecture of the city – especially the churches.
Those who wish to learn should book this city tour that helps you find your bearings as you get to understand what's where, the market, chic restaurants, beautiful parks, and the fantastic local street drinks to cool you off as you walk along. It includes lunch, entrance to the national theater, national museum, and an air-conditioned ride.
If you're traveling Costa Rica on a budget, I highly recommend the San Jose Free Walking Tour since they're inexpensive (you pay a tip at the end of the tour to appreciate the guides) and informative. This city tour begins at 9 am each morning with a crowd pick-up point from the Holiday Inn Hotel.
The guide is patient and explains every necessary detail passionately and with pride. You get to visit museums, local churches, and a few street art vendors as you learn about past and present political issues. It is an informative tour, and I got to know so much about San José.
One of my favorite things to do in San Jose is to visit the National Theater of Costa Rica. You can do tours in the theater for only 3,000 colones ($4.70 USD.) Learn all about its construction and admire the beauty of the building with tours in English and Spanish offered almost every hour!
11. Eat at La Calle
La Calle is located at Plaza El Patio in Alajuela. It's the perfect place to enjoy an open-air setting and eat and hang out on a warm summer evening as you catch the vibe of Costa Ricans celebrating life on an ordinary day.
La Calle offers mouthwatering nachos, tacos, and burgers, escorted with a great choice of beers and excellent Sangria. The staff at the bar offer friendly personalized service and eating here is easily one of the best things to do in Alajuela.
The overall backdrop stands out as it resembles some of the many bars and hangouts in the States. However, it's not overcrowded, making it a great place to linger on past dinner time as they are open It is open daily from 11:30 am until 10 pm. The staff also helps out if you need to catch an Uber back to your place.
12. Day trip to La Fortuna/ Arenal
La Fortuna and Arenal Volcano are two of my favorite areas in Costa Rica. In fact, I actually lived in La Fortuna and enjoyed the lush volcanic landscape so much – it's just beautiful! Visiting is a must, but not everybody has time.
Luckily, there are full-day tours you can do from San Jose and request a pickup in Alajuela. On this specific full-day tour, the tour van picks you up from your local hotel in Alajuela before 7 am and takes you on the adventure of a lifetime.
Highlights on the tour include:
1. Enjoy a scenic drive through the mountains with striking volcanoes and a coffee plantation where you stop over at La Casa del Café for incredible coffee and snacks.
2. Experience the heavenly La Paz Waterfall and stop to view the pristine rainforest surrounding the waterfall
3. Soak in the beauty of the enchanting San Fernando Waterfall look-out point as you take photos of the striking natural wonder filled with exotic birds.
4. The Iguanas Center, where you get up close with the animals at the sanctuary from a secured viewpoint bridge.
5. The Adventure Arenal Park has some of the most impressive views of volcanoes in Costa Rica as well as rainforests. You get to explore the Jungles on a zip lining adventure over the Arenal River and entertainment from the locals on the rich history of the landscape.
6. Experience Paradise Hot Springs and Gardens, inclusive of beautiful, enticing Jacuzzis, hot springs, gushing waterfalls surrounded by a paradise of tropical gardens.
Of course, I highly recommend spending a few nights in La Fortuna if you can. It's is an adventure-lovers paradise with tons of awesome things to see and do in La Fortuna. A favorite of mine is the variety of La Fortuna hot springs that have you relaxing in natural hot springs complete with minerals that are good for the skin!
If you're planning on spending a few days in La Fortuna, check out our guide about where to stay in La Fortuna to knwo the best areas and hotels!
13. The Ark Herb Farm (Botanical Garden)
The Ark Herb Farm features a memorable tour with the host, a botanical specialist, who takes you through the numerous medicinal plants, beautiful gardens, and new nurseries with plants for sale. It's one of the best Alajuela attractions for plant lovers and botanists.
This tour offers an educational experience as you learn about the plants' uses ranging from oils, culinary, medicinal, colorants, and many more. The Ark Herb Farm is a perfect environment to walk through the gardens with a paid guided tour or without a guide. Guided tours cost $45 USD and last for 2 hours. Entry without a tour is $10 USD for adults.
The Botanical Garden is about 10 miles (16 kilometers) from town. It takes about 20 minutes to reach the property from Alajuela.
Where to Stay in Alajuela, Costa Rica
Staying in Alajuela is about avoiding the craziness of San Jose. For that reason, staying in the central area of Alajuela is not necessary. Instead, most of the best hotels sit on the outskirts of the city in gorgeous locations. Lots of the best places to stay near SJO airport are also conveniently close to Alajuela.
Hotel Pacande – $
If you're on a budget, Hotel Pacande is one of the cheapest hotels with fantastic reviews. The rooms are simple, but nice. You also get the option of deciding whether you want to book a room with a private or shared bathroom depending on how much you want to spend.
Hotel Pacande is popular. In fact, on Hostelworld the hotel has a 9.4 rating. That's pretty good for a hotel that costs around $36 USD per night. You can book Hotel Pacande on Booking.com here or on Hostelworld here !
Guácima Escondida Hotel Boutique – $$
On my last visit, I stayed at a gorgeous hotel in the La Guácima neighborhood at a hotel called Guácima Escondida Hotel Boutique. It was a beautiful hotel and we got around to all the attractions listed above with cheap Uber rides. The property is gorgeous and the outdoor showers were a nice touch!
The rooms all have free wifi as well. Room rates begin at $70 USD per night. You can check availability and book online here on Booking.com, here on Hotels.com, or here on Expedia.
Xandari Resort & Spa – $$$
If you'd prefer a property more luxurious for a really memorable stay consider the Xandari Resort & Spa. This 4-star resort has three pools, a restaurant and bar, as well as gorgeous villas with spectacular views.
It's certainly a top choice for luxury travelers. The only drawback is its location is a little far from the airport. Room rates begin at $196 USD for a one-night stay. You can check availability and book Xandari Resort & Spa online here on Booking.com, here on Hotels.com, or here on Expedia.
Getting Around Costa Rica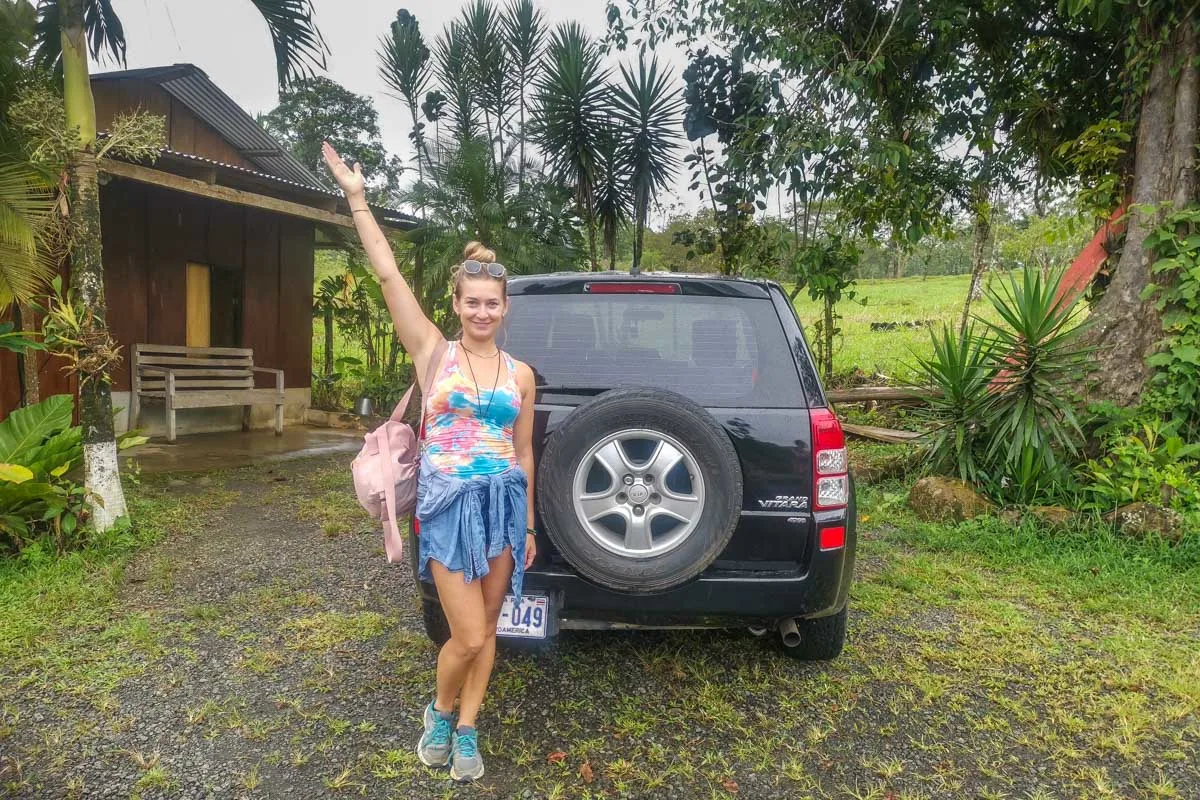 How you choose to get around Costa Rica is one of the biggest decisions you'll make when planning your holiday here! How you do it depends on your budget, travel style, and comfort level.
Renting a Car
Without a doubt, the number one way to explore Costa Rica is in a rental car. We book rental cars on the Discover Cars website as we have had good experiences with them in the past.
One of the things you need to watch for when renting a car in Costa Rica is the mandatory insurance that the government requires you to have. There are a lot of very cheap rentals that don't include this mandatory insurance (TPL) in the original booking price, but there are also ones that do. To avoid additional surprise charges when you pick up your rental car, be sure to rent a car that includes the mandatory insurance when you book.
Thankfully, on Discover Cars it's easy to tell apart the companies that include the mandatory insurance and those that don't. The trick is you can't pick any car on their website. In the picture below, you can see this rental car, with pick up in Jaco, includes the TPL. That means the mandatory insurance is included in the price. Any cover you get above that is extra.
Of course, I still suggest getting the full coverage offered by Discover Cars, which covers you even more.
You can browse cars on Discover Cars here.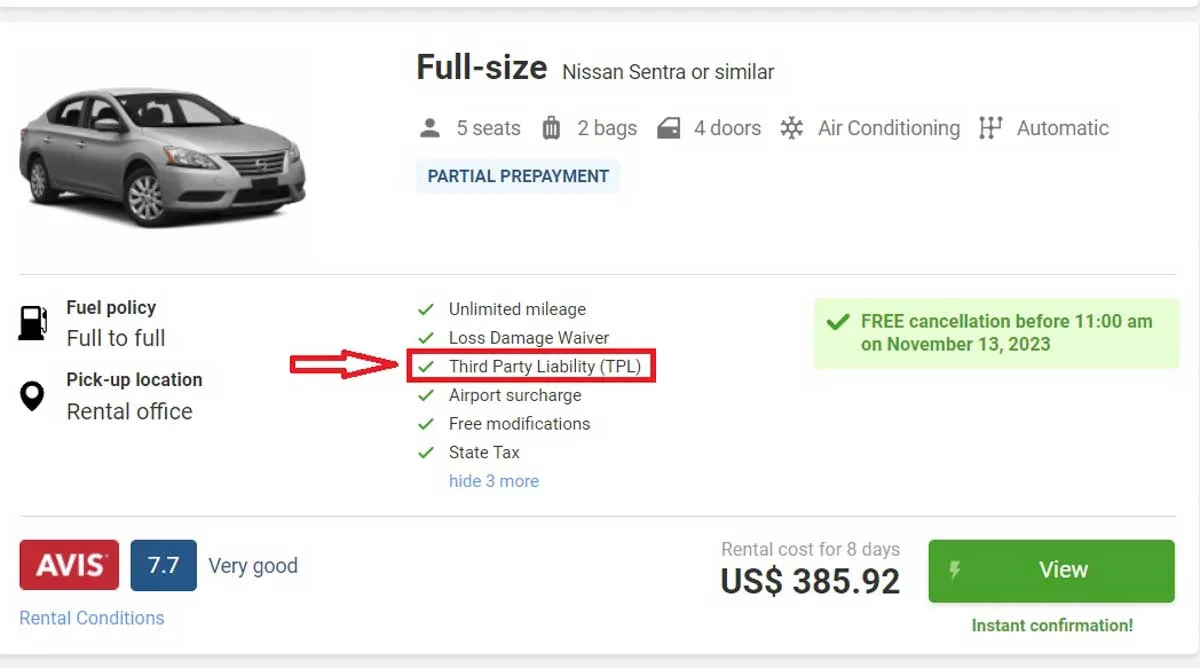 Adobe Rental Rent A Car is another rental company that we most often use in Costa Rica. We love them because Adobe has 15 offices around Costa Rica and delivers door-to-door around their offices at no extra cost. We also are pleased that all of their cars are new. In fact, they are never older than 2 years to the date. They are also the only company to include mandatory insurance and promise no hidden fees. You can get a free quote for a rental car from their website here.
Book Shuttles
If renting a car isn't in your budget, you don't feel comfortable driving in Costa Rica, or you just don't like driving, shuttles are the next best option. There are hundreds of shuttle routes available all over the country, and they are very affordable.
Shuttles in Costa Rica are specifically for tourists and often include pick up and drop off at your selected hotels and airports. The drivers also speak some English, and the vehicles have air conditioning. You'll also be guaranteed a seat when you book a shuttle (which isn't the case with the public bus system.)
To get the best price, use the website Bookaway. They compare all the offers and prices of shuttle companies in Costa Rica so you get the best price! Honestly, we have saved so much money using Bookaway!
You can search for shuttles online on Bookaway here.
Public Bus
Lastly, you can use the public bus system. On short journeys, such as from San Jose to La Fortuna or Uvita to Manuel Antonio, this system is great. However, the longer the journey the more hassle and time spent on a bus. It's undoubtedly best to save the public bus in Costa Rica for short and straightforward trips!
The public buses are definitely the cheapest way to get around Costa Rica, but they are not always very reliable and schedules often change without notice and delays are to be expected. The buses can also be very crowded and hot – so just be prepared!
It's also good to speak some Spanish if you plan on riding the public bus since most drivers and ticket booth operators don't speak English.
Invest in Travel Insurance
Paying out of pocket for trip interruptions or medical treatment will add to what might already be a stressful situation. We always travel with SafetyWing travel medical insurance.
The best part is that it costs only a fraction of what most insurance policies charge, which makes it perfect for digital nomads, long-term travelers (like us), and budget travelers. It only costs $45 USD per 4 weeks!
To start coverage, you must purchase it after leaving your home country. We usually purchase it as soon as we land at the airport.
Since using SafetyWing we've been reimbursed thousands of dollars when we've gotten sick. During the pandemic, they've even gone as far as to pay for our last-minute flights back to Canada from Colombia before the border closed!
You can click here to get a quote and read all the details!
Pura Vida!
Alajuela is an impressive city famously known for the mango trees, and the fruit practically litters the entire city during the peak mango season in June. As you can see, it's a great place to stay if you like to avoid San Jose and there is plenty to see and do!
I hope I have captured your imagination and convinced you into visiting Alajuela. If I have, then be sure to check out more of our informative guides on Costa Rica such as: