This blog may contain affiliate links. Read our disclosure policy for more info.
Passing through big cities is always a part of travel life. And if you're traveling through Costa Rica, chances are you'll be stopping in San Jose for at least a day. Prior to visiting, we hadn't thought of San Jose as our top destination in Costa Rica. However, we were happy to learn that it's a pretty safe city with diverse offerings and cool corners to explore.
San Jose also has another huge advantage: its central location! Day trips to other provinces are a breeze, and though tours are a little longer, the payoff is tenfold. Volcanoes, magical cloud forests, epic coastlines, and tons of wildlife are easily within reach. And if you prefer to stay in the city, you have your pick of awesome restaurants, tours, and fun activities.
To make it easy, we've rounded up our favorite San Jose experiences below. These can all be done within one day – and we'll explain exactly how. Whether you join a tour or create your own itinerary, we're sure you'll have a wonderful day in Costa Rica's capital!
Don't have time to read the full article? To experience as much of San Jose as possible in a short period, we like this half-day city tour that takes you to many of San Jose's top attractions. If you'd like to combine your sightseeing with delicious bites, we love this foodie walking tour. I really enjoyed how laid-back and chill the tour was when we tried it.
Best Tours of San Jose if You Have One Day
1. San Jose Walking and Bus City Tour
If you're hoping to get a feel for San Jose's culture in just half a day, we love this half-day city tour because it blends walking and bus transport. This way, you can visit more places versus solely walking tours – and you get air-conditioned breaks!
This tour gives a great overview of the city's best sites, including the top landmarks and some beautiful buildings.
First up is the National Theater of Costa Rica, which has impressive architecture, marble, and intricate details! From there, it's onto the Central Market to ogle all the fresh fruits, vegetables, and crafts. You'll also have a chance to sit and chat about Costa Rica's history at the Plaza de la Libertad Electoral.
All the stops on this tour were great, but my highlight was the final stop at the Costa Rican Art Museum. It houses temporary and permanent exhibits that paint a picture of Costa Rica's history and culture. My favorite part was the unbelievable Gold Room, with four walls full of gold carvings.
The guide kept the bus rides engaging and fun, playing traditional folk music and sharing details of monuments on the way. Honestly, it was also nice just to rest our feet and have a little break from the heat.
For $76 USD, you get hotel pick-up and drop-off, a professional art historian guide, and lunch. Tours run daily from 10 am to 3 pm, so it's easy to fit into your schedule. And since it's just 5 hours, you can still grab dinner at one of San Jose's top restaurants.
If you only have one day in San Jose, I recommend reserving your tour date online here.
2. Bites and Sights: Walking Food Tour in San Jose
I love a good history tour – and when it's paired with tasty food, it's even better! This foodie walking tour lets you sample a wide variety of Costa Rican cuisine, from unique coffee to traditional tamales. You'll get to visit multiple markets to taste (and make!) yummy treats. Plus, you'll work up your appetite as you walk past some of the city's top landmarks.
The meeting spot is at the Monument de los Presentes by Central Avenue. From there, you'll continue onto spots like the Central Market, which is one of the most important and oldest buildings in the city. It's filled with a little bit of everything, and you'll get to try a traditional empanada here.
The next stop on this walking tour is the more produce-focused Borbón Market. I love trying new fruits and veggies when I travel – and this is the place to do it!
After sampling your way through the markets, you'll visit more historical landmarks. Some of the highlights include the Metropolitan Church, the ornate National Theater, and La Laguna Plaza. I also really enjoyed getting a taste of the city's nature by strolling through the Parque España.
The final stop is at Mr. Sloth's Coffee Shop, where you'll chow down on tamal and learn how to make local food like tortillas, empanadas, and Pinolillo (a delicious corn and chocolate drink!). We love sampling local foods, but learning to cook them makes us appreciate them even more. Plus, learning a new skill is a fantastic way to wrap up a day in San Jose!
Overall, this 3.5-hour experience felt quite chill – it was the perfect balance of walking and stopping to eat! It's also pretty pocket-friendly at $33 USD per person, including your awesome guide and all the food and drink samples. It runs 4 times daily at 9 am, 11:30 am, 1 pm, and 3 pm, so you can still catch a tour even on short layovers in the city.
If both walking and eating are your jam, book this Bites and Sights Tour right here!
3. San Jose By Night Tour: Farm-to-Table Dinner and Cocktails Classes
Are you looking for a tour that starts later in the day? Perhaps you have jet lag, arrive in San Jose late, or just need a break from the heat! In that case, this San Jose tour offers a chill walk, cocktail samples, and a farm-to-table dinner – which all sounds pretty dreamy to us!
This walking tour begins and ends at the Monument de los Presentes. From here, the Central Market is up first! Your guide will lead you through the market, focusing on roots, fruits, and herbs used in local cuisine. It was really cool to start the tour by learning all about the ingredients we would later eat.
Afterward, you'll stroll down Central Avenue and enjoy walking by parks. As you build up that appetite, you'll learn about several famous monuments. Passing through the gorgeous neighborhoods of Otoya and Amon, you'll get a little taste of local life.
Once you reach Mr. Sloth's Coffee Shop, it's time for happy hour! Here, you'll learn how to make cocktails using those market ingredients and then sample them. Win-win!
Later on, this foodie tour takes you to a private residence, which adds a very personal, local feel. You'll sit down for a 4-course dinner with wine, beer, or sangria (two complimentary drinks per person). Meals are freshly made for the group from farm-fresh ingredients that are bursting with flavor, and so delicious.
To be honest, I didn't expect to find a farm-to-table experience in the middle of San Jose. But that's the thing about cities – they hold some great secrets!
Tours are offered Monday through Saturday, beginning at 4 pm and lasting 4 hours. They're only $63 USD per person, which, considering the details, is a steal of a deal! It includes your friendly tour guide and the food and drinks. This tour is also gluten-free, and you must be at least 12 to participate.
You can secure your spot on this farm-to-table (plus mixology) experience right here!
Related Read: If you're concerned about safety while traveling, you're not alone! Read our guide to safety in Costa Rica right here.
Best Day Trips from San Jose if You Have One Day
1. Coffee Experience, Poas Volcano, and La Paz Waterfall Gardens
Nothing beats the Costa Rican trifecta of coffee, volcanos, and waterfalls. If you're itching to trade city bustle for cool craters and verdant forests, hop on this full-day tour!
Hotel pickup does start at 6 am – but don't worry – your first stop is Doka Coffee Estate. Built on the slopes of Volcano Poas, the views are absolutely stunning here. This is where you'll spend two hours learning all about the bean-to-cup process. Of course, you'll get to sample the final product and enjoy a complimentary breakfast.
Then it's time to see Poas Volcano up close and personal! A short walk from the visitor's center, the viewing platform gives unreal views of the massive crater and moody fumaroles.
This portion of the day tour gives you a chance to stretch your legs. You can hike the Botos Lagoon trail, which takes about an hour and is 3.4 km (2.1 mi). This loop trail leads to Botos Lagoon, a deep blue crater lake surrounded by rich, tropical vegetation. It's a huge contrast to the previous craggy crater!
To end the day, La Paz Waterfall Gardens offers a beautiful window into Costa Rica's diverse wildlife. Enjoy one of the many walking trails to the waterfalls (five in total!). They've also got awesome animal exhibits, ranging from big cats and monkeys to tiny frogs and butterflies. This place is full of educational info, and we learned a ton here!
The tour runs for about 13 hours and costs $166 USD. This price includes breakfast, lunch, admission tickets, and roundtrip transport.
Don't miss this opportunity to see some of Costa Rica's best sights. Book this day tour online in advance!
2. Tortuga Island Full Day Tour from San José with Lunch
If the Gulf of Nicoya is missing from your Costa Rica itinerary, now's the time to add it! This calm inlet has tons to explore, and this Tortuga Island day tour is one of our favorite ways to do so. Though it's a long day (12-18 hours!), there's a high payoff with chill beach time and beautiful ocean views.
Trust me, if you're a beach person, this is the tour for you! You'll see plenty of wildlife, including some native Costa Rican birds. Plus, get a chance to snorkel, swim, and relax.
Pick-ups start around 4 am, depending on your location. Luckily, there's time to nap on the 2-hour drive to Puntarenas.
From there, the boat departs for a 45-minute ride across the Gulf of Nicoya to Isla Tortuga. Along the way, you'll witness beautiful views of the mainland and many small islands. We lucked out with dolphin sightings on our trip, but keep an eye out for turtles and spotted rays, too!
When you arrive at Tortuga Island, the crew will take you on a 45-minute snorkeling trip. You can explore the amazing coral and reef life below. Honestly, Costa Rica is such an amazing place to snorkel! Afterward, you'll have five hours to walk the beaches, beach bum it, or soak in the sea.
The tour includes transport, all fees, lunch, soft drinks, and a shower/changing room (so you don't have to be salty and sandy for the ride back!). Weekend shared tours cost $110 USD per person. You can also hop on shared tours on Mondays, Wednesdays, and Fridays for $125 USD each ($135 USD if booking solo).
For a fun day at the beach, check availability and secure your tour online.
3. Arenal Volcano Full-Day Combo Tour with Lunch and Dinner
This Mega-Combo Day Tour is chock full of magical waterfalls, hot springs, and adventure parks. You really cover loads of ground, including visiting Arenal, one of Costa Rica's picture-perfect volcanoes.
Hotel pickup starts at 7 am, and we'd grab breakfast beforehand since it isn't covered. You'll travel the scenic route to La Arenal, witnessing Costa Rica's lush landscape on the way.
A few short stops break up the drive, like a coffee plantation tour. I love these tours because you can see how coffee is made from start to finish – and, of course, sample a super fresh cup!
This tour also stops to view the stunning La Paz and San Fernando waterfalls. There's no swimming, but fantastic views, fresh coffee, and a snack in the rainforest made up for it!
The last stop is a quick stroll and animal spotting at Centro Turistico Las Iguanas. Keep your eyes peeled for iguanas, monkeys, and many sloths.
Go Adventure Park Arenal is the cherry on top. Plus, the views of Arenal Volcano (clouds permitting!) are unreal. You can enjoy these vistas as you're treated to an authentic Costa Rican meal. Vegetarian options are available – just let your guides know at the time of booking.
After lunch, we spent two hours enjoying all the adrenaline-filled activities this park offers – including some incredible ziplining. We ziplined the nine cables that whizzed through the rainforest and rappelled 150 feet (46 m) over Arenal River. There's also a presentation on the local Indigenous history and culture that we really enjoyed.
To cap it off, we spent two hours soaking in pools, lagoons, and waterfalls at Paradise Hot Springs. After a day of sightseeing, this was unbeatable.
Tours last about 14 hours and cost $169 USD per person (minimum of two people per booking). Lunch at Arenal and dinner en route home are covered. Plus, you get coffee/tea, snacks, entrance fees, a knowledgeable guide, and roundtrip transport.
Are you ready for a day filled with culture, adventure, and stunning sights? Book this full-day tour right here!
Related Read: If you can't get enough ziplining, check out our favorite ziplining tours in Jaco, Costa Rica!
4. One-Day Adventure Tour all included from San Jose
Pre-set itineraries can be awesome, but sometimes you want to cherry-pick your favorite activities! That is precisely why we love this sampler action-packed tour. On this choose-your-own-adventure, you can pick two of the offered activities, including horseback riding, ATVs, surfing, ziplining, and chocolate tours.
This tour picks you up from San Jose hotels around 7:30 am. You'll head to Vista Los Suenos Adventure Park, where a fun-filled day awaits.
The activities you pick are totally up to you, but each one offers a slice of Costa Rican adventure! Regulars will already know we love ATV rides, but horseback riding to a waterfall is pretty awesome too. And, of course, you can't go wrong with ziplining!
Surfing in the nearby town of Jaco is also on the list. This area also has beginner-friendly surf spots we enjoyed. So, if you've always wanted to try, this is the perfect opportunity.
This 10-hour tour also includes a stop at Tarcoles Bridge, which translates to "Crocodile Bridge" for a reason! We've visited a few times while staying in Jaco. The river is home to tons of massive crocodiles that you can observe just hanging out below you, which is pretty impressive!
Tours cost $155 USD per person and require a minimum of two to book. Roundtrip transport, coffee/tea, lunch, snacks, guides, and two activities are included. It's suitable for family fun, too, but the minimum age is 12!
Are you debating which adventure activities to choose? Well, you can learn more and book this tour through Viator.
Why We Book Tours with Viator
Viator is a trusted online booking system for tours around the world! We almost always book our tours using Viator for a couple of reasons:
Free cancellation on most tours – Most of the tours on Viator allow you to cancel and get a full refund up to 24 hours in advance. This is handy in case plans change, or if booking an outdoor activity, the weather forecast is looking grim.
Reserve now and pay later – You can secure your spot on some of the most popular tours well in advance and not pay until closer to the day of the tour.
Pay in your chosen currency – Avoid costly international transaction fees by choosing to pay in your home currency.
Peace of mind – When booking with tour operators you find in person on the street or in small booking offices, you are often promised one thing and given another. This online platform holds tour operators accountable with a written description of inclusions as well as the opportunity for customers to leave reviews.
Check out the Viator website here!
5. Monteverde Sky Tram and Hanging Bridges Cloud Forest
We traveled Costa Rica coast to coast, but nothing sums up the magic quite like Monteverde does. And on this dreamy day tour, you'll be breathing fresh mountain air, spotting cool critters, and hanging out in a cloud forest.
Grab a coffee and get ready for pickup at 6:30 am to begin your magical day. It'll start with a scenic drive filled with lush landscapes, volcanic views, and small towns. Stops on the way include the country's largest fruit stand in Orotina, where you can grab some fresh, locally-grown fruit!
Visit Puerto Caldera, where you'll be chillin' with capuchin monkeys. I loved watching these white-faced monkeys play in their natural habitat. There are also several photo ops on the journey. Bring your camera so you can catch epic vistas overlooking the Gulf of Nicoya.
Once you arrive at Sky Adventures Monteverde Park, you'll enjoy a tasty local lunch. Then, the real fun begins! You'll have four hours to explore the park with your guide … who is a wealth of knowledge!
Monteverde is known for its cloud forests – and on this tour, you can travel through one in gondolas! As you glide through the air, your guide will teach you all about the flora and fauna below. To get even closer, you can walk across the hanging bridges. After, it's time to hit the trails to spot toucans, monkeys, and even Quetzals (one of Costa Rica's coolest birds!).
There's a minimum of two people per booking, and it costs $195 USD each. This includes lunch, transport, your guide, and admission tickets. Tours last 13 hours, and the rainforest can throw any weather your way, so keep that in mind when packing your day bag! And bring appropriate shoes for hiking too!
Have you been dreaming of visiting Monteverde? Here's your chance! Secure your spot on this tour.
Related Read: Those spending longer in Monteverde can read about the best restaurants in town or enjoy the famous coffee from this region on a coffee tour!
Best Things to do in San Jose, Costa Rica, if You Have One Day
1. Visit Poas Volcano
Time needed: Half day (but you need a rental car!)
Best time to go: First thing in the morning
Visiting Poas Volcano solo is easily doable with a rental car and GPS. This geological wonder is only about an hour's drive from San Jose. So, if you've ever wanted to observe an active volcano in all its glory – here's your chance! Of course, you'll be seeing it from the safety of the observation deck!
The Poas Volcano National Park is open 8 am to 4 pm, including holidays, with the last tour at 2 pm. Booking must be done through the park's website in advance. When you book, you'll choose a day and time slot to visit.
Because of the volcano's high elevation, the clouds roll in daily and can completely block your view. We found visiting first thing in the morning (before 10 am) means you should beat the clouds. The cloud cover can clear up again around 1 pm, but it depends on the day!
We spent about an hour at the national park, and it was a pretty chill experience overall. The entry ticket includes a guided tour, which starts with a short video followed by a 10-minute walk to a viewing platform. You'll have roughly 20 minutes to explore on your own – so take advantage of this time!
There's a small gift shop, café, and restrooms, so you'll have access to food and souvenirs. After our tour, we enjoyed a meal at the cafe. However, there is no drinkable water, so make sure you bring enough for the day!
You should also bring good shoes and extra layers (it's brisk up there!), and cameras are a must for the incredible views. There's a limit on visitors per day, so book early to avoid disappointment, and grab an earlier time slot if you can!
Non-resident tickets cost $15 USD for ages 13+, $5 USD for kids under 13, or free for kids under 2. Parking costs 2000 Colones (~$3.75 USD) for a small vehicle.
Seeing this volcano is one of the top things to do in Costa Rica. So, if you feel like getting out of the city, we'd highly recommend it!
2. Visit the National Theater – Teatro Nacional de Costa Rica
Time needed: 1.5 to 2 hours
Best time to go: Anytime during the day when tours run
The National Theater (Teatro Nacional de Costa Rica) is one of Costa Rica's treasures! Whether you appreciate the arts, architecture, or history, this theater has it all.
It's centrally located and is open daily from 9 am to 5 pm, so it's easy to squeeze into your one-day itinerary. Guided tours in English and Spanish run every hour, on the hour (the last tour is at 4 pm). It's pretty budget-friendly, too. Tickets for foreigners are 3,500 colones (~$7 USD), with no charge for kids under 12 years old.
The tour shows off the beautiful architecture and explains the origins of the theater and previous important events. You can join in for a music concert, ballet, or play if you have time. One thing you shouldn't miss, though, is the theater's Alma de Café. They specialize in making the best cup of coffee, and after trying a cup, I won't argue that!
Related Read: Trying to budget before your trip? Read our guide on the cost of traveling in Costa Rica.
3. Explore the National Museum – Museo Nacional De Costa Rica
Time needed: 1 hour
Best time to go: Anytime
Just a short walk from the National Theater is the National Museum (Museo Nacional de Costa Rica). They have an amazing variety of archaeological and historical artifacts from pre-Colombian times to the present day.
Honestly, we learned so much about Costa Rica here! Plus, they have a gorgeous butterfly garden, which was a nice surprise.
The museum is open Tuesday to Saturday, 8:30 am to 4:30 pm, and Sundays from 9 am to 4:30 pm. It's closed on Mondays and public holidays. Tickets for foreigners are $11 USD for adults, $6 USD for students/teachers with a valid ID, and free for anyone under 12.
4. Central Market
Time needed: 1 hour
Best time to go: In the morning
San Jose's Central Market is filled with visitors and locals seeking deals on food, everyday items, or even souvenirs. I love visiting markets wherever I travel. You get to shop, see how locals live, and sample tasty food in the process!
It's easy to find and open Monday to Saturday from 6 am to 6 pm. If you're not one for crowds, getting there a little earlier in the morning is best.
There are many shops to explore, but if there's one thing you gotta do, head to "Helados de Sorbetera Lolo Moro," a famous old-school San Jose ice cream shop. Your eyes might not be so impressed at first, but your tastebuds will jump at the hints of nutmeg and clove! It's open Monday to Saturday from 10 am to 4:45 pm.
5. Rescate Wildlife Rescue Center
Time needed: 2 to 3 hours
Best time to go: Morning/early afternoon
Costa Rica is known for its wildlife rescue centers – and just outside San Jose is one of our favorites.
Rescate Wildlife Rescue Center is Costa Rica's oldest wildlife sanctuary. This non-profit takes in an estimated 2,700 animals like jaguars, tapirs, and sloths (with most released back into the wild after rehabilitation).
The 36-acre (14.5-hectare) rescue center also has an endangered wildlife breeding center, plus a lifetime animal sanctuary for animals deemed non-releasable. We love seeing they really take care of these animals and have each of their best interests at heart.
There are restaurants, snack shops, and picnic areas to enjoy, too. You can really enjoy this place at your leisure – and kids love it! They're open daily from 9 am to 5 pm, and some people make a full day out of it!
Tickets for foreigners cost $35 USD for adults and $15 USD for kids (ages 2-12). I usually purchase these through Viator because you can get skip-the-line entry, and they have an easy cancellation policy. However, if you're a local resident or senior (65+), I'd suggest booking through the wildlife center's website to get those discounts.
Rescate is located a 16-minute drive from Alajuela City or a 35-minute drive from downtown San Jose. You can take a taxi or rental car to get there. However, there are also day tours that include transportation.
For a personalized experience, I suggest this private tour of the Rescate Wildlife Rescue Center. It's a great way to learn all about the rescue center and the animals without worrying about logistics.
The tour van will pick you up at your hotel around 8 am and take you back five hours later. You'll get bottled water, entry tickets, and a naturalist tour guide. It costs $380 USD for two people, which is a bit on the pricey side – but again, sometimes it's nice to have everything taken care of for you. You can check availability and book this tour online here.
6. La Paz Waterfall Gardens
Time needed: Half day
Best time to go: Any, but aim to arrive by 3 pm latest
La Paz Waterfall Gardens is an awesome spot to visit for anyone who loves nature and animals. It has five waterfalls and various trails (some easier than others!), so you can get plenty of walking in. Plus, there are animal sanctuaries full of colorful birds, butterflies, big jungle cats, monkeys, and snakes.
Visiting on your own lets you do a self-guided tour. Personally, I loved moving at my own pace and stopping to really enjoy my favorite parts of the park. I do recommend buying a day pass ahead of time. This allows you to skip the lines when you arrive.
Tourist tickets cost $50 USD for adults and $34 USD for kids (ages 3-12). The park is open daily from 8 am to 5 pm. You should get there by at least 3 pm to get the most out of your experience, though!
From San Jose, the gardens are located about an hour and 20 minutes by car. If you've rented a car in Costa Rica or plan to take a taxi, you can book your skip-the-line entry right here.
If you don't want to drive, this 7-hour tour covers roundtrip transportation from San Jose hotels. You'll leave around 9 am and be treated to lunch upon arrival. From there, you'll enjoy several hours exploring the grounds and seeing all the wildlife. It costs $122 USD and can be booked online in advance.
Related Read: If you love chasing waterfalls, check out the best La Fortuna Waterfall tours.
7. Drink Costa Rican Craft Beer
Time needed: 1 hour
Best time to go: Mid-afternoon or evening
Even though coffee is Costa Rica's most famed beverage, the craft beer scene is booming, too! Since you'll likely be walking downtown to check out sites, you might as well reward yourself with a cold one nearby, right?! And if you're wondering what the best breweries are, we got you covered!
If you're going the museum route, stop by Casa House of Beers. This brewery is located just a few minutes away and has a vast selection of local brews to choose from. They're open Wednesday to Saturday from 6 pm till late, so it's a great way to finish a day of museum hopping.
One of our favorite neighborhoods and also a local hotspot for beer is Barrio Escalante. Here, you'll find the famous Costa Rica Beer Factory, known for fantastic microbrews and a great all-around atmosphere. Plus, it opens at noon on weekdays and 11:30 am on weekends, so it's a good choice for a lunchtime burger and beer.
Wilkcr is located just around the corner from the Beer Factory – perfect for a little bar hop. This is the place to try different local brews like Cerveceria Treinta y Cinco's Tropical Stout or Papagayo's crisp Passion Fruit Ale. They open at 3 pm on weekdays and noon on weekends.
Wherever you end up, you'll likely be pleasantly surprised at Costa Rica's beer scene!
8. Enjoy a Costa Rican dinner
Time needed: 2 hours
Best time to go: Nighttime
One of the best parts of hanging out in cities is the diversity, especially regarding food! San Jose is home to numerous places to find flavorful local bites and different cuisines from all over the globe. In fact, we dedicated a whole blog to our top restaurants in San Jose.
Though we've had our fair share of delicious eats here, one of our favorite spots is Restaurante Nuestra Tierra. They offer up Costa Rican dishes with super friendly service, and meals cost about $15 USD for a main. Our go-to is the "Parrilladas," which come with grilled meat, refried beans, tortillas, plantain, and Pico de Gallo.
It's the perfect way to refuel after a day of exploring! Plus, it's located right across from the National Museum, so you can soak up some culture before diving into your meal.
Restaurante Nueva Terra is open Monday to Thursday from 7 am to 10 pm, Friday/Saturday from 7 am to midnight, and Sundays from 7 am to 11 pm. You can also make reservations ahead of time on their website (which is in Spanish only).
9. Wander Barrio Escalante
Time needed: 1 to 2 hours
Best time to go: Morning/lunchtime
Barrio Escalante is one of San Jose's trendiest neighborhoods. Known as a super safe area, it's great for taking a stroll and checking out the parks and restaurants. As you'd expect, you'll find some amazing coffee here, but you'll also find some delicious brews!
The flights at Costa Rica Beer Factory are a great intro to local offerings. As we mentioned earlier, this place has awesome microbrews. It opens at noon on weekdays and 11:30 am on weekends, so it's a good lunchtime hangout.
Another spot we love is the popular Lupulus Beer Shop. Trust me, the brews and burgers go down easy here. It's open Tuesday and Wednesday from 2 to 10 pm, Thursday from 2 to 11:30 pm, Friday and Saturday from 12 to 11:30 pm, and Sundays from 12 to 9 pm.
The foodie gang will especially love Calle 33. This street is dubbed the "paseo gastronómico" (gastronomic walk) for its huge variety of amazing restaurants. You can't really go wrong with where you pick to dine here!
But when it comes to Barrio Escalante, we gotta give it up to Franco for their delicious brunch and smoothies! It's a great place to start your day – any day of the week! They're open weekdays from 7 am to 9 pm, Saturdays from 8 am – 9 pm, and Sundays from 8 am to 7 pm. If you're there for the weekend brunch, I recommend any of their Benedicts!
10. Parque Nacional
Time needed: 1 hour
Best time to go: Daytime
It's always nice to have a little something free to enjoy, and Parque Nacional is just that! Stroll through for some fresh air and reprieve from city life. Check out the historical monuments, like the Monumento Nacional (National Monument) in the center of the park. Or, you can do what I love to do: grab a drink, hang out on a shady bench, and do some people-watching!
If you're exploring San Jose, this is also a great way to give your eyes a break from concrete buildings and city blocks. Instead, you'll have peaceful trees and birds to look at.
It's open 24 hours, and though it's pretty safe, it's best to admire this green space in the daytime.
Related Read: If you're headed to La Fortuna on a budget, check out these free and cheap activities in La Fortuna.
11. Jade Museum – Museo del Jade
Time needed: 1 hour
Best time to go: Daytime
San Jose's Jade Museum (Museo del Jade) boasts the world's biggest collection of American jade – over 7,000 pieces!
You might say it's an absolute gem of a museum! Cheesiness aside, the building has multiple floors dedicated to its permanent and temporary exhibits that are truly spectacular. I thought it was a great way to escape the heat while ogling beautiful artifacts.
Tourist tickets are $16 USD for adults, $5 USD for students (bring your ID!), $2 USD for children between 6 to 12 years old, and free for kids under 5. The museum is open Monday to Sunday, 8 am to 5 pm, and is located less than a 5-minute walk from the Parque Nacional.
12. Pre-Columbian Gold Museum
Time needed: 1 hour
Best time to go: Daytime
The Pre-Colombian Gold Museum is pure gold – almost literally! It has over 1,500 stunning pre-Colombian gold artifacts like jewelry, intricate figurines, and ceramic and stone pieces.
This is an awesome stop on its own or a great addition if you're spending a day museum-hopping. As a bonus, its location is just a 5-minute walk from the Jade Museum,
Opening hours are Monday through Sunday, 9:15 am to 4:30 pm. There are some reduced hours and holiday closures listed here (although it's only in Spanish).
Admission for foreigners costs $16 USD or $12 USD for students (with a valid student ID). Tickets include access to the Gold Museum, National Coin Museum, and temporary art and archaeological exhibitions but not international exhibitions.
Where to Stay in San Jose, Costa Rica
San Jose is definitely not lacking when it comes to accommodation options! There are actually hundreds of hotels to choose from in San Jose, and most of them are extremely affordable! Below you'll find our favorite options for each budget.
Grano de Oro Hotel – $$$
Want a more luxurious experience? Grano de Oro Hotel is right in the heart of San Jose and features an on-site gourmet restaurant, massage services, and a rooftop garden! The entire place is absolutely gorgeous, with vaulted ceilings and a beautiful interior design. You can walk to many of San Jose's attractions, and you're just a 15-minute drive to the airport.
Room rates start at $174 USD/night. For luxury in a great location, book the Grano de Oro Hotel right here!
Terrazas de Golf Boutique Hotel – $$
For a great mid-range option, Terrazas de Golf Boutique Hotel is absolutely stunning. The whole place is quiet, cozy, and clean. Each room provides garden or golf course views with a furnished balcony. They offer laundry, room service, and an airport shuttle for a fee – and they're just a 10-minute drive to the airport. The staff are super accommodating and happy to answer any of your questions.
Prices here start at around $90 USD per night. For a relaxed and reliable choice, reserve a room at Terrazas de Golf Boutique Hotel online.
Costa Rica Backpackers – $
If you're looking for a budget option in San Jose, I recommend Costa Rica Backpackers. This hostel has excellent ratings, is in a great location, and even includes an airport shuttle and swimming pool! They also have free coffee, a great on-site restaurant, and super helpful staff. The best part? Shared rooms start at $10 USD/person per night and a private room is only $30 USD a night. You can book your stay on Booking.com or through Hostelworld.com.
If you want to stay closer to the airport as opposed to in the city center, consider staying in Alajuela. This city is where the airport is actually located (connected with San Jose), and believe it or not, there are actually lots of fun things to do in Alajuela too!
Getting Around Costa Rica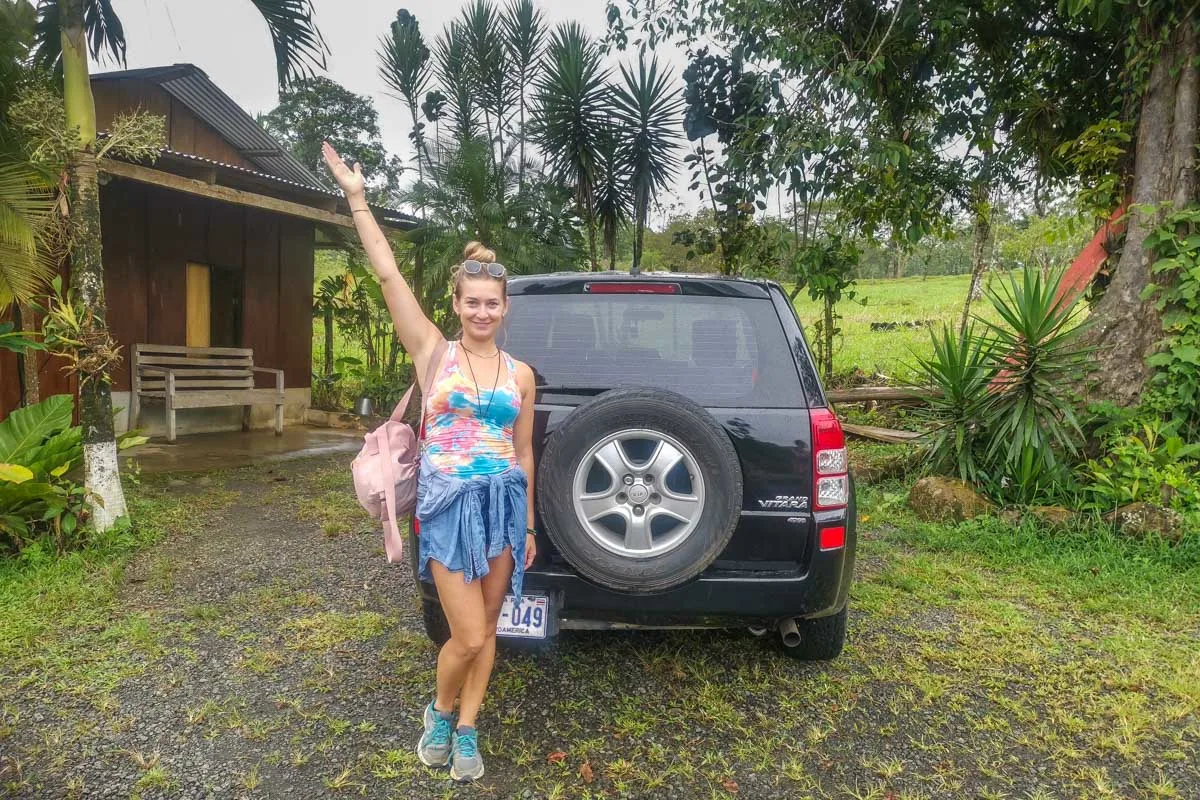 How you choose to get around Costa Rica is one of the biggest decisions you'll make when planning your holiday here! How you do it depends on your budget, travel style, and comfort level.
Renting a Car
Without a doubt, the number one way to explore Costa Rica is in a rental car. We book rental cars on the Discover Cars website as we have had good experiences with them in the past.
One of the things you need to watch for when renting a car in Costa Rica is the mandatory insurance that the government requires you to have. There are a lot of very cheap rentals that don't include this mandatory insurance (TPL) in the original booking price, but there are also ones that do. To avoid additional surprise charges when you pick up your rental car, be sure to rent a car that includes the mandatory insurance when you book.
Thankfully, on Discover Cars it's easy to tell apart the companies that include the mandatory insurance and those that don't. The trick is you can't pick any car on their website. In the picture below, you can see this rental car, with pick up in Jaco, includes the TPL. That means the mandatory insurance is included in the price. Any cover you get above that is extra.
Of course, I still suggest getting the full coverage offered by Discover Cars, which covers you even more.
You can browse cars on Discover Cars here.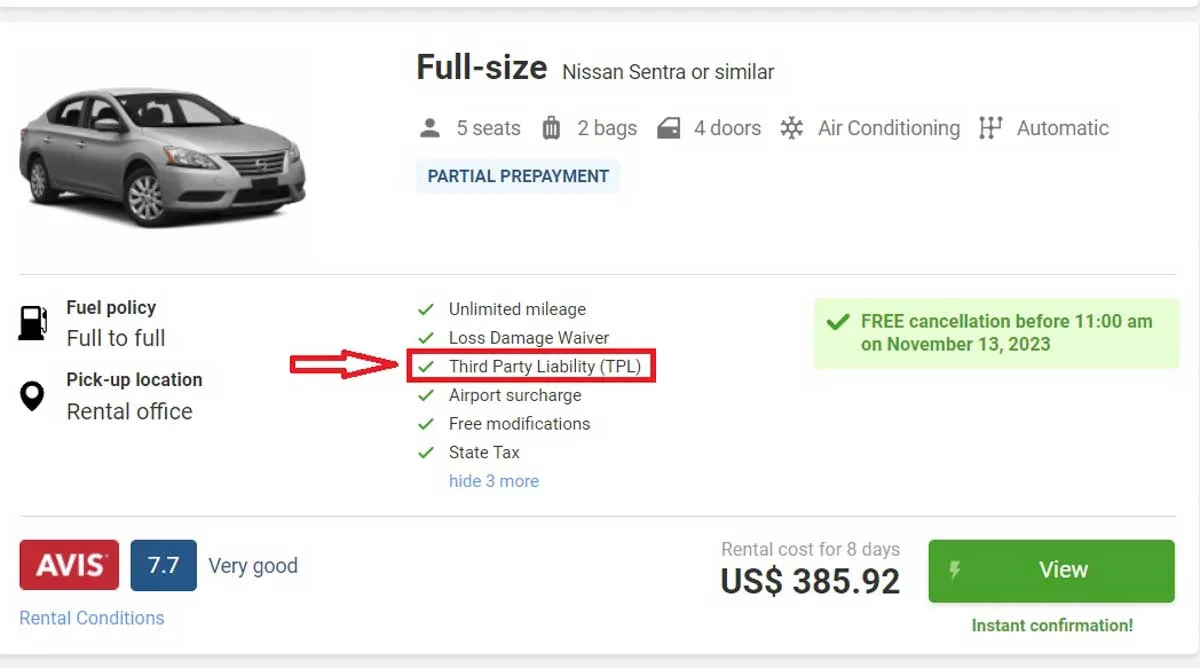 Adobe Rental Rent A Car is another rental company that we most often use in Costa Rica. We love them because Adobe has 15 offices around Costa Rica and delivers door-to-door around their offices at no extra cost. We also are pleased that all of their cars are new. In fact, they are never older than 2 years to the date. They are also the only company to include mandatory insurance and promise no hidden fees. You can get a free quote for a rental car from their website here.
Book Shuttles
If renting a car isn't in your budget, you don't feel comfortable driving in Costa Rica, or you just don't like driving, shuttles are the next best option. There are hundreds of shuttle routes available all over the country, and they are very affordable.
Shuttles in Costa Rica are specifically for tourists and often include pick up and drop off at your selected hotels and airports. The drivers also speak some English, and the vehicles have air conditioning. You'll also be guaranteed a seat when you book a shuttle (which isn't the case with the public bus system.)
To get the best price, use the website Bookaway. They compare all the offers and prices of shuttle companies in Costa Rica so you get the best price! Honestly, we have saved so much money using Bookaway!
You can search for shuttles online on Bookaway here.
Public Bus
Lastly, you can use the public bus system. On short journeys, such as from San Jose to La Fortuna or Uvita to Manuel Antonio, this system is great. However, the longer the journey the more hassle and time spent on a bus. It's undoubtedly best to save the public bus in Costa Rica for short and straightforward trips!
The public buses are definitely the cheapest way to get around Costa Rica, but they are not always very reliable and schedules often change without notice and delays are to be expected. The buses can also be very crowded and hot – so just be prepared!
It's also good to speak some Spanish if you plan on riding the public bus since most drivers and ticket booth operators don't speak English.
Invest in Travel Insurance
Paying out of pocket for trip interruptions or medical treatment will add to what might already be a stressful situation. We always travel with SafetyWing travel medical insurance.
The best part is that it costs only a fraction of what most insurance policies charge, which makes it perfect for digital nomads, long-term travelers (like us), and budget travelers. It only costs $45 USD per 4 weeks!
To start coverage, you must purchase it after leaving your home country. We usually purchase it as soon as we land at the airport.
Since using SafetyWing we've been reimbursed thousands of dollars when we've gotten sick. During the pandemic, they've even gone as far as to pay for our last-minute flights back to Canada from Colombia before the border closed!
You can click here to get a quote and read all the details!
Pura Vida!
Although one day in San Jose might not seem like much, you can actually do quite a lot here! Day tours make it easy to visit several spots, like famous volcanoes, waterfalls, and adventure parks. But if you prefer to explore on your own, the city has tons to offer! Whatever you decide, we hope our guide has helped you find some fun activities.
To learn more about this country, check out our blog all about Costa Rica. We write about everything from location guides to the best tours in town. To get an idea, just click on one of the links below.
How to get from San Jose to La Fortuna
Where to stay in Santa Teresa, Costa Rica – BEST hotels in Santa Teresa & nearby