If you're looking to experience one of Costa Rica's most incredible geological marvels during your vacation – don't miss Poas Volcano.
As one of five volcanoes in Costa Rica that remains active today, visitors can experience the bubbling, sulphuric, green glory of the volcanic lake that fills the gigantic crater. All from the safety of the observation deck, of course!
Located in Costa Rica's fertile Central Valley region, Poas Volcano towers high into the clouds and is topped by one of the world's largest volcanic craters. For travelers looking for a thrilling experience in nature, Poas is well worth a day trip during your travels around Costa Rica.
It should come as no surprise that visiting Poas Volcano is one of the best things to do in all of Costa Rica!
In this blog, we share everything you need to know before you go by answering all your questions!
1. About Poas Volcano
Poas Volcano National Park was established by the Costa Rican government in 1955 and remains one of the most visited National Parks in the country today. The entire protected area is 6,506 ha. It is an easy day trip from San Jose and can be reached in about an hour – making it the perfect excursion to add to either end of your journey.
Towering high above the Central Valley, Poas sits at 2,708 meters (8884 feet) above sea level and has a history of eruptions. Since the mid-1800s, Poas has erupted 39 times with explosions of varying intensity. Some of the more significant eruptions have even ejected steam and debris over 1,000 meters (3280 feet) above the lake!
The last blast happened just a few years ago, on September 30, 2019. Experts consider the volcano to be in a constantly active state. However, most eruptions are incredibly mild and are caused by the interaction of the hot lava with the water in the crater lake.
Travelers from around the world make the journey to Poas each year, and it remains one of the most popular tourist attractions in all of Costa Rica.
The park was closed to the public for a while in 2017 due to volcanic activity. A massive cloud of volcanic ash damaged some of the infrastructures, but the park reopened with limited access in 2018. Many of the neighboring attractions remain closed due to damage caused by the sulphuric acid rain from the evaporating lake water, but visiting the volcano and hiking the crater is still well worth the trip – and plenty of additional safety precautions have been added.
The larger of the two craters that top Poas is a mile wide and filled with bright bubbling water in a spectacular shade of greenish blue. This lake, known as Laguna Caliente, which translates to Hot Lake, is 900 meters deep and considered the world's largest geyser.
Lucky visitors might enjoy the rare opportunity to get up close and personal with an active volcano while remaining relatively safe from dangerous eruptions. Even luckier visitors might have the chance to witness a geyser-like eruption during their visit, caused by water seeping into the pockets of the volcanic rock and heating up until it becomes explosive steam.
2. What are Poas Volcano's opening hours?
Poas Volcano is open to visitors from 8 am until 4 pm in the afternoon each day, with the last tour at 2 pm. In other blogs, it is suggested that the last entrance is at 1:20 pm. However, this is not true. The last entry allowed is at 2 pm so long as you have a ticket purchased in advance.
It's also important to remember that the volcano can close at any time, unexpectedly, due to increased volcanic activity. However, this is not common.
Outside of this time, the volcano is closed to visitors, and there is a locked gate at the entrance to Poas Volcano National Park.
3. How much does it cost to visit Poas Volcano?
The cost to visit Poas Volcano is $15 USD for non-residents (foreigners) over the age of 13 and $5 USD for non-residents under 13. Resident adults of Costa Rica can visit Poas Volcano for 1,000 Colones and children for 500 Colones. All children under 2 are free!
On top of that, parking does cost money which I detail below.
4. Do you need to purchase your entrance ticket to Poas volcano in advance?
Poas Volcano is only open for a limited amount of daily visitors, so it is important to book your tickets ahead of time. In fact, they do not sell tickets at the gates of the park.
When booking, you will select a 20-minute time slot ahead of time for your tour booked online. Only a limited amount of people are allowed to visit the volcano during each time slot, so it's a great idea to book at least a few days ahead, maybe more during the busy season.
If you can't book ahead, there is an option to pay at Fresas Maye, which is a small fruit stand 2 kilometers from the entrance. We didn't want to book ahead when we visited just in case of bad weather, so we chose this option. Without issue, we were able to pay and visit for a slight cost increase, which worked out just fine for us. The lady just books online for you and charges you extra.
There is no internet here so you can't book yourself.
Even so, choosing to pay at Fresas Maye is a risk, and you could miss your time slot or have to wait around for a while, as time slots may be packed with prepaid bookings. We were visiting in November, so this was not an issue. But those visiting from December to April should book in advance – this is the busiest time of year to visit Costa Rica.
5. What are the best Poas Volcano Tours?
If you want to get the most out of your trip to Poas Volcano, booking a tour is a fantastic option. Many tours offer transportation that significantly reduces the stress and cost of traveling from nearby cities like San Jose. You'll be with a knowledgeable guide who will enrich your trip with all kinds of exciting information about Poas and the surrounding area. If you're interested in booking a tour, check out a few of our favorite options!
Half-day tour
If you're traveling from San Jose, Costa Rica, check out this excellent half-day small group tour. You'll be picked up from your hotel in a comfortable shuttle early in the morning to ensure your arrival at Poas before the clouds move in. Tour the volcano with your small group and a knowledgeable local guide who will tell you all about the incredible volcano. The tour takes about 4 hours total and costs about $110 USD.
3 in-1 tour
This three-in-one tour allows you to experience Poas Volcano in all its glory, along with a visit to a coffee plantation and a trip to the stunning La Paz waterfall gardens. You'll be picked up early in the morning from your hotel in the San Jose area and transported on an air-conditioned shuttle to all of the amazing spots. The tour includes breakfast and lunch along the way and all of your entrance fees. For the cost of only $154 USD, it's a bargain for an unforgettable full day of fun.
Poas Volcano and Starbucks Coffee Tour
Starbucks lovers will adore this unique experience, including visiting Poas Volcano and Costa Rica's Starbucks Farm. Aside from viewing Poas, you'll get to go behind the scenes at the massive commercial plantation that provides Starbucks with tasty coffee beans. It's one of the best coffee tours on offer in Costa Rica! The tour includes pick-up from your hotel in San Jose, along with lunch and bottled water, throughout your journey for $150 USD per person.
Scenic flight over Poas Volcano
Are you looking for a truly unforgettable way to experience Poas Volcano? Check out this one-of-a-kind private helicopter tour that gets you up close and personal with the beauty of Poas and its famous crater. Avoid the crowds and capture perfect areal photos of the fantastic colors of the crater lake on this two-hour private tour and one hour in flight. The cost is $925 for groups of up to six.
6. When is the best time to visit Poas Volcano?
To make the most of your trip to Poas Volcano, arriving as early as possible is a good idea. The high elevation means significant cloud cover rolls in after about 10 am. It often stays cloudy for most of the day and then clears up again around 1 pm (but this changes every day.) If a morning trip isn't possible for your schedule, try aiming for that last afternoon time slot to get a clear view of the crater and lake.
The rainy season in Costa Rica is from May until December, and during those months, it can often be cloudy or rainy all day, which will take away from experience and cause most of the volcano to be covered in clouds.
The dry season is from mid-December until April, which coincides with the peak tourist season. While Poas Volcano will be more crowded during the dry months, they're still the best time to visit.
7. How do you get to Poas Volcano?
Tours
For the least amount of stress, booking a tour from San Jose to Poas Volcano is a great idea. The tours will include transportation from your hotel and plenty of options. This half-day tour is an excellent choice for those who just want to check out Poas without worrying about transportation.
Bus
If you're looking to travel to Poas Volcano via public transportation, the good news is that there is a bus route. Although some blogs mention catching a direct bus from San Jose, this does not exist. Instead, your first step is to get the bus from San Jose to Alajuela and then catch the Poas Volcano bus from Alajuela.
San Jose to Alajuela
This journey costs around $1 USD and takes 45 minutes. The bus departs from the San Jose City Center bus station at Avenida 2, right across from La Merced park, and takes you to Alajuela with TUASA.
From Alajuela to Poas Volcano
Once you arrive in Alajuela, you'll need to make your way to the FECOSA Terminal, which is located between Central and 2nd Avenue and 6th and 10th street, only 150 meters south of TUASA Terminal, Alajuela Downtown.
This bus departs at 9 am only, costs $2 USD, and takes you to Poas Volcano. If you take this bus, it is recommended to book your tickets at Poas for 10:40 am or 11:00 am. You NEED to book this in advance as they won't let you on the bus without a ticket.
The bus then returns from Poas Volcano back to Alajuela at 12:30 pm.
Rental car
Poas Volcano is a popular tourist destination, so if you've rented a car, you can simply plug Poas National Park into GPS, which will take you straight there. The drive from San Jose to Poas is a little under an hour, as long as there isn't any traffic. There are plenty of options for renting cars in San Jose, and it's a good idea to book ahead of time. If you're looking for the best deal for rental cars to reach Poas Volcano, click this link.
8. Is there parking at Poas Volcano?
Poas Volcano does have a nice big parking lot. It costs 1000 colones for a motorcycle, 2,000 colones for a light vehicle, and 4,000 colones for a bus to park for the duration of your stay. This fee must be paid in cash. USD or Colones is fine.
As an added bonus, the parking lot is under surveillance, so you can feel safe leaving your gear in the car while you visit the volcano.
9. Facilities at Poas Volcano?
There are restrooms available at Poas Volcano for all visitors to use, but no potable water, so make sure to pack plenty of water and beverages.
When we visited, there was a small gift shop and cafe that served food and drinks, and we could pay with cash and credit card. The gift shop and restaurant are currently closed but will likely reopen with the influx of tourists during the dry season.
Related Read: There are some really amazing restaurants in San Jose that you should check out when you're there.
10. Is visiting Poas Volcano dangerous?
Poas Volcano is constantly being monitored for safety with state-of-the-art seismic testing and alarm systems set up to notify of increases in volcanic activity. There are always risks, as nature can be unpredictable, but for the most part, it is considered very safe to visit.
The park can close unexpectedly if volcanic activity increases to an unsafe level.
Additionally, you are required to wear a hard hat (provided with your entrance ticket). There is also a safety video you must watch before going to the volcano. Once at the viewing platform, there are shelters in place too that you can go into in the event of an eruption.
11. Is Poas Volcano suitable for children?
Poas Volcano is a great place to visit with kids. Unlike some other popular national parks in Costa Rica, the hike (from the center to the viewing platform) is short and suitable for the majority of travelers with kids. The entire walk takes just about 10 minutes. Still, keeping kids close is a good idea as some areas can get slippery, especially during the rainy season.
12. What should you bring to Poas Volcano?
To have the best day ever on your trip to Poas Volcano, it's important to pack a few essentials for your day trip. Grab a small daypack and include the following items:
Snacks
Water bottles – there isn't potable water, and you will want to be prepared if the cafe isn't open during your visit.
Cameras – believe us, you will want to take all the pictures of the amazing crater and brightly colored lake.
Comfortable shoes for walking
A windbreaker or raincoat – the high elevation at Poas Volcano means it gets chilly. Be prepared for damp misty weather and rain.
Warm layers – if you're used to warmer weather, keep in mind that it is much colder at Poas. If you tend to feel chilled, it might be a good idea to pack extra layers like a sweatshirt and wear pants.
Cash – it's always good to have around, and there won't be any ATMs nearby.
13. What is the tour at Poas Volcano like?
The tour of Poas Volcano begins with your arrival and check-in with the staff. If your time slot is coming up, they will ask you to use the bathroom if you need to before seating you in the movie room to watch a short video about the volcano that includes a safety briefing. To be honest, it's hard to understand and not that detailed.
Afterward, you will head off along the access road to the viewing platform. This short walk takes around 10 minutes and is only slightly uphill.
Once at the viewing platform, you are allowed 20 minutes at the top, so be sure to explore the entire platform.
At the top, there is a park ranger constantly monitoring the volcano, and there are also safety shelters in case an erruption were to occur. Get familiar with these when you arrive. You never know if you'll need to use them.
After the 20 to 25 minutes is up, the ranger will instruct you to head back down. We lingered a bit until he gave us the final move-on – they are pretty friendly!
We then headed back down to the visitor center and enjoyed a meal at the cafe.
All up, the experience from beginning to end takes around 1 hour, and it's not a strict schedule. We were booked in at 10:20 am and didn't start watching the video until 10:40 am.
I do believe the tour could be better. Having a guide explain more about the volcano would be nice, and it can feel a bit like herding sheep! With that said, this is one of the best things to do in Costa Rica.
Related Read: Be sure to visit La Fortuna and all the fun things to do there!
14. What are the best hotels near Poas Volcano?
Make your visit to Poas Volcano last by booking a room nearby. There are some great places to stay in the area – here are a few of our top choices that are suitable for most budgets.
Altura Hotel $
Altura Hotel is a lovely hotel with pretty rooms and views over the central valley. The decor is modern and trendy, and the property features mountain walking trails. A Costa Rican-style breakfast is included in the morning, and it is only 1.2 miles from the entrance to Poas Volcano.
Poas Volcano Lodge $
Poas Volcano Lodge is a boutique hotel right on the perimeter of the National Park. The rooms offer incredible views of Poas Volcano and plenty of amenities. There is a tasty bar and restaurant on site and lovely gardens to explore during your stay. The entire property is stylish, and you can even enjoy the view from your private balcony, making this one of our favorite options near Poas Volcano.
Hotel Mango Valley $
Hotel Mango Valley features simple rooms, but the grounds and gardens really shine. The lush green hills and surrounding coffee plantations make for beautiful views, and there is even an outdoor swimming pool to enjoy on warm days. A full breakfast is served daily in the garden.
Peace Lodge $$$
For a luxurious option that doesn't cut any corners, head to Peace Lodge. The incredible property features gorgeous rooms with every amenity, a trendy bar and restaurant, indoor and outdoor pools, spa baths, and anything else your heart could desire. Enjoy the views of the mountains or gardens from your private balcony or soak in your relaxing spa tub. Peace Lodge offers a relaxing and high-end experience that you'll never forget.
Related Read: Heading to San Jose? Check out the best hotels near the San Jose International Airport.
15. Is visiting Poas Volcano worth it?
Poas Volcano remains one of Costa Rica's most famous national parks for a good reason. The volcano is breathtaking and one of the most unique places you'll ever visit. You'll never forget getting up close and personal with an active volcano, and it's a must-visit location for anyone visiting Costa Rica.
Getting Around Costa Rica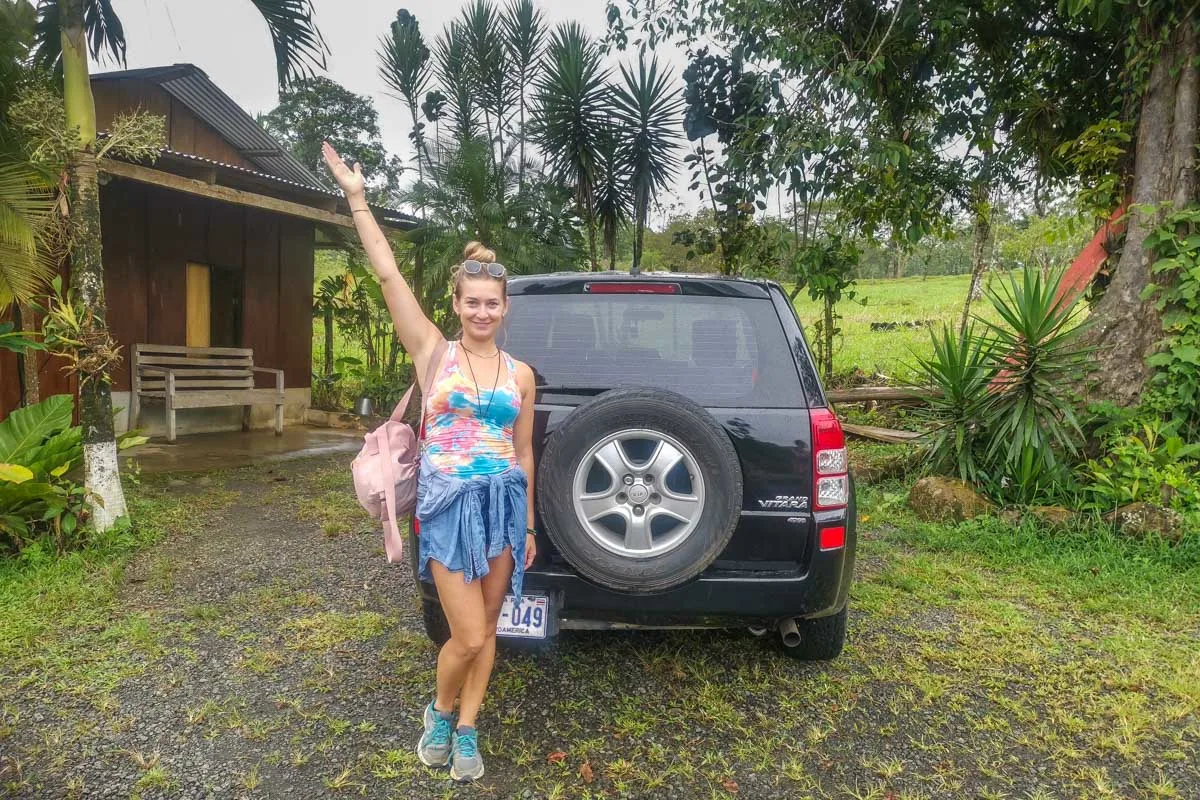 How you choose to get around Costa Rica is one of the biggest decisions you'll make when planning your holiday here! How you do it depends on your budget, travel style, and comfort level.
Renting a Car
Without a doubt, the number one way to explore Costa Rica is in a rental car. We book rental cars on the Discover Cars website as we have had good experiences with them in the past.
One of the things you need to watch for when renting a car in Costa Rica is the mandatory insurance that the government requires you to have. There are a lot of very cheap rentals that don't include this mandatory insurance (TPL) in the original booking price, but there are also ones that do. To avoid additional surprise charges when you pick up your rental car, be sure to rent a car that includes the mandatory insurance when you book.
Thankfully, on Discover Cars it's easy to tell apart the companies that include the mandatory insurance and those that don't. The trick is you can't pick any car on their website. In the picture below, you can see this rental car, with pick up in Jaco, includes the TPL. That means the mandatory insurance is included in the price. Any cover you get above that is extra.
Of course, I still suggest getting the full coverage offered by Discover Cars, which covers you even more.
You can browse cars on Discover Cars here.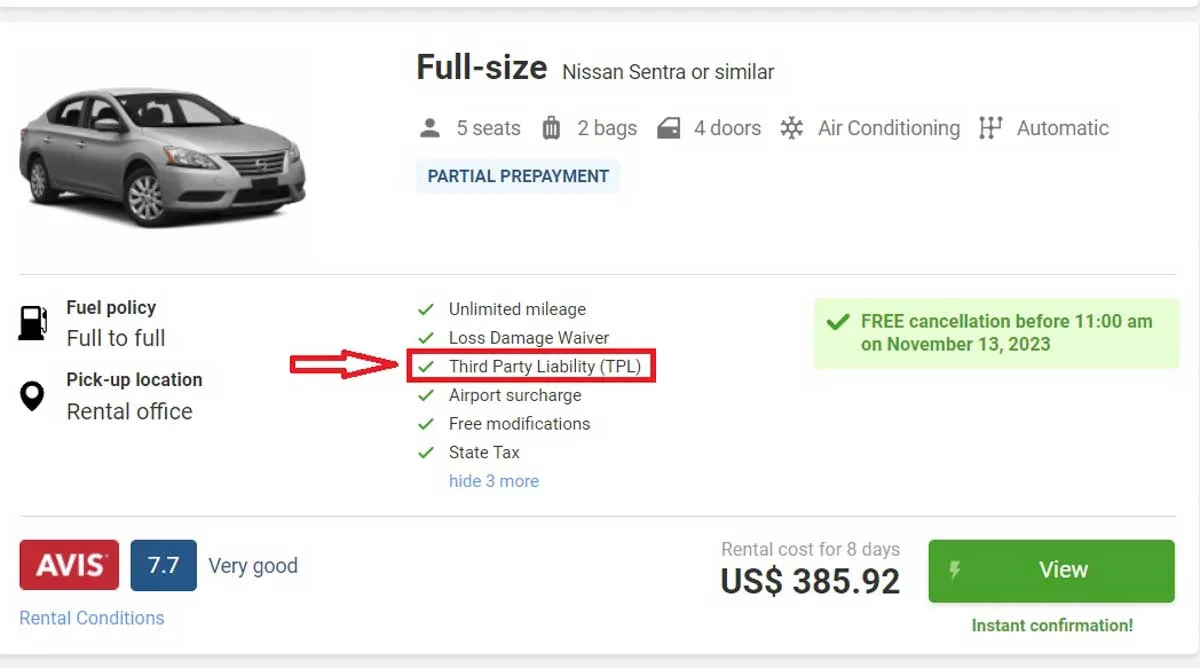 Book Shuttles
If renting a car isn't in your budget, you don't feel comfortable driving in Costa Rica, or you just don't like driving, shuttles are the next best option. There are hundreds of shuttle routes available all over the country, and they are very affordable.
Shuttles in Costa Rica are specifically for tourists and often include pick up and drop off at your selected hotels and airports. The drivers also speak some English, and the vehicles have air conditioning. You'll also be guaranteed a seat when you book a shuttle (which isn't the case with the public bus system.)
To get the best price, use the website Bookaway. They compare all the offers and prices of shuttle companies in Costa Rica so you get the best price! Honestly, we have saved so much money using Bookaway!
You can search for shuttles online on Bookaway here.
Public Bus
Lastly, you can use the public bus system. On short journeys, such as from San Jose to La Fortuna or Uvita to Manuel Antonio, this system is great. However, the longer the journey the more hassle and time spent on a bus. It's undoubtedly best to save the public bus in Costa Rica for short and straightforward trips!
The public buses are definitely the cheapest way to get around Costa Rica, but they are not always very reliable and schedules often change without notice and delays are to be expected. The buses can also be very crowded and hot – so just be prepared!
It's also good to speak some Spanish if you plan on riding the public bus since most drivers and ticket booth operators don't speak English.
Invest in Travel Insurance
Paying out of pocket for trip interruptions or medical treatment will add to what might already be a stressful situation. Not to worry, SafetyWing is here to help!
This affordable travel and medical insurance is perfect for digital nomads, long-term travelers, and remote workers. The best part is that it only costs $45 USD per 4 weeks.
To start coverage you must purchase it after leaving your home country. We usually purchase it as soon as we land at the airport.
Since using SafetyWing we've been reimbursed thousands of dollars when we've gotten sick. During the pandemic, they've even gone as far as to pay for our last-minute flights back to Canada before the border closed!
Pura Vida!
And there you have it – everything you need to know about visiting Poas Volcano. I hope you enjoy it as much as did, and that you have clear weather for a wonderful view of the crater lake.
If you found this blog helpful, check out some of our other detailed guides including:
Guide to Visiting Manuel Antonio National Park
Things to Know about La Fortuna Waterfall