San José is Costa Rica's capital city located in the midwest of the Central Valley. It is the largest city in Costa Rica, and the majority of the population lives here. It is considered a top tourist hub in Latin America for its central location and large international airport.
Among the top reasons to visit this beautiful city is to experience its cuisine and packed restaurants spread out across the city. You cannot go wrong in San Jose, Costa Rica if you come to try delicious meats, seafood, produce, and coffee!
The best part is, you can try so many different cuisines from chefs who have practiced their art practically from birth. That's right, you'll find authentic Italian, Japanese, and even Argentinian chefs with their own restaurants around the city. Of course, you'll also find Costa Rican chefs showcasing the country's delicious local food too!
As a foodie myself, I love trying new restaurants, and San Jose does not disappoint. So, in this blog, I'll share with you 12 of the top restaurants in San Jose, Costa Rica you need to try!
Best Restaurants in San Jose, Costa Rica
1. Restaurante Grano de Oro – Best fine dining
Location: At Hotel Grano de Oro, San Jose
Price range: $20 to $40 USD for mains
Come here for: Latin, French, International
Takes reservations: Yes
Situated in the Grano de Oro Hotel's central courtyard, this beautiful restaurant provides visitors with a relaxed fine dining experience. The French chef Francis, who's the owner, beautifully blends European dishes with his native specialties and Latin flavors, creating tasty dishes so hard to describe – you've got to visit Grano to experience it.
Everything is perfect at Restaurante Grano de Oro. From the elegant sitting spaces to the interior décor, dark rich hardwood covers the entire area. It's got a calmness that embraces the room as if in anticipation of some high-pitched opera music – in a foodie kind of way.
We started with the recommended specialties of the day and decided to go with them. The appetizers – Caprese confit and mushroom Napoleon so, so yummy! We then had the vichyssoise with smoked salmon, and finally, we tried the Ravioli de la Casa and Cerdo en Salsa Tamarindo, which is roasted Costa Rican pork. All were well done with so much flavor!
Dessert included a moist red velvet cake and ice cream. So creamy, smooth, moist, and soft as velvet.
Be sure to pair your meal with a premium wine/cocktail or a coffee to finish.
Restaurante Grano de Oro is truly one of the best fine dining experiences in San Jose and a must for those who enjoy tasting delicate food with amazing flavors.
The restaurant is open for breakfast, lunch, and dinner from 7 am to 10 pm, and you can view their menus here.
2. Franco – Best brunch
Location: Avenue 7 House 3166, Escalante neighborhood, San Jose
Price range: $10 USD for breakfast
Come here for: Tasty and unique brunch
Takes reservations: Yes
Franco is a breath of fresh air after a busy night. It's also the doctor you need to awaken your senses in the morning after. The back patio and garden are beautiful, and the entire place feels trendy, flowery, clean, and fresh. The daytime atmosphere is incredible, with spacious indoor seating and a warm, welcoming aspect.
The restaurant/ cafe offers a range of fresh food options that blend the best of Costa Rican coffee, confectionaries, smoothies, egg combinations, meats, and so much more.
At Franco, everything is lovely, with plenty of vegan and gluten-free options. I love their gluten-free bread, and the avo smash toast is so good for vegans! For drinks, the fresh Costa Rican coffee will certainly put a tasty spring in your step, but they also serve mimosas and fantastic smoothies.
We went there for brunch and couldn't decide what to have, so Daniel and I decided to share. I got myself a mimosa, and Daniel landed on a classic cappuccino. We then had the Canadian eggs benedict, which came served on french toast – who would have thought french toast and eggs benedict would go so well together!? Our other main was a simple egg benedict with local fish – so tasty!
Overall. Franco is the best San Jose breakfast restaurant offering fantastic food and modern, comfortable seating spaces.
Franco is open from 7 am to 7 pm on weekdays, and 9 am to 7 pm on weekends. You can view their menu here.
Related read: The only place you'll eat a better brunch is at Destiny's – one of the best restaurants in Nosara.
3. Sapore Trattoria San José – Best Italian
Location: Near Plaza de la Democracia, on second avenue Curridabat, in front of CFIA, San Jose.
Price range: Mains are around $20 USD
Come here for: Italian, Mediterranean
Takes reservations: Yes
This traditional trattoria is a stone's throw from the Jade Museum in San Jose city center. It has a stunning ambiance with a long, narrow dining room with old-fashioned beautiful wooden floors and brick and stone walls.
Sapore Trattoria has a wood-fired pizza oven facing the street, attracting visitors to this lovely Italian restaurant. They make amazing pasta on-site, and the owner is from Italy. The service is very friendly, and the servers were indeed a delight to be around.
The highlight here is their handmade pasta, and I was quick to pick out what I wanted – the Fettuccine 3 Fungi that came recommended by the chef. The flavor was so earthy and delicious! Daniel had the Fettuccine Nere Ai Frutti Di Mare, which he loved!
We actually visited this restaurant with friends, and I was jealous looking over at the Spaghetti Ala Carbonara in front of me. It's certainly a dish to consider if you love traditional carbonara.
Mushroom pasta!
There's a decent selection of Italian wines and beers to complement each dish; however, we opted for a wine from Chile (I just love Chilean wine!)
You won't find a better place for great authentic Italian dishes in San Jose since both the chef and the service detail are from Italy – hence the excellent food experience at this restaurant.
Sapore Trattoria is open from 11:30 am to 10 pm on weekdays and 12 pm to 10 pm on weekends, and you can view their menu here.
Related read: Check out the best restaurants in Tamarindo to find my absolute favorite Italian restaurant in Costa Rica!
4. Restaurante Nuestra Tierra – Best Costa Rican Food
Location: 2nd Avenue, Calle 15 in front of Democracia Plaza
Price range: Around $15 USD for a main
Come here for: Costa Rican, Central American
Takes reservations: Yes
Restaurante Nuestra Tierra is a popular meeting point located next to the Plaza de la Democracia on the main street in San José. It is a trendy Costa Rican restaurant that serves delicious local meals made with fresh ingredients.
The menus are in English with some items in Spanish but translated in simple terms. The service is swift, professional, and very efficient.
Some of the popular specials include fish in a white sauce made of shrimp and hearts of palm. However, the highlight and what our server recommended to try was the "Parrilladas" or grilled meats. These large meat dishes come accompanied by a huge serving of meat, tortillas, corn refried beans, and pico de gallo. It was delicious!
We also had an arepa and a Costa Rican style nachos with beans and chicharron (pork.)
Overall, we loved the friendly service and quality food at Restaurante Nuestra Tierra, and it was really nice to try some Costa Rican food that wasn't just rice and beans.
Restaurante Nuestra Tierra is open from 7 am to 9 pm every day, and you can view their menu here.
Related Read: While in San Jos,e be sure to visit the National Theatre of Costa Rica – the tours are super impressive!
5. La Esquina de Buenos Aires – Best steak
Location: Calle 11 Avenue corner 4, near Hotel Colonial, San Jose
Price range: $12 to $20 USD for mains
Come here for: Steak, Latin
Takes reservations: Yes
Situated in downtown San Jose, La Esquina de Buenos Aires is one of the best steak restaurants in San Jose. This place offers a worthwhile experience with charming décor and the walls are covered with old black and white framed pictures reminiscent of the good old days.
Visitors get treated with a welcoming warm crusty bread with butter, salsa, and chimichurri as a complimentary starter. Although La Esquina de Buenos Aires offers a large menu with pasta, seafood, and other cuisines, the main reason to visit is for the steak.
Try the Parrilla (Argentinian grill); you can either opt for the beef tenderloin or the 12 oz. Lomito accompanied by roasted potatoes and a healthy house salad. They also do a delicious rib eye that any steak lover will enjoy.
Other options include empanadas with gorgonzola, celery, walnuts, or ham and spinach. The steak was superb though, cooked to perfection, so delicious and tender. We were so full we actually had to skip dessert!
Make reservations early if you're planning on dining here – it's packed to capacity on most nights, making the place lively and vibrant. You can also spend the rest of your evening here sipping on sweet mojitos or local cold beers.
Overall, La Esquina de Buenos Aires offers excellent service, a great atmosphere, a wonderful dining experience, with a wide variety of meats paired with incredible drinks.
La Esquina de Buenos Aires has a range of different hours but is open for dinner and lunch every day. You can view their menu here.
6. Restaurante Mirador Ram Luna – Restaurant with the best view
Location: In the hills outside of San Jose
Price range: Around $20 USD for mains
Come here for: Costa Rican, International cuisines
Takes reservations: Yes
Located more than five thousand feet above sea level, this is a perfect restaurant with stunning views of the mountainous and a heavenly view of San Jose, Heredia city, Tres Ríos, Aserrí, and the Irazú Volcano. It has a homely atmosphere with inviting décor and a cozy ambiance, including two fireplaces, an outdoor patio with comfy park benches, and an open fire pit.
The Ram Luna is an old sentimental place owned and run by family members Ramírez Aguilar, Gilbert, and Moraima, who live on the property and run the restaurant. The regular live dance shows during the night service make this place even more special.
The performers come alive with great music and mascot dancers clad in giant masks shaking their bodies vigorously in tune with the rhythmic beats from the traditional musical instruments. It was fantastic to see! They offer a buffet dinner during the dance shows; however, a la carte is also offered on typical nights.
Try their fish fillet or grilled steak with potato wedges and a bowl of taco veggies. The rice pudding is a great choice for dessert; it's gentle on the stomach and enticing! The buffet offers diverse Costa Rican cuisine, including vegetarian options.
You can wind up with a cup of coffee, wine, or beer as you watch the stunning views of the twinkling city lights below. Or, head up for sunset and stay into the night.
Overall, we enjoyed the superb dining and magical views in one of the best San Jose, Costa Rica restaurants. Everything was exceptional
The Restaurante Mirador Ram Luna is open from 4 pm to 10 pm Tuesday to Friday and 12 pm to 9/10 pm Saturday and Sunday. They are closed Monday.
7. Creperie & Café Entre Nous – Best cafe
Location: Barrio Escalante
Price range: $8 to $12 for mains
Come here for: Costa Rican / international breakfast
Takes reservations: Yes
Located in Barrio Escalante (San Jose's trendiest neighborhood,) Creperie & Café Entre Nous is one of my favorite places for a morning coffee.
Inside the cafe, you'll find an old Volkswagen turned into an excellent table for a party of four. Or maybe more if you want to experience vintage dining for a group of 6 -7 people in the back area. If that sounds fun, you can reserve the hippie Volkswagen table in advance.
The menu is exceptional and creative, with delicious and affordable breakfast and lunch specials. Try some local Costa Rican cuisine with Huevos Rancheros, Bowl de Pinto, or Pinto Deluxe for breakfast – all are classics with a modern twist! Of course, you can't look past the fresh crepes for which they are famous.
For lunch, some of my favorites are the mixed parmesan and garlic chicken wrap, and the shrimp tacos are also delicious! With that said, I mostly visit in the morning.
Of course, as with any breakfast recommendation, the drinks and coffee are fantastic. Try one of their famous cafe frios, which come loaded with sweet goods, or just opt for a classic cappuccino!
Creperie & Café Entre Nous is open from 9 am to 9 pm every day, and you can view their menu here.
8. Arbol de Seda – Best vegetarian/vegan
Location: Barrio Escalante 7th Ave 35th street, San Jose
Price range: $10 $12 for mains
Come here for: Vegetarian and vegan food
Takes reservations: Yes
Arbol De Seda is a delightful warm place and a fabulous restaurant for vegetarian food lovers. They prepare every dish with love and great care. All the food is incredible, and the variety of burgers and pizza is insanely good!
The restaurant creates impressive vegan dishes. It's not easy to find an almost exclusive vegan restaurant, but Arbol de Seda offers tastefully designed dishes presented beautifully on large plates. While vegetarian food may contain eggs, dairy, or honey – they can veganize to suit your specific dietary needs, including swapping dairy cheese with vegan alternatives.
I loved the falafel wrap and Sollofrijo Caribeño. Both are full of flavor and under $10 USD. You've got to have the Chiffon de Chocolate vegan dessert – I never knew vegan desserts could taste so good! I also don't mind stopping by for a drink as they serve the tastiest mescal margaritas I've had in a long time!
Overall, this is a beautiful vegetarian restaurant with extensive seating areas and helpful and welcoming staff. They are open every day except Monday, and you can view their menu here.
9. Tin Jo Asian Restaurant – Best Asian food
Location: A short walk from the National Museum in downtown San Jose
Price range: $15 to $20 USD
Come here for: Asian cuisine
Takes reservations: Yes
This is the best place to try Asian healthy food for seafood lovers. Tin Jo Asian restaurant serves inspiring dishes from Japan, Thailand, China, India, and Indonesia. They have an extensive vegetarian and gluten-free menu too.
Tin Jo Asian Restaurant has beautifully designed rooms that create a graceful and peaceful environment. The "garden" room has a floor-to-ceiling waterfall filled with tropical flowers and a balcony with romantic lighting. They have various plants positioned intentionally between tables for privacy, which I love.
The restaurant has large dining areas that ooze comfort and intimacy. They also have Asian-theme rooms ridden with a collection of all the artwork created by close friends and frequent clients.
It is a high-quality restaurant with flavorsome Chinese dishes, with my favorite being the Sweet and Sour Pork. Or, try the Thai Yum Woon Sen Chicken – the flavor is so addictive!
Overall, we liked the authentic, bright dishes, bringing an authentic Asian cuisine experience. The service was professional and perfect. Fantastic ambiance with numerous tropical plants and colorful artwork!
Tin Jo Asian Restaurant has a variety of hours every day for both lunch and dinner, and you can view their menu here.
10. Restaurante Jürgen's – Best seafood
Location: Just east of Barrio Escalante
Price range: $30 USD for mains / per person
Come here for: Seafood and fine dining
Takes reservations: Yes
Jürgen's is the place to go for fine dining in San Jose. They offer gourmet cuisine inspired by continental and European flavors.
The ambiance is terrific, and the service is top-notch from the minute you set foot in this restaurant. We were served with small bruschetta bites with raw salmon as a complimentary appetizer. What a lovely welcome!
We decided to try the Sautéd Camembert and Goat Cheese Bruschetta for our starter, and this tasted as good as it sounded! Next, we tried the Pulpo (octopus) a la Parrilla and Salmon al la Plancha for our mains. Both were cooked perfectly and tasted so fresh.
Jürgen's have a long list of wines to go with every dish. Try a superb pinot grigio wine with your seafood or merlot with your steak. For dessert, finish your meal with the blissful Passion Fruit Bavarois.
Jurgen's was amazing. The ambiance was pleasant, romantic, and elegant. The menu was vast and inventive, which you can view here.
Jurgen's is open from 12 pm to 10 pm every day except Sunday when they close at 5 pm.
Please note: The restaurant requires its male patrons to dress in long pants as part of the mandatory dress code.
11. Café Rojo – Best cheap eat
Location: 7th Avenue and 3rd Street in downtown San Jose
Price range: $8 USD for mains
Come here for: Asian, Healthy, Fusion and cheap food
Takes reservations: No
Right in the heart of San Jose sits Café Rojo, a trendy coffee shop, restaurant, and cultural space. They specialize in Asian cuisines and Vietnamese-inspired dishes prepared with local ingredients and fresh products. The atmosphere is unique because the owners converted an old mansion into a magical place while maintaining stylish touches from the ancient building.
Café Rojo is also an LGBTI safe space that promotes cross cultures every month where clients and locals come together to celebrate their diversity.
The menu is small and delightful.
They make fantastic chicken and pork balls, so flavorful and big. Try the trout Casado and an eggplant bun or the delicious Vietnamese fusion or pork meatballs. The meals come in large servings, so you might want to watch your mains as you save up some space for dessert. The coffee is something else too! It's infused with cardamom spice, making it lusciously fiery yummy.
Café Rojo is a beautiful place to hang out because everyone who comes here feels the energy of love, especially since the owners make it their business to ensure all visitors feel appreciated and served on time.
Café Rojo is open from 12 pm to 8 pm every day, and you can view their menu here.
12. El Novillo Alegre Sabana – Best Argentinian
Location: They have a few locations. However, we went to the one in Sabana in west San Jose.
Price range: $25 to $30 for most meat dishes
Come here for: Argentinean, Steakhouse, Barbecue, Grill
Takes reservations: Yes
El Novillo Alegre offers a relaxed dining atmosphere within a gorgeous building with exotic interior design. They exclusively use world-class imported quality meat cuts created to perfection the Argentine way. Here, you can savor mature, tender cuts with extraordinary juiciness.
Other traditional Argentine dishes include milanesas, empanadas, dulce de leche, seafood, pasta, caramel-like dessert, and an impressive wine list at friendly prices.
They also have a variety of sandwiches, salads, side dishes, and delicious sauces to accompany the grilled meats. The restaurant offers options to hold celebrations, meetings, and events for your friends and family with spacious rooms that can have 6 to 100 people.
We started with bread and the beef or cheese stuffed empanadas. Then I had a medium-rare grilled steak and mushroom pasta. The juicy steak was the highlight of the evening. It was so heavenly!
Lastly, we ordered a smooth tempranillo grape wine to wash off all the meat we'd stuffed. The dining experience at t is Argentine spot was out of this world.
El Novillo Alegre is open from 12 pm to 11 pm Friday and Saturday, 12 pm to 9 pm on Sunday, and 12 pm to 10:30 pm on all other days. You can view their menu here.
Related Read: Check out the ten best craft breweries in Costa Rica that you just have to check out (especially if you're a beer lover!)
5 Must Do Activities while you're in San Jose
Poas Volcano – Poas Volcano is a very active volcano located only about an hour and a half drive from San Jose city center. It's characterized by its acid blue lake crater, which is one of the world's biggest craters. Seeing this huge crater with your own eyes is mesmerizing, and understandably, it's one of the most things to do in San Jose. This specific tour leaves at 8 am and guarantees you skip the long lines at the volcano. On top of that, your entrance fee to Poas is included and organized for you.
La Paz Waterfall Gardens – La Paz Waterfalls Gardens is one of the best day trips from San Jose because it's one of the biggest private wildlife sanctuaries in the country and is located only a 45-minute drive from San José airport. The entrance ticket is $48 USD for adults and $32 USD for kids aged 3-12 years old, and the park is open from 8 am to 5 pm. If you don't have a rental car, consider joining this organized day tour from San Jose. The tour includes transport to and from La Paz as well as lunch and a guided walk around the property.
Coffee tour – You can't leave Costa Rica without trying their worldwide renowned coffee! There are literally hundreds of coffee plantations around Costa Rica, but some of the most famous are located only a short drive from San Jose. One of the most popular tours is this Britt Coffee tour, in the province of Heredia, which is half an hour drive from San José. This tour includes transportation, lunch, and, of course, a coffee and chocolate tasting (which are one of my favorite chocolates in the world!).
White water rafting– If you feel adventurous and love water sports, you just have to go whitewater rafting. Pacuare River has its source in the province of Limón and flows into the Atlantic Sea while crossing a tropical forest. I recommend that you book a tour with certified guides. This tour will also offer you lunch after the rafting, as well as transportation. Pacuare River Whitewater Rafting is one of the most epic day trips from San Jose!
Related Read: Looking for a hotel near the airport in San Jose – read our blog about the 10 BEST!
Getting Around Costa Rica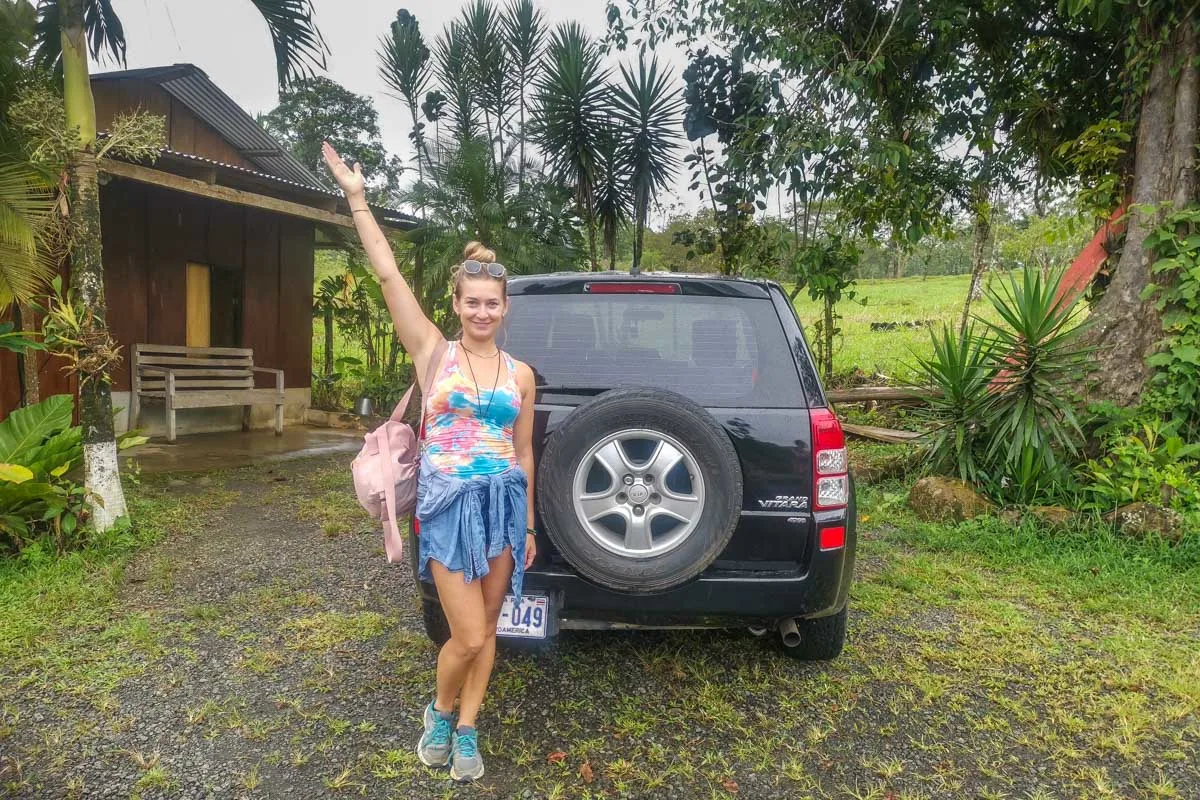 How you choose to get around Costa Rica is one of the biggest decisions you'll make when planning your holiday here! How you do it depends on your budget, travel style, and comfort level.
Renting a Car
Without a doubt, the number one way to explore Costa Rica is in a rental car. We book rental cars on the Discover Cars website as we have had good experiences with them in the past.
One of the things you need to watch for when renting a car in Costa Rica is the mandatory insurance that the government requires you to have. There are a lot of very cheap rentals that don't include this mandatory insurance (TPL) in the original booking price, but there are also ones that do. To avoid additional surprise charges when you pick up your rental car, be sure to rent a car that includes the mandatory insurance when you book.
Thankfully, on Discover Cars it's easy to tell apart the companies that include the mandatory insurance and those that don't. The trick is you can't pick any car on their website. In the picture below, you can see this rental car, with pick up in Jaco, includes the TPL. That means the mandatory insurance is included in the price. Any cover you get above that is extra.
Of course, I still suggest getting the full coverage offered by Discover Cars, which covers you even more.
You can browse cars on Discover Cars here.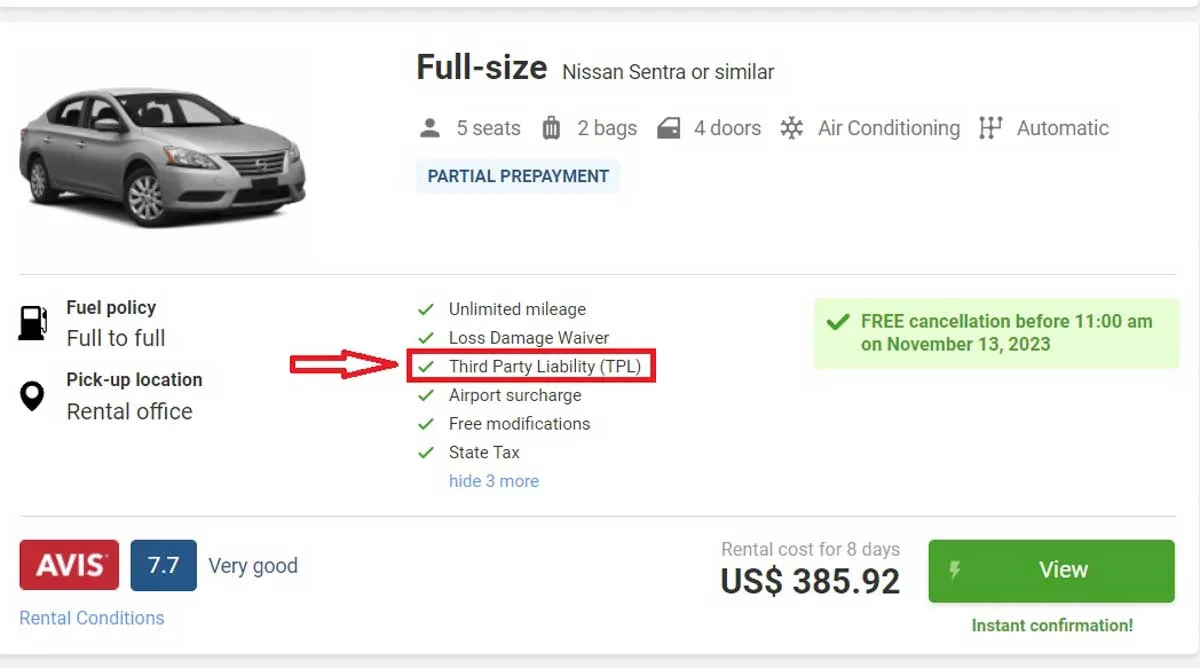 Book Shuttles
If renting a car isn't in your budget, you don't feel comfortable driving in Costa Rica, or you just don't like driving, shuttles are the next best option. There are hundreds of shuttle routes available all over the country, and they are very affordable.
Shuttles in Costa Rica are specifically for tourists and often include pick up and drop off at your selected hotels and airports. The drivers also speak some English, and the vehicles have air conditioning. You'll also be guaranteed a seat when you book a shuttle (which isn't the case with the public bus system.)
To get the best price, use the website Bookaway. They compare all the offers and prices of shuttle companies in Costa Rica so you get the best price! Honestly, we have saved so much money using Bookaway!
You can search for shuttles online on Bookaway here.
Public Bus
Lastly, you can use the public bus system. On short journeys, such as from San Jose to La Fortuna or Uvita to Manuel Antonio, this system is great. However, the longer the journey the more hassle and time spent on a bus. It's undoubtedly best to save the public bus in Costa Rica for short and straightforward trips!
The public buses are definitely the cheapest way to get around Costa Rica, but they are not always very reliable and schedules often change without notice and delays are to be expected. The buses can also be very crowded and hot – so just be prepared!
It's also good to speak some Spanish if you plan on riding the public bus since most drivers and ticket booth operators don't speak English.
Pura Vida!
San Jose is often just a place to layover before heading to or from other destinations in Costa Rica. However, with the list above, you'll be able to head out and begin or end your Costa Rica holiday with a delicious meal!
Thanks so much for reading! I hope you enjoyed this guide to the best restaurants in San Jose and have picked a few to try. If you did, don't leave just yet! Instead, stick around and keep planning your Costa Rica trip with other blogs such as:
Best restaurants in Puerto Viejo
Best things to do in Tortuguero