This blog may contain affiliate links. Read our disclosure policy for more info.
Although Costa Rica is well known for its natural attractions like stunning waterfalls, sprawling national parks, lots of wildlife, and gorgeous beaches, it also has so much to offer in the way of arts, history, and even architecture! You'll see all three of these elements on display at the National Theater of Costa Rica, located in San José.
The National Theater of Costa Rica is one of the best things to do in San José. It's perfect to drop into during the day or come in the evening for a night out to enjoy a live performance – whether it's music, a ballet, or a play.
It not only has a great location, but it is also cheap to visit. That's especially nice if you're traveling Costa Rica on a budget, but still want to fit in some neat experiences.
Plus there's a wonderful café with what I think to be some of the best coffee that the country has to offer (and I've tasted a lot of Costa Rican coffee!).
Combining art, architecture, history, food, and live performances, this theater can give you a break from the heat, and a look into one of the country's most important buildings.
If you plan to visit the theater, called Teatro Nacional de Costa Rica, there are some things to know before you go. So, stick with me for a bit, and I'll give you the inside scoop!
Don't have time to read the full article? With a tour entrance fee of $6.59 USD for adults, visiting the National Theater of Costa Rica is a unique way to learn about San Jose's history. Guided tours only take about 45 minutes, so it's easy to fit in between seeing other spots!
1. About the National Theater of Costa Rica
The National Theater of Costa Rica is not only a beautiful place to see plays, operas, classical concerts, ballets, and other performances, but it is also a source of great pride among the Costa Rican people.
The theater has hosted many celebrated performances since it opened in 1897.
When you think of Costa Rica's main industries, coffee likely comes to mind as the star of the show. Funny enough, the theater's initial building costs were covered by a tax that the then-president placed on its main export: coffee.
The tax money raised enough funds to support the building of such a big theater, at a time when Costa Rica's population was much smaller than today. For context, when the theater was built, the population of Costa Rica's capital city was about 20,000 people … today it's closer to 340,000 people!
Despite the city's smaller population at the time of the theater's construction, the impressive building was used to entice important people from other countries to visit and hopefully impress them. Whether this actually helped or not is unknown, but regardless, there is now a spectacular theater to show off in San José!
I can go on and on about how cool this place is, but I think you'd rather hear about it from the theater employees who offer daily guided tours of the theater. You will have opportunities to learn so much more about the history, important events and performances that have been held here, and even the architectural design and reasoning behind the theater's look.
2. Where is the National Theater of Costa Rica?
You can find the National Theater located in the center of San José, at the Plaza de la Cultura. It's just a few blocks away from places like the National Museum of Costa Rica and the Museum of Democracy, so it's an area full of history. In fact, wandering around downtown San José is one of the top activities to do in Costa Rica!
San José itself, the capital city of the country, can be found near the very center of the nation. So, since the National Theater is in the center of the city, it is one of the most central places that you could possibly visit in all of Costa Rica!
Say that you fly into Costa Rica and land at the Juan Santamaría International Airport. You'd be able to easily take a taxi to the National Theater in 25 minutes.
Even if you are only spending one day in San José before heading out on a day trip or going somewhere a bit more rural like Jaco or Santa Teresa, you can make even a partial day in the city more exciting by stopping by the Teatro Nacional.
There is no parking directly near the theater, so walking during the daytime or taking an Uber will be the best way to get here. You can also use public transport.
If you do take your car, the Teatro Nacional website gives some recommendations for parking lots in central San José, to which the theater runs a free minibus service before and after their performances. However, those just doing the daily tours will need to find another solution.
Related Read: There are some great hotels near the airport in San Jose to take advantage of before and after your flight.
3. How much does it cost to visit the National Theater of Costa Rica?
If you've decided to go ahead and take a quick trip to see the National Theater, the entrance fee for the tour is 3,500 Colones or about $6.59 USD for adults. Kids under the age of 12 get free entry, so this is even more accessible to families or anyone traveling with children.
If you aren't wanting to spend money, but want to see the theater, not to worry!
You can visit both the Entrance Hall and the café for free, to at least say that you've been inside. In fact, there are some beautiful statues in the hall to see.
If you are going to be coming with an educational group of any type, or with any other larger groups that may need accommodation, the theater asks that you request your tour in advance online.
Otherwise, you can buy guided tour tickets online or show up at the door to see if the group leaving next is under the limit of 25 people. As long as the group has not yet hit that capacity, you'll be able to join.
Tour times change regularly, but they usually begin at around 9 am and run every hour until 4 pm unless they have a show performing.
4. How long is the guided tour of the National Theater of Costa Rica?
When you're looking at all the tours in Costa Rica, these ones are pretty quick and easy to fit into your day. Tours through the National Theater are around 45 minutes long and are offered in both English and Spanish.
The tour takes you through the theater, talking about the artworks painted by famous artists from Italy as well as taking you to the theater floor to see the stage.
Overall it's very interesting and a must-do in San Jose!
5. What time are the tours of the National Theater of Costa Rica?
Guided visits take place every day of the week during opening hours, but these times change regularly! Honestly, it's a little frustrating! Tours can start as early as 9 am and should happen hourly until 4 pm-ish.
My recommendation is to arrive either before or after lunchtime. This is because there are often two tours before and two tours after lunch. If you're early, just take a wander or enjoy a break at the café!
If you are visiting the theater directly, this timing may be easier. However, if you take a city tour that includes a stop at the theater, you'll at least have an idea of the range of time that you'll be visiting.
Related Read: If you need to kill some time before or after your theater tour, grab something to eat at one of the best restaurants in San José!
6. Can you still see live shows at the theater?
You can do so much more than just take a tour of the National Theater of Costa Rica; you can see a live show!
Like many important theaters, you can take a tour to see the ins and outs, but going to a show is where the real magic happens, of course.
When it comes to the types of shows offered at Costa Rica's Teatro Nacional, though, the variety is truly incredible.
A "typical" month may have everything from a piano festival, comedy performances, a three-act play, and concerts by the National Symphony Orchestra. This National Theater is much like other theaters that rotate events and get new performances all the time.
Some months may have different events that are more focused on theatrical performance, or more musical acts may be highlighted. You can look at the calendar online for when you plan to visit so that you can have an idea of what you might expect to see.
Overall, there is bound to be a show for you! The question is whether you'll be there during the week, or the day, that it is running at the National Theater.
7. Is the Alma De Café attached to the theater worth visiting?
I mentioned a bit further up that there is a café located in the National Theater, and that it is one of the few free places that you can visit if you're either pressed for time or wanting to stick to a super tight budget.
So, is the café really worth visiting or is it just an easy spot to stop? Well, both!
The Alma de Café is quite worth the visit, regardless of whether you just want a stop at the theater or if you're looking for some refreshments after a tour.
As you'll know by now, coffee is one of the biggest industries in Costa Rica and helped to support the building of this emblematic space, so it's only fitting that the coffee here is of the very best quality.
Not only will you get to visit a renowned theater, but you will get to taste one of the most important exports that the country has to offer.
Alma de Café, which translates to 'soul of coffee' in English, is open Monday through Saturday from 9 am to 7 pm, and on Sunday from 9 am until 6 pm.
Coffee is not the only beverage available here, so if you are looking for more of a gourmet tea, a fresh smoothie, or a decadent hot chocolate, this is still the spot to be!
When it comes to coffee, you'll find a wide range of flavors like vanilla, almond, and more. The range of lattes, plain black coffees, and other coffee-based creations will leave you contemplating what you want because there are almost too many great choices.
The food highlights plenty of traditional Costa Rican fare but also offers a range of internationally-inspired dishes. Their caprese sandwich is my favorite, and I get one every time I stop by.
I think it's safe to say that you'll forget that you are just in a coffee shop, with all the amazing food and drink options to choose from.
Related Read: For another place to quench your thirst, San Jose is also home to some of the BEST breweries in Costa Rica!
8. Is visiting the National Theater of Costa Rica worth it?
As you plan your Costa Rica itinerary, you may be wondering if visiting the National Theater is actually worth it. In a word, yes!
If you have the time, this is such a great way to see an important part of the country that does not relate to all of its natural wonders.
This is something that many people won't get to do, or even know about, so I'd urge you to take advantage and go check out the National Theater of Costa Rica on your visit.
Even if this is not one of the main stops on your trip, you can swing by and visit for an inexpensive fee between other tours or even just to break up a day of exploring central San José.
If you aren't a tour person but are interested in seeing a show, I cannot recommend that enough. Getting to attend an event in a place that has been so historically important to the country is quite the experience and one that will enrich your trip to Costa Rica.
Overall, if you have a chance to visit the Teatro Nacional de Costa Rica, you should take it.
Other EPIC Activities to do in San José
Poas Volcano – Poas Volcano is a very active volcano located only about an hour and a half drive from San José city center. It's characterized by its acid blue lake crater, which is one of the world's biggest craters. Seeing this huge crater with your own eyes is mesmerizing, and understandably, it's one of the most popular things to do in San Jose. This specific tour leaves at 8 am and guarantees you skip the long lines at the volcano. On top of that, your entrance fee to Poas is included and organized for you.
La Paz Waterfall Gardens – La Paz Waterfalls Gardens is one of the best day trips from San Jose because it's one of the biggest private wildlife sanctuaries in the country and is located only a 45-minute drive from San José airport. The entrance ticket is $48 USD for adults and $32 USD for kids aged 3-12 years old, and the park is open from 8 am to 5 pm. If you don't have a rental car, consider joining this organized day tour from San Jose. The tour includes transport to and from La Paz as well as lunch and a guided walk around the property.
Coffee tour – You can't leave Costa Rica without trying their world-renowned coffee! There are literally hundreds of coffee farms around Costa Rica, but some of the most famous are located only a short drive from San José. One of the most popular tours is this Britt Coffee tour, in the province of Heredia, which is half an hour drive from San José. This tour includes transportation, lunch, and, of course, a coffee and chocolate tasting (these are one of my favorite chocolates in the world!).
White water rafting – If you feel adventurous and love water sports, you just have to go whitewater rafting. Pacuare River has its source in the province of Limón and flows into the Atlantic Sea while crossing a tropical forest. I recommend that you book a tour with certified guides. This tour will also offer you lunch after the rafting, as well as transportation. Pacuare River Whitewater Rafting is one of the most epic day trips from San Jose!
Where to Stay in San Jose, Costa Rica
San Jose is definitely not lacking when it comes to accommodation options! There are actually hundreds of hotels to choose from in San Jose, and most of them are extremely affordable! Below you'll find our favorite options for each budget.
Grano de Oro Hotel – $$$
Want a more luxurious experience? Grano de Oro Hotel is right in the heart of San Jose and features an on-site gourmet restaurant, massage services, and a rooftop garden! The entire place is absolutely gorgeous, with vaulted ceilings and a beautiful interior design. You can walk to many of San Jose's attractions, and you're just a 15-minute drive to the airport.
Room rates start at $153 USD/night. For luxury in a great location, book the Grano de Oro Hotel right here on Booking.com, here on Hotels.com, or here on Expedia!
Terrazas de Golf Boutique Hotel – $$
For a great mid-range option, Terrazas de Golf Boutique Hotel is absolutely stunning. The whole place is quiet, cozy, and clean. Each room provides garden or golf course views with a furnished balcony. They offer laundry, room service, and an airport shuttle for a fee – and they're just a 10-minute drive to the airport. The staff are super accommodating and happy to answer any of your questions.
Prices here start at around $90 USD per night. For a relaxed and reliable choice, reserve a room at Terrazas de Golf Boutique Hotel online on Booking.com here or on Expedia here.
Costa Rica Backpackers – $
If you're looking for a budget option in San Jose, I recommend Costa Rica Backpackers. This hostel has excellent ratings, is in a great location, and even includes an airport shuttle and swimming pool! They also have free coffee, a great on-site restaurant, and super helpful staff.
The best part? Shared rooms start at $10 USD/person per night and a private room is only $27 USD a night. You can book your stay on Booking.com here, on Hostelworld.com here, or on Expedia here.
If you want to stay closer to the airport as opposed to in the city center, consider staying in Alajuela. This city is where the airport is actually located (connected with San Jose), and believe it or not, there are actually lots of fun things to do in Alajuela too!
Getting Around Costa Rica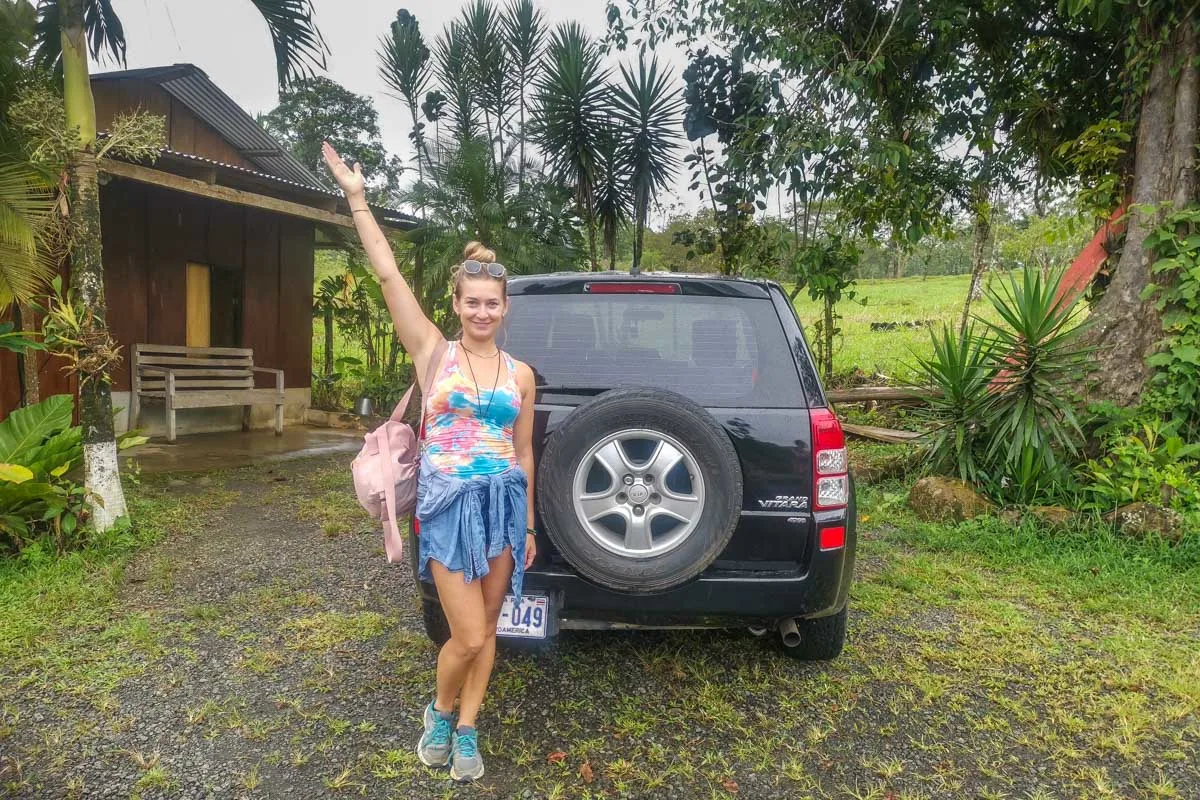 How you choose to get around Costa Rica is one of the biggest decisions you'll make when planning your holiday here! How you do it depends on your budget, travel style, and comfort level.
Renting a Car
Without a doubt, the number one way to explore Costa Rica is in a rental car. We book rental cars on the Discover Cars website as we have had good experiences with them in the past.
One of the things you need to watch for when renting a car in Costa Rica is the mandatory insurance that the government requires you to have. There are a lot of very cheap rentals that don't include this mandatory insurance (TPL) in the original booking price, but there are also ones that do. To avoid additional surprise charges when you pick up your rental car, be sure to rent a car that includes the mandatory insurance when you book.
Thankfully, on Discover Cars it's easy to tell apart the companies that include the mandatory insurance and those that don't. The trick is you can't pick any car on their website. In the picture below, you can see this rental car, with pick up in Jaco, includes the TPL. That means the mandatory insurance is included in the price. Any cover you get above that is extra.
Of course, I still suggest getting the full coverage offered by Discover Cars, which covers you even more.
You can browse cars on Discover Cars here.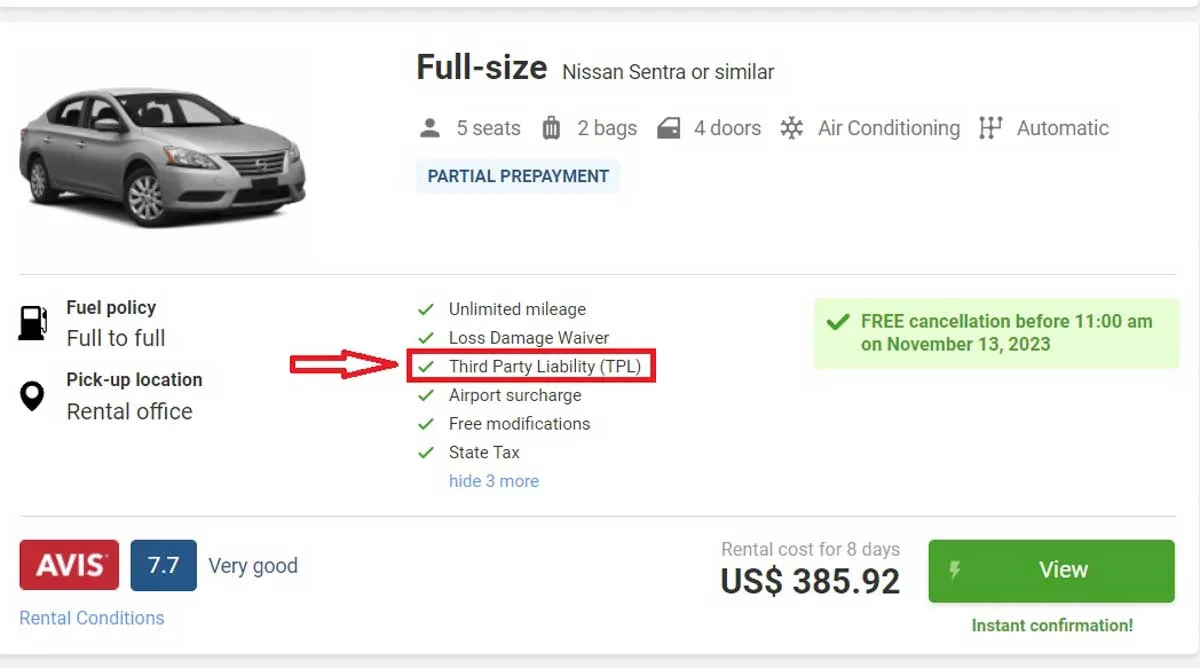 Adobe Rental Rent A Car is another rental company that we most often use in Costa Rica. We love them because Adobe has 15 offices around Costa Rica and delivers door-to-door around their offices at no extra cost. We also are pleased that all of their cars are new. In fact, they are never older than 2 years to the date. They are also the only company to include mandatory insurance and promise no hidden fees. You can get a free quote for a rental car from their website here.
Book Shuttles
If renting a car isn't in your budget, you don't feel comfortable driving in Costa Rica, or you just don't like driving, shuttles are the next best option. There are hundreds of shuttle routes available all over the country, and they are very affordable.
Shuttles in Costa Rica are specifically for tourists and often include pick up and drop off at your selected hotels and airports. The drivers also speak some English, and the vehicles have air conditioning. You'll also be guaranteed a seat when you book a shuttle (which isn't the case with the public bus system.)
To get the best price, use the website Bookaway. They compare all the offers and prices of shuttle companies in Costa Rica so you get the best price! Honestly, we have saved so much money using Bookaway!
You can search for shuttles online on Bookaway here.
Public Bus
Lastly, you can use the public bus system. On short journeys, such as from San Jose to La Fortuna or Uvita to Manuel Antonio, this system is great. However, the longer the journey the more hassle and time spent on a bus. It's undoubtedly best to save the public bus in Costa Rica for short and straightforward trips!
The public buses are definitely the cheapest way to get around Costa Rica, but they are not always very reliable and schedules often change without notice and delays are to be expected. The buses can also be very crowded and hot – so just be prepared!
It's also good to speak some Spanish if you plan on riding the public bus since most drivers and ticket booth operators don't speak English.
Invest in Travel Insurance
Paying out of pocket for trip interruptions or medical treatment will add to what might already be a stressful situation. We always travel with SafetyWing travel medical insurance.
The best part is that it costs only a fraction of what most insurance policies charge, which makes it perfect for digital nomads, long-term travelers (like us), and budget travelers. It only costs $45 USD per 4 weeks!
To start coverage, you must purchase it after leaving your home country. We usually purchase it as soon as we land at the airport.
Since using SafetyWing we've been reimbursed thousands of dollars when we've gotten sick. During the pandemic, they've even gone as far as to pay for our last-minute flights back to Canada from Colombia before the border closed!
You can click here to get a quote and read all the details!
Pura Vida!
There you have it, the complete guide to visiting the National Theater of Costa Rica! Hopefully, you picked up some good tips for your own visit. This was a fun little adventure during our time in San José and I'm still thinking about that amazing coffee at the café. I definitely want to come back and catch a live show!
If you're looking for more unique activities and guides to places in Costa Rica, we've got you covered! Have a look around our site to find some of our favorite places and things to do to get inspired for your trip here.
Fun things to do in Alajuela, Costa Rica
MUST-VISIT volcanoes in Costa Rica
Tips to KNOW before visiting the Costa Rica Crocodile Bridge