Nosara is a small but bustling town on the Nicoya Peninsula, in Guanacaste. It's well known as one of the best places to surf in Costa Rica and is close to several beaches, such as Playa Pelada and Playa Nosara, but Playa Guiones is easily the most popular.
This white sand beach in a jungle vibe setting it's a destination for everyone looking to relax and enjoy a nice time away from the urban noise.
On top of that, Nosara is a vibrant tourist town with lots of fun bars, unique cafes, and top-notch restaurants. In fact, as a foodie, it's one of the top destinations in Costa Rica, and eating out is considered one of the best things to do in Nosara.
However, making a choice on where to eat can also be a little bit overwhelming – there are so many great restaurants in Nosara. That's why, to help you out, we've narrowed it down to the 15 best restaurants in Nosara! From vegan to burgers to brunch, this list has it all!
Best Restaurants in Nosara, Costa Rica
1. Destiny's – Best Brunch Restaurant in Nosara
Location: Playa Guiones, Nosara
Price range: $7 USD for a smoothie, $10 to 12 USD for a meal
Come here for: healthy smoothies and brunch
Takes reservations: no
Destiny's Café is located in La Negra Surf Hostel, and it's described as "serving creative, healthy, and contemporary dishes using local ingredients with many vegetarian and vegan options." I would add that their menu is gluten-free, paleo, keto-friendly and offers many sweet but also salty dishes.
From French toast and waffles to burritos, beet hummus, omelets, and salads, I am sure you will find the right meal for you! I personally love the Destiny Eggs Nest and the Truffle Avo Toast. Both make the perfect post-surf brunch meal.
Of course, you have to try one of their smoothies too! My favorite is FATE which includes cacao nibs, banana, peanut butter, coconut milk, and dates! However, there are lots more alternatives made with fresh fruits and superfood ingredients.
Overall, Destiny Cafe is my favorite place to visit in Nosara because brunch is my favorite meal of the day! On top of that, the food is Instagram-worthy and so creative there's no place like it elsewhere!
2. Rosi's Soda Tica – Best Typical Costa Rican Food in Nosara
Location: in Playa Guiones downtown. There are two Rosi's Sodas, the original one is in front of the Banco Popular, near the main plaza, and the second, in front of the Hotel Gilded Iguana (one of the best hotels in Nosara!)
Price range: $6 USD for a Casado, $10 USD for a fish filet.
Come here for: authentic Costa Rican food.
Takes reservations: No
On Trip Advisor, this place is the number one restaurant to eat at in Nosara, so I just had to try it out for myself! Rosi's Soda Tica is open from 8 am to 3 pm so you can come to enjoy breakfast or lunch, but unfortunately not dinner.
For those who don't know, "Sodas" are small, authentic restaurants in Costa Rica. The traditional dish for breakfast is Gallo Pinto, a blend of rice and beans with eggs or bacon. For lunch, the main meal will be a Casado, or a plate of rice, beans, fried plantain, salad, legumes, and the meat of your choice (fish, chicken, or beef).
Rosi's Soda is famous for its typical Casados which cost under 4,000 Colones. For that, expect a huge portion that will fill you up all day!
However, Rosi's Soda also serves other side dishes like sandwiches, salads, and soups. Rosi's is cheap and is good value for the money compared with other Nosara restaurants. The restaurant has a welcoming and laid-back vibe and the staff are lovely.
Casados are the most popular local meal in Costa Rica and the perfect way to fuel your body for a big day. Trying at least one while in Costa Rica is a must, and Rosi's is one of the best I've tried!
3. Guiones Brewing Company – Best Beer and Pizza
Location: in Playa Guiones downtown
Price range: $8 USD for a salad or ceviche, $11 USD for a pizza and a beer is $6 USD
Come here for: Pizza and craft beer
Takes reservations: not mandatory but recommended. The bar area is first come first serve.
Guiones Brewing Company is the perfect spot to hang out with family or friends! The place's specialty is pizzas and, of course, craft beer! What else can you ask for to have a great night!
Guiones Brewing Company only has a few beers on tap; however, what they do brew, they brew well! Their main beer is a pale ale called Tragona, which I love. But, of course, my favorite is the IPA!
Guiones Brew Co. is known for their wood-fired pizzas too. They only cost $10 USD and are full of flavor – perfect with a craft beer. They serve lots of traditional pizzas like margarita or pepperoni pizza. Nevertheless, they also offer some other creative combinations with native ingredients, such as Palmito or heart of palm, and Maranon or cashew seeds.
They also have a gluten-free pizza for those who are intolerant (cooked in the same oven though) and, the restaurant also serves fish ceviche, and salads.
Although bookings are not required at Guiones, they are recommended during busy periods such as weekends or over Christmas.
4. Fish Bar – Best Fish Tacos
Location: Playa Guiones downtown, near the Gilded Iguana Hotel.
Price range: $12 USD for burgers and $15 USD for tacos
Come here for: fish tacos and burgers.
Takes reservations: no
Fish Bar is an open-air bar that is a great spot for families and friends. It serves quality "fast food" made with fresh fish and seafood. Some examples are fish or shrimp tacos, fish burgers, and the classic fish and chips!
The vibe at Fish Bar is very fun and relaxed, and the location is just a few meters away from the beach. It is open Wednesday to Sunday from 12 pm to 8 pm.
However, if you are a vegetarian, they also offer a couple of alternatives like veggie tacos and a burger made with an eggplant patty – it's delicious!
If you like cocktails and wine, this is also a place for you. From Margaritas to cider and sparkling wine, you can really get the night started at Fish Bar! You can see their menu here.
Related Read: Here are some must try restaurants in San Jose – one of the best culinary scenes in Costa Rica
5. La Luna – Best restaurant with a sunset view
Location: in front of Playa Pelada, Nosara
Price range: $13 USD for a fish ceviche, $25 USD (average) for main meals.
Come here for: a romantic dinner / wedding
Takes reservations: yes
La Luna has arguably the best location in Nosara, just in front of the beach. The restaurant's fancier vibe makes it a great place to spend a romantic dinner for couples. Also, La Luna is commonly booked for weddings and celebrations.
However, La Luna is also a perfect spot to chill with friends and family, to have an afternoon cocktail or any meal of the day since it's open from 7:30 am to 10 pm.
This Mediterranean-style restaurant offers a wide choice of dishes. Tuna steaks, brick-fired pizzas, ceviche, and salads are just some of them. Prices are a little bit more expensive than the average, but they offer interesting combinations of starters and main meals for two or four people.
To go along with your meal, try some of the cocktails. My favorite is the Passion Mojito!
Come for lunch, sunset drinks, or a candle-lit dinner with the sound of the waves crashing. La Luna is easily the most popular fancy restaurant in Nosara and I can easily see why! Be sure to reserve a table if you're planning on visiting for sunset as it does get really busy.
6. La Brasa Argentinian Grill — Best Steak
Location: Playa Guiones downtown, next to Gabi's food court, near the supermarket Delicias del Mundo
Price range: $25 USD for a short rib to $60 USD for a T-bone steak
Come here for: to enjoy an authentic Argentinian Grill
Takes reservations: yes
If you are a meat lover, La Brasa Argentinian Grill is the place for you. They serve authentic Argentinian Grilled specialties and homemade Argentinian empanadas. Of course, you will also find a selection of good wines and other side dishes on their menu.
The restaurant is a little pricy, but it's a good value for the money given the quality of the meat and the big portion sizes. My two favorite dishes are the T bone and Flank Steak. Both are seasoned beautifully and always cooked to your liking! If you're traveling with a hungry group, get the Tomahawk Steak!
La Brasa is a fantastic place to enjoy fine dining, but in a relaxed atmosphere, no dress code is needed, and a big plus is that it's family-friendly with a children's playground in the venue.
This place is only open for dinner, and making a reservation is highly recommended.
7. Gabi's outdoor food court – Most Choices
Location: Playa Guiones downtown, near the supermarket Delicias del Mundo
Price range: $7 USD for a casado at Soda La Barra or maki rolls at Sushi Mar, to $15 USD for pasta at Garlic
Come here for: a quick lunch
Takes reservations: no
Gabi's outdoor food court is a small food court in Playa Guiones downtown. There are 7 different restaurants and some specialty shops. It's perfect for larger groups with picky eaters!
The choice of food here is very varied. You will find the regular Costa Rican Soda, Soda la Barra to enjoy typical food. This place is really cheap, and the portions are huge!
There is also Grill and Surf for burgers and Garlic (only open for dinner) for Italian food. Two restaurants serve Asian food, they care called Pulpo and Sushi Mar.
Finally, Symbiosis offers healthy vegan food. La Brasa Argentinian Grill mentioned already, is also in this venue.
It's a great place for families and friends. There is a common area where you can sit and eat your meal and a playground for kids. It's open at noon and until 9 pm.
8. Luv Burger – Best vegan restaurant
Location: Playa Guiones downtown, near the Gilded Iguana Hotel
Price range: $7 USD for a smoothie, $12 USD for a No-Fish Filet
Come here for: a healthy and vegan meal
Takes reservations: no
Nosara is a fantastic place for vegans. Around town, there are many great restaurants to eat vegan food, and even those who usually shy away should give some of these restaurants a try.
One of the most popular vegan restaurants in Nosara is LuvBurger. Their menu is entirely plant-based, and as the name suggests, they have lots of burgers!
They open daily from 12 pm to 9 pm so you can have breakfast, lunch, and dinner here.
The options for breakfast can be Gallo Pinto, fruit bowls, or smoothies. You will find several alternatives for lunch and dinner, such as chalupas, a bean burger, or salads.
Sweet raw treats like energy balls or granola bars are also available.
Related Read: Heading to Samara? Check out the best restaurants in Samara!
9. Howler's Beach Lounge – Best Atmosphere
Location: Near Playa Guiones
Price range: $6 USD for chips and salsa, $8 USD for tacos
Come here for: cocktails and appetizers with friends.
Takes reservations: not mandatory
Howler's Beach Lounge is a fun beach bar and is a great place for cocktails, tacos, and appetizers. The menu is simple but tasty, offering mainly Mexican tacos with beef, fish, or chicken. There is also a vegan alternative.
The bar is located only a short walk from the main area of the beach where people watch the sunset. So, get in before the sun sets, or it's almost impossible to get a seat.
You will also be able to enjoy a few starters like ceviche, tuna carpaccio, or chips with salsa or guacamole. It's the perfect place for a really casual dinner or pre-drinks before a night out!
I will say, come with your best Pura Vida attitude because the service can be slow! Just order your drinks as soon as you arrive and enjoy the atmosphere!
This is a great place to hang out with friends and why not, meet other travelers. It's open from 12 pm to 8 pm Wednesday to Monday.
2023 Update: Howler's Beach Lounge is currently temporarily closed. Check Google Maps for updates.
10. Go Juice – Best Smoothie Bowls
Location: North of Playa Guiones, in front of the Gilded Iguana Hotel
Price range: $3 USD a coffee, $6.50 USD for a juice
Come here for: a juice, smoothie or fruit bowl
Takes reservations: no
For the best smoothies in Nosara, you need to find this tiny food truck settled not far from the beach. Go Juice is a nice place to start the day with fruit juice or replenish after a long hot journey. The spot is small but there are a few hammocks and picnic tables available to lounge around.
They serve freshly made smoothies, fruit bowls, juices, coffee, and a few dishes (ceviche and Poke Tico, a classic Hawaiian poke with a Costa Rican twist). My personal favorites are the smoothies and the acai bowls – they are so fresh and fill you with energy after a day in the sun.
Prices are pretty affordable and portions are generous at Go Juice, and they are open from 8:30 am to 5:30 pm every day.
11. 10 Pies – Best All-around Menu
Location: Playa Guiones downtown
Price range: $5 USD for a grilled cheese sandwich, $15 USD for a shrimp pizza
Come here for: Variety! Whatever you feel like eating, you will most likely find something.
Takes reservations: no
10 Pies offers a huge menu; from breakfast to dinner, you will have multiple options to choose from. Some of their main dishes are pizzas, poke bowls, tacos, grilled sandwiches, and casados.
The Honey BBQ wings and the Tuna Poke Bowl are my personal favorites but lots of people rave about their pizzas and smoothies! However, you will also find plenty of appetizers like summer rolls, avocado toast, or crab croquettes.
The prices are very reasonable, and it's a family-friendly place. It's open from noon to 9 pm.
Related Read: Find out where the best restaurants in Dominical are if you're planning a visit.
12. Dolce Vita – Best Italian Food
Location: Playa Guiones downtown, near Blue Zone Apartments
Price range: $17 USD for meat lasagna to $21 USD for a filet steak with rosemary sauce
Come here for: a great Italian dinner
Takes reservations: yes
Dolce Vita is my favorite place to eat Italian food in Nosara. Although the restaurant is located a short drive or walk from town, it's worth the trip because it's one of the few authentic Italian restaurants in the area. Roberto, the owner, will delight you with their specialties and their warm service and atmosphere.
The menu is very varied and original. You will be able to try their beef lasagna, gnocchi, polenta, and many different plates of pasta and meats. Vegan and vegetarian options are also available. I always come for the pasta which is fresh, well priced, and delicious!
Dolce Vita only opens from 6 pm to 9 pm so booking a table is recommended.
13. Seekretspot – Best Ice Cream
Location: Playa Guiones downtown, next to Minimarket Delicias del Mundo
Price range: $2.5 USD per scoop
Come here for: Ice cream!
Takes reservations: no
Seekretspot is a small gelateria is a great spot to grab an ice cream on the go or to have a pause during the day. It's probably the only place in the area making homemade gelatos.
There is a flavor for every palate. Chocolate, vanilla, and caramel are some of their classic preparations, but they also have other more original flavors made with local fruits like passion fruit or mango.
You will also be able to enjoy coffee and Italian or European pastries like croissants or quiches. The place is open daily from 11 am to 9 pm.
14. Le Bistrot Guiones – Best Bakery and Coffee
Location: Playa Guiones downtown, near Banco Popular
Price range: $14 USD for a Nutella waffle, $18 USD for a beef patty burger
Come here for: crepes and French wine!
Takes reservations: no
Le Bistrot Guiones is a French-style bistro that has a lot to offer. You can enjoy avocado toasts with bagels or bread, waffles, crepes, bowls, and eggs for breakfast. The best part is, it's all freshly baked!
For lunch, crepes, salads, tarts, and burgers are also some options that you will be able to accompany with a glass of French wine. Better yet, get the charcuterie board and enjoy with friends!
This place has a large, chic, and modern terrace in the back where you can have your meal in a relaxing atmosphere. It's open from 10 am to 3 pm Thursday through Tuesday.
15. Al Chile – Best Mexican Food
Location: Playa Guiones downtown, near Nosara Tico Surf School
Price range: $5 USD for starters, $12 USD for two fish tacos
Come here for: Mexican tacos and stuffed roasted bell peppers and plantain
Takes reservations: yes
I would say that this Mexican-style restaurant is distinguished for its authentic and original dishes that you will hardly find elsewhere. For example, Al Chile serves an oven-baked sweet plantain filled with cream cheese! This dish is also common in Costa Rican cuisine, so give it a try if you feel like it.
Besides that, you can order more traditional Mexican meals like tacos and burritos. Vegetarian options are also available. The restaurant is also cheaper than most places around Nosara for lunch and dinner.
Al Chile is pretty big, so it's perfect to go with family or friends. It's open daily from 7 am to 9 pm.
4 Things to do in Nosara
Go surfing – Sufing is what made a name for Nosara so weather you love to surf or want to learn this is the perfect place to do so! There are wave breaks on both sides of Guiones Beach so space won't be an issue. You can rent a board for around $20 USD or you can book a private 1-hour lesson like this one for around $80 USD.
Explore nearby beaches – while Guiones Beach is one of the best beaches in Costa Rica there are also many of other beaches in the general vicinity that aren't so widely known and have their own unique elements. Some of my favorites are Playa Pelada, Nosara Beach, and Playa Garza.
Practise yoga – Nosara is a health and wellness city that is particularly serious about yoga. There are yoga studios all around Nosara offering drop in classes and if you are very passionate about it you can even join a yoga retreat.
See the turtles at Playa del Ostional – In the entire world this is one of the best places to watch a mass turtle nesting where tutles congregate to shore to lay their eggs on the beach during the rainy season. You can join tours to the reserve for around $60 USD and you'll see hundreds if not thousands of turtles all at once!
Where to Stay in Nosara, Costa Rica
Before we start, let's clear one thing up. You want to stay near Playa Guiones, not in Nosara. The town of Nosara is not near the beach and is also not where all the best restaurants and shops are. They are all in a small downtown area near the beach.
For budget travelers, stay at Selina Nosara. Although this hostel pushes into the medium-priced category, it's worth spending the extra money. The hostel has a beautiful pool, tons of free activities every day. This is without a doubt the nicest hostel I have ever seen! You can book this hostel on Booking.com or Hostelworld.
If you're really on a budget and don't mind staying away from the beach, Hostel Nicoa is a good option.
Your options are much better for those with a little more to spend. My top choice is The Sunset Shack for around the $180 USD a night price range. The hotel is perfectly located, close to the beach, and has a pool.
Suppose you're a luxury traveler. Luckily for you, there are a lot of hotels in this price range in Nosara. The Gilded Iguana is really one of the best if you want a resort-style stay close to the beach with luxury amenities. Another good option is Moana Surf Resort which has ocean view rooms!
Getting Around Costa Rica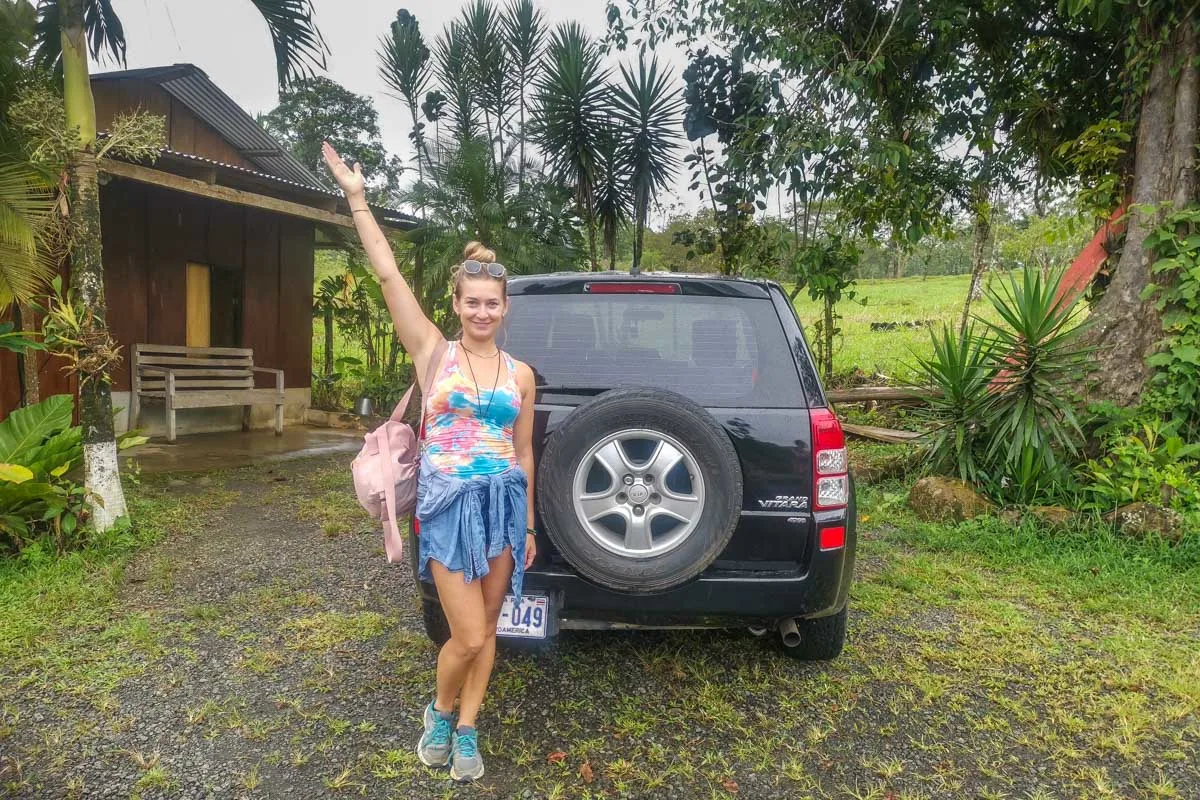 How you choose to get around Costa Rica is one of the biggest decisions you'll make when planning your holiday here! How you do it depends on your budget, travel style, and comfort level.
Renting a Car
Without a doubt, the number one way to explore Costa Rica is in a rental car. We book rental cars on the Discover Cars website as we have had good experiences with them in the past.
One of the things you need to watch for when renting a car in Costa Rica is the mandatory insurance that the government requires you to have. There are a lot of very cheap rentals that don't include this mandatory insurance (TPL) in the original booking price, but there are also ones that do. To avoid additional surprise charges when you pick up your rental car, be sure to rent a car that includes the mandatory insurance when you book.
Thankfully, on Discover Cars it's easy to tell apart the companies that include the mandatory insurance and those that don't. The trick is you can't pick any car on their website. In the picture below, you can see this rental car, with pick up in Jaco, includes the TPL. That means the mandatory insurance is included in the price. Any cover you get above that is extra.
Of course, I still suggest getting the full coverage offered by Discover Cars, which covers you even more.
You can browse cars on Discover Cars here.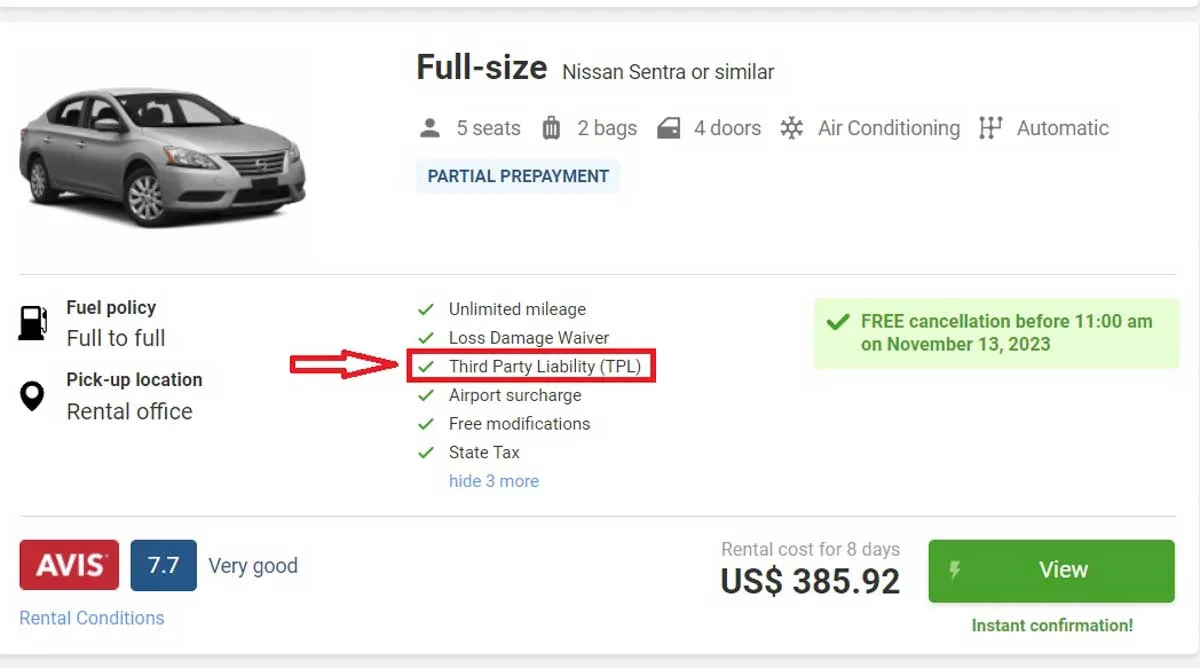 Book Shuttles
If renting a car isn't in your budget, you don't feel comfortable driving in Costa Rica, or you just don't like driving, shuttles are the next best option. There are hundreds of shuttle routes available all over the country, and they are very affordable.
Shuttles in Costa Rica are specifically for tourists and often include pick up and drop off at your selected hotels and airports. The drivers also speak some English, and the vehicles have air conditioning. You'll also be guaranteed a seat when you book a shuttle (which isn't the case with the public bus system.)
To get the best price, use the website Bookaway. They compare all the offers and prices of shuttle companies in Costa Rica so you get the best price! Honestly, we have saved so much money using Bookaway!
You can search for shuttles online on Bookaway here.
Public Bus
Lastly, you can use the public bus system. On short journeys, such as from San Jose to La Fortuna or Uvita to Manuel Antonio, this system is great. However, the longer the journey the more hassle and time spent on a bus. It's undoubtedly best to save the public bus in Costa Rica for short and straightforward trips!
The public buses are definitely the cheapest way to get around Costa Rica, but they are not always very reliable and schedules often change without notice and delays are to be expected. The buses can also be very crowded and hot – so just be prepared!
It's also good to speak some Spanish if you plan on riding the public bus since most drivers and ticket booth operators don't speak English.
Pura Vida!
Nosara may be a small surf town but it's filled with fantastic places to eat and drink. This list of the best restaurants in Nosara is a breakdown of my favorites spread across a few cuisines and styles. But that's what I love about Nosara – the variety!
Thanks so much for visiting our blog! I hope you loved this article and now have a list of restaurants to visit in Nosara. If you did like it, be sure to browse around more and check out our blogs from all over Costa Rica such as:
Where to Stay in Nosara: A Guide to the BEST Areas
Things to do in Samara, Costa Rica