This blog may contain affiliate links. Read our disclosure policy for more info.
Costa Rica is one of the top places in the world for surfing! The water is warm (around 80°F/26°C), the waves are consistent, and the scenery is top-notch. What I love about surfing in Costa Rica is that there are waves for all levels of surfers – from those who've never stood on a board before to the pros.
There are beaches with soft, gentle waves to learn on and ones with challenging waves for the pros to carve up. You can surf on both coastlines here – the Pacific and the Caribbean sides. The Pacific coast is more popular for surfing, but there are great waves on both coasts.
Because surfing is so good here, it can be a challenge to pick where you want to go! I've rounded up the 12 BEST places to ride the waves in Costa Rica in this complete guide. They are spread out across the country on various coastlines, so whether you're planning a surf trip Costa Rica-style or just hoping to catch a few waves while you're here on vacation, there's a beach (or two or three!) for you.
Don't have time to read the full article? These are our absolute favorite places to surf in Costa Rica!
The waves at Jaco Beach are perfect for beginners–book this lesson with a pro if you've never surfed before.
Santa Teresa Beach is good for all skill levels, and there's a lot to do in Santa Teresa. (Just expect crowds.)
Playa Grande is more remote and better for intermediate to advanced surfers.
Hermosa Beach near Jaco is another beach with strong currents that attracts experienced surfers.
Tamarindo Beach is very popular with beginners–you can even book this 8-day all-inclusive surf school.
About Surfing in Costa Rica
Costa Rica is lucky to have a consistent surf all year long! It means whenever you go, you'll have the chance to catch your fair share of waves.
There are awesome waves all along the coasts and some pretty special beaches to visit. If you're hoping to surf here, there are four regions: North, South, Central, and Caribbean.
The North region encompasses the Guanacaste Coast and has some really well-known surfing spots like Witch's Rock and Ollie's Point.
The South has great surfing, but the waves aren't as consistent as in the North and Central areas.
The Central Pacific Coast has some of the best surfing around places like Jaco, including some great waves for beginners.
The Caribbean Coast typically has fewer breaks and can be less consistent, and waves tend to be bigger during the rainy season.
While you're considering where you want to go surfing, it's also worth considering when you want to visit Costa Rica. There are two distinct seasons, each with its pros and cons.
High Season/Dry Season – December to April
This is the most popular time to visit Costa Rica. You're more likely to avoid the rain and have sunnier days on the Pacific Coast. It also includes the popular holidays when people book trips and locals head to the beach – around Christmas, New Year's, or Easter. If you're looking to come during this time, book your accommodations early, as places will fill up more quickly, and try to plan your visits to the busier beaches on weekdays or early in the day to avoid the crowds.
Low Season/Rainy Season – May to November (with the most rain in September/October)
This is winter in Costa Rica, and winter here means lots of rain! However, often it will just rain for part of the day, leaving the rest of the day clear for surfing. Some surfers actually prefer coming here in the Rainy Season because the storms and swells in the ocean create better waves! If you're planning to visit more rural beaches, the rainy season can flood some of these roads and river crossings, blocking them completely. The advantage to coming during this time is hotels aren't nearly as busy, and beaches tend to be a bit quieter too.
12 Best Beaches to Surf in Costa Rica
1. Jaco Beach
Location: Central Pacific, 1.5 hours from San Jose
Best for: Beginners learning to surf
Type of Break: Lefts and rights with consistent, not too powerful waves
Floor: Sand
Best Tide to Surf: Mid-High tide
Best months: April – October, but good waves all the time
The waves at Jaco Beach are strong and consistent but not too overwhelming for beginners. This makes it one of the best surf beaches in Costa Rica. In fact, it's the perfect place to learn how to surf! As a newbie to surfing myself, I loved the soft waves here and the giant beach area. It meant I could practice without a huge crowd watching!
The waves are bigger on the north end of the beach if you want more of a challenge and the south side has waves that hold their shape better (meaning a longer ride!). In between the two is an entire length of beach with consistent swells of pretty average peaks.
If you've never surfed before, book a lesson with a pro. They'll supply the board and give you two hours of instruction. Expect to be up and riding waves before the end of the lesson!
If you're an experienced surfer or want to keep practicing after your lesson, you can rent boards on the beach or from surf shops in nearby Jaco. It should cost around $10 to 15 USD a day.
Related Read: Planning on visiting Jaco? Learn about the best places to stay in Jaco, including the best hotels for all budgets!
2. Santa Teresa Beach
Location: Central Pacific, on the edge of the Nicoya Peninsula
Best for: All skill levels, great for beginners
Type of Break: Hollow beach break with lefts and rights
Floor: Mostly sand with some rocks in certain areas
Best Tide to Surf: Low tide
Best months: April to October for bigger waves, November-March for smaller waves
Santa Teresa Beach is a bit of a jaunt from other surfing or vacation spots in the country, as it's all the way on the south side of Costa Rica's Nicoya Peninsula. But if you can make the journey here, it's totally worth it! Santa Teresa Beach faces southwest out to the Pacific Ocean and is the main beach break for the area with great hollow tubes. The gorgeous beach runs along the coast road with Santa Teresa town hidden just behind a row of palm trees.
You can surf here pretty much every day, but it's ideal to head out around low tide. The gentle waves here are good for surfers of all skill levels. Depending on when you go, the waves range from 3 feet all the way up to 8 feet (.9 to 2.4 meters). Low tide is the best for the hollow tubes that are extra fast (and fun!) to ride. Even if the waves are higher further out, you'll still be able to practice on smaller secondary swells closer to shore.
The best time of year to go is from April to October for larger waves, where you're going to find ideal surfing conditions about 90% of the time and the most hollow breaks. November to March is great for beginners with smaller waves and good surfing conditions about 70% of the time. The waves here are consistent pretty much year-round, though!
Because this is such a great spot for beginners, there are lots of surf schools in the area – just a short walk from the beach, like Del Soul Surf School. They offer lessons for beginners or intermediate surfers for $75 USD. Or book a surf lesson with a guide who will show you all the basics and get some GoPro pictures and videos for you for $50 USD. Once you've learned the basics, board rentals are around $10 USD per day, or some places offer weekly rentals for $60 USD.
When you're done surfing, you'll be happy to be staying in Santa Teresa. This vibrant town is full of amazing places to stay as well as restaurants. And contrary to what you might've heard, there are also plenty of budget-friendly things to do and see in Santa Teresa!
Why We Book Tours with Viator
Viator is a trusted online booking system for tours around the world! We almost always book our tours using Viator for a couple of reasons:
Free cancellation on most tours – Most of the tours on Viator allow you to cancel and get a full refund up to 24 hours in advance. This is handy in case plans change, or if booking an outdoor activity, the weather forecast is looking grim.
Reserve now and pay later – You can secure your spot on some of the most popular tours well in advance and not pay until closer to the day of the tour.
Pay in your chosen currency – Avoid costly international transaction fees by choosing to pay in your home currency.
Peace of mind – When booking with tour operators you find in person on the street or in small booking offices, you are often promised one thing and given another. This online platform holds tour operators accountable with a written description of inclusions as well as the opportunity for customers to leave reviews.
Check out the Viator website here!
3. Guiones Beach, Nosara
Location: Along the coastline of the Nicoya Peninsula
Best for: All skill levels, great for those with a bit of experience
Type of Break: Beach break with a left point
Floor: Sand
Best Tide to Surf: Low tide
Best months: December to April, but good all year
If you've surfed before and are looking to take on some of the best breaks in the Guanacaste area, head to Guiones Beach. The gorgeous white-sand beach has super consistent surfing conditions with surfable waves more than 300 days a year.
The long arc of sandy beach has some of the best breaks in the region with a wide variety of wave types thanks to Guiones Point on the south side of the beach that attracts north and south-facing swells.
You'll find the more challenging waves around low tide (sometimes as high as 10 feet), but if you're a newbie, the whitewash closer to shore is fun to surf too. There are great glassy waves here for those experienced surfers to carve!
The variety here is a big attraction, with waves for all skill levels that work with both long and shortboards. Low tide means more beach. If you're here at high tide, you'll find the beach area gets more narrow, and rip currents are at their strongest.
The best time of day for surfing here is typically the morning from 7 am to 10 am or around sunset. If you're really up for a day of surfing, come for both the morning and evening. You'll find lots of surf shops and lesson options just a short distance from the beach, so you can grab a board to hit the waves.
To surf at Guiones Beach, it's best to stay in Nosara for a couple of nights since it is the closest town. In Nosara, you'll find lots of other fun things to do as well as delicious restaurants and bars to enjoy once the sun goes down!
4. Playa Grande, Tamarindo
Location: North, close to Tamarindo and Playa Flamingo
Best for: Intermediate to advanced surfers looking for a remote beach with consistent waves
Type of Break: Two main beach breaks with constant waves – one near the river mouth, the other near the main town
Floor: Mostly sand, with some rocks
Best Tide to Surf: High tide
Best months: December to April and July/August
Playa Grande is a more remote Costa Rican beach that is a perfect destination for surfers. There's a long stretch of sand here with consistent waves rolling in from the Pacific Ocean. If you only have a limited time to surf while you're in Costa Rica, come here. You're guaranteed great waves!
This beach tends to be less crowded as it's more off the beaten path and can be a bit of a challenge to get to. If you're okay with planning ahead, it's worth it not to have to share the waves with hundreds of people. In fact, this is one of the quieter and more hidden away Costa Rica surf spots that is worth coming to. It's especially beautiful to surf here at sunset! This beach has a really relaxed feel to it, and everyone here loves surfing.
To get here from Tamarindo, you'll need to cross an estuary (small river) full of crocodiles. This river separates Playa Grande and the town of Tamarindo. The best option is taking a boat, as walking across is dangerous. You can also access Playa Grande from the north side via a grassy parking lot at the end of the road and follow a beach path down. However, driving here from Tamarindo is a lot more time-consuming than just taking the boat.
Once you're here, the tranquility and waves are totally worth it. You'll likely find more advanced surfers here, but if you stick closer to shore, the whitewater is a good place to learn on smaller waves.
If you're intimidated to jump in, book a surf lesson here with a pro. Frijoles Locos Surf Shop offers group lessons for $40 USD per person, and the group size is a max of four people. If you're just looking for a board rental, you can find them here for as cheap as $8 USD for two hours.
5. Playa Naranjo, Witch's Rock
Location: North, 45-minute boat ride from Playas del Coco
Best for: Intermediate-Advanced surfers looking for some of the best breaks in the country
Type of Break: World-class waves with beach breaks both left and right
Floor: Sand
Best Tide to Surf: Mid-High tide
Best months: December to April for 1 to 3 ft (.3 to .9 m) waves, bigger swells, and waves in May-November
For some of the best surfing in Costa Rica, hitting up Witch's Rock is a must. This beach (also called Playa Naranjo) is marked by an ancient rock formation just off the coastline that earned the beach its nickname. The golden sands here and mountain background, along with fantastic tubes and barrels all year long, make this the ultimate surfing spot.
Witch's Rock is one of the most iconic surf spots in Costa Rica!
Getting to Witch's Rock can be a bit of a challenge as this is a secluded beach inside Santa Rosa National Park. There is a road to get here, but it's rough, so you'll need a 4×4. The road and bridge needed to get here can be completely impassable in the rainy season. The best and most reliable way to get to Witch's Rock is by boat. It's about a 45-minute boat ride from Playas del Coco or 1.5 hours from Tamarindo. You'll also need to pay the park entrance fee of $15 USD when you arrive. Sometimes the captain of your boat will pay this fee on your behalf.
Once you're here, get ready for constant waves that will be fun for those finding their groove in surfing or the most experienced surfers. Here you'll have what's known as A-frame waves that break both left and right, creating lots of options. Smaller waves are constant during the dry season, and larger waves are in the rainy season. However, swells are common here and will increase the wave height and frequency.
To guarantee you get a great day of surfing and won't have to worry about getting here, there are tours specifically to this area. Book this tour to Witch's Rock which includes transportation to some of the best remote beaches in the Guanacaste area. The tour is $510 USD for up to 6 people and doesn't include the $15 USD park entrance fee.
You can also stay at the popular Witch's Rock Surf Camp, where you'll get daily instruction and unlimited use of their surfboards to hone your skills.
6. Hermosa Beach, Jaco
Location: Pacific Coast, 10 to 15 minutes from Jaco
Best for: Intermediate-Advanced surfers looking for a quiet beach with consistently great waves
Type of Break: Strong beach break with lefts and rights
Floor: Sand
Best Tide to Surf: High tide
Best months: Year-round, May-November for advanced surfers
Hermosa Beach near Jaco is known as the national surf stadium in Costa Rica and recently received a World Surfing Reserve designation. It's one of the centers of surfing in the country and attracts surfers from across the globe to take on its top-notch waves. The Costa Rica National Surfing Tournament Finals are held here every year.
This 4.3-mile-long (6.9 km) stretch of dark-sand beach is known for its consistent waves and remote feel. Even though it's so close to the small city of Jaco, this beach doesn't tend to get too busy. This is partly because this isn't a surfing beach for beginners and you also can't go swimming here because of the strong currents.
Surfing here is the best when the waves are in the 5 to 9 foot (1.5 to 2.7 meter) range with medium swells. This usually happens during the rainy season, from May to November. Sometimes the waves can even get too big and rough here during that time. You'll also have to keep an eye out for crocodiles and stingrays. Because of this, you won't find many beginners surfing here – although this is a great spot to watch surfers in action, even if you don't want to jump in.
To rent a board, head to one of the nearby surf schools or surf shops on the road between Jaco and Hermosa Beach. You'll be able to rent a board for the day for around $20 USD.
If you're heading here, make sure you pick the right Hermosa Beach – there are several of them in Costa Rica! You're looking for the one closest to Jaco.
Related Read: You don't want to see crocs when you're surfing, but at the famous Costa Rica crocodile bridge, you do!
7. Dominical Beach, Dominical
Location: Pacific Coast, close to Uvita
Best for: Surfers with some experience looking for consistent waves near a beach town
Type of Break: Strong beach breaks, river mouth, and left point
Floor: Mostly sand and some rocks
Best Tide to Surf: All tides, depending on which part of the beach you're on
Best months: All year, with the biggest waves from June to September
Another fantastic Costa Rica surf spot to visit is Dominical Beach. It has consistent waves across the long beach (2.5 miles/4 kilometers) and deep blue water. Waves are constant for about 95% of the year, and you won't find waves any smaller than about waist height. The sandbars here carve the waves, creating almost a point break, even though it's just a beach.
Dominical Beach is located south of Manuel Antonio National Park, one of our favorite national parks in Costa Rica, and about 20 minutes from the tourist town of Uvita. The beach itself is close to hotels, surf schools, and beachside restaurants and shops. It's easy to get to and a perfect place to spend the day, or, stay a couple of nights in Dominical and really get to know this hippie town!
Because Dominical Beach is known for its powerful waves, it's best to have some surfing experience before you arrive or go with a guide on a surfing lesson. There are several different breaks along the stretch of the beach, with the most popular place to surf being right in front of the parking lot. If you go near the river mouth, hollow barrels are pretty consistent but watch out for crocodiles and the rip currents. To the far south end of the beach, there's a point break with a left-breaking wave best for advanced surfers unless it's a quieter wave day.
The beach breaks here are surfable at all tides, depending on which part of the beach you're at. The popular spot in front of the parking lot works best at mid to high tide, the river mouth at low tide, and the point after mid-tide.
If you're in this area and want to learn to surf or improve your skills, a two-hour lesson with a coach is a great option. A board rental and rash guard are included with this lesson. Their lessons are done in small groups, with a maximum of two surfers per instructor and they cost $65 USD.
8. Playa Hermosa, Uvita
Location: Pacific Coast, between Dominical and Uvita
Best for: Surfers looking for a quiet beach to practice at
Type of Break: Beach break and sand-rock point break at the end, consistent lefts and rights
Floor: Sand with some rocks on the north side
Best Tide to Surf: Mid-high tide
Best months: June to September for the biggest waves
There are several different beaches with the same name in Costa Rica, so for this Playa Hermosa, you're looking for the one close to Uvita. This Playa Hermosa is located about 15 minutes from Dominical and only five minutes from Uvita. It's a three-mile-long sandy beach with constant waves, and there's not ever much of a crowd. It's also the perfect spot to watch the sunset after a day of surfing!
The break here isn't as heavy because of the outer reefs that protect the area, so it's a great place for beginners. You'll find the smallest waves that are best for surfing newbies around high tide. Look for the turnoff off the highway, and then there's a parking lot and typically some locals selling things like coconuts and ceviche. An added bonus for this beach is there are lifeguards on duty every day from 8 am to 5 pm.
Surfing is best here around mid to high tide, and it's a nice beach to walk along during low tide. The waves are smaller than at Dominical but can reach a pretty good height with consistent right and left breaks. During calm wave days, you'll sometimes find groups of beginners from nearby surf schools here.
If learning to surf at this quiet beach sounds perfect, this surf lesson with a pro at Playa Hermosa is a great find. For $75 USD, you'll get personalized instruction for two hours, a surfboard rental, snacks and water, and some digital photos.
9. Potrero Grande Beach, Ollie's Point
Location: Northern Pacific Coast
Best for: Surfers looking for powerful, hollow waves in a beautiful, remote spot
Type of Break: Right point break
Floor: Rocky
Best Tide to Surf: All tides – low tide for more vertical waves, high tide for slower waves
Best months: April to October
One of the most famous places to go surfing in Costa Rica, Potrero Grande Beach, is better known as Ollie's Point. This protected cove on the north side of the country has some of the best surfing conditions you're going to find. It's considered a world-class right point break off of the river mouth with waves that can stretch 900 feet (274 meters) across! The waves here are FAST and hollow – a surfer's dream.
The only way to get to Ollie's Point is by boat. You'll have to hire a boat from Playas del Coco, Playa Hermosa, or Tamarindo. Usually, boats are around $400 USD for a group, so if you're with friends, split the cost. The Potrero Grande Beach is tucked along the coastline near Santa Rosa National Park. This makes it a great spot to visit if you're already planning to surf Witch's Rock, as you can visit both on the same day.
As the waves typically range from 4 to 10 feet (1.2 to 3 meters), this is a beach best suited to surfers with some experience. There also isn't much around here for facilities, so you'll need to bring a surfboard with you along with your own food and snacks if you plan to spend the day.
10. Playa Cocles, Puerto Viejo
Location: Caribbean Coast, 1 hour from Limon near Puerto Viejo
Best for: Surfers with some experience looking for a fun beach vibe
Type of Break: Powerful short beach breaks
Floor: Sand, Reef, Rocks
Best Tide to Surf: High tide
Best months: All year, the biggest swells in January-March
For some of the best surfing that Costa Rica's Caribbean Coast has to offer, head to Playa Cocles. This beautiful beach is dotted with palm trees and rows and rows of surfboards in the sand. It's a dead giveaway that this is one of the best beaches in the area for surfing.
Playa Cocles has a set of powerful beach breaks that go left and right. There's also a short left that breaks on the north side of Cocles Island, which is across from the beach area. The break here is nicknamed "The Beach Break", and it isn't super long. So the rides here tend to be shorter and closer to shore. The best rides are typically during high tide, when you can ride a wave for longer.
Because of the frequent larger swells here, it's best to surf here if you're an intermediate to advanced surfer. However, there are lots of surf shacks nearby that offer lessons and surfboard rentals. Or, if you want to stay closer to shore, try out a boogie board!
Keep an eye out for the red flag that will be posted at the beach if the water is too dangerous to swim in. Lifeguards are on duty here as well.
This is a nice beach to hang around as there are lots of places to eat, from restaurants to cafés to food stalls nearby in the town of Puerto Viejo. Because of this, it's a popular spot, especially on weekends. If you want to avoid the crowd, come during the week when it's quieter or walk to the far south end of the beach, where not as many people go.
Related Read: Learn about the best places to stay in Puerto Viejo, including hotels and hostels!
11. Tamarindo Beach, Tamarindo
Location: Walking distance from Tamarindo
Best for: Beginners who want to learn to surf on consistent, gentle waves
Type of Break: Beach break
Floor: Sand
Best Tide to Surf: Mid-High tide
Best months: All year, the biggest waves from April-October
Tamarindo Beach is one of the best places to visit in Tamarindo, especially if you want to give surfing a try! The main surf break is only a short walk from the town, so it's easy to get to. The waves here are PERFECT for beginners. In fact, this beach is considered one of the best places to learn how to surf in the world.
There are almost always surfing waves here, and the calmer waters have soft waves that are great for newbies. The main beach break is known for producing long stretches of mellow waves. This means you're more likely to be able to stand up and ride a wave here quickly, even without any previous experience. You can also swim in the waves closer to shore. Just keep an eye out for all the surfers!
Surfing lessons at Tamarindo Beach are offered here seven days a week, and there are a TON of surf schools in town. I like looking for a school that has really good ratings and offers lessons in small groups. One of these is Iguana Surf, located right in front of the beach break. They not only have over 1,000 five-star reviews but have also been in business for more than 30 years. A two-hour lesson with them is only $56 USD and will have you riding waves in no time.
12. Espadilla Beach, Manuel Antonio
Location: Central Pacific, near Manuel Antonio National Park
Best for: Learning to surf and enjoying the beach vibe
Type of Break: Beach break
Floor: Sand
Best Tide to Surf: High tide
Best months: All year
Visiting the stunning stretch of Espadilla Beach is one of my favorite things to do in Manuel Antonio and a fantastic Costa Rica surf spot. It's the main beach in Manuel Antonio and is fantastic for strolling along or going for a surf. The golden sand combined with a jungle backdrop is definitely worth a stop at sunset!
Espadilla Beach is right next to the entrance to Manuel Antonio National Park. The beach itself is really vibrant and fun to hang out at, with lots of vendors and choices for food and drinks – everything from typical Costa Rican food to international cuisine. For surfing, the beach is more sheltered, and the waves are smaller, so it's a great place to learn. For beginners, head to the southern end at high tide for smaller, gentle waves. More experienced surfers tend to go to the north end of the beach for the bigger waves.
You'll find surfboard rentals all along on the beach, but I always recommend getting a lesson before you try to surf on your own for the first time. This surfing lesson offers not only instruction on how to ride the waves but also beach chairs, umbrellas, and snacks, so you can relax in-between catching waves.
You can also take lessons or book a surf camp with Manuel Antonio Surf School – they offer lessons for all levels and will take you to one of several different breaks in the area.
Surf Camps in Costa Rica
If the main reason you're coming to Costa Rica is to surf the amazing waves, I highly recommend booking a stay at a surf camp. You'll eat, sleep and breathe surfing!!
Surf camps are great for daily access to incredible waves and the personalized instruction you'll receive daily. It's so easy to naturally fall into the rhythms of beach life. If you've never surfed before, this is a great way to get a crash course, so you'll feel confident surfing at some of the incredible spots I mentioned above in this guide. If you've surfed before, but want to hone your skills, the experts at a surfing school can take your surfing ability to the next level.
There are a variety of surf camps in Costa Rica, depending on where you want to be based.
Tamarindo
This is a great base for surfing. The waves are constant and perfect for beginners. This 8-day all-inclusive surf camp in Tamarindo includes nine surf lessons, three surf trips, a volcano tour, snorkeling, and a sunset cruise. You'll definitely learn to surf with a custom surf plan created for each student while also enjoying the more fun activities this area has to offer. The cost for this 8 day experience is $1,294 USD.
For a shorter add-on to your trip to Tamarindo, this 3-day surf experience includes two surf lessons, a trip to a nearby break, unlimited board rentals, and photos. It's much more affordable at $299 USD.
Santa Teresa
Spend a week living only minutes from the beach at Lapoint. This surf camp has a really homey atmosphere, so you'll feel comfortable as soon as you arrive. There are courses geared towards beginners all the way to advanced surfers with custom lessons. Your accommodations and meals are included, and they typically do fun family dinners by the pool most nights. It's around $1069 USD per week.
Montezuma
Getting good at surfing is all about practice! This 3-day course in Montezuma lets you learn from the pros. You'll be surprised at how much progress you make quickly. You'll be surfing waves on your first lesson, with longer wave-riding sessions on your second and third day. This is a great option if you're already staying in the area and don't need accommodation. It is prices at $210 USD per person.
Jaco
This part of Costa Rica is a surfing hot spot! At Tortuga Surf School, you'll be able to completely immerse yourself in the surfing and Pura Vida lifestyle. Their instructors are Costa Rican locals who are ISA (International Surfing Association) certified. This camp is geared towards people who want to train hard at surfing and keep up those skills after they leave. The price will vary depending on the type of adventure youIf you're just interested in surfing while on vacation, they offer one-on-one lessons too.
Cabuya
Explore the small beach towns of Cabuya and Montezuma during 5 days of surf lessons. You'll get a personalized surf program designed by their head coach and small lessons with a maximum of three people per instructor. The camp hosts people from around the world, so be prepared to make some great new friends while you learn how to surf on the beautiful Playa Grande and other nearby beaches. This camp is $350 USD per person.
Nosara
This surf camp is based on the gorgeous Playa Guiones, with a 4.3-mile (6.9 kilometers) beach break to explore. It includes a professional surf coach, surf videos so you can analyze and improve your technique, and private bungalows in a tropical garden. The camp includes organic breakfast daily as well as yoga classes. This is a pricier option at around $3,580 USD per person.
Getting Around Costa Rica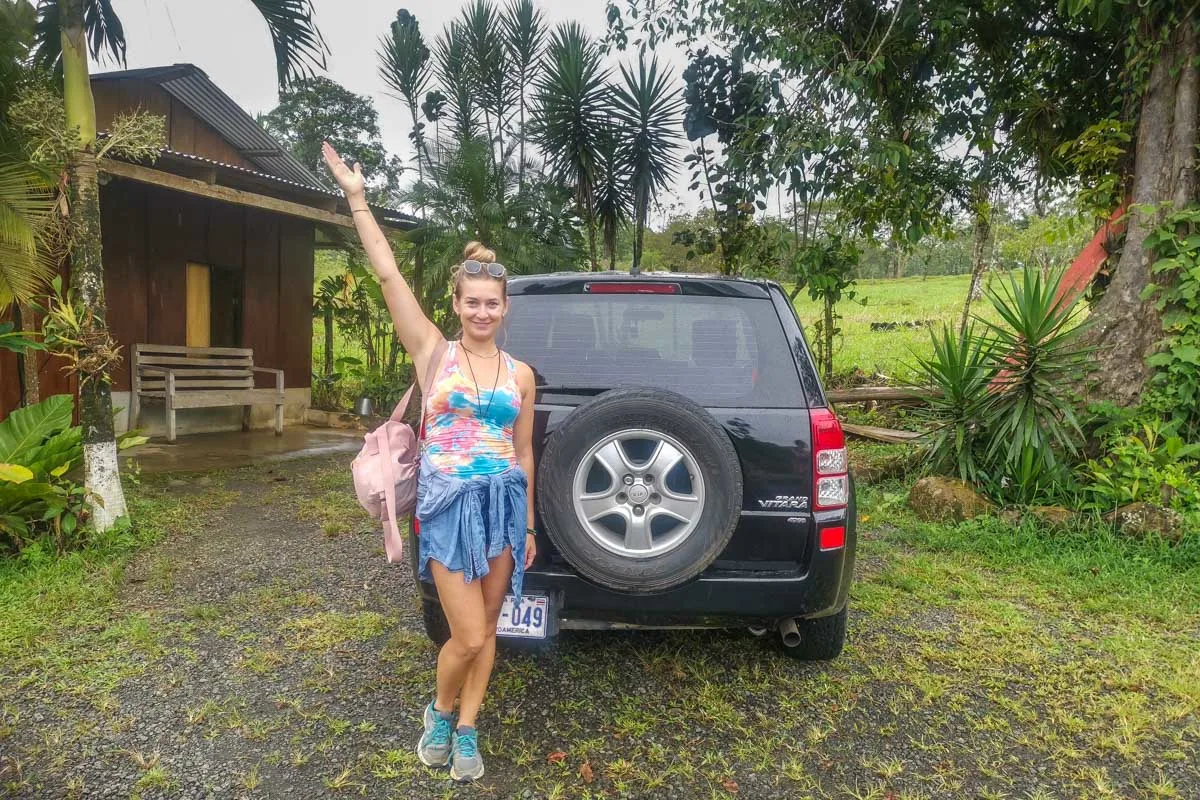 How you choose to get around Costa Rica is one of the biggest decisions you'll make when planning your holiday here! How you do it depends on your budget, travel style, and comfort level.
Renting a Car
Without a doubt, the number one way to explore Costa Rica is in a rental car. We book rental cars on the Discover Cars website as we have had good experiences with them in the past.
One of the things you need to watch for when renting a car in Costa Rica is the mandatory insurance that the government requires you to have. There are a lot of very cheap rentals that don't include this mandatory insurance (TPL) in the original booking price, but there are also ones that do. To avoid additional surprise charges when you pick up your rental car, be sure to rent a car that includes the mandatory insurance when you book.
Thankfully, on Discover Cars it's easy to tell apart the companies that include the mandatory insurance and those that don't. The trick is you can't pick any car on their website. In the picture below, you can see this rental car, with pick up in Jaco, includes the TPL. That means the mandatory insurance is included in the price. Any cover you get above that is extra.
Of course, I still suggest getting the full coverage offered by Discover Cars, which covers you even more.
You can browse cars on Discover Cars here.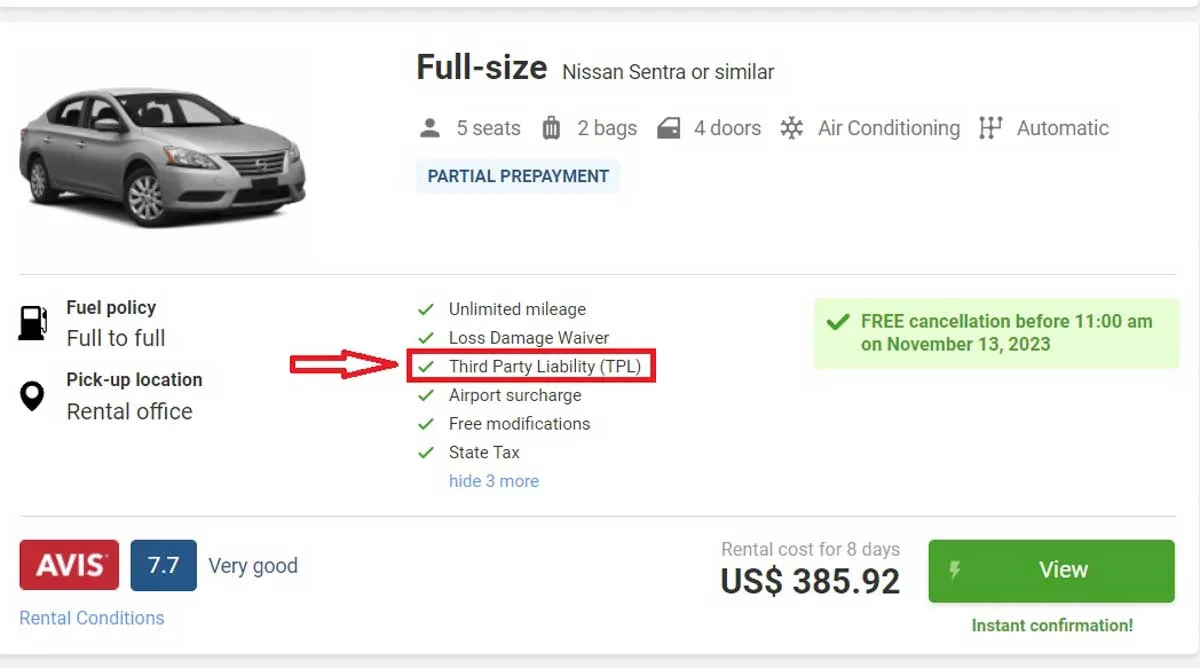 Adobe Rental Rent A Car is another rental company that we most often use in Costa Rica. We love them because Adobe has 15 offices around Costa Rica and delivers door-to-door around their offices at no extra cost. We also are pleased that all of their cars are new. In fact, they are never older than 2 years to the date. They are also the only company to include mandatory insurance and promise no hidden fees. You can get a free quote for a rental car from their website here.
Book Shuttles
If renting a car isn't in your budget, you don't feel comfortable driving in Costa Rica, or you just don't like driving, shuttles are the next best option. There are hundreds of shuttle routes available all over the country, and they are very affordable.
Shuttles in Costa Rica are specifically for tourists and often include pick up and drop off at your selected hotels and airports. The drivers also speak some English, and the vehicles have air conditioning. You'll also be guaranteed a seat when you book a shuttle (which isn't the case with the public bus system.)
To get the best price, use the website Bookaway. They compare all the offers and prices of shuttle companies in Costa Rica so you get the best price! Honestly, we have saved so much money using Bookaway!
You can search for shuttles online on Bookaway here.
Public Bus
Lastly, you can use the public bus system. On short journeys, such as from San Jose to La Fortuna or Uvita to Manuel Antonio, this system is great. However, the longer the journey the more hassle and time spent on a bus. It's undoubtedly best to save the public bus in Costa Rica for short and straightforward trips!
The public buses are definitely the cheapest way to get around Costa Rica, but they are not always very reliable and schedules often change without notice and delays are to be expected. The buses can also be very crowded and hot – so just be prepared!
It's also good to speak some Spanish if you plan on riding the public bus since most drivers and ticket booth operators don't speak English.
The BEST Things to do in Costa Rica
While there are so many fun things to do in Costa Rica, a couple of specific attractions and activities stand out amongst the rest. They are:
Explore Volcanoes
There are some impressive (and beautiful!) volcanoes that you'll want to check out while you're here.
Poas Volcano is known for its bright blue crater lake. Poas Volcano is most commonly visited on a day trip from San Jose. This Poas Volcano tour from San Jose is one of the best you can do since it also includes a visit to the La Paz Waterfall Gardens as well as a coffee farm.
Arenal Volcano is also one of Costa Rica's top attractions. Arenal Volcano is located closest to the town of La Fortuna. You can book this full-day tour from La Fortuna that takes you to the volcano to hike, the famous La Fortuna Waterfall and even a hanging bridge – it's a full day of adventure!
Chase Waterfalls
La Fortuna Waterfall is one of our favorite waterfalls in all of Costa Rica. You can easily visit it on this full-day tour in La Fortuna that also visits hot springs.
Rio Celeste is another beautiful waterfall that is famous for its bright blue water. Rio Celeste is a popular attraction to visit from Guanacaste Province and this particular tour includes transport from there. Alternatively, you can book this tour from La Fortuna or this tour from San Jose.
See the wildlife
Costa Rica is the place for wildlife lovers! One of the best places to see lots of animals in their wild habitat is at Manuel Antonio National Park. With the help of a guide you will see plenty of birds, monkeys, and even sloths! This particular tour is super popular and also has amazing reviews, so you really can;t go wrong.
There are also lots of wildlife rescue centers around the country that are worth visiting. The Jaguar Rescue Center in Puerto Viejo is one of our favorites as well as Rescate Wildlife Rescue Center in San Jose where you can book this private tour.
Invest in Travel Insurance
Paying out of pocket for trip interruptions or medical treatment will add to what might already be a stressful situation. We always travel with SafetyWing travel medical insurance.
The best part is that it costs only a fraction of what most insurance policies charge, which makes it perfect for digital nomads, long-term travelers (like us), and budget travelers. It only costs $45 USD per 4 weeks!
To start coverage, you must purchase it after leaving your home country. We usually purchase it as soon as we land at the airport.
Since using SafetyWing we've been reimbursed thousands of dollars when we've gotten sick. During the pandemic, they've even gone as far as to pay for our last-minute flights back to Canada from Colombia before the border closed!
You can click here to get a quote and read all the details!
Pura Vida!
Costa Rica has some of the best surfing in the world, whether you're catching your first wave or you're an experienced surfer. As a surfing newbie myself, I loved learning on the beaches here while enjoying the stunning scenery. There are so many incredible spots to go. I hope you enjoyed reading about some of the best surf beaches in Costa Rica. Pura Vida!
Best time of the year to visit Costa Rica
BEST all-inclusive resorts in Costa Rica