Costa Rica is one of our favorite countries to visit. As outdoor enthusiasts, we fell in love with the lush rainforests and the great hiking in the area. So naturally, one of the best things to do in Costa Rica is spotting the wildlife – especially sloths! We've been lucky enough to see them hiding in trees, on guided tours, and in sloth sanctuaries.
Costa Rica is one of the most biodiverse areas in the world. There are about half a million species living in the country, making exploring the rainforest a real treat. One of the best animals to see in Costa Rica are the sloths that call this area home. Whether you visit one of the many sloth sanctuaries in Costa Rica or spot them in their natural habitat, seeing a sloth can easily be the highlight of your trip.
Now, as a self-proclaimed sloth expert, I am sharing all my tips and advice for where are the best places to see sloths and how to spot them.
Species of Sloth in Costa Rica
Costa Rica is home to two different species of sloth. When I last went to Costa Rica, I was lucky enough to see both types and I can tell you confidently, they're both adorable! Both sloths have 3 toes on their hind feet but differ in the number of toes on their front feet. For this reason, they're called 3-toed sloths and 2-toed sloths.
Unless you get up close to the sloths, they look largely the same and can be hard to distinguish between. To help, I've listed some key differences between the two below.
Two Toed Sloths
Two toed sloths are unique in that they have three toes on their back legs with only two toes on their front. While they look quite similar to their three toed cousins, two toed sloths, also known as Hoffman's two toed sloths, are larger in size. They also have a longer snout and no hair on the soles of their feet.
Two toed sloths are nocturnal, making them much harder to spot. If you're hoping to see these sweet little guys, I recommend looking high in the treetops for a sleeping animal resting on a branch.
Three toed sloths
The easiest way to identify a three toed sloth is by counting the toes on their front feet. These sloths have three toes on both their front and hind feet with long claws. They are generally smaller in size and have a distinguishably round head and short snout. Three-fingered sloths, while still sleeping an impressive 15+ hours a day, are awake in both daytime and nighttime, so they are typically easier to spot.
Facts about Sloths in Costa Rica
Sloths were first discovered in the 1700s and include 6 species (2 are on the endangered list). Costa Rica is home to 2 of the 6 species of sloths.
Their fur is actually home to algae and moths, which they sometimes eat.
Sloths only poop once a week. They come down from high in the trees to the forest floor to do their business – an act that has scientists stumped as this is the most dangerous part of their lives and leaves them vulnerable to their predators.
Much like owls, sloths can turn their head almost entirely around.
Sloths like to be upside down. In fact, they can spend up to 90% of their life this way and their bodies have naturally adapted their internal organs.
Even though sloths are known for being slow, even lazy, they can hustle in water. They can swim nearly 3x faster than they can move on land.
It can take a sloth up to 30 days to digest a single leaf.
They travel at around 13 feet per day and use their claws to drag them along the ground because they cannot walk.
Best Places to See Sloths in the Wild in Costa Rica
Sloths are at home in tropical places. If you are wondering where to see sloths in Costa Rica, you'll be happy to learn that sloths can be found all over this beautiful country. However, there are more sloths in certain parts of the country.
Below are some places to see sloths in Costa Rica:
La Fortuna
A popular destination in Costa Rica is visiting the La Fortuna region, popular for hanging bridges, hot springs, and Arenal Volcano. This area is surrounded by rainforests, a sloth's favorite place to call home. This area is a mix of both primary and secondary rainforests (rainforests that have newer growth).
While there are sloths living in this area, they can still be hard to spot so I'd highly recommend taking a sloth tour in La Fortuna.
If you want to better your chances of spotting a sloth, for only $30 USD you can take this 1-2 hour sloth watching tour – it's one of the best cheap things to do in La Fortuna! There is a morning, afternoon, and evening departure times so you can plan your day accordingly. Even though sloths are the main attraction, you should expect to see porcupines, toucans, and red frogs, on the jungle hike.
Manuel Antonio National Park
Manuel Antonio National Park is a great place to go to see sloths in their natural environment. This rainforest is humid year-round, attracting sloths. On top of that, the national park is a protected area for wildlife to enjoy.
Sloths are so common here that they actually have a trail in the park called "The Sloth Trail." Defintiely plan on walking the Sloth Trail if you want a chance to see one. I know I've said this before, but although they are common, sloths are still really hard to spot if you don't know what to look for, which why a tour guide is handy.
This 3 hour all-inclusive Manuel Antonio National Park guided tour includes air-conditioned transportation from your hotel in Manuel Antonio or Quepos, entry into the National Park, a bilingual tour guide, and photos from their spotting scopes – all for $55 USD. The guide will help you find not just sloths, but also toucans and monkeys on your stroll through the Costa Rican jungle.
Cahuita and Puerto Viejo
If you're traveling on the southeast coast of Costa Rica and you're wanting to see sloths, Cahuita National Park is a good place to go. This is a great area to go if you love hiking and being submerged in nature. What's cool about this Caribbean coastal area is that the rainforest runs right into the white sandy beaches.
Puerto Viejo is famed for being the perfect climate for both species of sloths in Costa Rica. There is both the Jaguar Rescue Center and the Sloth Sanctuary of Costa Rica in this area if you'd like to ensure you get to see one of these guys.
If seeing a sloth in the wild is your mission, then I highly recommend this Cahuita National Park hike and waterfall combo tour is a great way to spend an afternoon and see some cute sloths. In the 4.5 hours on this tour, you'll experience this National Park that protects the coral reef and the animals that call this area home including white-faced monkeys and sloths. The experienced tour guide will be able to spot the wildlife much quicker and easier than you would if you were to just walk in this area – definitely worth the $76 USD.
Related Read: Check out our guide on where to stay in Puerto Viejo before you book your hotel!
Osa Peninsula
Jumping to the southwest part of Costa Rica sits the Osa Peninsula, a place that has received high praise from National Geographic for its wildlife, beaches, and rainforest. It's also a great place to see sloths in Costa Rica.
We liked the west side of the peninsula for its sheer beauty. Largely untouched by humans, Corcovado National Park has some of the most biologically diverse areas in the entire world. Included in the biodiversity are monkeys, puma, macaws, jaguars, and sloths.
To visit Corcovado National Park, you must be accompanied by a certified guide (it's the rule!) Most tours to the park depart from either Puerto Jimenez or Drake Bay.
If you're staying in Drake Bay, this particular tour is a great option if you want to see as much of Corcovado as possible in one day. Although just a short trip, you'll still get to enjoy some of the park's lesser-known hiking trails thanks to the insider knowledge of a local guide.
From Puerto Jimenez, this three-day tour includes two nights accommodation and all of your food. All you need to worry about is enjoying the park's natural beauty – and surviving the hikes! You'll see more wildlife on a multi-day tour including plenty of sloths!
Related Read: Be sure to book one of the best hotels in Puerto Jimenez.
Monteverde
Inland, you will find the beautiful Montverde National Park. This large park sits at a higher elevation and is a part of Costa Rica's famous Cloud Forest. The cool climate attracts two-toed sloths to the area.
These sloths are nocturnal so be sure to look high in the treetops for sleeping sloths. You can also book a night tour through the national park to increase your chances of seeing sloths. If this is something that interests you we recommend hiring a tour guide to point out the sloths as they can be difficult to spot during the day, let alone at night.
Uvita and Dominical
Uvita is home to three-toed sloths that appreciate the lower sea level altitude. Dominical is home to the Alturas Wildlife Sanctuary which is home to many sloths. At times, this sanctuary even houses baby sloths which can be really fun to see.
The Worst Place to See Sloths in the Wild in Costa Rica
The Guanacaste province, including Tamarindo, Samara, Nosara, and Playa Hermosa do not have sloths living in them. Sloths do not like dry climates, so you can be assured that there are no sloths in this Pacific coastal area. Sloths live in the rainforest, so you should plan to go inland to naturally spot these furry animals.
While this area will not have you seeing sloths, there is lots of wildlife living in the area including a few different species of monkeys. While there are a few sanctuaries in the province, they are more focused on monkey rehabilitation and do not have sloths as this is not their natural climate. If you are wanting to see sloths, you will need to go inland towards Tenorio Volcano National Park, La Fortuna, and Monteverde where the climate is more humid.
Best Rescue Centers with Sloths in Costa Rica
Visiting ethical rescue centers in Costa Rica is a great way to support local wildlife. Rescue centers do amazing work within the country providing a temporary safe haven or permanent home to sick, injured, and orphaned animals in the region. Many rescue centers have sloths, and sometimes you might even see a bay!
Jaguar Rescue Center
The Jaguar Rescue Center is located just outside of Puerto Viejo along the southern Caribbean coast of Costa Rica. The Jaguar Rescue Center provides care and comfort for a wide range of animals including monkeys, birds, reptiles, and my favorite: sloths! You can choose between two separate tours: a public tour and a private tour. It is not possible for you to walk on your own through the rescue center for the safety of you and the animals.
The public tour costs $24 USD each. The tour takes an hour and a half to complete and starts at either 9:30 am or 11:30 am. If you are with a group or would like a private tour, these are available for $75 each with a 2 person minimum. The private tour is offered daily, rain or shine at 2 pm. Both tours allow kids under 10 to tour free of charge.
Alturas Wildlife Sanctuary
Alturas Wildlife Sanctuary is located 3.5 hours drive south of San Jose on the Pacific coast. This sanctuary in Costa Rica rescues, rehabilitates, and, whenever possible, releases animals back into the wild. They work with a wide range of birds, reptiles, and mammals including a two toed sloth.
Tours through the Alturas Wildlife Sanctuary are offered Tuesday to Sunday with the exception of Fridays being closed in low season. Tours take between 1-1.5 hours and start at 9 am, 11 am, and 1 pm. You need a guide to tour the sanctuary and reservations are required. Tours cost $28.25 USD for adults and $16.95 for kids 3-12 years old.
Rescate Wildlife Rescue Center
Rescate Wildlife Rescue Center is one of the most centrally located rescue centers sitting 29km/18 miles northwest of downtown San Jose. This rescue center has a heroic history as in the 1960's it was a private zoo that made its money off the exhibition of wildlife. The zoo was bought by a man in the late 1980s who had a goal of saving the animals and transforming this zoo into a wildlife sanctuary and rescue center that worked to help the animals rather than exploit them. Proof that one person can make a difference, this rescue center now works to help rescue and release animals back into the wild where they belong.
Rescate Wildlife Rescue Center is a non-profit center with large natural habitats for more than 800 rescued animals. Only 2% of the more than 2,700 animals this center rescues a year can unfortunately not be released back into the wild. Over 125 species of animals live here including sloths, jaguars, small cats, pumas, and many species of Costa Rican birds, mammals, and reptiles.
While you can rest assured that this is an ethical sanctuary, there are a lot of modern amenities like large parking lots, restaurants on site, souvenir shops, and food stands on site. There is even a mini farm with animals like miniature horses, donkeys, pigs, sheep, chickens, and rabbits that can be interacted with. Unlike other rescue centers in the area, you can tour the property at your own pace, unguided with adults costing $30 USD and children costing $15 USD.
Kids Saving the Rainforest Wildlife Rescue Center and Sanctuary
Kids Saving the Rainforest is a beautiful sanctuary is about a 3 hour drive south of San Jose nestled on the Pacific coast of Costa Rica. This refuge is home to more than 50 species of native wildlife including sloths, monkeys, birds, and more. You will learn not only about the animals that have been rescued but the sanctuary's ongoing dedication to wildlife conservation projects.
You can expect tours to take about 1.5 hours and cost $60 USD for adults and $45 USD for kids 3-12 with children under 3 being free. Tours include a guide to take you through the area along with snacks and drinks.
Sloth Sanctuary of Costa Rica
The Sloth Sanctuary of Costa Rica sits on the Caribbean coast 20 miles/32km north of the Jaguar Rescue Center. This is one of the best places to visit if seeing sloths is your focus. You will meet some of the 150+ injured, orphaned, and abandoned sloths that call this sanctuary home.
Tours are offered Tuesdays to Sundays, every hour between 8 am and 2 pm. Tours take 1 hour and cost $28 USD for 13+ and children 5-12 costing $15 USD with children under 4 being free. There is also a 2 hour Insider's Tour offered that includes a "behind the scenes" tour through their nursery. There is a morning tour at 9 am and an afternoon tour at 1 pm with adults 19+ costing $150 USD, youth 6-18 costing $75 USD, and children under 5 being free.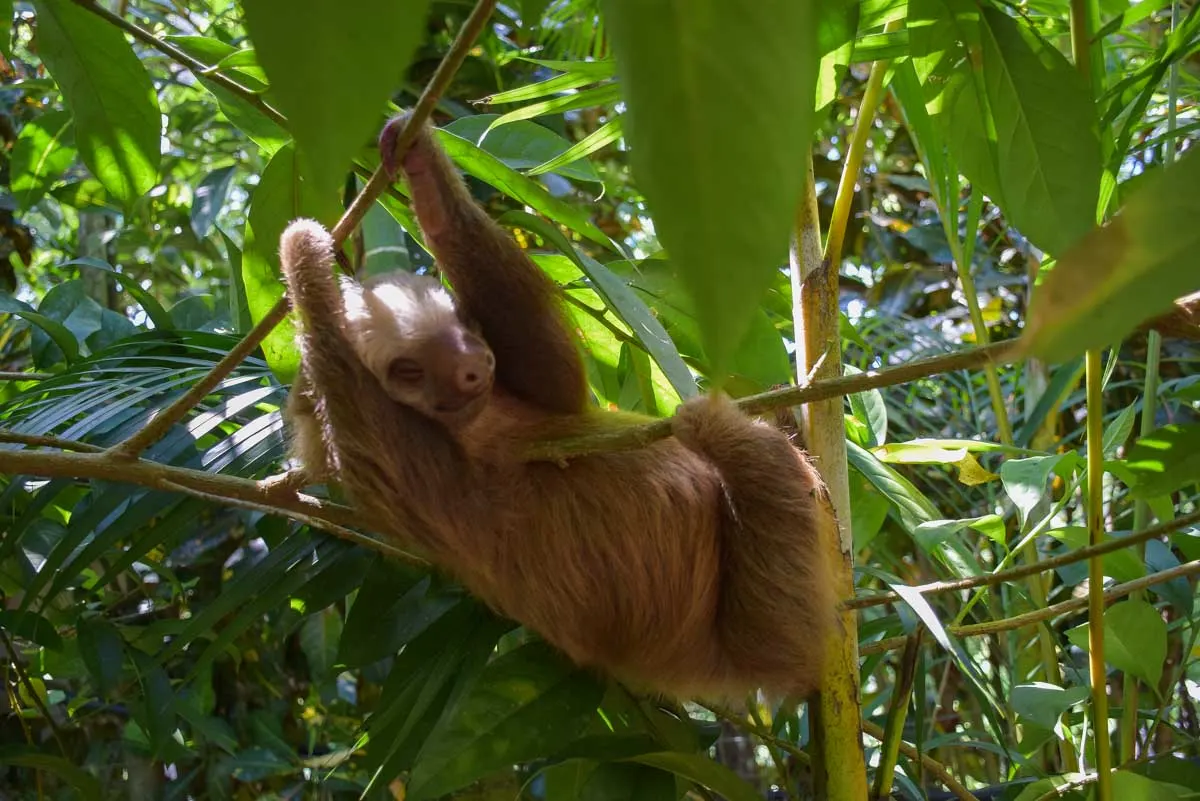 Proyecto Asis Wildlife Rescue Center
Proyecto Asis Wildlife Rescue Center is located 67 miles/108 km from San Jose and a short 15 miles/24 km south of La Fortuna. Here you will see sloths, monkeys, snakes, squirrels, toucans, anteaters, and more. You can choose from a few different tour options at this rescue center.
The Wildlife Regular Tour takes 2 hours and costs $35 USD for adults and $20 USD for kids 5-9. If you'd like a little bit more of a hands-on opportunity, there is a wildlife tour + volunteer opportunity that takes 3.5 hours and gives you the opportunity to prepare food and toys for the animals. This tour costs $58 USD for adults and $35 USD for kids aged 5-9. Both tours require reservations and are available between Monday to Saturday at 8:30 am and 1 pm.
If your focus is on sloths, there is a Sloth Tour available as well that takes 1.5 hours and costs $25 USD for adults and $15 USD for kids 5-9. These tours are offered Monday to Saturday 8:30 am, 10:30 am, and 1 pm. There is also a one night homestay offered with a local family you can book to get the most authentic experience at this rescue center.
How to Spot a Sloth in a Tree
So you're in the right area, now you just need to spot one of these lethargic creatures. Sloths are arboreal animals meaning they spend the majority of their life in trees. If you're looking for your best shot to see these cute animals, be sure to look up, waaaay up!
In fact, sloths typically only come to the forest floor roughly once a week to poop before climbing back up to their preferred home in the treetops.
While sloths live in a variety of different trees, they're naturally drawn to Cecropia trees. These trees grow fast and stretch up to 60ft/18m tall and have thin white trunks. These trees have large green leaves that fan out from the trees. The Cecropia tree grows a long yellow fruit that looks like string beans.
Sloths are solitary creatures which can make them harder to spot. They're also expert camouflagers with their grey/brown color blending them with the treetrunks they spend most of their life in. They are often covered in a green algae/fungi mix that allows them to further blend with the forest canopy. For this reason, I highly recommend having a pair of binoculars on hand to help you see up these tall trees for sloths hiding in the treetops.
One of the best, most surefire ways to see a sloth is to hire a guide or book a tour. Guides are trained in the area and not only know which trees to look in and where sloths like to hang out, but they will come with binoculars to help you better spot these furry little creatures. If you want a guaranteed sloth sighting and are looking to do some good at the same time, visiting a sloth sanctuary in Costa Rica will guarantee you see one of these cute little critters.
Getting Around Costa Rica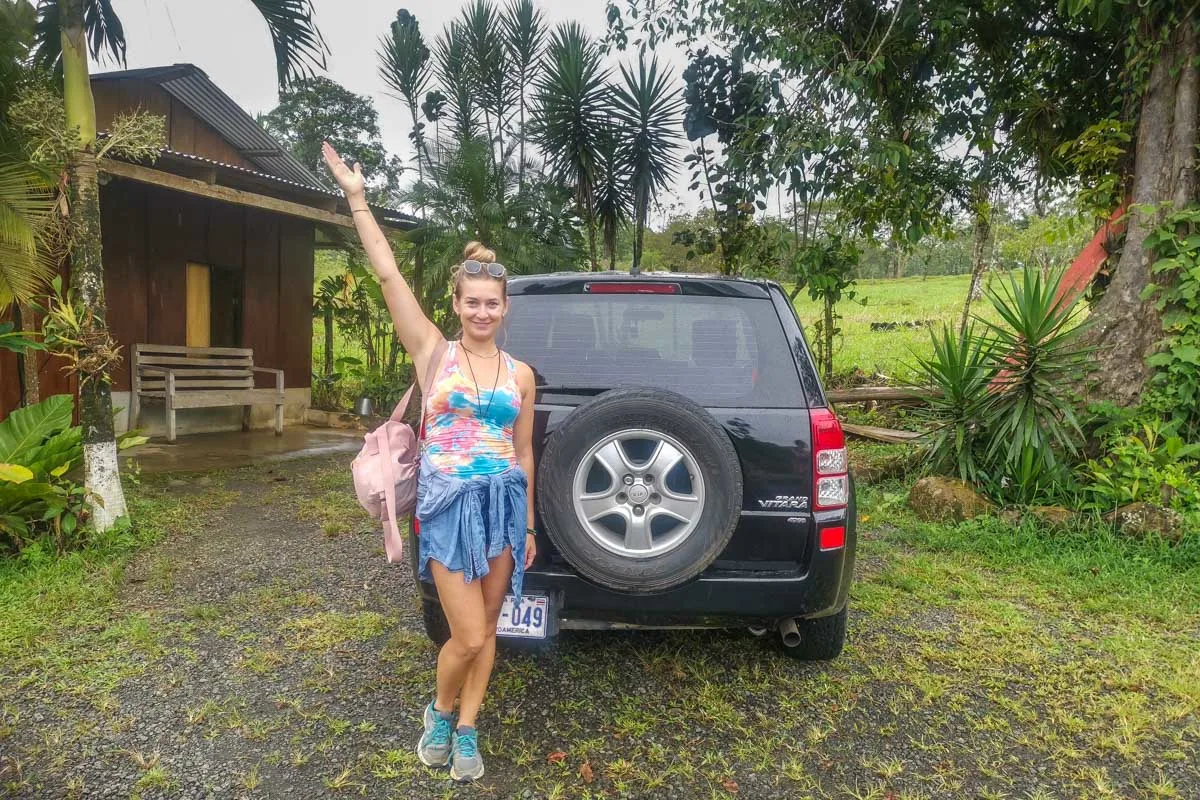 How you choose to get around Costa Rica is one of the biggest decisions you'll make when planning your holiday here! How you do it depends on your budget, travel style, and comfort level.
Renting a Car
Without a doubt, the number one way to explore Costa Rica is in a rental car. We book rental cars on the Discover Cars website as we have had good experiences with them in the past.
One of the things you need to watch for when renting a car in Costa Rica is the mandatory insurance that the government requires you to have. There are a lot of very cheap rentals that don't include this mandatory insurance (TPL) in the original booking price, but there are also ones that do. To avoid additional surprise charges when you pick up your rental car, be sure to rent a car that includes the mandatory insurance when you book.
Thankfully, on Discover Cars it's easy to tell apart the companies that include the mandatory insurance and those that don't. The trick is you can't pick any car on their website. In the picture below, you can see this rental car, with pick up in Jaco, includes the TPL. That means the mandatory insurance is included in the price. Any cover you get above that is extra.
Of course, I still suggest getting the full coverage offered by Discover Cars, which covers you even more.
You can browse cars on Discover Cars here.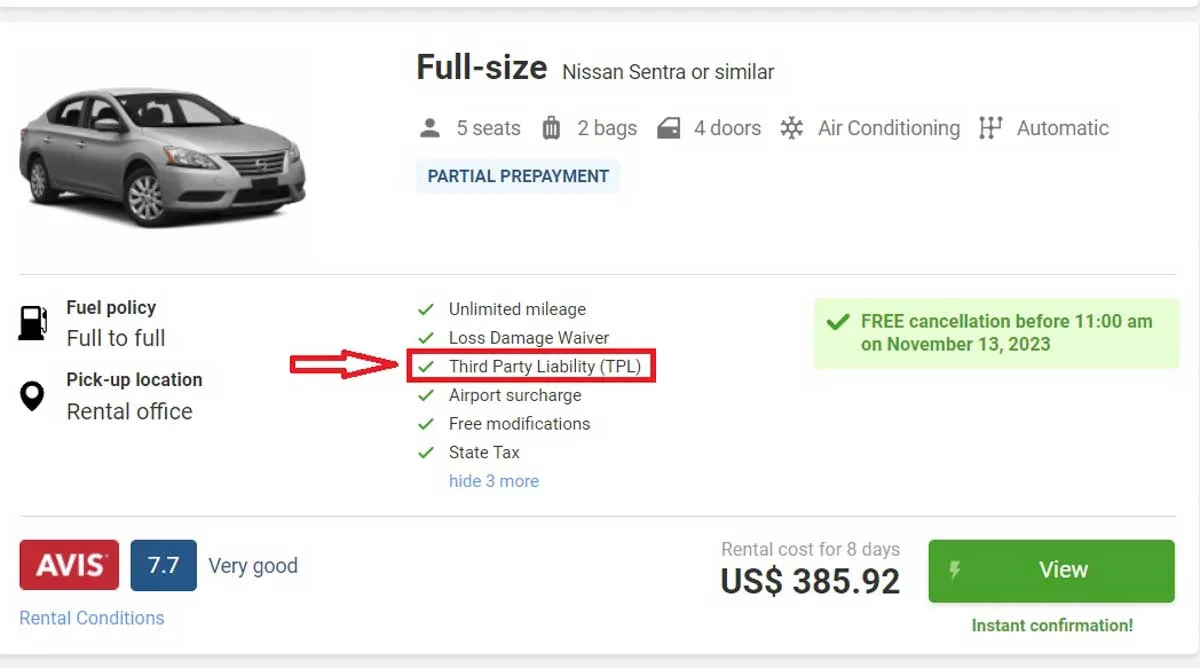 Book Shuttles
If renting a car isn't in your budget, you don't feel comfortable driving in Costa Rica, or you just don't like driving, shuttles are the next best option. There are hundreds of shuttle routes available all over the country, and they are very affordable.
Shuttles in Costa Rica are specifically for tourists and often include pick up and drop off at your selected hotels and airports. The drivers also speak some English, and the vehicles have air conditioning. You'll also be guaranteed a seat when you book a shuttle (which isn't the case with the public bus system.)
To get the best price, use the website Bookaway. They compare all the offers and prices of shuttle companies in Costa Rica so you get the best price! Honestly, we have saved so much money using Bookaway!
You can search for shuttles online on Bookaway here.
Public Bus
Lastly, you can use the public bus system. On short journeys, such as from San Jose to La Fortuna or Uvita to Manuel Antonio, this system is great. However, the longer the journey the more hassle and time spent on a bus. It's undoubtedly best to save the public bus in Costa Rica for short and straightforward trips!
The public buses are definitely the cheapest way to get around Costa Rica, but they are not always very reliable and schedules often change without notice and delays are to be expected. The buses can also be very crowded and hot – so just be prepared!
It's also good to speak some Spanish if you plan on riding the public bus since most drivers and ticket booth operators don't speak English.
Thanks for reading!
Sloths have become one of my favorite animals to see. It may be because they are hard to spot, but it feels like a real treat when you get to spot a sloth. We've been lucky enough to see quite a few different sloths when we were in Costa Rica, both in the wild and in sanctuaries. While nothing beats the thrill of seeing these animals out and about in their natural habitat, visiting a sloth sanctuary in Costa Rica helps to further their dedication to maintaining their natural healthy biodiversity.
I hope this blog helps you find sloths in Costa Rica! We've also written a ton of other blogs about visiting Costa Rica including a few of our favorite blogs below:
Things to do in Liberia, Costa Rica
Where to go Surfing in Costa Rica