One of Costa Rica's top destinations, Tamarindo chalks up major points for its great beaches, cool surf scene, fun nightlife, and never-ending list of fun activities. Riding ATVs, white water rafting, surfing, waterfall chasing, or ziplining – you name it, they've got it.
We traveled all over Costa Rica, but Tamarindo has some of the most diverse travel crowds – from the all-inclusive hotel stayers and backpackers to seasoned solo travelers and first-timers. This Pacific Coast town has so many tours and activities that you're bound to find something awesome – no matter what kind of traveler you are.
Sure, we'll admit that good old "Tamagringo" has earned its nickname, but don't strike it off the list just yet! We've rounded up all the details on Tamarindo's top tours to give you an idea of just how adventurous, awesome, and diverse even Costa Rica's busiest spots can be!
What is the best time of year to do tours in Tamarindo?
If you've never traveled to the tropics, here's a quick crash course on the seasons. Unlike their neighbors further north and south, tropical countries only have dry and wet seasons. The dry season runs from December to April, then the rainy season kicks it into gear from May to November.
No surprise here – the dry season is Tamarindo's busiest. Sunny days and stable weather make it one of the best times to visit Costa Rica. It's ideal for sunset cruises and pretty much all beach activities. This region gets pretty dusty during this time, though, even within the rainforests!
Now, you might hear "wet season" and think gloom and doom, but it doesn't mean it's going to rain all day, every day. Visiting Tamarindo in the wet season has lots of advantages, including lower off-season prices and fewer crowds. It's also the lushest, greenest time of year, making rainforest walks, ziplining, and ATV rides even more awesome!
How many days do you need in Tamarindo?
Trust us, we've done the whole "cram every activity into two days" travel bit, but it's way better to slow down and enjoy! To get a good feel for Tamarindo, it's worth allocating at least four days to scope everything out.
We like to arrive at a new place, have a day to find our bearings and explore at a chill pace. This is especially true here, as Tamarindo is a popular stop for those arriving from nearby Guanacaste Airport or traveling south from the Peñas Blancas border. So, give yourself a day to arrive and relax – it makes all the difference!
For the other days, you'll be spoiled for choice – we were surprised to find so many diverse activities! Even if you're hesitant to visit" we urge you to give it a few days, check out some awesome tours, and get a taste of coastal life in Costa Rica.
Our Top 3 Tours in Tamarindo
Picking activities to do or sights to see when you're traveling can be tough work and a whole lotta research! Sometimes we just want to join in on all the tours, but realistically, everyone has budgets and timelines to stick to. It's hard to decide on just three top tours in Tamarindo, but we narrowed it down to awesome picks that fit lots of different travel styles and priorities.
Each of these tours showcases some of the best things to do in Tamarindo, and everyone should experience at least one when they visit. If you have limited travel time or space in your budget for tours, picking one of these will ensure that you still have a quintessential Tamarindo experience!
Sunset sail
Tamarindo's top draw is its beautiful Pacific Coast, so it's no surprise that a Sunset Sail would be top of the list! It's a perfect way to spend an afternoon sailing up the coast to a secluded cove on a catamaran with drinks, music, and food! Ending with golden sunset views as you sail back to shore will give you a new appreciation for Tamarindo.
The Famous Guachipelin Adventure
The Famous Guachipelin Adventure has a reputation for a reason, and you'll more than likely hear people talking about it! It's one of the best adventure tours we've encountered, jampacked with activities like ziplining, tubing, and horseback riding. You'll get to have tons of fun while also experiencing one of Costa Rica's stunning national parks – Rincon de la Vieja National Park. It's also pretty great value, and is easily accessible from Tamarindo!
Beginner Surf Lesson
We can't round up the top 3 Tamarindo tours without giving this beginner surf lesson a much-deserved spot! Surfing in Costa Rica is one of those can't-miss experiences and it's an essential part of Tamarindo life. You'll also be able to learn more quickly in the beginner-friendly waters around here. It's also budget-friendly and doesn't involve traveling far, which are pretty solid reasons all on their own!
10 Best Tamarindo Tours
1. Rio Celeste, Sloth Sanctuary, and Llanos de Cortes Waterfall
After hearing stories from other backpackers, there was no way we would pass up visiting Rio Celeste! We hopped on this full-day tour to make the most of it, and even though it was a long (~12 hour!) day, seeing this stunning part of Costa Rica was so worth it.
Pick-ups in Tamarindo (and from other areas around Guanacaste) start bright and early, around 6:30 am, for a 3-hour drive to Tenorio Volcano National Park with a few stops to break up the journey. We got to grab breakfast (and coffee!), and take a cool dip at Llanos de Cortes waterfall. It was a great appetizer before the main event – Rio Celeste!
You'll hike for around 2 hours through the emerald green rainforest along the beautiful Rio Celeste as you follow the river to its powdery-blue waterfall. This waterfall is famous for its bright blue water that reminded me of blue Gatorade!
I took so many photos – this place was pretty unbelievable! The hike isn't too strenuous, although it can be slippery in some sections and involves a lot of stairs, but our group found it manageable. Good shoes are a must!
After all that hiking, we had worked up an appetite, so the lunch at a local organic farm really hit the spot. We also got to explore the sloth and frog sanctuary, which we found to be one of the best spots to see sloths in Costa Rica! There was also plenty of other wildlife including flowers, birds, cute frogs, and tropical plants galore.
This is a popular tour, so booking ahead online here is wise. It costs $135 USD per person for either a pick-up or self-drive option if you're renting a car in Costa Rica and want to meet at Llanos Del Cortes or at Tenorio Volcano Park. The fee includes park admission, a guide, and lunch. Bring some extra cash – if only for that morning coffee! If you want to upgrade and turn this into a fully private tour, you also have that option for $250 USD per person.
Related Read: If seeing sloths is high on your bucket list, make sure to check out the best sloth watching tours in La Fortuna! We even saw baby sloths!
2. ATV or Buggy Tour in Tamarindo
You don't have to go too deep into our blog to discover we love ATVs! These tours are a fantastic way to get off the beaten path while exploring Tamarindo. Most of our previous ATV tours were in groups, but this private tour was only $90 USD each for two of us, so we opted for that instead!
After pickup, your guide will take you to the ATVs (or a buggy for $10 USD cheaper, if you prefer), give you a safety demo, test ride, and fit you with helmets and goggles. We loved that this tour took us through many different spots, from the forest to some fantastic lookout points to having fun on the beach. If you go during the wet season, you can expect to have extra fun driving through the mud!
We ended up at 3 beaches and had them pretty much to ourselves, which was awesome. You can also swim, but we were having a blast and opted to spend more time riding instead.
Tours run for about 2 hours and start at 8 am, 11 am, 2 pm, or 3 pm, and your guide will also provide you with water and fresh fruit. Remember your swimsuit, and wear clothes you don't mind getting dusty!
If this sounds like the tour for you, you can book online here! If you're traveling with kids or want to ride with someone, we suggest opting for a buggy or a two-seater ATV. Make sure you also have cash for tips and $5 USD to buy a bandana at the office before you leave – it can get dusty and muddy, so we really liked having ours!
3. Sunset sail
Tamarindo is the perfect spot to explore Costa Rica's stunning Pacific coast. Some of the best beaches in Costa Rica are around Tamarindo, which means they can get busy! Hopping on this sunset sail is a super scenic way to escape the crowds.
This tour lasts about 5 hours and includes an amazing sunset on the water. You'll also return to shore just in time for a late supper at one of the great restaurants in Tamarindo. If you're not an early bird, this 1 pm start is perfect for you!
We like a boat tour that's fun, has a little bit of partying, and lots of adventure, and this one easily ticked all the boxes. They include alcohol and light food such as fajitas, fruit platters, and yummy banana bread to fuel your sail north of Tamarindo to beautiful Playa Huevos.
At Playa Huevos, you can kayak, paddleboard, snorkel, or just use a noodle and float around in the clear waters. We did some snorkeling along the rocky section of the beach, which had tons of coral, fish, and some rays. It's common to catch sightings of whales, dolphins, and turtles along the way, although we didn't luck out!
Tours cost $95 per person, including food, drinks, equipment, and a sweet ride on a 40-foot/12-meter catamaran. Make sure you don't miss out on this one and book a spot on the sunset cruise online with Viator!
4. The Famous Guachipelin Adventure
Some travel days are for chill sunset sails and wildlife sanctuaries, and others are for amped-up travel experiences. That's where the Guachipelin Adventure tour comes in! Easily some of the most fun we've packed into 10 hours, this is an awesome way to get your adrenaline pumping while enjoying the natural surroundings Costa Rica is most known for.
Pick-up starts around 6 am for the drive to Parque Nacional Rincon de la Vieja, about 93 km (58 miles) northeast of Tamarindo. Named after one of Costa Rica's famous volcanoes, the park is home to relaxing hot springs, rivers, waterfalls, and tons of Costa Rican wildlife. Our guide helped us navigate the park as we took on multiple ziplines, hanging bridges, Tarzan swings, rappelling, and rock climbing! We slowed things down a bit with a 45-minute horseback ride before jumping in the river to go river tubing over the (gentle!) rapids for about 5 km/3 miles.
All those activities are balanced out with a much-appreciated buffet lunch, the chance to slather healing volcanic mud on yourself and soak in the hot springs that are heated by the volcano before heading home. I slept like a baby after this one!
There's a max of 20 people per tour, and prices start at $135 USD per person if you do the self-drive option, or $149 USD each for a group of 2 with shared transport. For both, all entry tickets, guide, and lunch spread are included. It's a pretty active day, so we recommend guests be moderately fit, wear sneakers and comfy clothes, and be ready for adventure!
You can easily book your slot on this fun-filled day near Tamarindo with Viator. You can even use the reserve now, pay later option to guarantee your spot.
Why We Book Tours with Viator
Viator is a trusted online booking system for tours around the world! We almost always book our tours using Viator for a couple of reasons:
Free cancellation on most tours – Most of the tours on Viator allow you to cancel and get a full refund up to 24 hours in advance. This is handy in case plans change, or if booking an outdoor activity, the weather forecast is looking grim.
Reserve now and pay later – You can secure your spot on some of the most popular tours well in advance and not pay until closer to the day of the tour.
Pay in your chosen currency – Avoid costly international transaction fees by choosing to pay in your home currency.
Peace of mind – When booking with tour operators you find in person on the street or in small booking offices, you are often promised one thing and given another. This online platform holds tour operators accountable with a written description of inclusions as well as the opportunity for customers to leave reviews.
Check out the Viator website here!
5. La Leona Waterfall
If there's a waterfall around, count me in! Yup, I'm guilty of chasing waterfalls, and if you're only going to see one around Tamarindo, this La Leona Waterfall tour delivers. Plus you can ONLY visit this waterfall on a tour.
Costa Rica has tons of waterfalls, but what makes La Leona Waterfall so special is that it's in a canyon! For about 3 hours, you'll weave through caves, cross rivers, swim, and climb canyons until you finally spy La Leona slicing her way through the rock.
There's a beautiful powder-blue pool to float around so you can cool off and relax before heading back. You'll also get to see smaller falls along the way, and the guides always have tons of tidbits about flora and fauna along the way!
This tour starts around 7 am and lasts for about 6 hours, so eating a hearty breakfast and bringing snack money is your best move. Transport, guide, and water are included, and if you have a dry bag and water shoes, this is definitely a good time to whip those out!
The tour is reasonable – especially if you're traveling as a group as the price goes from $155 USD per person for a group of 2 or drops to $115 USD each for a group of 6.
Get a front-row seat to one of the most beautiful waterfalls around by booking a tour to La Leona Waterfall here!
Related Read: If you need a place to stay so you can take in some of these tours, some of the best all-inclusive resorts in Costa Rica are around Tamarindo!
6. ATV Zipline Tour
A few tours on our list include longer drives, but if you're looking for fun closer to Tamarindo, this ATV and zipline combo tour is a great option. The starting point isn't far from downtown, and the whole tour runs for about 3.5 hours, so you'll have an adventure with time to spare!
After safety demos, you'll drive through forests, mountains, and even some small towns, with lots of opportunities to spot animals like howler monkeys, iguanas, and even a coati. When you arrive at the park, you'll switch gears and get harnessed for a zipline course with 7 cables that weave you through the treetops with epic views of mountains in the distance! Afterward, you'll get one more spin on the ATV as you return to the starting point.
Departures are at 8:30 am and 12:30 pm, costing $145 USD per person for a single-driver ATV or $190 for a two-seater. The cost also includes safety gear, a guide, and transportation. There's a max of 15 people per group, and kids as young as 5 can join in (but you must be 16 to drive!).
You can book this tour online here and make sure to bring along a bandana or mask for the ATV ride – remember how dusty we said it could get here!
7. Tenorio River White Water Rafting
We've had a blast whitewater rafting around Costa Rica on other trips, and this was no exception! It's a great way to get into nature, have adrenaline-filled fun, and meet new people. You don't need prior experience to join this whitewater rafting tour either – everyone is welcome!
Starting in Tamarindo with a 7 am pickup, our trusty guide took us about a 2-hour drive east to Canas, where the company base is. After safety briefings and grabbing gear, we jumped in a 4X4 for another half-hour ride to the Tenorio River's launch point. And from there, it just got more epic!
Over 2 hours, we rafted down 12 km/7.4 miles of the river through more than 20 Class III and IV rapids, plus calmer sections where we could appreciate the surrounding forest and see waterfalls. What really got my heart racing though was the 12-foot/3.6-meter waterfall drop over Cascabel Falls! What a rush!
After reaching the endpoint, we returned to base for a delicious typical Costa Rican lunch before heading back, arriving in Tamarindo just in time for sunset.
There's a self-drive option for $103 USD where you meet the group in Canas, but we chose the return-transport option from Tamarindo for $136 USD per person. Both options include lunch, a guide, and gear, but judging by the naps we had on the way back, we made the best choice for us! For an epic day on the water, book your spot on this whitewater rafting tour online here!
8. Beginner Surf Lesson
No matter what season you arrive in Tamarindo, one thing you're gonna find is surfers! We've tried surfing all over Costa Rica and since we're no pros, beginner-friendly Tamarindo was an excellent place to improve our skills with this surfing lesson.
Instructors will grab you a suitable board and teach you the basic movements on land first, like how to pop up on the board. After you've mastered that, you get to practice paddling out in the water, understanding the waves, and learning general surf etiquette. And yes, you can absolutely stand up and ride a wave on your first lesson!
Surfing here has a few perks, starting with the fact that you don't have to travel very far! It's also pretty pocket-friendly at $50 USD a person for a shared 2-hour lesson, with time slots daily at 8 am, 11 am, and 3 pm. Shared lessons have a max of 15 people, but you're guaranteed an instructor per 6 people. Or you can opt for a private surf lesson for only $75 USD which is worth it if it's your first time on a board!
Instructors, surfboards, and even rashguards are included, but you can bring extra cash if you feel like tipping! Check out all the options for surf lessons in Tamarindo online to book your spot.
Related Read: For even more affordable vacation plans, check out the best cheap and free things to do in Tamarindo!
9. Sloth Sanctuary Wildlife Hike
A wildlife hike is one of the best things to do in Costa Rica, and one of our favs is this Sloth Sanctuary wildlife hike in nearby Portegolpe. You'll see their most famous critters just hangin' out – literally!
Sloths are pretty iconic in Costa Rica, and they're one of my favorite animals to spot in the wild. The sanctuary is home to the rarer two-toed sloths, who roam freely, albeit at a pretty chill, slow pace! We also spotted toucans and heard howler monkeys in the distance (but didn't see them up close!). Our guide was super passionate about his job, and he gave us so many facts about the animals and Costa Rican nature in general.
At $85 USD per person for a 6-hour tour, it's also a pretty budget-friendly way to get immersed in nature and switch up the scenery for a day. Pick-up, transportation, and admission are included, but bringing snacks and water is a good call!
You can book this tour online and there's a maximum of 20 people on the tour, so it's still a relatively small crowd to enjoy the day with.
10. Discover Scuba Diving
Scuba diving in Costa Rica is one of our favorite activities, and the country is known for being a top dive destination. Tamarindo is a great place for beginners to kick off a new adventure with a Discover Scuba Diving course, and maybe even get inspired to do a full certification!
There isn't any fancy prerequisite here, you just gotta be willing to give it a go! After the paperwork, you'll learn the basics from a qualified (and bilingual) instructor, and then the real fun starts. The dive boat takes you out for two dives, where you can see beautiful multi-colored coral reefs teeming with marine life and maybe even rays, turtles, or larger fish hanging out. No two dives are ever the same; that's why we love it so much!
Pick-up is bright and early at 6:15 am, or you can also meet at the shop. Snacks, water, transport, and equipment are all included, but bring a hat and sunscreen! It costs $195 per person with a max of 8 people, but even if you're solo, you're bound to meet some cool, like-minded people.
Added bonus: if you end up loving it, you may be able to use your Discover Scuba dives toward your certification. Win-win!
Book your scuba diving adventure near Tamarindo online here and you can cancel up to 24 hours in advance if your plans change.
Related Read: If these tours aren't quite long enough or you're looking to see more of the country, there are plenty of multi-day guided tours of Costa Rica to choose from!
Where to Stay in Tamarindo, Costa Rica
There's no shortage when it comes to places to stay in Tamarindo. There are over 100 hotels and hostels in the downtown area catering to all needs and wants.
The Selina is a good option for budget travelers, and I have personally stayed here. It's an upper-market hostel with a great atmosphere and pool. The location is also right near the beach, and the dorm rooms and privates all have AC. You can book Selina Tamarindo on HostelWorld or Booking.com.
If you're past the days of staying in hostels, Villas Macondo is a top choice when it comes to a budget hotel. They have a pool, an excellent location, and lots of great reviews.
If you'd prefer a little more luxury, the Tamarindo Bay Boutique Hotel comes with gorgeous rooms, a large pool, and a very modern and sleek design. However, the location is slightly back from the beach, and it's not for families.
Instead, those traveling with kids will love Hotel Villa Amarilla, which offers large quadruple rooms and is right on the beach. The only drawback is they don't have a pool.
Those with a luxury budget should check out Hotel Tamarindo Diria Beach Resort. This is one of the most beautiful beachfront hotels in Costa Rica, and it's not only located on the beach, but they also have a pool with ocean views.
Getting Around Costa Rica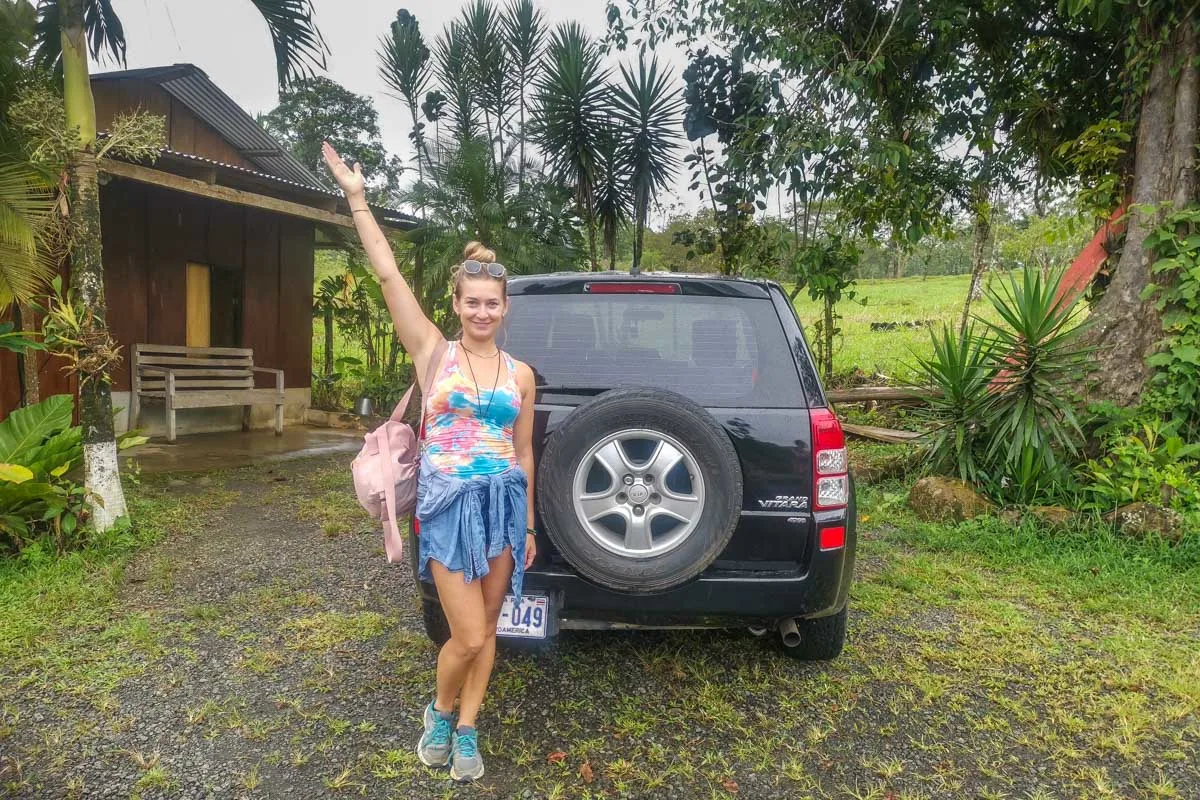 How you choose to get around Costa Rica is one of the biggest decisions you'll make when planning your holiday here! How you do it depends on your budget, travel style, and comfort level.
Renting a Car
Without a doubt, the number one way to explore Costa Rica is in a rental car. We book rental cars on the Discover Cars website as we have had good experiences with them in the past.
One of the things you need to watch for when renting a car in Costa Rica is the mandatory insurance that the government requires you to have. There are a lot of very cheap rentals that don't include this mandatory insurance (TPL) in the original booking price, but there are also ones that do. To avoid additional surprise charges when you pick up your rental car, be sure to rent a car that includes the mandatory insurance when you book.
Thankfully, on Discover Cars it's easy to tell apart the companies that include the mandatory insurance and those that don't. The trick is you can't pick any car on their website. In the picture below, you can see this rental car, with pick up in Jaco, includes the TPL. That means the mandatory insurance is included in the price. Any cover you get above that is extra.
Of course, I still suggest getting the full coverage offered by Discover Cars, which covers you even more.
You can browse cars on Discover Cars here.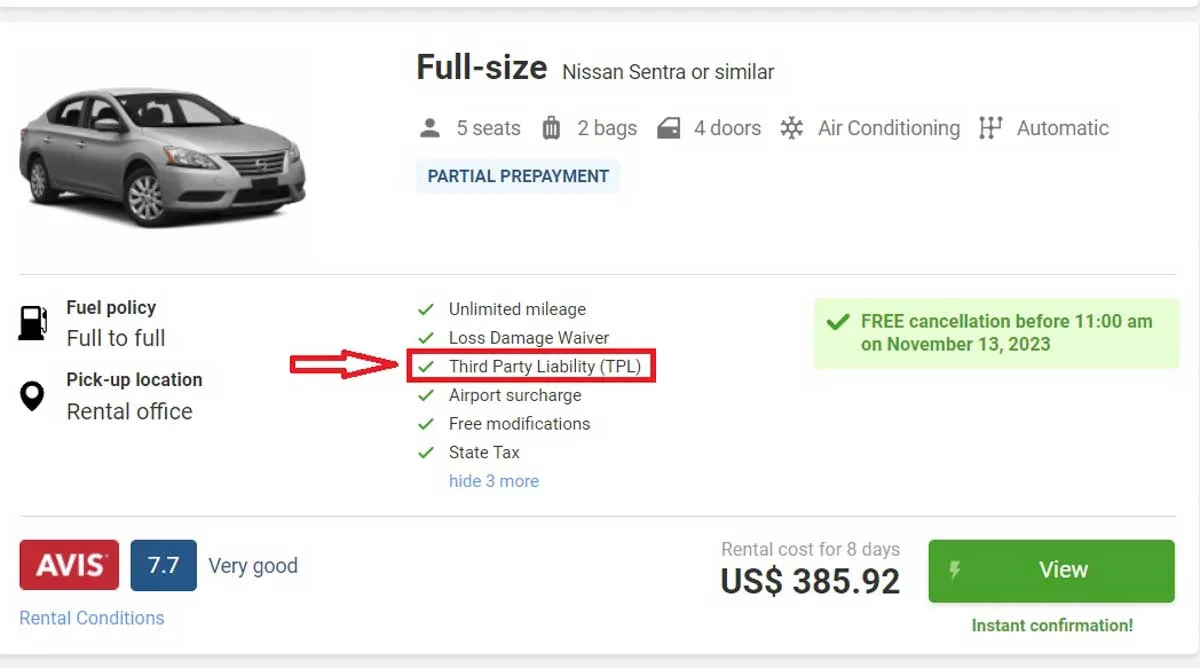 Book Shuttles
If renting a car isn't in your budget, you don't feel comfortable driving in Costa Rica, or you just don't like driving, shuttles are the next best option. There are hundreds of shuttle routes available all over the country, and they are very affordable.
Shuttles in Costa Rica are specifically for tourists and often include pick up and drop off at your selected hotels and airports. The drivers also speak some English, and the vehicles have air conditioning. You'll also be guaranteed a seat when you book a shuttle (which isn't the case with the public bus system.)
To get the best price, use the website Bookaway. They compare all the offers and prices of shuttle companies in Costa Rica so you get the best price! Honestly, we have saved so much money using Bookaway!
You can search for shuttles online on Bookaway here.
Public Bus
Lastly, you can use the public bus system. On short journeys, such as from San Jose to La Fortuna or Uvita to Manuel Antonio, this system is great. However, the longer the journey the more hassle and time spent on a bus. It's undoubtedly best to save the public bus in Costa Rica for short and straightforward trips!
The public buses are definitely the cheapest way to get around Costa Rica, but they are not always very reliable and schedules often change without notice and delays are to be expected. The buses can also be very crowded and hot – so just be prepared!
It's also good to speak some Spanish if you plan on riding the public bus since most drivers and ticket booth operators don't speak English.
Invest in Travel Insurance
Paying out of pocket for trip interruptions or medical treatment will add to what might already be a stressful situation. Not to worry, SafetyWing is here to help!
This affordable travel and medical insurance is perfect for digital nomads, long-term travelers, and remote workers. The best part is that it only costs $45 USD per 4 weeks.
To start coverage you must purchase it after leaving your home country. We usually purchase it as soon as we land at the airport.
Since using SafetyWing we've been reimbursed thousands of dollars when we've gotten sick. During the pandemic, they've even gone as far as to pay for our last-minute flights back to Canada before the border closed!
Pura Vida!
I hope you found this list of the best tours in Tamarindo helpful as you plan your trip! There's definitely a great variety of Tamarindo tours to take in whether you're looking to chill on a sunset sail or amp up the adventure with ziplines, ATVs, or rafting!
You could honestly spend your whole vacation in Tamarindo, but if you're looking to travel around the country, we've got you covered! Make sure to have a look at our other blogs including some popular ones below or drop us a line if you need personalized recommendations!
7 Day Costa Rica Itinerary: How to Spend One Week in Costa Rica!
18 Things to KNOW Before Driving in Costa Rica
7 BEST Coffee Tours in Costa Rica (Local Coffee Plantations You Should Visit!)