If you go to Costa Rica, the Caribbean Coast is definitely worth visiting. It's a privileged destination for its natural beauty but also for its culture and gastronomy. Indeed, their African and Jamaican heritage has been preserved in the use of certain ingredients like fresh coconut milk, cassavas, plantains, ginger, and hot chili.
Although there are a few places to visit along the Caribbean coast such as Puerto Limon, the number one place to explore and try delicious food is Puerto Viejo. It's the perfect town to taste those fresh Caribbean flavors! In fact, one of the best things to do in Puerto Viejo is to eat the local food!
However, Puerto Viejo has become a crossroads of different nationalities in more recent decades. French, Italians, Germans, Americans, and people from all over the world have fallen in love with the region and have developed different businesses, including top restaurants.
Therefore, a visit to Puerto Viejo must include a taste of exquisite Costa Rican and Caribbean food but also many other cuisines.
The only problem is, this popular destination is filled with restaurants all over town. To help make the choice of where to eat easy, here we leave you a list of the 12 best restaurants in Puerto Viejo! Bon Appetit!
12 Best Restaurants Puerto Viejo
1. Cafe Rico
Location: Puerto Viejo downtown
Price range: $2.5 USD for an order of fried potatoes to $9 USD for Ana Rosa Special
Come here for: Breakfast!
Takes reservations: No
I will start this countdown with one of the best places to eat a delicious breakfast in Puerto Viejo. Indeed, Cafe Rico lives up to its name since "Rico" translates to "good" or "tasty". The menu is limited, but the food is excellent.
I like to start the day with a fruit salad and toast, but I also love hearty breakfast options and crêpes, which are all on their menu!
If you feel hungry, I recommend you their signature dish called "Ana Rosa Special." It's a single plate made with small portions of different ingredients: avocado, eggs, fried yellow onions, ham slices, sweet plantain, mushrooms, and beet! It's perfect if you're trying to cure a hangover or have a big day ahead!
This rustic and bohemian spot also hosts a huge library that lines the walls all around so you can borrow a book and read while you drink your morning coffee. Just remember that Cale Rico closes on Thursdays and Fridays.
2. El Refugio Grill
Location: Punta Uva
Price range: $9 USD for a salad, $18 USD for a main entree
Come here for: Fresh and reasonably priced seafood and fish.
Takes reservations: Yes
This is an excellent place to eat lunch or dinner if you happen to go to Punta Uva. It's a must-see in the region a few minutes away from Puerto Viejo. Its crystal-clear water and its white sand beach make it a true gem.
El Refugio Grill is then a great spot to eat before or after a day at Punta Uva. They have a fixed menu serving different salads and sandwiches. However, they also have daily specials made with fresh seafood and fish.
I'm a sucker for fresh mussels, so I get them every time I visit. They are delicious and you can taste the freshness. If you're a little less adventurous, they also do a fantastic tuna steak and even a really juicy burger!
To end your meal, you can have a delicious dessert like brownies with ice cream, grilled pineapple, and crêpes.
3. Como en mi Casa Art Café
Location: Puerto Viejo downtown, a few meters away from the beach
Price range: $7 USD for a tomato bruschetta, $13 USD for a "special combo" (a main dish with a salad, a couple of appetizers, and a drink)
Come here for: Healthy food and colorful dishes
Takes reservations: No
Just 50 meters away from the beach, you will find Como en mi Casa Art Café. The place is small and simple but warm and colorful. Also, since they're on the second floor, the view of the ocean is amazing.
This fusion-style restaurant serves a mix of Mexican, Latin, and Italian food but with a healthy and original twist. They offer a lot of vegan, vegetarian, and gluten-free options too which I love! The meals are so colorful and you really feel like you're fueling your body with healthy superfoods!
A big plus of this restaurant in Puerto Viejo is their alternatives for hot and cold drinks. Some examples are an almond milk cappuccino, chocolate with ginger, or a green smoothie. They also have daily specials like Eggplant Parmesan, one of my favorite dishes.
Como en mi Casa Art Café is open from 7:30 am to 10 am Wednesday to Saturday and 7:30 am to 5 pm Sunday and Monday.
4. Soulsurfer
Location: Puerto Viejo, in front of the beach and next to Alamo Rent a car
Price range: $4 USD for French fries, $12 USD for burgers.
Come here for: Burgers
Takes reservations: yes
Soulsurfer is a very nice and simple spot to have awesome homemade fast food with friends or family.
Not far from the ocean, Soulsurfer's burgers have a reputation as the best in town, so don't miss them! There's an option for every taste, and their creations are very original.
They have beef, fish, chicken, pork, and vegan alternatives for an average of $12 USD. The quality for the price is very good, and the portion sizes are huge!
I recommend you try the Caribbean Chicken Burger: "a caramelized chicken filet burger topped with cheese, fresh vegetables, sweet grilled plantain, avocado, and a homemade Caribbean coconut sauce." I assure you it doesn't just sound but tastes amazing.
And if you have a big appetite, you can delight yourself with their daily desserts.
They are open everday except Monday from 7 am to 1 pm and again from 4:30 pm to 9 pm.
5. Pita Bonita
Location: Near Cocles (one of the best areas to stay in Puerto Viejo) and Punta Uva Beach
Price range: $5 USD for hummus, $14 USD for a lamb kebab
Come here for: Middle Eastern food
Takes reservations: Yes
If you love Middle Eastern Food as I do, you must go to Pita Bonita in Puerto Viejo. It's one of the best restaurants in Puerto Viejo for a reason, and it's located on the road to Cocles and Punta Uva.
Pita Bonita has a beautiful terrace and a tropical garden. It's definitely a restaurant to relax and share a delicious meal with family and friends.
You can order many different appetizers like hummus, tabbouleh, pita bread, falafels, and salads. There are also various main dishes like Lamb Kebab or Spiced Chicken Shawarma. And of course, don't forget to drink a Turkish coffee or mint tea at the end!
So, order a huge spread like I usually do and enjoy a large meal with friends!
2023 Update: Pita Bonita is temporarily closed. Check their Facebook page for updates.
6. La Nena
Location: Cocles Beach
Price range: $6 USD for an order of patacones or fries, $11 USD for a fish filet
Come here for: Authentic Caribbean dishes
Takes reservations: No
La Nena is an authentic Caribbean Restaurant. Although they also serve other common meals like burgers and burritos, I highly recommend you to try their Caribbean-style Chicken.
The chicken is cooked in a very tasty and spicy coconut sauce with rice and beans, plantains, and salads.
However, the "rice and beans" in the region aren't prepared like the common "gallo pinto" in Costa Rica (which is also a mix of rice and beans). Instead, in the Caribbean, they add coconut milk and, of course, some chilly spices.
Another dish that I recommend is "Patacones con Frijoles Molidos" or smashed and fried plantains with a puree of black beans. This is an authentic Costa Rican specialty, and it's just delicious!
7. Cafe Viejo
Location: Puerto Viejo downtown, near the Catholic church
Price range: $20 USD for Carbonara pasta, $34 USD for a big Mediterranean pizza
Come here for: Authentic Italian food
Takes reservations: Yes
Founded by three Italian brothers in 2003, Café Viejo has been serving meals from their homeland with the best local ingredients.
You will enjoy a lot of different options, from pizzas to lobster and seafood. The prices are fairly more expensive than other restaurants around, but the atmosphere is fancier, and the quality is top-notch. My favorite dish is their Ravioli which is homemade. The portion is quite small so be sure to get yourself an appetizer too.
They have a huge menu of liquors, cocktails, and wines since it's also a bar, so this is a place for you if you like fine dining.
You can check out menu here.
8. KOKi Beach Restaurant & Bar
Location: Puerto Viejo Beach, next to the Minimarket Diamante
Price range: $22 USD for a green salad, $38 USD for a filet mignon and ½ lobster tail.
Come here for: Fine dining in an outdoor ambiance
Takes reservations: yes
This restaurant has been in Puerto Viejo for quite a while now. KOKi Beach Restaurant & Bar has a very strategic position in the heart of Puerto Viejo, not far away from the beach. It has an open wooded terrasse with colorful rocking chairs, so you can't miss it.
The cozy lounge is beautifully decorated, as well as every plate served. The food is refined, and the ambiance is elegant but relaxed. This place can get crowded at night so make sure you book a table if you don't want to wait too long.
For $10 USD you can have a Margarita or a Pina Colada, one of my favorite cocktails. For starters, I would recommend you try the Yucca Stick Fritters with aioli or their Peruvian Ceviche, this is raw fish diced into cubes and marinated in lemon juice. Onions, garlic, and cilantro are added for more flavor.
This restaurant is well known for its seafood specialties, but meat and vegetarian alternatives can also be found.
9. Soda Riquisimo
Location: Puerto Viejo downtown
Price range: $7 USD for an omelet, $10 USD for a chicken Casado
Come here for: Authentic Costa Rican and Caribbean Food
Takes reservations: No
Soda Riquisimo as the name suggests it is a soda – a more authentic and rustic place where you can enjoy typical (local) Costa Rican and Caribbean dishes. Prices are fair, the portions generous, and the food is really good. What else can you ask for?!
Open all day, from 8 am to 10 pm, you can enjoy breakfast, lunch, and dinner here. In the morning, you can have the traditional "Gallo Pinto," with eggs or bacon, but also pancakes, which I love. Another one of my favorites for breakfast is a Tortilla Palmeada or a handmade fresh corn tortilla that you can eat plain or with cheese or sour cream.
For lunch or dinner, if you like fish, I suggest you try their Pargo Entero or their Whole Snapper with rice and beans and a spicy Caribbean sauce.
To finish your meal, I recommend you to go buy a couple of Plantinta at Mirra's bakery, a tiny place just next to Soda Riquisimo. This Caribbean specialty is a sweet patty filled with a spicy red plantain puree. I'm sure you won't regret it.
You can find their menu here.
10. La Pecora Nera
Location: Puerto Viejo downtown
Price range: $16 USD for a Bruschetta, $40 USD for a main dish
Come here for: A romantic or fancy dinner
Takes reservations: Yes
Pecora Nera is a very chic Italian restaurant making signature cuisine. It's a great place to have a romantic and fancy dinner. The prices are expensive but the food is tasty, and the ingredients are fresh and of high quality. They also have a cellar with wines directly imported from Italy.
The service is warm and fast, and the portions are generous. Their menu is limited, but you will find some Italian classics like Pasta Carbonara, Seafood Pasta, and Margherita Pizza.
A selection of meats is also available like grilled fish or beef with gorgonzola sauce. For dessert, what about Tiramisu?! One of my favorites.
11. Bread and Chocolate
Location: Puerto Viejo downtown next to rent a car.
Price range: $2.5 USD for a cappuccino, $9 USD for a chicken sandwich
Come here for: Breakfast and sweet treats
Takes reservations: No
Bread and Chocolate speak for their name since it's a perfect spot to have sweet treats!
They offer many alternatives for breakfast like waffles, French toasts, pancakes, or scrambled eggs. They also serve lunch and baked goodies all day long. They make homemade granola and jams and use local products.
Among these, chocolate is their star ingredient! The South Caribbean region was well known for its cacao farms back in the day. It was a sacred crop for the indigenous populations of Chorotegas and Bribris. In fact, cocao beans were a means of payment until the 1930s.
However, in the 70s' the plantations were affected by several diseases, and the production fell dramatically. In recent years, cacao is making a comeback to promote the local economy.
Bread and Chocolate is a business supporting this initiative. Therefore, I highly recommend you taste their homemade selection of chocolates! Believe me, you won't be disappointed, and for those with a sweet tooth, this is definitely one of the best restaurants in Puerto Viejo.
12. Pizzeria Pulcinella
Location: Playa Chiquita downtown
Price range: $5.5 USD for a green salad, $25 USD for an extra-large pizza (12 slices)
Come here for: Pizza for dinner
Takes reservations: Yes
Pizzeria Pulcinella, owned by Italians, serves authentic Italian food. The spot is rustic, and the atmosphere laid-back.
Their wood fire oven gives a special taste to their Neapolitan-style pizzas. The crust is thin, and pizzas aren't overcharged.
They have small pizzas and a big one called "pizza al metro." This is a rectangular pizza, around 50 cm long, in which you can combine up to three pizza types. This is pretty nice if you're eating out with your family or friends.
They also have lots of starters, pasta, meats and, of course, desserts! I recommend you their Pecan Pie with ice cream.
Related Read: Be sure to read our blog about where to stay in Puerto Viejo and the best hotels before you go!
Must-do Activities While You're in Puerto Viejo
If you're planning to do a few fun activities in Puerto Viejo, check out our shortlist of the top 4 in town!
Cahuita National Park Hike and Waterfall: Cahuita National Park is a must-visit and on this tour, you'll get an expert guide to help you spot wildlife in the park. The tour also takes you to a hidden waterfall without the park and includes transport to and from the park.
White Water Rafting Pacuare River: The Pacuare River is well known as one of the best white water rafting rivers in Costa Rica. Not only is the river a thrilling ride with class IV rapids but the views are breathtaking. This specific tour includes everything including breakfast and lunch!
Chocolate Experience by Bribri Indigenous Culture: Chocolate tours are a must in Costa Rica. Not only will you try delicious chocolate but you'll learn the historical importance of Cacao to the local people. The tour also teaches you about the Bribri Indigenous Culture, which is really interesting.
Bike Tour from Puerto Viejo to Manzanillo: Join this guided tour and ride along the coastline all the way to Manzanillo. It's a relaxing tour to explore the coastline that includes your bike rental and an expert guide named Allan!
Getting Around Costa Rica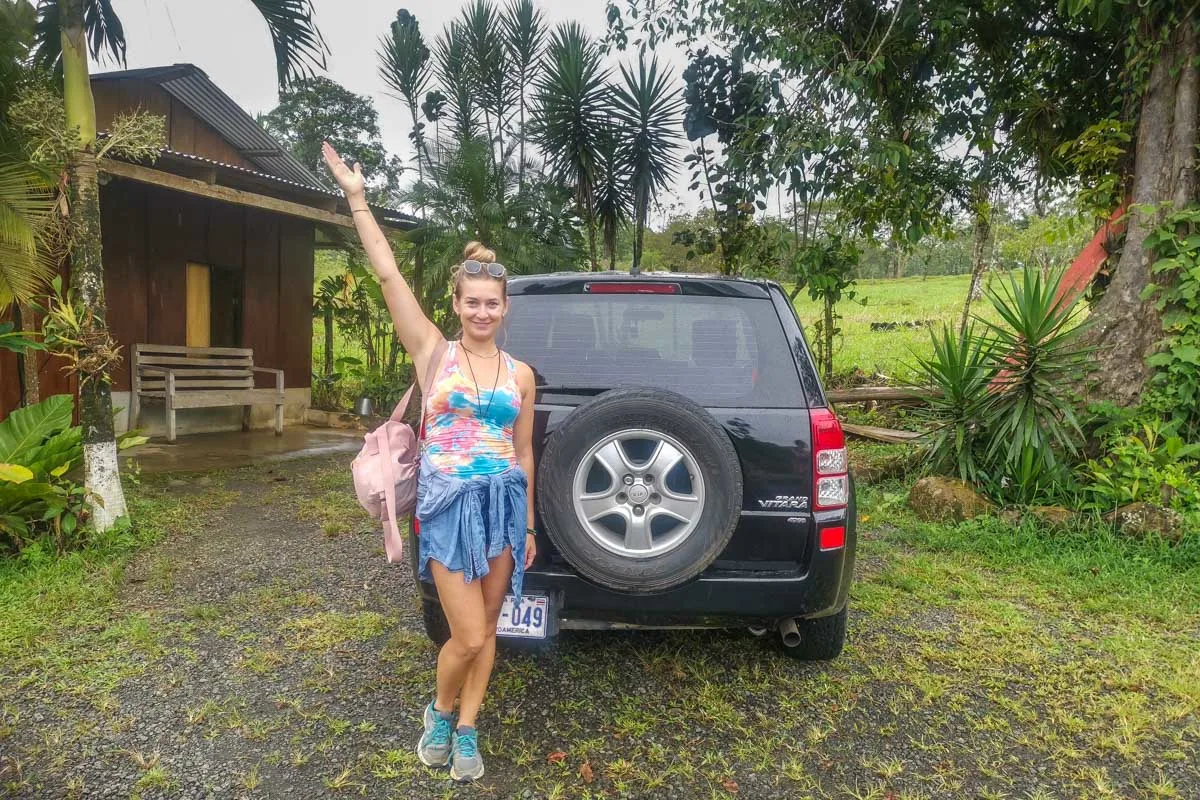 How you choose to get around Costa Rica is one of the biggest decisions you'll make when planning your holiday here! How you do it depends on your budget, travel style, and comfort level.
Renting a Car
Without a doubt, the number one way to explore Costa Rica is in a rental car. We book rental cars on the Discover Cars website as we have had good experiences with them in the past.
One of the things you need to watch for when renting a car in Costa Rica is the mandatory insurance that the government requires you to have. There are a lot of very cheap rentals that don't include this mandatory insurance (TPL) in the original booking price, but there are also ones that do. To avoid additional surprise charges when you pick up your rental car, be sure to rent a car that includes the mandatory insurance when you book.
Thankfully, on Discover Cars it's easy to tell apart the companies that include the mandatory insurance and those that don't. The trick is you can't pick any car on their website. In the picture below, you can see this rental car, with pick up in Jaco, includes the TPL. That means the mandatory insurance is included in the price. Any cover you get above that is extra.
Of course, I still suggest getting the full coverage offered by Discover Cars, which covers you even more.
You can browse cars on Discover Cars here.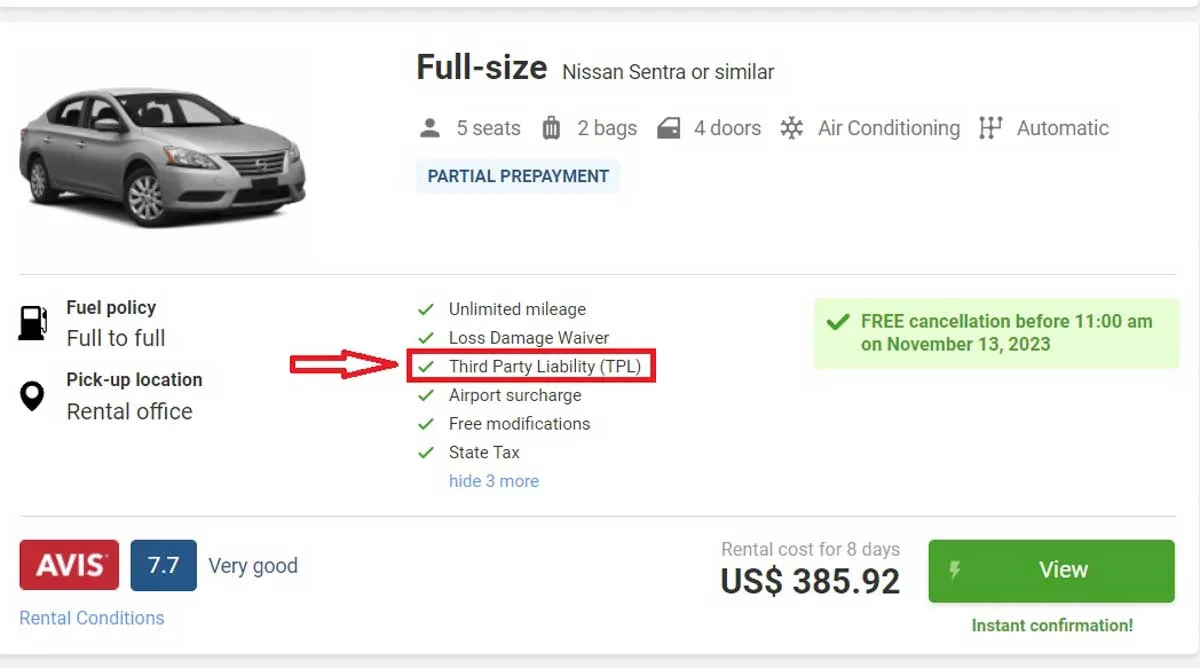 Book Shuttles
If renting a car isn't in your budget, you don't feel comfortable driving in Costa Rica, or you just don't like driving, shuttles are the next best option. There are hundreds of shuttle routes available all over the country, and they are very affordable.
Shuttles in Costa Rica are specifically for tourists and often include pick up and drop off at your selected hotels and airports. The drivers also speak some English, and the vehicles have air conditioning. You'll also be guaranteed a seat when you book a shuttle (which isn't the case with the public bus system.)
To get the best price, use the website Bookaway. They compare all the offers and prices of shuttle companies in Costa Rica so you get the best price! Honestly, we have saved so much money using Bookaway!
You can search for shuttles online on Bookaway here.
Public Bus
Lastly, you can use the public bus system. On short journeys, such as from San Jose to La Fortuna or Uvita to Manuel Antonio, this system is great. However, the longer the journey the more hassle and time spent on a bus. It's undoubtedly best to save the public bus in Costa Rica for short and straightforward trips!
The public buses are definitely the cheapest way to get around Costa Rica, but they are not always very reliable and schedules often change without notice and delays are to be expected. The buses can also be very crowded and hot – so just be prepared!
It's also good to speak some Spanish if you plan on riding the public bus since most drivers and ticket booth operators don't speak English.
Pura Vida!
Puerto Viejo is a favorite destination of Bailey and me. We just love the Caribbean Coast, its laid-back atmosphere, and the food! With the list of restaurants in Puerto Viejo above, you'll have plenty of bucket list places to eat for your upcoming trip.
Thanks so much for reading our guide about the best restaurants in Puerto Viejo. If you did love this guide, then check out some of our other related blogs such as:
The BEST Restaurants in Manuel Antonio