Jaco is a small charming beach town located on the Pacific Coast of Costa Rica, only a short drive from San Jose City. It's the perfect holiday getaway for active travelers. There are plenty of stunning beaches, tall mountains, and lush rainforests for visiting tourists to experience its exotic natural goodness and most popular activities.
However, one of the most important parts of a memorable vacation is food, and luckily, Jaco is home to some fantastic restaurants for excellent dining. Whether you crave European, Asian, Italian, Argentinean, or Costa Rican, the numerous restaurants in Jaco offer unique cuisines for every taste.
In addition, you can dine out with a budget of $15 USD per person at many of the top restaurants in Jaco!
To help guide your tastebuds, we have compiled a list of the best restaurants in Jaco. It includes restaurants from all budgets and multiple cuisines showcasing only the best restaurants in Jaco!
The BEST Restaurants in Jaco
1. El Point – Best location and overall food
Location: South of Calle Morales, Jaco (right on the beach!)
Price range: $15 to $20 USD for mains
Come here for: A sunset ocean view and delicious food of all types
Takes reservations: Yes
Located on the expansive ocean beachfront, El Point has a front-row seat to some of the best orange-hued sunsets that you can enjoy every afternoon.
The restaurant is famous for international specialties, seafood, and local entertainment. It's the perfect place to have delightful meals any time of the day as you relax and enjoy the ocean view.
They have a live band performing on the weekends, making your dining experience so much better. The music collection is perfect, and the food is incredibly fresh and delightful – especially the seafood!
I had an amazing tuna steak with a mango-based sauce and various flavorful spices, and garlic bread as an accompaniment. My fiancé ordered the tomahawk steak, which was seasoned well and cooked to perfection – I'm surprised he was able to finish it!
We later had a slice of pecan pie dessert with a scoop of vanilla ice cream and washed down all the food with a delicious passionfruit margarita!
Overall, El Point is an awesome spot with nice food options at reasonable costs. I loved this place so much that it made my list of Jaco's best things to do! They are open from 9 am to 10 pm Monday to Thursday and 8 am to 10 pm Friday to Sunday. You can view their menu here.
2. Ohana Sushi Tapas Bar – Best sushi
Location: Calle El Hicaco near the beach
Price range: Around $28 USD for mains
Come here for: Japanese and seafood in a unique space (made out of cargo containers!)
Takes reservations: yes
Ohana Sushi Tapas Bar is a cozy, casual restaurant located 50 meters from the beach. The bar and kitchen are made out of a reconstructed cargo container, complete with a lovely dining area decorated using recycled resources.
The owner, Diego, is kind and gracious and welcomes all his visitors with a warm smile. He makes all guests feel comfortable and the dining experience worthwhile.
They mainly serve sushi, tapas, and other meats from the grill. They also have tasty, creatively prepared vegan dishes on the menu. Everything is made with fresh, organic ingredients as they try to work with locally grown produce.
We ordered the Tuna Tataki as an appetizer then had a bowl of Salmon Teriyaki – plenty of food for two. It was the tastiest teriyaki I've had in a long time. You have to try it – it's really amazing!
Overall, Ohana has a variety of great choices on its menu, including some traditional sushi options. Everything tasted wonderfully fresh. They are open from 12 pm to 10 pm every day except Wednesday.
3. Ridiculous Burgers – Best Burger
Location: Av Pastor Diaz (the main street) between Calle Hicaco & Calle Alice
Price range: $10 to $12 for a burger
Come here for: Burgers!!!
Takes reservations: no
Ridiculous Burgers is no joke. They offer the biggest, hottest, meaty, and most expensive burger in Jaco Costa Rica, with nearly 50 burger options on the menu.
They sell amazing burgers made from prime beef supplied by grass-fed animals on a nearby farm. The fish and buns are also freshly procured and made every day. The cheese is handmade by a trusted farmer who has supplied them for over ten years. The salads and vegetables are of the highest quality and are delivered daily with every detail planned to create a heavenly, delicious tall, rich burger.
The menu includes specialties from all over the world, so for the most part, this almost feels like home when you come to Jaco and order a Texas burger! So cool!
You should try their giant sweet cocktails too! What a ridiculous place this is. Everything is huge, so yummy, and you have no more room to eat anything the rest of the day.
So I asked for a Texas burger, which came with Angus beef, an onion ring, American cheese, and bacon! And the sauce. My goodness! I must have melted a thousand times chewing on this giant mountain of pure bliss!
The secret to enjoying your burger at this amazing place is to not load up on the side dishes. The burgers are huge, and unless you have a huge appetite (like really huge!) I doubt you'll even touch your fries. The side dishes also cost extra, so my best advice is to just skip them.
Ridiculous Burgers is open from Monday to Thursday, 11 am to 11 pm, Friday to Saturday, 11 am to 2 am, and Sunday from 11 am to 12 am. You can view their menu here.
Related Read: While in Jaco, consider ziplining! There are some really awesome ziplining tours in Jaco that you don't want to miss!
4. Graffiti Restro Cafe and Wine Bar – Best fine dining
Location: Jaco Walk Open Air Shopping Plaza
Price range: Poke bowl is $12 but specialty mains are $25+
Come here for: Beautiful fresh fusion food in a fine dining experience
Takes reservations: Yes
Located in an open-air plaza, Graffiti Restro Cafe & Wine Bar is a funky place with a custom-made menu, so you get to order what's available from the blackboard "special of the day" that changes daily.
They have both indoor and outdoor seating with a beautiful view of the plaza and the street from all angles and have cool decor, mainly of plants on the patio and beautiful paintings in the café.
With local accessibility of fresh products, seafood, and meats, Graffiti Restro offers healthy food. The ambiance is just as eclectic as the cuisines – which they fondly call the "Ghetto Gourmet."
I liked the ambiance from the moment I walked in. Beautiful place. The service was prompt and friendly.
I had a poke bowl consisting of rice, tuna, tofu, and salmon dressed with wasabi mayo and dragon aioli as the dipping sauce. Daniel went with the day's special; shrimp steak glazed with coffee and cocoa. Both dishes were rare and delicious. The house salad was huge and flavorful too.
I then had a bottle of red Zinfandel since you can cork it and take the rest with you if you don't finish it.
Overall, I loved the dining experience and would come back again. Graffiti Restro Cafe and Wine Bar are open from 4 pm to 10 pm every day.
5. Amara Costa Rica – Best Seafood
Location: Pastor Diaz Avenue (the main street) near Hotel Tangeri
Price range: $15 to $20 for mains
Come here for: Seafood, Mediterranean, Healthy
Takes reservations: Yes
Located down the main street, next to Hotel Tangeri, Amara is hard to miss. The live music draws you in from the streets, and so does the thick sweet aroma of different flavors emanating from the kitchen. A mix of grilled meat and baked bread aroma greets you at the entrance.
The upstairs setting has a shed, and the outdoor dining set on a beautiful patio has cooling fans and a calm breeze engulfing the atmosphere.
The foodie fusion of Mediterranean and Pacific is perfect! You'll undoubtedly appreciate the peaceful atmosphere and fresh, healthy food with the finest local ingredients.
I decided to have lunch at Amara. The place was charming, very nice inside.
Our server greeted us warmly. After a small deliberation with the waitress, we decided to have our entree, hummus with a splash of traditional flavors enhanced with cute avocado cubes. So good! Then I had seafood risotto which was so tasty.
The food presentation was gorgeous. Service was prompt. The staff were very welcoming, spoke fantastic English, and I was impressed by their impeccable first-class demeanor.
Overall, great atmosphere and exceptional dishes. Amara Costa Rica is open from 12 pm to 10 pm every day, and you can view their menu here.
6. PuddleFish Brewery – Best Craft Beer and Pub food
Location: Calle Madrigal, near The Delta Gas Station
Price range: from $12 for mains
Come here for: Beer and pub food
Takes reservations: yes
PuddleFish Brewery is a boutique brewery inspired by beach activity lovers. The partners have a passion for handmade woodwork, specialized in surfboard shapers and boat builders. Here, you enjoy balanced flavors of crafted beer ranging from traditional to experimental, with a great tale behind each one.
They offer craft beer in a tasting room and from the pub, which doubled up as a foodie place where they serve pub-style food. The bartender was alert, and he allowed us to try each of the beers until we got the right one – I really enjoyed the mango pale ale and strong IPA!
The food includes brunch, lunch, and dinner. We ordered two dishes, the tuna carbonara and the continental burger, which were very tasty. The burgers are huge; they literally sit around five inches high off the plate! So flavorful and juicy. The food was also affordable, making dining here one of the best cheap things to do in Jaco.
The beer was tasty, and they have a great range on tap! Overall, the food and beer experience was unforgettable – coupled with a great atmosphere and awesome helpful staff. It's easily one of the best breweries in Costa Rica.
PuddleFish Brewery is open from 12 pm to 10 pm every day.
7. El Chicano Mexican Food – Best Tacos
Location: Pastor Díaz Avenue (the main street) near the commercial center El Jardin
Price range: from $10 for mains
Come here for: Mexican, Latin, Central American
Takes reservations: no
If you're thinking about tacos in Jaco, look no further. El Chicano has the freshest, authentic Mexican food. Even if you're not hungry and want to snack, their tacos will make you come here daily. They are fresh and full of original flavors – the cuisines offer visitors a wholesome Mexican experience.
The whole place is spacious and air-conditioned, so you can dine in comfort as you watch your favorite game on their large TV screens.
We ordered the famous marinated pork tacos, cooked on a slow vertical rotating spit that explodes with the traditional Mexican flavors; wrapped up in a corn taco filled guac, onions, parsley, and sauces too good to describe.
It was so good we had three servings each! We sat there for about 5 minutes reminiscing about what had just happened. I've never had such sweetness in a taco – so make sure you ask for pineapple!
The staff speaks perfect English. The owner, Mike, what a great guy! He connects with all his customers ensuring everyone is well-fed and entertained, and he offers useful info about the local places to visit.
We loved El Chicano Mexican Food and will be back!
El Chicano Mexican Food is open from 11 am to 10 pm every day and you can view their menu here.
8. El Novillo Alegre Jaco – Best Steak
Location: Calle Hiaco on the beach
Price range: $22+ for steak
Come here for: Steak, Argentinian
Takes reservations: Yes
After a surf one day, we were ready to stuff our faces. Thankfully we stumbled upon El Novillo Alegre Jaco right on the beach. If you love Argentine beef, this is the place to dine in Jaco and enjoy meat from the grill. They make yummy steak. I actually visited one of their restaurants in San Jose and loved it there too!
The wine list completes the dining experience with plenty of Mendoza wines – my favorite. So, if you're feeling nostalgic for Argentine cuisine or simply yearning for a decent beef cut, treat yourself to some quality authentic beef from El Novillo.
We came here during lunch hour – it wasn't packed with tourists, unlike their establishment in San Jose (they have Novillo in several cities in Costa Rica). We sat in a strategic area with AC because Jaco is hot, and we needed to cool down after our surf.
We ordered some huge grilled steaks, including side dishes of potatoes chips, and vegetables. The steak was well marinated, cooked to perfection, juicy, and melted in your mouth. I have my steak medium-rare and that's exactly how it came!
It was all so enjoyable! The service was fast, attentive, and superb.
El Novillo Alegre offers the best Argentine cuts of meat in Jaco, grilled to excellence as only the Argentines can do. They are open from 11 am to 10:30 pm every day and you can view their menu here.
9. La Orquídea Bistro Con Sabor Italiano – Best Italian
Location: Pastor Diaz Ave (the main street in Jaco)
Price range: Around $12 USD for mains
Come here for: Italian, Seafood
Takes reservations: Yes
A part of Italy quietly sits off the beaten path in Jaco Beach. A hidden gem, an open-air restaurant, aka La Orquídea Bistro! Surrounded by lovely orchids and other plants this fantastic restaurant in Jaco offers delicious Italian food. It is a small, old-fashioned family-owned and run Italian Bistro with about ten tables offering tasty country homemade dishes.
From the decor to the soft 60's music crooning in the background, this is the best spot to spoil yourself with pasta, lasagna, and great wine. They have private parking, WIFI and allow visitors to dine with pets.
We came prepared for a full course meal. We ordered the bruschetta for our entrée. I had spaghetti and meatballs, which were full of flavor – the best I have had! My fiancé had homemade ravioli and although the portion was small, he did not regret his choice.
The service was friendly, quick, and personalized, and we loved the dining experience. We'll be back!
Related Read: For another amazing Italian restaurant check out the best restaurants in Nosara!
10. Zona K Atelier by Kenia Salas – Best fancy food
Location: Calle Principal
Price range: $10 to $20 for mains
Come here for: Costa Rican cusine, Contemporary, Fusion food
Takes reservations: Yes
Chef Kenia Salas owns this new gourmet restaurant in Jaco. All the recipes are made using fresh and local ingredients. Influenced by Continental, Asian, & Latin food, Zona K Atelier is a blend of these cuisines, creating a unique taste and flavors only found here.
Enjoy delicious meals from breakfast, lunch, and dinner. Everything's so fresh and appetizing.
At Zona K Atelier by Kenia Salas, we particularly loved and enjoyed the traditional breakfast consisting of a thick omelet with potatoes, bacon, some healthy sausages, and banana coconut pancakes which were heavenly sweet. However, you must come for dinner and enjoy some of the other dishes. The steak here is very tasty and comes with lots of in-season vegetables. Or, try the tacos – they have flavors that are hard to describe!
I loved the food presentation, sizable portions, well arranged on a large plate with a sweet aroma that looked picture-perfect.
Overall the food was divine, and the service was amazing. Kenia's husband was such a darling; he treated us with joy, ensuring we got everything we wanted. We enjoyed gourmet food and shared some personal experiences with the incredibly friendly staff.
Zona K Atelier by Kenia Salas is open from 8 am to 9:30 pm every day except Tuesday and Wednesday.
4 Must-Do Activities in Jaco
Surfing – Costa Rica is one of the best destinations in the world for surfing! But big waves can be intimidating for beginners – this is why Jaco is excellent for those learning how to surf. The waves around Jaco Beach are strong and consistent but not too powerful if you're completely new to surfing. If you're completely new to surfing, take a class like this two-hour surfing lesson to learn the ropes.
Ride in the aerial tram – Ride in a tram up above the trees and take in the views as you spot plenty of wildlife (especially monkeys and birds.) It's a scenic but exhilarating way to see the jungle and the views are spectacular. Thrill-seekers can book the Aerial Tram ride and zipline combo as I did for something a little more exciting. This experience includes the tram ride mentioned above before you get geared up to tackle 10 fun ziplines.
Ride an ATV – Taking an ATV through the Costa Rican rainforest is such a great way to cover a lot of ground while enjoying a fun ride. This two-hour ATV tour starts in Jaco, where you'll get instructions from your guide on how to operate an ATV. Then you'll drive on your ATV outside the city over rugged mountain terrain, through knee-deep water, past a small waterfall, and then end with a stop to appreciate the panoramic view of the Pacific Ocean, Nicoya Peninsula, and the Agujitas Mountains. It's one of the best ATV tours in Jaco!
Visit Tortuga Island – The small island of Tortuga is the ideal island getaway from Jaco. One of the best tours from Jaco is visiting Tortuga Island, but it's important to know that a decent amount of travel is involved. That's why it's super important to book a tour that offers a speed boat such as this one. The tour includes transport from Jaco to Punta Arenas with a stop at the Tarcoles River to see the crocodiles – it's one of the best things to do in Costa Rica!
Related Read: Flying in/out of San Jose and need a place to stay? Read about my 10 favorite San Jose airport hotels that'll make you feel like you're staying in the jungle while only being minutes from the airport!
Getting Around Costa Rica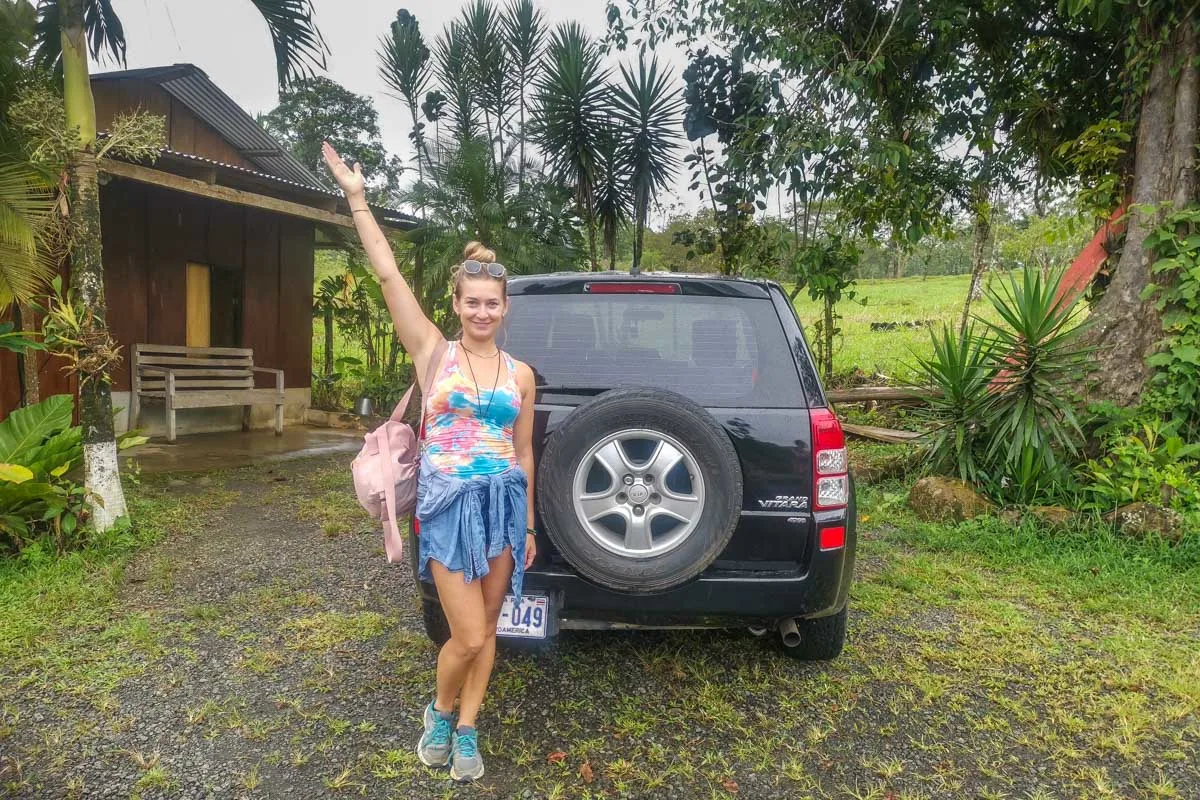 How you choose to get around Costa Rica is one of the biggest decisions you'll make when planning your holiday here! How you do it depends on your budget, travel style, and comfort level.
Renting a Car
Without a doubt, the number one way to explore Costa Rica is in a rental car. We book rental cars on the Discover Cars website as we have had good experiences with them in the past.
One of the things you need to watch for when renting a car in Costa Rica is the mandatory insurance that the government requires you to have. There are a lot of very cheap rentals that don't include this mandatory insurance (TPL) in the original booking price, but there are also ones that do. To avoid additional surprise charges when you pick up your rental car, be sure to rent a car that includes the mandatory insurance when you book.
Thankfully, on Discover Cars it's easy to tell apart the companies that include the mandatory insurance and those that don't. The trick is you can't pick any car on their website. In the picture below, you can see this rental car, with pick up in Jaco, includes the TPL. That means the mandatory insurance is included in the price. Any cover you get above that is extra.
Of course, I still suggest getting the full coverage offered by Discover Cars, which covers you even more.
You can browse cars on Discover Cars here.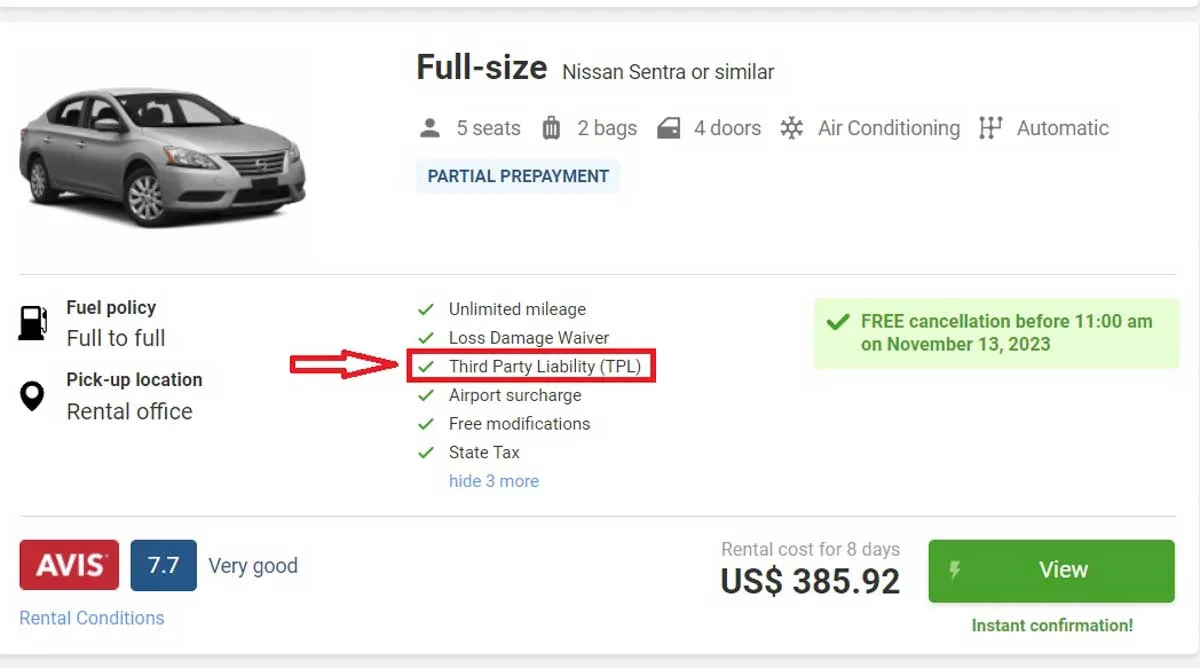 Book Shuttles
If renting a car isn't in your budget, you don't feel comfortable driving in Costa Rica, or you just don't like driving, shuttles are the next best option. There are hundreds of shuttle routes available all over the country, and they are very affordable.
Shuttles in Costa Rica are specifically for tourists and often include pick up and drop off at your selected hotels and airports. The drivers also speak some English, and the vehicles have air conditioning. You'll also be guaranteed a seat when you book a shuttle (which isn't the case with the public bus system.)
To get the best price, use the website Bookaway. They compare all the offers and prices of shuttle companies in Costa Rica so you get the best price! Honestly, we have saved so much money using Bookaway!
You can search for shuttles online on Bookaway here.
Public Bus
Lastly, you can use the public bus system. On short journeys, such as from San Jose to La Fortuna or Uvita to Manuel Antonio, this system is great. However, the longer the journey the more hassle and time spent on a bus. It's undoubtedly best to save the public bus in Costa Rica for short and straightforward trips!
The public buses are definitely the cheapest way to get around Costa Rica, but they are not always very reliable and schedules often change without notice and delays are to be expected. The buses can also be very crowded and hot – so just be prepared!
It's also good to speak some Spanish if you plan on riding the public bus since most drivers and ticket booth operators don't speak English.
Pura Vida
Jaco is, without a doubt, one of the most popular places to visit in Costa Rica. It's the perfect place to relax, unwind and enjoy some of the amazing restaurants mentioned above. The hard part is fitting them all into one visit!
I hope this guide to the best places to at in Jaco has helped you plan your upcoming visit. If it has, then check out more of our travel guides. Some you may like are:
Where to stay in Jaco – the best areas and hotels
Things to do in Manuel Antonio