After spending time living in Costa Rica, we know it's a paradise full of incredible beaches, awesome places to go surfing, and some of the most beautiful waterfalls in the world. But it's also a great place to eat! The food here is an experience filled with new flavors and so many different things to try.
I think eating the local food here is one of the best things to do in Costa Rica! If your mouth is watering already, we've narrowed it down to the 23 most delicious traditional foods you have to try while visiting Costa Rica. Of course, there are many more than 23, but this is a good starting point and you'll need to pace yourself 🙂
About the Food in Costa Rica
Before we get into the best food in Costa Rica that you really need to try, I thought you should know a little bit about the origin of Costa Rican cuisine and what to expect.
Costa Rican food is a mixture of influences from different parts of the world that have all come together. There are basic ingredients, like corn and beans, that have their roots in indigenous cultures. These are common ingredients you'll find in many dishes across Latin America.
There are also influences from the Spaniards who colonized the lands here and brought different cereals such as wheat, certain vegetables and fruits, and, above all, cattle for milk, cheese, and meat production.
Africa also has left a mark on Costa Rican cuisine as Africans were brought to the country by the Spaniards. They worked as slaves in the fields and in the kitchens, where they cooked and seasoned food based on their own culture, and many of those flavors are carried into today.
With all these aspects coming together, you'll have the unique opportunity to try foods from a broad range of cultures all in one place. No matter what meal you sit down to eat, it's safe to say, Costa Rica is home to some delicious food!
Some traditional dishes are easier to find because they are a part of everyday meals, like Gallo Pinto and Casados. However, others are less common or more specific to certain regions. To help you eat your way around Costa Rica like I have, read on for the list of some of the best and most famous traditional foods of Costa Rica!
Everyday Food in Costa Rica
1. Gallo Pinto
Gallo Pinto is a traditional Costa Rican breakfast. It's a very simple dish, with white rice and black or red beans, sauteed in oil with diced onions, sweet peppers, and fresh coriander. Some have pointed out its origin in the African culture since rice and beans are popular in many African countries.
Gallo Pinto is eaten everywhere in the country, in rustic and fancy restaurants. I loved the Gallo Pinto I had for breakfast at one of the restaurants in downtown Puerto Viejo. You can eat it alone, or often it is served with extras like eggs, bacon, fried plantains, tortillas, fresh cheese, or custard. You choose!
2. Casado
Casado is another everyday meal that you can enjoy for lunch or dinner in Costa Rica. Typically, Casados are served in small local restaurants called "Sodas" and come with a portion of white rice, beans, a meat of your choice, vegetables, fried plantains, and a salad. The meat can be prepared grilled or with a sauce, and there are usually around five options.
Vegetables will either be boiled or sauteed. However, "picadillos" are also very common in Casados. In "picadillos", the beans are stir-fried with chopped onion, sweet pepper, garlic, and sometimes minced meat. "Picadillos" made with "chayote," green beans and carrots, or potatoes and meat are also very common.
Casados usually come with a salad made with lettuce, cucumber, cabbage, and tomato, which are seasoned with salt and lemon. Each Soda will make their Casado slightly different, but one thing is for sure – they're a delicious meal perfect for hard-working Costa Ricans or hungry tourists!
Budget Saving Tip: Casados are the cheapest meal you'll find in Costa Rica. Bring cash though, as many Sodas don't accept cards.
Related Read: Check out the top restaurants in Dominical where I had the best casado I've ever eaten!
3. Arroz con Pollo
Arroz con Pollo is also on almost every restaurant's menu. It's sautéed rice with shredded chicken and diced vegetables like carrots, green beans, sweet pepper, onion, and garlic. They also add sweet peas, canned sweet corn, and coriander.
Arroz con Pollo is also a festive dish served during celebrations, like weddings, birthday parties, and communions. It's great when served with a puree of black beans and chips!
4. Whole fried fish
For fish lovers, I recommend you have whole-fried fish when you go out to eat at places like some of the best restaurants in Uvita or any other seaside town. You'll most likely be served freshly caught fish, for example, red snapper, which is grilled with salt and a few vegetables like onions and garlic. It's commonly served with white rice, vegetables, and black beans like in a Casado or just with French fries or fried plantains.
The crispy skin of the fish is delicious, and this is one of my favorite dishes in Costa Rica! The best part is, you'll pay only a fraction of the price in Costa Rica when compared to the United States or other western countries. In fact, I've paid as little as $10 USD for an entire fish!
Although this dish is common on the coast, you can also enjoy it inland, except they use freshwater fish. In my opinion, it's not as good but still worth it to try. A great place is near Rio Celeste at one of the restaurants in front of or just down the road from Tenorio Volcano National Park – which is also home to a famous volcano in Costa Rica and my favorite waterfall in the country!
Soups and Stews in Costa Rica
5. Sopa Negra (Black Bean Soup)
This meal can be an entrée or a main dish. Sopa Negra is a soup made from black beans that are mixed with spices like coriander, sweet pepper, and onion.
People sometimes make it at home after they have cooked beans for the week, but it's also served in some restaurants. It's a complete dish since it's usually served with white rice and hard-boiled eggs. I personally love to add some diced avocado on top!
6. Olla de Carne
If you like hearty stews, this is a dish for you. Olla de Carne is originally believed to be from the region of Cartago, but it's eaten everywhere in the country. However, you will have more chances to find it in traditional restaurants.
It's a stew made with beef jerky or rib and a bunch of vegetables like chayote, corn, carrot, potato, green beans, sweet potato, and cassava. Spices like coriander, oregano, and thyme are also added to enhance the flavor, and it's generally served with a portion of white rice. It's rich food, but very tasty!
Fast Food in Costa Rica
7. Patacones
I love patacones! Whether I'm eating them at a restaurant in Santa Elena or by the beach, this is such a good snack. They are slices of green plantain that are mashed and fried. They are crispy on the outside but soft on the inside. You can find them at restaurants or street food stalls all around the country and it's a must-try!
Patacones are often served with a puree of black beans and sometimes shredded cheese or guacamole – my favorite! They are better when they are fresh and warm and eaten with a cold beverage, like a beer. Sprinkle a little salt on top just before you eat them!
The best part is, if you enjoy them in Costa Rica, you can always make them at home too. Just grab yourself some plantains and fry away – they're super easy to make.
8. Ceviche
Ceviche is a dish made of diced raw fish (Corvina is commonly used) that is marinated in a citrus juice like lime or lemon. The fish is then "cooked" in this mixture as the citrus breaks up the acids in the fish. It can be an appetizer or even the star of the meal as the main dish.
You will also find that there's a wide variety of ceviche available depending on the fish or seafood used. For example, there are ceviches made with shrimp, mixed versions with a few types of seafood and fish, or even veggie versions with green plantain.
Ceviche is definitely better when it's freshly made, so I recommend you order some when you are near the coasts of Costa Rica. Then you're more likely to have the freshest fish possible.
Related Read: Learn to make ceviche and other yummy dishes by taking a cooking class in Costa Rica. It's one of the best things to do in Jaco!
9. Chicharron
Chicharron is a traditional dish in the central area of Costa Rica, but it's also very popular in the province of Puntarenas on the Central Pacific Coast. If you don't care about calories (and you shouldn't if you're on vacation!), this is a really rich dish. It's basically chunks of fried pork belly that are crispy on the outside and tender and juicy on the inside.
Sometimes it's served on a plate that is covered with a plantain leaf. A cabbage and tomato salad is then put on top of chicharrones, along with some fried cassava sticks. In this case, the dish is called Vigoron.
Although I do enjoy Chicharron sometimes, I personally don't order it that much. The flavor is very strong and I'm not a huge fan of pork.
10. Chifrijo
Chifrijo is also a dish made with chicharrones. It's a popular meal in the province of Puntarenas. You will sometimes find street vendors selling this near the beach. It's also a dish usually sold in bars since people like to enjoy it with a beer!
In a bowl, you'll be served a layer of white rice and a layer of beans, called "cubaces," which are bigger than the ones used in Gallo Pinto. These are prepared ahead of time in a stew, along with pork ribs and spices.
Then, chicharrones are added to the bowl, and finally, some "pico de gallo." Then there's a salad made with chopped tomatoes that are marinated in lemon juice, onions, garlic, and coriander. Finally, avocado can be put on top with some tortilla chips.
Corn-based Foods in Costa Rica
11. Tamales
Tamales are a traditional dish of Costa Rica and, in general, of Latin America. However, each country has its own take. In Costa Rica, tamales are made with cornflour which is cooked with water, a meat broth (usually pork broth), shortening, and spices.
Once cooked, this dough is then put in a rectangular plantain leaf. Cooked meat like shredded chicken or pork is put on top of the dough, along with a few veggies like slices of sweet pepper and carrots. Peas, olives, and sometimes dried prunes can be added. Veggie versions also exist, and they are filled with mashed beans and veggies.
Then, the dough is wrapped in the plantain leaves and tied with a string. The tamales are finally boiled in hot water for a few minutes.
The peak season of tamales in Costa Rica is Christmas because it's one of the traditional dishes to eat during the holiday. Families make tamales at home or buy them from people they know and share them with their loved ones.
During the holiday season, tamales can be eaten for breakfast, lunch, and in the afternoon. However, for the rest of the year, you can find tamales in many traditional Costa Rican restaurants.
12. Empanadas
There are many types of empanadas in Costa Rica. An empanada is basically a "patty" filled with salty or sweet mixtures. The most common are empanadas made with cornflour and filled with cheese, mashed beans, meat, or chicken. They are commonly fried in oil so the outside is crispy.
These are very popular in the country, and it's a street food that you can find in small restaurants or sold by small vendors. It's a good food to eat on the go or you can even have it for breakfast or an afternoon snack.
There are also sweet versions of empanadas, but they are usually made with wheat flour and filled with different fruit jellies like pineapple or guava jelly. These are harder to find in Costa Rica so keep an eye out for them!
13. Rosquilla
This is a dish from the province of Guanacaste that tastes like tiny, crispy doughnuts. The rosquilla dough is made with corn, cheese, and shortening or butter. The corn is cooked and then mixed with the rest of the ingredients to make the dough.
Then, the dough is made into small doughnut shapes that are traditionally cooked in a clay oven. Once cooked, they are often enjoyed in the afternoon with a fresh coffee.
15. Tamal Asado
Tamal Asado is another dish made with corn that's like a rich version of bread or cake. The traditional recipe is made with corn, raw sugar, custard, milk, eggs, cheese, shortening, and cinnamon.
Sometimes it's cooked in a wood stove, which gives it a particularly nice aroma and taste. You can find it almost everywhere, in small stores, supermarkets, and restaurants. People in Costa Rica usually eat it in the afternoon with coffee.
16. Tortilla palmeada
Tortilla palmeada is definitely one of my favorite foods in Costa Rica. The most common version is just made with cornflour and water, but I prefer tortillas with cheese. The dough is mixed with salty cheese, and once cooked, you grab small chunks of tortilla with melting cheese – soooo good!
They are called "palmeada" which means "palmed" because they are made by hand. Sometimes you will see someone making the round shape by tapping the dough with their fingers and moving a plastic sheet placed underneath it clockwise.
You can eat the tortillas for breakfast or as a snack, but you can also have them for lunch or dinner. I love to add some mashed beans, avocados, and meat, like shredded chicken.
17. Chorreada
Chorreadas is kind of like a tortilla but made with fresh corn, not flour, and it's sweet. It's like a Costa Rican pancake! While fresh corn is already naturally a little sweet, these also have some added sugar.
The fresh corn is mashed and mixed with sugar, milk, and a little butter. It's eaten with "natilla" which is a custard, or with shredded cheese. It's a dish from the province of San José, but you can find it everywhere in the country.
14. Tanela
Tanela is a kind of bread made with mixed corn. It's originally from Nicoya, in the province of Guanacaste. The dough is made with eggs, butter, shortening, clove, cheese, and a type of raw sugar called "tapa de dulce." It's cooked in plantain leaves in a clay oven and eaten in the afternoon. Tanelas and rosquillas are usually sold by street vendors in Guanacaste.
Dishes from the Caribbean in Costa Rica
18. Rice and beans
I love the food from the Caribbean and particularly rice and beans. It's basically rice and beans with coconut and spices, like a Gallo Pinto but with a Caribbean and spicy twist. It's commonly served with stewed chicken or grilled fish, salad, veggies, and patacones.
One thing you need to know is that in the Caribbean, dishes are spicier. For example, "chile Panameno," which is a hot pepper, is usually added to almost everything. So if you don't want it too hot, ask if it's spicy or if you can get a more mild version before trying.
You will find plenty of Caribean-stye rice and beans if you visit the town of Puerto Viejo, Costa Rica.
19. Rondon
This is a stew or soup made with fish, root vegetables, legumes, green plantains, and spices (curry, ginger, hot pepper). Rondon is also prepared with coconut milk which makes it even more delicious. The dish is rich but very tasty. It's served with tortillas, patacones, or rice.
I will warn you, sometimes, rondon doesn't always look that appetizing. However, the flavor is fantastic, so don't let the look of the dish turn you off!
20. Pati
Pati is like an empanada, but traditionaly from the Caribbean. It's made with wheat flour and not corn flour, and it's filled with spicy ground beef.
However, there are also veggie versions of pati made with vegetables. It's kind of a snack or street food sold in small shops or by street vendors. You might hear street vendors selling their patis yelling "hay pati," which means "there is pati"!
21. Plantain tarte
Plantain tarte or "plantinta" in creole, is another of my favorite dishes with a Caribbean twist. It's also like an empanada or pati but sweeter. The dough is made with wheat flour, water, and butter.
The dough is filled with a mixture of ripped, cooked, and smashed plantains, sugar, vanilla, and red coloring. The first time I tried this, the red color intrigued me, and I thought it was a fruit jelly! There are also sold by street vendors or in small shops.
Locals usually eat them in the afternoon with a coffee. Some variations can be found, for example, with a filling of pineapple jelly.
Yummy Desserts in Costa Rica
22. Arroz con Leche
Arroz con Leche is a very popular, simple, and tasty dessert. It's made with rice, condensed milk, sugar, vanilla, and cinnamon. You can also find versions with raisins added.
This is a dish that comes from the Province of Guanacaste, but can now be found everywhere. The rice is cooked with milk over low heat before the other ingredients are added.
This dessert can be served hot or cold and often after a meal, such as a Casado. One of the best I have had is at one of the restaurants in La Fortuna called Soda Víquez. You get a dish of this for free after every meal.
Related Read: For those of us with a sweet tooth, I loved all of the desserts I tried at the restaurants in Montezuma!
23. Flan de Coco
If you love coconut, you'll love coconut flan! This is also one of my favorite desserts. I had some incredible coconut flan at Emilio's Cafe, one of the top restaurants in Manuel Antonio. This dish is very popular across Costa Rica and is commonly served in restaurants.
Flan de Coco is made with fresh shredded coconut or dried coconut, eggs, milk, sugar, and concentrated milk. It's pretty sweet but very yummy. It's sometimes served with caramel sauce drizzled on top!
Most people have tried some form of flan before as it's very popular in western countries. However, you need to try one in Costa Rica too!
Getting Around Costa Rica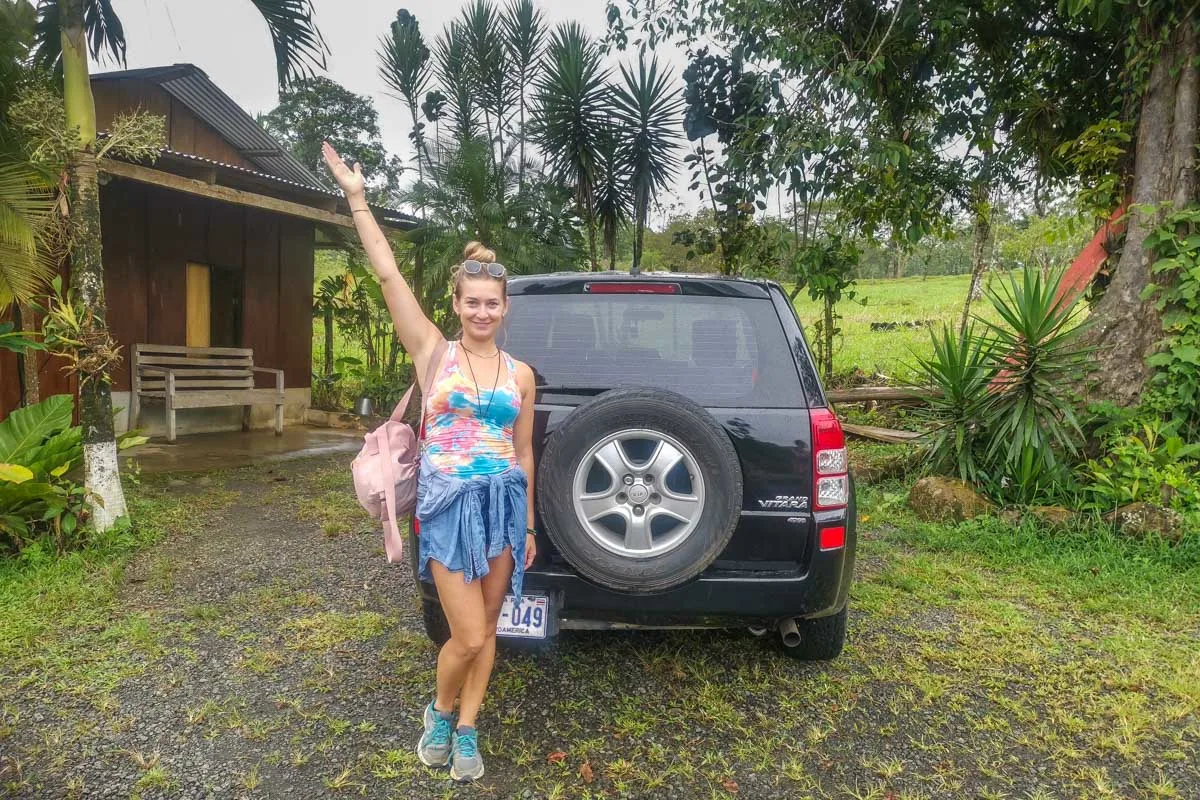 How you choose to get around Costa Rica is one of the biggest decisions you'll make when planning your holiday here! How you do it depends on your budget, travel style, and comfort level.
Renting a Car
Without a doubt, the number one way to explore Costa Rica is in a rental car. We book rental cars on the Discover Cars website as we have had good experiences with them in the past.
One of the things you need to watch for when renting a car in Costa Rica is the mandatory insurance that the government requires you to have. There are a lot of very cheap rentals that don't include this mandatory insurance (TPL) in the original booking price, but there are also ones that do. To avoid additional surprise charges when you pick up your rental car, be sure to rent a car that includes the mandatory insurance when you book.
Thankfully, on Discover Cars it's easy to tell apart the companies that include the mandatory insurance and those that don't. The trick is you can't pick any car on their website. In the picture below, you can see this rental car, with pick up in Jaco, includes the TPL. That means the mandatory insurance is included in the price. Any cover you get above that is extra.
Of course, I still suggest getting the full coverage offered by Discover Cars, which covers you even more.
You can browse cars on Discover Cars here.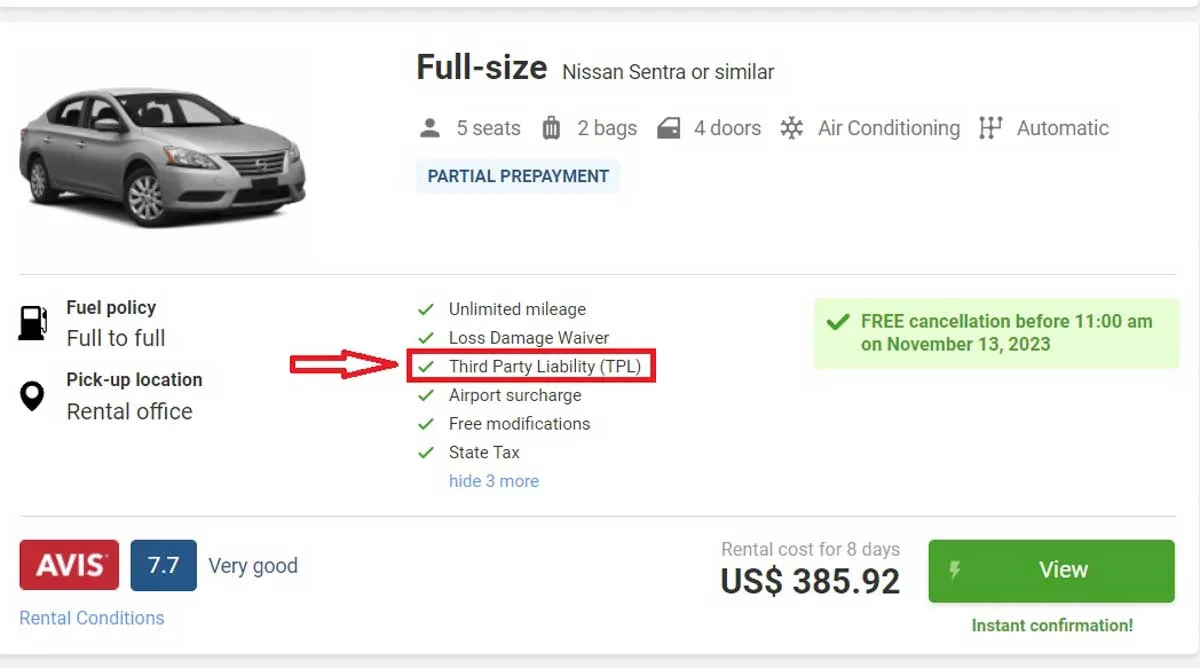 Book Shuttles
If renting a car isn't in your budget, you don't feel comfortable driving in Costa Rica, or you just don't like driving, shuttles are the next best option. There are hundreds of shuttle routes available all over the country, and they are very affordable.
Shuttles are specifically for tourists and often include pick up and drop off at your selected hotels and airports. The drivers also speak some English, and the vehicles have air conditioning. You'll also be guaranteed a seat when you book a shuttle (which isn't the case with the public bus system.)
To get the best price, use the website Bookaway. They compare all the offers and prices of shuttle companies in Costa Rica so you get the best price! Honestly, we have saved so much money using Bookaway!
You can search for shuttles online on Bookaway here.
Public Bus
Lastly, you can use the public bus system. On short journeys, such as from San Jose to La Fortuna or Uvita to Manuel Antonio, this system is great. However, the longer the journey the more hassle and time spent on a bus. It's undoubtedly best to save the public bus in Costa Rica for short and straightforward trips!
The public buses are definitely the cheapest way to get around Costa Rica, but they are not always very reliable and schedules often change without notice and delays are to be expected. The buses can also be very crowded and hot – so just be prepared!
It's also good to speak some Spanish if you plan on riding the public bus since most drivers and ticket booth operators don't speak English.
Pura Vida!
While traveling around Costa Rica, we loved trying all the food. Whether you're chowing down at a local restaurant, grabbing a snack from a street vendor, or eating right on the beach, the food here is SO good. I still find myself craving some of the dishes we had here and while you can make a version at home, they just taste better in Costa Rica.
Thanks so much for reading our top food picks for delicious traditional food in Costa Rica. Make sure you browse around to read our other blogs and tips on travel to this amazing place!
Ultimate Guide to Guanacaste, Costa Rica and Fun Things to do
BEST Restaurants in Nosara, Costa Rica