This blog may contain affiliate links. Read our disclosure policy for more info.
Tamarindo has easily become one of Costa Rica's top travel destinations. Not only is it home to some of the best beaches in the country, but there are also tons of great day trips that head out from Tamarindo!
One of the most thrilling excursions is ziplining! We've traveled all over Costa Rica and there is so much natural beauty that surrounds Tamarindo. We think the best way to explore is by getting right into the thick of it. Zipline tours take you above the canopy and give you a totally new perspective of this lush jungle paradise.
Plus, it's a super fun way to spend your time! Never once have I taken a zipline tour in Costa Rica and been disappointed. However, you don't want to waste your time or money on an experience that doesn't live up to your expectations.
We've narrowed it down to the top-rated zipline tours in Tamarindo that we've found are really worth the time and money. Plus, we'll go through all the details you should know before booking one for yourself!
Don't have time to read the full article? Ziplining tours in Tamarindo are safe, fun, and a great way to see the jungle from above! Our favorite is this Monkey Jungle Zipline tour that has 7 ziplines and is good for families.
Our Top Choice
If you want to book our favorite ziplining tour in Tamarindo, this Monkey Jungle Zipline experience is the way to go! It's in the heart of the jungle where you'll be soaring above the treetops on seven ziplines and spotting wildlife along the way – we saw lots of monkeys! It's only 1-2 hours so it's easy to fit into any trip and the small group size means you don't end up waiting in long lines for your turn.
The tour includes safety equipment, friendly guides, and fresh fruit at the end. It's only 20 minutes from town, so there's less travel time and more adventure time! It's good for children as young as four and adults too. You can reserve this ziplining tour right here for $65 USD!
1. When is the best time to go ziplining in Tamarindo?
The great thing about ziplining in Tamarindo is that you can do it all year round! Rain or shine, there will be a zipline tour running.
When you're deciding what time of year to visit Costa Rica, the dry season (December to March) is when you'll find the best weather. This is when you're most likely to have a nice sunny day as you zoom over the canopy. But the jungle will be a bit more brown as you can see from our photos. We've found that going from September to November is especially beautiful because the landscape is green and lush during the rainy season.
As far as the time of day, I highly recommend going in the morning. It can get pretty hot in Tamarindo, even during the rainy season, so going in the morning is the best way to avoid the heat of the day. We did not book our tour enough in advance and could only do an afternoon tour, and let me tell you it was toasty! I'd recommend scheduling your tour far enough out so you have the flexibility to choose whatever time works best.
Related Read: If you join a ziplining tour early in the day, you'll have time to grab lunch or supper at one of the best restaurants in Tamarindo!
2. Is ziplining in Tamarindo, Costa Rica, safe?
Yes, ziplining is an extremely safe activity and fun for the whole family! Costa Rica was one of the major pioneers of zipline tourism and has been running tours since the late '90s, sending thousands of thrill-seekers over the treetops!
Safety in Costa Rica is a huge priority for these tours, as tour operators want people to have a great experience and come back for more.
A safety harness and helmet are required on all tours, and each zipline is made of strong cable and a braking system. The guides take you through a safety briefing before the tour and double-check your harness before you get on each zipline, so there are safety checks throughout. Even though it is a high-adrenaline activity, ziplining is actually one of the safest tours you can book while in Tamarindo!
3. Do you need to book a ziplining tour in advance?
Yes, I highly recommend booking a zipline tour in advance. If you are visiting between December and March, booking well ahead of your travel dates is essential as this is Tamarindo's busy season. The earlier you book your tour, the more flexibility you'll have regarding the time of day and availability of tours.
Don't be like us and wait until a day or two before, because then you're not as likely to get the time you want. Plus, the most popular tours can be completely filled up by then!
All of the Viator tours we'll go through below have an awesome cancellation policy. So if your plans change you can cancel up to 24 hours before your tour and get a full refund. We've personally canceled tours with Viator because of weather or a change in our itinerary and Viator is totally legit and refunded our money with no issues.
4. What are the best ziplining tours in Tamarindo?
Monkey Jungle Zipline
It's no secret that Costa Rica is home to some of the most unique wildlife in the world. What better way to see monkeys, sloths, and birds than by visiting their natural habitat? This Monkey Jungle Zipline tour takes you into the heart of the jungle, where you'll be hanging like a monkey in the treetops while also doing a bit of wildlife spotting as you zoom by!
Located on the outskirts of Tamarindo, the Monkey Jungle Reserve is home to so many creatures! We saw multiple monkeys, making the experience all the more exciting. I have to give a shoutout to the local guides too. They have a keen eye for all the sneaky animals hiding in the trees that I always seem to miss. There are even some howler monkeys who like to hang out beside one of the ziplines – I didn't miss those guys!
You'll spend about an hour zipping along seven different ziplines, ranging in length and speed. This is a small group tour (15 people max) which we think is essential for zipline tours. If there are too many members of your group, you'll end up waiting in line for the majority of your tour, which definitely hinders the experience.
This tour is also a great option for kiddos, as it is safe, fun, and they love seeing all of the creatures throughout the experience. While it's still an adrenaline rush, this isn't the most extreme ziplining course I've done, so it's suitable for younger ones or anyone who hasn't been ziplining before.
This tour includes your safety equipment, guides, and a fresh fruit snack at the end. The reserve is about 20 minutes from the downtown area of Tamarindo, so you can either catch a taxi or drive yourself if you have a rental car. You can reserve your spot for $65 USD for adults and $55 USD for children ages 4-11.
I definitely recommend booking this tour in advance, as it's a popular one. You can reserve the Monkey Jungle Zipline Tour here!
Zipline and Hanging Bridges Combo Tour in Monteverde
When visiting Costa Rica, taking a trip to the Monteverde Cloud Forest is a must. And while there is so much to do in Tamarindo, getting a bit outside the area is well worth it on this Zipline and Hanging Bridges Combo Tour!
Visiting Monteverde is certainly a different vibe than the laid-back surf town of Tamarindo. Its unique ecosystem is one of the top nature reserves in Costa Rica with a beautiful, lush jungle and a plethora of wildlife to see! It is also home to the best hanging bridges in the country, which cut through the canopy and let you get up close and personal with the forest. It is truly a mystical and magical place – especially when it's all foggy and misty like a true forest in the clouds!
This tour lets you experience Monteverde in all of its glory, and have an epic day of ziplining. Monteverde is about 3.5 hours from Tamarindo, so this is a full-day, 12-hour tour. You can either meet at a central point or request pick up from your hotel in Tamarindo early in the morning (around 5:30 am!) for the trip to the adventure park in Monteverde.
Upon your arrival, the fun begins! The guides will give a safety briefing and then take you to the rolling hills of the jungles where you'll find 15 different ziplines. They also have a Superman cable (which extends for 1 kilometer/0.6 miles) and a Tarzan swing for an extra dose of adventure! You'll break for a traditional Costa Rican lunch that's included and then explore the cloud forest through the suspension bridges that put you right among the clouds. Take it from me, this is so cool!
There are eight bridges that range between 50 to 170 meters (150 to 510 feet) high. The guides do a fantastic job of pointing out wildlife and explaining the biodiversity that makes this cloud forest so unique. Monteverde has a completely different climate than Tamarindo, so I love that this tour gives you a chance to explore both.
If you're short on time, taking a day trip is a great way to see Monteverde. Plus, you can knock a few items off your Costa Rica itinerary by booking this zipline and hanging bridges tour in Monteverde. This tour includes roundtrip transportation from Tamarindo, lunch, a zipline tour, the hanging bridges tour, and entrance to the park. It is definitely a full day of fun, from the high-flying ziplines to the natural beauty of Monteverde Cloud Forest.
This tour has a few different options. You can reserve it with transportation included from Tamarindo for $210 USD each, choose to drive yourself and join the tour in Monteverde for $160 USD, or opt for a private tour for $290 USD each if you book for 4-15 people.
Reserve this amazing experience in advance so you don't miss out on seeing Monteverde's cloud forest from the treetops!
Canopy Tour in Tamarindo
This Canopy Tour in Tamarindo is a great half-day activity, leaving the rest of the day to relax on the beach or take off on another exciting tour. This tour is unique because you can decide between an "easy" or "adventure" canopy tour to fit your group's skill level, so it's really a good fit for any traveler!
Throughout your three hours, you'll explore 11 different ziplines. I love having a variety of ziplines like this because it makes it even more fun. You get stunning views from all angles and will hit ziplines that extend for a long while to enjoy the ride as well as a few that make your stomach drop they go so fast!
This zipline tour even gets a little wild and shows you how to safely hang upside down while sailing down a zipline! I definitely took advantage of this and it was a little scary at first, but so fun! How many times do you get to fly through the jungle upside down in your life?! It's a fun story to tell when you get home.
Of course, you can also expect to see wildlife, dense jungle, and stunning mountain views in this area (probably when you're not hanging upside down!). Luckily there are 13 platforms spread out between the cables, so this is when you can really enjoy the view. We spotted a few monkeys and iguanas!
You can choose between an 8 am and 11 am departure time, and roundtrip transportation from your Tamarindo hotel is included. This tour also includes all safety equipment, your guides, and fruit and water to keep you fueled up. You can reserve this tour for $80 USD for adults and $77 USD for children.
Book this Canopy Tour in Tamarindo zipline experience here!
Combo Tour including Ziplining
Time to switch on adventure mode because this Mega-Combo Tour hits eight activities all in one day! Get ready to zipline, scurry across hanging bridges, ride horses, slide down a huge water slide, ride a tractor, hike to a waterfall, bathe in volcanic mud and natural hot springs, and check out the most active volcano in Costa Rica. Whew – that sounds like a Costa Rica bucket list if I've ever heard one!
This day packed full of adventure starts with pick up at Tamarindo-based hotels. It's a 2-hour drive to the base of Rincon de la Vieja volcano, so we used this time to rest while we could!
The adventure park is at the base of the volcano and I like this kind of park because all the activities are close together so there's no wasted time driving from one to the next. There are also lockers and changing rooms which are nice perks because you won't have to worry about keeping your belongings safe and can simply enjoy the tour.
Over the next few hours, your guide will lead you from adventure to adventure. This tour is great because all the equipment is provided and we thought it had a good balance of exciting, high-energy activities (like hiking and ziplining) with chill and relaxed activities (like soaking in a natural hot spring and taking a leisurely horse ride). They also provide a buffet lunch, snacks, and water so you're well-fed and can continue exploring!
This is jam-packed but does a good job of giving you enough time to enjoy each activity and I think it never feels too rushed. Plus, this is a private tour so you really can move at your own pace. I'd recommend this tour for anyone short on time who wants to have the ultimate Costa Rica experience!
You have to have a minimum of four people in your group to book this tour, but it's cheaper for larger groups. It starts at $199 USD each for private transportation or $179 USD for shared transportation (the tour will be private regardless). You can reserve this Mega-Combo Tour in advance, here!
Combo with Ziplining, Horseback Riding, and Hot Springs
This tour combines a few of the activities Costa Rica is most known for: ziplining, horseback riding, and hot springs. I love that this tour is a combination of exhilarating and relaxing activities, which honestly matches the vibe of Costa Rica exactly!
This full-day tour takes off from Tamarindo in the morning and drives an hour and a half to an adventure park. Throughout the drive, you'll catch scenic views of the rolling landscape as it turns from beach town to rainforest. Costa Rica is so diverse in its landscape that half of the fun is simply going from one location to another!
You'll start out with the high-flying adventure by ziplining down 10 different cables. This part is thrilling, of course, but also a great viewpoint of the canopy from above! This is a larger group tour, and although this can sometimes mean more standing in line than ziplining, the guides typically do a good job of keeping the tour moving.
After a few hours of ziplining, you'll have a traditional Costa Rican lunch, then a horseback ride (or tractor ride) to the hot springs! With so many amazing hot springs in Costa Rica, your trip isn't complete unless you've soaked in at least one. This one also has a sauna and mud baths – you'd have to drag me away from this experience!
This tour includes roundtrip transportation from Tamarindo, lunch, and all activities. It's scheduled to last about 10 hours, so you get plenty of time to have fun and relax in the beauty of Costa Rica.
This tour is available on Mondays, Wednesdays, and Saturdays, at multiple departure times (depending on how early you want to get up!). It can be reserved online for $134 USD per adult and $96 USD per child.
ATV Zipline Tour
This half-day tour makes a point of getting you off the beaten path both by soaring over the jungle and exploring the back roads that are only accessible by ATV. In a place that has gotten as touristy as Tamarindo, a tour that escapes the normal sightseeing locations is hard to come by!
You can choose to drive the ATV yourself or ride as a passenger (this is usually what I do as Daniel drives!) as you wind through the forest roads spotting howler monkeys, coatis, and maybe even a sloth. Even if you don't have a lot of experience driving in Costa Rica, this is a safe way to explore and get an adrenaline rush along the way!
A big advantage for us is that this tour is just minutes from downtown Tamarindo, so the bulk of your time can be spent adventuring instead of traveling!
To get to the zipline course, it's a short drive aboard an ATV, so even the journey there is fun! Once you reach the zipline course, you'll zip around seven cables, catching incredible views from the top of the canopy and having a great time the entire way. Then it's time to ride the ATV back down the mountain and drive back to Tamarindo with the entire other half of the day to relax on the beach!
This tour includes hotel pickup and drop off from Tamarindo, safety instructions and equipment for all activities, and your local guide. You must be at least 16 years old to drive the ATV, but children as young as five can ride as passengers.
This is one of the best tours to maximize your time in Tamarindo, and great for those looking for a high-adrenaline experience. You can reserve this tour for $145 USD as a single rider or for $190 USD as a driver with a passenger. Be sure to reserve this tour in advance, as you don't want to miss out on this fun experience out of Tamarindo.
Why We Book Tours with Viator
Viator is a trusted online booking system for tours around the world! We almost always book our tours using Viator for a couple of reasons:
Free cancellation on most tours – Most of the tours on Viator allow you to cancel and get a full refund up to 24 hours in advance. This is handy in case plans change, or if booking an outdoor activity, the weather forecast is looking grim.
Reserve now and pay later – You can secure your spot on some of the most popular tours well in advance and not pay until closer to the day of the tour.
Pay in your chosen currency – Avoid costly international transaction fees by choosing to pay in your home currency.
Peace of mind – When booking with tour operators you find in person on the street or in small booking offices, you are often promised one thing and given another. This online platform holds tour operators accountable with a written description of inclusions as well as the opportunity for customers to leave reviews.
Check out the Viator website here!
5. What is the best ziplining tour in Tamarindo for kids?
This Monkey Jungle Zipline Tour is our top pick for kids! Not only do you get to soar down ziplines for a few hours, but it also has a large emphasis on spotting wildlife, which is always exciting for kids (and adults too, let's be honest)!
This is a small group tour, which is ideal so you don't have to wait in line forever to go down each zipline. I also think this tour is a good length for children (about two hours) which holds their attention and isn't too long so they get tired throughout.
Kids as young as 4 years old can participate in this zipline experience and it can be reserved for $65 USD or slightly cheaper at $55 USD for kids 4-11!
6. What should you wear ziplining in Tamarindo?
My biggest recommendation is to wear comfortable clothing! You will be walking around in your harness for a few hours, which isn't necessarily comfortable in itself, but is better if you're wearing loose, athletic clothing.
You must have closed-toe shoes for these tours, and be prepared for the heat! We wore shorts and T-shirts and were perfectly comfortable.
They will provide a helmet and you can wear sunglasses if you want, but keep in mind that you'll be soaring high up in the air so if you lose them, it's very hard to get them back – so maybe don't wear your favorite pair! I'd also recommend wearing sunscreen, as you'll be out in the hot sun most of the day.
Related Read: Having fun in Tamarindo doesn't have to cost a lot. We made a huge list of the free and cheap things to do in Tamarindo if you're looking for ideas!
7. Should you zipline if you're afraid of heights?
Although you're definitely high up in the air while ziplining, it's generally not as scary as other activities at heights. You're well-secured in the harness, so you know you are safe and won't fall when clipped into the cable.
I've found that ziplining never really has that falling feeling because you're gliding across the cable to the next platform.
That being said, if your fear of heights is extreme, it's probably a good idea to skip out on this activity and stick to those where your feet are planted on the ground. But if it's just a mild fear, you'll have no problem ziplining!
8. Is ziplining in Tamarindo worth it?
Absolutely yes! Costa Rica is known all over the world for its amazing ziplines. It is such a unique way to experience the lush jungle, see wildlife, and get outside for an epic day of adventure.
Many of these tours offer other fun activities, like ATVing or soaking in a natural hot spring, so it's a great way to experience multiple excursions while on vacation.
Tamarindo is a hub of activity, and there are so many great tours out of this beach town. It is one of the best places to book a zipline tour in Costa Rica and experience a different side of the city than just a lazy beach day!
The local guides here were fantastic, so full of energy and knowledge that they really took our tour to the next level. We were impressed!
Other Must-do Activities While You're in Tamarindo
Tamarindo is a town filled with tons of things to do and see. So while you're planning your trip here, make sure to check out a few more of our other favorite activities:
Where to Stay in Tamarindo, Costa Rica
You have so many choices when it comes to places to stay in Tamarindo. There are over 100 hotels and hostels in the downtown area catering to all needs and wants. To help you narrow it down, these are our favorites:
Selina Tamarindo – $
The Selina is a good option for budget travelers, and I have personally stayed here. It's an upper-market hostel with a great atmosphere and pool. The location is also right near the beach, and the dorm rooms and privates all have AC.
Rates for a private room start at $139 USD per night, and a bed in the dorm rooms starts at $71 USD per night. You can book Selina Tamarindo on HostelWorld or Booking.com.
Tamarindo Bay Boutique Hotel – $$
If you'd prefer a little more luxury, the Tamarindo Bay Boutique Hotel comes with gorgeous rooms, a large pool, and a very modern and sleek design. However, the location is slightly back from the beach, and it's not for families.
The hotel's terrace overlooks the property's tropical gardens, and breakfast is served outside here from November 1 to April 30. Rates for a one-night stay begin at $160 USD. Reserve a room at Tamarindo Bay Boutique Hotel on Booking.com.
Hotel Tamarindo Diria Beach Resort – $$$
Those with a luxury budget should check out Hotel Tamarindo Diria Beach Resort. This is one of the most beautiful hotels in Tamarindo, and it's not only located on the beach, but they also have a pool with ocean views.
All of the rooms have a seating area and a mini-bar. Prices for a room start at $224 USD per night. You can book Hotel Tamarindo Diria Beach Resort here on Booking.com.
Getting Around Costa Rica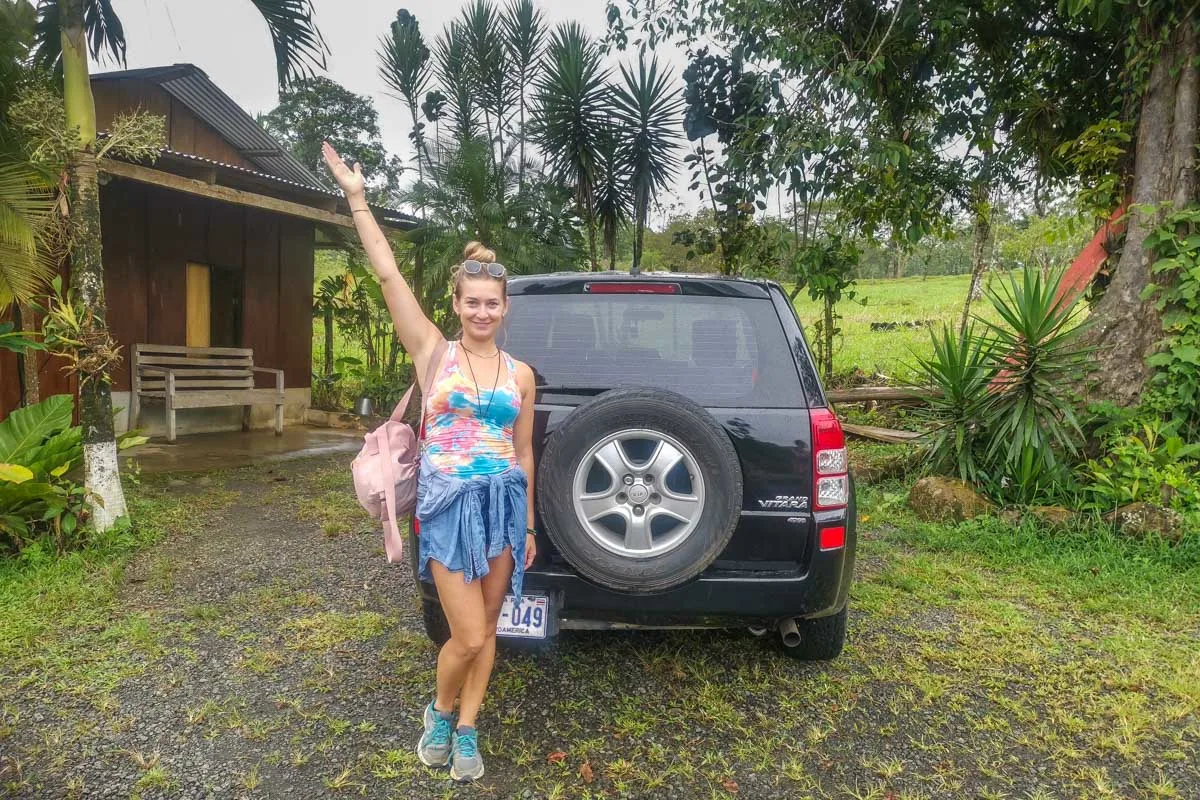 How you choose to get around Costa Rica is one of the biggest decisions you'll make when planning your holiday here! How you do it depends on your budget, travel style, and comfort level.
Renting a Car
Without a doubt, the number one way to explore Costa Rica is in a rental car. We book rental cars on the Discover Cars website as we have had good experiences with them in the past.
One of the things you need to watch for when renting a car in Costa Rica is the mandatory insurance that the government requires you to have. There are a lot of very cheap rentals that don't include this mandatory insurance (TPL) in the original booking price, but there are also ones that do. To avoid additional surprise charges when you pick up your rental car, be sure to rent a car that includes the mandatory insurance when you book.
Thankfully, on Discover Cars it's easy to tell apart the companies that include the mandatory insurance and those that don't. The trick is you can't pick any car on their website. In the picture below, you can see this rental car, with pick up in Jaco, includes the TPL. That means the mandatory insurance is included in the price. Any cover you get above that is extra.
Of course, I still suggest getting the full coverage offered by Discover Cars, which covers you even more.
You can browse cars on Discover Cars here.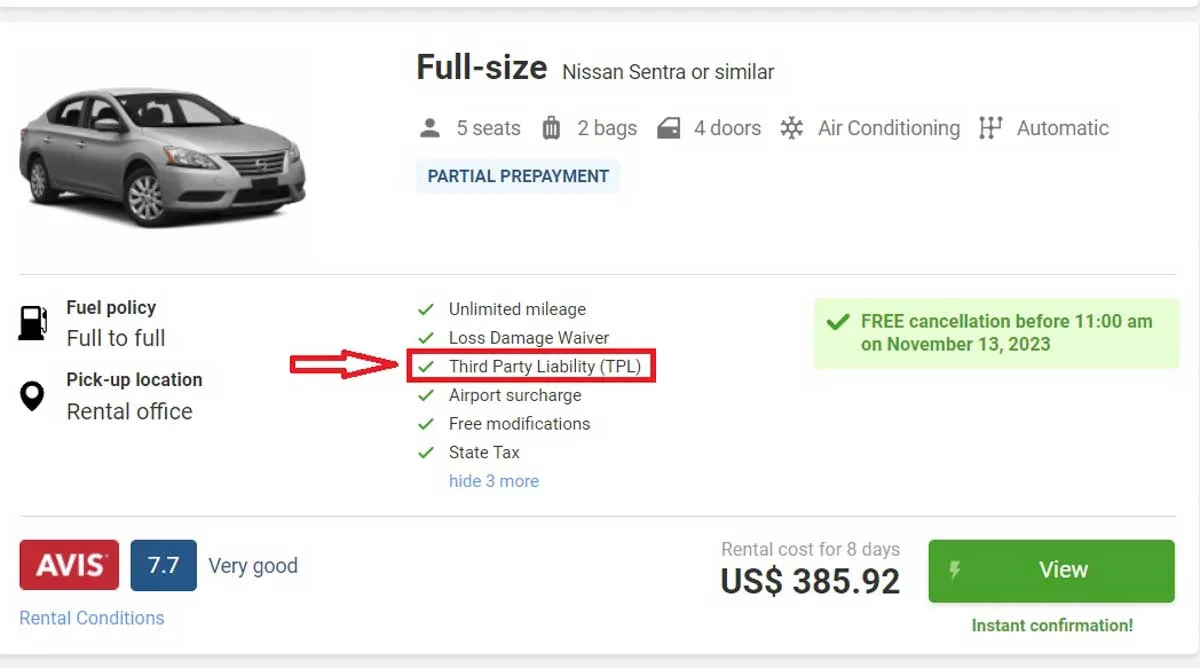 Adobe Rental Rent A Car is another rental company that we most often use in Costa Rica. We love them because Adobe has 15 offices around Costa Rica and delivers door-to-door around their offices at no extra cost. We also are pleased that all of their cars are new. In fact, they are never older than 2 years to the date. They are also the only company to include mandatory insurance and promise no hidden fees. You can get a free quote for a rental car from their website here.
Book Shuttles
If renting a car isn't in your budget, you don't feel comfortable driving in Costa Rica, or you just don't like driving, shuttles are the next best option. There are hundreds of shuttle routes available all over the country, and they are very affordable.
Shuttles in Costa Rica are specifically for tourists and often include pick up and drop off at your selected hotels and airports. The drivers also speak some English, and the vehicles have air conditioning. You'll also be guaranteed a seat when you book a shuttle (which isn't the case with the public bus system.)
To get the best price, use the website Bookaway. They compare all the offers and prices of shuttle companies in Costa Rica so you get the best price! Honestly, we have saved so much money using Bookaway!
You can search for shuttles online on Bookaway here.
Public Bus
Lastly, you can use the public bus system. On short journeys, such as from San Jose to La Fortuna or Uvita to Manuel Antonio, this system is great. However, the longer the journey the more hassle and time spent on a bus. It's undoubtedly best to save the public bus in Costa Rica for short and straightforward trips!
The public buses are definitely the cheapest way to get around Costa Rica, but they are not always very reliable and schedules often change without notice and delays are to be expected. The buses can also be very crowded and hot – so just be prepared!
It's also good to speak some Spanish if you plan on riding the public bus since most drivers and ticket booth operators don't speak English.
Invest in Travel Insurance
Paying out of pocket for trip interruptions or medical treatment will add to what might already be a stressful situation. We always travel with SafetyWing travel medical insurance.
The best part is that it costs only a fraction of what most insurance policies charge, which makes it perfect for digital nomads, long-term travelers (like us), and budget travelers. It only costs $45 USD per 4 weeks!
To start coverage, you must purchase it after leaving your home country. We usually purchase it as soon as we land at the airport.
Since using SafetyWing we've been reimbursed thousands of dollars when we've gotten sick. During the pandemic, they've even gone as far as to pay for our last-minute flights back to Canada from Colombia before the border closed!
You can click here to get a quote and read all the details!
Pura Vida!
I'm so excited you're considering a ziplining tour in Tamarindo! We had a blast zipping over the treetops (sometimes upside down!). A tour helps take care of all the details and some even have fun extras like ATVing or hot springs. I love when I can just show up and have a great time and these tours do that!
To learn more about what a trip to this country can look like, have a look at our blog all about Costa Rica or leave us a question below. We write about everything from travel tips to hidden gems and great tours. Here are a few related reads to get you started:
Is Costa Rica expensive? Cost of traveling to Costa Rica
Guide to Playa Flamingo, Guanacaste & Best things to do!