The picturesque beachfront village of Samara may not be as well-known as other destinations like Playa Flamingo and Tamarindo, but it has become an off-the-beaten-path spot for families to visit.
Tucked away in the Guanacaste Province, Samara is bordered by hectares of tropical jungle, and its sheltered harbor means the surf is calmer than in neighboring towns including Nosara. This, along with the town's secure environment and laid-back character, offers tourists a seaside scene that appeals to almost everyone.
On top of that, Sámara has a multitude of amazing attractions and activities to enjoy. One of its definite pluses is its centrally located downtown, which runs along to the beach. It's packed with restaurants, stylish boutique stores, tour operators, and a few modest hotels. You can also head out of town to explore mountain waterfalls or take a short trip out to sea for a swim with the marine life.
Samara really is a dream destination. However, it can be quite overwhelming to decide where to stay in Samara and pick just one of the many Samara hotels available. So to help you plan your upcoming trip, I've put together a comprehensive list of the best hotels in Samara and what areas might work best for your vacation.
What are the Best Areas to Stay in Samara, Costa Rica
If you're wondering where to stay in Samara, you'll be delighted to know that the village, while small, has hotels to suit every budget. You can find them in three locations: right on Samara Beach, in the heart of town, and on the outskirts of town in the jungle. Each of these areas has its own pros and cons, so it's important to know what each can offer.
Samara Beach is undoubtedly the most popular area, and for a good reason. The reef just offshore makes the water relatively calm in the cove. This makes it a good location for swimming and water sports. It's also a good choice for families. Pick a hotel literally right on the beach to enjoy ocean access right from your room!
On the other hand, the heart of Samara town is where you want to be if you want to be close to all the cute shops, restaurants, bars, and cafes. This isn't as crowded as Samara Beach, but the digital nomad community in the area has been growing in recent years, so you can expect to see a lot of visitors here as well. Plus, you'll only be a short walk from the beach.
If you're looking for somewhere more secluded and quiet, the Samara hotels for you are just on the outskirts of town. Some of the accommodations here are still within walking distance to town, but you may need a rental car if your hotel's a bit far away.
Read on to find out more about which three areas are the best base for your next vacation.
Staying in a Hotel on Samara Beach
Samara's long, sandy beach is home to great snorkeling spots, a beautiful coastline adorned by Chora Island, and gentle and shallow waves suitable for swimming and learning how to surf. There are a few restaurants here, too, so you can indulge in popular Costa Rican dishes while watching the setting sun.
But apart from its great variety of gastronomic and beach activities, what made Samara Beach really popular is its family-friendly, dynamic, and colorful atmosphere. It's a good place to stay in to enjoy the beach to its fullest. So, if you're one of those beach lovers, then the best hotels in Samara for you are right on Samara Beach.
Advantages to staying on Samara Beach:
Be treated to the beach, sunsets, and sunrise right from your hotel room
Easy to indulge in beach activities since you're just on the beach
Waves are perfect for newbie surfers
Disadvantages to staying on Samara Beach:
More expensive than hotels that aren't beachside
Hotels here typically book up first
Only a few hotels to choose from that are actually beachfront
Can be a fair distance from town and restaurants/shops
3 BEST Hotels on Samara Beach
$$$ – Azura Beach Resort – All Inclusive – Adults Only
Azura Beach Resort blends luxury with seclusion to give you a relaxing and kid-free getaway while in Samara. An all-inclusive resort and adults-only property, Azura Beach Resort sits right at the end of Samara Beach, a little bit far from the town center itself. But while it may not be as close to the downtown area as you hope, its location is well worth the visit.
You see, once you arrive in Azura, you will be treated to the breathtaking view of the golden coast and the blue waters of the Pacific. So head immediately to the shore for a romantic picnic at the hotel's picnic area or soak in the sun on one of the loungers by the outdoor pool. Feel free to take your relaxation up a notch, too, with a pampering body treatment at the on-site spa suite.
This is definitely one of the best places to stay if you're visiting Costa Rica for your honeymoon!
If you'd rather do something more active, there's also a 24-hour fitness center right on the property to help you get those gains. You can even rent a bicycle on-site, so you can explore the area at your own pace.
Every mealtime, the hotel's restaurant will treat you to some of Costa Rica's finest dishes while you enjoy the panoramic view of the Pacific right in front. Indulge yourself in multiple culinary experiences from breakfast to dinner, complete with unlimited premium beverages.
At the end of the day, retreat to your luxurious suite, well-appointed with complimentary minibar items, cable TV, coffee machine, and spa-inspired luxury bathroom. You'll also have access to a private balcony or terrace with a relaxing view of the hotel's lush garden or the picturesque Pacific Ocean sunset.
For a staycation with a bit more oomph, book the plunge pool suite, where a private plunge pool awaits you. There's also a swim-up suite up for grabs, where you easily swim up to the hotel's river pool.
Azura Beach Resort comes with a total of 75 suites in different lodging categories. A night's stay can cost you about $375 to $636 USD.
You can check availability and book Azura Beach Resort online here!
Related Read: Check out our blog on where to stay in Jaco for other great all-inclusive resorts!
$$ – Fenix Hotel -On the Beach
Fenix Hotel is not exactly located in the downtown area of Samara as it's a casual 15-minute walk away from the town amenities. But while that's a bit of a hassle, what makes Fenix Hotel worth the trouble is its strategic position on the beach. In fact, it's so close that the sand is basically at your room's front door!
What also makes Fenix Hotel one of my favorite Samara hotels is that it's away from all the crowds, activity, and traffic but still close enough to walk to the town, perfect for couples and families who really want to unwind and get away from it all.
Fenix Hotel is really all about rest and relaxation. Right on the property, you can find an abundance of towering palm trees, providing the hotel's front yard with lots of shade for you to lounge in. Lay back on the hammocks or movable sunbeds under the trees as you feel the refreshing sea breeze tickle your barefoot. There is even a BBQ rancho and cabanas here, so you can relax with your entire group.
Since the warm waters of the Pacific are within a few steps away from your room, you're free to do practically anything here without worrying about packing anything. You can just head to the coast with your bikini on, and in case you forget your sunglasses, you're always just a quick walk to your room. The best part about the beach at Fenix is that it has coral reefs at both ends that prevent riptides and undertows, so you can enjoy a safe swim.
After a long day of building sandcastles and swimming to your heart's content, cool down at the hotel's on-site pool, which is perfect for kids to swim in, too.
When it comes to the rooms, each one comes complete with full kitchens for your convenience. Wind down on your covered patio overlooking the garden and the ocean as you dig into your dinner and listen to the birds flying over the tree-covered yard.
You can book the Standard Room here for $95 USD and the Deluxe Room for $120 USD per night. Fenix Hotel is easily one of the best value-for-money hotels in Samara!
You can check availability and book Fenix Hotel online here!
$$ – Locanda Samara Beach
Combining simplicity with relaxation, Locanda Samara Beach is where you want to be if you're thinking about where to stay in Samara with your big group of friends and family. The modest apartments here are more than ready to accommodate large parties as they come complete with spacious living spaces, a large terrace, a private bathroom, and your very own fully equipped kitchen. In case you're traveling alone or with your partner, there are also double rooms available for booking, too!
While the room amenities may sound pretty basic, what I love about them is their beachy decor and furniture. There's wooden furniture, floral fabrics, and a rock-adorned accent wall and sink. For a more tropical feel, make sure you book the bungalows that feature a thatched roof, ethnic decor, and plenty of natural light!
Outside of your rooms, Locanda has more in store for you. Drop by the on-site restaurant-pizzeria and bar (one of the best restaurants in Samara) to get a taste of Italian and Costa Rican cuisine. The homemade pasta here is to die for, but don't skip out on the sumptuous mixed of grilled meat and fish, too! Of course, there's a varied selection of cocktails always available at the beach bar as early as 7 am and as late as 11 pm.
After getting your fill of the food, time to get some laps done at the on-site swimming pool or enjoy a quiet afternoon on one of the sunbeds or in the large gazebo under the shade of palm trees. If you're up for a more adventurous time in Samara, approach the concierge, and they'll happily book you a tour of your choice, including the popular dolphin and turtle tour and horseback riding.
Locanda Samara Beach comes in three different room categories: double/triple room, apartment, and bungalow. Rooms cost $85 USD to $125 per night, bungalows at $105 USD to $125 per night, and apartments at $125 USD per night. The price already includes breakfast, except for the apartments.
You can check availability and book Locanda Samara Beach online here!
Staying in the heart of Samara Town
For me, the heart of Samara is the ideal base for an idyllic weekend away. It isn't too busy or loud, but it does provide all of the amenities you would expect when on vacation.
You won't run out of places to eat, bars, cafés, boutique shops, yoga retreats, and tours in Samara to choose from here. Since it's a small town, everything is also within quick walking distance, especially the beach. You can get around the town by car, too, thanks to the paved roads. There's not a lot of parking on the main street, though.
The heart of Samara may be small with no major hotel chains, but it has an inviting atmosphere that makes it a popular destination for families.
Advantages of staying in Samara town:
Prices are relatively affordable and within budget
Central location to activities and attractions
Close to the beach
Disadvantages of staying in Samara town:
Can be loud in certain areas
The part of the beach close to town can get very busy
Limited parking on the main street
3 BEST Hotels in Samara Town
$$$ – Villas Kalimba
Strategically built just a minute's walk away from the beach, Villas Kalimba is right in the center of Samara but offers you a private retreat away from the noise. It's not as posh and luxurious as the other accommodation providers in town, but the traveler's choice award for 2018 on Trip Advisor is a testament to the hotel's stellar reputation.
What makes me a fan of Villas Kalimba is their reasonably priced villa-style rooms. Sure, the rooms lean more into the modest and basic side with standard amenities like a private bathroom, air conditioner, cable TV, and fully-equipped kitchen. But what gives them their charm is the lush garden surrounding each unit for privacy. You also have a large wraparound terrace, where you can enjoy your cup of coffee while listening to the sounds of the birds flying across the lawn.
Villas Kalimba makes it easier for you to enjoy the Playa Samara's laid-back surf vibe. Spend the afternoon swimming, boogie boarding, and surfing. Feel free to rent a kayak or stand-up paddleboard, too, if you prefer a more relaxing beachside activity. The hotel staff can also help you plan your holiday as they can book your tours for you.
Back at the hotel, waste the rest of your day away in the on-site swimming pool and jacuzzi as you soak in the beauty of the hotel's palm garden. There is no restaurant or bar on the property, but at times, the owner is available to cook some local meals for you. Charming café options are also just across the street in case you want to eat out.
Rooms here start at $195 USD per night. They also offer more expensive 2-bedroom rooms as well as a villa that sleeps up to 10 people!
You can check availability and book Villas Kalimba online here!
$$ – Hotel Giada
Want to stay somewhere budget-friendly but good quality in Samara? Then look no further than Hotel Giada. Offering you reasonably-priced accommodation options, this charming medium-sized hotel will make your stay more memorable without breaking the bank.
Upon your arrival at Hotel Giada, what will immediately catch your attention is the vibrant African art and the well-manicured flower garden that makes for the perfect backdrop for your photos. In the middle of the garden are pools, where you can cool off after a long day at the beach. There are also sunbeds by the pool for you to lounge in as you take in the beauty of the surrounding landscape and listen to the wildlife around.
Apart from the charm that Hotel Giada exudes, its on-site restaurant, Mama Gui, and pizzeria, Di Mare Di Vino, make it a popular spot in Samara. Here, you can enjoy a hearty meal of pizzas and seafood, along with some Italian and NYC cuisine. You also won't have trouble enjoying the rest of what Samara has to offer since the hotel comes complete with a full-service front desk and tour info center, helping guests find things to do and see in the area.
As for the rooms, they are pretty airy and spacious and have all the necessary amenities, including Wi-Fi, mini-fridge, cable TV, and air conditioning. Feel free to book the ones where you'll have an awesome view of the pool and garden area.
One thing I like about the rooms, apart from their tropical vibe, is the double-plated windows. Since Hotel Giada is right in the town center, the windows significantly minimize street noise for a good night's sleep.
The Hotel Giada has 24 rooms categorized into single, double, triple, and quadruple. Rates range from $66 USD to $75 per night.
You can check availability and book Hotel Giada online here!
$ – Tico Adventure Lodge
A tropical oasis in Samara? Tico Adventure Lodge has everything you need and more. Providing accommodations to locals and tourists since December 2004, this jungle-style lodge sits away from the bustling streets of the downtown area, giving you the peace and quiet you crave.
One fascinating thing that made me fall in love with this dreamy lodge is the fact that not a single tree was cut down during its construction. This means that you'll always wake up feeling refreshed as the exotic Costa Rican jungle sights and sounds surround your room. Sip your morning cup of coffee lounging on the hammock on your private balcony while you soak in the beauty of the lush landscape. Some rooms also come complete with views of the pool.
Take a quick walk around the property, and you'll come across a year-round outdoor pool and indoor hot tub. There's also a garden courtyard, where you can lounge and chitchat with the other guests.
If you're up for some relaxing "me" time, head to the hotel's oasis massage center for some trigger point therapy or join the daily yoga class on the on-site yoga deck. If a day out on the beach is what you prefer, you'll be happy to know that Tico is only a three-minute walk to the beach. Build a sandcastle by the shore or go fishing.
Then, back at Tico Adventure Lodge, you can cook your catch of the day at the communal outdoor kitchen and cookout area before heading to the downtown area for some disco fun.
The private rooms here range from $80 USD to $175 per night, but you can also stay at the Budget Single/Twin Rooms and Rancho for $20 USD to $50 per night.
You can check availability and book Tico Adventure Lodge online here!
Related Read: Traveling around more? Check out our guide about where to stay in Costa Rica with the best hotels and areas to stay!
Staying on the outskirts of Samara
If you find the downtown area and Samara Beach too busy and crowded, then the best hotels in Samara for you are on the outskirts of town, an area surrounded by Costa Rica's beautiful jungle.
Some of the hotels here treat you to stunning views, while others are enveloped in a lush jungle with a lot of wildlife. This makes it the perfect location for those looking for that peace and quiet that the other two areas lack.
However, most of the hotels in the outskirts of town are beyond the river. So depending on your hotel's location, it is probably best that you have your own transport.
Advantages to staying just outside of Samara town:
The location is quiet
Plenty of wildlife to see
Budget-friendly hotel prices
Lots of accommodations to choose from
Has a relaxing ambiance
Disadvantages of staying just outside of Samra town:
May need your own transport if you want to visit the downtown area
Not many choices for places to eat or things to do nearby
Without your own transport, walking to the beach or town is super time-consuming and in some cases, impossible
The Best Hotels on the outskirts of Samara
$$$ – Samara Pacific Lodge
Getting away from it all? Samara Pacific Lodge has your back. Nestled in a secluded location amidst pasture and forest, this budget-friendly hotel puts you just a few minutes by car to the downtown area but only a ten-minute walk from the beach.
When staying in Samara Pacific Lodge, you won't have to go far to enjoy the luxuries of life. There's an in-house spa center here, where you can treat yourself to a relaxing massage, as well as a large salt-water pool with comfy lounge chairs for wasting the afternoon away. If you prefer heading to the great outdoors, the hotel's tour desk can contact some local tour agencies and arrange the itinerary for you.
While these amenities and services alone are already a bang for the buck, what really makes me want to keep coming back to Samara Pacific Lodge is its top-notch French restaurant. Serving you a unique menu for dinner every day, the in-house restaurant satisfies your tastebuds in the best way possible. Start your day with the breakfast of your choosing, from Costa Rican dishes to Continental food. Make sure you get a taste of the homemade cocktails too!
For your room, expect all the amenities you'd find in a standard hotel room: wireless internet access, a private bathroom with bathroom, and air conditioning. Wind down in your private furnished balcony or patio as you take in the beauty of the pool area and the view of the Guanacaste groves.
Four types of rooms are available at Samara Pacific Lodge, some of which can accommodate six guests. The Double Room starts at $89 USD per night, while the Family Room starts at $173 per night, inclusive of Continental, American, or local breakfast.
You can check availability and book Samara Pacific Lodge online here!
$$ – Samara Palm Lodge
A charming Swiss-owned lodge, Samara Palm Lodge offers you cozy, Instagrammable accommodation on the outskirts of town without busting your budget. You can find it just over the bridge, west of Samara. Despite being a little ways away from the conveniences of the downtown area, Samara Palm Lodge makes it easier for you to enjoy the beach as it's only five minutes away on foot.
When you check into your room here, you'll be greeted by the decor that screams tropical vibes. The furniture is made of stained wood, and you have bold, colorful artwork on the wall. Aside from having a comfy king-size bed, I love that these rooms look out over the inviting pool. That said, make sure to book the room with a terrace, so you can make the most out of the refreshing view from your room.
Samara Palm Lodge also features a landscaped garden on its property, although it isn't as grand and spacious as the other Samara hotels. If you like to explore the nearby area, simply approach the staff, and they can organize some activities for you, including fishing, diving, horseback riding, and hiking.
Back at the lodge, you can spend the afternoon lazing in the communal sitting space while reading a book. Make sure you try the drinks from the "Honesty Bar" too!
Prices for Standard Rooms range from $45 USD to $75 per night, while Family Rooms are available for $65 to $110. Breakfast is available for an additional fee of $8 to $12 per person per day.
You can check availability and book Samara Palm Lodge online here!
$ – Hostel Marisol
Maintained by a Costa Rican family, Hostel Marisol is one of the best hotels in Samara if you're traveling on a budget. It's only an eight-minute walk from the beach, so you can always have your fill of the sea whenever you want.
Although Hostel Marisol seems pretty basic at first look, you'll find that it actually has a homey atmosphere. There's an outdoor swimming pool on the side of the property, where you can escape the scorching Costa Rican heat. A shared lounge is also just nearby if you feel more like spending the day with a book.
There is no on-site restaurant here, but you have access to two kitchens to prep your meals in. Don't worry about bringing your own coffee, though, as it comes complimentary every morning with your booking. Breakfast can be ordered à la carte or continental, as well.
When it comes to the rooms, the amenities are pretty standard. You have a wardrobe, a small work table, a seating area, free Wi-Fi, and a coffee machine. If you feel like indulging yourself, you can book a room with a patio that overlooks the pool.
A night's stay here starts at $43 USD. Dorm beds are available for a discounted rate too.
You can check availability and book Hostel Marison on either Booking.com or Hostelworld!
Related Read: Heading to Nosara? Read about the best places to stay and hotels in Nosara before you go!
Getting Around Costa Rica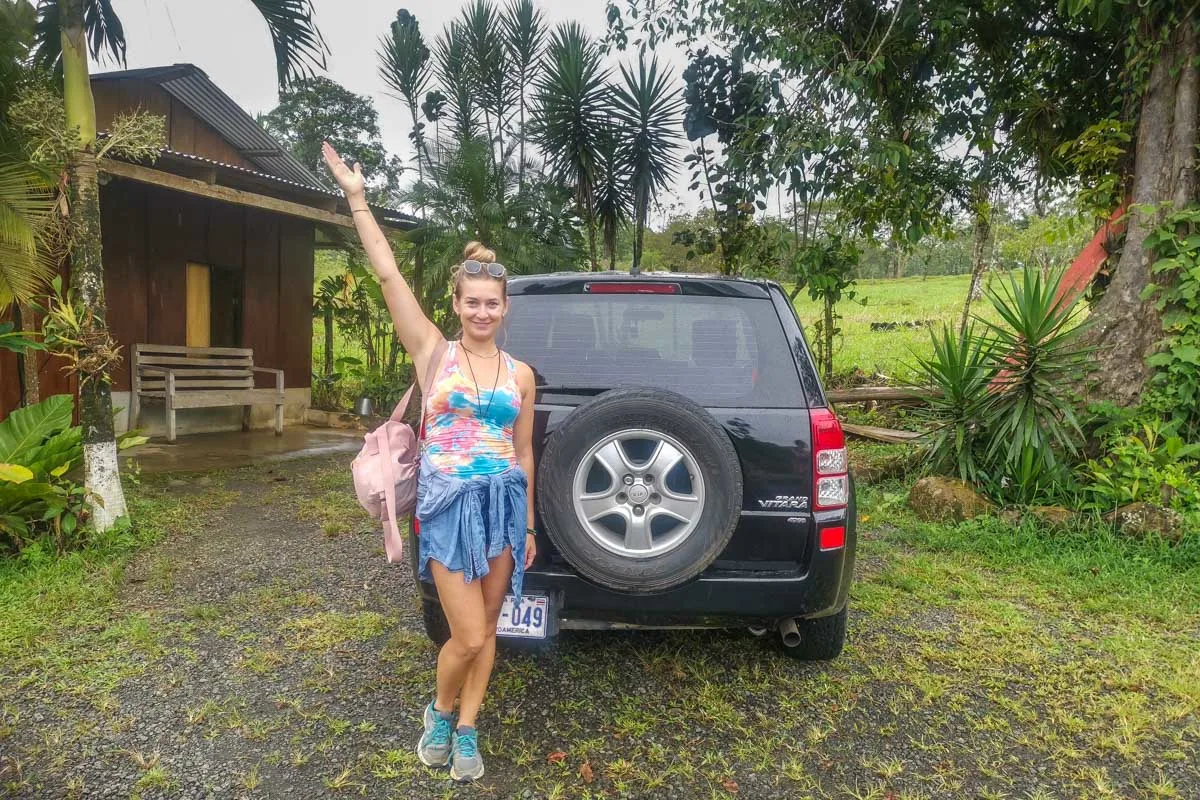 How you choose to get around Costa Rica is one of the biggest decisions you'll make when planning your holiday here! How you do it depends on your budget, travel style, and comfort level.
Renting a Car
Without a doubt, the number one way to explore Costa Rica is in a rental car. We book rental cars on the Discover Cars website as we have had good experiences with them in the past.
One of the things you need to watch for when renting a car in Costa Rica is the mandatory insurance that the government requires you to have. There are a lot of very cheap rentals that don't include this mandatory insurance (TPL) in the original booking price, but there are also ones that do. To avoid additional surprise charges when you pick up your rental car, be sure to rent a car that includes the mandatory insurance when you book.
Thankfully, on Discover Cars it's easy to tell apart the companies that include the mandatory insurance and those that don't. The trick is you can't pick any car on their website. In the picture below, you can see this rental car, with pick up in Jaco, includes the TPL. That means the mandatory insurance is included in the price. Any cover you get above that is extra.
Of course, I still suggest getting the full coverage offered by Discover Cars, which covers you even more.
You can browse cars on Discover Cars here.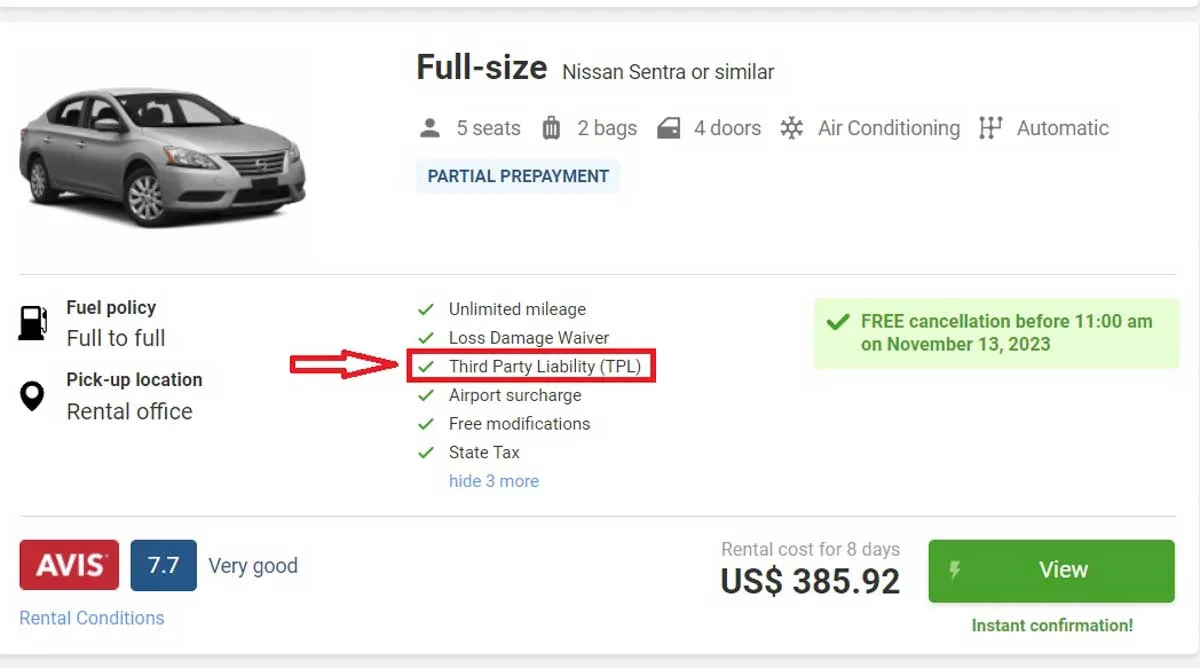 Book Shuttles
If renting a car isn't in your budget, you don't feel comfortable driving in Costa Rica, or you just don't like driving, shuttles are the next best option. There are hundreds of shuttle routes available all over the country, and they are very affordable.
Shuttles in Costa Rica are specifically for tourists and often include pick up and drop off at your selected hotels and airports. The drivers also speak some English, and the vehicles have air conditioning. You'll also be guaranteed a seat when you book a shuttle (which isn't the case with the public bus system.)
To get the best price, use the website Bookaway. They compare all the offers and prices of shuttle companies in Costa Rica so you get the best price! Honestly, we have saved so much money using Bookaway!
You can search for shuttles online on Bookaway here.
Public Bus
Lastly, you can use the public bus system. On short journeys, such as from San Jose to La Fortuna or Uvita to Manuel Antonio, this system is great. However, the longer the journey the more hassle and time spent on a bus. It's undoubtedly best to save the public bus in Costa Rica for short and straightforward trips!
The public buses are definitely the cheapest way to get around Costa Rica, but they are not always very reliable and schedules often change without notice and delays are to be expected. The buses can also be very crowded and hot – so just be prepared!
It's also good to speak some Spanish if you plan on riding the public bus since most drivers and ticket booth operators don't speak English.
Invest in Travel Insurance
Paying out of pocket for trip interruptions or medical treatment will add to what might already be a stressful situation. Not to worry, SafetyWing is here to help!
This affordable travel and medical insurance is perfect for digital nomads, long-term travelers, and remote workers. The best part is that it only costs $45 USD per 4 weeks.
To start coverage you must purchase it after leaving your home country. We usually purchase it as soon as we land at the airport.
Since using SafetyWing we've been reimbursed thousands of dollars when we've gotten sick. During the pandemic, they've even gone as far as to pay for our last-minute flights back to Canada before the border closed!
Pura Vida!
Samara, a small beach town in Guanacaste, has long been a popular beach getaway for those looking for a touristy but laid-back beach excursion.
While the town is charming, you won't find plenty of luxury options here. But if you're looking for a family-friendly option with a modest price tag and plenty of things to do, Samara is the best destination. Hopefully, you won't have trouble finding the best hotels in Samara with this guide.
If you enjoyed this blog, be sure to check out some of our blogs including:
Is Costa Rica Expensive? The Cost of Traveling
Complete Guide to Visiting Samara, Costa Rica