Samara is the perfect destination to experience the pura vida in Costa Rica. This laid-back beach town is ideal for a relaxed getaway with friends or family, and it feels like a super safe place to visit in Costa Rica.
We've found this small town is definitely less touristy than other parts of the Guanacaste province. Luckily, there's still tons to do here, thanks to all of the amazing nature and wildlife around. You can swim with dolphins, go kayaking through mangroves, or ride horses along the beautiful beach – the choice is yours!
There are many fun activities in Samara, but we think that some are best done as part of a tour. Sometimes this is for safety and practical reasons, like if you're heading out on a boat or ATV. Other times, it's simply because your guide can take you to secret wildlife hotspots you would never find on your own.
So if you want to see the top highlights along with some hidden gems, we've got you covered! During our time in Costa Rica, we've tried many tours here and found the 8 best tours in Samara. Read on so you can start planning all of the amazing activities you want to experience here!
Our Top Picks for Tours in Samara
If you don't have time to read through all the choices and just want to book now, these are our top choices for tours in Samara!
Best bucket list-worthy tour: When we arrived in Costa Rica, seeing turtles was something we really wanted to do. Luckily, Samara is a great place for this! On this 3.5-hour turtle watching tour, you'll see turtles nesting or even baby turtles hatching on the beach! It's an evening tour and the local guides choose which beach to go to depending on where the turtles are. It's only $57 USD including transportation and can be booked online year-round, although September/October are prime months.
Best combo tour: Don't just stay on land, get out on the water in Samara! This 3-hour tour takes you to the best places to see dolphins! You'll watch them play in the waves and also have a chance to spot turtles, stingrays, and whales. Then, it's off to a prime snorkeling spot at Isla Chora to get up close with some of the amazing marine life. It's really a 2-in-1 experience and at $58 USD is really affordable to book online too.
Why book a tour in Samara?
One of the best reasons to book a tour in Costa Rica – and more specifically, Samara – is that you get to see so much more wildlife that way. Some creatures are difficult to spot, but guides are so helpful for this. Plus, you find out so much more about what you're seeing. In a country as biodiverse as Costa Rica, you come away from pretty much every tour having learned something fascinating.
Another reason to do a tour in Samara is that you can't access all of the best activities here on foot, so having transportation taken care of is really nice. Some tourists rent scooters to get around, but understandably not everyone is comfortable with that.
We also found that the tours we did in Samara took us to places we wouldn't have found on our own. For example, we discovered some amazing snorkel spots in Costa Rica that we wouldn't have been able to get to otherwise.
Samara is pretty safe overall. But if it's your first time in Costa Rica, you might feel more comfortable taking a tour. You'll be with a local guide who ensures your safety throughout and makes sure you don't venture off anywhere you shouldn't.
Last but not least, we also found tours in Samara to be really good value for money! Most of the tours on this list cost less than $60 USD, so you really can't go wrong.
What are the best tours in Samara, Costa Rica?
1. Dolphin and Snorkeling trip at Isla Chora National Wildlife Refuge
One of the (many) amazing things about Costa Rica is that you can see dolphins all along its Pacific Coast. Samara is a fantastic place to go dolphin watching and it's a really affordable activity here!
To access the best places for dolphin watching, I recommend taking this 3-hour tour. They pick you up around 8 am and head directly on a dolphin cruise. It's such a beautiful way to start your morning and it's hard not to smile when you see these playful creatures!
When we went, we loved watching the dolphins play in the waves, and we also saw turtles and stingrays. If you book this cruise between August and October, or December and April, you might spot some whales, too!
After the dolphin cruise, you'll sail to Isla Chora, which is famed for its amazing snorkeling. We went snorkeling here and saw lots of marine life, including a turtle, pufferfish, and lots of pretty reef fish.
At $58 USD, we think that this tour is amazing value. You essentially get two tours in one! It's also a great tour to do if you don't have a lot of time in Samara but still want to experience its fantastic marine life. Snacks, snorkel equipment, and all transport are all included. There's a maximum of 20 travelers, so it's not too crowded, either!
If dolphin watching is at the top of your agenda, you'll want to take this tour! You can pick your date and book it right here.
Related Read: If you love surfing, read all about the nearby town of Santa Teresa! It provides that laid-back surfer lifestyle with cheap rentals and good waves year-round.
2. Horseback Riding on the Beach
Horseback riding is a super popular thing to do in Samara. Riding along the beach is just the perfect setting whether you're honeymooning in Costa Rica or just looking for a unique activity.
We recommend this 2.5-hour horseback tour as the guides are great at encouraging you and showing you what to do if you're a beginner. Rest assured, you don't need any horse riding experience to enjoy this tour!
You'll ride through the jungle in a small group of no more than eight and your guide will point out lots of flora and fauna along the way. You'll almost certainly see monkeys scampering around! Your trusty steed will take you up a mountain to an amazing viewpoint where you can soak in the beauty of Samara's wild landscape.
Then, you ride to a gorgeous beach where you can gallop along the shore and end your tour on a high. Riding horses along a stunning, deserted beach is something you only see in movies, and this is a rare opportunity to actually experience it in real life.
This tour is offered Mondays through Saturdays at 8 am and 3 pm. If you do the tour later in the afternoon, you will ride along the beach at sunset, which is such an amazing experience – we recommend doing this if you can!
The experience costs $54 USD per person, and there's a minimum of two people per booking. The price includes hotel pickup and dropoff, and some photos and videos of the experience. It's a fantastic price, but we've actually seen this tour offered for even cheaper. So, don't hesitate to check prices for your dates online here!
3. Turtle Nesting Tour
If you're anything like us, seeing turtles in Costa Rica is high on your list of things to do in the country. But on this 3.5-hour tour, you not only see turtles, you get to watch them nesting and hatching on the beach!
This really is the kind of experience that's best done with a guide. They'll know all of the hotspots for turtle activity and can teach you all about their life cycles. Plus, you may even see baby turtles crawling towards the sea like we did!
This tour will pick you up around 7 pm and take you to Corozalito or Camaronal Beach, depending on the conditions that day. However, if there's an arribada happening in Ostional Beach (which is 1.5 hours from Samara), your tour will take you there for no extra cost. An arribada is a natural phenomenon when hundreds of turtles come ashore at once to lay their eggs. It's an incredible, once-in-a-lifetime thing to see and a big pro of this tour as far as we're concerned!
This turtle tour costs $57 USD per person, including your roundtrip transport and guide, as well as water, juice, and snacks along the way. The very best months to book are September and October, as this is prime turtle time in Samara. However, you can do it year-round, so don't worry too much if you're not here during these specific months.
If you're an animal lover, you won't want to miss this awesome opportunity! I recommend booking well in advance to secure your dates.
Related Read: Samara is just one of the many epic places in the area – so check out our complete guide on the Nicoya Peninsula (including the best things to do).
4. Mangrove Kayaking Tour
Costa Rica isn't all beaches and rainforests! Mangroves are a super interesting ecosystem, and they just so happen to be really fun to kayak through.
This guided tour takes you down the Ora River, where you'll kayak through the mangroves. To get an idea of what this looks like, just check out my photo above! Believe me, you'll feel like an intrepid explorer as you spot monkeys, iguanas, and beautiful birds as you go.
You'll also learn a lot about mangroves from your guide. Did you know that they're basically environmental heroes and absorb 5-6 times as much CO2 as rainforests? We definitely didn't before taking this tour!
Plus, kayaking along the Ora River is easy, thanks to the calm water. You don't need to be a paddling pro with super strength to enjoy this tour. As such, it makes for a great family-friendly activity as well.
The kayaking tour costs $53 USD per adult and $42 USD per child (ages 4-10). It lasts for around 3 hours, and there's a refreshment and fruit break midway through at a beach (where you might even spot turtles nesting if you're lucky!). The tour covers all your kayaking equipment, including lifevests and roundtrip transportation from your Samara accommodation.
This is such a relaxing, gorgeous day outdoors that you can book directly through Viator.
Why We Book Tours with Viator
Viator is a trusted online booking system for tours around the world! We almost always book our tours using Viator for a couple of reasons:
Free cancellation on most tours – Most of the tours on Viator allow you to cancel and get a full refund up to 24 hours in advance. This is handy in case plans change, or if booking an outdoor activity, the weather forecast is looking grim.
Reserve now and pay later – You can secure your spot on some of the most popular tours well in advance and not pay until closer to the day of the tour.
Pay in your chosen currency – Avoid costly international transaction fees by choosing to pay in your home currency.
Peace of mind – When booking with tour operators you find in person on the street or in small booking offices, you are often promised one thing and given another. This online platform holds tour operators accountable with a written description of inclusions as well as the opportunity for customers to leave reviews.
Check out the Viator website here!
5. Ocean Kayak and Snorkeling to Chora Island
We absolutely loved this kayaking tour to Chora Island! We kayaked from Samara to Chora Island, which took about 30 minutes and was actually quite challenging. This was partly because the sea was choppy in sections but also because the sun was so hot. But honestly, it was all part of the adventure – and arriving at this stunning, secluded beach was a reward in itself!
Once we made it to Chora Island, we got to relax on the beach and cool off in the water. Chora Island is a pristine place, and you'll probably have the whole beach to yourselves! Honestly, we were so happy to go ashore on this tour.
The snorkeling was the best part for us, though. The water was super clear, and we got to see turtles, puffer fish, and lots of other tropical fish. Plus, our guide was really helpful and knew tons about the marine life around the island.
This is a fantastic tour for nature lovers and wildlife enthusiasts, and we highly recommend it. It costs $48 USD including all equipment, hotel pickup and drop off, as well as some snacks on the beach. It's a great way to make the most of your time in Samara, and we would definitely do it again!
To experience this adventure for yourself, book this kayaking and snorkeling tour here!
Related Read: Do you enjoy seeing marine life up close? Then check out the best places to go scuba diving in Costa Rica.
6. Sunset and Wildlife ATV Tour
Samara has gorgeous coastal and mountain scenery, and you can explore it on this Sunset Quad Ride. Not only do you get to enjoy lots of natural beauty, but you also get a thrilling ATV experience!
You start in the mid-afternoon, and you quite literally get off the beaten track by exploring backroads and dirt trails. When we went, we saw a wild side of Samara that most people don't experience. As you drive through the trees, keep an eye out for wildlife before reaching a breathtaking mountaintop viewpoint.
You'll also drive to Barrigona Beach, which is one of the best beaches in Samara. It's about 10 kilometers (6 miles) out of town, and you need an ATV or a 4WD to get down there. For this reason, it's always super quiet, and the chances are you'll be the only people there! This is one of the many reasons we love this tour!
You'll have time to swim here if you want to, although there is a large swell, so you might just prefer to chill on the white sand instead. The tour ends with a visit to a quiet sunset spot where you'll have epic views of the vivid sunset over the ocean. Talk about ending on a high!
You'll need to present your passport and a valid driver's license to participate in this tour (since you actually drive on the roads). It runs year-round, including during the rainy season. However, we actually love ATV rides at this time of year because, believe it or not, the mud makes it even more fun. Regardless of when you visit Costa Rica, this tour delivers!
Kids as young as 5 can participate, and there are double and single ATVs available. A single ATV costs $124 USD per person, while a double costs $162 USD. Book this ATV adventure to experience it all … jungles, mountains, beaches, and an unforgettable sunset.
7. Safari and Buenavista Beach Horse Riding Tour
This horseback safari is an incredible way to explore the natural beauty of the Guanacaste province. You start with a boat ride, during which your captain will give you an introduction to the area's unique flora and fauna.
Once you arrive at the trailhead, you'll meet your horse and guide and head off to explore the jungle. You'll see monkeys, birds, reptiles, and maybe even some crocodiles – but don't worry, it's from a safe distance on horseback!
There are also several river crossings along the way, which are fun to navigate. Then, you end up on Buenavista Beach. You get to ride along the beach and paddle in the waves, which really is an amazing, bucket list-worthy experience (unless you're allergic to horses like Bailey!).
You head back to the meeting point via an easy ride through some fields, which are home to wild horses and cows. The whole thing lasts about 2.5 hours which feels like the perfect amount to traverse this terrain on horseback.
Overall, this tour is a lot of fun, and the trails are nice and easy. It really doesn't matter if you've never ridden before! The guides are also really friendly and will even fetch you fresh coconuts from the trees if you get thirsty.
The experience costs $59 USD, and kids as young as 5 can participate (as long as they're accompanied by an adult). There's a maximum of 5 travelers per group, so it's a really nice, small group. Hotel pickup and drop off aren't included for this tour, but the meeting point is easy to get to via a scooter or local taxi.
Those who love riding horses (or want an easy introduction!) won't want to miss this tour. Check availability and reserve your dates online here!
8. Werner Sauter Biological Reserve Hike
The Werner Sauter Biological Reserve is one of the best places to see wildlife in Samara. It's a private reserve with gorgeous mountain trails that give you epic views over the town's beautiful beaches.
This small group tour will pick you up from town and take you to the park, where you'll begin a 2.5-hour guided hike through the reserve. The hiking is fairly easy and as you go, your guide will teach you all about the tropical dry forest and why it's such an important ecosystem for Costa Rica's wildlife.
On our visit, we discovered why this type of forest is so threatened, and we gained an even deeper appreciation for its beauty. We also saw loads of incredible native animals, including parrots, monkeys, butterflies, deer, and iguanas.
On this guided tour, you'll also pass through an organic mango plantation. If you're hungry, you can help yourself to the fresh mangoes. I mean, talk about a rewarding hike!
There are two options for the hike – a morning tour at 6:30 am for $47 USD and an afternoon tour at 2:30 pm for $42 USD. For both options, there's a maximum of 10 people per group. We love that it's a nice, small tour because you get more personalized attention and can ask questions about what you're seeing. To secure your preferred time and date, we recommend booking this tour in advance.
Related Read: Do you love to travel but want to limit your environmental impact? Read about the best ecolodges in Costa Rica (with options for all budgets!).
Where to Stay in Sámara, Costa Rica
Sámara is one of those towns with a huge variety of places to stay. From budget backpacker hostels to luxury hotels, there are great accommodations in Sámara for all budgets. To help you narrow it down, we've included our favorites below.
Luxury – $$$
For luxury travelers or families, I love Villas Kalimba. This place is spectacular and offers a fitness center, swimming pool, and restaurant. On top of that, it's located right on the beach. Their two-bedroom villas come with a full kitchen and everything you need for a great holiday. If you're traveling with a large party, they have a 10-person villa with a private pool.
Prices start at $150 USD which is amazing for a high-end option – so check prices and reserve a luxury villa here!
Mid-range – $$
If you consider yourself a mid-range traveler, then I actually have two great choices for you (both catering to couples and families). The first is Hotel Entre Dos Aguas, a rustic hotel with simple amenities on a beautiful property just a 5-minute walk from the beach. It has a common lounge and kitchen, a fantastic swimming pool, and pretty gardens. There are plenty of different types of rooms with prices as low as $60 USD a night when you reserve your room through Booking.com.
The second place, Sámara Pacific Lodge, is more of your typical resort-style hotel with a large pool, bar, and included breakfast. The hotel is located a little out of town but not far from the beach. It's ideal if you like that rural feel but still want to stay in a resort. Prices start at $77 USD and can be booked online here.
Budget – $
If you're on a budget, there are lots of options, but not many of them are good. Las Mariposas is my top choice, with its location close to the beach. The hostel has a great atmosphere for meeting other travelers and is suited to the social backpacker. They offer a shared kitchen and common spaces, hammocks to relax on the patio, billiards, and karaoke.
A bed in a shared dorm runs about $12 USD, while private rooms start at $30 USD. You can book this place on Hostelworld or Booking.com.
For more info, read our detailed guide about deciding where to stay in Samara with the best hotels and areas!
Getting Around Costa Rica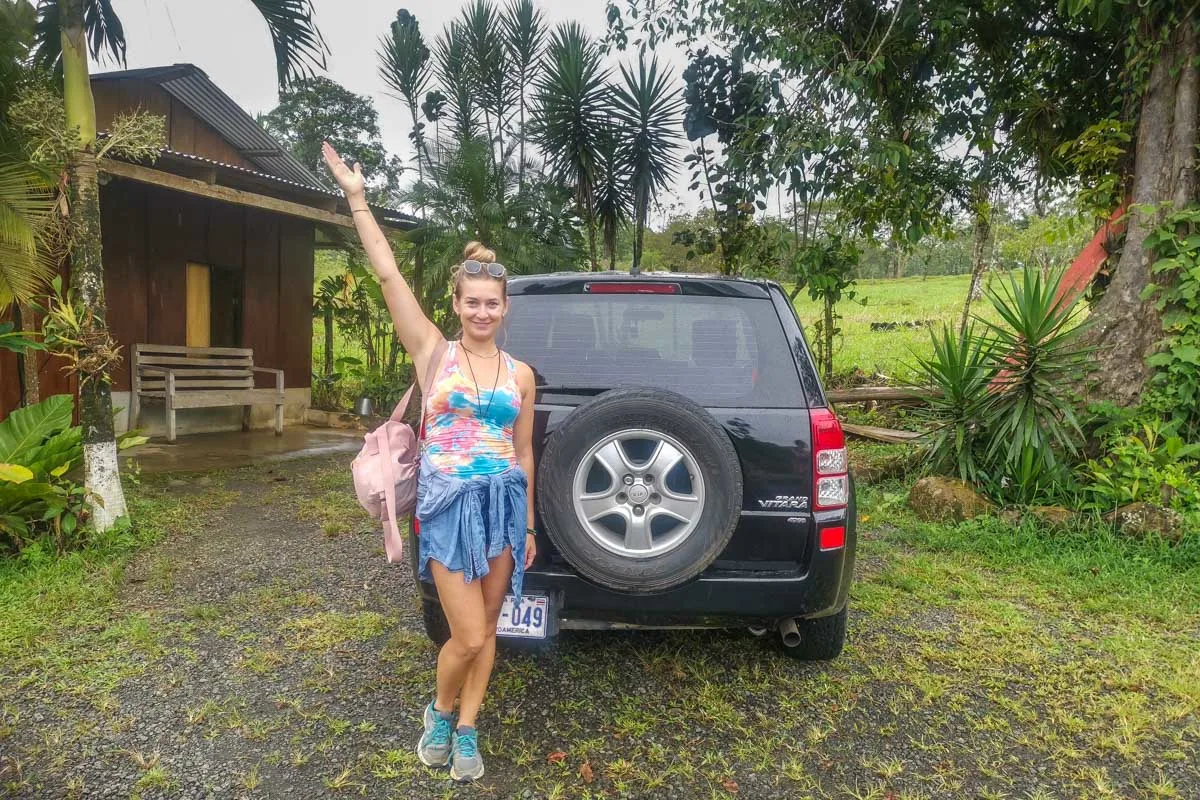 How you choose to get around Costa Rica is one of the biggest decisions you'll make when planning your holiday here! How you do it depends on your budget, travel style, and comfort level.
Renting a Car
Without a doubt, the number one way to explore Costa Rica is in a rental car. We book rental cars on the Discover Cars website as we have had good experiences with them in the past.
One of the things you need to watch for when renting a car in Costa Rica is the mandatory insurance that the government requires you to have. There are a lot of very cheap rentals that don't include this mandatory insurance (TPL) in the original booking price, but there are also ones that do. To avoid additional surprise charges when you pick up your rental car, be sure to rent a car that includes the mandatory insurance when you book.
Thankfully, on Discover Cars it's easy to tell apart the companies that include the mandatory insurance and those that don't. The trick is you can't pick any car on their website. In the picture below, you can see this rental car, with pick up in Jaco, includes the TPL. That means the mandatory insurance is included in the price. Any cover you get above that is extra.
Of course, I still suggest getting the full coverage offered by Discover Cars, which covers you even more.
You can browse cars on Discover Cars here.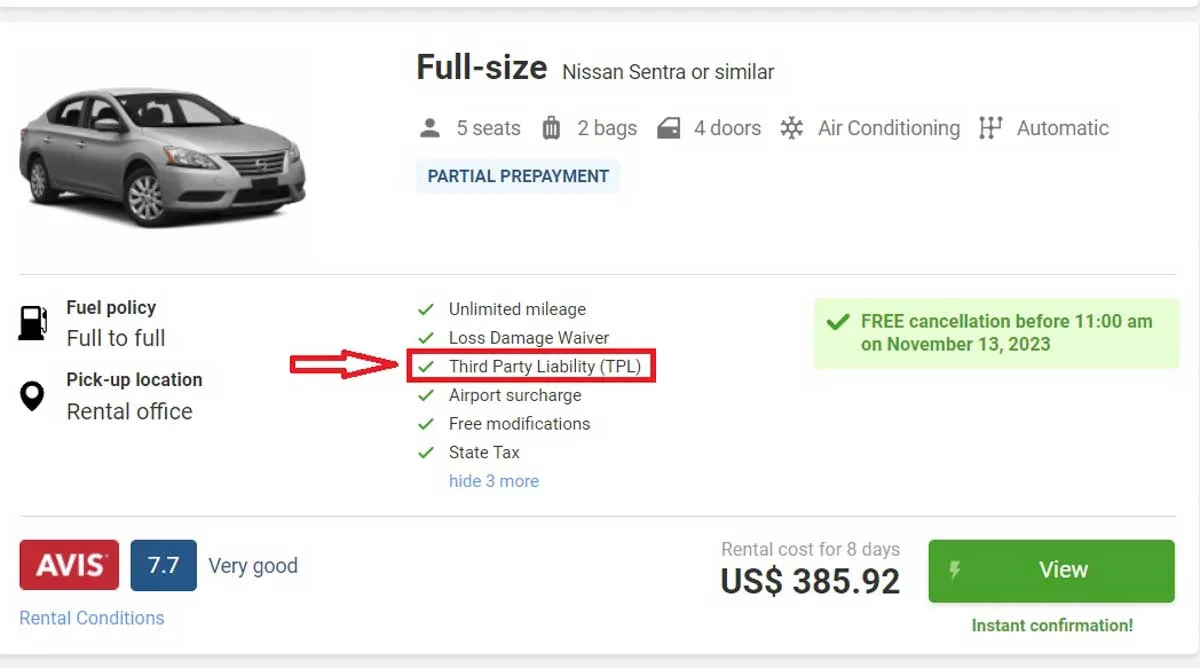 Book Shuttles
If renting a car isn't in your budget, you don't feel comfortable driving in Costa Rica, or you just don't like driving, shuttles are the next best option. There are hundreds of shuttle routes available all over the country, and they are very affordable.
Shuttles in Costa Rica are specifically for tourists and often include pick up and drop off at your selected hotels and airports. The drivers also speak some English, and the vehicles have air conditioning. You'll also be guaranteed a seat when you book a shuttle (which isn't the case with the public bus system.)
To get the best price, use the website Bookaway. They compare all the offers and prices of shuttle companies in Costa Rica so you get the best price! Honestly, we have saved so much money using Bookaway!
You can search for shuttles online on Bookaway here.
Public Bus
Lastly, you can use the public bus system. On short journeys, such as from San Jose to La Fortuna or Uvita to Manuel Antonio, this system is great. However, the longer the journey the more hassle and time spent on a bus. It's undoubtedly best to save the public bus in Costa Rica for short and straightforward trips!
The public buses are definitely the cheapest way to get around Costa Rica, but they are not always very reliable and schedules often change without notice and delays are to be expected. The buses can also be very crowded and hot – so just be prepared!
It's also good to speak some Spanish if you plan on riding the public bus since most drivers and ticket booth operators don't speak English.
Invest in Travel Insurance
Paying out of pocket for trip interruptions or medical treatment will add to what might already be a stressful situation. Not to worry, SafetyWing is here to help!
This affordable travel and medical insurance is perfect for digital nomads, long-term travelers, and remote workers. The best part is that it only costs $45 USD per 4 weeks.
To start coverage you must purchase it after leaving your home country. We usually purchase it as soon as we land at the airport.
Since using SafetyWing we've been reimbursed thousands of dollars when we've gotten sick. During the pandemic, they've even gone as far as to pay for our last-minute flights back to Canada before the border closed!
Pura Vida!
Samara is the perfect beach town to relax and bask in gorgeous natural scenery. This place is more off-the-beaten-path than other tourist destinations, which is why we recommend tours here! Whether you choose to ride horses, drive ATVs, or kayak through mangroves, you'll have an incredible time.
If you found this article helpful, read our other blogs about Costa Rica. We've traveled all over this country, and we even lived here for a while. We love sharing what we've learned so you can have an amazing trip as well.
Where to Stay in Nosara: BEST Nosara Hotels, Holiday Homes & Areas
11 Things You NEED To Know About Shuttles in Costa Rica