Sámara is a stunningly charming beach destination on the Nicoya Peninsula in Costa Rica. The tiny village offers spectacular tours and an abundance of nature to explore.
As you enjoy some of the best things to do in Sámara such as visiting waterfalls, walking along the nature trails, or enjoying various beach activities, be sure to sample tasty meals at some of the best restaurants in Sámara.
The vibrant town has multiple cafes, bars, and restaurants that serve unique cuisines, including homemade delicacies, seafood, yummy juices, locally brewed coffee, healthy salads, meats, and plenty of vegan options.
This article is about the absolute best restaurants to visit while in Sámara for every meal! I've included some quick takeaway options as well as some fancier dinner places – so I'm sure you'll find a few different restaurants in Samara that you'll love!
The BEST Restaurants in Sámara
1. Bohemia Café – Best Place for Brunch in Samara
Location: Calle Central, in the heart of Samara town
Average Price: $6-$15 USD for breakfast
Come here for: breakfast/brunch
Takes reservations: no
Bohemia Café in Sámara has a beach vibe surrounded by beauty and is undoubtedly the perfect place to eat and enjoy the tranquility of the whole area. The cafe serves excellent fresh, healthy food and coffee.
Frederico, the owner, is a charming and friendly soul. The incredible hospitality enhances a visit to this local café, often bringing out an inviting and relaxed atmosphere.
This little cafe offers homemade granola, healthy salads, yummy juices, strong coffee, crepes, paninis, and abundant vegan options. My favorite brunch meal is actually called "The Brunch," which comes with two eggs, homemade bread, potato gems, and fruit. It was delicious! Their coffee is also really strong!
If you're looking for a place to have brunch in Sámara, Bouticafe Bohemia is your best bet. It's a quiet place to have a lazy morning breaky, check emails, or hang out as you listen to soothing music while you sip a 'wake-up' smoothie.
Bohemia Café hosts events, open mic nights, and other special events; ask if anything's up during your visit or check the Facebook page.
Also, check out their fantastic yoga studio, where you can stretch your bones or dance to bring balance to your overall body wellness. To crown your Bohemian experience, check out their lovely boutique shop in the cafe, which sells adorable hand-crafted clothing and accessories – a beautiful wonderland of love and creativity.
Bohemia Café is open from 8 am to 2 pm every day except Sunday.
Related read: My absolute favorite brunch place in Costa Rica is called Destiny's Cafe, one of the best restaurants in Nosara.
2. Rosa – Best Casual Dinner Restaurant
Location: Nex to the Pali Supermarket in the open-air dining area
Average Price: $28 for the main dishes
Come here for: grilled meat, burgers, and seafood
Takes reservations: yes
Set back off the street away from the city's traffic, Rosa is a laid-back restaurant right in front of a vibrant market area with local vendors and entertaining musicians – a pleasant view to watch as you enjoy your meal.
Rosa offers an excellent European dining experience in Sámara. It is a small lovely place with open-air indoor and outdoor dining.
The menu includes tasty diverse delicacies from grilled meats to pan-fried seafood accompanied by a selection of delicious wines and cocktails. This is a great place to try out the meat combo or strictly vegan choices. Be warned, though, the menu and specials often change, so come prepared to eat something not mentioned here!
During our visit, the host, who also appeared to be the owner, recommended we try the tapas to start. We had the tuna poke bowl and meat platter for our mains – both were delicious. Unfortunately, we didn't hang around for dessert and instead when next door to Sweeties by Celia (mentioned lower on this list!)
Other options on the menu include; steak with shrimps, large portions of meaty country-style ribs, grilled squid, Chicken Parmesan, ceviche, filet steak with pepper sauce, steak with Roquefort sauce. I really want to try the ribs – they look so yummy!
Rosa offers superb casual dining for families and special date nights for couples. The owner, Adeline, is a charismatic and efficient host with a team of attentive staff serving excellent food, great live music, value for money, and a lovely ambiance to go with it.
Rosa is open for lunch from 11:30 am to 2:30 pm every day except Sunday and Monday, and for dinner from 5:30 pm to 10 pm every day except Sunday.
3. La Dolce Vita – Best Beach Club and Sunset Spot
Location: Right on the beach in Samara
Average Price: from $16 for main dishes
Come here for: Italian/Mediterranean
Takes reservations: yes
Strategically located only a few meters from the center of Sámara Beach, La Dolce Vita, owned by Italians, offers a beachside restaurant with magnificent views and an electric atmosphere. The beach club is my favorite in Sámara, and I love coming with friends for a lively afternoon or romantic night.
The restaurant has tasty meals with cozy indoor lounge options as well as outdoor seating that's complete with large umbrellas, pillows, and a blanket on the beach.
My fiancé and I decided to try dinner at this restaurant on my last visit. We had a small pizza with olives and a quinoa cake for the starter. Then, I tried the day's special, seared blackened tuna with mixed veggies and a cocktail. Afterward, we had a fantastic limoncello!
The food was fresh, with plenty of gluten-free menu options too. I liked the presentation, Instagram-worthy, by the way. It was a perfect meal for a perfect holiday mood with a gorgeous setting and beach view.
During the day, La Dolce Vita is an excellent place for drinks, and I highly suggest waiting around till golden hour to enjoy happy hour and the sunset. There's plenty of space to relax and hang out in the comfy bean bag beds on the beach with a magnificent ocean view.
The atmosphere is equally beautiful at night, with soft lighting in the tree branches and a warm romantic ambiance. It's a wonderful spot for a romantic dinner in Sámara.
La Dolce Vita is a must-visit if you're staying in Sámara to get the best Italian/international cuisines – I loved it!
4. Falafel Cafe – Best vegetarian
Location: Calle Central
Average Price: $4 – $6 USD
Come here for: Healthy fast food/vegetarian
Takes reservations: yes
Falafel Cafe is the ideal place to try Middle Eastern foods – with arguably the best hummus, kebab, and falafel in Sámara. This trendy café is co-owned by an Israeli, Elias Nassif, and Italian, David Rubini, and is located in a beautiful courtyard close to the beach.
Falafel Cafe serves fast food, takeaway, and casual dining. The menu is simple, offering homemade pita tortillas and hummus wraps with an optional salad; falafel wraps that include five small balls of fried; mashed garbanzo beans with herbs; Shepherd-styled El Samareño kebab meat and tzatziki yogurt sauce, with olives, cucumber, and garlic on the side. Other items on the menu include sandwich combos, fruit cocktails, and coffee.
We went there for a quick lunch and had the falafel burger, the Sámara Sandwich, a chocolate banana muffin, and pineapple and ginger juice. The food was super fresh and served in reasonable portions.
Falafel Cafe is a lovely little spot with delightful, fresh food, a nice seating area, and friendly staff. It's an ideal spot for lunch in Sámara worth stopping by.
Falafel Cafe is open from 11 am to 5 pm every day except Tuesday, and they stay open until 7:30 pm on Friday.
5. Sabor de la Montaña – Best restaurant with a view
Location: In the foothills, a 50-minute drive outside of Sámara
Average Price: $12 USD
Come here for: Food with a breathtaking view!
Takes reservations: yes
If you're looking for a food adventure in the mountains, this is it. Located in the outskirts of Sámara and surrounded by highlands, Sabor de la Montaña is the place to wine and dine with the a view. They serve local dishes tastefully made and combined with European cuisines.
Enjoy the tasty rice and beans, steak, pork chops, chicken Casados, plantains, and some seafood. To me, though, nothing beats their fresh wood-fired pizza. The dough is freshly prepared, and they actually pre-cook the base before adding the toppings to ensure a crispy base. The large pizza is big enough for two people, and it comes with quality ingredients.
Sabor de la Montaña is a casual spot and has freshly prepared food. The view from the restaurant is so beautiful, and I loved the tranquility.
If you want to visit Sabor de la Montaña, it is around a 50-minute drive from Sámara and is up in the mountains. It's certainly a restaurant in Sámara for the more adventurous.
Sabor de la Montaña is open from 9 am to 5 pm Monday to Thursday, 9 am to 8 pm on Friday, and 9 am to 9 pm on Saturday and Sunday.
6. MamaGui – Best Authentic Italian Food
Location: near the Catholic Church
Average Price: $25 USD upwards for the main dishes
Come here for: Fine dining Italian and Mediterranean food
Takes reservations: Yes
MamaGui is a small contemporary Italian restaurant in the heart of Sámara that serves Italian and Mediterranean dishes, tasty cocktails, and a range of European wines. Come here for sophisticated dining to enjoy the delicately prepared meals.
The owner/chef, Gigio Palazzo, does great dish combinations such as the marlin sashimi, tagliatelle pasta with red snapper, and more. You'll also find delicious steak, pork chops, and grilled squid.
We started our visit off with a Hendricks Dry Martini and the exceptional Montepulciano D'Abruzzo, a perfect choice for our main dish – a deliciously made Cavatelli al ragù de salsiccia di agnello.
Gigio does great food combinations between flavor and quantity. You've got to try their pizza too, definitely the best I've tasted while on holiday.
The bar has a large drinks menu with pros crafting fabulous, tasty, and artful garnished cocktails that add to the entire fine dining experience.
The ambiance and stylish low-key decor creates a calm, romantic atmosphere to enjoy the artistically crafted varied menu. MamaGui offers the finest, charming and vibrant dining experience in Playa Sámara.
MamaGui is open from 5 pm to 11 pm every day, and you can view their menu here.
7. Gusto Beach Sámara – Best daytime beach club with amazing pizza
Location: On Sámara Beach
Average Price: $25 USD for main dishes
Come here for: Delcious food while at the beach
Takes reservations: yes
Right on the beach, this restaurant is an excellent spot with stunning views! Gusto Beach Sámara is one of my favorite restaurants on Sámara Beach. It has consistent quality food from breakfast to dinner.
During the day, you can laze around on their lounge chairs and order food and cocktails all day. So long as you get one meal, the high-quality beach chairs complete with an umbrella are yours to enjoy. That's one of the reasons I visit so often!
The menu has a touch of Italian flavors combined with Costa Rican local dishes. The portions are pretty generous. They have the yummiest smoothies, focaccia Caprese, chocolate croissants, pizza, chips and guacamole, sea bass ceviche, and fresh seafood dishes.
We had lunch – started with a lovely ginger lemonade and red sangria and then finished with pasta and pizza! Try the Aperol spritz, banana smoothie, and focaccia caprese. The mozzarella dissolves in your mouth like smooth, warm chocolate.
The entertainment brings the place to life with great music. It's the best place to make new friends, by the way, and the ambiance is something else! Simply impeccable.
Overall, Gusto is one of the finest beach restaurants in Sámara! The staff is friendly and attentive, giving you a perfect beach dining experience.
Gusto Beach Sámara is open from 8 am to 11 pm every day.
8. L'Authentique – Best tapas and wine bar
Location: in front of Hotel Floe De Coco, Playa Sámara (one of the best hotels in Samara)
Average Price: $18 for main dishes
Come here for: French cuisines, tapas, and wine.
Takes reservations: yes
L' Authentique is home away from home. The ambiance, food, and service team welcome you as if you were long-lost family or friends returning after a long trip. Julien and Eva are the charming, ever jovial couple. They are attentive, efficient, and super friendly.
This French-owned tapas restaurant and wine bar is famous in Sámara for the authentic imported cheeses, paired perfectly with charcuterie with a selection of tasty European/ South American wines. The food portions are small for the price, but the quality is unmatched.
We tried the day's special – Assiette (assorted cured meats), with a variety of cheese and chilled Argentinian wine. Unforgettable! We also tried their French bread (baguettes) and camembert cheese, which were exceptionally delicious and genuinely French.
You can try the tapas platter, which is sooo huge! I bet it's delicious too. We saw this from a family of six seated across our table and almost changed our order. I bet they enjoyed themselves big time.
The restaurant has this cute vintage van for couples where you can have a nicely done dinner table with an assortment of starters and chilled wine – gaze into each other's eyes as you watch the sun go down. It's such a beautiful romantic setting. Everything about L'Authentique is breathtaking!
L'Authentique is open from 5 pm to 11 pm every day, and you can view their menu here.
9. Marisqueria Colochos – Best affordable seafood
Location: near Rancho de la Playa Sámara
Average Price: $12-$20
Come here for: Affordable food.
Takes reservations: yes
Marisqueria Colochos is located away from the main street, a little bit after Casa Esmeralda. The place is rustic but well maintained – don't be put off by the lackluster, the food is out of this world!
The local "Soda" has a few dining tables and a surfboard at the entrance. The place looks and feels more homely than the regular beachfront restaurants and is much cheaper than most eateries in Sámara!
I loved the fresh fish ceviche, served with crackers. The seafood dishes/platters/seafood soup is great too – try their lobster and grilled squid, very fresh and yummy. They also have chicken Casado served with a great choice of chilled wine.
Make your reservations on time because everything is done by the owners, from prepping the dishes to cooking and serving. It may take quite a chunk of your time, so don't be in a hurry when you check in to eat, but it's all worth the wait. Of course, the typical Casado meals come fast and cheap.
The friendly prices attract more visitors every day. Overall, the food, drinks, and service are excellent and friendly, all under $20.
At Marisqueria Colochos, lunch is served from 12 pm to 4 pm, then dinner from 6 pm to 9 pm.
10. Sweeties By Celia – Best dessert
Location: Playa, Sámara
Price range: Around $4 USD for a slice of cake
Come here for: the best desserts and pastries
Takes reservations: yes
Sweeties By Celia is a charming spot in Sámara next to Pali in an outdoor food court. The evening atmosphere is magical with a lovely ambiance and is comfortable too. It offers a simple menu featuring pastries and both vegan and non-vegan dishes.
Bursting with joy along with her coworker, Celia, the owner, will certainly brighten your day with her infectious and charming personality. She speaks seven languages and makes all her visitors feel welcomed and valued. She's a ball of energy and loves making people happy through her food and pastries.
Don't be fooled by the name. This restaurant serves wholesome meals alongside lovely pastries, ice cream, and fruity smoothies.
Enjoy some delicious treats such as chocolate truffle cake, carrot nut cake, lemon cream cake, burritos, shawarmas/ kebab. Dinner includes flavorful chicken pineapple curry, burrito, and pumpkin spinach.
The food fusion is unmatched. Try the chicken plate or the burrito – both have the best-layered flavors. The service staff is equally joyful and provides exceptional customer service.
Overall, Sweeties offers incredible comfort treats, simple tasty with excellent service from Cecelia and her team – charming you always with their beautiful smiles and pleasant personality.
Sweeties By Celia is open from 11:30 am to 9:30 pm every day, and you can view their menu here.
Must-do Activities While You're in Samara
Werner Sauter Biological Reserve – Werner Sauter Biological Reserve is a small private reserve located not far from Sámara. It's the best place to visit near Sámara if you want to see a huge range of wildlife including monkeys, birds, and reptiles. Tours to Werner Sauter cost around $50 USD per person and are guided. This specific tour includes pick-up from town as well as a 2.5 hour guided hike through the reserve.
Go snorkeling at Isla Chora – Isla Chora is a small island that is part of the reef that protects Sámara from heavy ocean swells. It's a beautiful place to visit for the secluded beaches, but the highlight is without a doubt the snorkeling. Kayaking tours from Sámara are top-rated and involve a short 30-minute paddle out to Isla Chora before relaxing on the beach and snorkeling the reef. The tour we did was excellent and our guide, Luis, was such a fun and knowledgeable person.
Turtle nesting tour – Turtles are one of the highlights of Costa Rican wildlife. Thousands of turtles visit the Pacific coast every month to lay eggs on the pristine beaches, and visitors can see both adults laying eggs and babies hatching. This specific tour visits one of three beaches depending on the time of year to see turtles.
Macaw Recovery Network – The Macaw Recovery Network is a center of volunteers and wildlife experts whose mission is to recover endangered Neotropical parrot populations. Although you can find many macaws in their care, they are focused on the Great Green Macaw – a critically endangered species. You can do this guided tour with an expert and see the macaws in their natural habitat.
Related Read: Be sure to read our guide to choosing where to stay in Samara including the absolute best hotels!
Getting Around Costa Rica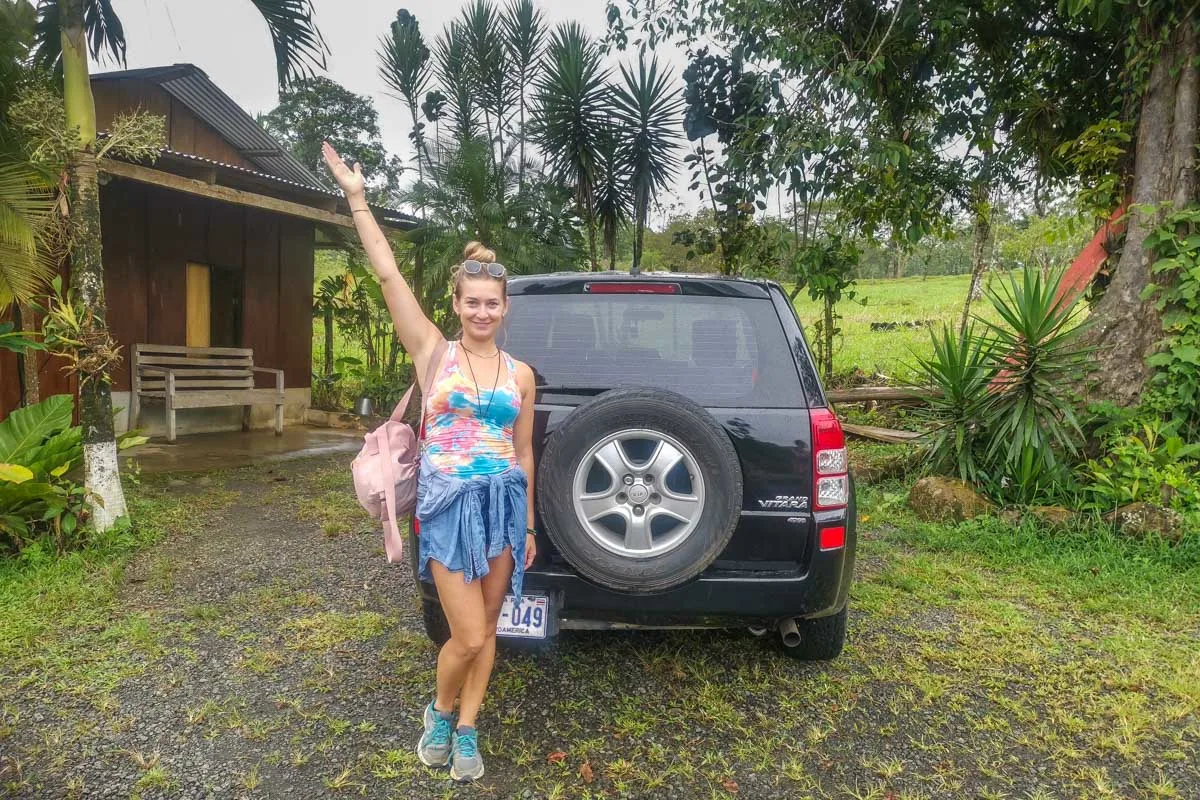 How you choose to get around Costa Rica is one of the biggest decisions you'll make when planning your holiday here! How you do it depends on your budget, travel style, and comfort level.
Renting a Car
Without a doubt, the number one way to explore Costa Rica is in a rental car. We book rental cars on the Discover Cars website as we have had good experiences with them in the past.
One of the things you need to watch for when renting a car in Costa Rica is the mandatory insurance that the government requires you to have. There are a lot of very cheap rentals that don't include this mandatory insurance (TPL) in the original booking price, but there are also ones that do. To avoid additional surprise charges when you pick up your rental car, be sure to rent a car that includes the mandatory insurance when you book.
Thankfully, on Discover Cars it's easy to tell apart the companies that include the mandatory insurance and those that don't. The trick is you can't pick any car on their website. In the picture below, you can see this rental car, with pick up in Jaco, includes the TPL. That means the mandatory insurance is included in the price. Any cover you get above that is extra.
Of course, I still suggest getting the full coverage offered by Discover Cars, which covers you even more.
You can browse cars on Discover Cars here.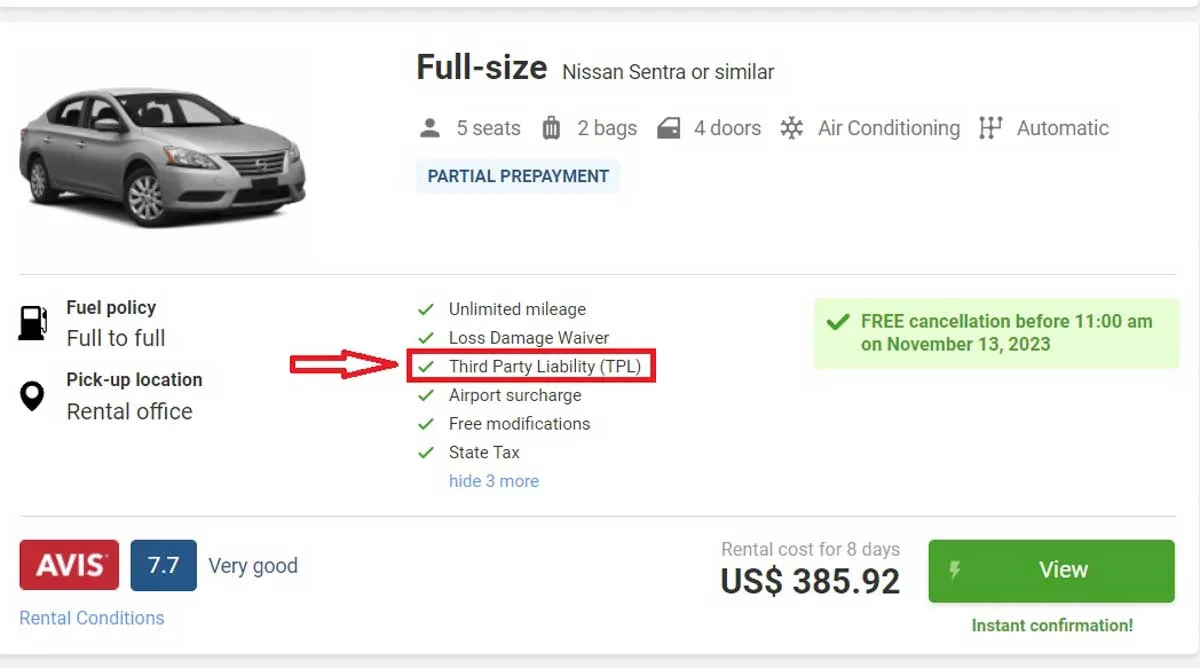 Book Shuttles
If renting a car isn't in your budget, you don't feel comfortable driving in Costa Rica, or you just don't like driving, shuttles are the next best option. There are hundreds of shuttle routes available all over the country, and they are very affordable.
Shuttles in Costa Rica are specifically for tourists and often include pick up and drop off at your selected hotels and airports. The drivers also speak some English, and the vehicles have air conditioning. You'll also be guaranteed a seat when you book a shuttle (which isn't the case with the public bus system.)
To get the best price, use the website Bookaway. They compare all the offers and prices of shuttle companies in Costa Rica so you get the best price! Honestly, we have saved so much money using Bookaway!
You can search for shuttles online on Bookaway here.
Public Bus
Lastly, you can use the public bus system. On short journeys, such as from San Jose to La Fortuna or Uvita to Manuel Antonio, this system is great. However, the longer the journey the more hassle and time spent on a bus. It's undoubtedly best to save the public bus in Costa Rica for short and straightforward trips!
The public buses are definitely the cheapest way to get around Costa Rica, but they are not always very reliable and schedules often change without notice and delays are to be expected. The buses can also be very crowded and hot – so just be prepared!
It's also good to speak some Spanish if you plan on riding the public bus since most drivers and ticket booth operators don't speak English.
Pura Vida!
Those visiting Samara will be presently surprised at the quality and price of the restaurants around town. I never have trouble finding great places to eat when I visit and I hope that my list of favorite restaurants in Samara grows.
Thanks so much for reading our blog and putting your trust in us to help plan your epic adventure in Costa Rica. I hope you find what we share helpful and inspiring. If you do, be sure to check out more of our blogs such as:
Things to do in Nosara, Costa Rica