This blog may contain affiliate links. Read our disclosure policy for more info.
I am a huge craft beer fan, and when I'm traveling through a new country, there's nothing I love more than sampling some awesome craft beers. In fact, I always try to visit as many breweries as I can when I'm visiting a new town or city because I find it a great way to meet like-minded people, and I also get to try some really unique and flavorful beers. Plus, let's face it, there's nothing more relaxing than enjoying an ice-cold Pale Ale or IPA in the sunshine!
Luckily, one of the best things to do in Costa Rica is to try craft beer. With so many breweries around the country, you're spoiled for choice.
So, if you love craft beers as much as I do, you will love this list of 10 of the best breweries in Costa Rica; I've tried a lot of breweries in this country but this list only has the best of the best! I've also included all everything you need to know from where the brewery is located, the type of beers they serve, as well as the best dish to order (if they do food)! It's the ultimate guide to the best craft breweries in Costa Rica!
Don't have time to read the full article? Our absolute favorite brewery in Costa Rica is PuddleFish Brewery in Jaco which is known for its balanced flavors. I really loved the mango pale ale and strong IPA! Another cool thing about this spot is that it's located within a factory known as Colectivo Sin Zapatos, which is also home to a surfboard building business, a skate bowl, a mixology bar, and more!
The BEST Breweries in Costa Rica
1. Monteverde Brewing Co
One of the best things to do in Monteverde is to enjoy a cold beer at Monteverde Brewing Co., near Hotel Miramontes in the La Virgen neighborhood.
Monteverde Brewing Co uses local water rich in minerals and local ingredients like organic coffee and fruit. The beer is produced in small batches for high quality and premium freshness.
I highly recommend taking a tour at Monteverde Brewing Co. It starts with a 16 oz pint of beer, five 6 oz samples, and a full look around the production facility. The cost is $35 USD per person, and there's also a non-alcoholic version of the tour for $25 USD. After the tour, stay here for a meal with their yummy burgers marinated in a red ale. It's one of the best meals we had in Monteverde.
Note: Currently the Monteverde Brewing brewery tour is not available for booking online but you can contact them to ask about it.
2. Belmar Craft Brewery
Another great place to grab a drink in Monteverde is Belmar Craft Brewery which also boasts an epic view of a stunning natural spring lake! It is the perfect spot to relax after a long day of exploring Monteverde!
This taproom and beer garden is located 100 meters (328 feet) north of the gas station in town. What I think is pretty cool is that all the artisanal ales here are brewed with water from their spring in the cloud forest, and some even include ingredients from the brewery's organic garden.
They serve up a varied selection of seasonal beers, together with the very popular Aurora Pale Ale (my favorite beer here), which has hints of lemongrass. Another bestseller is the Nubosa Tropical Stout which has coffee and chocolate undertones – yummy!! It's worth noting Belmar Craft Brewery is open from 11 am to 10 pm Wednesday to Sunday and 11 am to 8 pm Monday and Tuesday.
Related Read: Learn about the best foods to try in Costa Rica!
3. Guiones Brew Co.
If you plan to visit the small beach town of Nosara during your time in Costa Rica, I urge you to try Guiones Brew Co., which recently opened in the town. This small establishment is one of my favorite breweries in Costa Rica because they also serve up delicious wood-fired pizzas (one of the best restaurants in Nosara), which pair really well with their craft beer! Plus, the pizzas cost just $10 USD, which I think is great value for money!
Although they usually only have a couple of beers on tap, what they do, they do well. I have to admit, my favorite is the IPA, but they also have a really yummy Pale Ale.
Guiones Brew Co. is open Monday to Saturday and opens at 5 pm, but it's best to head here after 5 pm for a better atmosphere. It can also get really busy here, so make a reservation to avoid disappointment.
4. Puddlefish Brewery
PuddleFish Brewery is a boutique brewery in the town of Jaco. What's cool about this spot is that it's located within a factory known as Colectivo Sin Zapatos, which is also home to a surfboard building business, a skate bowl, a mixology bar, and more! And it's a great spot to connect with artists and other creative types!
Their craft beer is renowned for its balanced flavors, and there's a great story behind the creation of each beer. You can try their beer in the tasting room or from the pub, which also serves food truck-style food (I highly recommend the Cuban Sandwich or the burger, which is huge!). In fact, this was one of our favorite places to eat in Jaco.
The bartender was alert and let us try each of the beers until we found our favorite – I really loved the mango pale ale and strong IPA! Overall, the food and beer experience was unforgettable – coupled with a great atmosphere and awesome helpful staff.
PuddleFish Brewery is located on Calle Madrigal, near the Delta Gas Station, and is open from 12 pm to 10 pm Tuesday to Sunday; and food menus include brunch, lunch, and dinner options. The food is also affordable, making dining here one of the best cheap things to do in
Related Read: If you're heading to Jaco, be sure to check out our guide on where to stay in Jaco including the best hotels.
5. 2 Gringos Artisan Brewing
2 Gringos Artisan Brewing is an excellent brewery located in the pretty town of Samara. It's conveniently located right in the middle of town, and I must admit, 2 Gringos is one of the best breweries I have visited in Costa Rica.
On tap, you'll find a huge selection of beers; during my visit, there were over 24 on offer! They range from hoppy IPAs to crisp pilsners and fruity sours. Seriously, there is so much to choose it will take you a long time to decide which one to order – but not to worry, the friendly bar staff will help you make a decision!
I should note that a beer at 2 Gringos costs around 5,000 colones ($9.50 USD), which is pretty pricey for Costa Rica. With that said, I really enjoyed their beer!
Note: 2 Gringos Brewing tasting room is located in Coco's Mexican Restaurant, one of the most popular restaurants in Samara. So, you can eat delicious tacos while you drink beer – it's a win-win!
6. Lake Arenal Hotel and Brewery
The Lake Arenal Hotel and Brewery is the perfect place to relax with a cold beverage after a long day exploring the famed Lake Arenal. But it's a 1.5-hour drive from the closest town of La Fortuna; therefore, I recommend spending the night here so you can enjoy a few drinks, explore the property, and not drive back to La Fortuna that night.
This brewery is situated on a 15-acre organic farm and has a big focus on green energy. Would you believe all the craft beer here is made with pure spring water and brewed with 100% solar electricity and bio-diesel? In fact, this is the first eco-brewery in the country!
My top recommendation for this establishment is to try their Paradise Pale Ale; it's my favorite and has a distinct hoppy flavor and is made using Nelson, Centennial and Cascade hops. They also serve up Costa Rica's first fruit beer, the Piña Blonde, which is created with organic pineapples. Or another popular option is the Chili Birra, a blonde ale with a spicy kick from campana chilis grown on the farm.
Related Read: While in the area, check out the best hot springs in La Fortuna!
7. Costa Rica Beer Factory
In the bustling city of San Jose, in the Barrio Escalante district, to be exact, is this excellent microbrewery. In fact, Costa Rica Beer Factory is the most-awarded brewery in all of Costa Rica.
It's a popular spot with locals, and the weekends can get pretty busy. Their beers include the famous Escalante Red Ale, Puerto Viejo Sweet Stout, and my go-to order, the Tortuguero IPA. All of their beers are created using premium local ingredients. They also offer a varied food menu serving pizzas, salads, burgers, and more! Some people even say it's one of the best pub-style restaurants in San Jose.
A cool new beer they're brewing here contains blueberry and coconut flavors – I can't wait to try it when I return to San Jose.
They even run a beer school where they will teach you all about the brewing industry and how to create your own delicious craft beers; this is more suited to large groups as a minimum of 10 people are required for the course to go ahead. They also offer brewery tours in person if they aren't too busy.
8. Fuego Brewing Co.
Dominical may be a small hippie town, but it still has a fantastic craft brewery. Fuego Brewing Company is one of the best breweries in Costa Rica; it's surprisingly large and is located just off the main street in the town.
Because of its slightly hidden location, Fuego Brewing is quite a peaceful spot to enjoy a beer, and it's surrounded by nature! The gorgeous bar and restaurant here are elevated off the ground, while the brewery sits below the bar, and part of the flooring is glass, so you can see the tanks and brewer at work – it's a super unique experience!
There are eight beers on tap here, including an ale, pilsner, IPA, kolsch, and pale ale. My favorite, however, was the Kaka mango pale ale, it's so fruity and delicious! They also serve food – we tried the Poke Bowl and the Lobster Sandwich, and both were really good! It's a great place to eat in Dominical!
9. Butterfly Brewing Co.
Located not far from Montezuma town, the small Butterfly Brewing Co. is surrounded by nature and boasts a beautiful outdoor balcony overlooking a lush forest. They had four beers on tap during my visit, and I loved them all – the IPA and Pale Ale are especially good. They also serve food here, and I hear their black bean burger is delicious; in fact, this is a great option for food in Montezuma if you're vegan or vegetarian!
There used to be a butterfly garden connected to the brewery, hence its name. Unfortunately, it was closed on our last visit.
Butterfly Brewing Co. is a short drive or walk out of town. However, be prepared for a steep climb up the hillside if you walk. They do not accept credit or debit cards here, so be sure to bring cash with you!
10. Whale Tail Brewery
Whale Tail Brewery is the local brewery in the small town of Uvita, and it's renowned for serving delicious craft beers to thirsty travelers and locals. Plus, it often has live music acts playing! It's safe to say; that it didn't take me long to get to know this establishment while I was staying in Uvita!
The brewery is small, but it has plenty of room for you to enjoy a refreshing craft beer at its bar, which is attached to the brewery. They serve only a few beers here, including a pale ale and an IPA, but the best thing about this spot is their prices – each beer here costs just over $5 USD, so you can certainly enjoy a few on a budget.
They also serve food and cocktails, so everyone will find something they love.
The BEST Things to do in Costa Rica
While there are so many fun things to do in Costa Rica, a couple of specific attractions and activities stand out amongst the rest. They are:
Explore Volcanoes
There are some impressive (and beautiful!) volcanoes that you'll want to check out while you're here.
Poas Volcano is known for its bright blue crater lake. Poas Volcano is most commonly visited on a day trip from San Jose. This Poas Volcano tour from San Jose is one of the best you can do since it also includes a visit to the La Paz Waterfall Gardens as well as a coffee farm.
Arenal Volcano is also one of Costa Rica's top attractions. Arenal Volcano is located closest to the town of La Fortuna. You can book this full-day tour from La Fortuna that takes you to the volcano to hike, the famous La Fortuna Waterfall and even a hanging bridge – it's a full day of adventure!
Chase Waterfalls
La Fortuna Waterfall is one of our favorite waterfalls in all of Costa Rica. You can easily visit it on this full-day tour in La Fortuna that also visits hot springs.
Rio Celeste is another beautiful waterfall that is famous for its bright blue water. Rio Celeste is a popular attraction to visit from Guanacaste Province and this particular tour includes transport from there. Alternatively, you can book this tour from La Fortuna or this tour from San Jose.
See the wildlife
Costa Rica is the place for wildlife lovers! One of the best places to see lots of animals in their wild habitat is at Manuel Antonio National Park. With the help of a guide you will see plenty of birds, monkeys, and even sloths! This particular tour is super popular and also has amazing reviews, so you really can;t go wrong.
There are also lots of wildlife rescue centers around the country that are worth visiting. The Jaguar Rescue Center in Puerto Viejo is one of our favorites as well as Rescate Wildlife Rescue Center in San Jose where you can book this private tour.
Getting Around Costa Rica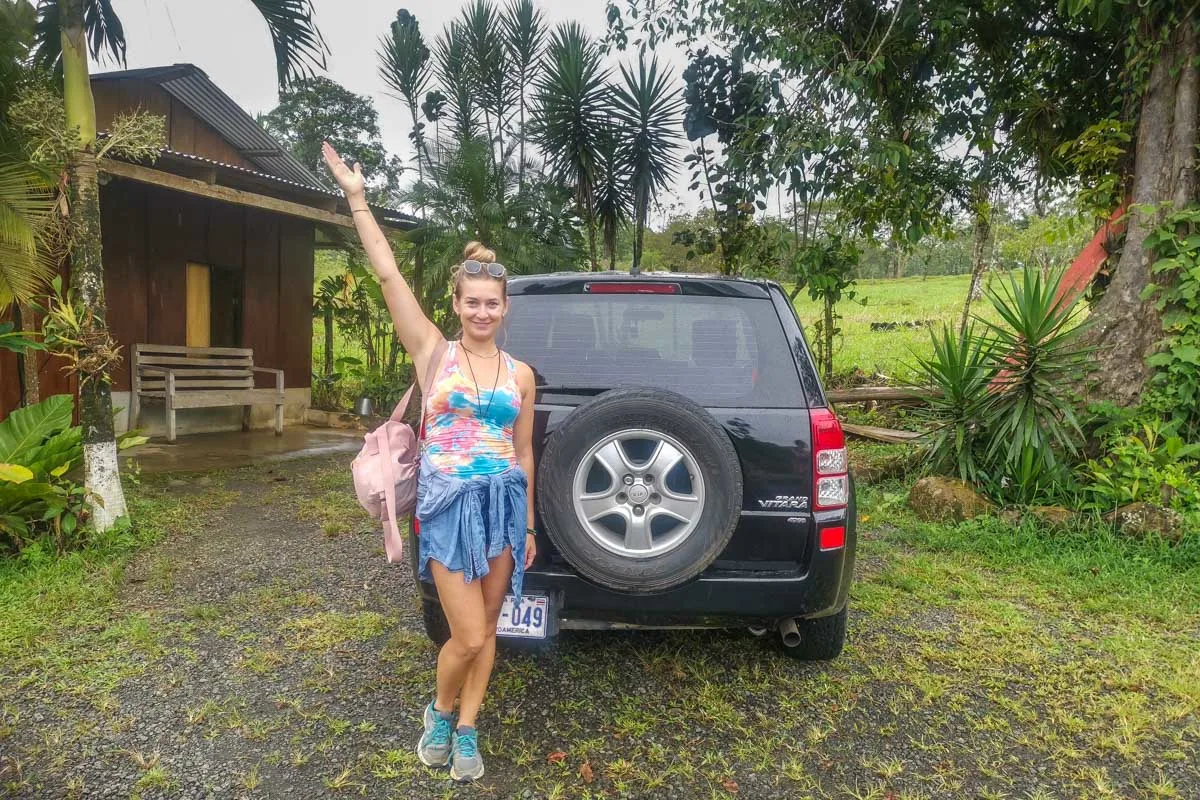 How you choose to get around Costa Rica is one of the biggest decisions you'll make when planning your holiday here! How you do it depends on your budget, travel style, and comfort level.
Renting a Car
Without a doubt, the number one way to explore Costa Rica is in a rental car. We book rental cars on the Discover Cars website as we have had good experiences with them in the past.
One of the things you need to watch for when renting a car in Costa Rica is the mandatory insurance that the government requires you to have. There are a lot of very cheap rentals that don't include this mandatory insurance (TPL) in the original booking price, but there are also ones that do. To avoid additional surprise charges when you pick up your rental car, be sure to rent a car that includes the mandatory insurance when you book.
Thankfully, on Discover Cars it's easy to tell apart the companies that include the mandatory insurance and those that don't. The trick is you can't pick any car on their website. In the picture below, you can see this rental car, with pick up in Jaco, includes the TPL. That means the mandatory insurance is included in the price. Any cover you get above that is extra.
Of course, I still suggest getting the full coverage offered by Discover Cars, which covers you even more.
You can browse cars on Discover Cars here.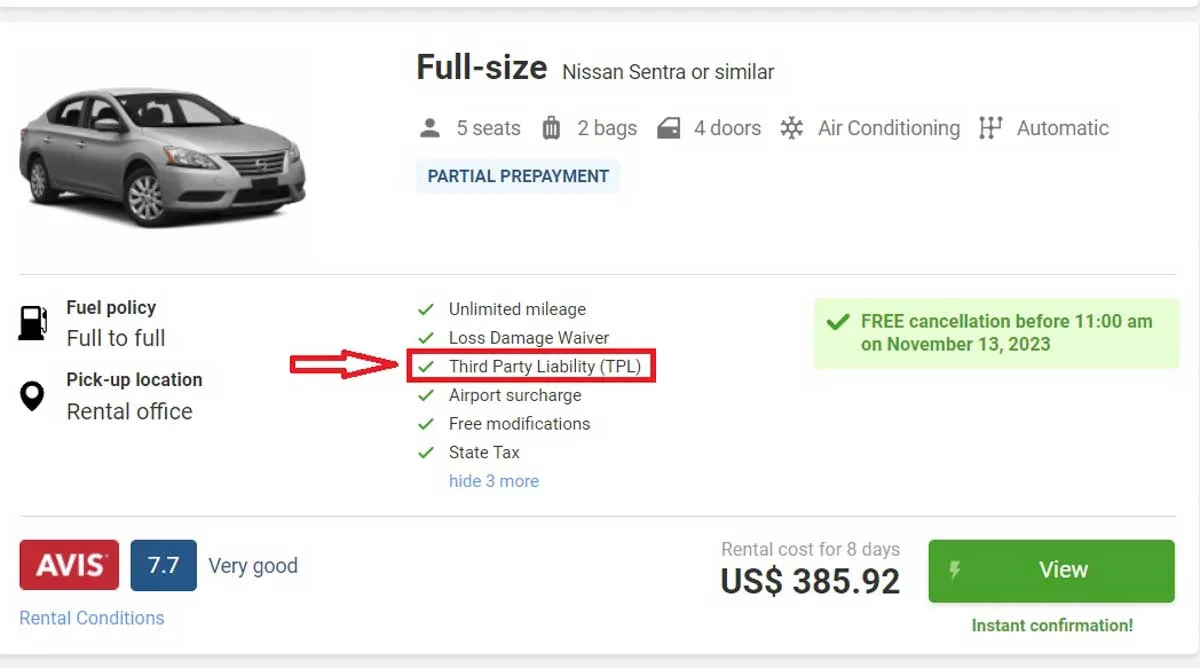 Adobe Rental Rent A Car is another rental company that we most often use in Costa Rica. We love them because Adobe has 15 offices around Costa Rica and delivers door-to-door around their offices at no extra cost. We also are pleased that all of their cars are new. In fact, they are never older than 2 years to the date. They are also the only company to include mandatory insurance and promise no hidden fees. You can get a free quote for a rental car from their website here.
Book Shuttles
If renting a car isn't in your budget, you don't feel comfortable driving in Costa Rica, or you just don't like driving, shuttles are the next best option. There are hundreds of shuttle routes available all over the country, and they are very affordable.
Shuttles in Costa Rica are specifically for tourists and often include pick up and drop off at your selected hotels and airports. The drivers also speak some English, and the vehicles have air conditioning. You'll also be guaranteed a seat when you book a shuttle (which isn't the case with the public bus system.)
To get the best price, use the website Bookaway. They compare all the offers and prices of shuttle companies in Costa Rica so you get the best price! Honestly, we have saved so much money using Bookaway!
You can search for shuttles online on Bookaway here.
Public Bus
Lastly, you can use the public bus system. On short journeys, such as from San Jose to La Fortuna or Uvita to Manuel Antonio, this system is great. However, the longer the journey the more hassle and time spent on a bus. It's undoubtedly best to save the public bus in Costa Rica for short and straightforward trips!
The public buses are definitely the cheapest way to get around Costa Rica, but they are not always very reliable and schedules often change without notice and delays are to be expected. The buses can also be very crowded and hot – so just be prepared!
It's also good to speak some Spanish if you plan on riding the public bus since most drivers and ticket booth operators don't speak English.
Invest in Travel Insurance
Paying out of pocket for trip interruptions or medical treatment will add to what might already be a stressful situation. We always travel with SafetyWing travel medical insurance.
The best part is that it costs only a fraction of what most insurance policies charge, which makes it perfect for digital nomads, long-term travelers (like us), and budget travelers. It only costs $45 USD per 4 weeks!
To start coverage, you must purchase it after leaving your home country. We usually purchase it as soon as we land at the airport.
Since using SafetyWing we've been reimbursed thousands of dollars when we've gotten sick. During the pandemic, they've even gone as far as to pay for our last-minute flights back to Canada from Colombia before the border closed!
You can click here to get a quote and read all the details!
Pura Vida!
As you know, sampling delicious craft beer is one of my favorite ways to get a taste of the local culture while enjoying a relaxing evening. And I really loved putting together this list of the best breweries in Costa Rica, even though it made me really thirsty! I can't wait to go back and visit these great breweries on my next visit to Costa Rica!
I hope this blog has helped you decide which breweries to try while you're in Costa Rica! If it has, be sure to browse around and check out more of our blogs. We have so much to tell you about this wonderful country, such as:
Delicious foods you have to try in Costa Rica
Where to stay in Costa Rica – The BEST Areas