After spending quite a lot of time in La Fortuna, I would best describe it as heaven for wildlife lovers. I mean, in what other town in the world can you see sloths and howler monkeys while wandering around town?! Add in a few hot springs, and you've got the perfect combination for a tourist hot spot.
In a town as popular with tourists as this, it may be hard to believe that many of the best things to do in La Fortuna are either free or really cheap! Yep, you don't have to spend a lot to have fun in this picturesque region! For one, there's an awesome free natural hot springs river outside of town, as well as a fun rope swing that goes over a lovely river.
If you don't mind spending a little, then why not consider a sloth-watching tour for as little as $30 or hike up a huge volcano and only pay between $10-$12 for the unique experience?
I'm a big advocate for budget travel, which is why I've come up with this list of 15 of the best free and cheap things to do in La Fortuna. There's a purse-friendly activity for everyone on this list!
Best FREE Things to do in La Fortuna
1. Chill out in the Free Natural Hot Springs River
One of the best free things to do in La Fortuna is the free hot springs!
Its proper name is the Free Natural Hot Springs River, and it's a river that runs through the luxurious Tabacon Hot Springs Resort. From where the river leaves the resort, the public can use it free-of-charge.
You'll find these hot springs located a 15-minute drive out of La Fortuna downtown, and you must park along the highway. It's worth noting that unofficial parking inspectors will charge you to park here, and they charge between 1,000 – 3,000 colones. My top tip is to tell them you paid 1,000 colones yesterday, which should haggle the price down quickly. You are not legally required to pay them, but it is a small fee, and these 'inspectors' do help to direct traffic when you're pulling in or out!
When you park, the inspectors will point you in the direction of the river, which is located just below the bridge. Go right or left at the bridge and then sink into the warm water of the river, and relax! The left-hand side gets the most sunlight, but if it's a really hot day, it's best to go to the right side where it's cooler.
If you can, try to head here for sunset, take some candles with you, and watch the sunset from your prime seat (in the warm river). It does get very busy here in the evening, so plan ahead and try to get here early evening or stay late.
2. Visit El Salto (Rope Swing)
After a couple of days in La Fortuna, you'll quickly realize that most activities cost money. So, if you're on a tight budget, follow the local's lead and enjoy one of the most unique free things to do in La Fortuna – the El Salto rope swing!
This rope swing is over a gorgeous river and is best described as a hidden gem in La Fortuna. There are also waterfalls, a dense forest, and deep swimming holes here, so it's easy to spend a couple of hours.
It's located just off the main highway in town, and there are always loads of local kids jumping into the river from the rope swing. Consider these experts, and if you're unsure where to jump, just ask them, and they will point you in the right direction.
It's an easy walk to El Salto from town, but if you have a rental car, you can drive yourself and park at the bridge. There are unofficial parking attendants here too, and they typically charge 1,500 colones per vehicle.
3. Spend a day at Lake Arenal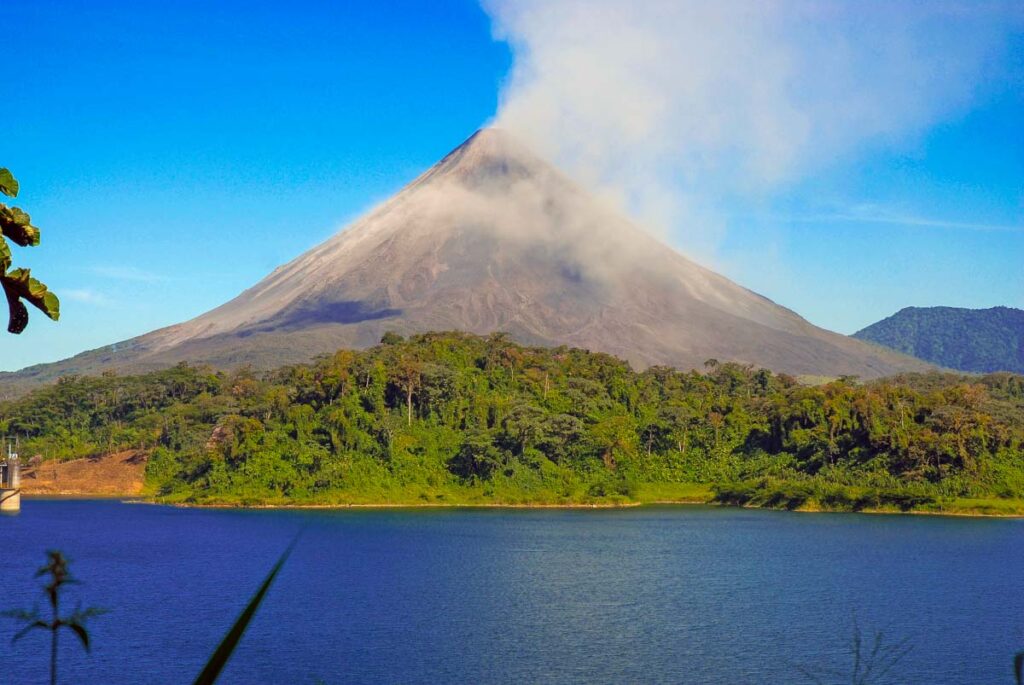 Lake Arenal is the largest lake in the country and is situated at the base of Arenal Volcano not far from La Fortuna town. You can come here to relax and enjoy the view. Of course, if you wish, there are lots of paid water activities available at the lake, such as windsurfing, kayaking, and SUP'ing!
If you plan to be at Lake Arenal in the evening, then consider this sunset cruise which includes snacks and Costa Rican moonshine to sip as the sun sets. It costs $67 USD per person and is 2.5 hours long.
Another fantastic option is this stand-up paddleboard (SUP) tour to the middle of Lake Arenal. Take in the incredible volcano views from the water on this tour, which also includes a lesson on the shore before you hit the water – so it's ideal for beginners! A boat will then transfer you and your board to the middle of the river, where you'll hop on your board. Transport from La Fortuna is included in the price (which is $77 USD for 2.5 hours).
And finally, kayaking is a very popular activity on Lake Arenal, and this specific tour is a great option for a 2.5-hour paddle on the lake. Paddle on the calm lake and spy the giant Arenal volcano on one side and the rainforest on the other. It's also a great opportunity to see some of the birds of Costa Rica, such as the Great Blue Heron and the Kingfisher, and you may be lucky enough to see howler monkeys too!
4. Browse the shops
If you're on a budget, you don't need to take souvenirs home with you, but you can still browse the many cool shops in La Fortuna. There are many traditional souvenir shops in the town selling the usual postcards, magnets, and t-shirts, but there are also specialized craft shops and art galleries here and wandering around them is a great way to spend a few hours in La Fortuna!
I recommend visiting the popular Souvenir Leo, which is just outside town. Owned by Costa Rican couple Leo and Marisol, this store sells handmade wares, such as wood carvings and jewelry, using natural materials like coconut, wood, seeds, and gourds. There's also a gorgeous garden filled with orchids and even a few parrots that you can take photos with.
Another great store I recommend browsing is Coco Loco Art Studio and Gallery, which is a fair-trade gallery that sells original artwork from local artists. There's lots of cool art on display here, from colorful paintings to traditional Costa Rican masks, ceramics, and mirrors. The owner here, Ruth, also has her personal art studio here, so you may even see the master in action!
5. Hike to Hule Lagoon
Hule Lagoon is a beautiful lagoon at the base of the Cerro Congo Volcano. This area is well known for great hiking trails, and the best part is that access to these trails is completely free! The main trail here stretches 4 miles (6.5 kilometers) and is considered one of the best hikes in La Fortuna!
This trail takes you around the rim of a volcanic lake and through the rainforest. There's even a viewpoint over the Toro Hydroelectric Project where you can see waterfalls that are a huge 590 feet tall! It's quite a difficult hike, so I only recommend this hike for those with a good level of fitness.
If you prefer, you can book a full-day tour with a guide, which also includes lunch at a local family home and transport to/from La Fortuna! This specific tour costs $152 USD per person.
Related Read: Traveling around more? Check out the best free and cheap things to do in Tamarindo, Costa Rica!
Best CHEAP Things to do in La Fortuna
6. Rio Celeste
There are many rivers in Costa Rica, but few are as pretty as Rio Celeste, which is situated about a 1.5-hour drive from La Fortuna. It is consistently regarded by visitors as one of the best things to do in Costa Rica because of its stunning bright blue color. It gets its color from the mixing of two rivers – one with acidic water and the other with neutral water, thus creating enough particles to reflect light. A similar phenomenon to glacier lakes.
Despite the long-ish drive to get there, it's still one of the best cheap things to do in La Fortuna because the entrance fee is just $12 USD per person (you can only pay by credit card/debit card at the entrance.) If you drive here, you will need to pay an additional $5 USD upon arrival (this can be paid in cash.)
Hiking the 3 km (1.9 miles) Rio Celeste Trail is the best way to see the top attractions here, including Rio Celeste Waterfall, Borbollones (aka Bubbling Hot Pot), and Teñideros (the point where both rivers meet.)
Rio Celeste Waterfall is located a 30-minute walk from the entrance, and the falls can be accessed via a steep staircase, which is so photogenic. Further along the trail, you'll come to Borbollones, and you'll smell it before you see it, thanks to the large concentration of sulfur in this part of the river. The trail ends at Teñideros, which is, as I mentioned, where both rivers meet, and the water is so blue here!
If you're driving to Rio Celeste, be sure to leave La Fortuna before 7 am so that you get there before the crowds arrive.
Alternatively, a guided tour is a great way to explore this region and costs just $90 USD per person and includes lunch, transport from La Fortuna, and a knowledgeable guide.
7. Join a Sloth Watching Tour
Sloths are one of my favorite animals, and I'll never get over how many you can see in La Fortuna. Even just walking around town, I've randomly seen a couple! But if you're just in town on a short vacation, the best way to guarantee to see these cool creatures is on a guided tour.
This tour explores an area known well known as sloth's territory; it's a 1-2 hours tour and costs as little as $30 USD, so it's a great cheap activity in La Fortuna for those on a budget. The tour is held on a private reserve operated by a local family and is a 10-minute drive from downtown La Fortuna.
On this guided hike, you will see both two and three-toed sloths (and, if you're really lucky, baby sloths!) There are also other wildlife on-site such as frogs, toucans, hummingbirds, and parrots. Your hike ends with a snack of fresh fruit, which is grown at the owner's organic farm!
8. La Fortuna Waterfall
La Fortuna Waterfall is, without a doubt, one of the most stunning waterfalls in Costa Rica. This huge 230-foot (70-meter) waterfall shoots out from a cliff into a pool below and is surrounded by lush rainforest.
Thankfully, you can visit this waterfall easily and cheaply – the entrance to the falls is $18 USD, and you can buy tickets at the entrance gate or skip the queue and book here online in advance (the price is the same!)
Drive yourself, or if you don't have a rental car, get a taxi to this parking lot, where you'll start your hike into the falls. The hiking trail is well-maintained, and although it's easy for the most part, the 500 steps down to the waterfall may be a challenge for some. It took us just 15 minutes to get to the falls, but a bit longer on the way up, as walking up the steps is a lot harder than it looks!
When you get to the base of the falls, you can swim in the pool beneath the falls or head downriver to the calmer pools located there. The water in these pools is very cold, so don't say I didn't warn you! But it makes for a very refreshing swim! Be sure to snap lots of photos here – the whole are is so gorgeous!
If you would prefer a guided tour to La Fortuna Waterfall, I recommend joining this guided tour. For $65 USD, you'll get a guide, transport, entrance to the waterfall, lunch, snacks, and also stop at El Salto (the rope swing that I mentioned above.) It's one of the best value tours in Costa Rica.
9. Mistico Hanging Bridges
One of my favorite cheap activities in La Fortuna is to get out of town and in amongst the treetops at Mistico Hanging Bridges. Here, you'll find some of the best hanging bridges in La Fortuna. These gorgeous structures are located on a large private property owned by a local family, and there's abundant wildlife on this property – in fact, there are almost as many animals here as there is Manuel Antonio National Park!
There are 14 bridges in total here, 6 of which are hanging bridges. The walking trail through the forest (and to the bridges) is 3.2 km (2 miles) in length, and there are many scenic viewpoints dotted along the trail – including two of Arenal Volcano. In my opinion, the best view of the volcano can be found behind the restrooms at the ticket office.
Entrance to Mistico Hanging Bridges is just $26 USD per adult, $16 for teenagers, and children under 10 are free! You can spend as much time here as you like, although I say 2 hours should be an adequate amount of time.
If you want to join a guided tour, I highly suggest this specific tour with Mistico. The knowledgeable guides know the property inside and out and know exactly where to find animals such as sloths, monkeys, snakes, and more. It's a 2.5-hour guided walk that includes transport from La Fortuna, your entrance ticket, and an expert guide for only $45 USD.
10. Arenal Volcano National Park
Exploring Arenal Volcano National Park is one of the best cheap things to do in La Fortuna, and of course, the most popular attraction within the Park is the mighty Arenal Volcano which is 1,633 meters (5,358 feet) tall!
Without a guided tour, entry to the Park is super-cheap at $15 USD for adults and $5 USD for children. Spending a couple of hours in the Park is a great adventure, and I recommend hiking around the volcano's base and up its steep base; although you can't hike to the top of this volcano, you will still get to see some magnificent views along the way. You will even get to witness where the last major eruption oozed down the side of this volcano.
Be sure to get to the Park when it opens at 8 am so you have plenty of time to explore (they close at 4 pm.)
If you just want to explore Arenal on a guided tour, this specific tour is a great option. It includes all entrance fees, return transport from La Fortuna, and a great guide.
With that said, those short on time should instead book a combination tour. This full-day tour visits Arenal National Park, and La Fortuna Waterfall, a butterfly garden, Maleku Indian village, and the free hot spring river. It visits most of La Fortuna's top attractions in one tour and is highly-rated.
11. Hike Chato Volcano
UPDATE: The last part of the hike up Chato Volcano, although accessible (the lodges will still let you access the trail for a fee), is now illegal to use. The area has been closed to try and preserve the landscape from extreme erosion. This means that hiking the trail all the way is no longer a responsible thing to do and should be avoided. You can still access the bottom part, as it is not part of the closure.
Another hike in La Fortuna popular with visitors is Chato Volcano, which is also located near La Fortuna. This hiking trail is rated as moderate to difficult and ends at an emerald green crater lake at the summit of Chato Volcano.
There are two trails that you can take to the top, and the entrance fee varies between $10-$12, so regardless of which one you choose, it's still a very cheap activity in La Fortuna!
The most convenient trail for those without a car is to hike from Green Lagoon Lodge, which is near the La Fortuna Waterfall entrance. But, this trail is not maintained, and it's hard to navigate – it's most popular with locals who are used to its uneven terrain. The lodge charges $10 USD to access this trail, but that fee includes access to their pool, showers, and the parking lot.
The second route to the top is from Arenal Observatory Lodge, which is about a 35-minute drive from La Fortuna, but the trail is a little better maintained. The lodge charges $12 USD to enter the trail, and they only own half of it. It will take most people 3-4 hours to hike this trail round-trip, but I advise starting it before 10 am as you don't want to be hiking on this route in the dark. If it has been raining, don't attempt this trail, as it can get washed out!
12. Visit the butterfly conservatory!
For as little as $17 USD per person, you can go on a unique butterfly tour. This tour is held at the largest butterfly conservatory, which is in the small town of El Castillo, a 35-minute drive from La Fortuna.
On the Metamorphosis Tour, you will learn all about butterflies while they fly around you in the large atrium habitats here. Different types of butterflies will land on you and swoop above your head, and you may even get the chance to watch one emerge from its chrysalis.
Be sure to pack some closed-toe shoes to explore the trails of the conservatory and the other exhibits, like the exotic frog habitat, plant gardens, and greenhouses.
The Butterfly Conservatory is open every day from 10 am to 4 pm.
13. Drink craft beer!
I don't know about you, but when I'm exploring a new country, I just have to try their local craft beer. I'm a huge fan of beer, and I love seeing how different countries brew it!
Well, as you can imagine, I was delighted to learn about Lake Arenal Hotel and Brewery during my time in La Fortuna. And although it's a 1.5-hour drive from La Fortuna, it's well worth a visit, in my opinion! This brewery is situated on a 15-acre organic farm – and what's cool is that all the beer brewed here is made using 100% solar energy and bio-diesel. In fact, this is the first eco brewery in Costa Rica.
When you visit, make sure to taste their Paradise Pale Ale or the country's first fruit beer – the Pina Blonde, which is created using organic pineapples. It is so delicious! Or, if you want to try something truly unusual, why not opt for the Chili Birra, a blonde ale made with campana chillis from the farm?
If your budget allows, I recommend staying the night here so you can enjoy a few drinks, explore the property, and not drive back that day. The hotel only has 21 rooms overlooking the jungle and Lake Arenal, so it has a nice, private feel. It's cheap, too – you'll be able to get a room here for under $75 USD.
14. Visit some cheap hot springs!
La Fortuna is known for its epic hot springs which are spread out around the town. It's true that many of them are quite luxurious and cost a lot, but there are actually quite a few cheap options that are equally as awesome!
Los Laureles Hot Springs is one of the smallest hot springs in La Fortuna, and while it might lack the luxury facilities that Tabacon or Baldi has, it's still an awesome spot to relax for a few hours. And what's really great is that it costs just $12 USD to access it for the day!
There are seven thermal pools, two cold-water pools, a restaurant, and a ranch here. Plus, the grounds are really pretty and are abundant with native plants and flowers.
Another great option is Termalitas del Arenal which is 4.2 km from La Fortuna and costs just $10 USD for the day! It's a very family-friendly hot springs and boasts various pools of different sizes and temperatures; some of them have hydromassages that are either waterfalls or water springs. The view from the pools here is just incredible, and you can see as far as Arenal Volcano!
As well as the hot springs, there are cold water pools, a water slide, hydromassage beds, a wet bar, and a restaurant! You can bring your own food and drinks here too! It's a great cheap day out for the whole family in La Fortuna.
Finally, a slightly more luxurious (but still cheap) option is Titokú Hot Springs which costs $23.10 for the day. It's an intimate and peaceful complex and features eight jacuzzi-style pools nestled in a gorgeous, lush garden. There's also a bar here as well as dressing rooms, shower facilities, and lockers.
What I love the most about Titoku is how quiet it is, as each pool can only accommodate between six and twenty people, and the maximum limit of the entire complex is just 80 people.
Related Read: These are some of the best Hot Springs in Costa Rica, you can read about the others here!
15. Have some tacos at Chipotles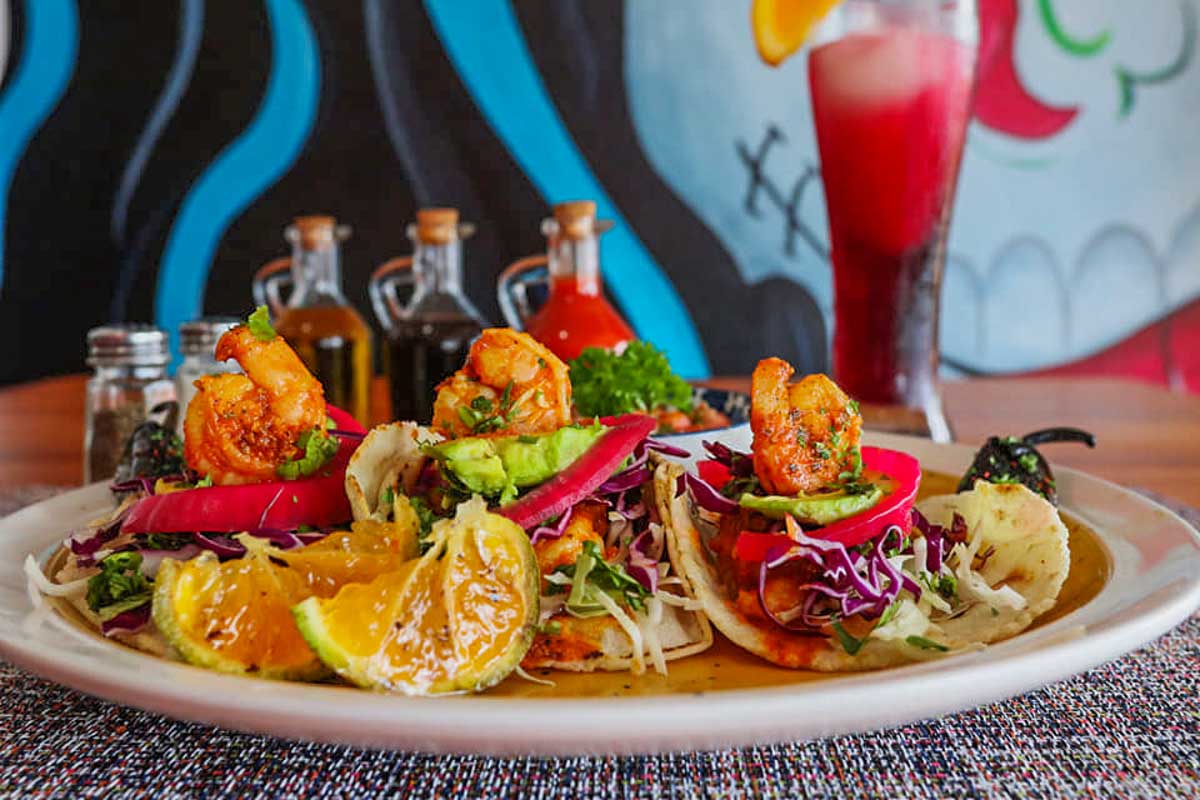 A great cheap eat in La Fortuna is Chipotle's, which offers authentic Mexican cuisine combined with international and Costa Rican gastronomy influences. A portion of tacos here costs just $8 USD, so it's a fantastic option if you're on a budget!
The chef is trained in Mexico, so you can rest assured the food is delicious. Plus, I just love the interior of this eatery – it's so colorful, with lovely murals adorning the walls here.
My top recommendation is the chicken chimichanga and the seafood tacos. While for drinks, you can't go wrong with the spicy jalapeno margarita!
Overall the dishes here are bold and full of flavor, and the beers and margaritas are perfect! Chipotles is a great little place, offering very high-quality food and service. This is a top-of-the-charts Mexican spot among La Fortuna restaurants.
Chipotles is open from 12 pm to 10 pm every day, and you can view their menu here.
Where to Stay in La Fortuna on a Budget!
1. Arenal Poshpacker
With an outdoor pool, bar, garden, and complimentary wireless Internet access, Arenal Poshpacker is a low-budget stay with excellent amenities. In addition, you'll also find a terrace, a shared kitchen, a tour desk, and even ticket service for your convenience all at the property. Should you also need a lift to the airport or the beach, Arenal Poshpacker offers a paid shuttle service, too.
The location of Arenal Poshpacker puts you in the center of La Fortuna town, yet you're still just 10 minutes away from Kalambu Hot Springs and La Fortuna Waterfall.
There are 30+ guest rooms on the property where you can stay. A private bathroom is included in every room, and some are even fitted with rainfall showerheads or bathtubs for an extra touch of luxury. If you are traveling solo or on a limited budget, their comfortable dorms are a great option.
2. Hotel Bijagua
Hotel Bijagua is a popular choice for budget-conscious visitors who don't want to stay in a hostel. This property is located on the way to the volcano, just outside the town. Baldi Hot Springs are only 2 km away, so they are very accessible.
On the property, you will find a beautifully landscaped garden to relax in, an outdoor swimming pool for the hot summer days, free parking if you come in a car, and free Wi-Fi access to keep you connected. Concierge services and a reception hall are also available at this establishment.
Hotel Bijagua is run by a family and provides a range of lodging options, from a suite to an entire villa. The rooms, although simple, are all fitted with air conditioning, a TV, and a mini-bar. You'll have access to a private bathroom and private balcony, too.
3. La Ceiba Tree Lodge
Sitting at an elevation of 1500 ft, La Ceiba Tree Lodge is a secluded natural sanctuary located in Tilarán, 3.7 miles southeast of Nuevo Arenal. It features an expansive view of Lake Arenal that is undoubtedly unmatched.
The lodge's name is derived from the towering tree that can be seen on the way to the property. This same tree was named the country's "tree of the year" in 2006. It's already 500 years old and overrun with bromeliads, ferns, and orchids of every kind you can imagine.
Once you get to the property, you will find free parking, free Wi-Fi, and a restaurant serving à la carte or American breakfast on site. There are five spacious, brightly-lit rooms available, each with a private bathroom and a large balcony with hammocks from which you can enjoy the stunning lake views.
Related Read: For more info check out our complete guide about where to stay in La Fortuna!
Pura Vida!
I hope that the above list has given you inspiration for a cheap but fun vacation to La Fortuna, Costa Rica. As you can see, there are lots of free and cheap things to do in La Fortuna!
Be sure to have a look around my website a little more, I have plenty of blogs about Costa Rica that I'm sure you're going to absolutely love, such as –
How to Spend One Week in Costa Rica!
31 Best Things to do in Tamarindo, Costa Rica