Costa Rica is known for its lush rainforests, stunning national parks, pristine beaches, massive volcanoes, and abundant wildlife. There's a lot to keep visitors busy throughout the tiny country!
However, if you're planning a trip to Costa Rica, don't skip a visit to La Fortuna Waterfall. As one of Costa Rica's most spectacular waterfalls, La Fortuna Waterfall emerges from the Fortuna River and plummets an impressive 246 feet (76 meters) into a pool below!
On a visit to La Fortuna Waterfall, you will see why more than 100,000 visitors make the trip to the pristine jungle waterfall each year. A short hike through the lush rainforest will take you right to the plummeting falls, where you can enjoy the sights and sounds of nature. Visitors can even pack a swimsuit and enjoy a leisurely swim in the picturesque jade-colored pools at the base of the falls.
La Fortuna Waterfall is one of the best things to do in Costa Rica for a good reason – the stunning natural surroundings and majestic falls will allow you to experience the magic of Costa Rica's Central Valley.
If you're planning a trip to Costa Rica, check out our guide to learn everything you need to know to plan the perfect visit to La Fortuna Waterfall.
About La Fortuna Waterfall
La Fortuna Waterfall is one of the top attractions for travelers from around the world who visit Costa Rica. It is probably the most popular waterfall to visit in Costa Rica and a wonderful sight to behold.
La Fortuna translates to 'the fortune' in English, and those who have the opportunity to visit the waterfall are fortunate indeed.
The waterfall plummets an astounding 246 feet down a steep cliff into the pool below. The waterfall is fed by the Fortuna River and empties into a pristine greenish-blue water pool at the cliff's base. Visitors can enjoy the gorgeous sights and sounds of the jungle around the waterfall with huge rocks, flowers, and greenery.
All proceeds from visiting the waterfall go back into the protection and management of the waterfall and surrounding area. In fact, La Fortuna Waterfall is managed by a non for profit organization called the Integral Development Association of La Fortuna. This not only protects the waterfall but also goes into community education about the environment.
Where is La Fortuna Waterfall?
La Fortuna Waterfall is located in the Ecological Reserve Fortuna Waterfall near Arenal Volcano National Park – one of the best volcanoes in Costa Rica. This small protected zone is 210 acres in size and is home to what's known as transition premontane tropical forest. This is due to the region's geographic location and elevation of 510 meters above sea level.
The waterfall and ecological reserve are both in the central part of Costa Rica in the Alajuela Province. The entrance to La Fortuna Waterfall is only 5.5 km outside of the town that goes by the same name as the waterfall, La Fortuna. For almost all visitors, La Fortuna is the town to stay in when visiting the waterfall.
La Fortuna Waterfall is also located around 80 miles (129 kilometers) from San Jose, the capital of Costa Rica, where many visitors first arrive. As it is one of the closer destinations to the international airport, La Fortuna makes a great add-on to either end of your trip. In fact, it's popular to day trip from San Jose to La Fortuna Waterfall if you don't have time to stay in La Fortuna.
If you've rented a car, you can easily drive yourself from La Fortuna town by following google maps or hire a taxi from the town for around $15 USD each way. Of course, there are also tours available which I outline below (near the bottom of this blog)!
Related Read: While in La Fortuna, be sure to check out all of the hot springs nearby too!
How long is the La Fortuna Waterfall trail?
To reach La Fortuna Waterfall, visitors will have to embark upon the La Fortuna Waterfall Hike, which takes about 10 to 15 minutes on the way down and another 20 to 30 minutes back up (sometimes longer.) The distance each way is around 0.75 miles or 1.2 kilometers. It isn't the distance that makes this trail somewhat difficult, but rather the 500 stairs!
The walk is rated as moderate but may be difficult for those with knee issues, older in age, or those not used to hiking.
When you arrive, you will purchase your ticket, receive a wristband at the visitor center, and then walk through a gate. An employee will verify your ticket at the gate, and you can pass through to begin the hike.
At the start of the trail, around 200 meters from the entrance, you can pause on the large platform that overlooks the waterfall and the surrounding jungle landscape. This gives you a great view of the entire area, and you can really see just how beautiful the waterfall is from above.
After the viewing platform, head left and begin to descend the staircase towards the base of the falls. The hike starts with a paved trail, but the stairs change on the way down between wood, steel, and concrete (and eventually rocks at the very bottom.) There are more than 500 steps (around 530) to reach the base of the falls. There are handrails and plenty of benches to take a short break if needed.
The first part of the hike is a series of switchbacks and continues straight down. Towards the final portion of the hike, the stairs will be wet, and you can feel the cool mist from the falls.
There is a bridge at the bottom of the stairs, and you will see the waterfall on the right side. There is another viewing platform and a second trail leads downstream to a beautiful series of natural pools perfect for swimming.
After hiking back up, I'm sure you'll have worked up an appetite. Although there is a cafe near the entrance to the waterfall, I suggest checking out one of the best restaurants in La Fortuna!
Related Read: Learn all about the different hanging bridge experiences in La Fortuna before you book one!
How much does it cost to visit La Fortuna Waterfall?
The La Fortuna Waterfall entrance fee for foreigners to visit the waterfall is $18 USD per adult and $5 per child under the age of 9. It is one of the cheapest activities in La Fortuna. You can actually book your tickets in advance at no extra cost and skip the line.
There is also a discount for locals, who should purchase their ticket at the entrance in order to get the discount. You need to show your residence card, but it then only costs $9 USD for adults and $4 for children.
You can pay your entrance fee in both USD or Colones and using EFTPOS (credit or debit card) or cash.
Is La Fortuna Waterfall busy?
La Fortuna Waterfall is extremely popular and frequented by many tourists and locals – it is one of the most popular things to do in La Fortuna.
During the peak season from December to April, known as the best time to visit Costa Rica, the waterfall is very busy, especially in the late morning and mid-afternoon. With that said, you can visit La Fortuna Waterfall without the crowds. To do so, it's advisable to visit early in the morning or late in the afternoon.
With that said, there is plenty of room to take photos and enjoy the view even with the crowds.
When is the best time to visit La Fortuna Waterfall?
For those who want to experience everything La Fortuna Waterfall has to offer and avoid some of the largest crowds, we recommend that you hit the falls early in the morning or late in the afternoon before the park closes. That way, you can enjoy the beauty of nature without the crowds of tourists that show up around midday.
I visited La Fortuna Waterfall as soon as the gate opened at 7 am and was the only person at the bottom for around 30 minutes. Even after an hour, there were very few people around.
When it comes to the best time of year, there really is no right or wrong time to visit. La Fortuna Waterfall flows year-round.
La Fortuna Waterfall Hours
La Fortuna Waterfall opens every day at 7 am and stays open until 5 pm in the afternoon. With that said, the last entry allowed to La Fortuna Waterfall is 4 pm.
Personally, I suggest not visiting after 3:30 pm unless you consider yourself fit and able to complete the hike each way very quickly. Otherwise, you won't have a lot of time at the waterfall.
Parking at La Fortuna Waterfall
Yes, La Fortuna has a large parking lot to help support the crowds that visit each year. There are more than 40 spots available (with some overflow spots), so it's great if you're driving your own rental car.
Even with ample parking, it can get crowded. We recommend that you hit the waterfall early if you want to ensure that you snag a spot in the parking lot. The parking lot is free, and there is an attendant that tells you where to park when it gets busy.
They also have a rule that says you have to reverse in.
Can you swim at La Fortuna Waterfall?
Swimming is one of the best activities to enjoy during your visit to La Fortuna Waterfall. However, swimming right at the base of the falls isn't recommended unless you are a strong swimmer.
Bailey and I did swim at the bottom of the waterfall but found it difficult. In fact, we stuck mainly to the outside of the pool due to the extreme pressure of the waterfall.
Next to the base of the waterfall is a stream that is the perfect place to cool off with a swim (in preparation for climbing those 500 stairs!) Many people don't actually know about this swimming spot and miss it completely. To find it, head to the left if you're facing the falls. There are signs pointing to the swimming area, and it is so beautiful. Just be warned, the water is very cold.
I also want to mention that if the water ever turns brown, you must leave the water immediately. This could mean flash flooding upstream, and it's best to exit the water and head for higher ground.
What to bring to La Fortuna Waterfall
Although you don't need much to visit La Fortuna Waterfall, some items will make your visit much more enjoyable.
Be sure to bring some money with you for the entrance fee, as well as any snacks or items you might want to purchase at the gift shop. You can pay for everything with a credit card, so cash is not essential (but it's always good to have both.)
It's essential to wear proper closed-toe shoes like sports, hiking, tennis, or water shoes. The steps can be slick, so shoes with a good grip that you don't mind getting wet are a must.
If you plan on swimming, you will definitely want to pack your swimsuit, towels, and a change of clothes. It's also a good idea to bring a dry bag to keep your belongings from getting wet from the waterfall spray and mist.
La Fortuna Waterfall is one of the most beautiful and photographable destinations in Costa Rica's Central Valley, so we also highly recommend bringing your camera with you, which will allow you to photograph the huge waterfall and stunning pools at its base.
It is also suggested that kids under 4 use a baby carrier. However, this will depend on personal preference.
Other items you might want to consider bringing include bug repellent, water bottles, and snacks. It's also recommended to bring biodegradable insect repellent, so you don't damage the ecosystem when swimming.
Facilities at La Fortuna Waterfall
La Fortuna Waterfall has bathrooms at the visitor center near the parking lot and a small cafe and gift shop. There are no restrooms at the actual waterfall, so it is best to use the ones at the visitor center before you start your hike.
You can purchase snacks and drinks at the visitor center as well or choose to pack your own. Other amenities include plenty of benches along the trail as well as some hangers for your towels near the swimming area in the river.
An interesting place to visit inside the park is the Orchid Garden. It consists of 186 to 200 species, all native to Costa Rica. Entry is included in your ticket price, so why wouldn't you go!?
How long should I spend at La Fortuna Waterfall?
The short hike to the falls only takes most people around 40 minutes total. However, some people may need longer. For that reason, I suggest allowing at least 2 hours to visit La Fortuna Waterfall.
This offers ample time to take in the sights and enjoy the beautiful surroundings. That being said, many bring swimsuits and enjoy a full day of swimming and sunbathing in the river at the waterfall's base.
I personally went at 7 am and made it back for breakfast at my hotel at 9:30 am. It was perfect getting in some morning exercise before a delicious Costa Rican breakfast.
Is La Fortuna Waterfall suited to kids/families?
Kids will enjoy the sights of La Fortuna as much as the grown-ups, but it is important to use caution when traveling to La Fortuna Waterfall with little ones. The steps are steep and can be difficult for small children, and they can also get slippery, so be sure to help little ones along the way.
It's also important to be super careful if you allow your children to swim. The water under the falls is powerful, and only very experienced swimmers should attempt to get in there. Although there is a lifeguard on duty, anyone under the age of 15 should not swim under the powerful waterfall. This is my opinion, but no one will stop you from swimming there.
Swimming with kids further downstream, where the water is calmer, is fine.
Getting to La Fortuna Waterfall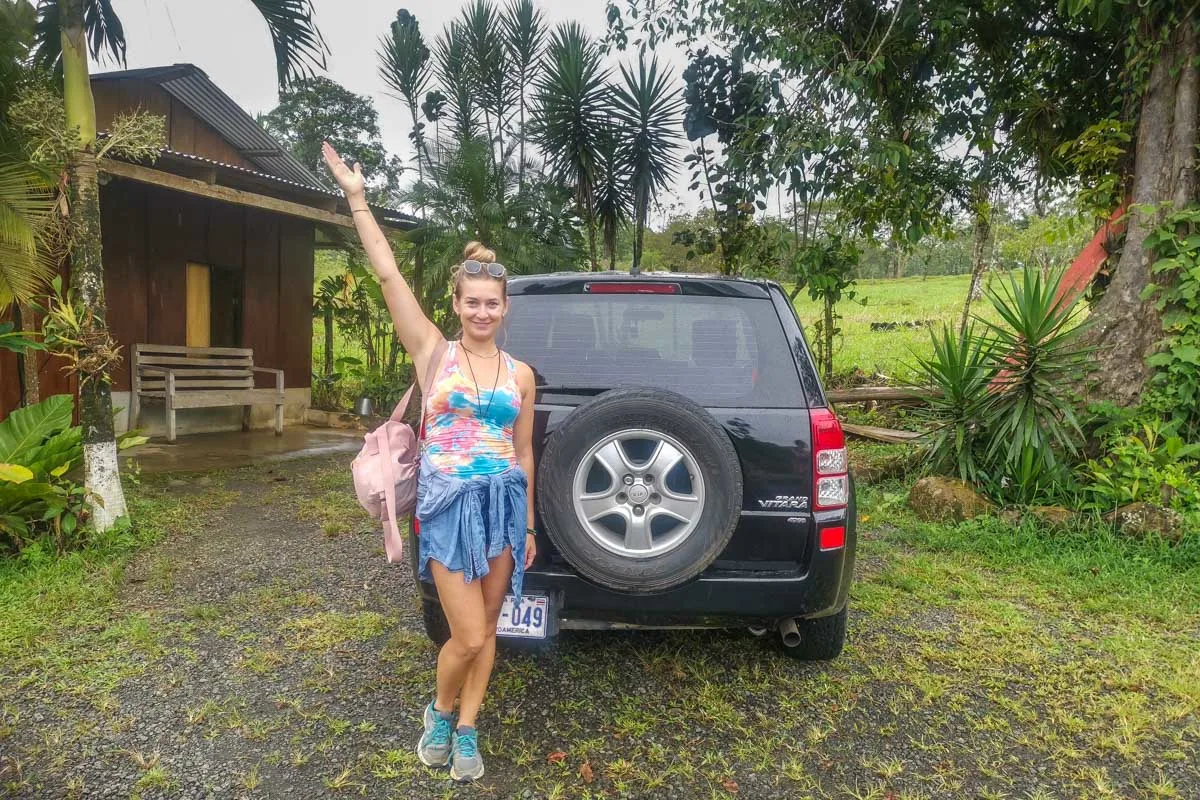 To reach La Fortuna Waterfall, tourists have a few options. If you have rented a car, you can drive there on well-maintained roads by simply following GPS. You do not need a 4WD for this.
It is also possible to take a taxi from the town of La Fortuna for about $15 USD. You can also hire a driver from San Jose, but it might be expensive as it is nearly 80 miles away (it's best to book a tour instead.)
Another great option is to book one of the many tours of the waterfall, many of which provide transportation. We've included some of our favorites below.
Best Tours of La Fortuna Waterfall
Skip-the-Line La Fortuna Waterfall Admission Ticket: You can save the time and hassle of waiting in line at the entrance by booking your ticket ahead of time. This option includes your entry to the waterfall and allows you to visit any time during opening hours. It's an especially good idea if you plan to visit during the busiest times of the day so that you don't get caught waiting in a long line. The cost is the same as the visitor center at $18 USD per person.
Hanging Bridges, La Fortuna Waterfall, Authentic Costa Rican Lunch, and Arenal Volcano Hike: This tour is a must for a perfect day trip that highlights all of the attractions surrounding the La Fortuna Waterfall area! You'll start with a hike to Arenal Volcano. The drive to Arenal takes about 30 minutes, and you will enjoy the 2.5-hour hike to the volcano's base. It's an easy to moderate walk, and most of it is completely flat, making it suitable for all hikers.
After the volcano hike, you'll drive to La Fortuna Waterfall, where you can take 2 hours to enjoy the waterfall. After, you'll head to the Arenal hanging bridges. A 2.5-hour hike through the lush primary rainforest will cross over 16 unique hanging bridges known as the Mistico Hanging Bridges. A typical Costa Rican lunch is included as part of the tour.
2-in-1 Arenal Volcano Combo Tour: Nature lovers will adore this tour of La Fortuna Waterfall and Arenal Volcano. An experienced naturalist and guide will point out all of the stunning flora and fauna along the way in both English and Spanish, and visitors will have the opportunity to see animals like monkeys as well as the colorful birds of Costa Rica.
Enjoy the La Fortuna Waterfall hike for a few hours before sitting down for a delicious traditional Costa Rican lunch complete with locally grown and roasted coffee. Then, journey on a guided hike to Arenal, where you will have the opportunity to view lava flow and learn about the history of the volcano and visit Arenal lake.
Ziplining Over La Fortuna Waterfall: This zipline tour is an awesome choice for travelers searching for a thrill on their visit to the La Fortuna area.
This is a great option for families or couples; the group sizes are always small. The tour takes you through the rainforest canopies, where you can enjoy views of Arenal Volcano and Cerro Chato. Best of all, you get to zip line right over La Fortuna Waterfall for incredible views that can't be experienced anywhere else. Before ending your day, relax while enjoying a visit to the Maleku Cultural Resource Center before being dropped off back at your hotel.
Waterfall Rappelling and Whitewater Rafting: Another exciting adventure to consider on your trip to La Fortuna Waterfall is this tour that combines whitewater rafting and waterfall rappelling. Brave travelers who love extreme sports and big thrills will find the perfect experience on this full-day tour that combines two of the best tours available in Costa Rica.
Begin your 8-hour excursion with a pick-up at your hotel in Fortuna Town and embark upon the canyoning tour, which includes a rock climb, a stunning rappel down the waterfall, and a zipline. Afterward, head to the Balsa River for 2 hours of whitewater rafting with class II and III rapids. After the action, sit back and relax while enjoying a typical Costa Rican lunch.
Related Read: Learn about the best places to go ziplining in Costa Rica!
Where to Stay in La Fortuna, Costa Rica
Because La Fortuna is such a big tourist town, there are a ton of amazing places to stay. I mentioned Selina above, which is a great budget option. However, La Fortuna Natural Green is another budget option suited to those who prefer to avoid hostels. They offer small chalets a short walk or drive from town.
Those with a medium budget should check out Casa Luna Hotel & Spa. I stayed here on my first visit to La Fortuna and loved it. The property is beautiful, with a large pool and four hot tubs surrounded by nature. They also include a delicious breakfast. Casa Luna is located a short drive from town.
Those on a luxury budget should check out the volcano view hotels I mentioned in item number 10 above. However, if they aren't luxurious enough, check out The Springs Resort & Spa at Arenal. This is arguably the most luxurious hotel in La Fortuna and comes with fantastic views, luxury rooms, a resort-style pool, a fitness center, a swim-up bar, hot tubs, and a spa and wellness center.
For more in-depth info on the areas to stay in La Fortuna, che
Pura Vida!
As any traveler who has visited Costa Rica knows, the country's motto is Pura Vida. Translating to 'pure life' in English, the phrase embodies the heart and soul of Costa Rica.
Pura Vida is precisely what visitors to La Fortuna Waterfall can expect – to be immersed in this stunning destination's beauty and pure life. While many visitors to Costa Rica skip the Central Valley region entirely in favor of heading for the coast to places such as the Nicoya Peninsula, a visit to La Fortuna Waterfall adds an unforgettable experience to your Costa Rica itinerary.
Thanks so much for reading and supporting our blog! If you loved this guide, be sure to check out more of our detailed blogs such as:
5 BEST Sloth Tours in La Fortuna
Best Places to Surf in Costa Rica