It's common knowledge that Santa Teresa is one of the best surfing destinations in the world, so it will come as no surprise then that one of the most popular things to do in this coastal town is to ride some epic waves. But did you know that there are many other fun things to do in this coastal town? And some of my favorite activities in Santa Teresa are either free or cost very little?!
Yep, this naturally scenic region has some of the best beaches in Costa Rica as well as that it's home to one of the only free-to-visit waterfalls in the country. Montezuma Falls are within close proximity of the town and are so pretty, as well as being free to enter.
While if you have a small travel budget, why not consider a ziplining or horseback riding tour, both of which cost under $55 USD per person?!
That's why I've come up with this fun list of free and cheap things to do in Santa Teresa to convince you that this slice of paradise can indeed be enjoyed on a tight budget!
Best FREE Things to do in Santa Teresa
1. Head to Playa Hermosa
Playa Hermosa is one of the most popular surfing beaches in Costa Rica, but even if you're not a fan of surfing, you should still check out this large beach. It's just a 10-minute drive from Santa Teresa, and it's a great spot to relax for the day – sunbathing, swimming, or even surfing its smaller swells. It also has fewer rocks on the shore, so it's a more family-friendly place for a swim than Santa Teresa beach.
It's also a great place to watch the sunset, and the flat sand here is ideal for beach volleyball or other beach sports!
If you don't have a rental car, you can easily catch a cheap car here from Santa Teresa; just be sure to get the driver's number so you can call it for a ride back, as there is no taxi rank at this beach!
2. Hit the Surf!
Surfing is, without a doubt, one of the most popular things to do in Santa Teresa. In fact, this water sport put this once small village on the worldwide tourism map! Thousands of surfers descend on Santa Teresa every year to surf the beach's famous waves.
If you're an avid surfer and have packed your own board, then this is one of the top free activities you can do in Santa Teresa!
If you've left your surfboard at home, not to worry, there are plenty of cheap rental places in town that you can rent from. A 24-hour surfboard rental costs a very reasonable $10 USD, but weekly and monthly rentals are available too.
Awesome surf spots can be found all along the coast in Costa Rica, and high tide is the best time of day to catch a wave but be warned, it's also the busiest time. One of the most popular surf spots in Santa Teresa is known as "Suck Rock," across from Red Palm Villas and Resort. Next to Suck Rock is also another great spot called La Lora, which gets very busy but is well-known as a consistent break.
One of my favorite point breaks is situated near Mal Pais. To get there, drive to this point and then walk right along the beach. After a little bit, you'll reach a small secluded bay. From this bay, you can paddle out to surf the awesome wave that hugs the rocks to the left. It's worth noting that this break can only be surfed at high tide, but what's great is that it's a lesser-known gem, and you'll often have this spot pretty much to yourself!
If you're a beginner, then it's best to head to Playa Hermosa at high tide, as the calm waves here are ideal for learning. But as a newbie, it's best to book a lesson. There are highly recommended lessons available from Santa Teresa beach, which cost about $60 USD for 90 minutes. This specific lesson is top-rated in Santa Teresa and comes with go-pro photos/ video, your board rental, and a rash guard.
Related Read: Santa Teresa Beach is one of the best beaches in Costa Rica – read about all of the other stunning beaches!
3. Day Trip to Montezuma!
I must admit, I prefer the laid-back vibe of Montezuma to the more lively atmosphere of Santa Teresa!
This tiny town is just a 30-minute drive from Santa Teresa beach, so if you have a rental car, it's an obvious free activity to do whilst in the area. Alternatively, you can catch the bus for just $4 USD, although this will take a lot longer, at 2 hours and 20 minutes!
Of course, one of the best and most popular things to do here is Montezuma Waterfall, which I've detailed further below. This mighty waterfall is best explored in the morning, so be sure to head here first thing.
What's cool is that there's an awesome local brewery, Butterfly Brewing Co, a short drive from the falls. The craft beer here is excellent, and they have a beautiful elevated deck surrounded by lush greenery.
Another great thing to do in Montezuma is to walk along the beach to Reserva Natural Absoluta Nicolas Wessberg, a lovely nature reserve that is home to abundant wildlife in Costa Rica, including monkeys, plus it is free to visit! Be sure to stop at the ASVO Sea Turtle Hatchery if you're walking in this area in the afternoon because at around 4 pm daily, you can watch baby turtles be released into the ocean. It's such a unique experience and one of the best ways to see turtles in Costa Rica!
Not forgetting that there's a small farmers market held in the town every Saturday morning where you can watch local musicians perform live and pick up some fresh organic produce! If you prefer to eat out, there are some pretty delicious restaurants in Montezuma that are well worth checking out.
Related Read: Want to spend more time in Montezuma? Check out our guide on the best hotels in Montezuma to make your stay memorable!
4. Visit Montezuma Waterfalls!
Next up on our list of the best free things to do in Santa Teresa is the stunning Montezuma Waterfalls, which is one of the only waterfalls in Costa Rica that's free to enter! Montezuma Waterfalls is actually three waterfalls – the lower, middle, and upper falls.
The lower falls are the easiest to reach, and you must walk along the right side of the river for 20 minutes to get to the waterfall. The pools at the lower falls are not the best spot for a swim but the walk there is fairly flat and easy.
To get to the upper falls, walk the same way back from the base of the lower falls for about 100 feet (30 feet). Next, you must cross the rivers using some rocks as your stepping stones. On the other side of the river, you'll see there are some climbing ropes and steps. Climb the steps using the ropes to help you if needed, and at the top of these steps, you'll see the Upper Falls, which is a great place for a swim.
But, in fact, the best spot to swim in is at the Middle Falls, which is a climb down from the Upper Falls. There are ropes to help you climb down, but if you have mobility issues, please don't try it! There's a beautiful infinity pool here that is so photogenic!
It's important to note that even though visiting Montezuma Waterfall is free; there is a 1,000 colones fee (cash only) to use the trail up to the upper waterfalls. So, be sure to bring a little cash with you!
5. Head to Mal Pais
The craziness of Santa Teresa can be a little too much to handle sometimes, so when you want a couple of hours of relaxing downtime, then drive or walk to the sleepy fishing village of Mal Pais. There's a distance of 8.1 km between both towns, and walking between them (and then spending the day tanning at the beach there) is one of the best free things to do in Santa Teresa, in my opinion!
It will take just under two hours to walk from Santa Teresa to Mal Pais, or just a 20-minute drive. Or you can grab a cheap taxi here. As I said, the beach here, it's called Playa Mal Pais, is a lovely place to relax and it's almost always empty! After a few hours of sunbathing and swimming, head to La Esquinita Coffee & Deli for a delicious brunch or lunch. The food here is really good, and the coffee is even better!
Best CHEAP Things to do in Santa Teresa
6. Practice yoga
Yoga is one of the most relaxing exercises you can do, and it's also great for building strength and stretching out your muscles after a day of surfing. I try to join a yoga class in every town I visit, I just find it so interesting to see how yoga is taught in other countries, plus it's also a great way to meet like-minded people!
Luckily, in Santa Teresa, yoga is one of the cheapest activities you can do. Both the north and south branches of the popular hotel chain Selina in town offer yoga classes for as little as $15 USD per person!
Another great studio in which to practice yoga is at Horizon Hotel & Yoga Center, which also offers drop-in classes for $15 USD. They hold a class at 9 am and a sunset session at 5 pm – both classes are held in their rooftop studio, which boasts breathtaking views of the area!
A more expensive option but a truly unique yoga experience is offered by Monkey Adventures Surf SUP Yoga which hosts private lessons as well as SUP Yoga and silk classes. Expect to pay around $90 USD for these classes.
7. Watch the sunset at Vista de Olas
Sunset hour is my favorite time of day, and Santa Teresa is home to one of the best sunset-watching spots in Costa Rica! If you're a sunset fan like me, then you have to head up to the Sunset Lounge at Vista de Olas – it has the most awesome view of Santa Teresa's coastline.
This luxurious hotel has the best vantage point and is perched high above the town, on a mountainside with uninterrupted views! For just $24 USD, non-guests can visit the bar and restaurant here and swim in their infinity pool. The $24 USD can then be used as credit in their bar and restaurant! Or, if you're looking to splurge a little, why not stay at the hotel for a real treat?!
So, I say have yourself a pool day with a difference at Vista de Olas and indulge in their tasty food and delicious cocktails. What's great too is that not many tourists know about this spot, so it likely won't be crowded!
8. Eat at the outdoor food court – Eat Street
Traveling in a large group can mean that finding a restaurant that you all agree on can be quite a challenge! Well, I was delighted to learn that Eat Street – an upscale food court, recently opened in town.
Eat Street is home to four restaurants and one bar that serves everything from smoothie bowls, poke bowls, burritos, burgers, snacks, and more!
In fact, even if you're not traveling with a group, I recommend checking this spot out – it was one of my favorite places to eat in Santa Teresa. And what's great too is that the prices won't blow your budget – expect to pay from $10 – 15 USD for a decent-sized dish here!
I especially loved the Poke bowls because they are made using freshly caught tuna. Or if you're a fan of Asian food, be sure to order the prawn noodle bowl – it's so full of flavor!
Eat Street is located on Calle Cobano and is open from 7 am to 11 pm daily. Although individual restaurants' opening hours may vary!
9. Try some delicious sushi
While I'm on the topic of delicious food, if you're a sushi lover (like me), you have to check out Satori Terrace, which is one of the best cheap eats in Santa Teresa. Prices here start from $12 USD for one large roll, and combo deals are available too.
This roadside eatery is hard to miss thanks to its fun atmosphere – in fact, they often have live music acts performing here in the evenings. They serve up the best sushi on this coast, in my opinion, and all of their dishes are freshly made. I especially loved their tuna rolls, shrimp tempura, and fresh rainbow rolls!
If you have a little more $$$ to spend, then you should order their Sushi combo, which has 24 pieces and is designed for two people! Just remember, their banana flambe dessert is worth saving room for!
Satori Terrace Sushi Bar is open from 11 am to 10 pm, and you can view its menu here.
Related Read: If you're a foodie, be sure to check out the best restaurants in San Jose, Costa Rica!
10. Visit Cabo Blanco Nature Reserve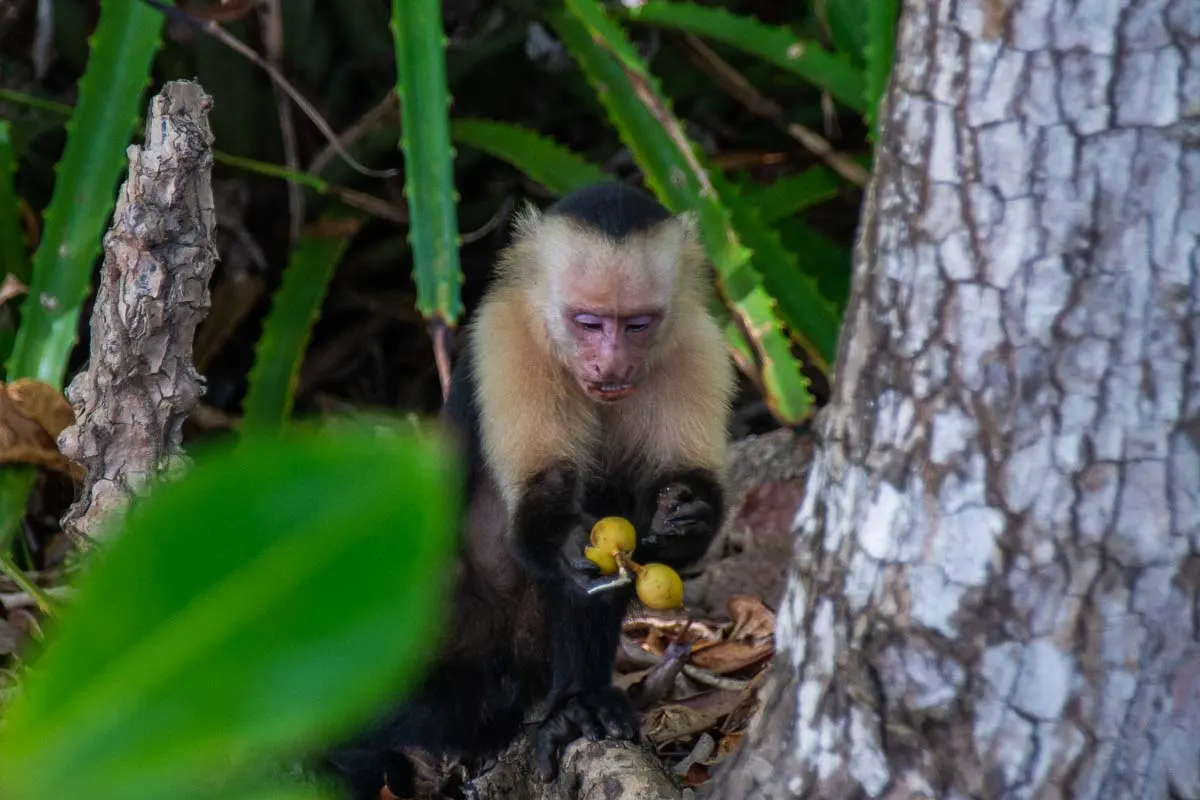 Reserva Natural Cabo Blanco is a must-visit in Santa Teresa and is, in fact, the first-ever protected area in Costa Rica. Today it is one of the top nature reserves in the country.
It was founded by Nicolas Wessberg (from Sweden) and Karen Mogensen (from Denmark). And because it costs just $12 USD to visit, it's easily one of the best and most popular cheap things to do in Santa Teresa.
The Reserve is located in the town of Cabuya, about a 45-minute (18 km) drive from Santa Teresa. You can catch the public bus here or drive yourself if you have a rental car.
You can explore the Reserve via two hiking trails – Danes Trail and Sueco Trail. Danes Trail is a loop trail that follows through the forest; it's only 1.2 miles (2 km) long and is a quick and easy hike for visitors to the area,
Sueco Trail is the most popular trail here and is the main reason tourists come to the area; this trail is 3.1 miles (5 km) each way and goes to Playa Cabo Blanco. It will take most people two hours total to complete.
Along both trails, you can see lots of wildlife including bats, monkeys, butterflies, birds, and lizards. It's also home to lots of wildflowers and beautiful trees. Wildlife lovers will be in paradise at Cabo Blanco Nature Reserve.
As I mentioned, it costs just $12 USD to visit the park, and it's open from 8 am to 4 pm Wednesday to Sunday (closed Mondays and Tuesdays.)
11. Go horseback riding!
If you're after a memorable but reasonably cheap thing to do in Santa Teresa, consider Ollie's Adventures horseback riding tours. The cheapest tour here starts from just $45 USD, which I think is great value for money for Costa Rica.
Of course, the tour you choose depends on your budget, and they offer short and sweet one-hour tours to half-day tours that last 4+ hours. Choose from a relaxing horseback ride along a beautiful beach, a tour through the jungle, an experience through a farm, or combine all of the above for a truly bucket-list-worthy experience in Santa Teresa!
The best part is the owner, Ollie, treats his horses very well. In fact, they work one month on and one month off, giving them ample time to rest. In fact, what often turns me off from joining horse tours is the animal treatment, so this is great to know!
12. Try ziplining!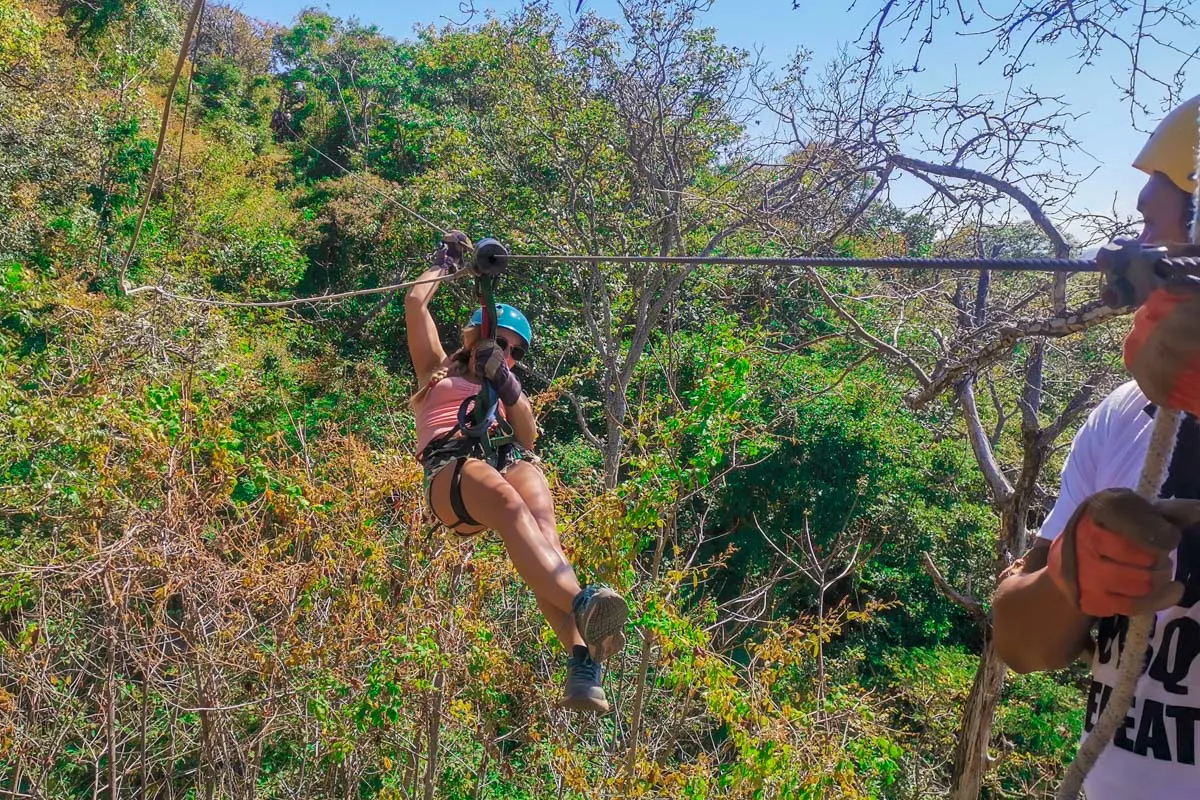 Did you know that in Santa Teresa, you can join an awesome ziplining tour for just $55 USD per adult and $50 USD per child?! That's pretty good value if you ask me! So, why not take on the incredible scenery and get up close to wildlife on a speedy ziplining tour?
Zip through the treetops and peer through the trees to see the ocean on this eight-cable ziplining tour with Zuma Tours. Which, yep, you guessed it features eight ziplines, one of which is over 500 meters long! Alternatively, you can book on a highly recommended full-day tour which includes the ziplines as well as a visit to Montezuma Falls! It costs $290 USD per person but also includes an ATV ride through the jungle.
It's worth noting that if you need a ride to Mal Pais (where the zipline is located), you will need to add an extra $15 USD per person. In fact, it's cheaper to get a taxi!
If you haven't been ziplining yet in Costa Rica, this is the perfect chance and easily one of the best cheap things to do in Santa Teresa.
Where to Stay in Santa Teresa on a Budget
1. Fuego Lodge
A family-owned hotel just five minutes from the beach, Fuego Lodge is one of the best hotels in Santa Teresa if you're looking for a tropical staycation that isn't too expensive.
Right on the property, you'll have everything you need to make the most out of your stay. Take a swim in the outdoor pool that's shaded with towering palms. There's also a spacious jungle deck nearby, where you can just chill while surfing the internet and soaking in the beauty of the surrounding gardens.
2. Point Break
On a budget? Point Break can make your stay in Santa Teresa just as memorable while keeping you within your budget. Choose from the room type that best fits your need (dorm, apartment, double, twin, triple, or quadruple), all of which come with air conditioning, complimentary toiletries, and a safety box.
Unlike other hostels in the area, Point Break's rooms aren't stuffy and are individually designed to make you feel at home. But what you'll really love about your room is its furnished private terrace! Enjoy the view of the surrounding garden here as you breathe in the fresh morning air.
Point Break won't disappoint in terms of on-site facilities, too. If you don't like heading out to the restaurants for breakfast, just make your own in the shared kitchen or use the BBQ facilities.
3. Selina Santa Teresa South
When traveling on a budget, Selina Santa Teresa South is one of the best hotels in Santa Teresa for you.
Aside from the variety of accommodation choices, what makes Selina South perfect is that you're close to practically everything. There's a handful of restaurants and shops within walking distance. Most importantly, the local beach is just a quick walk down the trail.
After waking up in the morning, you can start your day by grabbing breakfast at the on-site food truck. There's also a co-working space, an outdoor pool that's bordered by beautiful murals, a bar, in-house wellness center as well as a library and massage room!
Getting Around Costa Rica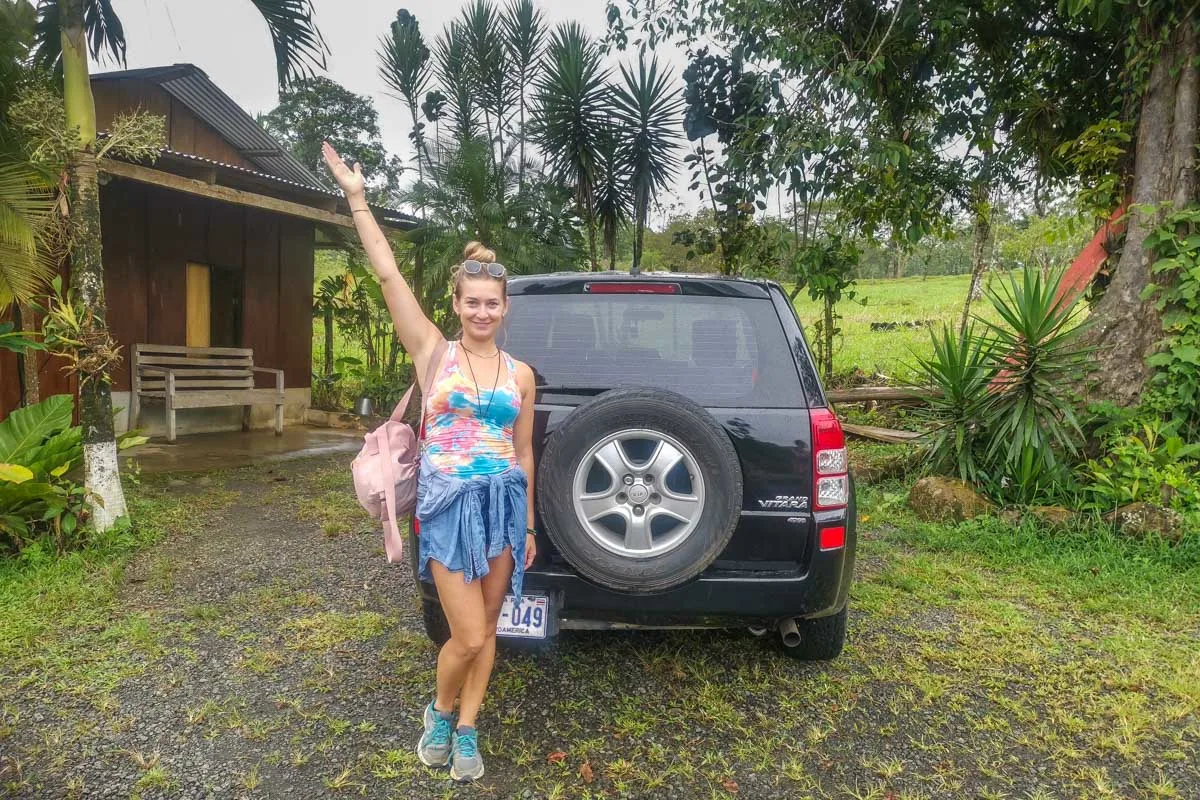 How you choose to get around Costa Rica is one of the biggest decisions you'll make when planning your holiday here! How you do it depends on your budget, travel style, and comfort level.
Renting a Car
Without a doubt, the number one way to explore Costa Rica is in a rental car. We book rental cars on the Discover Cars website as we have had good experiences with them in the past.
One of the things you need to watch for when renting a car in Costa Rica is the mandatory insurance that the government requires you to have. There are a lot of very cheap rentals that don't include this mandatory insurance (TPL) in the original booking price, but there are also ones that do. To avoid additional surprise charges when you pick up your rental car, be sure to rent a car that includes the mandatory insurance when you book.
Thankfully, on Discover Cars it's easy to tell apart the companies that include the mandatory insurance and those that don't. The trick is you can't pick any car on their website. In the picture below, you can see this rental car, with pick up in Jaco, includes the TPL. That means the mandatory insurance is included in the price. Any cover you get above that is extra.
Of course, I still suggest getting the full coverage offered by Discover Cars, which covers you even more.
You can browse cars on Discover Cars here.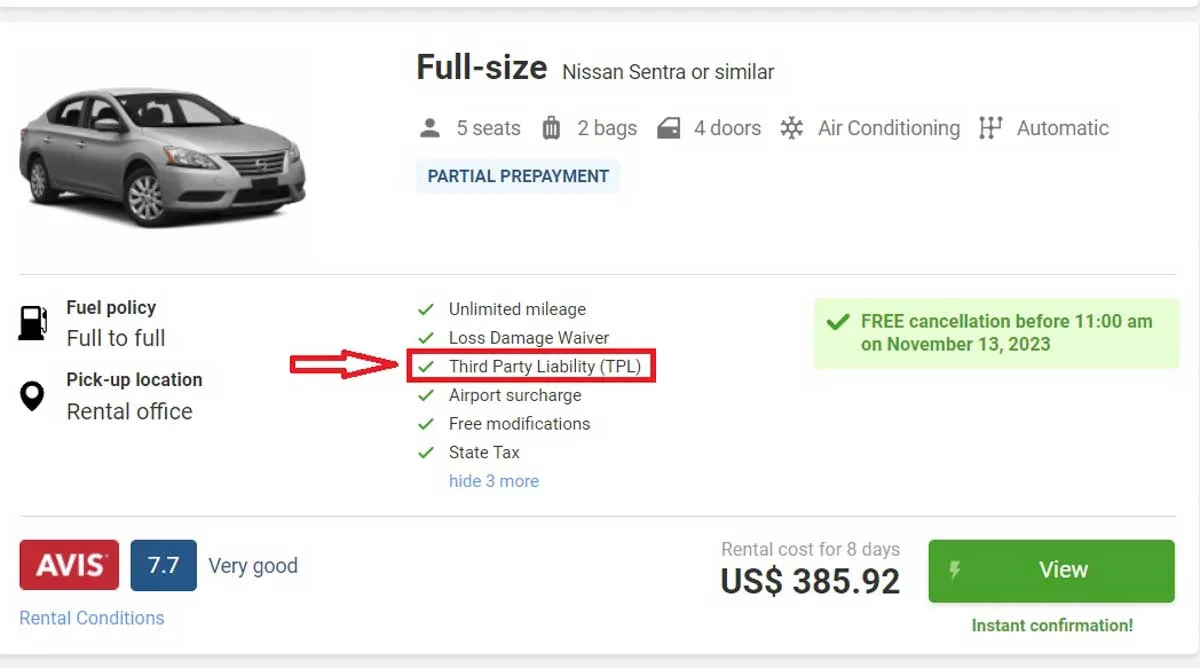 Book Shuttles
If renting a car isn't in your budget, you don't feel comfortable driving in Costa Rica, or you just don't like driving, shuttles are the next best option. There are hundreds of shuttle routes available all over the country, and they are very affordable.
Shuttles in Costa Rica are specifically for tourists and often include pick up and drop off at your selected hotels and airports. The drivers also speak some English, and the vehicles have air conditioning. You'll also be guaranteed a seat when you book a shuttle (which isn't the case with the public bus system.)
To get the best price, use the website Bookaway. They compare all the offers and prices of shuttle companies in Costa Rica so you get the best price! Honestly, we have saved so much money using Bookaway!
You can search for shuttles online on Bookaway here.
Public Bus
Lastly, you can use the public bus system. On short journeys, such as from San Jose to La Fortuna or Uvita to Manuel Antonio, this system is great. However, the longer the journey the more hassle and time spent on a bus. It's undoubtedly best to save the public bus in Costa Rica for short and straightforward trips!
The public buses are definitely the cheapest way to get around Costa Rica, but they are not always very reliable and schedules often change without notice and delays are to be expected. The buses can also be very crowded and hot – so just be prepared!
It's also good to speak some Spanish if you plan on riding the public bus since most drivers and ticket booth operators don't speak English.
Invest in Travel Insurance
Paying out of pocket for trip interruptions or medical treatment will add to what might already be a stressful situation. Not to worry, SafetyWing is here to help!
This affordable travel and medical insurance is perfect for digital nomads, long-term travelers, and remote workers. The best part is that it only costs $45 USD per 4 weeks.
To start coverage you must purchase it after leaving your home country. We usually purchase it as soon as we land at the airport.
Since using SafetyWing we've been reimbursed thousands of dollars when we've gotten sick. During the pandemic, they've even gone as far as to pay for our last-minute flights back to Canada before the border closed!
Pura Vida!
I hope that the above list has given you inspiration for a cheap but fun vacation to Santa Teresa, Costa Rica. As you can see there are plenty of awesome free and cheap things to do in Santa Teresa!
Be sure to have a look around my website a little more, I have plenty of blogs about Costa Rica that I'm sure you're going to absolutely love, such as –
ULTIMATE Guide to the Nicoya Peninsula and Best Things to do!