Trekking through Costa Rica's rainforest is one of the top bucket list items when exploring Central America. If you've done any research on La Fortuna, chances are you've heard about the incredible hanging bridges in the area. Without a doubt, visiting the hanging bridges is one of the most popular things to do in La Fortuna.
If you are wondering which hanging bridge to visit, you're in the right place! After visiting the hanging bridges around La Fortuna, we have some tips and tricks to share.
There are two companies that offer hanging bridge experiences in La Fortuna: Mistico Park and Sky Adventures. After visiting and having great experiences in both parks, we can confidently say that no matter what you choose, you will not be disappointed! Both experiences had us up in the treetops spotting a ton of wildlife and walking amongst the Costa Rican jungle.
With that being said, which park you should add to your Costa Rica itinerary depends on what you are looking to get out of the experience. The parks, while very similar, have their own charm and offer different amenities. Below we will jump into all the details about what the two parks have in common, and how they're different.
You can also find some of the best tours in Costa Rica in these parks. We've recommended some great tours you can book throughout, so keep an eye out for those. We booked tours when we went and found them to be really beneficial.
Now, let's get right into it!
What hanging bridges are there in La Fortuna?
La Fortuna has two different companies offering hanging bridge experiences.
The first is Mistico Park Arenal Hanging Bridges which is the larger of the two parks. The trails through Mistico are well maintained with wider paths that are flat and easier to access. This is ideal for those with strollers or mobility issues.
Sky Adventures, home of the Skywalk, is the original hanging bridge in Costa Rica. The rustic charm of Sky Adventures will have you weaving through narrow pathways built into the forest. Navigating the tree stumps and wandering up steep sections make this a great option for those looking for a bit more adventure.
Where are the hanging bridges in La Fortuna?
When deciding which hanging bridge to go to, you may want to first consider their location and how you are going to get there. Both hanging bridges are located about a half hour away from La Fortuna towards Lake Arenal.
The Skywalk is located about 30 minutes outside La Fortuna and more on the south side of Lake Arenal.
Mistico is also located about 30 minutes away and is more on the northern side of the lake.
If you aren't traveling with a rental vehicle, I recommend booking a guided tour. These can often be arranged to include transportation to and from the parks. Keep reading for my suggestions for a few tours that will offer pick-up from your hotel.
Related read: If you're exploring this part of Costa Rica, make sure to take a dip in the hot springs around La Fortuna!
What does it cost to visit the La Fortuna hanging bridges?
Both of these hanging bridges in La Fortuna require paying an entry fee. If you are planning on taking a guided tour, the entry fee will be included in the total cost.
The Skywalk
Entrance fees to Sky Adventures Skywalk hanging bridges are $41 USD for adults and $28 USD for kids (5-12 years old). If you are a student, the price drops to $33 USD. This price includes your entrance fee, a tour guide speaking either English or Spanish and a digital trail map.
Mistico
The Mistico Park entrance fee is $26.86 USD for adults and $19.45 USD for youth between 11 and 18. Children 10 and under are free to enter the hanging bridges. Prices cover a basic entrance fee and a self-guided experience (so no tour guide).
While Mistico is certainly cheaper than Sky Adventures, it is important to consider whether you are looking for a guided experience or not. If you're looking to wander at your own pace throughout the park, Mistico's self-guided experience is a great option.
Do you need a guide to visit the La Fortuna hanging bridges?
Sky Adventures requires a guided tour while Mistico allows free exploration of the park. While Mistico does not require a tour guide, both parks offer different guided tour options. These tours can include pick-up from your hotel and different experiences within the park.
While a guided tour may not be a requirement, we're huge advocates for them! Having someone explain all the plants and point out all the animals to us completely changed the experience. There's lost of unique wildlife in Costa Rica that tour guides can help you spot.
The Skywalk
Sky Adventures requires a guided tour. Entrance fees to the park include the cost of the tour guide.
We loved that this tour was guided! We would have easily missed half of the birds and animals that our guide pointed out. They are experts in the area so having a guide with us made the experience so much better.
If you are looking to get transportation to the park, this 4-hour guided tour is only $69 USD. The tour includes pick up from La Fortuna and you'll spend a half day walking around Sky Adventures observing the wildlife in the area.
Mistico
Mistico Park can be explored on your own without a guided tour. The entrance fee to Mistico allows for a self-guided experience in which you can tour the park on your own and at your own pace.
While you can walk yourself through the park, having a guide will help you get the most out of this experience. This 2.5-hour Mistico guided walking tour is $45 USD and includes pick up from La Fortuna. The transportation was comfortable and our guide was really funny. He pointed out so much wildlife we would have completely missed – from tiny frogs to monkeys in the trees.
If you have your own transportation but want to do a guided tour through the park, that's an option too! Tours are available in Spanish, English, and French and are offered at 8 am, 9 am, 10 am, 12 pm, 1 pm, and 2 pm. Early birds may like taking a guided bird-watching tour offered at 6 am. There is also a twilight tour offered at 4:30 pm and a nighttime tour at 6 pm.
If you're looking to pack multiple attractions into the day, this full-day combo tour is a great option! Not only will you get a guided tour through the Mistico hanging bridges, but it will also take you to swim in the La Fortuna waterfall and hike the Arenal Volcano. This combo tour costs $162 USD and includes transportation from La Fortuna, lunch, and entrance fees to the hanging bridges.
What to Expect from the La Fortuna Hanging Bridges Experiences
At both spots near La Fortuna, the hanging bridges will have you swinging from tree to tree with views that can't be beat.
Mistico's 6 hanging bridges will have you walking a total distance of 1,482 feet (452 meters) of hanging bridges. Sky Adventures has 4 hanging bridges that total a slightly shorter 1,447 feet (441 meters) in length. Here are some more details of what to expect at each location:
The Skywalk
Skywalk consists of a single 2.5-mile (4-km) loop trail with 4 hanging bridges and 4 regular bridges. Walking the Skywalk, you can expect to spend around 3 hours exploring.
The terrain here is uneven and does not offer easy accessibility to those with mobility issues. Paths narrow in areas and you will be walking over tree stumps and other natural obstacles.
I loved navigating through the paths here and appreciated how natural the trails seemed. Paths were very clean and the whole experience felt very authentic.
If you are short on time and don't want to commit to the entire loop, you can turn back early but will have to retrace your steps. The first two hanging bridges are the most popular in the park, so we recommend at least seeing those. Bathrooms are located at the entrance gates as well as between the second and third bridges along the route.
Below is a summary of all of the hanging bridges at The Skywalk:
| | | |
| --- | --- | --- |
| Bridge Name | Bridge Length | Bridge Height |
| Guarumos Bridge | 416ft/127m | 150ft/46m |
| El Yucon Bridge | 470ft/143m | 230ft/70m |
| La Quebrada Bridge | 446ft/136m | 66ft/20m |
| El Pizote Bridge | 115ft/35m | 33ft/10m |
Mistico
Mistico offers 6 hanging bridges and 10 regular bridges in the park. Touring through Mistico typically takes about 2 hours.
The park will have you walking through a series of different trails. The main trail is a 2-mile (3.2-km) route that will take you past all 6 hanging bridges in the park. There is also an accessible trail in the park almost 1 mile (1.5 km) long. This trail partially overlaps with the main trail and will take you over 1 of the hanging bridges.
There's another 1.2-mile (1.9-km) bird-watching trail that you can take through the park which, depending on the route you take, will take you over a few of the hanging bridges.
The 3 trails interlink together so for those looking to do all the trails, you will be walking through some sections multiple times – not such a bad thing if you ask me! Trails in this park tend to be wider and flatter with one trail that is fully accessible to wheelchairs and other mobility devices.
Before you set off on your hike, make a note that the only bathrooms in the park are at the entrance gates.
Below is a summary of the hanging bridges at Misitico:
| | | |
| --- | --- | --- |
| Bridge Name | Bridge Length | Bridge Height |
| Arenal Bridge | 246ft/75m | 180ft/55m |
| Bully Tree Bridge | 174ft/53m | 69ft/21m |
| Waterfall Bridge | 302ft/92m | 148ft/45m |
| Anthill Bridge | 285ft/87m | 92ft/28m |
| Fer-De-Lance Bridge | 157ft/48m | 79ft/24m |
| Tayra Bridge | 318ft/97m | 79ft/24m |
What hours are the hanging bridges open?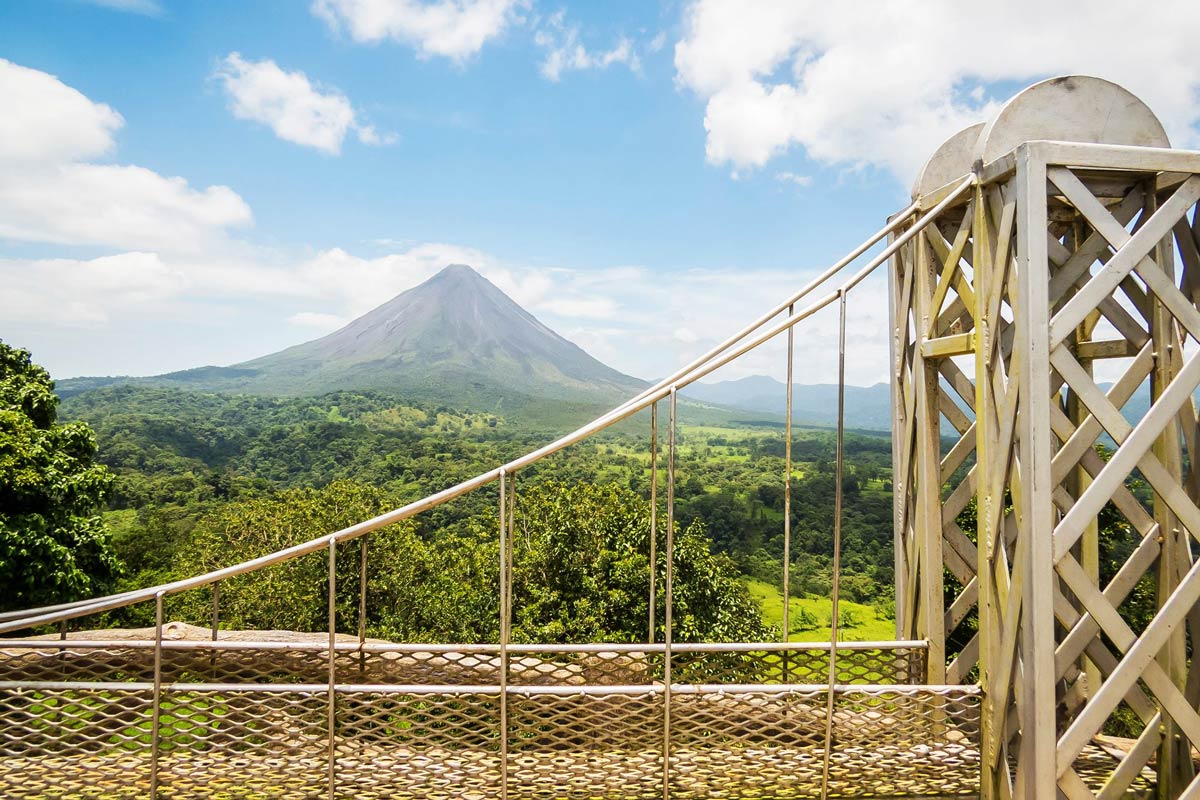 It is important to remember that the hanging bridges in La Fortuna are quite popular attractions. We recommend getting there as early as you can in the morning to beat the crowds. Going in the early morning will also increase your chances of seeing wildlife in the park as the animals are more active before the midday heat sets in.
The Skywalk
The Skywalk requires a guided tour to get through the park. Tour times are 7 am, 8 am, 9 am, 11:30 am, 12:30 pm, and 2 pm. You will want to arrive at least 15 minutes ahead of time.
Mistico
Mistico hanging bridges are open daily between 6 am and 3:50 pm. You can show up anytime and explore the park on your own.
For an after-hours experience, I can't say enough good things about this night walk through Mistico. At first, I was admittedly nervous about the idea of walking through the Costa Rica jungle at night, but then I learned that we'd see snakes and tarantulas and my nervousness turned into full-blown panic.
What I thought would be a terrifying experience turned out to be one of the coolest experiences I had in the country. Our guide was calm and knowledgeable and turned all my fear into excitement as he pointed out all the animals moving around through the park. We saw flowers that only bloom at nighttime and learned about all the butterflies that are awake in the dark (double the amount you can see in the day).
The night walk tour is $55 USD and includes round-trip transportation from your hotel in La Fortuna.
Are the hanging bridges in La Fortuna suitable for families with children?
Both La Fortuna hanging bridge experiences are great activities for families. While both Skywalk and Mistico are family-friendly, Mistico is far more popular amongst families.
For families traveling with strollers or accessibility concerns, Mistico Park is the better option to choose. Their paths are smooth and wide and they even have a fully accessible trail. Mistico consists of a few trails that interlink with each other. This gives some added flexibility and allows you to choose the length of trail that your family will prefer.
If you don't have a stroller with you, they are available for rent at the park's visitor center. There are also electric scooters available for rent here.
Families will enjoy that you have the option to walk through Mistico Park at your own pace without a tour guide. Touring through the park typically takes around 2.5 hours. One negative that families should consider is that Mistico has one bathroom at the entrance gate and none throughout the park.
Skywalk is a great option for families with older kids. The longer 2.5-mile (4 km) loop trail will have you climbing staircases and navigating tree roots that may be harder for young children. Skywalk also requires you to take a guided tour through the park which may not be as desirable for families with young children.
What other activities are available at the hanging bridges?
While the main attraction in these two parks is the hanging bridges, both parks offer a ton of adventure-filled activities that will be fun for the whole family.
The Skywalk
Sky Adventures is an adventurer's paradise. Ride an open-air cable car to the forest's peak and then fly down a zipline back to the jungle floor. With so much to do and see, you will be able to perfectly plan your day.
If you are looking for an even higher bird's eye view of the jungle, the park's sky tram is a great option. This Sky Tram & Sky Trek tour costs $112 USD and will have you taking a caged open-air gondola ride above the forest to the top of the Arenal reserve. You will then soar down a zipline for a total of 1.7 miles (2.8 km) to the forest floor. The tour includes transportation from La Fortuna.
For a real shot of adrenaline, this Sky Tram – Sky Trek & Sky Limit tour should only be attempted by the brave! For $208 USD this tour includes transportation to and from La Fortuna, a trek through the hanging bridges with a ride up the sky tram and down the ziplines. Then take things up a notch with their treetop obstacle course. I got to live out my dream of being Tarzan as I hung on a rope swinging from tree to tree on the Tarzan swing.
Mistico
Mistico, although newer, offers a lot of other experiences. Combine your tour of the hanging bridges with a canyoning experience and rappel down a waterfall.
The park also offers horseback riding for $55 USD. For the best deal, we recommend booking the horseback riding and hanging bridge combo tour for $124 USD. You will need to book your tickets in advance for this.
One of the best things to do in Mistico Park is the twilight or night walk. These after-hours tours will give you a thrilling chance to see nocturnal animals such as frogs, owls, raccoons, and margays.
Related Read: Learn about the best places to go ziplining in Costa Rica!
Can you visit the La Fortuna hanging bridges in the rain?
Both hanging bridges in La Fortuna are open rain or shine, meaning you can visit anytime. The rainforest has decent coverage from the towering trees offering a shield from both the sun and the rain.
It is essential to come prepared for the weather though. Nothing will ruin your experience like a rainy day you aren't prepared for.
Related read: If you're waiting out the rain or looking to warm up after, check out the best restaurants in La Fortuna to grab a bite at!
Can you see wildlife on the hanging bridges in La Fortuna?
Walking through the Costa Rica jungle will have you seeing lots of exotic wildlife native to the area. One of my favorite parts of visiting the hanging bridges was the animals we saw. We were lucky to see lots of birds, frogs, monkeys, butterflies, and way too many spiders! The highlight for me, though, was seeing a sloth sleeping in a tree.
Costa Rica's rainforest is known for having many colorful birds. We were surprised to learn that over 400 species of birds in Costa Rica are found in this area from stunning toucans to many different types of parrots. If you love birds, this Mistico birdwatching and hanging bridge tour starts at 6 am and will give you a peaceful view of the park before all the tourists come. This guided bird-watching tour is $51 USD and includes transportation from La Fortuna.
Some less popular animals that you can expect to see along your trip include spiders and snakes. It is important to exercise caution around these animals as there are a few species from both that are poisonous. Tarantulas are native to this area and are commonly seen in dark cool areas such as holes in rocks.
While they're rarely seen, the forest is also home to jaguars and pumas. The best time to see more animals is in the cooler parts of the day. Getting to the park early will give you the best chance to see the most wildlife.
If seeing wildlife is a priority for you, we recommend booking a guided tour. We found the guides to be very knowledgeable about the park. Our guides knew where to look for the animals and would pick up rocks, shine lights through little holes and make us bend in certain ways to spot a ton of wildlife in the park.
Do you need to book the hanging bridges in advance?
The hanging bridges in La Fortuna are one of the most popular experiences in all of Costa Rica. Especially in peak seasons, they can get quite busy. You are not required to buy tickets beforehand, but we highly recommend it.
When we visited, entrance lines were packed with people looking to buy tickets in the hot and humid weather. While you can buy tickets at the gate, we highly recommend buying them before you go!
If you are wanting to take a guided tour with transport of either of the hanging bridges in La Fortuna, you will need to make a reservation ahead of time.
What are the best combo tours that include the hanging bridges?
If you want to get the most from the La Fortuna, a combo tour is the best way to go. Combining multiple activities will give you more time and new experiences in the area. With a combo tour, you can do many of the best activities in La Fortuna in just one tour!
The best combo tour option for visiting Mistico Hanging Bridges combines tours through the Arenal Volcano and the La Fortuna Waterfall. The tour costs $163 USD and includes all transportation to and from La Fortuna.
You will start your day on a 2.5-hour trek to the dry lava fields at the Volcano. You will then walk 500 stairs down to La Fortuna Waterfall for a refreshing swim. After a long climb back up those 500 stairs (my legs still burn!), you will take a guided 2.5-hour trek through the hanging bridges at Mistico Park.
If you are looking for a combo tour through the Skywalk hanging bridges at Sky Adventues, this short 2.5-hour combo tour will give you many different perspectives of the Costa Rica jungle. Start by taking a leisurely ride on the Sky Tram up to the peak. Once there, prepare for a thrill as you hook up to a combined total of 1.7 miles (2.7 km) of ziplines rushing you back to the jungle floor.
Where to Stay in La Fortuna
To give yourself time to visit one (or both) sets of hanging bridges near La Fortuna, you'll need a place to stay. Luckily because La Fortuna is such a big tourist town, there are a ton of amazing places to stay. For more in-depth info, check out our blog on where to stay in La Fortuna, or read below for our top picks for a range of budgets.
For budget travelers, Selina is an excellent option. We spent a lot of time here while living in La Fortuna as they have a great co-working place. It's also a fun place to party with a bar and live music most weekends. You can order a cocktail or a beer, sit by the bonfire, or dance to live folkloric music under the stars.
La Fortuna Natural Green is another budget option suited to those who prefer to avoid hostels. They offer small chalets a short walk or drive from town.
Those with a medium budget should check out Casa Luna Hotel & Spa. I stayed here on my first visit to La Fortuna and loved it. The property is beautiful, with a large pool and four hot tubs surrounded by nature. They also include a delicious breakfast. Casa Luna is located a short drive from town.
Those on a luxury budget should consider a hotel with a view of the volcano! Tifakara Boutique Hotel is located just outside Arenal Volcano National Park. The rooms feel almost like private villas in the jungle as you're surrounded by flowering tropical plants and all different types of birds.
For even more luxury, The Springs Resort & Spa at Arenal is arguably the fanciest hotel in La Fortuna. It comes with fantastic views, luxury rooms, a resort-style pool, a fitness center, a swim-up bar, hot tubs, and a spa and wellness center.
Other EPIC Activities in La Fortuna
1. Explore La Fortuna waterfall
It should come as no surprise that La Fortuna Waterfall is one of the top attractions in La Fortuna. It's one of the most beautiful waterfalls in Costa Rica! This stunning 230-foot (70-meter) waterfall shoots out from a tall cliff into a powerful pool below that's surrounded by lush forest.
Visiting is nothing short of breathtaking. Entrance to La Fortuna Waterfall is $18 USD, and you can purchase tickets at the gate or here online in advance and skip the line (it's the same price). If you don't have transport or would prefer a guide, I recommend joining this guided tour.
2. Wander Arenal Volcano National Park
Arenal Volcano is one of the top national parks in Costa Rica. Exploring the park is an adventure that takes you to the base of one of the best volcanoes in Costa Rica and slightly up its steep face. Along the way, you can enjoy the magnificent views and even see where the lava from the last major eruption oozed down the side of the volcano.
If you just want to explore Arenal as I did, this specific tour is a great option. It includes all your fees, water, transport, and a great guide. You'll learn a ton about the park and volcano!
3. Venado Caves
One of the more unique things to do in La Fortuna is exploring the Venado Caves. This fun, and somewhat scary experience, takes you underground to see the cave with an expert guide. The tour involves entering a larger cavern before exploring smaller caverns, and at some points, you'll squeeze through holes barely big enough to fit through.
All up, you spend around 45 minutes in the cave and come out with a ton of knowledge and lots of smiles – we had such a great time! The tour we did was fantastic, and I highly recommend it to those who want to challenge themselves and see a side of La Fortuna almost none do!
Related Read: Check out the best free and cheap things to do in La Fortuna while you're in town!
Pura Vida!
Exploring the La Fortuna hanging bridges may just turn out to be one of your favorite things to do in Costa Rica! As you can see Mistico and Skywalk are different, but regardless of which one you choose, you will have a great time. If you have time, we recommend doing both!
I hope you love your time in La Fortuna as much as we did. While you're planning your trip here, check out our travel inspiration blogs so you can fill up your Costa Rica bucket list!
20 Best Things to do in Monteverde, Costa Rica
23 Delicious Traditional Foods in Costa Rica (You Just HAVE to Try!)
10 Tips to KNOW Before Visiting the Costa Rica Crocodile Bridge