La Fortuna Waterfall is an incredibly scenic part of La Fortuna's landscape. The hike itself is pretty accessible – regardless of the 500 steps to reach it! We love hiking through the rainforest, hanging out in its cool waters, and seeing this powerful waterfall up close.
However, this waterfall experience is even better on a guided tour that includes other amazing activities in one fun-filled day! With so much to see and do in La Fortuna, you'll want to maximize your time. While you're out, you can see a waterfall, a volcano, and hot springs, and maybe even get your adrenaline pumping with a rappelling or zipline adventure!
Luckily, there are some really great tour options out there. After trying several and talking to other travelers, we put together this list of the 8 best La Fortuna Waterfall tours. Check them out and pick one for your next vacation in Costa Rica!
Our Top Choice for a La Fortuna Waterfall Tour
If you're pressed for time and want to book a tour right now, this full-day tour is our top choice because it takes you to the highlights of La Fortuna. You'll get to hike the stunning Arenal Volcano, swim in La Fortuna Waterfall's cool waters, and then hit a hot spring resort – which is a must-do activity in Costa Rica. However, the real reason this tour stands out is because it's the best bang for your buck (at just $91 USD), making it affordable and very inclusive for a day tour! Check out the details, and be sure to reserve this tour in advance – it's definitely popular!
About La Fortuna Waterfall
La Fortuna Waterfall is one of the best places to visit in Costa Rica – and perhaps the country's most popular waterfall!
La Fortuna means "the fortune" in Spanish, and when you see this waterfall, you'll definitely feel fortunate. These impressive falls are 246 feet (75 meters) high. The waters are fed from the Fortuna River and cascade down into a beautiful, greenish-blue pool. Surrounding this pool is a jungle of lush greenery, flowers, and large rocks.
We love that all visitor fees here go directly towards conservation efforts. The waterfall is actually managed by the Integral Development Association of La Fortuna, a nonprofit organization that protects the falls and educates others about the local environment.
The waterfall is located in the Ecological Reserve Fortuna Waterfall. It's right next to the Arenal Volcano National Park – one of the best national parks in Costa Rica.
It's just 5.5 km (3.4 mi) from the town of La Fortuna. As such, most people stay in La Fortuna when visiting this waterfall and national park. However, it's also just 129 mi (80 km) from San Jose, Costa Rica's capital. If you're staying in San Jose, consider making a day trip to get from San Jose to La Fortuna – and, of course – check out the waterfall!
Also, whether you're taking a tour or visiting these falls on your own, there are some things you should know (like what to wear or bring!). So before heading here, check out our handy guide to visiting La Fortuna Waterfall for all the inside info.
Why book a tour to La Fortuna Waterfall?
While visiting the waterfall is one of the best tours in La Fortuna, there is even more to explore nearby. We love that these tours typically include additional adventure activities such as rappelling and ziplining.
Plus, visiting the waterfall will only take a few hours. Since it's a short hike, you'll have plenty of time in your day to add these extra excursions! However, these are definitely activities that you can't do without a tour, so it simply makes it easier to combine them all.
This area also has so much to learn about. As you hike to the waterfall, you'll pass by some local wildlife that I somehow miss without the tour guide's expert eye. They'll also tell you about the unique ecosystem of the lush jungle and what it's like to live in such a gorgeous place!
Overall, I found a local's insight on tours an extremely beneficial bonus. Not only did we have a super fun day, but we also learned quite a bit – and it was all fascinating stuff!
Plus, all the perks of the tours make your day so much easier. With many of the La Fortuna Waterfalls tours, you won't need to worry about transportation, entrance fees, lunch, or the like! You can just show up and enjoy all that this town has to offer.
Best La Fortuna Waterfall Tours
1. La Fortuna Waterfall with Hanging Bridges and Arenal Volcano
One of the most recognizable landmarks in La Fortuna is the stunning Arenal Volcano. I mean, it's an entire volcano, so it's hard to miss. Since La Fortuna sits right at its base, you can access both in one day – along with some of the best trekking in Costa Rica. This is exactly why you should lace up your hiking boots for this full-day tour.
On this tour, you'll be visiting three amazing locations. Your first activity will be hiking around the base of Arenal Volcano. This 2.5-hour hike is actually easier than it sounds, as the hike is relatively flat.
The trail will lead you to a dry lava field from the 1968 eruption, which had a devastating impact on the surrounding villages, crops, and ecosystems. Don't worry, it's no longer active, so you're safe to explore! I found it pretty fascinating to see the lava rocks and understand the power of the volcano – it makes it even more impressive!
You'll then take a 30-minute drive to the La Fortuna Waterfall. While this hike isn't nearly as long as the volcano hike, it is still considered difficult due to its 500 steps to reach the waterfall pool. Luckily, the tour schedules a solid two hours for this part of the day. You'll descend and have plenty of time to relax and swim in the water before you c;imb back up the steps.
Finally, you'll hit your third and final hiking spot on this tour. The Arenal Hanging Bridges are 16 hanging bridges that wind through the rainforest. There are several hanging bridges in La Fortuna – and I loved crossing them all! What's great is that you'll have about 2.5 hours here and can move through it at a nice, relaxed place, taking in the beauty of the rainforest.
We love that each of these three hikes has a different feel, so you can see how diverse the jungle of La Fortuna really is! But you will be hiking on three different trails, so it is geared toward the adventurous traveler.
This 9-hour tour starts at 7 am and has a maximum of 13 people. I think it's big enough to make friends and have a good time but still keep a good pace on these hikes. All the while, you'll be led by your amazing local guide, who will keep your tour fun and informative throughout the day!
This tour includes hotel pickup and drop off from La Fortuna hotels and lunch. It costs $163 USD per adult and $122 USD per child (ages 4-9), but bear in mind it might be a lot of hiking for a little one. Be sure to pack some rain gear (you never know with the rainforest), hiking boots, plenty of water, and some snacks!
Since it's a small-group tour, we recommend reserving this full-day hiking tour in advance.
Related Read: If you love hiking to waterfalls, check out our guide on visiting the Uvita Waterfall.
2. La Fortuna Waterfall Hike
This quick tour is perfect if you're short on time but still want to check out La Fortuna Waterfall!
Over the course of this 3-hour tour, you will have the chance to explore the impressive rainforest that surrounds La Fortuna and make your way down to the falls. The descent isn't long, but the 500 steps will make it seem a little more daunting! You'll have plenty of time on this tour, so if you go slow and enjoy the view, it's doable for most travelers with a moderate fitness level.
We really appreciated having a local guide as we walked to La Fortuna Waterfall because they helped us spot some amazing wildlife. We saw toucans, orioles, and even the fluffy four-legged coatis!
Once we reached the waterfall, we had a couple hours to hang out and gawk at its impressive force. Of course, we also took a dip in the cool waters. It was definitely a refreshing and relaxing time before we hoofed it up the 500 steps to the top. It's all worth it, though!
This half-day experience includes hotel pickup and drop off from the La Fortuna area, water, and snacks. It's offered at 8 am and 1 pm every day, so it's also super easy to fit into your itinerary. You can reserve this tour online for $53 USD.
Overall, it's a fantastic way to see the waterfall and enjoy Costa Rica's natural beauty. For a convenient tour that focuses on the waterfall, pick a date and book it online here!
3. Full-day Arenal Volcano, La Fortuna Waterfall and Hotsprings
This is our favorite tour on the list for a couple of reasons. In addition to taking you to the beautiful La Fortuna Waterfall and Arenal Volcano, it also takes you to relax in a natural hot spring! This tour is the best value for money as it includes a full day of activities, a small group, plus lunch and cocktails. It's hard to beat all this tour has to offer!
Your day of adventure will begin at 7:30 a.m. with a hotel pickup from La Fortuna. The first stop is the La Fortuna Waterfall! Going in the morning is actually the best time of day because you avoid the crowds. I really enjoyed some exercise and a cool swim at the beginning of the tour, as it set a fun tone for the rest of the day.
Then, you'll head to Arenal Volcano for about three hours of hiking. Again, this isn't a difficult hike as it is pretty flat, so you can expect to have a few hours of enjoying the incredible landscape.
What I love about this hike is that you visit the highest viewpoint on the trail, El Mirador del Silencio. Here, you can see Lake Arenal, the lava fields, the jungle, and the giant volcano towering over you. It is a view that will stick with you for a long time to come!
Finally, the relaxing part of this full-day tour will be visiting some of La Fortuna's natural hot springs! You'll have a few hours to relax and enjoy. The tour even has complimentary cocktails for you to enjoy as you soak. It really is the perfect end to a day of adventure.
This tour only takes a small group of 10 travelers, which we think is the perfect size. All of your fees (national park and resort) are included, as well as lunch, alcoholic beverages, transportation, and your amazing guide! You get all this for just $91 USD, which is an incredible deal for a full 11 hours of fun.
Be sure to book this tour in advance, as it is definitely a popular one (and for a good reason: it's awesome!).
Related Read: If you're also visiting the coastal city of Jaco, read about our favorite tours and excursions in Jaco.
Why We Book Tours with Viator
Viator is a trusted online booking system for tours around the world! We almost always book our tours using Viator for a couple of reasons:
Free cancellation on most tours – Most of the tours on Viator allow you to cancel and get a full refund up to 24 hours in advance. This is handy in case plans change, or if booking an outdoor activity, the weather forecast is looking grim.
Reserve now and pay later – You can secure your spot on some of the most popular tours well in advance and not pay until closer to the day of the tour.
Pay in your chosen currency – Avoid costly international transaction fees by choosing to pay in your home currency.
Peace of mind – When booking with tour operators you find in person on the street or in small booking offices, you are often promised one thing and given another. This online platform holds tour operators accountable with a written description of inclusions as well as the opportunity for customers to leave reviews.
Check out the Viator website here!
4. 7-Cable Zipline Canopy Tour Over La Fortuna Waterfall
If you're looking for a little adrenaline rush while exploring the La Fortuna jungle, this three-hour tour is perfect for you! You'll hike through the Costa Rican rainforest with an expert guide, sail down ziplines, and see some unforgettable views.
You'll meet at Arenal Mundo Aventura Park, which is right in La Fortuna. You can also request hotel pickup from accommodations in La Fortuna. From the adventure park, you will take a bus up the mountain and a 20-minute hike to reach the first zipline. You will get to go on seven ziplines, the longest being 980 meters (3,215 feet).
From above the canopy, you can see La Fortuna Waterfall, Pino Blanco Waterfall, and lots of rivers, streams, and trees below. If you've never been ziplining, Costa Rica is the best place to try it out! It is simply stunning!
After your zipline adventure, you will stop by Maleku Village to meet the local Indigenous people and learn about their way of life. You can also enjoy an optional self-guided hike to La Fortuna Waterfall since you're already out adventuring. This hike will add an additional 3 hours to your day but doesn't cost any extra.
This tour is my top pick if you're looking for a family-friendly activity. The guides do a great job of making the day fun, but most importantly, safe! It is also only a three-hour tour, so it can be easier if little ones get tired on full-day excursions.
You can reserve this tour for $77 USD for adults and $65 USD for children (ages 7 -12). It includes everything we mentioned, as well as safety gear and water. Tours leave daily at 8 am, 10:30 am, and 1:30 pm, so you've got options.
It will certainly be a memorable adventure, so be sure to book your spots online before it fills up!
5. Canyoning and Waterfall Rappelling Tour in La Fortuna
This La Fortuna tour calls the area "nature's playground," and it really isn't kidding. Over the course of 4 hours, you'll rock climb, rappel, descend waterfalls, and ATV through the rainforest, followed by a well-deserved lunch to recuperate!
Canyoning and rappelling are thrilling activities and ones you don't get the opportunity to try very often. Even though the popular song might tell you, "Don't go chasing waterfalls", we have had a blast every time we've been rappelling down one!
These tours begin at 7:30 am and 12 noon, and you can expect hotel pick-up about 15 minutes beforehand. Once you join the tour, you'll ride in a 4×4 through the jungle to reach the canyon. The views along the way really set the tone for the adventure!
Canyoning is when you rappel down into the canyon. It sounds a bit intense, but I think it's fitting for anyone who likes a good adrenaline rush. On this tour, you'll have five rappels into the canyon, including the iconic "monkey drop" route. You'll also experience four rappels down waterfalls, which are unique in their own way. You will even have the chance to rock climb in this amazing location!
After this excursion, you'll stop for a well-deserved lunch of traditional Costa Rican cuisine. You can expect to see some of the iconic wildlife in the area – toucans, sloths, monkeys, and other animals. It's great going with a guide because they do a good job of pointing out all these animals. There are even tours dedicated specifically to spotting sloths in La Fortuna!
While this adventure tour might seem thrilling and daunting at the same time, it is actually quite safe! In fact, children as young as 5 years old are able to participate, and I honestly think kids tackle these challenges better than adults!
This tour includes transportation from your La Fortuna-based hotel, all safety equipment, lunch, and your knowledgeable guides. This fun day of adventure can be reserved for $119 USD per person. I also loved that the guides take pictures, which are available for purchase. There's no need to worry about getting your camera wet, and you can just enjoy the moment.
I highly recommend booking this tour in advance, especially during peak tourist season (as it's a popular day trip from La Fortuna).
Related Read: If you love keeping active while traveling, read about the best places to go kayaking in Costa Rica.
6. Horseback Riding at Volcano Foothills + La Fortuna Waterfall
Instead of hiking through these iconic trails, try horseback riding! This horseback riding tour allows you to see more in one day because your horse can go further and faster than just your two legs. You'll get to explore the base of the Arenal Volcano as well as La Fortuna Waterfall.
After being picked up from your hotel in La Fortuna, you will head to the stables near the base of Arenal Volcano. You'll spend a few hours following the 1968 Eruption Trail as your horse climbs over lava rock and takes you around the mountain. You will get some of the most incredible views once you reach El Silencio viewpoint.
Once you return your horse to the stable, your group will drive 30 minutes to reach La Fortuna Waterfall. Here, you'll hike down to the waterfall and have an hour to swim, hang out, and enjoy the beautiful falls. Lunch isn't included on this tour, but it is available to purchase at the falls.
This tour includes roundtrip transportation (via car and horse), entrance fees to the national park and waterfall, and snacks. You can select a private tour option for $161 USD. Alternatively, the shared tour option is $107 USD and requires a minimum of 2 to book, but is only 15 people maximum. Private tours begin at 9 am, and the shared tours begin at 8 am.
You can check availability and book this tour online here!
7. River Safari Float with La Fortuna Waterfall and Volcano Hike
One of the reasons we love Costa Rica is that there are so many amazing outdoor activities! You will never get bored here, especially with a tour like this River Safari Float, La Fortuna Waterfall, and Volcano Hike!
This is the only tour on the list that goes to the stunning Penas Blancas River. While this river is widely known for its epic whitewater rafting, this tour offers more of a leisurely float. They call it a "river safari" because you'll spot a variety of animals as you float down the calm waters. You might see sloths, monkeys, iguanas, toucans, and more!
You'll then head to La Fortuna Waterfall for a hike and a swim. Walking up and down the 500 steps definitely built up our appetites! Luckily, afterward, you'll stop at the Rancho Rainforest Explorers for a hearty lunch. This is a fun experience as you actually get a home-cooked traditional Costa Rican meal, which is really a treat!
Finally, you'll head to the Arenal Volcano for 2.5 hours of hiking. This is a super leisurely pace so that you can enjoy all the surrounding nature. I found the landscapes here incredible as we walked along the old lava trails and took in the panoramic sights.
This full-day tour is a fantastic way to get outside and explore some of La Fortuna's natural beauty. The tour costs $185 USD It includes roundtrip transportation from your La Fortuna hotel, national park and activity fees, lunch, and your guide. Pick-up starts around 7:30 am, and you can expect the excursion to last a total of 9.5 hours.
That price is based on their promotional fee, so I'd reserve this tour as soon as you can!
8. La Fortuna Waterfall Tour from San Jose
Even if you're staying in San Jose, you can still experience the beauty of La Fortuna! This tour from San Jose is a great option if you're short on time and want to escape city life. It will take you to see La Fortuna's hanging bridges, hot springs, and waterfall all in one day!
This tour starts at 6 am since San Jose is about 2.5 hours from La Fortuna (and there's a lot to fit into one day). Your first stop will be at La Fortuna Waterfall, which is a great introduction to the rainforest and wildlife. You'll have about two hours to hike, swim, and explore this scenic location. Then, you'll take a 30-minute drive to the suspension bridges!
I was seriously impressed the first time I saw this suspension bridge park. There are so many swaying paths that let you explore the rainforest up in the trees! Some of them are 135 meters (443 feet) high!
When we visited, we had a 2-hour tour. Our guide did an excellent job explaining the plants, animals, and insects. Here, we even saw a sloth, which is a total Costa Rica bucket list experience!
The 12-hour tour ends in the perfect way: by visiting a hot spring resort! You'll have about 3 hours at Los Lagos Hot Springs, which is just enough time to check out its 25 different mineral pools. It also overlooks Arenal Volcano, so you have fantastic views the entire time. It's the perfect way to decompress after walking around sightseeing.
While this tour is on the more expensive side, it also is the most inclusive tour on this list – especially since you're driving all the way from San Jose! The $243 USD price includes roundtrip transportation from your hotel, breakfast, lunch, and all fees and taxes. It also covers the entrance to all three locations, which can be a big expense in itself! There's a minimum of 2 per booking, and it's a great honeymoon activity in Costa Rica.
If you're staying in San Jose, I can't recommend this tour enough! It is a great way to get out of the city and experience one of my favorite areas of Costa Rica.
Plus, we've seen some awesome discounts on this tour – so check prices and availability for your dates!
Related Read: For another awesome town just outside San Jose, check out the top activities in Puntarenas, Costa Rica.
Other Things to do While You're in La Fortuna
Of course, visiting La Fortuna Waterfall is one of the best experiences, but there are so many other things to do in La Fortuna you won't want to miss! These are just a few of our top picks:
Hot springs – If your tour doesn't include hot springs, we definitely suggest visiting some! The Free Natural Hot Spring River is a public river running through the Tabacon Hot Springs Resort. It's only 15 minutes outside La Fortuna and feels amazing after a day of hiking! If you don't mind paying for a soak, there are tons of other amazing hot springs in La Fortuna to choose from too.
Go on a night walk – Since waterfalls are a daytime thing, go on this night walk and dinner tour for a fun evening experience. Guides lead you on an easy hike through the rainforest, spotting all the critters that come out after dark. To finish it off, you'll enjoy a traditional Costa Rican dinner prepared on a wood-burning stove.
Visit a rope swing – El Salto, or "the rope swing," is a hidden paradise with a swimming hole, more waterfalls, and a local vibe. Although most things here cost money, this is one of the free things to do in La Fortuna! You can easily walk to El Salto from town and swing into the refreshing waters – or ask the locals where it's safe to jump!
Take a cooking class – The food is one of my favorite things about Costa Rica! The next best thing to eating locally-made Costa Rican food is learning to make it yourself. This 3-course cooking class is not only a super fun experience but lets you get into the culture too!
Where to Stay in La Fortuna, Costa Rica
Because La Fortuna is such a big tourist town, there are a ton of amazing places to stay. We even wrote an entire blog about the best hotels in La Fortuna. However, to make it super easy, we've narrowed it down to our top places for each price point. So keep reading to find one that suits your needs (and budget!).
Luxury – $$$
Those with a luxury budget can wake up to views of Arenal Volcano! The Volcano Lodge is set at the foot of Arenal Volcano. It has hot springs and a lush, tropical garden on the property where you can see lots of the beautiful birds of Costa Rica, including hummingbirds! Rooms here typically start at $200 USD per night. For a luxurious stay in a natural setting, book The Volcano Lodge online here.
For arguably the most luxurious hotel in La Fortuna, check out The Springs Resort & Spa at Arenal. While the rooms don't come cheap ($600 USD+), it's a bucket list place to stay that's perfect for visiting Costa Rica on a honeymoon! There's also a resort-style pool, a fitness center, a swim-up bar, hot tubs, and a spa and wellness center. If you're looking for the ultimate luxury, reserve your stay at The Springs Resort & Spa at Arenal!
Mid-range – $$
Those with a medium budget should check out Casa Luna Hotel & Spa. I stayed here on my first visit to La Fortuna and loved it. The property is beautiful, with a large pool and four hot tubs surrounded by nature. They also include a delicious breakfast at the $170 USD room rate.
Casa Luna is located a short drive from town and can be booked online here.
Budget – $
One of the go-to budget options is Selina La Fortuna. I've stayed in Selina hostels around the world and this is a great one. It has a fun party atmosphere and a great co-working space where we spent a lot of time. You can also book on Booking.com or Hostelworld.com for the best rate.
La Fortuna Natural Green is another budget option suited to those who prefer to avoid hostels. They offer small chalets a short walk or drive from town. Rooms start at $75 USD and include free breakfast. To grab this great deal, check prices and availability on Booking.com.
Getting Around Costa Rica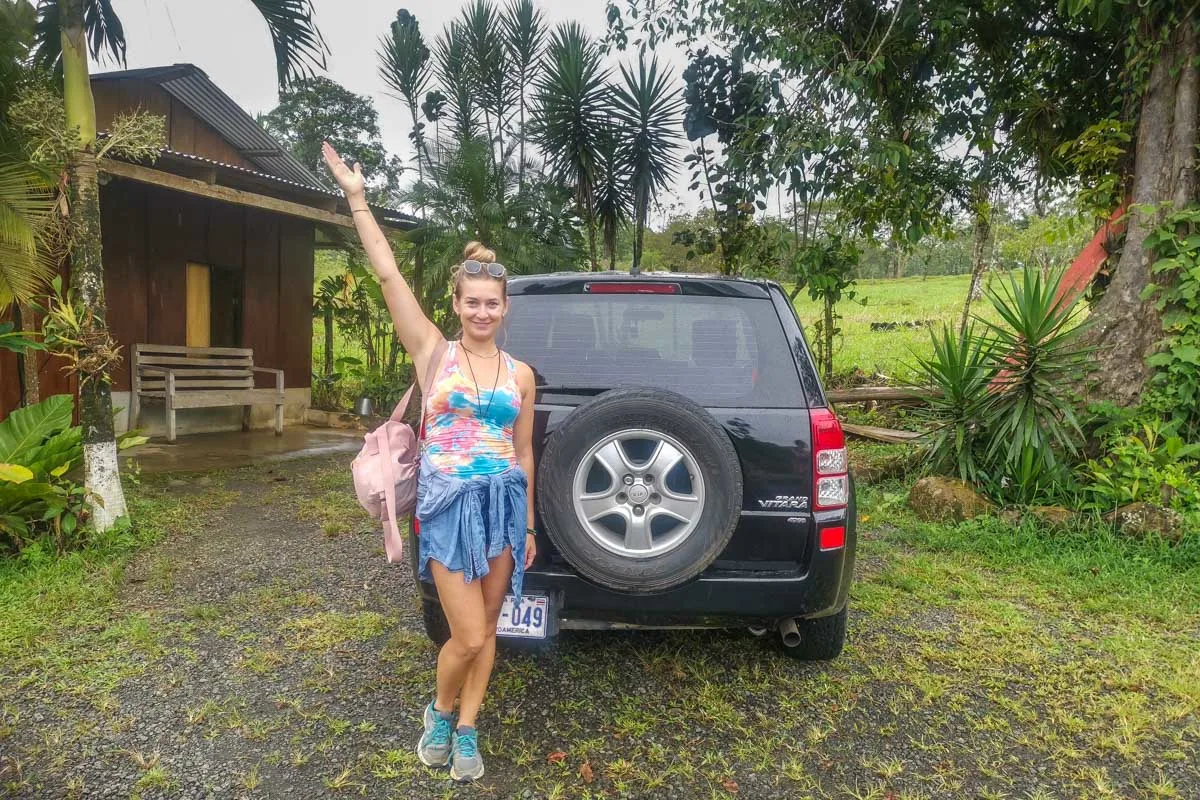 How you choose to get around Costa Rica is one of the biggest decisions you'll make when planning your holiday here! How you do it depends on your budget, travel style, and comfort level.
Renting a Car
Without a doubt, the number one way to explore Costa Rica is in a rental car. We book rental cars on the Discover Cars website as we have had good experiences with them in the past.
One of the things you need to watch for when renting a car in Costa Rica is the mandatory insurance that the government requires you to have. There are a lot of very cheap rentals that don't include this mandatory insurance (TPL) in the original booking price, but there are also ones that do. To avoid additional surprise charges when you pick up your rental car, be sure to rent a car that includes the mandatory insurance when you book.
Thankfully, on Discover Cars it's easy to tell apart the companies that include the mandatory insurance and those that don't. The trick is you can't pick any car on their website. In the picture below, you can see this rental car, with pick up in Jaco, includes the TPL. That means the mandatory insurance is included in the price. Any cover you get above that is extra.
Of course, I still suggest getting the full coverage offered by Discover Cars, which covers you even more.
You can browse cars on Discover Cars here.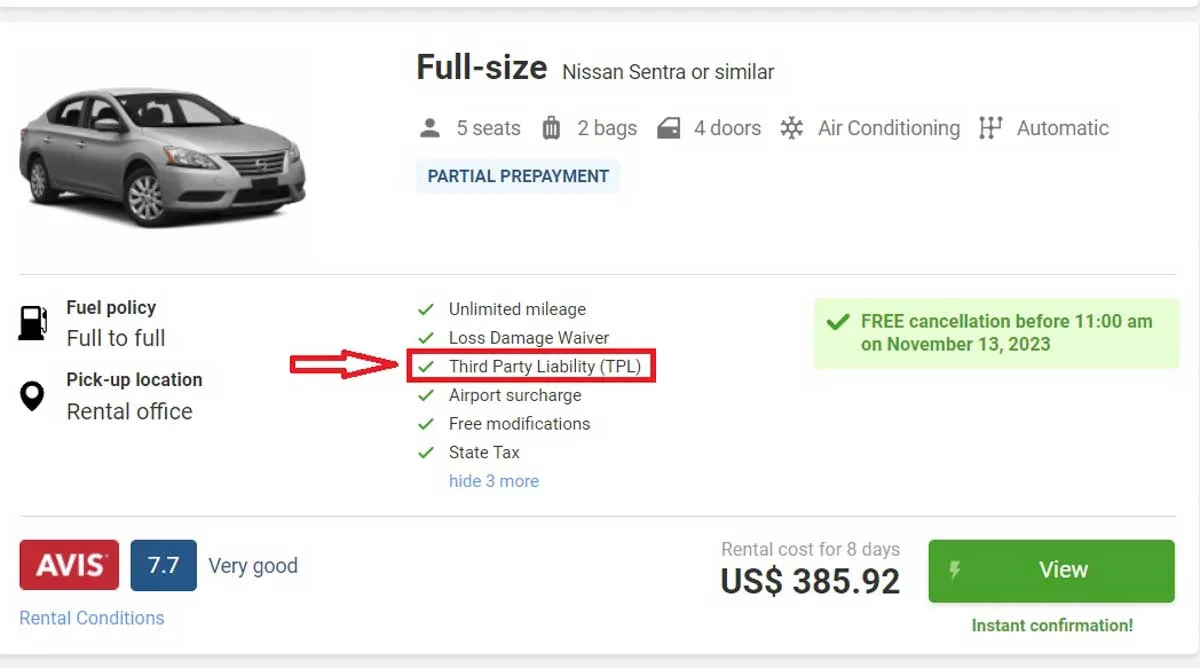 Book Shuttles
If renting a car isn't in your budget, you don't feel comfortable driving in Costa Rica, or you just don't like driving, shuttles are the next best option. There are hundreds of shuttle routes available all over the country, and they are very affordable.
Shuttles in Costa Rica are specifically for tourists and often include pick up and drop off at your selected hotels and airports. The drivers also speak some English, and the vehicles have air conditioning. You'll also be guaranteed a seat when you book a shuttle (which isn't the case with the public bus system.)
To get the best price, use the website Bookaway. They compare all the offers and prices of shuttle companies in Costa Rica so you get the best price! Honestly, we have saved so much money using Bookaway!
You can search for shuttles online on Bookaway here.
Public Bus
Lastly, you can use the public bus system. On short journeys, such as from San Jose to La Fortuna or Uvita to Manuel Antonio, this system is great. However, the longer the journey the more hassle and time spent on a bus. It's undoubtedly best to save the public bus in Costa Rica for short and straightforward trips!
The public buses are definitely the cheapest way to get around Costa Rica, but they are not always very reliable and schedules often change without notice and delays are to be expected. The buses can also be very crowded and hot – so just be prepared!
It's also good to speak some Spanish if you plan on riding the public bus since most drivers and ticket booth operators don't speak English.
Invest in Travel Insurance
Paying out of pocket for trip interruptions or medical treatment will add to what might already be a stressful situation. Not to worry, SafetyWing is here to help!
This affordable travel and medical insurance is perfect for digital nomads, long-term travelers, and remote workers. The best part is that it only costs $45 USD per 4 weeks.
To start coverage you must purchase it after leaving your home country. We usually purchase it as soon as we land at the airport.
Since using SafetyWing we've been reimbursed thousands of dollars when we've gotten sick. During the pandemic, they've even gone as far as to pay for our last-minute flights back to Canada before the border closed!
Thanks for reading!
La Fortuna Waterfall is a must-see in this town! Just look at the pictures above, and you'll understand why we love it so much. But truthfully, a tour makes visiting the falls even better since they combine it with the area's best attractions. So, if you're planning a trip here, we hope you found a tour to suit your needs!
If you'd like to read more, check out our blog all about Costa Rica! We've traveled all over the country and even lived here for some time. Obviously, we love this place, which is why we want to share what we've learned. So below, I've linked to a few articles that might come in handy.
11 Things You NEED To Know About Shuttles in Costa Rica
12 BEST Restaurants in San Jose, Costa Rica