This blog may contain affiliate links. Read our disclosure policy for more info.
Costa Rica is THE spot to go for those who love nature and wildlife. You'll have your pick of incredible activities to choose from, but what tops them all is seeing sloths in Costa Rica!
La Fortuna is surrounded by rainforests that sloths call home. Now, while they are living around here, they can still be tricky to spot. So if you have your heart set on seeing a sloth, taking a tour in La Fortuna really is the way to go.
Upon arriving in La Fortuna, you'll immediately begin seeing signs for sloth tours. When I saw these signs, I knew that I just had to see what all the hype was about … and I am so glad I did!
In this post, I'll highlight 5 of the best sloth tours in La Fortuna, Costa Rica, so that you can have the top choices at your fingertips. I might be biased, but this is one of my favorite guides yet because sloth tours are something people seem to know less about before visiting Costa Rica!
So, let me tell you all about the best tours to see sloths in La Fortuna so you can see them yourself!
About Sloths in Costa Rica
There are two types of sloths in Costa Rica – the three-toed sloth and the two-toed sloth. When I was last in Costa Rica, I was lucky enough to spot both – although unless you get up close, they look mostly the same. The key difference is the number of toes on their front feet.
Sloths really like to hang around! They spend 90% of their life hanging upside down in the treetops. They typically only come down once a week to poop and then it's back up to the trees. So when you're looking for sloths in the wild, you'll need to look waaaaay up. It's handy to have a pair of binoculars or a special spotting scope to help see them – which many top tours include.
While sloths live in different types of trees, their favorites are Cecropia trees. These trees grow really fast and are tall – reaching 60 feet/18 meters. You'll notice the thin white trunks, large green leaves, and the yellow fruit that looks similar to string beans.
While sloths can be found all over Costa Rica, they prefer tropical, wet climates, so you won't find them in drier regions. Luckily La Fortuna is one of the best places in Costa Rica to spot sloths!
It can be difficult to find sloths though. They are solitary animals and blend in really well with the trees. They move notoriously slowly which means that they often have green algae/fungi growing on their fur which helps them camouflage even more!
We've been lucky to spot sloths hiding in trees and in wildlife sanctuaries, but if you want to have the best chance of seeing sloths in the wild, a guided tour is the way to go. Guides are local experts who know which trees and areas sloths like to hang out in. You really don't want to come all this way without seeing one of these adorable creatures!
My Top Choice
Before I get into all the best tours to see sloths in La Fortuna, I want to highlight my top choice, this sloth spotting tour.
As great as it can be to have multiple options laid out, I also remember feeling overwhelmed when trying to initially decide between sloth tours. So, if you're looking to book something right this second, this tour is my pick!
It not only includes a trek through the rainforest to look for sloths, but also has a coffee, chocolate, and sugar cane-tasting leg of the experience. Not to spoil things before we get to the full section all about this tour… but if it's wildlife and nature (with a side of sweet treats!) you desire, look no further.
Essentially, this is the most well-rounded tour that will help you to make the most of your time and your money. If I could only recommend one tour to give visitors a good look into the rainforests of La Fortuna, this specific tour would be my pick!
Now, let's get into all the other amazing options you can choose from.
Best Sloth Watching Tours in La Fortuna
1. Sloth Watching Tour through Sloth's Territory
I took this sloth watching tour one of my first times in Costa Rica and it was such a fun introduction to Costa Rican wildlife. You begin and end at a private reserve called "Sloth's Territory" so that's a good clue that you're going to see lots of sloths!
You'll need to get yourself here, but if you're considering renting a car in Costa Rica, it's only a 5 to 10 minute drive from the center of town to the location of the nature reserve. Sloth's Territory is a private reserve managed by a local family. There are two-toed and three-toed sloths here along with TONS of other amazing creatures.
You can pick a morning or afternoon time slot where you can hike along the beautiful La Havana River, with a local, expert guide. With the help of our guide's professional telescope, we got to see plenty of sloths, red frogs, and even a toucan – what a way to really dive into the essence of such an incredible area!
I loved that this is a small group tour (they cap it at 10 people) and had so much fun talking about everything we saw over some fresh fruit as the tour ended. The entire experience is 1-2 hours, so it easily fits into your Costa Rican itinerary and it's only $35 USD per person. Book your experience in the beautiful Sloth's Territory online here!
Related Read: If you'd like to explore at night and see all the animals that only come out in the dark, these are the best night tours in Monteverde!
2. Sloths Observation plus Coffee, Chocolate, and Sugar Cane Experience
As you now know, this tour is my favorite sloth tour I've been on, and the first one that I recommend when friends ask me (probably because it is also a fun chocolate tour!)
A longer tour of 3 to 4 hours, this Sloth Observation Tour is an absolute steal at $95 USD. I mean, you're getting a hike in the jungle, close-up views of animals, local treats on a farm, and meeting new friends? Talk about a 4-in-1 experience!
You'll meet at the Arenal Jungle Tours location in central La Fortuna or, if you're really lucky, your hotel might be in the free pickup area for the tour. You can check as you are making your booking!
One thing that really stood out to me is that this tour felt perfectly balanced. The hiking wasn't too long, we got to see lots of amazing animals, and the tastings felt just right after having been out exploring for a few hours. You really can't go to Costa Rica without trying the chocolate and famous coffee! Along with seeing sloths, this felt like a little coffee tour in Costa Rica too!
I've taken a lot of local tours and this one was very immersive and I left feeling like I'd gained a lot of insight into the industries of La Fortuna. Oh, and I got some cool photos of sloths, of course! You can book a spot on this highly-rated sloth tour online through Viator.
3. Sloth Tour around La Fortuna
Perhaps our most interactive tour, this sloth tour around La Fortuna isn't just at one place where you go on a walk and call it a day. Instead, it allows you to walk around the La Fortuna area, searching for sloths in their natural habitat.
This means that you never know where you'll see sloths, how many you'll see, or exactly what the tour will be like. It's much more spontaneous and that's all part of the fun!
Luckily, the guides for this tour know exactly where sloths and other creatures like to hang out. It's pretty much guaranteed that you'll see sloths – some groups have seen as many as eight, including a mom with her baby! You'll have a special spotting scope and binoculars, so that makes things much easier too.
This tour is 3 to 4 hours long, but thanks to its sole focus on seeing sloths, it's more reasonable than the previous tour I mentioned at only $67 USD per person. The cost also includes round-trip transportation from the Callidryas Tours office or you can request pickup from your hotel during your booking.
They aren't included, but I recommend budgeting a little extra for some alcoholic drinks if that's your thing. There is complimentary coffee and tea, if not!
For an adventurous walk around La Fortuna, book a spot on this tour here and take advantage of the book now, pay later option with Viator!
Why We Book Tours with Viator
Viator is a trusted online booking system for tours around the world! We almost always book our tours using Viator for a couple of reasons:
Free cancellation on most tours – Most of the tours on Viator allow you to cancel and get a full refund up to 24 hours in advance. This is handy in case plans change, or if booking an outdoor activity, the weather forecast is looking grim.
Reserve now and pay later – You can secure your spot on some of the most popular tours well in advance and not pay until closer to the day of the tour.
Pay in your chosen currency – Avoid costly international transaction fees by choosing to pay in your home currency.
Peace of mind – When booking with tour operators you find in person on the street or in small booking offices, you are often promised one thing and given another. This online platform holds tour operators accountable with a written description of inclusions as well as the opportunity for customers to leave reviews.
Check out the Viator website here!
4. Sloth and Birdwatching Tour
While sloths are the focus of these tours, chances are you'll see other animals too since you're spending time in the Costa Rican jungle. This sloth and birdwatching tour gives you the best of both a tour to find sloths and a birdwatching experience.
Spend a couple of hours (either in the morning or afternoon) with a professional guide as you venture out on a short hike in the rainforest. The trail is only 2 km (1.2 miles) and is along a flat path, so it's a good option for families. Along with being a popular sloth hangout, there are also lots of birds here too.
If it's information about the rainforest you're looking for, this felt like the most fully educational tour of the ones I tried out. I swear I have so many random tidbits of knowledge about the rainforest now, from the plants we passed to the animals we went there to see.
The guides are so passionate about the animals here and can take some amazing photos for you as you wander along. Direct hotel pickup and drop-off are also included in the $73 USD tour cost. Make sure to book a spot on this small-group tour online here!
Related Read: Since La Fortuna is the adventure capital of Costa Rica, it's one of the best places to go ziplining! This zipline tour even takes you over a waterfall!
5. Ecocentro Danaus Sloths and Wildlife Tour
Last but certainly not least, the Ecocentro Danaus Sloths and Wildlife Tour is another top pick for me. Ecocentro Danaus is a private nature reserve with a short trail through it. You can easily walk this trail with kids and having a guide along ensures you'll see wildlife like sloths hiding in the trees!
It's one of the most affordable sloth tours in La Fortuna at just $63 USD for a couple of hours of hanging with sloths and missing all the crowds of the other La Fortuna sloth-watching areas.
You'll have to make your way to the reserve yourself, but it's only a 7-minute taxi ride from downtown La Fortuna or you can easily drive yourself in a rental car. While you can show up and visit on your own, if you want a guided tour (which we recommended), you'll need to book in advance so a guide will be there and waiting for you.
The weather was really nice when I visited, which meant that we all got spotting scopes so that we could see sloths, birds, and even butterflies close up!
This is such a fun option if you are looking to avoid the "tour bus" feel of an excursion since this tour has a maximum of 10 people. To wander through this Costa Rican nature reserve and see all its wildlife, make sure to book a spot on this tour online before you go!
Other Things to do While You're in La Fortuna
Of course, going on a sloth tour in La Fortuna is one of the best experiences, but there are so many other things to do in La Fortuna you won't want to miss! These are just a few of our top picks:
Hanging bridges – A sloth tour had you looking up at the treetops, so why not walk among them? The Mistico Hanging Bridges are some of the best. There are 14 total bridges here with 6 of them being hanging bridges. It's a fantastic place to spot wildlife especially if you join this guided tour!
Arenal Volcano – Arenal Volcano is the centerpiece of La Fortuna! You can wander the trails at Arenal Volcano National Park on your own or as part of a hiking tour. For more unique volcano views, take to the sky aboard the Sky Tram, fly by on an ATV ride, or take a leisurely sunset cruise on Lake Arenal.
Where to Stay in La Fortuna, Costa Rica
Where to Stay in La Fortuna, Costa Rica
Because La Fortuna is such a big tourist town, there are a ton of amazing places to stay. Here are our top recommendations for every budget.
Selina La Fortuna – $
One of the go-to budget options is Selina La Fortuna. I've stayed in Selina hostels around the world and this is a great one. It has a fun party atmosphere and a great co-working space where we spent a lot of time.
Selina Fortuna is located right in the middle of town, so you have easy access to great bars and restaurants nearby. Rates begin at $26 USD for a one-night stay in a dorm and $124 USD for a one-night stay in a private room. You can check availability and book on Booking.com.
Casa Luna Hotel & Spa – $$
Those with a medium budget should check out Casa Luna Hotel & Spa. I stayed here on my first visit to La Fortuna and loved it. The property is beautiful, with a large pool and four hot tubs surrounded by nature. You can also enjoy the tropical botanic garden at the hotel.
Casa Luna Hotel & Spa is near Arenal Volcano National Park, and all the rooms have views of the volcano and the rainforest. The hotel also includes a delicious breakfast in the $204 USD room rate. Casa Luna is located a short drive from town and you can reserve a room online on Booking.com here.
The Springs Resort & Spa at Arenal – $$$
For arguably the most luxurious hotel in La Fortuna, check out The Springs Resort & Spa at Arenal. While the rooms don't come cheap ($600 USD+), it's a bucket list place to stay that's perfect for visiting Costa Rica on a honeymoon!
You'll find 28 hot spring pools here, making the resort the perfect place if you really want to relax. There's also a resort-style pool, a fitness center, a swim-up bar, hot tubs, and a spa and wellness center. You can reserve a room at The Springs Resort & Spa at Arenal on Booking.com
For more in-depth info on the areas to stay in La Fortuna, check out our blog on where to stay in La Fortuna!
Getting Around Costa Rica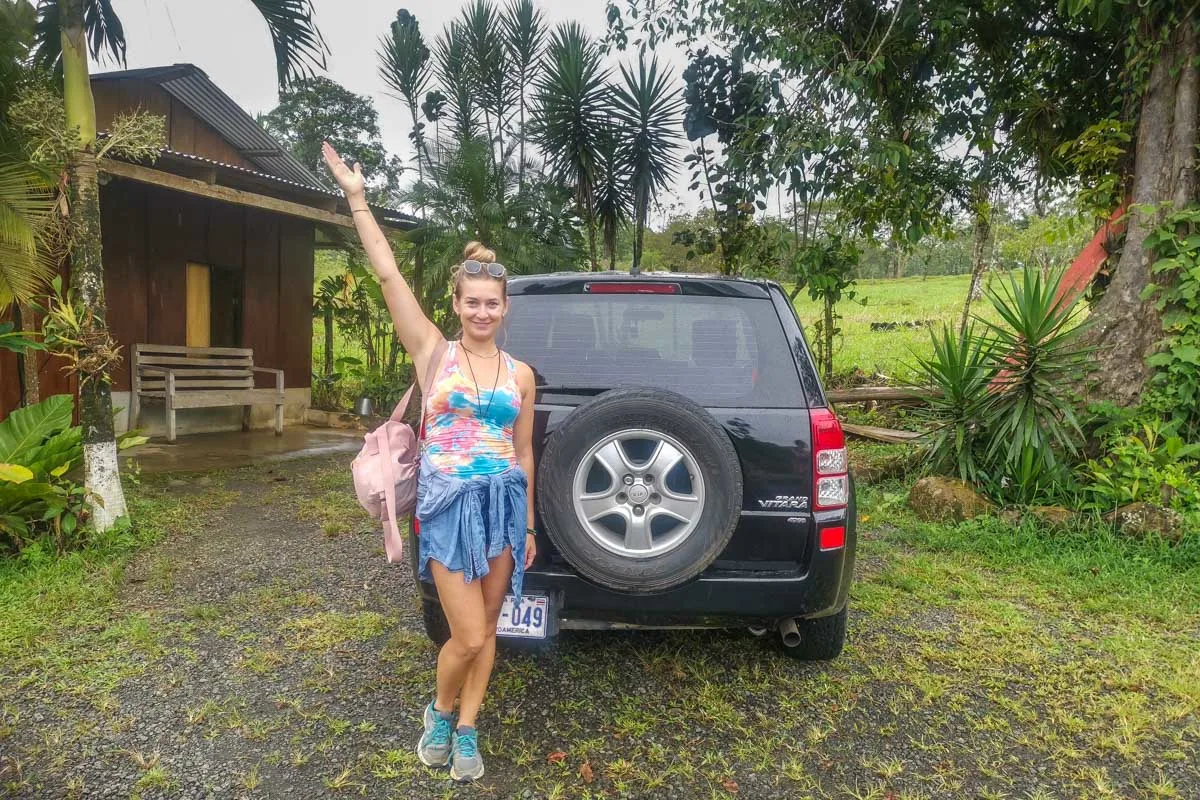 How you choose to get around Costa Rica is one of the biggest decisions you'll make when planning your holiday here! How you do it depends on your budget, travel style, and comfort level.
Renting a Car
Without a doubt, the number one way to explore Costa Rica is in a rental car. We book rental cars on the Discover Cars website as we have had good experiences with them in the past.
One of the things you need to watch for when renting a car in Costa Rica is the mandatory insurance that the government requires you to have. There are a lot of very cheap rentals that don't include this mandatory insurance (TPL) in the original booking price, but there are also ones that do. To avoid additional surprise charges when you pick up your rental car, be sure to rent a car that includes the mandatory insurance when you book.
Thankfully, on Discover Cars it's easy to tell apart the companies that include the mandatory insurance and those that don't. The trick is you can't pick any car on their website. In the picture below, you can see this rental car, with pick up in Jaco, includes the TPL. That means the mandatory insurance is included in the price. Any cover you get above that is extra.
Of course, I still suggest getting the full coverage offered by Discover Cars, which covers you even more.
You can browse cars on Discover Cars here.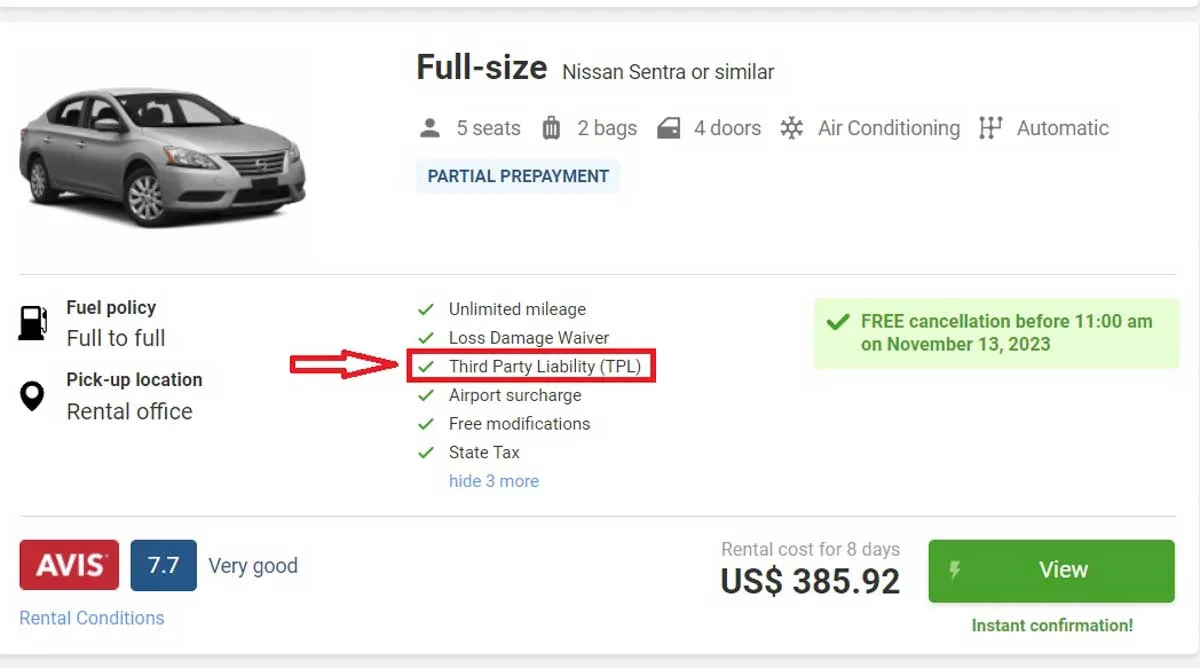 Adobe Rental Rent A Car is another rental company that we most often use in Costa Rica. We love them because Adobe has 15 offices around Costa Rica and delivers door-to-door around their offices at no extra cost. We also are pleased that all of their cars are new. In fact, they are never older than 2 years to the date. They are also the only company to include mandatory insurance and promise no hidden fees. You can get a free quote for a rental car from their website here.
Book Shuttles
If renting a car isn't in your budget, you don't feel comfortable driving in Costa Rica, or you just don't like driving, shuttles are the next best option. There are hundreds of shuttle routes available all over the country, and they are very affordable.
Shuttles in Costa Rica are specifically for tourists and often include pick up and drop off at your selected hotels and airports. The drivers also speak some English, and the vehicles have air conditioning. You'll also be guaranteed a seat when you book a shuttle (which isn't the case with the public bus system.)
To get the best price, use the website Bookaway. They compare all the offers and prices of shuttle companies in Costa Rica so you get the best price! Honestly, we have saved so much money using Bookaway!
You can search for shuttles online on Bookaway here.
Public Bus
Lastly, you can use the public bus system. On short journeys, such as from San Jose to La Fortuna or Uvita to Manuel Antonio, this system is great. However, the longer the journey the more hassle and time spent on a bus. It's undoubtedly best to save the public bus in Costa Rica for short and straightforward trips!
The public buses are definitely the cheapest way to get around Costa Rica, but they are not always very reliable and schedules often change without notice and delays are to be expected. The buses can also be very crowded and hot – so just be prepared!
It's also good to speak some Spanish if you plan on riding the public bus since most drivers and ticket booth operators don't speak English.
Invest in Travel Insurance
Paying out of pocket for trip interruptions or medical treatment will add to what might already be a stressful situation. We always travel with SafetyWing travel medical insurance.
The best part is that it costs only a fraction of what most insurance policies charge, which makes it perfect for digital nomads, long-term travelers (like us), and budget travelers. It only costs $45 USD per 4 weeks!
To start coverage, you must purchase it after leaving your home country. We usually purchase it as soon as we land at the airport.
Since using SafetyWing we've been reimbursed thousands of dollars when we've gotten sick. During the pandemic, they've even gone as far as to pay for our last-minute flights back to Canada from Colombia before the border closed!
You can click here to get a quote and read all the details!
Pura Vida!
Sloths are one of those must-see animals in Costa Rica and I hope you get the chance to see lots while you are here! I loved all of these sloth tours in La Fortuna for different reasons and I hope you find one that works for you.
Hopefully you enjoyed reading our guide on La Fortuna sloth tours. If you did, make sure to look around and check out more of our in-depth guides before your trip including:
BEST La Fortuna Waterfall tours
BEST places to go snorkeling in Costa Rica + Tips before you go!
Is Costa Rica expensive? Cost of traveling to Costa Rica
BEST all-inclusive resorts in Costa Rica (our unbiased opinion!)