La Fortuna, Costa Rica was once a quiet town surrounded by the lush Arenal volcanic mountains where few tourists would visit and experience the fresh air and breathtaking views.
Today, La Fortuna is a bustling town with tourists visiting all year round. They come for the wildlife watching, hiking, hot springs, waterfalls, and adventure tours. However, with the tourists came the restaurants, and La Fortuna is filled with fantastic places to eat.
I actually lived in La Fortuna in 2022, and while there, tried so many of the best restaurants in La Fortuna.
So, if you're wondering where to eat in La Fortuna, this article is for you! In it, I'll share my 12 favorite restaurants in La Fortuna and what I loved so much about each place.
The BEST Restaurants in La Fortuna
1. Mercadito Arenal – Best Market/Food Court
Location: West of the main plaza on the outskirts of town
Average Price: $10 USD for mains
Come here for: A casual dining experience with TONS of choices
Takes reservations: No
Mercadito Arenal is a relatively new gourmet food court in La Fortuna, offering tasty meals from a variety of restaurants and an exclusive Voodoo Mixology Bar. It is truly a spectacular place to hang out for couples as well as families. They have plenty of different food options ranging from tacos, sushi, burgers, pizzas, and more.
The owner of Voodoo has a wicked passion for creating drinks that elevate your cocktail experience! (I had to see this for myself.) If you can, try one of the cocktails served with dry ice. This keeps the glass cool and creates an Insta-worthy smoke look!
We came here specifically for the famed pizza and tacos. I loved the taste of the pizza, and it had a perfectly crispy thin crust, wonderful pesto sauce, and plentiful fresh toppings. Simply delicious!
The tacos were equally outstanding, with yummy chicken strips, soft, fresh wraps, and fabulous mayonnaise chilled with a tinge of peppermint. So yummy and refreshing too. We washed down everything we'd eaten with cold craft cocktails.
After a few visits, I noticed the burgers looked amazing and just had to try one! They turned out to be one of the best burgers in La Fortuna! The meat was so juicy, and the different options were unique and full of flavor. I highly recommend the burgers.
Mercadito Arenal is open from 12 pm to 10 pm every day.
2. Kappa Sushi – Best Sushi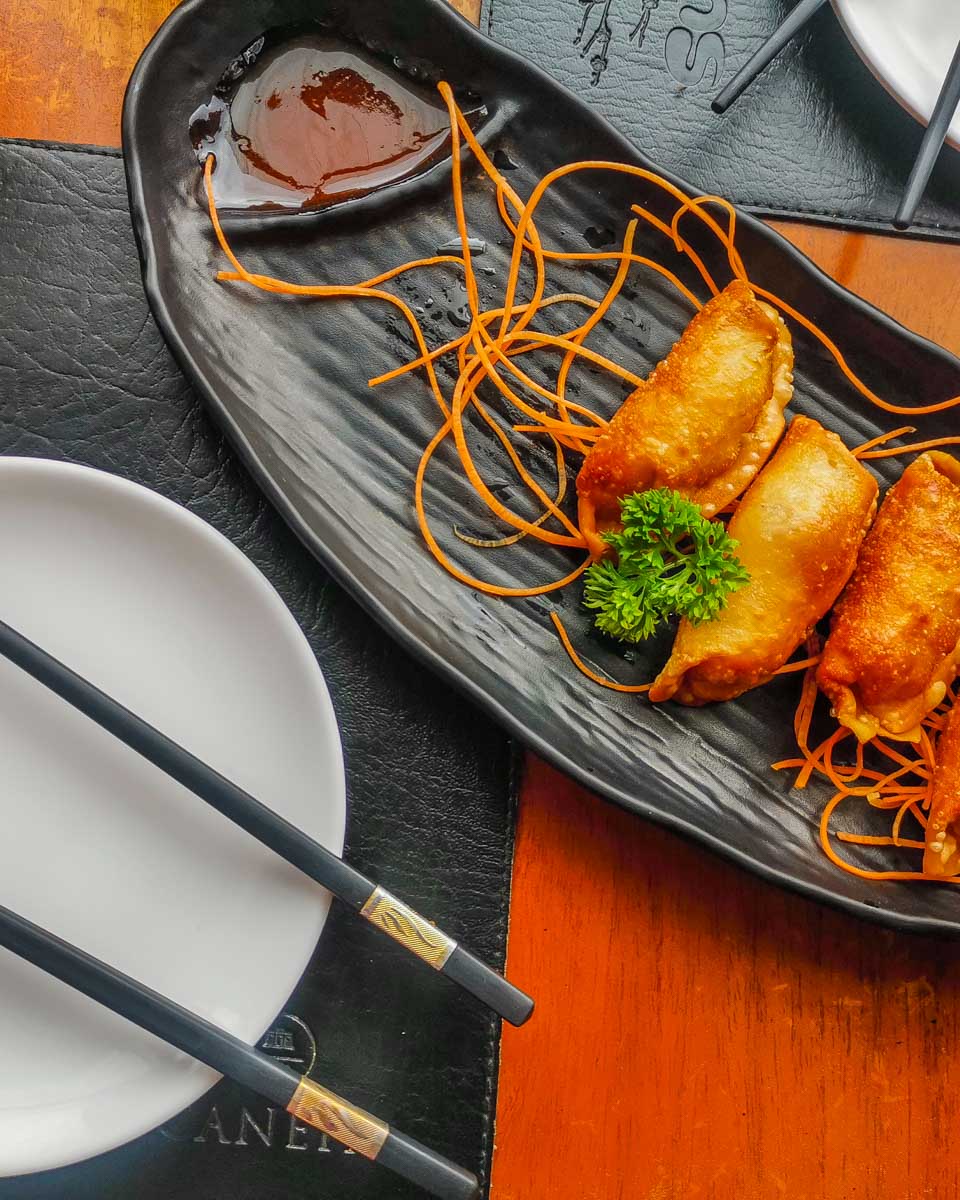 Location: Near the National Bank and La Fortuna Park
Average Price: $10 USD per roll
Come here for: Delicious sushi
Takes reservations: Yes
When you're near a volcano and a massive lake, the last thing you'd expect in this topography is sushi because there's no ocean in sight, and nobody's thinking about seafood, right?
Wrong!
Kappa Sushi turned out to be a great surprise while living in La Fortuna. This is one of the best Restaurants in La Fortuna for sushi fans.
Kappa is easy to find, located near the central park. IIt's got a lovely atmosphere decorated with gorgeous local art paintings. The service is professional but slow. However, it's worth the wait if you're not in a hurry!
Be sure to start with the flavorful Miso soup, it cures all your blues for real (and a few hangovers!) And the dumplings… just perfect! My fiancé and I ordered a medium sushi boat with four rolls. We requested a customized plate of about 20 pieces – which we were allowed to choose.
We washed it all down with some beers, and people watched from the restaurant's front porch.
This was a good find, and we highly recommend this sushi restaurant if you find yourself in La Fortuna craving seafood!
Kappa Sushi is open from 12 pm to 10 pm every day, and you can view their menu here.
3. Marisqueria Snapper's House – Best Seafood
Location: Fifty meters north of the Central Park, in front of BAC Bank
Average Price: $20 to $30 USD for mains
Come here for: Fresh seafood
Takes reservations: Yes
Marisqueria Snapper's House is well known as one of the best seafood restaurants in La Fortuna. The atmosphere is open and relaxing. The service is terrific, prompt, and welcoming, and Diego the owner, takes pride in his restaurant—he is quite a charming guy who loves to entertain his guests. We felt the friendliness from the moment we entered this exotic restaurant.
We had seafood (of course) – I ordered seafood soup, and Daniel had salmon in passion fruit glaze and some mussels to start. Both were very fresh and delicious. The cream sauce with the seafood soup was incredible and full of flavor. We then ordered a complimentary Dulce de Leche, a traditional milk cake for dessert.
Overall, the menu is extensive, with numerous options. A little bit steep, but worth the splurge… Such great food in a charming, casual environment.
Marisqueria Snapper's House is located across the street from the BAC bank. They are open from 10 am to 10 pm every day!
Related Read: Check out all the best hot springs in La Fortuna!
4. Chipotle's – Best Mexican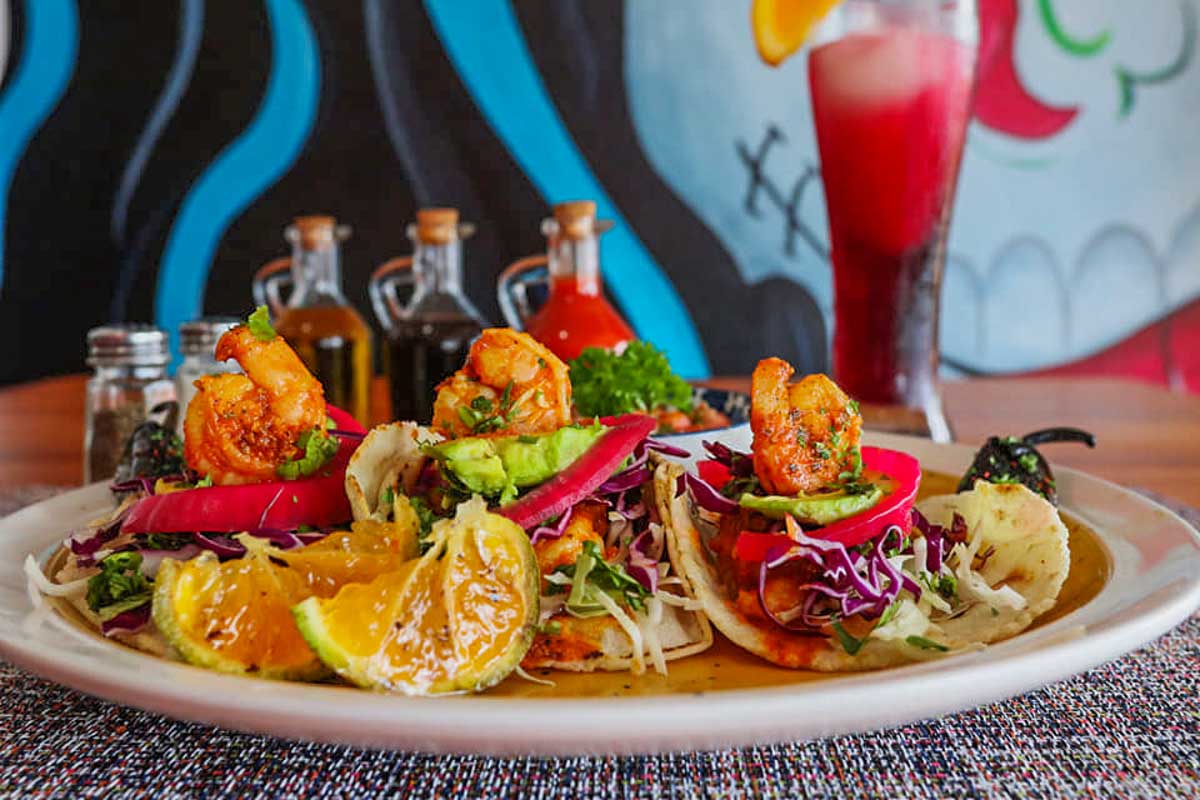 Location: Near the Catholic Church
Average Price: $8 USD for the mains
Come here for: Tacos and margaritas
Takes reservations: Yes
Chipotle's offers authentic Mexican cuisine combined with international and Costa Rican gastronomy influences. The menu represents bold indigenous flavors, herbs, local products, and peppers reminiscent of the different global cuisines.
The interior décor has stunning murals that uplift this roadside restaurant to a charming dining experience. The owner, a trained chef in Mexico, spares no ingredients so you can taste the authenticity in the soft savory tacos and the mezcal in margaritas.
The staff was friendly and attentive throughout our dinner. As soon as we settled in, the bartender came to our table and made the most delicious jalapeno margaritas (the way to my heart!)
I ordered the chicken chimichanga. Not served like a fried burrito in the US but rather in a fresh-made sautéed shell. I loved it because you could pick how many tortillas you wanted with every bite.
My fiancé ordered tacos, which were loaded with seafood and I regretted not ordering the same because they were so yummy! We swapped one piece each (as we always do), and it was so good! The tacos came with guacamole and unique hot spicy sauces.
At our waiter's recommendation, we drank our Cerveza Costa Rican style, with a glass of ice and lime juice at the bottom. It was odd, but I did enjoy it!
The dishes were full of bold flavors, and the beers and margaritas were just perfect! Marisqueria Snapper's House is a great little place, offering super high-quality food and service. This is a top-of-the-charts Mexican spot among La Fortuna restaurants.
Chipotle's is open from 12 pm to 10 pm every day, and you can view their menu here.
5. Restaurante Tierra Mia – Best Costa Rican Flavors
Location: South of Alamo Rent a Car, near the Catholic Church
Average Price: $5 – $16 USD
Come here for: Beautifully presented meals with Costa Rican flavors
Takes reservations: Yes
Restaurante Tierra Mia is situated on a side street off of the main road, a quiet place, very comfortable, and it made our dining experience unforgettable.
We came here on a recommendation from a friend back home, and he was right about their dishes. The mood was quaint, casual, and authentic to the local surroundings outside. The Costa Rican food was excellent—fresh ingredients with unmatched flavors.
The details in the food presentation exhibited the care taken to make each dish. Raul, the owner, ensured our meal was a personal and exceptional time.
We went there twice. On the first occasion, we had a sweet beef tenderloin with a coffee-flavored complimentary sauce, which I will dream about every time I think of Costa Rica. The meat was well done, and the sauce was OMG amazing! I loved the veggies and mashed potatoes as well.
On our second visit, we had two chicken dishes with similar sides. My favorite was the Tropical Chicken with grilled pineapples dipped in coconut sauce with grilled veggies. My word! Pure goodness, so delicately organized and delicious too!
The staff did a fantastic job on both occasions. They were professional and highly personable. The price is reasonable, more expensive than the local sodas, but cheaper than the other touristy restaurants nearby.
Restaurante Tierra Mia is open from 6:30 am to 10 pm every day.
Related read: Need to book a hotel? Check out the best areas and hotels to stay in La Fortuna!
6. Yellow Bark – Best Burger
Location: 75 South of La Fortuna Church 702 Avenue
Average Price: $6 – $16 for the mains
Come here for: Street food including delicious burgers and sandwiches
Takes reservations: Yes
Yellow Bark is a small restaurant just down a side road offering delightful homemade and local fast food such as quesadillas, burgers, wraps, sandwiches, healthy cocktails, and more.
They serve gigantic burgers of all kinds, with more than ten options, so you can't miss your favorite burger in Costa Rica. The best part is, they are dirt cheap!
I had a massive, amazingly juicy Hawaiian burger overfilled with flavor, smothered in cheese, loaded with grilled pineapple, lettuce, spicy tomatoes, onions, creamy mayo, and tangy Hawaiian Sauce. The flavors were pure heaven, simply perfect!
I think this is the best restaurant in La Fortuna for burgers and sandwiches. They are cheap, the service is quick, and the portion sizes are huge – you really can't wrong!
The local craft beers on the special's menu were great, too. I later had the Oso Perisozo IPA. It's the best craft beer I've had in Costa Rica.
Overall, the service was terrific, the beer cold, and the atmosphere lovely with really excellent service.
Related Read: If you are on a tight budget, check out the best free and cheap things to do in La Fortuna before you go!
7. Soda La Hormiga – Best Soda
Location: West of the Bus Terminal next to Mega Super
Average Price: $5 for a Casado
Come here for: Casados!
Takes reservations: No
Soda La Hormiga is a popular Soda in La Fortuna. It's nothing fancy, just a casual outdoor restaurant with good food and service, you'll see plenty of locals dining here when you visit. La Hormiga is located near a bus stop that is always busy and is family-run. They serve fresh, tasty meals in large portions.
You can come in and re-energize any time of the day. They serve everything from the yummy Gallo Pinto for breakfast to the endless variety of Casados served at lunch. Here, you also enjoy fresh, healthy natural drinks, coffee, tea, and hot chocolate at super cheap prices too.
We always come here for the Casados, which cost around $5 USD each. They have chicken, beef, seafood, and pork to choose from with different sauces and lots of sides. My personal favorite is the chicken in sauce that normally comes with beans, salad, and potatoes.
Now, it's important to know that sodas in Costa Rica operate differently from regular "gringo" cafes and restaurants. They never rush you. Once you've had your fill, you have to ask for the bill. At La Hormiga, you pay at the counter with your table number.
All in all, it's a cozy, cheap place with quality Costa Rican food that's open for breakfast and lunch.
Soda La Hormiga is open from 7 am to 4 pm every day.
8. Pollo Fortuneño – Best roast chicken
Location: West of the Catholic Church on the main road in the center of La Fortuna
Average Price: $3 – $15 USD
Come here for: Roast chicken and large potions
Takes reservations: No
Pollo Fortuneño is a busy restaurant in La Fortuna known for its roast chicken and pork ribs. It's always packed to the brim because not only is the food good, but the prices are very reasonable!
My fiancé and I went on an excursion and ended up here on the recommendation of our tour guide. We had two mojitos while waiting for our order to come through and enjoyed the vibrant atmosphere.
Our fantastic dinner of mouth-watering BBQ ribs and roast chicken came right off the rotisserie, succulent and moreish. Both so well-seasoned and cooked, the meat and ribs fell right off the bone! The roasted meat came with fried beans, coleslaw, and tortillas. We skipped the beans. The smoked BBQ sauce was yummy and awesome.
The have entire roast chickens served with sides for a great price – enough to feed an entire family.
The service was a decently-fast, organized system where waiting staff had specific tables to serve, which was great.
Pollo Fortuneño is open from 11 am to 10:30 pm every day, and you can view their menu here.
9. Restaurante Cafe Mediterraneo – Best Pizza
Location: Just om the outskirts of town on the way towards El Salto (rope swing)
Average Price: $5 – $15 USD
Come here for: Woodfired pizza and pasta
Takes reservations: Yes
Cafe Mediterraneo is a little out of the downtown zone but worth visiting. The ambiance is warm and inviting. They have an outdoor/indoor sitting arrangement, cozy and romantic, with the best view of the town's tourist highlight – the Majestic Arenal Volcano (one of the best volcanoes in Costa Rica to see!)
Here, you will find great cappuccino, pizza, pasta, wine, and a range of tasty cocktails. This spot offers THE best Italian pizza in the area, according to our personal foodie experience. Giovanni, the owner, was an absolute host and a pleasure to chat with.
We went there for dinner, and I ordered a Caprese salad with woodfired pizza while Daniel ordered homemade Gnocchi with Bolognese, which was Simplemente perfecta!
We heard their tiramisu is the best and had to try it out. It was so heavenly and delicious!
Overall, this was a fun restaurant to visit. Very hygienic and lovely, with low lighting in the dining area. You watch the chefs work with incredible speed in the open kitchen and see how they prepare and cook the woodfired pizza.
The whole experience was magnificent! I would go here ten times over for the dining experience.
Cafe Mediterraneo is open from 11:30 am to 10 pm every day, and you can view their menu here.
10. Anch'io – Best fine dining
Location: 350m West of the Catholic Church on the main street in La Fortuna
Average Price: $12 to $15 USD for mains
Come here for: Fine dining Italian
Takes reservations: Yes
If you're craving fine dining while touring La Fortuna, this place is fantastic! Anch'io is right in the heart of La Fortuna, with several shops to browse through in the streets before or after dinner.
The restaurant is strategically located so some visitors can view the Volcano while seated. The horizon is stunning at sunset – an ideal time to come out here and dine as you enjoy your evening. The saxophone and acoustic guitar playing in the background complete the setting with relaxed, romantic vibes. So dreamy and perfect if you're in Costa Rica on a honeymoon!
When we got to the restaurant, we were pleasantly surprised with a warm hello and a handshake from the host – there is great service here. They had various pizza options on the menu, but the specialized "build your own" to order is the menu's highlight. We shared two excellent pizzas, with thin crispy crust done in a wood fire oven and topped with fresh juicy ingredients.
Overall, the pizza was excellent, with outstanding service. We loved the covered outdoor setting and enjoyed the live music … beautiful acoustic guitar.
Anch'io is open from 12 pm to 10:45 pm every day except Tuesdays.
11. Organico Fortuna – Best healthy eating
Location: Next to Banco San Jose
Price: $12 to $15 USD for the mains per person
Come here for: Healthy luncha dn breakfast
Takes reservations: Yes
Organico Fortuna presents a much-welcomed change to your diet. The patio has lovely decoration, beautiful plants that liven up the place, a strategic seating arrangement, and a wonderful atmosphere.
They use locally sourced gluten-free and vegetarian ingredients. The menu includes an interesting Bio about the establishment, how they began, and how they use certified organic produce to make their amazing dishes. So unique.
You'll also notice that the cafe sells locally obtained foodstuffs such as coffee beans and honey with honeycomb slices, art, and fashion.
The service was good, the food tasty, and beautifully served. The service was slow, but we patiently waited for the overwhelmed staff to bring out our order.
We had the Falafel sandwich and the Cajun bowl, which had the yummiest sauce served as decoration for the plate holding the Cajun dish. The fish was well-done, a bit dry but flavorful. We enjoyed the saucy fish nonetheless. The Falafel sandwich was good too, well-seasoned, and came with long crunchy fries. We later had iced coffee with cute quinoa cakes. So moist, delish, and fluffy.
Overall, the atmosphere was terrific, with comfortable indoor/outdoor seating. One of the best restaurants in La Fortuna that offers healthy food.
Organico Fortuna is open from 10 am to 9 pm every day except for Sundays when they open at 10 am. You can view their menu here.
12. Don Rufino – Best overall food
Location: At the corner of 142 La Fortuna Street and Calle 466
Average Price: $6 – $65 USD
Come here for: International, Contemporary Central American, Costa Rican
Takes reservations: Yes
Located right in the town center, Don Rufino is a beautiful restaurant with an extensive, diverse menu and decent pricing. The food is outstanding, perfectly presented, and has excellent taste. Although in an enclosed space with large airy windows, the setting is spectacular. The wait staff are friendly and accommodating.
You have to book a table for the best experience. Otherwise, you'll find a crowd and wait for hours to get one. We came here for an early dinner and had a three-course meal. Our entrees included octopus with coriander, pineapple, yucca, and romesco sauce; meatballs sated with dates and tomato salsa.
Our mains comprised of the seafood risotto – so tasty! And the fresh pasta with prosciutto. We had the day's special for dessert – Naranja Holandesa and almond cakes with a smoky cream; accompanied by a sweet wine.
Every dish served was super wow! I thoroughly enjoyed the evening. The service was out of this world, patient, and efficient. This was hands down my favorite restaurant in La Fortuna. Continental Cuisine standard. Outstanding dining experience. The staff was all friendly and very efficient.
I highly recommend this place.
Don Ruffino is open from 12 pm to 10 pm every day and you can view their menu here.
4 Must-Do Activities in La Fortuna
1. Visit the Mistico Hanging Bridges
If you want to get out of town and amongst the treetops, I highly suggest visiting the Mistico Hanging Bridges while in La Fortuna. The hanging bridges are located on a large property that a local family privately protects.
If you want to do a guided tour, I highly suggest this specific tour with Mistico. They know the property well and know exactly where to find Costa Rican wildlife such as sloths, monkeys, snakes, and more.
Exploring hanging bridges in La Fortuna is a must-do, in my opinion!
2. Explore La Fortuna Waterfall
It should come as no surprise that La Fortuna Waterfall is one of the top attractions in La Fortuna. This stunning 230-foot (70-meter) waterfall shoots out from a tall cliff into a powerful pool below that's surrounded by lush forest.
Visiting is nothing short of breathtaking. Entrance to La Fortuna Waterfall is $18 USD, and you can purchase them at the gate or here online in advance and skip the line (it's the same price.) If you don't have transport or would prefer a guide, I recommend joining this guided tour.
3. Wander Arenal Volcano National Park
Arenal Volcano is one of the best national parks in Costa Rica. Exploring the park is an adventure that takes you to the volcano's base and slightly up its steep face. Along the way, you can enjoy the magnificent views and even see where the lava from the last major eruption oozed down the side of the volcano.
If you just want to explore Arenal as I did, this specific tour is a great option. It includes all your fees, water, transport, and a great guide. You'll learn a ton about the park and volcano!
4. Venado Caves
One of the more unique things to do in La Fortuna is caving through the Venado Caves. This fun, and somewhat scary experience, takes you underground to explore the cave with an expert guide. The tour involves entering a larger cavern before exploring smaller caverns, and at some points, you'll squeeze through holes barely big enough to fit through.
All up, you spend around 45 minutes in the cave and come out with a ton of knowledge and lots of smiles – we had such a great time! The tour we did was fantastic, and I highly recommend it to those who want to challenge themselves and see a side to La Fortuna almost none do!
Pura Vida!
La Fortuna isn't the place you come to relax, it's a town surrounded by adventure and wildlife! However, that doesn't mean you can relax with a delicious meal and the list of the best restaurants above proves that.
I hope you found this blog useful and now have a huge list of restaurants to visit on your upcoming visit to La Fortuna. If you did, then check out more of our related blogs such as: