If you love chasing waterfalls, you'll love the Costa Rican town of Uvita!
Uvita is a beach town along the Costa Ballena with stunning wildlife and attractions. One of my absolute favorite things to do in Uvita is head into the nearby rainforest and splash around at the Uvita Waterfall.
Not only is this beautiful waterfall great for cooling off when you're in the middle of a humid rainforest, it also has a natural slide into a swimming hole. I mean sure, waterparks are great and all, but you can't beat a slide that's been carved out by Mother Nature herself!
What's also great about the Uvita Waterfall – or Catarata Uvita, in Spanish – is that it's cheap to visit, easily accessible, and a ton of fun. It's a place you can explore independently, with no need to take a tour.
So if you find yourself in Uvita, you should definitely check out this amazing natural playground. But before you go, there are some things you should know. So to help you enjoy this fun spot, I've created this complete guide to visiting Uvita Waterfall!
1. About Uvita Waterfall
Uvita Waterfall is one of the most unique waterfalls in Costa Rica, a country which is known for its diverse and spectacular natural beauty. It's also sometimes called "Catarata Esmeralda" because of its emerald green waters.
The waterfall is around 10 meters (33 feet) high, so it's admittedly pretty small. It doesn't have the grandeur of La Fortuna Waterfall or La Paz waterfalls. However, what makes Uvita Waterfall awesome is that over thousands of years the water flow has smoothed out rocks to form a natural slide. And yes, you can – and should – use this slide to zoom into the swimming hole!
The rush from gliding down this smooth slide into a pool of water was the highlight of my visit here! And luckily, there's a ladder you can use to climb to the top of the slide, so you don't have to worry about clambering up slippery rocks.
I love swimming in natural bodies of water. So I was happy to discover a pretty river downstream from the waterfall with even more swimming holes to explore and jump into.
Uvita Waterfall is surrounded by rainforest, so there's plenty of shade, and there's also a butterfly garden nearby, which you can visit on your way in or out if you use the right entrance – more on that in a moment.
Unlike some of the waterfalls in Costa Rica, you don't need to trek for hours or drive out into the middle of nowhere to visit Uvita Waterfall – it's within easy reach of town.
2. Where is Uvita Waterfall?
Uvita Waterfall is located in Uvita, in the Puntarenas province in western Costa Rica. It's about a 4-hour drive from San José, the Costa Rican capital. It's also close to Marino Ballena National Park (the national park in Uvita.)
One of the great things about the Uvita Waterfall is how easily accessible it is. It's only 2.6 kilometers (1.6 miles) from Uvita town, or 5 kilometers (3 miles) from the beach. Plus, the two entrances are along a main road, so you don't need a 4×4 to get there.
If you need to take a taxi, the ride should only cost you around 3,000 colones ($5 USD), or slightly more if you're staying by the beach. You could even walk from your hotel in less than an hour if you're staying in the center of town.
There are two entrances to the Uvita Waterfall, although the first one is generally more convenient to use.
The first entrance is better if you're traveling to the waterfall in your own vehicle, because there's plenty of parking here. The entrance fee here is 2,000 Colones ($3.30 USD) per person, which is slightly more expensive than the second entrance, but you also get to visit the small butterfly garden along the way. The walk to the waterfall from here is easier since the path is flat. There is also a restaurant where you can grab food before or after your walk.
The second entrance is further uphill, and entry is slightly cheaper at 1,500 Colones ($2.50 USD). The downside is that there's less parking available and the trail to the falls is much steeper than from the first entrance, with some steps and rugged terrain – although the distance is still pretty short. There's also a restaurant here, but unfortunately, you can't visit the butterfly garden.
Since the price difference between the two entrances is less than a dollar, I'd opt for ease and use the first one.
3. How long is the Uvita Waterfall Trail?
Once you get to either entrance, it's just a short walk through the rainforest to the waterfall – no long hike necessary! You should get there in 5-10 minutes, depending on how fast you walk and whether or not the trail is slippery after rainfall.
As we said above, the trail from the first entrance is flatter and easier than the second, which is steep and rugged in places, so it's a little faster. But either way, you're not looking at a long trek.
It's a good idea to wear shoes with decent grip for your walk. There's no need to wear hiking boots or anything like that, but a sturdy pair of sports shoes will go a long way – no flip flops!
4. How much does it cost to visit Uvita Waterfall?
Entry to the Uvita Waterfall costs 1,500-2,500 Colones ($2.50-3.30 USD), depending on which entrance you choose.
You can walk there for free, or take a taxi from the town center for 3,000 Colones ($5 USD). The beach is a little further out, so if you're staying in that area then a taxi will cost you a bit more – roughly 4,000 Colones ($6.60 USD).
So if you visit Uvita Waterfall the most expensive way possible (i.e. take a taxi alone from the beach and use the first entrance), it will cost you around 6,500 Colones, which is just over $10 USD.
Some activities in Costa Rica can be really expensive, but this isn't one of them. So take advantage of this beautiful natural attraction while you're in Uvita!
Related Read: On a budget? Check out the best cheap and free things to do in nearby Jaco!
5. When is the best time to visit Uvita Waterfall?
Uvita Waterfall is popular with tourists and locals alike, so it's better to go either early in the morning or later on in the afternoon. If you're visiting Costa Rica in the dry seasons (one of the best times to visit Costa Rica), then it'll likely be busier than during the wetter months.
You can go early in the morning to beat the crowds and have time to swim and slide in peace before more visitors begin to arrive. Or you could head there later in the afternoon when people begin to leave.
Generally though, we recommend going in the morning! There's something special about starting your day sliding down a waterfall and swimming in the rainforest. Plus, the morning light makes it the best time to get those all-important Instagram photos while the place is quiet and relatively empty.
6. Uvita Waterfall hours
Uvita Waterfall is open daily from 8 am – 5 pm, so if you arrange to get to the entrance at 8 am, you can enjoy peace and quiet here before more visitors arrive. In fact, you might even have the whole place to yourself!
We went at around 10 am and there were a few people there, but it was't too busy.
7. Is there parking at Uvita Waterfall?
Yes, there's parking at both entrances. The first entrance, which is the lower of the two, has more parking, but you can park at either entrance.
If you want to use the second entrance, parking spots are limited so it's definitely better to go at a quieter time of day, closer to opening or closing time.
8. Can you swim at Uvita Waterfall?
You certainly can!
You can swim at the base of the waterfall and in the river downstream. The whole river is stunning and other natural swimming pools have formed along its course. There are also platforms that you can jump off of into the water, which is a lot of fun.
9. Is it safe to slide down Uvita Waterfall?
Yes, lots of people slide down the waterfall every day. We did it, felt totally safe, and had a great time!
However, this is a natural, not a man-made slide, so it wasn't exactly designed to adhere to health and safety protocols. As with any activity like this, there are dangers. Plus, the slide is formed along a rock, so there's a risk of a nasty bump to the head.
Ultimately, it's up to you to assess your own personal risk and decide how safe you feel using the slide. However, it's not a great idea if you have back or mobility problems.
You should be okay climbing up to the top of the waterfall slide since there's a ladder in place. But again, this is at your own risk.
And if you don't want to slide down the waterfall, you can always hop into the pool from ground level and still enjoy swimming at the base!
10. What to bring to Uvita Waterfall
Make sure to bring some cash for the entry fee, which is 1,500-2,000 Colones ($2.50-$3.50 USD), depending on which entrance you use. It never hurts to bring a little extra, just in case.
You should also bring a bathing suit, a towel, and some dry clothes to change into after you swim. There are no changing rooms around but you can always duck behind the trees for privacy.
It's also a good idea to bring a dry bag to keep your phone and valuables from getting wet.
You don't need special hiking boots for the trail, but it's a good idea to wear your normal sports or running sneakers and avoid anything with an open toe. Basically, closed shoes with a good grip will be fine!
The waterfall is fairly well-shaded but sunscreen is always a good idea, and you'll definitely need some insect repellent since the waterfall is inside the rainforest.
Oh, and last but not least, don't forget your camera or GoPro! The Uvita Waterfall is beautiful, so you'll definitely want to capture it – especially if you take the slide!
11. Facilities at Uvita Waterfall
There aren't many facilities at the Uvita Waterfall, but there's parking at both entrances. The first entrance has a butterfly garden that you can visit and a restaurant, while the second entrance also has a restaurant where you can find refreshments and use the toilet.
There is another toilet along the lower entrance trail near the lower pools. You can see it pictured above. It's a squatting toilet, so it's not overly nice, and we avoided it.
It's important to note there are no garbage cans, so you will need to pack and carry all trash you bring to the waterfall.
12. How long should I spend at Uvita Waterfall?
An hour or two at the waterfall is more than enough time to enjoy the slide, the natural pools, and the river. Then, you can spend the rest of your day enjoying the other awesome activities that Uvita has to offer, like going to the beach, exploring Marino Ballena National Park, or feasting at a local restaurant.
13. Is Uvita Waterfall suitable for kids?
Yes, Uvita waterfall is a family-friendly attraction in Uvita, but I would use the lower entrance to the waterfall because it isn't as steep. It's also best not to let kids use the waterfall slide since it's a natural rock slide, and there are risks involved. On top of that, watch for currents at the base of the waterfall and maybe take them to the lower pools, which are calmer.
Also, as with any natural attraction in Costa Rica, keep an eye out for local wildlife. Kids are very inquisitive, and the snakes and frogs in Costa Rica are very colorful. This could be a recipe for disaster!
Related Read: If you love nature and wildlife, be sure to visit Manuel Antonio Nationa Park – it's amazing!
14. Getting to Uvita Waterfall
There are a couple of ways to get to Uvita Waterfall. If you're staying in town, you can walk from your hotel to the first waterfall entrance in around 45 minutes. However, if you're staying by the beach, it may be a bit too far to walk.
If you've got your own vehicle for driving around Costa Rica, then it's easy to drive to Uvita Waterfall. It takes around 5 minutes to drive there from town, or 10 minutes from the beach. You don't need a 4×4, either – a regular car will do!
And if you don't have a rental car, then a taxi to the waterfall is also very cheap – plus, you don't need to worry about parking! It costs around 3,000 Colones ($5 USD) for a taxi ride from town, or 4,000 Colones ($6.60 USD) from the beach. You can also ask your driver to come back to pick you up after 1-2 hours when you've finished swimming.
The route to the waterfall is pretty easy.
As you drive out of town, in the opposite direction to the beach, head north on the Costanera Sur road. Then turn right on Calle Uvita and follow the road for a kilometer (0.6 miles) before turning right onto Calle Bejuco, which is just opposite Indómitos Café & Bar. Then, keep following the road for about 550 meters (0.3 miles) until you get to the first entrance, or drive a little further uphill if you'd prefer to use the second one.
15. Is there anything to do near Uvita Waterfall?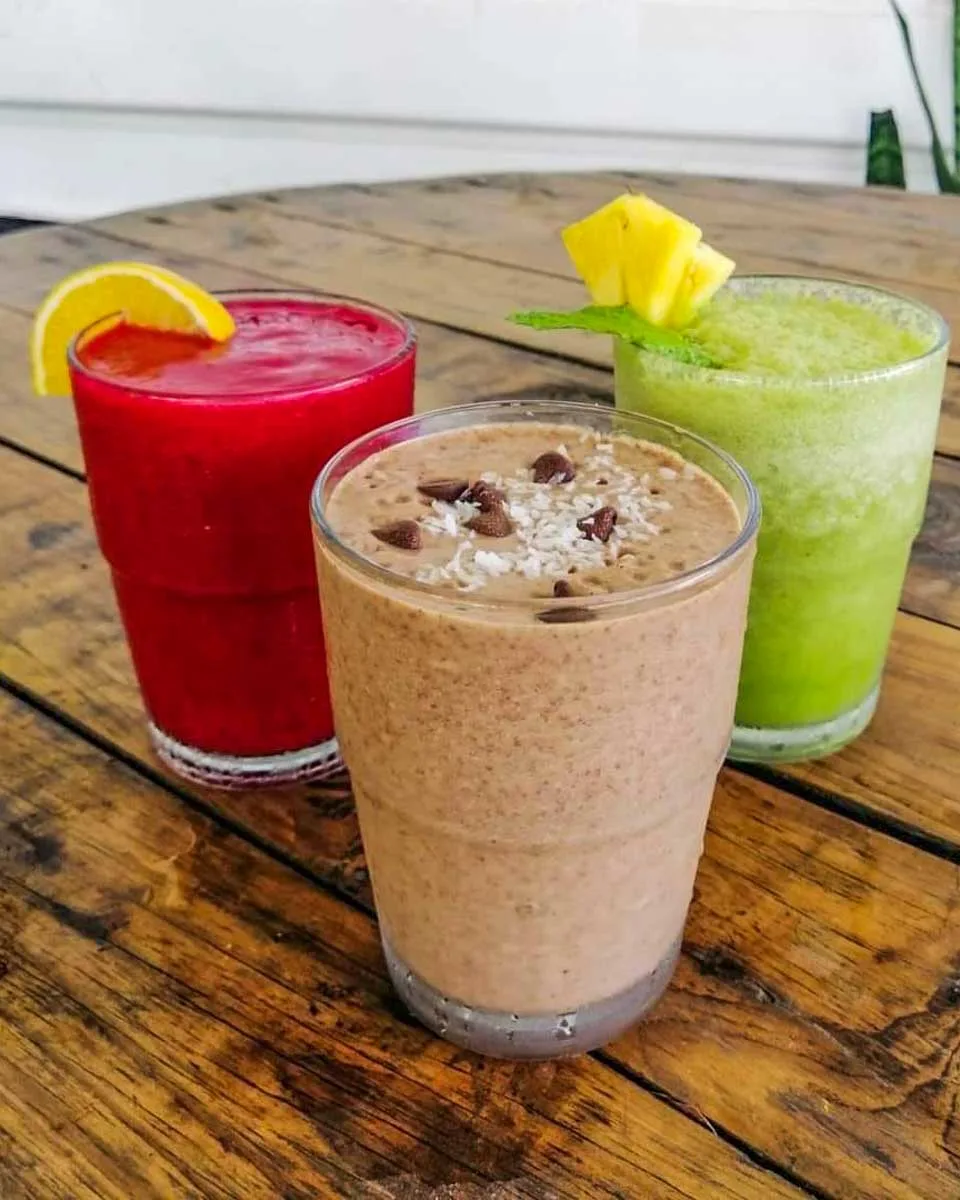 There are a couple of things to do around Uvita Waterfall – mainly eating and drinking, which suited us perfectly!
Uvita Beer Garden
Uvita Beer Garden is just across the road from the first waterfall entrance, so of course, we couldn't resist checking it out after our swim (if you've been reading this blog for a while then you'll know how much we love craft beer!).
This restaurant is open Monday through Saturday from 12 pm – 10 pm and is a wonderful place to have lunch or an early dinner. The garden is also a beautiful place to relax while you sample beers from all over Costa Rica. There are also sandwiches, tacos, and ceviche on offer – after all, swimming does work up an appetite!
Tribu
Tribu is just down the road from the waterfall and it serves yummy food from all over the world, like Korean-style chicken, barbecue ribs, sandwiches, and delicious fresh smoothies. It's a laid back spot that's part of Casa Nativos guesthouse, but you don't have to stay here to enjoy the restaurant.
Catarata Esmeralda Uvita
Catarata Esmeralda Uvita is an open-air restaurant under a canopy, and it's just a few minutes walk from the lower waterfall entrance. They serve great, home-style local food, so it's a nice spot to stop for breakfast or lunch after your swim.
Indómitos Café & Bar
Indómitos is a great veggie and vegan restaurant with amazing fresh juices and smoothies on offer – or if you need a caffeine hit, you can even find the TikTok-famous dalgona coffee (remember that?!). They've also got great salads, veggie burgers, and an awesome range of plant-based desserts, like Snickers pie.
The restaurant is open-air and surrounded by greenery so you can relax and even watch butterflies flitting around as you enjoy your meal. It's open daily from 11:00 am – 8:30 pm and located on Calle Uvita.
Related Read: Did you know that Uvita is home to one of the best beaches in Costa Rica?! Read about the others!
Where to Stay in Uvita, Costa Rica
When it comes to choosing the right place to stay in Uvita for you, location is essential. For example, those without a car will most likely want to stay near the national park, whereas those with a vehicle can choose to stay further out. If you would like more info on the different areas, be sure to check out our where to stay in Uvita blog.
Below are a few of my favorite hotels in all the different areas around Uvita and is all budgets.
For budget travelers, Hostel Cascada Verde is a top choice. The reviews of this hostel are fantastic, and it's available on Booking.com and HostelWorld. The location is on the inland side of town, meaning it's a fair walk to the national park. However, it is right across from Uvita Waterfall and Uvita Beer garden in a quiet area surrounded by lush forest.
I have two options for those with a moderate budget. The first is Hotel Marino Ballena which is located in the heart of the downtown area of Uvita. This means it's not close to the national park or Uvita waterfall, but it's in the middle, making it convenient if you don't mind walking or taking a cheap taxi. The hotel has a beautiful pool, includes breakfast, and has modern rooms.
If you'd prefer to be close to the national park, Bungalows Ballena is only a 1-minute walk from the entrance to the park. This small hotel offers two-bedroom bungalows with full kitchens and bathrooms. It's perfect for families, and they also have a pool. We stayed here last time we were in town and loved it – having our own little bungalow was convenient and comfortable.
Those looking for luxury have to check out Oxygen Jungle Villas & Spa. This stunning hotel is located in the hills surrounding Uvita and is perfect for those looking for a romantic getaway. The property features spectacular views, an infinity pool, gorgeous rooms, and an included breakfast. This is one of the most romantic hotels in Costa Rica and an ideal honeymoon location.
Getting Around Costa Rica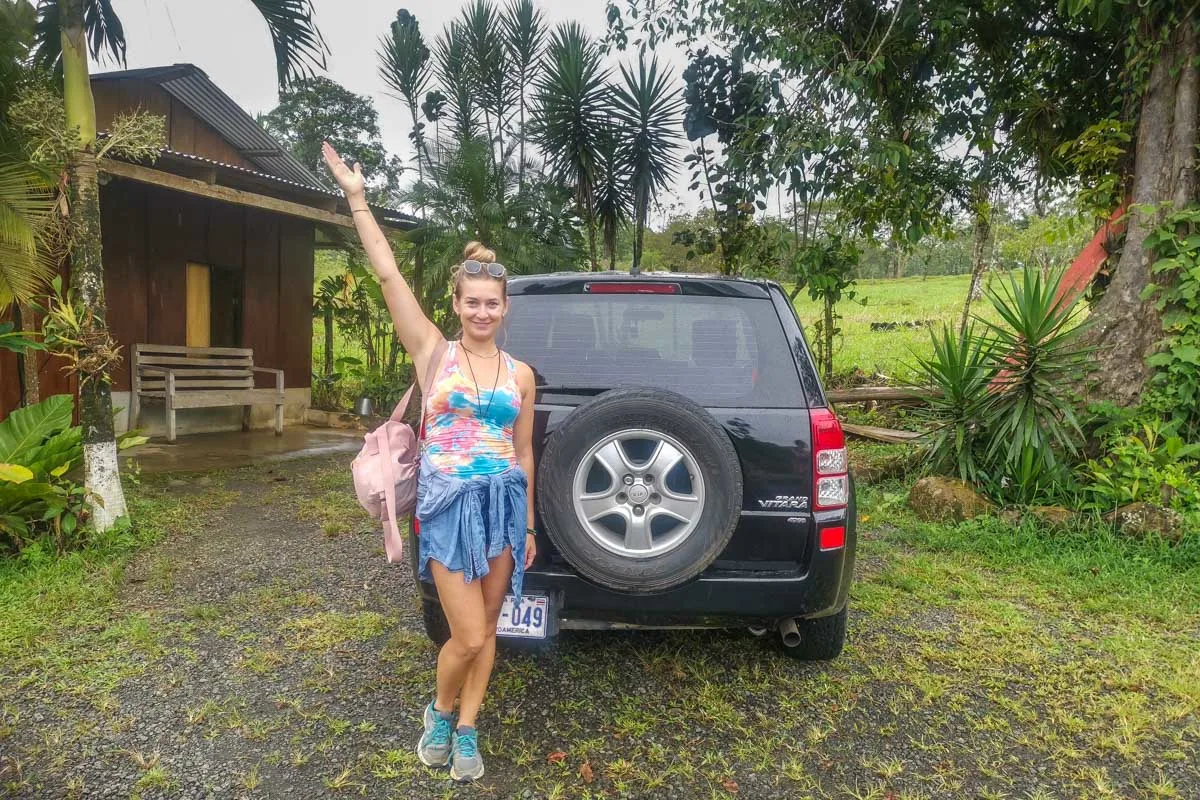 How you choose to get around Costa Rica is one of the biggest decisions you'll make when planning your holiday here! How you do it depends on your budget, travel style, and comfort level.
Renting a Car
Without a doubt, the number one way to explore Costa Rica is in a rental car. We book rental cars on the Discover Cars website as we have had good experiences with them in the past.
One of the things you need to watch for when renting a car in Costa Rica is the mandatory insurance that the government requires you to have. There are a lot of very cheap rentals that don't include this mandatory insurance (TPL) in the original booking price, but there are also ones that do. To avoid additional surprise charges when you pick up your rental car, be sure to rent a car that includes the mandatory insurance when you book.
Thankfully, on Discover Cars it's easy to tell apart the companies that include the mandatory insurance and those that don't. The trick is you can't pick any car on their website. In the picture below, you can see this rental car, with pick up in Jaco, includes the TPL. That means the mandatory insurance is included in the price. Any cover you get above that is extra.
Of course, I still suggest getting the full coverage offered by Discover Cars, which covers you even more.
You can browse cars on Discover Cars here.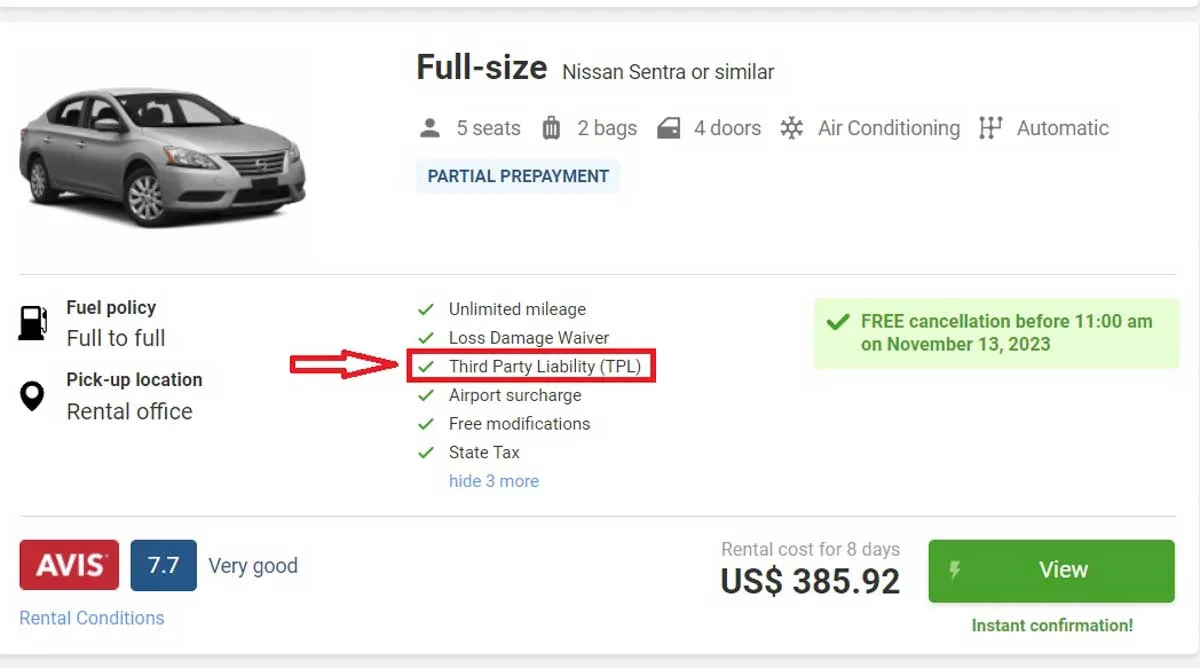 Book Shuttles
If renting a car isn't in your budget, you don't feel comfortable driving in Costa Rica, or you just don't like driving, shuttles are the next best option. There are hundreds of shuttle routes available all over the country, and they are very affordable.
Shuttles in Costa Rica are specifically for tourists and often include pick up and drop off at your selected hotels and airports. The drivers also speak some English, and the vehicles have air conditioning. You'll also be guaranteed a seat when you book a shuttle (which isn't the case with the public bus system.)
To get the best price, use the website Bookaway. They compare all the offers and prices of shuttle companies in Costa Rica so you get the best price! Honestly, we have saved so much money using Bookaway!
You can search for shuttles online on Bookaway here.
Public Bus
Lastly, you can use the public bus system. On short journeys, such as from San Jose to La Fortuna or Uvita to Manuel Antonio, this system is great. However, the longer the journey the more hassle and time spent on a bus. It's undoubtedly best to save the public bus in Costa Rica for short and straightforward trips!
The public buses are definitely the cheapest way to get around Costa Rica, but they are not always very reliable and schedules often change without notice and delays are to be expected. The buses can also be very crowded and hot – so just be prepared!
It's also good to speak some Spanish if you plan on riding the public bus since most drivers and ticket booth operators don't speak English.
Invest in Travel Insurance
Paying out of pocket for trip interruptions or medical treatment will add to what might already be a stressful situation. Not to worry, SafetyWing is here to help!
This affordable travel and medical insurance is perfect for digital nomads, long-term travelers, and remote workers. The best part is that it only costs $45 USD per 4 weeks.
To start coverage you must purchase it after leaving your home country. We usually purchase it as soon as we land at the airport.
Since using SafetyWing we've been reimbursed thousands of dollars when we've gotten sick. During the pandemic, they've even gone as far as to pay for our last-minute flights back to Canada before the border closed!
Pura Vida!
Uvita Waterfall really is a must-see in this town, especially since it's so cheap! It's a super fun way to spend a morning or afternoon and the perfect way to cool off on a hot day. Even though it's not hard to get to, we hope this blog has helped you feel even more prepared.
If you're planning a trip to Costa Rica, check out my other blogs about the Pacific Coast area! We've traveled this country extensively and have also lived here so we know everything from how expensive things are to the best local foods to try. Thanks for reading, and here are some more articles you might like!
18 Things to Know About Visiting Nauyaca Waterfalls
23 Best Things to do in Jaco, Costa Rica