Costa Rica is home to its fair share of incredible national parks and one of the best is Marino Ballena National Park.
Not only is the park home to some of the best beaches in Costa Rica, but it's also a marine park that protects a huge portion of Costa Rica's Pacific coast. With its 9 miles (15 km) of coastline, the park offers amazing views straight out of a tropical fantasy.
As one of the crown jewels of Costa Rica, Marino Ballena National Park is a must-visit if you're at all interested in wildlife – especially whales! This is one of the best places in Costa Rica to go whale watching. Of course, one of the most famous attractions here is the 'Whale Tail' – a sandbar that's part of Uvita Beach and is shaped exactly like a whale tail!
Besides the beautiful and unique beaches here, there are also many different activities to do in the park and opportunities to admire the amazing wildlife and scenery.
If you are considering visiting this slice of paradise when spending some time in Costa Rica, I've put together the most important things to know. Read on, so you're fully prepared to embark on this amazing adventure!
About Marino Ballena National Park
The park was created in 1992 and covers a large area of roughly 13,000 acres of beaches, lowland rainforests, and ocean. It also has the largest coral reef on the Pacific Coast of Central America! In fact, there are 17 different types of coral found here.
The main attraction is the amazing humpback whales who migrate here every year. This should come as no surprise considering 'ballena' means whale in Spanish.
The migrating whales can be spotted in this area at two different times every year – we'll tell you more on that to come! You can sometimes see the whales right from the shore, but boat and snorkeling tours are the best way to go whale watching and spot these incredible creatures.
Marino Ballena National Park is the first marine park not only in Costa Rica but in all of Central America. It has become a world-renowned destination for its picturesque setting and diverse marine wildlife who call it home.
You can easily get to the park by renting a car, as there are many parking spaces available for visitors. However, there is also the option to come here on a day trip from San Jose by taking the Tracopa CR bus to Uvita.
Where is Marino Ballena National Park?
Marino Ballena National Park is located in Uvita in the Puntarenas province. Because of its close location to the town, visiting the park is easily one of the best things to do in Uvita! The park is about 25 minutes from Dominical and about 4 hours from San Jose.
The national park is part of the well-known Osa Conservation Area located on the South Pacific coast of Costa Rica. This park plays a huge role in protecting the marine wildlife in the area, especially the famous humpback whales that migrate here yearly.
Here, not only do you get to enjoy the vibrant fauna and flora, but you can also admire the endless efforts to preserve the park. This work will ensure visitors can enjoy this beautiful area for decades to come.
Do you need to book tickets to visit Marino Ballena National Park in advance?
If you are the type of person that stresses out about keeping track of all the details of your trip, you can relax!
For Marino Ballena National Park, there is no need to book tickets online in advance. You can easily pay at the entrance on the day you arrive.
How much does it cost to visit Marino Ballena National Park?
Like other national parks in Costa Rica, there is an entry fee to get in. Luckily, it's quite affordable! Tickets here are $6 USD each. Admission is completely free for children under 11 and seniors.
This ticket allows you to explore the entire park at your leisure for the whole day. Just keep your ticket so you can show it for re-entry if you want to visit more than once in a day.
You do have the option to talk to one of the many local guides at the entrances if you want a guided tour of the park. These typically cost around $40 USD, but the price may vary if you are traveling with a large group.
Why is Marino Ballena National Park popular?
Just like the name suggests, the park's most famous attraction is the humpback whales, which can be seen from the coast every year during their migrations.
People come here from all around the world to witness this important, beautiful event while basking in the warm weather and enjoying the scenery.
Another attraction here is the whale tail-shaped sand formation that is revealed during low tide. This is a curious but welcome coincidence, considering that this formation is completely natural. You can walk out on the 'Whale Tail' but only during low tide as the sandbar disappears during high tide.
On top of that, the beach and jungle areas in the park are stunning. In fact, you can spot tons of wildlife within the trees, including the sloth you see pictured above. This is why a guide can really help when exploring the park!
Can you pay for the entrance ticket with cash and card?
One thing to be prepared for when visiting Marino Ballena National Park is to make sure you have a credit card or debit card on hand. The entrance ticket can only be purchased with a card, so make sure you have it on you at all times to avoid any disappointment.
Tickets can only be purchased at the two main entrances to the park.
When is the best time to visit Marino Ballena National Park?
While Marino Ballena National Park can be visited all year long, there are definitely better times to come – especially if seeing whales is on your bucket list!
If the main reason you're here is for whale watching, you should make sure there are whales to watch! For that, I recommend visiting during one of the two whale watching seasons in Costa Rica. The best time is between July and November, with August and September being the peak months. The other season is from December to March with January and February being the best months during that time.
If you're here in September, you also have the opportunity to join the Annual Whale & Dolphin Festival at the park. There are boat rides, sand sculpture competitions, and concerts, and hopefully, lots of whales to see as well!
When you're thinking about the best time to visit Costa Rica, you can expect warm weather all the time thanks to its tropical climate. However, if you want the best chance at sunny, hot days, come during the dry season from December to April. Peak rainy season is from May to November in the area, although you will still get sunny days during that time.
Another important thing to consider is the time of day you visit the park. If you want to admire the Whale Tail in all its glory, you need to make sure the tides are low. The tail is almost completely submerged in water when tides are high. Make sure to check the tide times in advance to plan your trip accordingly!
Related read: Another park to add to your list is Manuel Antonio National Park – it's only an hour away and has a spectacular rainforest to explore.
Marino Ballena National Park Opening Hours
Marino Ballena National Park is open daily from 7 am to 4 pm. These hours can change and have a lot in recent times. Be sure to ask your hotel while in Uvita about the current hours of operation. I will also try to update this blog as frequently as possible.
Can you re-enter Marino Ballena National Park with one ticket?
If you've missed the low tide and wish to come back for the next one, you're in luck! You can leave and return multiple times in one day.
Just make sure you save your entrance ticket and keep it on you at all times, as it will be requested at the entrance every time you return.
Where are the entrances to Marino Ballena National Park?
So, while there are four possible entrances to the park, the two most popular ones are the Uvita and the Colonia entrances, due to their accessibility – this is also where you need to buy your entrance ticket.
The Uvita entrance is by far the most popular one, especially for tourists visiting for the day. There are lots of parking spaces here – expect to pay around 4,000 colones or about $6 USD to park for the day. This entrance is also the closest one to the 'Whale Tail' sandbar.
The Colonia entrance is named after the Colonia beach nearby, hugely popular among surfers due to the great waves. Locals prefer this one as it is less busy and more picturesque. Parking is free as you'll be parking along the street here. You can walk all the way to the 'Whale's Tail' from here if you like.
Is there parking at Marino Ballena National Park?
The best place to find parking is around the Uvita entrance. There are lots of parking spaces here and many are conveniently located directly in front of the ticket office.
You can expect to pay anywhere from 2,000 to 4,0000 colones ($3-6 USD) for the lots around here. There is also free street parking around the Colonia entrance if you're coming to the park from that direction.
You can also find lots of restaurants and bathrooms nearby if you want to grab a quick bite before venturing into the park.
What are the main things to do in Marino Ballena National Park?
Now that you've got the basics down, it's time to find out more about all the exciting, unique adventures that you can have while visiting Marino Ballena National Park.
Swim
First off, the park is a very popular swimming destination for both locals and tourists. There are around 14km (8.6 miles) of beaches to relax on and enjoy the sun and the sea. Uvita, Bahia, Colonia, Ballena, and Piñuelas are some of the biggest, most popular beaches, so you have plenty of options.
Walk the Whale's Tail
There's no doubt that the Whale Tail (or La Cola de la Ballena, as the locals call it) is the main attraction of the park. The completely natural sand formation in the shape of a whale's tail complements the theme of the park, as it's such a popular spot for whale watching.
The tail itself is only fully visible with an aerial view, but walking along the beach can be a unique experience in and of itself. You'll get the chance to explore tiny ecosystems of fish and crabs, and maybe even see whales and dolphins during the migrating seasons! Just make sure you visit at low tide, so you can get the whole experience.
Kayak or paddleboard
Another amazing way to spend your time in Marino Ballena National Park is getting out on the water! You can kayak or paddleboard in this area.
On the beaches, you'll have access to guided tours for a safe kayaking and paddleboarding experience. The tours are offered for larger groups or as few as 2 people – perfect for couples looking for exciting date ideas!
Whale watching tour
Of course, we can't forget about perhaps one of the most unique experiences that the park provides – whale watching! Since the park was originally built to protect marine wildlife, it is the perfect spot to watch the whales that migrate here every year.
If you're lucky, you may be able to spot some whales from the shore, but one of the best tours in Costa Rica is a whale watching tour here aboard a boat.
We loved this whale watching tour that took us to the perfect places to spot whales and dolphins in the bay. You'll have the chance to swim and snorkel too! Definitely bring your camera along on this 4-hour tour. It's $95 USD per person and this tour typically gets booked up quickly.
Snorkeling
Another great activity available to visitors is snorkeling. You can find many great places to snorkel in Costa Rica right around the Whale Tail, but make sure you follow all the rules that are in place. For example, you are only allowed to use a mask and a snorkel, and not diving fins.
Some boat tours allow you to dive into the water while out at sea as well. They'll have all the gear you can use and you'll have a better chance to spot some of the many sea creatures in the area.
What facilities are in Marino Ballena National Park?
The facilities are really limited here. There are bathrooms and showers located next to the main Uvita entrance. But that's about it.
You'll want to eat before you go or grab lunch at one of the restaurants in Uvita. Keep your admission ticket handy to go back inside the park after you're done eating.
Bring snacks and water with you for the day as there are no drinking water fountains inside the park.
Inside the park, there are also designated camping areas for those interested in an immersive wildlife experience. There are extra camping rules here since the park is a protected area (like no bonfires) so make sure to stick to the rules.
Can you swim in Marino Ballena National Park?
Yes! This is one of my favorite things to do here – swim in the warm, tropical waters just off one of the main beaches. It's a great way to cool off and take in the beautiful surroundings. Just be sure to keep an eye on young kids, as the water can be rough at times.
Bring snorkeling equipment to really enjoy the amazing coral reef here, especially at low tide. You can also stand-up paddle board, surf, or do yoga.
Related read: There's good surfing around Marino Ballena or make sure to check out the top places to surf in Costa Rica to catch more great waves!
Whale Watching in Marino Ballena National Park
Costa Rica has the longest migrating season for humpback whales in the world! This is thanks to the two different types of humpback whales that pass by the country throughout the year.
Many of the whales passing through this area actually like hanging out right around the South Pacific Coast where the park is located. Since the bay is shallow and protected, it makes an ideal place for migrating whale mothers to give birth and raise their young ones before going back into the ocean.
July to November Whale Watching Season
This is the best of the two whale watching seasons! From July to November, you can see Southern Hemisphere Humpback Whales as they migrate from Antarctica to Costa Rica. The top months during this time are August and September when the whales are raising their babies here.
December to March Whale Watching Season
This is when you can see Northern Hemisphere Whales migrate from Alaska to Central America. While the season lasts from December to March, the best months during this time are January and February.
If seeing whales is high on your list, make sure you plan around one of these seasons when you're booking your holiday.
Among the animals you can spot in the park, the humpback whale is definitely the most iconic one – you can see many different species including California Humpback whales, Antarctic Humpback whales, or North Atlantic St. Lawrence Humpback whales. These species are currently endangered, so it is important to support the efforts that go into protecting them. You may also be able to spot orcas and blue whales, as well as dolphins, sea turtles, coral reefs, or pelicans.
It is definitely possible to enjoy the marine life from the shore, or by walking along the iconic Whale's Tail, but whale watching and snorkeling tours are absolutely the best way to make sure you get the most out of the experience. This tour is the most popular one, with a reasonable price of $95 USD that includes snorkeling equipment, a guided boat tour out at sea, and some tasty snacks.
Where to Stay near Marino Ballena National Park
Now that you know just how amazing Marino Ballena National Park is, it's time to find a great place to stay! Staying nearby means you can visit the park more than once and explore all that Uvita has to offer.
If you want more detailed information about the different areas to stay in town, check out our where to stay in Uvita blog. Or read on for my favorite hotels in different areas around Uvita that are perfect for a range of budgets.
For budget travelers, Hostel Cascada Verde is a top choice. The reviews of this hostel are fantastic, and it's available on Booking.com and HostelWorld. The location is on the inland side of town, meaning it's a bit of a walk to the national park. However, it is right across from Uvita Waterfall and Uvita Beer garden in a quiet area surrounded by lush forest.
For those looking for mid-range hotels, I have two great options. Nice and close to Marino Ballena National Park, Bungalows Ballena is only a 1-minute walk from the entrance. This small hotel offers two-bedroom bungalows with full kitchens and bathrooms. It's perfect for families, and they also have a pool. We stayed here last time we were in town and loved it – having our own little bungalow was convenient and comfortable.
The next option is Hotel Marino Ballena which is located in the heart of downtown Uvita. It's a quick taxi ride to the national park and close to lots of restaurants. The hotel has a beautiful pool, includes breakfast, and has modern rooms.
Those looking for luxury have to check out Oxygen Jungle Villas & Spa. This stunning hotel is located in the hills surrounding Uvita and is perfect for those looking for a romantic getaway. The property features spectacular views, an infinity pool, gorgeous rooms, and an included breakfast. This is one of the most romantic hotels in Costa Rica.
Getting Around Costa Rica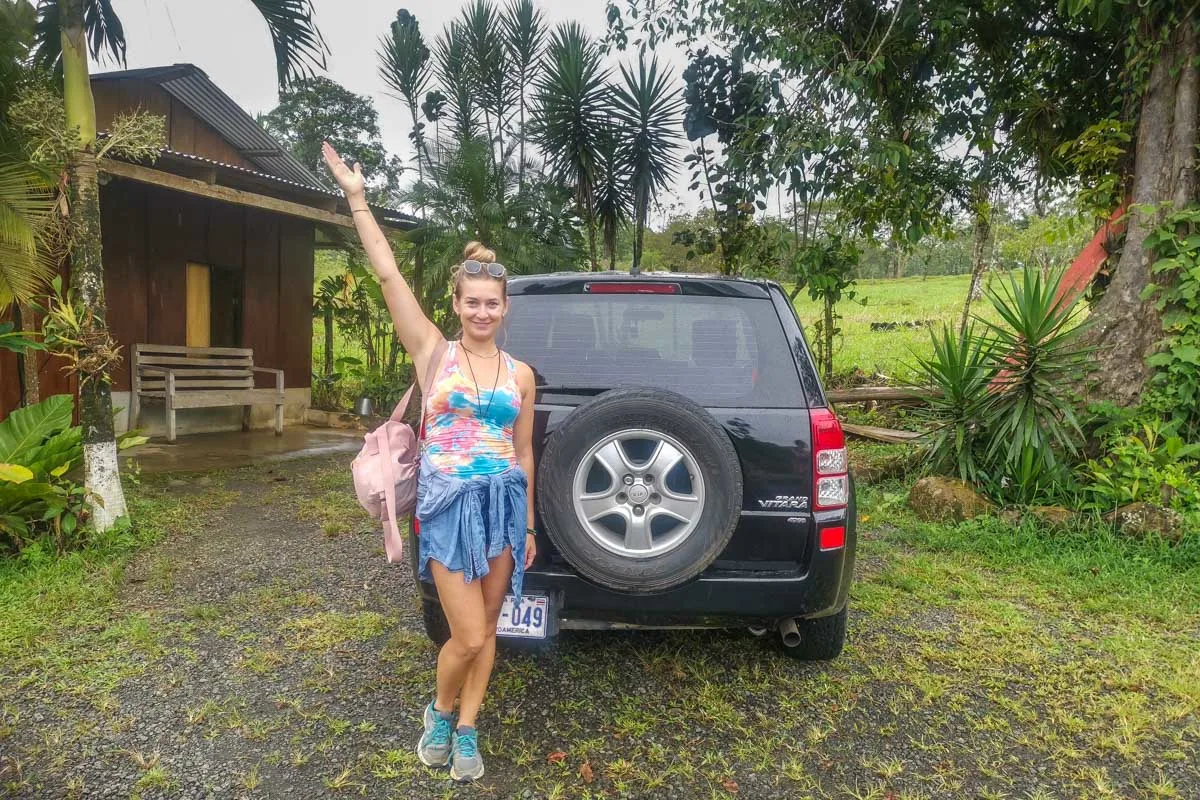 How you choose to get around Costa Rica is one of the biggest decisions you'll make when planning your holiday here! How you do it depends on your budget, travel style, and comfort level.
Renting a Car
Without a doubt, the number one way to explore Costa Rica is in a rental car. We book rental cars on the Discover Cars website as we have had good experiences with them in the past.
One of the things you need to watch for when renting a car in Costa Rica is the mandatory insurance that the government requires you to have. There are a lot of very cheap rentals that don't include this mandatory insurance (TPL) in the original booking price, but there are also ones that do. To avoid additional surprise charges when you pick up your rental car, be sure to rent a car that includes the mandatory insurance when you book.
Thankfully, on Discover Cars it's easy to tell apart the companies that include the mandatory insurance and those that don't. The trick is you can't pick any car on their website. In the picture below, you can see this rental car, with pick up in Jaco, includes the TPL. That means the mandatory insurance is included in the price. Any cover you get above that is extra.
Of course, I still suggest getting the full coverage offered by Discover Cars, which covers you even more.
You can browse cars on Discover Cars here.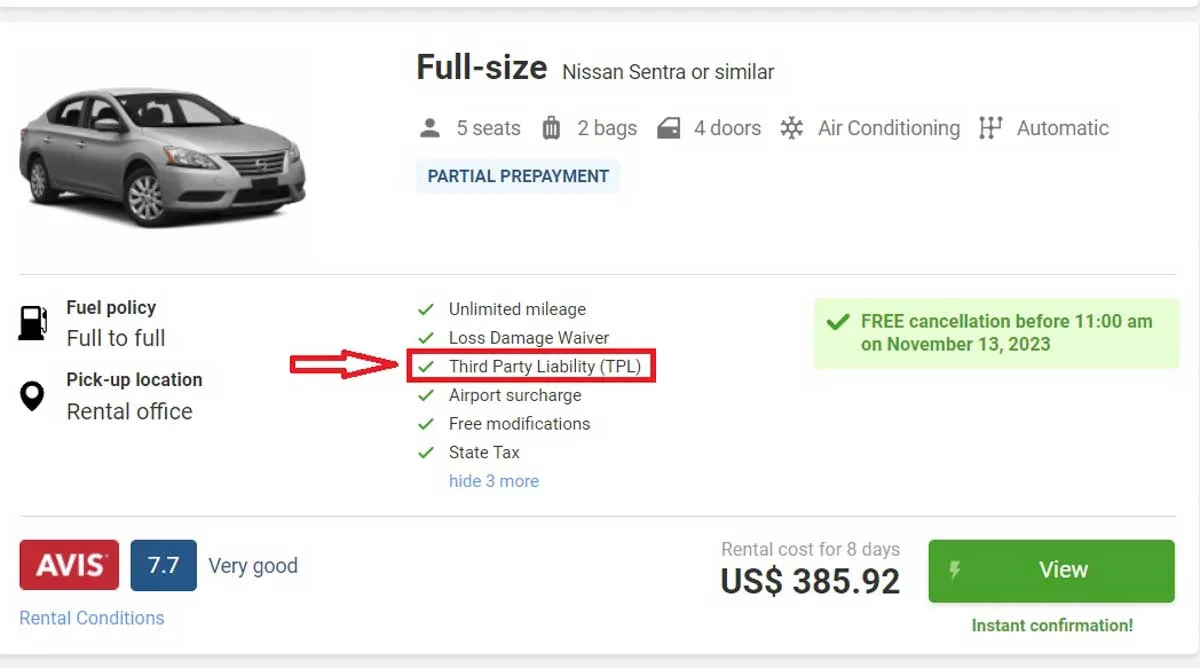 Book Shuttles
If renting a car isn't in your budget, you don't feel comfortable driving in Costa Rica, or you just don't like driving, shuttles are the next best option. There are hundreds of shuttle routes available all over the country, and they are very affordable.
Shuttles in Costa Rica are specifically for tourists and often include pick up and drop off at your selected hotels and airports. The drivers also speak some English, and the vehicles have air conditioning. You'll also be guaranteed a seat when you book a shuttle (which isn't the case with the public bus system.)
To get the best price, use the website Bookaway. They compare all the offers and prices of shuttle companies in Costa Rica so you get the best price! Honestly, we have saved so much money using Bookaway!
You can search for shuttles online on Bookaway here.
Public Bus
Lastly, you can use the public bus system. On short journeys, such as from San Jose to La Fortuna or Uvita to Manuel Antonio, this system is great. However, the longer the journey the more hassle and time spent on a bus. It's undoubtedly best to save the public bus in Costa Rica for short and straightforward trips!
The public buses are definitely the cheapest way to get around Costa Rica, but they are not always very reliable and schedules often change without notice and delays are to be expected. The buses can also be very crowded and hot – so just be prepared!
It's also good to speak some Spanish if you plan on riding the public bus since most drivers and ticket booth operators don't speak English.
Invest in Travel Insurance
Paying out of pocket for trip interruptions or medical treatment will add to what might already be a stressful situation. Not to worry, SafetyWing is here to help!
This affordable travel and medical insurance is perfect for digital nomads, long-term travelers, and remote workers. The best part is that it only costs $45 USD per 4 weeks.
To start coverage you must purchase it after leaving your home country. We usually purchase it as soon as we land at the airport.
Since using SafetyWing we've been reimbursed thousands of dollars when we've gotten sick. During the pandemic, they've even gone as far as to pay for our last-minute flights back to Canada before the border closed!
Pura Vida!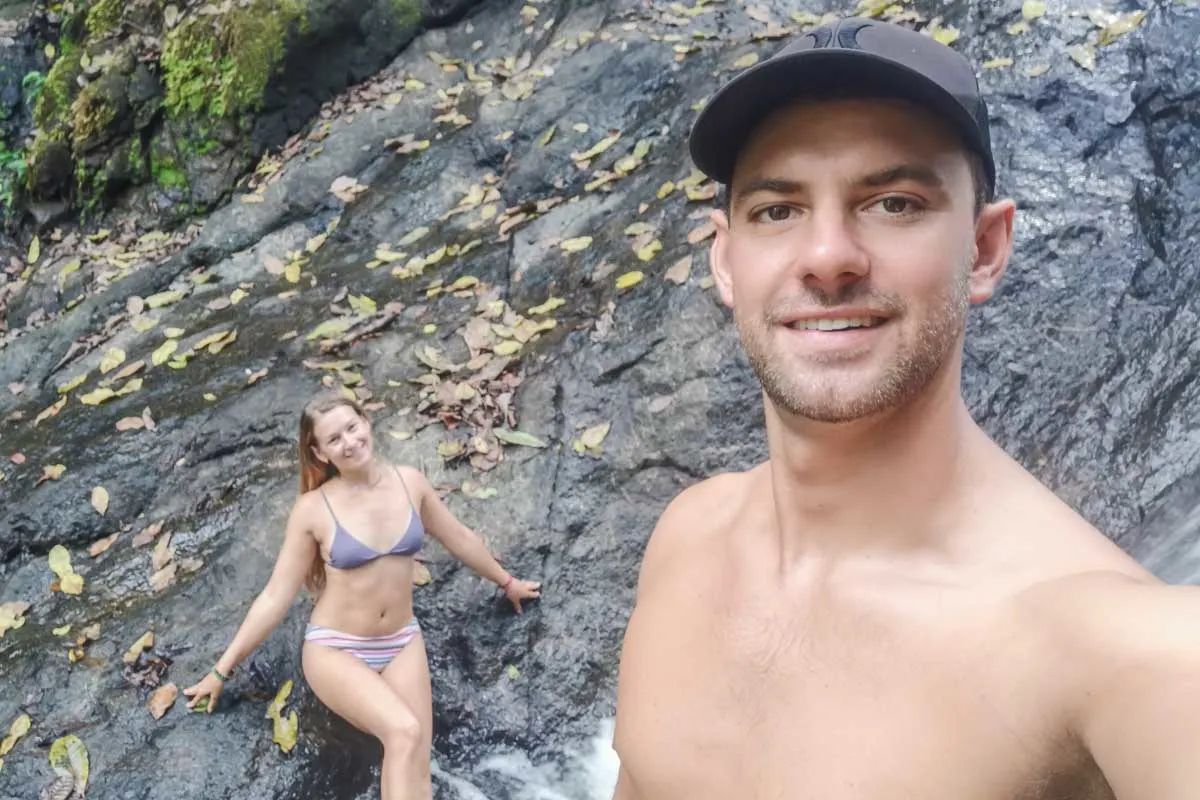 When it comes to the many places to visit in Costa Rica, Marino Ballena National Park should rank high on your list. Not only is the scenery amazing, but seeing whales in the wild is a pretty unforgettable experience. Plus it's affordable and easy to get to. Now you have all the tips to make your own visit here really memorable!
While you're planning a Costa Rican holiday, make sure to check out our other in-depth guides to traveling in this country. We visit often and even lived here, so we have some great suggestions and ideas for your time in this beautiful country.
10 BEST Breweries in Costa Rica that you'll love
COMPLETE Guide to Visiting Paquera, Costa Rica +11 Fun Things to Do!