This blog may contain affiliate links. Read our disclosure policy for more info.
Caño Island is one of the top places to snorkel and dive in Costa Rica and is home to fantastic underwater adventures and diverse marine life. This protected area is one of the best nature reserves in Costa Rica!
This island near Drake Bay and off the coast of Uvita serves as a marine biological reserve and is home to bright blue waters, unique landscapes, and incredible flora and fauna as far as the eye can see.
Generally, the eye can see pretty far as this area has good visibility and allows visitors to soak in everything that Isla del Caño, or Caño Island, has to offer.
Whether you're planning to spend a week in Costa Rica or longer, adding this little island to your itinerary is a great choice. But, if you're planning a trip here, you probably have some questions. So, let me help!
After spending some time on this beautiful island I'll share my top things to know before visiting Caño Island, so you're prepared for your own trip here.
Don't have time to read the full article? Stepping foot on Caño Island is off-limits. However, it's what's in the water that people come to see. Take this 6-hour snorkeling tour to see the rich marine life in the area including sharks, pufferfish, turtles, and more.
1. About Caño Island
Having been called the second-best place to snorkel and dive in all of Costa Rica, Caño Island holds its own among the brilliant landscapes and biodiversity of this beautiful country.
Caño Island is also a popular spot for ecotourism, such as viewing protected coral beds, whale watching, and encountering lots of other sea life.
This island is a protected area managed under the Osa Convention Area known as the Caño Island Biological Reserve, which covers 2,900 hectares (7,166 acres). It has its own permanent ranger station on the island and maintains a role in keeping both wildlife and nature safe.
However, don't expect to set foot on the island! Recent controversy has led to the island being completely off-limits. Thankfully, it's what's in the water that most come to see!
There are 19 species of coral around Caño Island, and the coral beds in the water surrounding the island are used to research coral death and its factors. That means that the area is not only protected but actively being used to come up with solutions to environmental issues. You can see a huge variety of marine life, including sharks, turtles, pufferfish, and more!
For anyone interested in biology, the environment, or seeing incredible nature at work, Caño Island, Costa Rica, is the place for you.
2. Where is Caño Island?
Caño Island, Costa Rica, is located about 16 km (10 miles) west of the mainland and, on a clear day, can be seen from Drake Bay.
You'll find this biological reserve near the northwest corner of the Osa Peninsula, which is home to the beautiful Corcovado National Park.
The closest towns to Caño Island are Drake Bay, Sierpe, Dominical, and Uvita.
This area of Costa Rica is about 6 hours south of the capital, San José, so you'll want a game plan before expecting to just hop on a bus and head to wherever you'll catch a boat from.
3. Where can you visit Caño Island from, and what are the best tours?
When it comes to leaving for Caño Island, the best place to depart from is Drake Bay due to the town's close proximity to the island. This is in the Puntarenas province of the country, in the southwestern region.
However, you can also leave from Sierpe, a small village located on a river with the same name, or Uvita, a small town located a bit further north. There are also tours from Dominical, but most link up in Uvita anyway.
Regardless of how you choose to visit the island, the only way to access it is by boat.
So, if you get seasick often, this might not be the best place for you, unfortunately. However, for those lucky enough to go, here are the best tours from each town!
Tours from Drake Bay
There are plenty of things to do and places to stay in Drake Bay. Its amenities make it a good home base for your trip to Caño Island. Drake Bay is also one of the best places to stay in Costa Rica with a variety of hotels to choose from.
If you are departing from the Drake Bay area, there is a great 6-hour snorkeling tour that leaves from there. You'll have the chance to go out on not one but two snorkeling adventures to make sure that you see all of the incredible marine life you can.
One of my favorite things about this is that the group caps at 8 people, so you have a more personalized experience. Snorkeling equipment is provided, of course, and a beginner instruction session will take place for everyone to feel prepared.
You'll get to finish up on the mainland with a group lunch to wrap up a busy day of snorkeling and exploring. Grab your spot on the tour for $107 USD.
If you're an experienced scuba diver, go deeper into the waters around the island with this scuba diving tour that leaves from Drake Bay. The group for this is also small and caps at 6 people so that you have plenty of attention and support from your divemaster if needed.
Expect to see amazing rock formations, coral, turtles, seahorses, and maybe even some sharks. Don't worry, this tour is run by professionals, and you'll be in good hands even around the sea animals!
There is plenty of time in between dives, but you do get to go on a few. I really loved how this tour includes everything but tips for the $184 USD pricetag, because it has an all-inclusive feel that makes the day that much more enjoyable.
Once you're all dived out, head back to the mainland for a group lunch before saying your goodbyes.
Tours from Sierpe
Staying in Sierpe? There are tours for that, too!
If your goal is snorkeling, this 2-day tour combines snorkeling near Caño Island and exploring a National Forest Reserve.
On day one, you'll first go to the Terraba-Sierpe Mangrove on your way to the coast. After exploring the forest reserve area, you'll have some time to rest as you're transported to the island. If you're good with a little bit of choppy water, that is.
Snorkeling near the island is a must, and it was so rejuvenating to get in the water after a long morning of exploring the forest. This is a tour that allows you to get off at the island, where you can enjoy an included group lunch on the beach.
You get back around 4 in the afternoon and can stay at any accommodation you like. So, this tour is great when you already have a hotel in Sierpe but are interested in both tour days.
Day two will be a shorter day, where you go back to Caño Island just to snorkel this time. This is a great way to see more of the area and set foot on the island itself.
Speaking of multi-day tours, there is another one that includes everything but your transportation to Sierpe. This 4-day tour of Caño Island and Corcovado National Park is unreal!
You'll likely fly from San José for this tour unless you're already driving around Costa Rica on your trip, so plan accordingly. If you have the time and the $815 USD is within your budget, this tour is too cool to pass up!
Everything I've mentioned so far makes its way into the tour- from Drake Bay and its mainland jungles to the Sierpe River, Corcovado, and Caño Island. Not only do you get to snorkel, but you also get to go on nighttime jungle hikes, treks, boat rides, see wildlife, and so much more!
The local guides are incredibly knowledgeable and have so much to share about the ecosystem you'll be adventuring in. One really great thing is that the tour includes all accommodation and most meals so that you can focus on learning and soaking in all the beautiful sights.
There are some more intensive physical activities involved since this tour takes you through so much of the south of Costa Rica and its landscape. It's not recommended for those under 12 or over 60, but that is at your discretion.
Groups are kept small so you can experience the trip without being overwhelmed by a large group. I think that this helps to keep the experience fun and personal, which makes it all the more enticing.
So, if you're staying in Sierpe and want a good way to spend a few days, I highly recommend checking it out.
Why We Book Tours with Viator
Viator is a trusted online booking system for tours around the world! We almost always book our tours using Viator for a couple of reasons:
Free cancellation on most tours – Most of the tours on Viator allow you to cancel and get a full refund up to 24 hours in advance. This is handy in case plans change, or if booking an outdoor activity, the weather forecast is looking grim.
Reserve now and pay later – You can secure your spot on some of the most popular tours well in advance and not pay until closer to the day of the tour.
Pay in your chosen currency – Avoid costly international transaction fees by choosing to pay in your home currency.
Peace of mind – When booking with tour operators you find in person on the street or in small booking offices, you are often promised one thing and given another. This online platform holds tour operators accountable with a written description of inclusions as well as the opportunity for customers to leave reviews.
Check out the Viator website here!
Tours from Uvita
Even if you are staying a bit further away from the island, there is a tour that will get you right there, so you don't have to miss out.
Similar to the other day tours, this snorkeling tour leaves from Uvita and allows you to see whales, turtles, and other marine life as you make your way to the island.
With two guided snorkeling sessions at 1.5 hours each, you'll have time to rest in between and soak up some sun.
Depending on the weather, you might get to stop at a different island along the way back to the mainland to enjoy lunch. If the weather does not permit, you'll still get to have a group lunch back at the port in Uvita.
There are tours to Caño Island from all the major areas to the east of the island, so don't miss out just because you aren't staying in Drake.
4. Where is the best place to visit Caño Island from?
When it comes to visiting Caño Island, it will be easiest to access from Drake Bay.
Closest to the island, Drake Bay is located to the west of the mainland and has a variety of accommodations, including an airport.
However, you can easily get to Caño Island from Sierpe and Uvita, as well. You can expect to leave from this area of Puntarenas, very far to the southwest of Costa Rica, when you make the journey to Caño Island.
Of course, as a traveler, you are likely to fly into San José. There are flights to different smaller airports in the region, so depending on where you stay, you can decide if you want to bus, fly, or drive down to this area of Costa Rica.
5. Is snorkeling and scuba diving good around Caño Island?
Yes, snorkeling and scuba diving are both great around Caño Island.
As a matter of fact, the island has some of the best diving and snorkeling in all of Costa Rica! It's considered the second-best place to snorkel in the entire country, only after the famous Cocos Island.
Cocos Island National Park holds the top spot, thanks to its status as the best site for snorkeling and scuba diving in Central America. So, when it comes to recommended places to enjoy water activities, Caño Island is up there.
Related Read: One of my other top spots for snorkeling in Costa Rica is Tortuga Island. It was incredible!
6. Is the boat ride over to Caño Island rough?
Something to keep in mind as you make your way over to Caño Island – the boat ride can be very rough.
Especially in bad weather, expect a rocky ride. If the water is less choppy than you had anticipated, this is a welcome surprise. But it's best to come prepared for the boat ride over to be rough.
Plan to bring a rain jacket with you. This will protect you not only if it rains, but also will help keep you dry as water sprays up from the sides of the boat.
Speaking of bringing your essentials, if you are someone that gets seasick, have some motion sickness pills on deck.
On that note, if you get seasick, this may not be the best place to visit for you. Tours will only have you getting off the boat to snorkel or dive, so you'll be spending a lot of time on the water itself.
If you aren't someone who gets seasick, the trip to Caño Island is a great way to spend a day on the water while taking in the views around you.
7. When is the best time to visit Caño Island?
So, now you know how to get to Caño Island, but do you know when the best time to visit is?
I recommend visiting the island during Costa Rica's dry season because the visibility will be so much better. The dry season is also usually the best time to visit Costa Rica.
If you're going to Caño Island, you'll likely want to see the marine life on your boat ride over, and it is much easier in the months of December through April.
If you can't get to Costa Rica at that time of year, not to worry! Visibility in the rain is not the best, but you might get lucky. Also, the dry season is much busier thanks to its favorable conditions, so you'll have a chance to beat the crowds if you come outside of those months.
8. Are Caño Island tours suitable for kids?
If you are hoping to take a day tour to Caño Island, go ahead and bring the kids!
The tours I mentioned will all be suitable for kids, though I might not recommend the multi-day options that are a bit more intensive.
You'll also want to make sure your kids are comfortable in the water, even though everyone is provided with a life jacket. Also, getting in and out of the boat uses a ladder in the water, which can be difficult for younger kids.
Related Read: If you're looking for more tours for families or couples, check out our recommendations for the best tours in Costa Rica!
9. What should you bring to Caño Island?
On top of bringing a rain jacket or poncho to keep the sea spray and rain away, you'll want some other essentials for your visit to Caño Island.
Since you'll be in the water, pack some reef-safe sunscreen, a waterproof camera, a dry bag, and some warm clothes for after your dive.
Oh yeah, and don't forget the sunglasses, snacks, water, and a hat to keep as cool and protected from the sun as you can for your day on the water.
10. Can you see wildlife on the boat ride to Caño Island?
If you haven't caught on just yet, seeing the wildlife here is one of the best things to do in Costa Rica!
It's possible to spot dolphins, whales, and turtles on your boat ride to Caño Island. If you don't get a chance to see all three, you'll certainly see at least one of them. Seeing a sea turtle on our boat ride over was a big highlight for me!
While dolphins and turtles can be spotted year-round in Costa Rica, there are better months to see whales. The best season for whale watching in Costa Rica is from July to November. You can spot multiple whales, including babies, during this time. The second-best season runs from January to April, and while not quite as good, you still have a great chance of seeing a whale.
Along the way, you can also expect to see lots of different species of birds and once you arrive near the island, you'll spot all the flora and fauna it's home to. Then, when you get in the water, you'll see a ton or fish and coral. We even saw two sea turtles!
11. Are there places to stay near Caño Island?
Yes! I absolutely recommend staying nearby so you can more easily book and join a tour.
The closest place to stay is in Drake Bay. You'll have the shortest boat ride over, so more time to enjoy snorkeling or scuba diving. There are lots of places to stay in Drake Bay, but these are a couple of our top picks.
Corcovado Jungle Hostel – $
Right near the beach and not far from the center of town, Corcovado Jungle Hostel is great for your adventures in the area. You're close to the water for swimming or snorkeling, and of course, the boat ride out to Caño Island, or there's good hiking or exploring at the nearby Corcovado National Park.
There's a wide variety of rooms so you can grab a cheap stay in a dorm room for about $17 USD per night or a private room for two for roughly $33 USD. Book your room either on Booking.com here or HostelWorld here.
Cabañas Bajo Bosque Drake – $$
I love this place because Cabañas Bajo Bosque Drake is tucked away in the jungle just outside of town. You'll get a front-row seat to nature with tons of monkeys and birds nearby. The double rooms here offer mountain views for about $63 USD per night. It's a great escape into nature, but you're still within a quick drive of beaches and the town center.
You can check availability and book a room here on Booking.com, here on Hotels.com, or here on Expedia.
Poor Man's Paradise Lodge – $$$
Located on a beautiful secluded beach in the middle of the rainforest, Poor Man's Paradise Lodge is a great escape. You'll see monkeys and parrots during breakfast or just lounge around in a hammock on the balcony. The oceanview bungalows are spacious and reasonably priced for the amount of space you're getting at around $150 USD per night.
The property is right in Corcovado National Park, so it's easy to visit the park before or after your Caño Island trip. You can check availability and book a stay here on Booking.com, here on Hotels.com, or here on Expedia.
Getting Around Costa Rica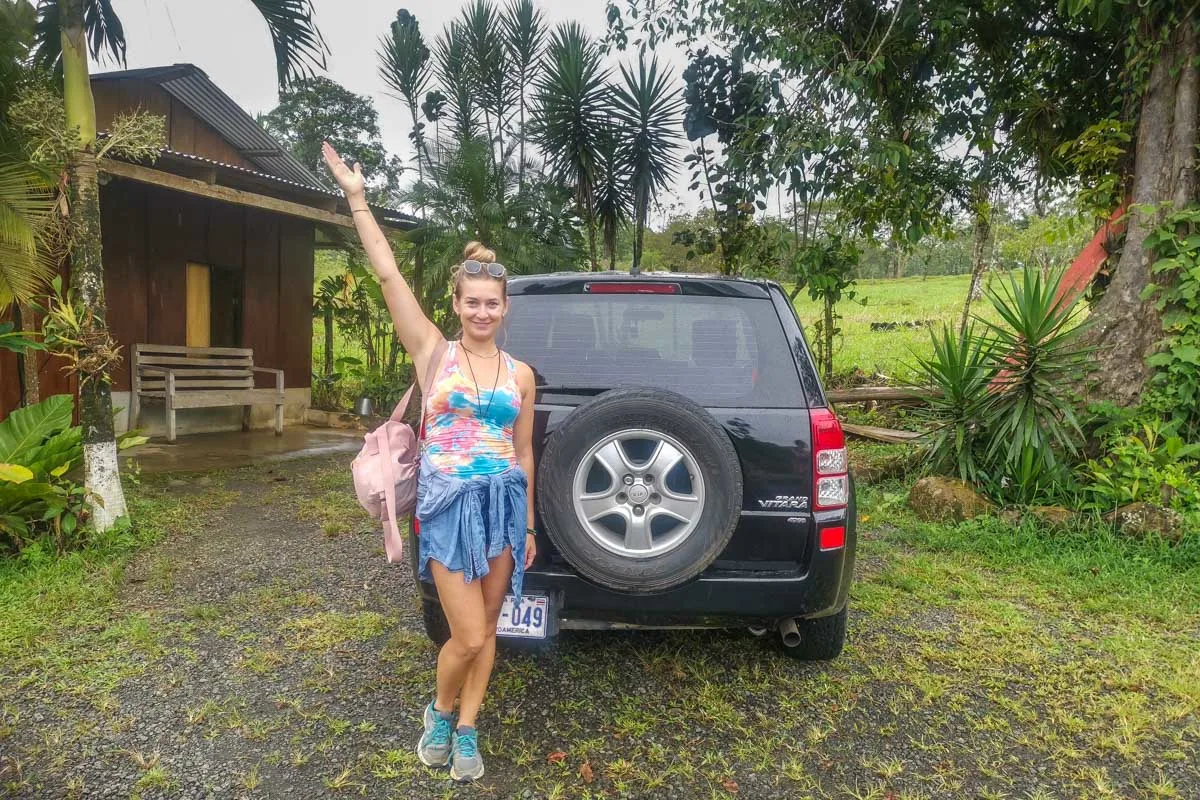 How you choose to get around Costa Rica is one of the biggest decisions you'll make when planning your holiday here! How you do it depends on your budget, travel style, and comfort level.
Renting a Car
Without a doubt, the number one way to explore Costa Rica is in a rental car. We book rental cars on the Discover Cars website as we have had good experiences with them in the past.
One of the things you need to watch for when renting a car in Costa Rica is the mandatory insurance that the government requires you to have. There are a lot of very cheap rentals that don't include this mandatory insurance (TPL) in the original booking price, but there are also ones that do. To avoid additional surprise charges when you pick up your rental car, be sure to rent a car that includes the mandatory insurance when you book.
Thankfully, on Discover Cars it's easy to tell apart the companies that include the mandatory insurance and those that don't. The trick is you can't pick any car on their website. In the picture below, you can see this rental car, with pick up in Jaco, includes the TPL. That means the mandatory insurance is included in the price. Any cover you get above that is extra.
Of course, I still suggest getting the full coverage offered by Discover Cars, which covers you even more.
You can browse cars on Discover Cars here.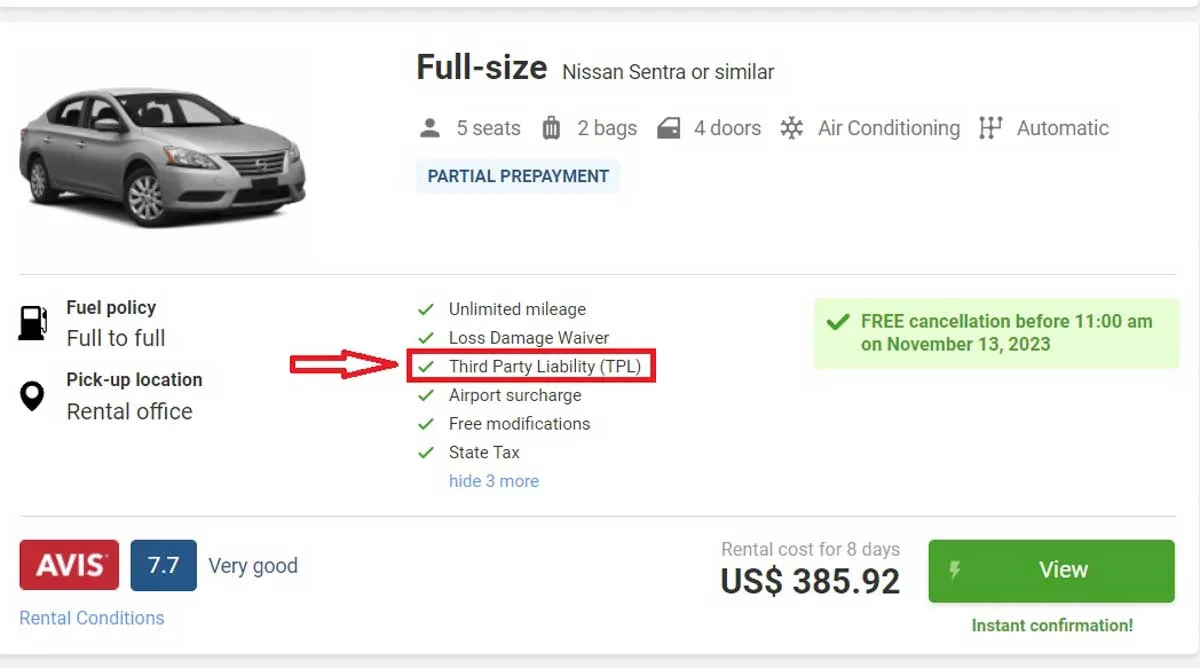 Adobe Rental Rent A Car is another rental company that we most often use in Costa Rica. We love them because Adobe has 15 offices around Costa Rica and delivers door-to-door around their offices at no extra cost. We also are pleased that all of their cars are new. In fact, they are never older than 2 years to the date. They are also the only company to include mandatory insurance and promise no hidden fees. You can get a free quote for a rental car from their website here.
Book Shuttles
If renting a car isn't in your budget, you don't feel comfortable driving in Costa Rica, or you just don't like driving, shuttles are the next best option. There are hundreds of shuttle routes available all over the country, and they are very affordable.
Shuttles in Costa Rica are specifically for tourists and often include pick up and drop off at your selected hotels and airports. The drivers also speak some English, and the vehicles have air conditioning. You'll also be guaranteed a seat when you book a shuttle (which isn't the case with the public bus system.)
To get the best price, use the website Bookaway. They compare all the offers and prices of shuttle companies in Costa Rica so you get the best price! Honestly, we have saved so much money using Bookaway!
You can search for shuttles online on Bookaway here.
Public Bus
Lastly, you can use the public bus system. On short journeys, such as from San Jose to La Fortuna or Uvita to Manuel Antonio, this system is great. However, the longer the journey the more hassle and time spent on a bus. It's undoubtedly best to save the public bus in Costa Rica for short and straightforward trips!
The public buses are definitely the cheapest way to get around Costa Rica, but they are not always very reliable and schedules often change without notice and delays are to be expected. The buses can also be very crowded and hot – so just be prepared!
It's also good to speak some Spanish if you plan on riding the public bus since most drivers and ticket booth operators don't speak English.
Invest in Travel Insurance
Paying out of pocket for trip interruptions or medical treatment will add to what might already be a stressful situation. We always travel with SafetyWing travel medical insurance.
The best part is that it costs only a fraction of what most insurance policies charge, which makes it perfect for digital nomads, long-term travelers (like us), and budget travelers. It only costs $45 USD per 4 weeks!
To start coverage, you must purchase it after leaving your home country. We usually purchase it as soon as we land at the airport.
Since using SafetyWing we've been reimbursed thousands of dollars when we've gotten sick. During the pandemic, they've even gone as far as to pay for our last-minute flights back to Canada from Colombia before the border closed!
You can click here to get a quote and read all the details!
Pura Vida!
If you've always pictured escaping to a tropical island, what better way to do it than to visit the beautiful Caño Island. Snorkeling and scuba diving here are among the best in the country and the surrounding area is amazing to explore while you're here. Give this little island a top spot on your itinerary and you won't be disappointed!
While you're planning your getaway, make sure to check out our other blogs about the things to do in Costa Rica. We're not only frequent visitors, but we've lived here too, so we have lots of ideas to share for travel inspiration.
BEST beaches in Costa Rica that you'll love
BEST restaurants in Uvita, Costa Rica
ULTIMATE guide to the Nicoya Peninsula and best things to do!