Costa Rica is a country that nearly everyone has on their 'must-visit' list and it's no secret why!
From gorgeous beaches and unique cloud forests to national parks and nature reserves and of course, plenty of adventure activities, you really can't go wrong with booking a plane ticket here.
With dozens of amazing experiences in Costa Rica, it's considered one of the best destinations to travel to in Central America. If all the incredible activities don't draw you in, the Pura Vida lifestyle sure will. You may even find yourself wanting to move here (like we did!).
If you've been to Costa Rica before, you know just how easy it is to fall in love with the country. But if you haven't been yet, you might be wondering why you should go and what exactly makes Costa Rica such a great place to travel to – what is Costa Rica known for, exactly?
To help, we have put together this list of the top things Costa Rica is most known for and the best spots to experience them! Whether you're planning a honeymoon or a multi-day tour, we'll include plenty of tips and tricks along the way to help you figure out exactly what you want to do during your trip.
1. Amazing beaches
Some of the beaches in Costa Rica are the most beautiful we have ever set our eyes on!
Whether you are looking to catch some waves and enjoy the surfing scene or relax with a fresh coconut water on a sunbed, you will not regret spending some time by the coast.
Costa Rica has two coasts you can visit, the Pacific coast and the Caribbean coast. If you have time, you should definitely visit both.
Some of the most popular beaches on the Caribbean side include Puerto Viejo de Talamanca, Tortuguero, and Cahuita.
If you're looking for a backpacker surf town, look no further than a stay in Puerto Viejo. While the area of Tortuguero isn't the best for swimming, it is famous as one of the best places in Costa Rica for turtle spotting. If you visit in October, you might even be able to watch the turtles hatching!
The Pacific side is where most of the picturesque long stretches of white sand beaches are. Manuel Antonio is surrounded by beautiful beaches, including a stretch of beach secluded inside Manuel Antonio National Park, surrounded by wildlife.
If a more commercialized beach is what you're after, Tamarindo and Jaco provide great surfing along with beach chairs to rent, and beach vendors, perfect for a pina colada in the sun! Or, for an off-the-beaten-path beach, check out Uvita or Dominical. These are two of my favorite towns to avoid crowds.
Of course, for a great mix between the two, check out Samara and Santa Teresa. Both are mostly undeveloped but offer a busy atmosphere with plenty to do!
Related read: Need help planing your trip? We have lots of ideas on how to spend a week in Costa Rica!
2. Cute sloths
If you're an animal lover, you're going to absolutely love Costa Rica. Spotting wildlife in Costa Rica is one of the top things to do and high on the list of must-see animals is the adorable sloth!
Costa Rica is actually home to two different species of sloths.
The two-toed sloths have two toes on their front legs and are larger in size than the three-toed sloths. Whilst they look quite similar from up in the trees, the two-toed sloths have slightly more pointed faces.
The slightly more recognizable three-toed sloths are smaller in size and are probably what comes to mind when you think of a sloth. They have three toes and are easier to spot as they are not nocturnal like their two-toed cousins.
While sloths can be spotted all around Costa Rica, there are some places you can go to make it more likely you'll be able to see some.
If you are visiting Manuel Antonio during your trip, the national park is FULL of them. The best way to see them is with a guided tour through the park. Your naturalist guide will help you spot sloths in their hiding places and have a handy spotting scope you can use to catch a glimpse if they are further away. The half-day tour is $59 USD and includes transport from both Manuel Antonio and the Quepos areas.
There are tons of sloth tours in La Fortuna since this is one of the places sloths love most! Located just outside of La Fortuna is the Sloth Territory Reserve. As its name gives away, you'll see lots of sloths on this tour through Sloth's Territory. You'll get the chance to hike through the reserve, and see sloths as well as other wildlife like frogs, hummingbirds, and toucans. Tours start at $30 USD and you can choose a day or night option (to see all those nocturnal creatures!).
3. World-class snorkeling and diving
While sloths are super cute, there's a whole world of wildlife under the water in Costa Rica, making snorkeling and scuba diving some of the things that Costa Rica is most known for.
Exploring the waters will give you the chance to spot some awesome marine life such as turtles, dolphins, octopuses, rays, and huge schools of fish!
Caño Island is located off the coast of Drake Bay and is one of the most popular places in Costa Rica for both snorkeling and diving because of its beautiful crystal-clear water.
See the incredible underwater landscape up close with this half-day snorkeling tour. You'll catch a boat in Drake Bay and head on the water for two incredible snorkeling sessions around Caño Island. Then after all that swimming, you'll enjoy a yummy lunch before returning back. The tour is $107 USD per person.
If you are basing your trip in the popular town of Tamarindo, you can book this half-day snorkeling experience. It takes you out to the stunning blue water surrounding the Catalina Islands. This area gives you a great opportunity to see schools of dolphins and even whales during their migrations here (baby whales have been spotted on this specific tour!). You'll get two dives and snacks on board for $83 USD.
Tamarindo also has a huge number of dive shops offering diving experiences for both beginners and experts and even has opportunities to get your PADI certifications! Once you're certified (or if you are already), diving tours like this one are an amazing add-on. You'll get up close to incredible sea life at a pretty affordable price of under $150 USD.
4. Tons of birds!
If you are a bird fanatic, you already know that birdwatching in Costa Rica is next level!
Toucans, parrots, parakeets, quetzals, and macaws, among other species, are all spotted throughout the country but if you want to heighten your chances of seeing these beautiful birds, there are some places you should head to.
Corcovado National Park is home to around 3% of the world's biodiversity making it a prime bird spotting location. This bird-watching tour is located in Drake Bay, right next to Corcovado National Park on the Osa Peninsula, which is home to over 400 species of birds! The tour starts at $55 USD and you can choose an early morning or afternoon option, and pick-up is available.
The areas of Monteverde and La Fortuna are also some of the best areas for bird watching – especially to see the rare resplendent quetzals.
The peaceful Monteverde Cloud Forest is a prime spot for an early morning bird-watching tour. The guides on this tour want you to tick off as many Costa Rican birds on your list as possible and will also point out some of the other animals in the forest (we saw coatis!). This tour costs $65 USD and a driver will pick you up from your accommodation at 6 am so you can catch the early birds!
Of course, you can see amazing birds everywhere in Costa Rica and one of my favorites is the macaw. These huge colorful birds are very smart and treasured in Costa Rica.
Related read: Keep an eye out for birds or feel like one yourself as you soar through the treetops on one of the best ziplining tours in Costa Rica!
5. Spectacular waterfalls
There are unbelievable waterfalls all over Costa Rica, so no matter where you are basing yourself, you will likely not be too far from a waterfall.
One of the most impressive waterfalls is located within Tenorio National Park, just north of La Fortuna. The Rio Celeste Waterfall is famous for its bright turquoise pool at the bottom of the 98-foot waterfall. Surrounded by jungle, a short hike through the national park is an amazing day trip in Costa Rica.
Not far from Rio Celeste, is the La Fortuna Waterfall. If visiting a waterfall that you can swim beneath is on your bucket list, this is the perfect one for you. The entrance to the waterfall is just a short drive if you're staying in La Fortuna town. Or you can opt for a La Fortuna Waterfall tour that includes transportation. Make sure you bring some comfy shoes for this one though as there are a lot of steps!
Similarly, if you are taking a trip to Uvita, you cannot miss Uvita Waterfall! While it's not the most impressive of all of Costa Rica's waterfalls, it is a fan favorite!
There are several pools located around Uvita Waterfall which you can swim and relax in, but if you are a bit more of a thrill seeker, you can climb all the way to the top and slide down! Be careful as it can get slippy but if you're brave enough, it's great fun. This waterfall is not free to visit; when you walk down from the carpark you will need to pay 2000 colones (around $3 USD) to enter.
The best waterfall in all of Costa Rica though has to be Nauyaca Waterfalls. These stunning falls made of two waterfalls are located near Dominical. This place is just memorizing! Not only is it huge (around 197 feet or 60 meters!) but the refreshing water is the perfect place to take an adventurous swim!
The falls are surrounded by thick rainforest, so you'll need to hike, ride in a truck, or take a horseback riding tour to get here. If you want a guide, this Nauyaca Waterfalls tour is full of five-star ratings! It includes a short hike to the falls, a dip in the water, and a delicious Costa Rican lunch all for $130 USD.
Related Read: If Nauyaca Waterfalls are on your must-visit list, stay nearby at one of the best hotels in Dominical!
6. Relaxing hot springs
Another thing Costa Rica is famous for is its amazing hot springs. There are a few locations where you can spend a day relaxing in the hot springs, but La Fortuna is the prime spot, thanks to Arenal Volcano.
La Fortuna has so many different hot springs close by, ranging from luxury spas to budget-friendly and even free ones!
For a relaxing soak and a refreshing beverage after a long day of exploring La Fortuna, there is nowhere better than Tabacon Hot Springs. It's definitely towards the luxury end for hot springs but is well worth the money. Tabacon Resort has five different natural water springs all ranging in temperature and even has a slide and swim-up bar. Tickets start at $80 USD with a range of options including evening and day passes with a meal included.
If you are visiting Costa Rica on a budget, you don't have to miss out on hot springs, just over the road from Tabacon is a free hot spring that's open to the public. It's easily one of the best free things to do in La Fortuna!
It can be a bit tricky to find if you aren't sure where you are going, but just head down the hill, follow the locals and I'm sure you'll find it (there's more info in our La Fortuna blog). If you walk through the tunnel you will see a few thermal pools perfect for lounging in, but if these are too busy, head further downstream as the whole river is nice and warm!
Of course, there are a ton of other hot springs in the area you can visit so check out our guide to La Fortuna hot springs and choose one that suits you!
Another famous hot spring in Costa Rica is Rio Negro Hot Springs. It's located in the Rincon de la Vieja National Park. It is thought to be somewhat of a hidden gem as it is never as busy as the ones in La Fortuna. The park has 10 hot springs connected by hanging rope bridges, heated by the Rincon de la Vieja Volcano – one of the must-see volcanoes in Costa Rica!
7. Surfing
Costa Rica is one of the best spots in the world for surfing as the waves are consistent all year round. So no matter when you choose to visit Costa Rica, you'll be able to surf!
The Pacific coast and Caribbean coast are ideal locations for both beginners and advanced surfers. This is because both coasts have a mixture of gentle waves and big ones for the pros. Some of the best surf towns are Jaco, Santa Teresa, Dominical, and Nosara!
If you are backpacking through Costa Rica and have time to spare, booking a stay at a surf camp will have you surfing like a pro in no time! Surf camps are a great way to make friends, see the sights, and get professional surf lessons to help develop your skills.
This all-inclusive 8-day surf camp in Tamarindo starts at $800 USD including all equipment, 9 surfing lessons, 3 surfing trips, accommodation, meals, and some day trips. They even pick you up from the airport – this is an easy all-in-one surfing vacation!
If you are looking to do some casual surf lessons during your trip, head to the popular surf town of Jaco and book a lesson with the pro team. Jaco is one of the best places to surf in Costa Rica and should definitely be top of your list of places to visit. Lessons here start at $59 USD and are available to all abilities daily from 6 am to 5 pm.
Already an avid surfer? Heaps of the beaches in Costa Rica have surfboards to rent from beach vendors. You should be able to rent a board for around $10 USD a day depending on the area. Popular surf spots include Jaco, Puerto Viejo de Talamanca, Tamarindo, and Manuel Antonio.
Related Read: Planning on catching waves in Jaco? These are the top places to stay in Jaco, including the best hotels for all budgets!
8. Delicious but simple food!
There are tons of awesome Costa Rican dishes you need to try during your time here! Their food has influences from all over the world including Spain, Africa, the Caribbean, and the rest of Central America.
While the food differs around the country, Gallo Pinto remains consistent! This tasty dish of rice, beans, onions, and coriander is traditionally eaten for breakfast, but you will likely find it served with every dish you order.
Casado is a Costa Rican staple, available at every small, local restaurant aka "sodas" in the country. The dish consists of patacones, salad, rice and beans, and a protein of fish, chicken, or beef.
If you love the food that much, take Costa Rican cooking home with you by joining a private cooking class with a published cookbook author!
9. Friendly locals (aka "Pura Vida!")
Costa Rica is actually known to be the happiest country in the world and you can definitely tell when talking with the locals. The locals are SO friendly and always want to lend a hand, whether it's helping with bags, recommending foods and activities, or helping you plan routes.
They live their life by the Pura Vida motto which translates to "pure life" or "simple life".
This gives them that easygoing lifestyle prevalent in the country. The bus doesn't turn up on time, "Pura Vida!"
While it takes a little bit of getting used to, once you adjust you'll see what a chilled kind of life it is. It's simple, easy-going, and beautiful.
10. Adventure tours
While the country is known for its wildlife and peaceful nature, Costa Rica is amazing for some high-adrenaline adventures for all you thrill seekers out there!
Some of the best tours in Costa Rica include ziplining through the cloud forest, taking an ATV down a dirt track through the rain forest, scuba diving, mountain climbing, canyoning, and whitewater rafting!
These activities and so many more are available throughout the country but some of the best locations are Monteverde, La Fortuna, and Jaco!
Monteverde is popular for its incredible cloud forest. Here you can ATV around the park circuit, walk across the hanging bridges spotting wildlife and soar through the skies on their zipline! This Adventura Park tour includes access to all the park's activities, including 10 zip lines, the ATV course, and the famous Tarzan swing. Tickets start at $54 USD for three hours of fun activities!
Close by in La Fortuna is the Arenal Volcano, with tons of hot springs and waterfalls! This Canyoning and Waterfall tour takes you deep into the forest where you can rock climb, zipline through the canyon, and rappel down waterfalls! While it might sound intense, this tour, for only $109 USD is perfect for a family day out in Costa Rica!
Related read: While in La Fortuna, take a walk on the wild side across the incredible hanging bridges!
11. National parks and protected areas
It's no surprise that Costa Rica is most known for its national parks considering around 28% of the country is protected. There are 28 national parks and three of them are UNESCO World Heritage sites.
The national parks are the best places to spot some of the country's incredible wildlife and lush landscapes. With so many to choose from, it would be a struggle to visit them all!
Potentially the most popular is Manuel Antonio National Park. While it is actually the smallest, don't let that discourage you! The park itself is beautiful and its small size makes it easy to walk around and spot wildlife. The park itself costs $18 USD to enter and tickets MUST be purchased in advance here.
A guided tour is also a great option and this specific tour is only $30 USD and includes a 2-hour guided walk through the park. After, explore at your own pace and enjoy the pristine beaches. However, don't just visit during the day. This jungle night tour is awesome, and Andre is talented at spotting critters in the dark!
Located just 1.5 hours from the city of San Jose, there is a park that should be at the top of everyone's bucket list, Poás Volcano National Park. This national park is home to Poás Volcano, one of the world's largest open volcanoes. It's an active volcano too!
Unfortunately, it is covered by clouds for a large portion of the day so be sure to get there early to try and avoid the cloud cover. You need to buy tickets for this National Park online before you get there to ensure you can enter.
If you would prefer a guide, this Poás Volcano tour from San Jose includes a visit to the volcano, waterfall gardens, and a romantic breakfast at the Doka Coffee Estate all for $160 USD. It's the perfect tour if you're visiting Costa Rica on your honeymoon!
For marine life lovers, Caño Island Biological Reserve is famous for being one of the top spots in the country for snorkeling and diving. The island is easily accessible from Drake Bay and is home to some of the best sea life and corals I have ever seen. There are snorkeling tours from Drake Bay, multi-day tours from Sierpe, or day trips from Uvita that allows you to see whales, turtles, and other marine life around the island.
12. Laid-back nightlife
While Costa Rica has endless things to do throughout the day, the party definitely does not stop at night. Costa Ricans work hard but also play hard and seem to love a beach party.
The nightlife is still very laid back compared to what you might find in other countries; beach bars are full of people in flip-flops and swim trunks dancing the night away.
You will find some more formal clubs and bars in the larger areas if you're staying in a place like San Jose. But in Jaco, Tamarindo, Puerto Viejo, and Santa Teresa the beach bars seem to be the way to go!
Hostel bars are another great option as they often have great happy hours and tons of people eager to make friends. We often find local breweries bring in a fun crowd, too.
It's also very common to go to a bonfire party on a beach, or have casual drinks in a town plaza. In Samara, we recently attended a beach bonfire party, and in Dominical, we drank on the street at the plaza.
In our experience, the locals were really welcoming and wanted us to join in on their fun. While the nightlife in Costa Rica is mainly safe, it's important to keep your wits about you, don't go out alone, and stay away from illegal activities, drunk drivers, and one too many sangrias.
Related read: Check out more of our tips on staying safe in Costa Rica so you can have a worry-free trip!
13. Cloud forests
Cloud forests might not be what you expect from Costa Rica, but these are truly magical places.
A cloud forest is a tropical forest that is constantly shrouded in heavy mist or fog. Basically, it's so moist inside the forest that it's covered in clouds. Costa Rica's cloud forests are home to some of the world's most distinctive biodiversity.
The cloud forests in Costa Rica are at a higher elevation up within the clouds and we were really surprised by the temperature change, so don't forget to bring an extra layer.
Monteverde is home to one of the most famous cloud forests in the world, extending over 35,000 acres. It's a popular destination that you should definitely visit, especially for a walk around the hanging bridges.
If you're traveling with a group of friends or family, then a private Monteverde Cloud Forest tour is a great way to explore. There's a maximum group size of 8 and the $31 USD per person also gets you access to a special "spotting scope" to help you see birds hiding in the trees.
Or you can see a totally different side to the Monteverde Cloud Forest at night, as many of its coolest creatures are nocturnal. From tarantulas – eek! – to armadillos and two-toed sloths, you'll see a huge variety of animals on this two-hour nighttime trek.
If you want to get more off the beaten track, we recommend the lesser-visited Santa Elena Cloud Forest, located not far from Monteverde. This cloud forest has the same wildlife you would spot in Monteverde as well as spider monkeys. Don't miss heading up to the observation tower to see some amazing views of the Arenal Volcano.
For an even quieter experience, head to Los Angeles Cloud Forest Reserve, a great day trip from San Jose as it's just over an hour away. Full of hiking trails and barely any tourists, this cloud forest still remains a hidden gem!
Related read: Dine in the treetops or try some amazing tacos at the best restaurants in Monteverde and Santa Elena!
14. Wildlife Rescue Centers
Costa Rica is really passionate about conserving and protecting its wildlife. They have strict rules concerning their animals and a lot of their habitat is protected. Unfortunately, sometimes animals do get injured, sick, or abandoned, meaning rescue centers are needed.
These amazing wildlife rescue centers go out and rescue the animals, nurse them back to health and prepare them to go back out into the wild. There are a few wildlife rescue centers dotted around the country but the most notable are the Jaguar Rescue Center and Rescate Wildlife Rescue Center.
The Jaguar Rescue Center is one of the top places to visit in Puerto Viejo. It's both a rescue center and sanctuary for its permanent residents who can't be released as they need ongoing care.
This center has all the animals you would expect to see in Costa Rica including sloths, monkeys, birds, reptiles, and other mammals. It is rare to see any cats though; the center got its name from its first rescue, a jaguar back in 2008. They have group tours running every day at both 9:30 am and 11:30 am for $24 USD per person.
Rescate Wildlife Rescue Center is just outside of San Jose. This center has its own botanical gardens and 125 species of animals, some of which are free roaming! Remember you cannot hold any of the animals in these centers as most of them are going to go back into the wild. Entry to this center costs $30 USD for adults or $15 USD for children or you can book this private tour for $135 USD for a more personal experience with transport.
15. Huge volcanoes
Costa Rica is known for its volcanoes, with over 200 volcanic formations, 100 of those still showing volcanic activity and 5 classified as active! The volcanoes can be split up into three volcanic ranges, the Guanacaste range, the Central Volcanic range, and the Talamanca range.
Arenal Volcano is one of the most popular volcanoes in Costa Rica and was last active in 2010! The volcano is located within Arenal Volcano National Park, located right next to the town of La Fortuna which is a great base if you are planning to visit the volcano.
This guided tour of Arenal Volcano takes you on a hike around the national park with amazing views of the volcano and Arenal Lake, you can even catch a glimpse of the fresh lava! The tour costs $70 USD and takes roughly 4 hours including transport from La Fortuna.
Another must-visit volcano is Poas Volcano, famous for its bright blue lake. It is super accessible from San Jose as it's only a two-hour drive away and most tours depart from here. It is one of the largest volcano craters in the world, you really have to see it to believe it! This tour of Poas Volcano National Park includes transfers from San Jose, entry, and a tour guide for $110 USD.
16. Being digital-nomad friendly
Costa Rica is a huge digital-nomad hotspot! It's sunshine all year long, relatively close location to the US and Canada, and affordable living costs are a huge draw to online workers.
Airbnbs and hostels are a great option for digital nomads as a lot of them allow longer term stays and have discounts for guests wanting to stay for longer periods.
Selina is one of the most popular hostel chains in Central America for online workers. While they are slightly more expensive than your average hostel in Costa Rica, they have excellent deals for digital nomads. Their Co-Living program allows you to stay for 30-day periods before moving to a different location on a monthly subscription. Selina is known for its co-working spaces, reliable wifi, and amazing facilities.
You will find other co-working spaces dotted around the country, especially in locations like San Jose, Tamarindo, Puerto Viejo, and Santa Teresa which have much more reliable internet connections than the more remote areas.
Related read: Check out our recommendations on places to stay in Costa Rica for some of the hostels we loved!
17. Butterflies
Home to over 1,200 types of butterflies and 18% of all the species in the world, it's no wonder that Costa Rica is known for butterfly spotting.
The butterflies really are everywhere! You might just spot one of the most beautiful butterflies you've ever seen in your life while just sitting and drinking your morning coffee.
The most famous butterfly in Costa Rica is undoubtedly the Blue Morpho. These are about 8 inches wide and the males are a strikingly bright blue, but you can only tell when their wings are open, otherwise, they appear brown. They are easily spotted throughout the country, but for the best chances, head into the forest and look for patches of sunlight as they love sitting in the sun!
If you are wanting to see a wide range of butterfly species, head straight to The Butterfly Conservatory in Arenal. They are open every day of the year between 10 am and 4 pm and have the largest exhibition of butterflies in Costa Rica. Here you can learn about the butterfly life cycle, preserving their natural habitat and a range of other native species like moths, frogs, insects, and plants. The entry price is $15 USD and there is no need to book in advance.
18. Beautiful eco-lodges
Costa Rica is known for being a sustainable country and has some incredible eco-lodges. There are so many to choose from!
This unique lodge is located in the rainforest, overlooking the Pacuare River in Bajo Tigre. The five-star resort is known for its peaceful setting, jungle experiences, kayaking, and whitewater rafting. It is one of the top whitewater rafting spots in the world according to National Geographic, and this is the best place to stay to experience it!
Located in Puerto Jiménez on the edge of Corcovado National Park is Lapa Rios Lodge. An amazing eco-lodge in the middle of the rainforest rated the Number One Lodge in Central America in 2019. This eco-lodge is not only beautiful but grows its own fruit and veggies and generates its own gas and electricity!
A beautiful lodge with forest views while still within walking distance of the main town. An ideal base for exploring the heaps of activities on offer in Monteverde! It is known for its amazing facilities and educated tour guides ready to take you around all of the sights.
By far one of the most luxurious eco-lodges in Costa Rica is Origins Lodge, overlooking Tenorio National Park. Known for its beautiful accommodations, wellness programs, exclusive private tours, and a spa equipped with an infinity pool overlooking the rainforest.
Related Read: If all-inclusive is more your vibe, check out the best all-inclusive resorts in Costa Rica!
19. Yoga
Costa Rica is a top destination known by yoga enthusiasts across the world. Health and wellness go hand in hand with the country's tropical climate and the locals' easygoing lifestyle.
You will find yoga retreats available all over the country ranging from luxury eco-lodge retreats and more budget-friendly options, so everyone can give it a go!
All of the Selina hostels we have visited in Costa Rica have yoga and other wellness classes which are affordable and a perfect option for beginners.
The best destinations to find yoga spots seem to be the smaller hippy towns like Nosara, Jaco, Montezuma, Santa Teresa, and Puerto Viejo.
Nalu Nosara is a great choice if you are visiting the Nosara area, they have regular gym and yoga classes for only $20 USD a class. Some of their popular classes include restorative yoga, Candlelit Yin yoga, and mindfulness meditation classes.
20. Bribri Tribe
The Bribri Tribe is the largest group of Indigenous people living in Costa Rica.
They mainly reside in the mountainous area of Talamanca along the Caribbean coast and near the Panamanian border. Some Bribri people also live in Panama too, and their children go to school in Costa Rica as the border is open for the tribe to move freely.
They mainly live in small communities, isolated from most of Costa Rica's population, in the rainforest with a lot of their communities only accessible by river. While a lot of the Bribri tribe can speak Spanish, which helps them sell their produce, they actually have their own language.
The Bribri people are one of the poorest communities in Costa Rica but they are mainly self-sufficient, growing their own food and fishing in the rivers. They also trade bananas and chocolate.
There are a few tours available to go and visit the Bribri Tribe from Cahuita and Puerto Viejo where you can see their way of life and learn about their culture. This Bribri cultural experience leaves Puerto Viejo to visit the Bribri Indigenous reserve. You'll spend time with a local family to learn about Indigenous history, medicinal plants, taste cocoa fruit, and make chocolate.
Since allowing tourists to go and visit them, they have been able to buy more land and even open their own medical facility, which they didn't have before.
21. Delicious coffee
Costa Rica is well known for its amazing coffee. It's some of the best I've ever tried around the world!
The growing conditions and the love and care the Costa Ricans put into growing their coffee is what I think helps their coffee taste SO good. It's actually the only country in the world where they don't allow the production of anything less than 100% ​​Arabica coffee beans, which are notoriously tricky to grow.
Obviously, you can sample authentic Costa Rican coffee all over the country and there are coffee tours all around Costa Rica too, but our favorite tours are in La Fortuna.
This North Fields Cafe Tour not only teaches you about the bean-to-cup process of coffee making but also the production of its other two main exports, sugar cane and chocolate! The tour price starts at $40 USD including samples for tasting and hotel transfers if you are staying in the La Fortuna area.
Getting Around Costa Rica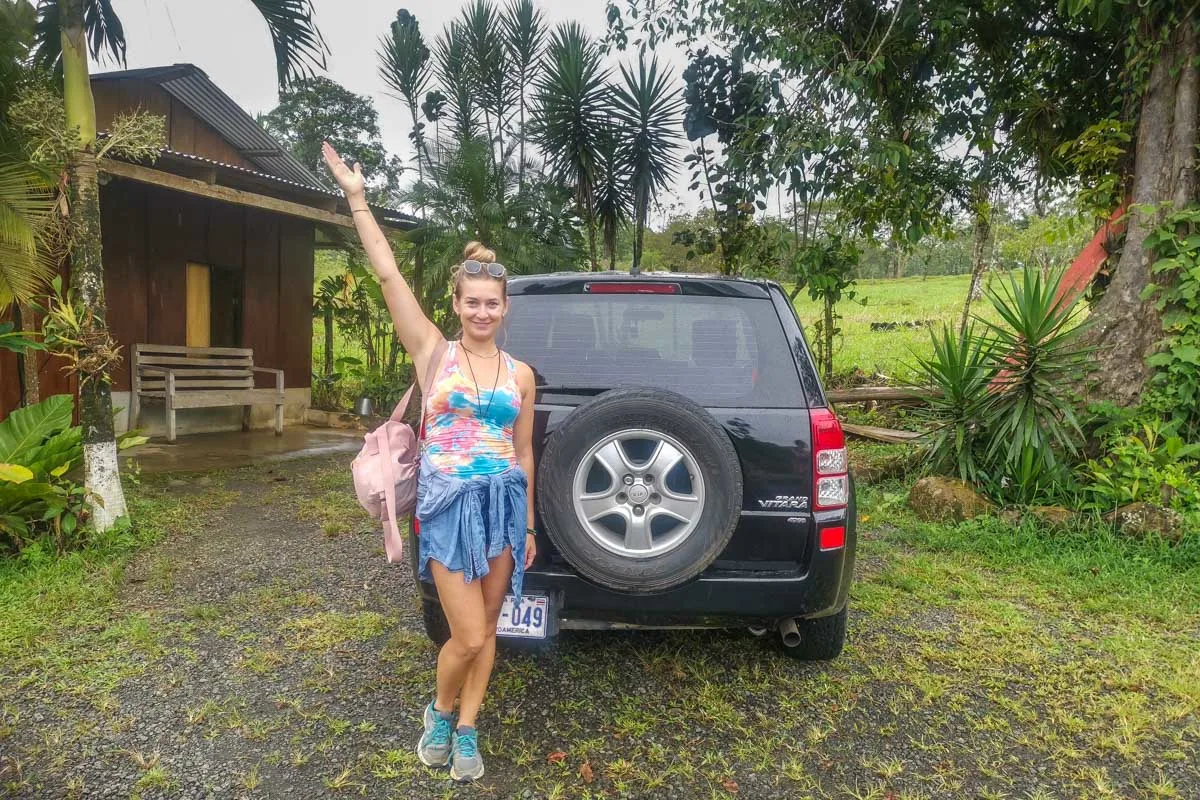 How you choose to get around Costa Rica is one of the biggest decisions you'll make when planning your holiday here! How you do it depends on your budget, travel style, and comfort level.
Renting a Car
Without a doubt, the number one way to explore Costa Rica is in a rental car. We book rental cars on the Discover Cars website as we have had good experiences with them in the past.
One of the things you need to watch for when renting a car in Costa Rica is the mandatory insurance that the government requires you to have. There are a lot of very cheap rentals that don't include this mandatory insurance (TPL) in the original booking price, but there are also ones that do. To avoid additional surprise charges when you pick up your rental car, be sure to rent a car that includes the mandatory insurance when you book.
Thankfully, on Discover Cars it's easy to tell apart the companies that include the mandatory insurance and those that don't. The trick is you can't pick any car on their website. In the picture below, you can see this rental car, with pick up in Jaco, includes the TPL. That means the mandatory insurance is included in the price. Any cover you get above that is extra.
Of course, I still suggest getting the full coverage offered by Discover Cars, which covers you even more.
You can browse cars on Discover Cars here.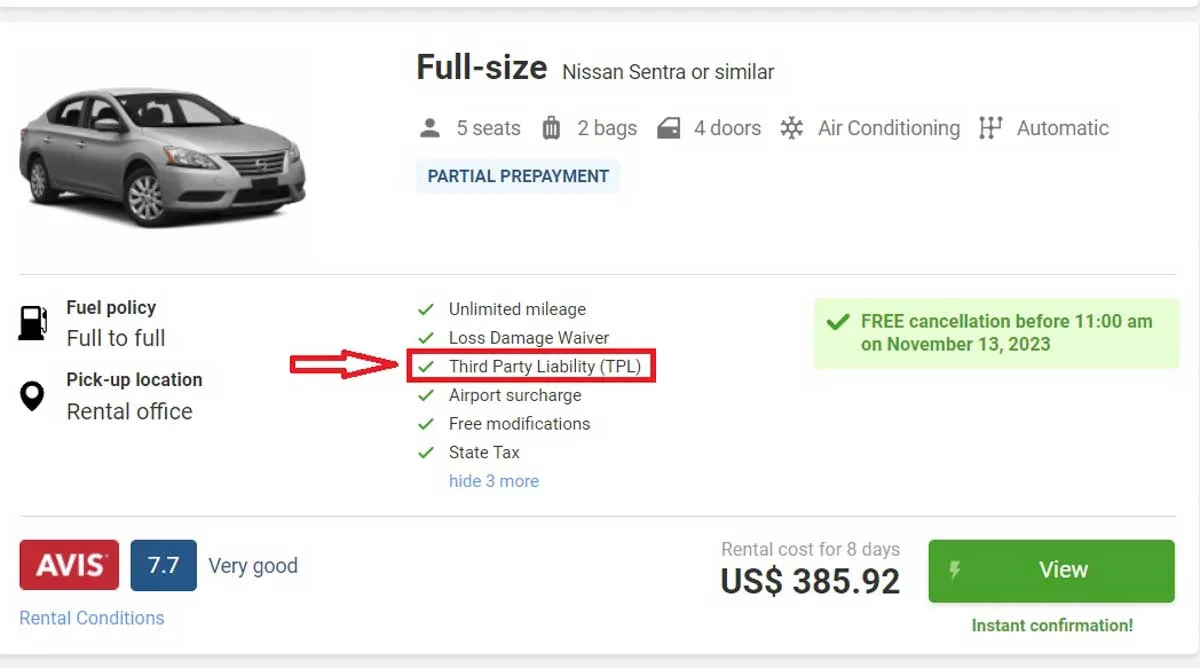 Book Shuttles
If renting a car isn't in your budget, you don't feel comfortable driving in Costa Rica, or you just don't like driving, shuttles are the next best option. There are hundreds of shuttle routes available all over the country, and they are very affordable.
Shuttles in Costa Rica are specifically for tourists and often include pick up and drop off at your selected hotels and airports. The drivers also speak some English, and the vehicles have air conditioning. You'll also be guaranteed a seat when you book a shuttle (which isn't the case with the public bus system.)
To get the best price, use the website Bookaway. They compare all the offers and prices of shuttle companies in Costa Rica so you get the best price! Honestly, we have saved so much money using Bookaway!
You can search for shuttles online on Bookaway here.
Public Bus
Lastly, you can use the public bus system. On short journeys, such as from San Jose to La Fortuna or Uvita to Manuel Antonio, this system is great. However, the longer the journey the more hassle and time spent on a bus. It's undoubtedly best to save the public bus in Costa Rica for short and straightforward trips!
The public buses are definitely the cheapest way to get around Costa Rica, but they are not always very reliable and schedules often change without notice and delays are to be expected. The buses can also be very crowded and hot – so just be prepared!
It's also good to speak some Spanish if you plan on riding the public bus since most drivers and ticket booth operators don't speak English.
Pura Vida!
There you have it – some of the top things Costa Rica is known for! Chances are if you visit, you'll get to check many of these things off your bucket list. It's definitely not a country you can get bored exploring. If you've been to Costa Rica, let us know what you'd add to this list!
While planning your dream getaway to Costa Rica, have a look at our other blogs. We've fallen in love with this country so much, we even moved here for a while! We have tons of tips and ideas to share to help make your trip extra special.
6 BEST Places to go Whitewater Rafting in Costa Rica +Tips for Booking
Ultimate Guide to Guanacaste, Costa Rica and Fun Things to do
Where to Stay in Nosara: BEST Nosara Hotels, Holiday Homes & Areas