So you're planning a trip to Costa Rica, well this is one of my favorite tropical destinations, so buckle in and I'll tell you what I know!
The things Costa Rica is famous for include its lush jungles, incredible biodiversity, and stunning white sandy beaches. The country is also known for its relaxed vibe – the Pura Vida! It's almost like as soon as your plane touches down, all your worries and stress just disappear.
"Is Costa Rica expensive?" is one of the most common questions I get asked. While it's true that this certainly isn't the cheapest country in Central America to travel to, it's totally possible to travel here on a budget.
While it's not comparable in price to an area such as Honduras where tourism hasn't quite taken off (yet),traveling in Costa Rica can still be done on a backpacker budget with a bit of planning.
In this blog, I'll break down all the costs you can expect from your Costa Rican holiday including the cost of accommodations, food, transportation, and tours.
Whether you're looking for an affordable holiday or want a luxurious getaway, I've put together this expense guide with all you need to know before you leave. You will find specific prices of a few more popular areas as well as some money-saving tips for how you can make the most of your trip.
I hope to make this stunning country a destination that everyone can travel to, regardless of their budget.
What currency do they use in Costa Rica?
The currency used in Costa Rican is the Colón (pronounced like cologne). One Costa Rican Colón is equal to 0.0017 United States Dollars or $1 USD is equivalent to around ₡602 Colón. A Colón is made up of 100 céntimos (think 100 cents in the USA).
Like most places in the Americas, US Dollars are widely accepted throughout the country. But just keep in mind that the further you go from the "tourist areas" the more it will shift to being beneficial to use the local currency. If you try to use USD when something is quoted in Colónes, the merchant will usually give you the short end of the conversion (sometimes upwards of 50%).
Cost of Hotel and Hostel Accommodation in Costa Rica
One of the biggest costs when traveling, besides the cost of flights, is accommodations. Like other places you travel, the cost of staying in Costa Rica will vary greatly based on the level of luxury you expect.
If you compare the cost of accommodations in Costa Rica to nearby countries in Central America, you will notice the prices are very much inflated. While the rise in tourism in this country has driven prices up, the prices are still quite reasonable by North American standards.
Generally speaking, the most expensive area for accommodations is in the Guanacaste province where you will find the best beaches and premium luxury resorts. If you go to the more rural areas, prices will be substantially cheaper.
If you are traveling on a backpacker's budget, you will want to stay in hostels where you can get a bed in a shared room. Dorm beds cost about $15-$30 USD per night, depending on location and amenities. These rooms will be shared with 3 or more people and are a great way for solo travelers to meet others.
If you'd prefer private accommodations but still want to keep to a tight budget, you can expect a budget hotel room to cost around $100 USD per night. While these hotels will have basic private accommodations with a bathroom, the level of amenities typically stops there.
If you want a nicer hotel that is closer to the water or with more amenities, you can expect to double that price, paying around $200 USD per night. Luxury hotels on the water and with all the amenities you'd expect such as pools, concierge services, and restaurant/bars on site, will be upwards of $400 USD to more than $1,000 USD per night.
Another popular option for accommodations is to stay in Airbnb-style hotels or holiday homes. I love staying in holiday homes as they give you an authentic experience staying in local's homes and often offer you way more bang for your buck. If you are traveling with a group or booking extended stays, booking an entire home can be a very affordable option.
Like hotels, prices for Airbnbs/holiday homes vary greatly based on the location and extras but also based on the number of people.
The average price for Airbnb in Costa Rica is between $50-$400 USD and often comes with full kitchens and on-site laundry services. It's important to note when booking an Airbnb they will often have hidden costs for cleaning and service fees. These are typically one-time fees, unrelated to the number of nights you spend at a location. If you are planning to change locations nightly, these costs can add up quickly so I only recommend booking Airbnb if you plan to stay at a location for an extended period of time.
Alternatively, you can use Booking.com to also search for entire apartments and holiday homes. In Csota Rica, you will find plenty of holiday homes advertised on Booking.com, and these come without any hidden cleaning fees and usually free cancellation – bonus! We always book on Booking.com as we find it to be better priced and better service. You can search for apartments on Booking.com here, and for holiday homes/villas here!
Cost of Food and Drink for Travelers in Costa Rica
Local food
Local Costa Rican cuisine typically consists of fresh fruits and vegetables and rice with beans and a side protein. Regional cuisine is generally quite affordable, especially given the quality of food you can expect with most fruits and vegetables being grown organically.
If you want to keep prices as low as possible, opting for local food will be the cheapest way to go, with eating at local restaurants (called Sodas) will become your go-to.
Eating local is the most affordable, and most authentic with prices between $2-$10 USD for Arroz con Pollo (chicken and rice). Casado, a favorite buffet-style rice and beans platter served up with fresh picadillo, costs around $5-$10 USD. If you are wanting a lighter meal of fresh fruit, heading to a local market will be the cheapest place.
Restaurants
If you spend your time in tourist-style restaurants serving up western cuisines such as pizzas, pasta, and hamburgers, you can expect to pay substantially more than at restaurants serving up local cuisine.
Costa Rica, in an effort to keep things local, has substantial import fees making imported food cost a lot more. Tourist restaurants, especially ones attached to fancy hotels, will be your most expensive form of cuisine ranging from $10-$50 USD per meal.
Alcohol and drinks
The legal drinking age in Costa Rica is 18 years old. Alcohol is one of those tricky budgetary items where you will want to indulge but it can cripple your food budget quickly.
If you plan to buy the majority of your alcohol from restaurants, you can expect to spend far more than if you purchase from a grocery store or liquor store. If you buy alcohol from a grocery store, bottles of wine cost around $10 USD, and around $2 USD for a half liter of beer.
If you're going to buy alcohol at restaurants, local beer, such as Imperial or Guaro, will be your cheapest option coming in at around $2-$4 USD. Imported beers will come with a much higher price tag.
Wine will cost about $5-$10 USD per glass while cocktails will be closer to $10 USD. Many tourist-focused restaurants will offer happy hour deals where you can enjoy 2-for-1 cocktail options – a great deal for the budget-minded traveler looking to have some fun!
Related read: For awesome local drinks, check out the top breweries in Costa Rica!
Cost of Transport in Costa Rica
There are lots of different options for getting around when in Costa Rica. There are two international airports: San Jose International Airport (SJO) and Liberia Daniel Oduber Quiros International Airport (LIR).
The country does have some trains, however, these are mostly commuter trains rather than longer cross-country trains so I don't recommend using them. The most common forms of travel are taking a local public bus, hiring a private shuttle, or my favorite way: renting a car!
Shuttles
One of the more comfortable ways to travel is to charter a shuttle bus in Costa Rica. These are shared private transportation options that are more direct and offer the incredible luxury of air conditioning for a break from the heat.
Costs for private shuttles are around $50 USD per trip. These are ideal as they will take you on a more direct route rather than stopping constantly on public buses. You'll also get picked up/dropped off at convenient locations, with most shuttles offering door-to-door hotel pick-up and drop-off.
There are five different shuttle bus companies in the area to choose from: Gray Line, Interbus, Monkey Ride, Easy Ride, and Tropical Tours. All these companies are quite similar in cost and amenities.
The best way we've found to book shuttle rides is through the website Bookaway. Just type in where you're starting and where you want to go and a handy list of all your shuttle options pops up! You'll be able to easily compare prices and routes, and book with a credible company.
Local bus
If you are looking for the most affordable transportation, taking local buses is it! While these are certainly crowded and a little more time consuming, they are generally reliable and easy to use.
Local buses typically cost around $1 USD for short trips and up to $15 USD for longer out-of-city trips but do note that they do NOT have air conditioning.
There are two types of local buses to choose from. Directo buses, as the name suggests, don't have many stops and generally go straight from point A to B. Collectivo buses on the other hand stop frequently and can take much longer to get to your destination. The only problem you may encounter is that both of these buses aren't the most reliable with their timing and can often run quite late.
Unless you have a lot of time to spend in Costa Rica, I would advise against taking local buses on longer routes as you can easily waste an entire day getting from point A to point B – whereas a shuttle might only take a couple of hours.
Rental car
Renting a car in Costa Rica is one of the most affordable ways to get around without the hassle of trying to navigate public buses or find taxis.
Having your own vehicle also gives you the freedom to get off the beaten path to some of those hidden gems that you don't want to miss out on. If you only have a limited amount of time to explore Costa Rica, renting a car means you'll reach destinations a lot quicker too.
You will need mandatory liability insurance to drive in Costa Rica. This may be included in your rental price, but it's often a hidden fee that catches renters by surprise. You should expect to pay around $15-$20 USD per day for this insurance. This is despite any kind of travel insurance or credit card insurance you might already have.
If you are only planning on visiting the main tourist destinations, you can save money by renting a regular car and even more money if you opt for a manual instead of automatic. However, if you're going to more rural areas where roads are … ahem … bumpy (to say the least!), it's worth the extra money for a four-wheel drive.
Monteverde and La Fortuna are super hilly and you will definitely appreciate having a 4×4, especially in the rainy season. However, in areas like San Jose, Quepos, and Jaco you could easily drive around in a normal car and save yourself a good amount of money!
Renting from the airport cities of San Jose and Liberia as well as popular tourist locations like Jaco, Manuel Antonio, and Tamarindo can actually save you money. A lot of the smaller towns that don't get as many customers will often have extra hidden fees and might require you to drop your vehicle back to that location.
The cost of a car rental in Costa Rica depends on the season. In the low season, you can hire a basic two-wheel drive car for as little as $5 USD a day! However, in high season these can go up to as much as $50 USD without the added insurance and deposit.
For a four-wheel drive car, you expect to pay upwards of $60 USD a day in high season but sometimes in low season, you will be able to find one for around $20 USD a day. Again, insurance and a deposit would be on top of this.
Some rental companies we recommend:
For parking, luckily there's a lot of free parking scattered around and at national parks and shopping centers, it's typically only $1-$4 USD.
Fuel is also quite expensive at around $1 USD a liter and larger vehicles will undoubtedly cost a lot more to fill up, so this is worth considering when choosing your rental.
Related read: Have you been wondering if Costa Rica is safe? Check out all our travel safety tips here.
Cost of Tours and Activities in Costa Rica
Costa Rica has a wide variety of tours and activities you can choose from. Most tourist attractions will have a fee associated with them, so be sure to bring some cash with you while you explore.
If you're looking to chase waterfalls, you should expect to pay around $10-$15 USD to enter while Costa Rica's National Parks usually have a $10-$20 USD entry fee. If you're wanting to get the most out of your experience, you can hire an expert local tour guide for around $80 USD on average.
The company we've had the best experience with for tours is Viator. We recommend searching the locations you'll be at ahead of time. There are often quite a few tour choices – whether you're looking for transportation, a guide, or a full-day experience to multiple locations. You can also read other travelers' reviews and know you're booking with a legitimate company.
Viator is great because you can usually cancel and get a full refund as long as it's at least 24 hours in advance of the tour. This means if your plans change, the weather doesn't look great, etc, it's simple to rebook.
Note: There have been recent reports of scams when it comes to booking tours in Costa Rica. Tourists pay a "tour company" in cash for a tour, and then never get picked up or go on the tour. The tour company disappears and becomes unreachable. Booking with a legitimate company like Viator can protect you and prevent this from happening to you!
The Most Expensive Places to Visit in Costa Rica
Santa Teresa
Santa Teresa is a small town on the west coast of Costa Rica on the tip of the Nicoya Peninsula.
This spot has some of the best things to do in Costa Rica for all travelers looking for adventure, surfing, or chilling. Most of the streets here will be dirt and traveled by motorcycle, all-terrain vehicle (ATV), or rental cars (which can be expensive when compared to other places).
It is a 112 miles/180 km drive west from the capital of San Jose which will include an hour and 35-minute ferry ride through the Gulf of Nicoya. The trip will take around 5 hours in total and includes toll roads.
The remote location of Santa Teresa just means the price of things is generally higher. We found food and accommodation to be priced here than other destinations in Costa Rica.
Hotels in this area range drastically in price, starting at around $80 USD per night all the way up to $1,000 USD. Proximity to the beach and ocean will usually increase the cost per night. For our picks for all different price ranges, check out our guide on where to stay in Santa Teresa.
Nosara
Nosara is a village north of Santa Teresa. It's about the same time to travel from San Jose to Nosara as it is to Santa Teresa, around 5 hours, but you will skip the ferry ride.
This town is known for yoga retreats and amazing wildlife rescue centers that have animals like white-faced monkeys and coatimundi. There are also some really great beaches like Guiones Beach and Playa Rosada. Playa Pelada has a beautiful coral reef and a tidal blowhole to explore as well.
If you are wanting to stay in Nosara, you can expect hotels to run from around $50 USD for a hostel to $1,000+ USD per night. The average hotel price in this area is around $320 USD per night.
Tamarindo
Continuing even further north in the Guanacaste Province is the town of Tamarindo. This place is well known for some of the most beautiful beaches in the area and excellent places to spot turtles – including the giant leatherback turtles.
This town nestled on the Pacific coast, is about a 4.5-hour drive from San Jose and is a really cool place to explore. There are many places to surf and learn to surf in the area, with some of Costa Rica's best surfing spots nearby. If you're more of a feet-on-land kind of person there are national parks to explore along with a great night market.
Hotel prices per night widely vary in price in this area. Even though you may be able to find a 2-star hotel for around $50 USD per night, the average hotel will cost around $150 USD to well over $1,000 USD per night. For our personal recommendations, we break down the top spots to stay in Tamarindo here!
There are also plenty of different tours to choose from in Tamarindo, but they can be pricey and generally cost over $100 USD per person.
Related read: Even though this can be an expensive place, there are still plenty of free and cheap things to do in Tamarindo!
Jaco
If you're looking for a great place to surf that also has some nightlife, Jaco is right for you. It's closer to San Jose and will only take around 2 hours to drive. It's further south than Santa Teresa and is located in the main part of Costa Rica (rather than the peninsula).
There is a long stretch of black sand beach that is great for surfers. Hermosa Beach is located just south of Jaco and is a surfers' paradise. It has a long beach that has many areas to surf along with shopping and restaurants. There are also waterfalls, hiking trails, and excursions available in this area.
If you are looking to stay in the vibrant town of Jaco, you can expect a nightly accommodation price between $70 USD to $600+ USD. The average place to stay in Jaco is around $125 USD per night and our top Jaco hotel picks for all budgets are here.
Related read: For a free activity near Jaco, check out the famous Crocodile Bridge!
Manuel Antonio
If you're wanting to visit Costa Rica and still enjoy the modern-day comforts of home, Manuel Antonio is the place for you. It sits on the doorstep of the breathtaking Manuel Antonio National Park, but it's also a fun tourist town with lots of things to do. There are many resorts, restaurants, malls, and excursions to keep you entertained.
Manuel Antonio is located further south than Jaco along the western coast of Costa Rica. It's a 3.5-hour drive southeast of San Jose with part of the drive along the scenic coastal Highway 34.
You really can't come all this way without seeing the epic national park here and luckily, tours are pretty affordable. This small-group guided tour gets you an expert guide to help you find even the best-camouflaged creatures. Plus you'll get a spotting scope for a close-up view of monkeys, tropical birds, and more! It's only $28 USD per person – on top of the $18 USD park entrance fee.
Hotels in this part of the country run between $60 USD and $450 USD per night. The average hotel in Manuel Antonio is around $185 USD. If you're planning a trip here, check out all our recommendations on where to stay in Manuel Antonio.
The Cheapest Places to Visit in Costa Rica
Obviously, off-the-beaten-track small local towns will be the cheapest places to visit in Costa Rica. But when it comes to destinations that are popular tourist destinations, the below places should be at the top of your list!
Puerto Viejo
Puerto Viejo (also known as Puerto Viejo de Talamanca) is located on the Caribbean coast of Costa Rica just above the border of Panama. It's a 4.5-hour drive southeast of San Jose. It's a seaside town known for its stunning beaches, incredible food, and chill vibe that is perfect for a relaxing vacation.
If you're a surfer and looking for a challenge this is the place you want to go. It's home to the largest waves and some of the nicest beaches in Costa Rica.
Keep in mind there are two Puerto Viejos in Costa Rica which can confuse you. One is called Puerto Viejo de Sarapiqui which is more north and inland. If you're looking to take a bus to this town, make sure to clarify which location you're looking to travel to.
There is the Limon International Airport around 34 miles (55 km) north which makes travel to this place easier. This affordable town typically has accommodations between $35- $150 USD per night with an average of around $100 USD. It's why we love staying in Puerto Viejo!
Related read: Try those fresh Caribbean flavors at the tastiest restaurants in Puerto Viejo!
Uvita
Uvita is a small town located on the Pacific Coast of Costa Rica, around 4 hours south of San Jose. Within a few miles of the town, you have access to a stunning national park, beautiful beaches, friendly locals, and of course, all the wildlife you'd expect to see in Costa Rica.
Without a doubt, the number one thing to do in Uvita is visit Marino Ballena National Park and enjoy a walk out to the famous "Whale Tail". The shape of the sandbar in the park is completely natural and very fitting to the area considering Uvita is one of the best places to go whale watching in Costa Rica. With an aerial view at low tide, you can see this sandbar looks exactly like a whale's tail – hence the name.
For affordable whale watching tours, this incredible tour tops our list. For over 3 hours, you'll explore the coastline and along the way, you'll have great chances at spotting whales, dolphins, and even sea turtles. You'll also snorkel and visit sea caves! It's $95 USD per person.
Nightly costs to stay in Uvita run between $30-$150 USD per night, so overall very affordable.
Related read: Off the coast of Uvita is one of the best snorkeling spots in the ENTIRE country – the stunning Caño Island!
Dominical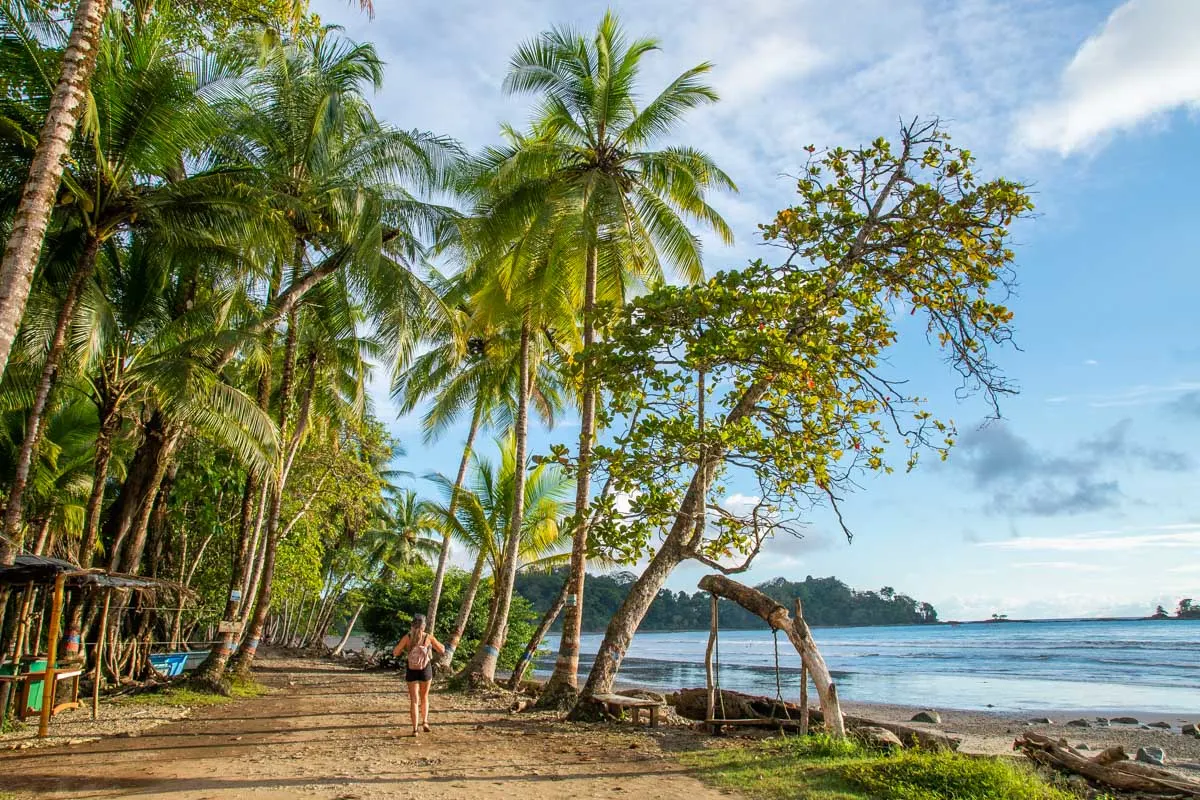 Dominical is located a short 11 miles (18 km) north of Uvita on the coast. This is a small town that offers more in the way of natural beauty than it does in modern amenities. Imagine gorgeous beaches, lush jungles, organic food, and talented musicians. Dominical has everything a hippie town needs and more!
The area is popular amongst surfers as it has large waves all year long. This laid-back town has a yoga retreat, dive shop, and surf school as well as a few great restaurants and adventure companies to choose from with everything from hiking, kayaking, snorkeling, and even whitewater rafting!
There are a few hotel options in Dominical ranging from around $50-$150 USD per night. When staying here, you have to decide if you prefer a place close to the ocean or in the mountains surrounded by the rainforest. Staying close to the beach can actually be cheaper as there are some nice hostels and then you won't need a rental car to get around.
Montezuma
If you're wanting to stay on the Nicoya Peninsula but don't want to pay the typical high cost, Montezuma might be for you. It's located on the southern tip of the peninsula and offers much of the same beauty as the higher-cost places in this area.
It's just 11 miles (18 km) or around a 40 minutes drive to Santa Teresa. From San Jose, you'll take a similar route to get to Santa Teresa including the ferry and toll roads, and takes around 5 hours to drive.
This area is an outdoor lovers' paradise! There are beaches, the dramatic Montezuma Waterfalls, and rivers to explore along with the Cabo Blanco Nature Reserve.
Hotels in Montezuma range from $50 USD to $150 USD per night depending on proximity to the water.
San Jose
San Jose is located nearly in the middle of Costa Rica. It's the capital of the country as well as the largest city. It's home to the country's largest international airport Juan Santamaria International Airport (SJO) where most international tourist will start their journey in Costa Rica.
Even though this city is located inland, there is still loads to do and see. You can take day trips out of San Jose to see volcanoes, zipline adventures, or even check out some of the many museums in the area.
This specific tour to Poas Volcano is one of our favs. It guarantees you skip the long lines at the volcano. On top of that, all your transportation and your entrance fee to Poas Volcano are included and organized for you.
You will be able to find a place to stay in San Jose for around $30-$300 USD with the majority of the hotels in the $100 USD range.
Costa Rica Travel Budgets
Alright, so now we've broken down some of the specific costs, but if you're looking for one figure to base your budget on, I've run some basic budget estimates. I've divided it into the three most common types of travelers to Costa Rica – backpackers, general tourists, and luxury travelers.
These prices are estimates and will vary based on where you choose to stay, how much daily travel you intend to do, and what types of tours you choose. Keep in mind, on heavy travel days you will be less likely to indulge in tours – so account for some rest time!
Backpackers
Those that are looking to travel on a backpacker budget with cost top of mind, can expect to spend around $80 USD per day in Costa Rica.
This cost includes hostel-style accommodation (around $20 USD a night), street food or local cuisine ($25-$30 USD a day), entrance to a waterfall or other affordable tours ($15 USD), alcohol bought from a grocery store ($10 USD), and local transportation on public buses ($2-$5 USD).
Tourists
For the average tourist coming to Costa Rica looking for a mix between budget-friendly and luxury, the cost will be slightly higher with the majority of the added cost being in private accommodations. This type of tourist can expect to spend around $235 USD per person per day, based on a 2-person occupancy in the hotel room.
A mid-range hotel with private accommodations will average around $150 USD per night depending on where you go. The occupancy for these rooms will be between 2-4 people, so based on 2 people that will average around $75 USD per night.
Food, considering a mix of local food with a predominant focus on restaurants will total around $90 USD per day based on 3 meals a day at around $30 USD a meal, including alcohol.
Tours will average around $50 USD a day and allow you ample opportunity to explore national parks, and waterfalls and take the odd adventure tour.
A transportation budget of around $20 USD a day allows you to use a mix of local buses and private transportation.
Luxury Traveler
For the luxury traveler where budget is not an issue, the daily cost in Costa Rica can easily total around $1,000 USD per day. This is especially true if staying in beachside accommodations and partaking in luxurious tours such as private fishing, scuba diving, and yacht adventures.
Accommodations for this type of traveler can range between $400 USD to well over $1,000 USD per night, again with an occupancy rate of between 2-4 people.
Food and alcohol bought primarily at resorts can easily run upwards of $300 USD per day, based on 3 meals a day with ample alcoholic beverages.
Tours for this type of traveler, including sea-doo rentals, chartered boat tours, and more can account for around $100 $400 USD per day.
This type of traveler will also likely prefer private transportation which can run between $50-$150 USD per day.
Tips to Save Money while Traveling Costa Rica
While Costa Rica has become one of the most expensive countries to travel to in Central America, there are ways to explore the area while sticking to your budget. A lot of this depends on what time of year you visit Costa Rica. With a little bit of pre-planning, you can enjoy a week in Costa Rica on any budget!
Travel in the low season
Every country has a high tourist season and a low tourist season. Typically, these seasons are aligned with favorable weather in the area. As a general rule for savvy travelers, learning when the "low season" is for a country is the best way to save money when traveling. Just be sure to adjust your expectations in terms of weather and pack appropriately.
Costa Rica receives the bulk of its tourism between late November and April. That means if you travel between May and early November you will be lucky enough to benefit from a lot of great savings.
Not only will accommodations and activities typically come in at a fraction of the cost, but you will likely have a much more authentic experience escaping the crowds of tourists. Keep in mind that the wettest months in Costa Rica are September and October so be sure to either avoid these months or pack a good amount of rain gear.
Eat local
Next to flights and accommodations, food is one of the most expensive parts of traveling. A lot of travelers fall habit to three meals a day in an expensive restaurant – something that can blow your travel budget right out of the park.
One of the best ways to save money when traveling is to pass by tourist-focused restaurants and eat where the locals eat. These restaurants often won't have all the bells and whistles, and may even be a few blocks away from the "downtown hot spots", but they are there, and they offer delicious food at a fraction of the cost.
One of my favorite ways to eat local is by indulging in delicious local food from "sodas". Not only is this an affordable way to eat, but it's a great way to try authentic local cuisine. The local food in Costa Rica is not only safe to eat, but it is some of the best food I had while traveling the country. You can also feel good about it as you'll be helping the local economy by putting money directly into the hands of the locals who live there.
Book in advance
If you browse around my blog, you'll notice I often pick out the best tours in an area. I do this because it is one of the best money-saving tips when traveling – booking in advance. Not only will this ensure that you get to do everything you want to, but it will also save you money and a lot of time.
Booking accommodations ahead of time is a great way to save money as well. This is especially true if you are booking multiple nights at a specific destination. Lots of times, booking a few nights in advance will give you a discounted rate for the bulk purchase.
Buy alcohol from the grocery store
Dreaming of margaritas or an ice-cold beer on the beach? When traveling, much like at home, you can expect to pay about 5 times more for alcohol bought at a restaurant and double at a corner store, than you would at a grocery store or dedicated liquor store. You don't have to give up drinking to stick to your travel budget, you just need to know where to go.
Stopping at a local grocery store for snacks and alcohol is a great money saver. My recommendation is to book a hotel with a fridge or opt for an Airbnb so that you can buy a big pack and keep them cold in your fridge. While this works best for pre-canned alcohol such as beer, ciders, and some mixed drinks, bringing an extra water bottle to mix drinks (like margaritas) is always a good idea.
Book holiday homes
Booking Airbnbs/holiday homes for traveling has recently gotten a lot of attention, and for good reason. Booking an entire home, especially when traveling with a big group, is a great way to get more authenticity from your trip, taking you out of large hotel chains and straight into the homes of locals in the area.
While the recent popularity of this type of travel has made it so your accommodation price may not be cheaper, it is a great way to save money by having a full kitchen to work with.
Holiday homes often have full kitchens and all the comforts you'd have at home. This will allow you to shop at grocery stores for meals and make them in the comfort of your own place, rather than relying on restaurants for every meal. Many also often have laundry facilities on-site – a welcomed luxury when you've been traveling for a while.
While you can use the popular site Airbnb, we prefer booking with Booking.com (yes, they have a huge selection of holiday homes in Costa Rica!) They typically have better policies, including no hidden fees as well as free cancellation. You can browse entire apartments on Booking.com here, and entire holiday homes/villas here.
Stay in a hotel with a free breakfast
If you're going to stay in a hotel in Costa Rica, opting for one that offers a free breakfast is a great way to save money while traveling. If you take the time to look, you can often find hotels offering free breakfast around the same price as ones that don't.
This added perk can add up to saving you A LOT of money. Indulging in a big breakfast will not only give you a good amount of energy during the day but can also significantly reduce your food budget.
Reusable water bottles
When traveling, especially in a hot climate like this, you will want to consume a lot of water. Having a reusable water bottle will make a huge difference in terms of your footprint, especially in a place as environmentally focused as Costa Rica. Not only will it make Mother Nature thank you, but it will also make your wallet appreciate you as well!
If you count that every bottle of water in Costa Rica costs about $0.80 USD and you drink about 2 a day, that can add up quickly. Most of Costa Rica's tap water is safe to drink, especially in busy tourist areas. Lots of hotels also offer filtered drinking water for free.
Unless you're traveling to very rural areas, such as on the Caribbean coast, you will be fine refilling your reusable water bottle with tap water or a water bottle refill station located around the country.
Tipping in Costa Rica
If you're traveling from other parts of North America where tipping is more of an expectation than a sign of appreciation, you may be wondering what the standards around tipping are in this country.
Costa Rica generally has a policy where tipping is not expected but is very much appreciated. As your first stop may be the hotels, the tip may be associated with the status of your hotel. If you are staying at higher-end hotels, tipping $1 USD per bag to the concierge and $2 USD per day to the housekeeper, is appreciated.
In Costa Rica, all restaurants automatically apply a 10% gratuity to the bill as a tip. You may be more accustomed to tipping between 15-20% at home so if you have it in your budget and the service provided was excellent, adding a bit more to the automatic 10% will always be appreciated.
If you are taking taxis, it is generally appreciated to round up to the nearest dollar. If the trip is a long one, you may want to add between $2-$5 USD more.
Tours are another common place where you may be wondering about tipping. If you are using a tour guide, we typically recommend tipping about $5-$15 USD. This will depend on the number of people in your group and how good your tour guide was. For larger tour trips, where a group of tour guides or crew members worked to make your trip an unforgettable one, such as a multi-day guided tour, you may want to tip between 15-20% of the cost of your tour.
Invest in Travel Insurance
Paying out of pocket for trip interruptions or medical treatment will add to what might already be a stressful situation. Not to worry, SafetyWing is here to help!
This affordable travel and medical insurance is perfect for digital nomads, long-term travelers, and remote workers. The best part is that it only costs $45 USD per 4 weeks.
To start coverage you must purchase it after leaving your home country. We usually purchase it as soon as we land at the airport.
Since using SafetyWing we've been reimbursed thousands of dollars when we've gotten sick. During the pandemic, they've even gone as far as to pay for our last-minute flights back to Canada before the border closed!
Thanks for reading!
I hope all these tips help you explore Costa Rica, no matter your budget! In recent years, this stunning country has gotten some well-deserved buzz which has increased tourism and therefore increased the cost associated with traveling here. While it is no longer that "shoestring" budget-friendly destination …. if you plan properly, you can still explore the country affordably!
After visiting Costa Rica, we loved it so much, we decided to move here for a while! Let us help you plan your ultimate Costa Rican getaway with our guides on popular activities, hidden gems, and places to stay, eat and explore.
Where to See Sloths in Costa Rica +Facts and Tips!
COMPLETE Guide to Visiting La Leona Waterfall