Costa Rica is famous for its natural beauty, diverse landscapes, and abundance of fascinating wildlife. From jungles and cloud forests to volcanoes and secluded beaches, there's a ton to explore in the most biodiverse country on Earth – so much so that the prospect of planning a week-long trip can feel a bit intimidating.
Naturally, you want to make the most of your time in Costa Rica, but spending hours crafting an itinerary understandably might not be that appealing. That's the beauty of joining a multi-day tour around the country – all of the details are taken care of for you, and all you need to do is relax and enjoy the journey.
While living and traveling across Costa Rica, we've found some great multi-day tours that helped us see an area or bunch of attractions in a shorter period of time. Plus we found having transport AND a guide were huge advantages when we were exploring a new part of the country.
There are so many different tours available designed to showcase what Costa Rica is most known for! It's a matter of finding one that fits your budget, time frame, and includes all of your must-do activities. We're here to help you narrow it down!
We've rounded up the 9 best tours on offer to help you decide which one is right for you.
Why Join a Guided Tour Around Costa Rica
Obviously, joining a guided tour is a lot easier because you don't have to worry about booking individual activities, transport, or accommodation since it's all taken care of in one fell swoop when you book the tour.
But what you may not realize is that joining a guided tour can also be cheaper than booking everything separately! Tour operators often get discounts and bundle deals that they pass along to you. Usually, all of your national park fees, accommodation, and some activities are included in the price of your tour, so the only thing you'll really need to pay for is food and drink (and sometimes that's included, too!).
A guided tour also makes for a smoother journey, because you don't need to worry about organizing bus transfers, securing parking, booking time slots, or how you're going to get from one place to the next. It's all taken care of for you!
We also like joining group tours to connect with other travelers. It's a great opportunity to meet people, which is a huge benefit if you're traveling solo or are just a super social person who's keen to connect with others exploring the country.
Another big advantage we've found has come in handy is having a knowledgeable guide along. They will share stories and information about Costa Rica with you, so you'll get a much better insight into the culture and history of the country than if you were to go it alone.
Having a guide is also a huge advantage when it comes to spotting wildlife in Costa Rica, because some of the most fascinating animals can be difficult for the untrained eye to see. Lots of Costa Rica's coolest animals are pretty small or live high up in trees, so you miss a lot without a guide to point them all out to you. We wouldn't have seen half as much as we did without the guidance of locals who knew exactly what to look for!
Safety is also a consideration when joining a group tour. While Costa Rica is relatively safe, tourists are often targets for petty theft and occasionally violent crime. We don't say this to scare you, but we do know that there's safety in numbers, and having a local guide with you will go a long way to keeping you safe from being a target. Before you go, have a read through our tips to stay safe in Costa Rica so you're extra prepared!
Now that you know why multi-day tours are such a great pick, it's time to find one that works for you!
The BEST Multi-Day Tours of Costa Rica
1. 7-Night private tour (all-inclusive!)
Everything is taken care of from the moment you land to the day you depart Costa Rica on this week-long all-inclusive tour. You'll be collected from the San José airport by a friendly guide who will help you settle in and take you to your first night's accommodation before you embark on your adventure around the country.
I love this tour because, in just a week, you get to see some of the most beautiful and biodiverse places in Costa Rica. These include Poas Volcano and Manuel Antonio National Park where you'll discover a variety of amazing land and marine wildlife, from dolphins and sea turtles to howler monkeys, agouti, snakes, and deer. You'll also visit the San Luis Adventure Park for a thrilling canopy adventure and on your final day you'll go rafting on the Pacuare River.
This tour costs $1,487 USD and includes 7 nights of 4-star accommodation, so you'll be nice and comfy overnight. You also get breakfast each morning (accompanied by some fantastic Costa Rican coffee!) and lunch most days, too. Dinners and your evening beers aren't included, but we actually think that's quite nice as you get the chance to head out on your own each night and try whichever local spot catches your eye.
Another thing we really like about this tour is that the tour company has a big focus on sustainability and social responsibility. Costa Rica is such an insanely beautiful country with a very delicate ecosystem, and after you've traveled around you'll understand why conservation is so important.
Plus, there's a maximum group size of 15 which we think is great as personally, huge tours just aren't our vibe. Small group trips give you much more of an opportunity to get to know your guide and learn about the local culture, and it's also much easier to bond with your fellow travelers when you don't have 60 different names to try and remember!
Grab your spot on this all-inclusive week-long tour here!
2. 13-Day nature tour of Costa Rica
On this 13-day tour, you'll get to experience a rich slice of Costa Rica's beauty and culture with multi-day visits to Tortuguero National Park, the Arenal Volcano, Monteverde Cloud Forest, and either Manuel Antonio National Park or Guanacaste.
So basically, you'll see pretty much every type of landscape that the country has to offer, from volcanoes, mangroves, and thermal hot springs to rainforests and beaches.
One thing we love about this tour is that you get plenty of time in each place – it's not one of those tours where you spend most of the time on the bus rather than actually exploring your destination. You'll get 2 nights in Tortuguero, 2 nights in Arenal Volcano National Park, 2 nights in Monteverde, and 4 nights in either Manuel Antonio or Guanacaste (depending on which one you choose) before spending a final night in San José before being taken back to the airport on the last day of the tour.
We think that this is a really nicely structured itinerary since you start out by visiting more adventurous destinations and then end your trip with some more relaxed time at the beach. There's a nice balance between guided activities and free time, which is important because although you want to see as much of Costa Rica as possible, you also need time to actually relax and enjoy your vacation!
The tour costs $2,725 USD including all of your accommodation and round-trip transportation from San Josè, Alajuela, or Herida. You also get breakfast every morning, lunch on 5 days, and 3 dinners. If you choose to visit Guanacaste instead of Manuel Antonio National Park, you'll stay in an all-inclusive Costa Rica resort, so all of your meals and drinks will be taken care of, too.
There are also only 8 travelers (or fewer) in each group, so you'll get to know everyone really well by the end and come away with some newfound friends. Because it's a smaller group, make sure you book online early to guarantee you get the dates you want!
Related Read: If you choose to visit Guanacaste, make sure to stop in the cute beach town of Playa Flamingo!
3. 10-Day nature group tour
This 10-day tour starts and ends in San José, giving you 2 nights in Tortuguero National Park, Arenal Volcano National Park, Monteverde (which is home to the famous cloud forest), and Manuel Antonio National Park, which is known for its excellent beaches, as well as its incredible rainforest which is one of the best places to spot tropical primates in Costa Rica.
One of my favorite parts of this tour is the cruise along the rivers of Tortuguero National Park. This is one of the most remote parts of the country and the best view of the area is from the canals that wind through here. We've spotted several different types of monkeys and even a manatee from the water! Plus, you'll get to spend the night in a Costa Rican ecolodge.
If you can, book this tour during turtle nesting season (July-September) or turtle hatching season (September-December) so you have the chance to see turtles! You might be lucky enough to spot mama turtles laying their eggs or baby turtles making their way to the ocean. We were here in December and watching those cute little guys head to the water was a highlight!
Another incredible part of this tour is the chance to hike through the Monteverde Cloud Forest. This place is honestly magical. It's one of the top nature reserves in Costa Rica and is home to HALF the country's flora and fauna, which is really saying something.
You'll also be in one of the best places to spot a sloth in Costa Rica with your visit to Manuel Antonio National Park. I always seem to spot a sloth here – especially if you walk along the appropriately named "Sloth Trail".
For $1,972 USD, you get 9 nights accommodation and breakfast, as well as two lunches, return transfers to San José airport, and lots of guided hikes and tours along the way, although there are a few free days to enjoy, too.
This tour will give you a well-rounded overview of Costa Rica and ensure that you get to experience some of its most beautiful destinations to the fullest. There's a maximum group size of 25, so we think that this tour is ideal for couples, families, or groups of friends.
Check availability and book this nature-focused group tour online!
4. 9-Day best of the Northwest tour
The Northwest part of Costa Rica has the driest weather in the country (although it's still pretty wet by most standards) and it's a popular destination for beach lovers. It's also home to Monteverde Cloud Forest, which is famed for its biodiversity, large population of exotic birds, and beautiful wild orchids.
The Guanacaste Province is also located in the Northwest, where there are lots of scenic beaches and mountains to explore, as well as Aventura Nature Park, where you can go horse riding, ziplining, or take a mud bath while you admire volcanoes in the distance. Finally, you'll also find Caño Negro Wildlife Refuge here, where you can spot an incredible variety of Costa Rica's rarest and most interesting species.
This tour will show you everything that the Northwest of Costa Rica has to offer, and since you're just staying in one area, you get to see a ton of amazing things without having to spend hours on end in a bus or van.
It also includes some pretty neat experiences like a floating safari, ziplining, and the Skywalk through Monteverde Cloud Forest – think a hanging bridge with epic views!
Although you won't cover as much ground with this one as with some of the other tours on this list, you'll get to know Northwest Costa Rica pretty well and still see some of the country's top destinations.
The price of the tour is $1,459 USD and includes 8 nights of accommodation, 7 breakfasts, 3 lunches, 1 dinner, all of your entry fees, and the SkyWalk fees. There are some optional tours in Guanacaste that will cost extra, but if you don't want to spend the extra money you can just explore independently.
Your group will have no more than 10 people in it, so you don't need to worry about things being overcrowded and you'll have plenty of opportunities to get to know your fellow travelers. You can choose to stay in a single, double, or triple room, depending on whether you're traveling with others or by yourself.
If exploring this part of Costa Rica sounds perfect, book a ticket for this tour online now!
Related Read: A great add-on to your time in the area is seeing it from above on one of the best hanging bridges in Monteverde!
5. 8-Day jungles and cloud forests tour
If you're looking for an action-packed trip that's more about traversing through rainforests and spotting rare wildlife than lounging on the beach, then this 8-day tour has the ideal itinerary.
You'll be collected from San José airport and stay overnight in the city before heading to Tortuguero National Park, whose creeks and lagoons are home to endangered green sea turtles. In addition to seeing turtles, you'll also go on a wildlife hike where your guide will help you to spot everything from blue jeans frogs (named for their blue legs!) to monkeys, sloths, and iguanas.
You'll also spend a night in Arenal Volcano National Park where you can admire the famously symmetrical volcano and discover even more wildlife in the park's cloud forests. Then, it's onto Monteverde Cloud Forest where you'll see even more unique flora and fauna before you go back to San José on the final day.
As massive wildlife enthusiasts, this tour is pretty much our idea of heaven! You'll be able to spot so many different species and really make the most of your time in the world's most biodiverse country.
The tour costs $1,185 USD and includes airport transfers, accommodation in a mixture of standard and superior rooms, 6 breakfasts, 2 lunches, and 3 dinners. Guided activities in each destination are also included, but there's also some free time to explore independently.
This tour is really a fantastic option for nature lovers who want to see as many different species as possible in Costa Rica and immerse themselves in the country's unique cloud forests and jungles. There's a maximum of 25 travelers, so it's not a huge group, but this is definitely one for more social solo travelers or those already traveling in a small group.
Book this jungle and cloud forest tour online here!
6. 8-Day adventure tour
Adrenaline junkies, listen up: this is the ultimate adventure tour of Costa Rica!
Rather than focusing on wildlife and beautiful landscapes (although, of course, there's still plenty of that on offer) this tour is all about adventurous activities, from ziplining and kayaking to whitewater rafting and snorkeling.
You'll spend time kayaking along the Pejibaye River; rafting, swimming and ziplining around the Pacuare River; snorkeling and wildlife spotting in Puerto Viejo; and waterfall rappelling in Turrialba. If that doesn't sound like an exciting adventure, then we don't know what will!
This tour includes 7 nights' accommodation, all of your meals, all national park fees, and all of the activities we've just talked about for $2,327 USD. So basically, everything except drinks, snacks, and souvenirs are taken care of!
As you'd hope, the guides from this tour company are friendly and fun-loving, and we think that this tour is absolutely perfect for active and adventurous travelers who are really to push themselves and combine an adrenaline rush with some truly incredible landscapes.
If adventure is calling your name, don't miss booking this tour online before it sells out!
7. 5-Day San Jose and area tour
Lots of travelers skip San Jose, but it's actually a cool city with a nice vibe and plenty of culture. If you're interested in checking out the Costa Rican capital, but also want to experience some of the nearby nature, then we think that this 5-day tour is a great way to go about it.
All of your accommodation is organized for you, as well as transfers to and from San José international airport. A buffet breakfast is included each morning, as well as lunch on the two days that involve organized tours, and then you're free to discover San José's top restaurants for yourself in the evenings.
On the second day, you'll get a super informative city tour with a local guide, as well as a shopping tour that will take you to all of the city's best markets and boutiques. We think that this is a great way to get acquainted with the city so that you'll be able to enjoy exploring independently later on, and it will help you to uncover some of San José's retail hidden gems!
On the third day, you'll venture out on a couple of day trips from San Jose to tour Irazu Volcano National Park, where you'll see the country's highest volcano and its super impressive crater, which is filled with bright turquoise water. It really is a fantastic sight to see! You'll also take a trip to the Orosi Valley, where you'll visit some colonial churches and learn more about Costa Rica's history.
Then, there's a free day to explore San José by yourself before you fly out of the airport or continue to your next destination in Costa Rica.
Visiting a big city alone can be quite intimidating, which is why a small group tour like this one is the perfect way to experience San José. There will be around 10 travelers in your group, so you can get to know the other people on the tour pretty well and find friends to experience the city with, which is ideal if you're traveling alone.
This is one of the cheaper tours on our list at under $750 USD and it can be easily booked online.
Related Read: If you're spending a longer period of time here, these are the best areas and hotels in Costa Rica to stay in!
8. 5-Day romantic all-inclusive tour
Costa Rica is the perfect destination for a honeymoon or a romantic trip! We think that all-inclusive is a must when planning a romantic vacation, because stressing about planning and logistics really ruins the mood!
This 5-day romantic tour includes 4 nights at one of the most luxurious all-inclusive beach resorts in Costa Rica, where you'll enjoy relaxing poolside and on pristine beaches, snorkeling with dolphins and turtles, an exciting canopy adventure, and complimentary 24-hour room service. We think that it really is the perfect way for couples to kick back, relax, and take in the beauty of Costa Rica's Northwest Pacific coast.
One of the highlights for us has to be the catamaran ride. You'll be picked up by a catamaran at Conchal Beach and then taken to a stunning beach nearby to spend the afternoon. You have a good chance of spotting dolphins on the ride over and then your cruise back is at sunset – so gorgeous!
Since the resort is all-inclusive, all of your food, drinks, and minibar snacks are included in the $1,700 USD price tag. You also get a private return transfer from Liberia Airport, which is just under an hour away. Your guide will be super friendly and take good care of you, but you'll also have lots of privacy and free time to enjoy the resort.
Easily book your romantic getaway online here!
9. 3-Day tour with Arenal Volcano
This short but sweet tour takes you to 3 of Costa Rica's natural gems in as many days: Arenal Volcano, Monteverde Cloud Forest, and Manuel Antonio National Park. Starting in San Jose, you can be picked up from either the airport or your hotel, and you'll be dropped back in the capital at the end of the tour.
In Arenal Volcano National Park, you'll enjoy a 3-hour guided walk in the morning to spot wildlife, visit waterfalls, and enjoy views of the volcano from several different perspectives. Then, in the afternoon, you'll get the chance to relax in the Natural Hot Springs Resort and enjoy the healing mineral properties of the water.
On the second day, you'll explore Monteverde Cloud Forest with the help of your guide, who will help you to spot a ton of interesting wildlife species that you probably otherwise wouldn't have been able to see.
On your third and final day, you'll visit Manuel Antonio National Park to relax on its pristine white sands and trek through the rainforest to see even more wildlife, including capuchin monkeys, snakes, and sloths. Then, you'll head back to San José to either fly out of the country or head to your next destination,
This tour costs $615 USD and includes 2 nights accommodation, breakfast and lunch on all 3 days, and all of your guided experiences. Basically, pretty much everything but your dinners and drinks are covered, which makes budgeting nice and easy.
We think that this tour is perfect for anyone who's short on time, but wants to get an accurate snapshot of the beauty and variety that Costa Rica has to offer. You'll visit 3 of its top destinations, spot unique wildlife, and experience both rainforests and beaches, so you'll get a very well-rounded experience in spite of the short timeframe. In fact, the company behind this tour is focused on ecotourism and is passionate about showcasing Costa Rica's incredible biodiversity, which is probably why this tour has such an excellent itinerary!
To see some of the best places in the country in one tour, book online now!
Related Read: If you're heading out on your own after this short tour, make sure to read all our tips on renting a car in Costa Rica!
Getting Around Costa Rica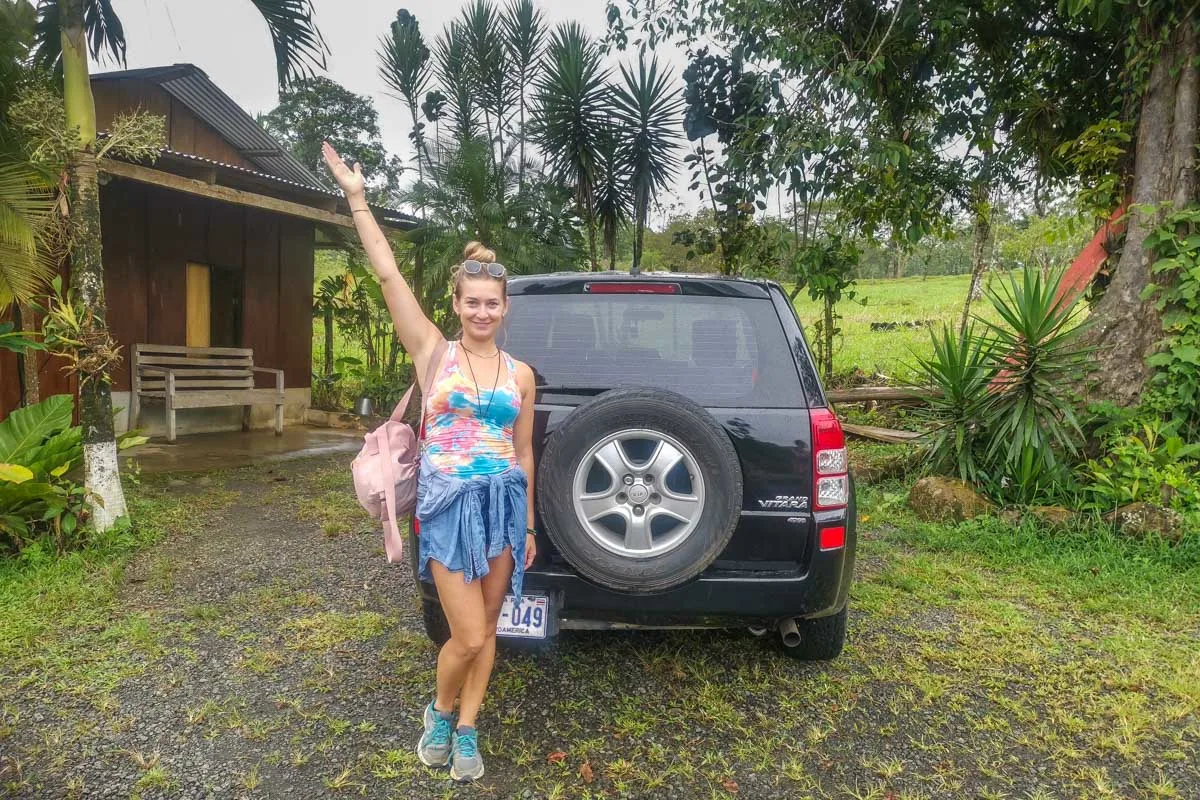 How you choose to get around Costa Rica is one of the biggest decisions you'll make when planning your holiday here! How you do it depends on your budget, travel style, and comfort level.
Renting a Car
Without a doubt, the number one way to explore Costa Rica is in a rental car. We book rental cars on the Discover Cars website as we have had good experiences with them in the past.
One of the things you need to watch for when renting a car in Costa Rica is the mandatory insurance that the government requires you to have. There are a lot of very cheap rentals that don't include this mandatory insurance (TPL) in the original booking price, but there are also ones that do. To avoid additional surprise charges when you pick up your rental car, be sure to rent a car that includes the mandatory insurance when you book.
Thankfully, on Discover Cars it's easy to tell apart the companies that include the mandatory insurance and those that don't. The trick is you can't pick any car on their website. In the picture below, you can see this rental car, with pick up in Jaco, includes the TPL. That means the mandatory insurance is included in the price. Any cover you get above that is extra.
Of course, I still suggest getting the full coverage offered by Discover Cars, which covers you even more.
You can browse cars on Discover Cars here.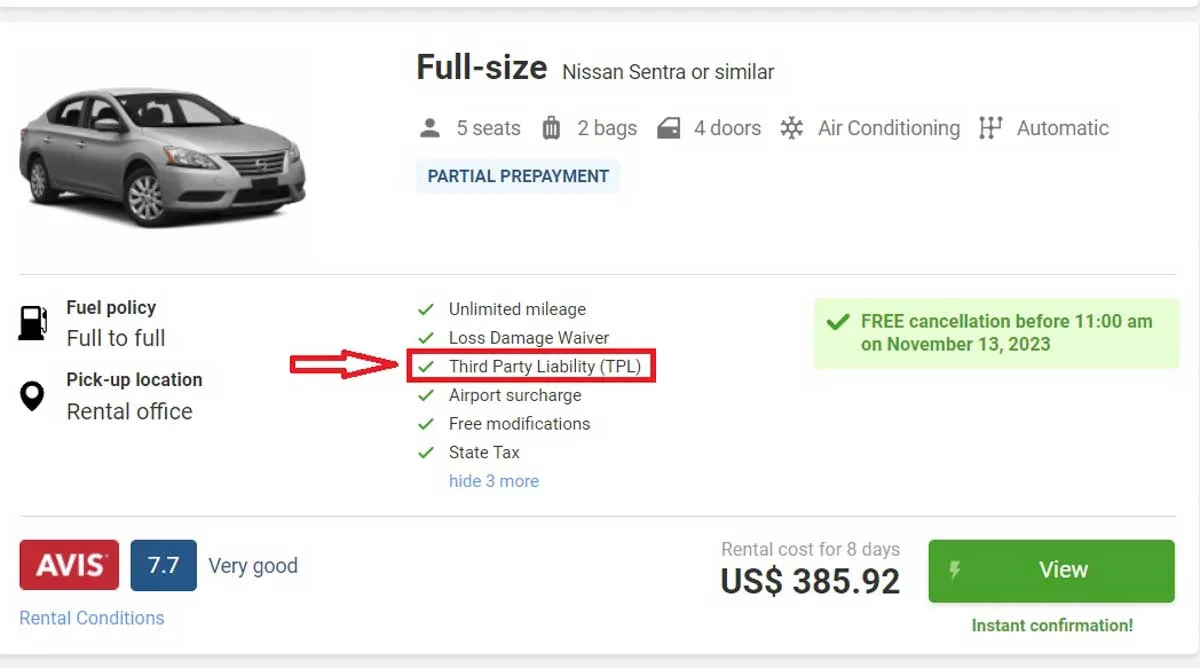 Book Shuttles
If renting a car isn't in your budget, you don't feel comfortable driving in Costa Rica, or you just don't like driving, shuttles are the next best option. There are hundreds of shuttle routes available all over the country, and they are very affordable.
Shuttles in Costa Rica are specifically for tourists and often include pick up and drop off at your selected hotels and airports. The drivers also speak some English, and the vehicles have air conditioning. You'll also be guaranteed a seat when you book a shuttle (which isn't the case with the public bus system.)
To get the best price, use the website Bookaway. They compare all the offers and prices of shuttle companies in Costa Rica so you get the best price! Honestly, we have saved so much money using Bookaway!
You can search for shuttles online on Bookaway here.
Public Bus
Lastly, you can use the public bus system. On short journeys, such as from San Jose to La Fortuna or Uvita to Manuel Antonio, this system is great. However, the longer the journey the more hassle and time spent on a bus. It's undoubtedly best to save the public bus in Costa Rica for short and straightforward trips!
The public buses are definitely the cheapest way to get around Costa Rica, but they are not always very reliable and schedules often change without notice and delays are to be expected. The buses can also be very crowded and hot – so just be prepared!
It's also good to speak some Spanish if you plan on riding the public bus since most drivers and ticket booth operators don't speak English.
Invest in Travel Insurance
Paying out of pocket for trip interruptions or medical treatment will add to what might already be a stressful situation. Not to worry, SafetyWing is here to help!
This affordable travel and medical insurance is perfect for digital nomads, long-term travelers, and remote workers. The best part is that it only costs $45 USD per 4 weeks.
To start coverage you must purchase it after leaving your home country. We usually purchase it as soon as we land at the airport.
Since using SafetyWing we've been reimbursed thousands of dollars when we've gotten sick. During the pandemic, they've even gone as far as to pay for our last-minute flights back to Canada before the border closed!
Pura Vida!
There you have it, the top 9 multi-day tours to help you discover Costa Rica. There's lots of variety on this list whether you're looking for an add-on to your vacation or want a tour that plans your entire trip from start to finish. You really can't go wrong with any of these!
Thanks so much for reading! If you're in the midst of planning your dream trip to Costa Rica, make sure to browse around our other blogs. We have lots of inspiration for your upcoming vacation as well as tips to help you have the best time once you arrive.
Is Costa Rica Expensive? Cost of Traveling to Costa Rica
12 Best Places to go Surfing in Costa Rica
18 BEST Waterfalls in Costa Rica You Need To Visit