The Osa Peninsula is one of Costa Rica's most remote and beautiful destinations. With incredible biodiversity, amazing national parks, and secluded beach towns, it's the perfect place to get away from it all.
Visiting here is a chance to get off the beaten path and see a part of the world that relatively few people are lucky enough to experience. Plus, there is so much to do here, you could easily spend a week-long vacation in Costa Rica in this area and not get bored!
That being said, there are a few things you should know before heading to the Osa Peninsula. As we mentioned, it's off the beaten track, which means that it's not always a breeze to travel. You want to head there prepared, with an idea of what you want to do and see, and some knowledge of how to go about it.
We've put together this Osa Peninsula Guide to equip you with everything you need to know before heading to this incredible destination. From things to do on the Osa Peninsula to insider tips on getting around, this guide will help make your trip one to remember.
About the Osa Peninsula
The Osa Peninsula is located in southwestern Costa Rica, on the country's Pacific coast. It's bordered by the Golfo Dulce to the east and the Pacific Ocean to the west.
The Osa Peninsula is one of Costa Rica's most biodiverse regions. In fact, it's been called "the most biologically intense place on Earth" by National Geographic.
This is largely due to the Osa Peninsula's unique location. It's situated at a point where two major ocean currents meet, resulting in abundant marine life. The Osa Peninsula is also home to a variety of different ecosystems, from rainforests to mangroves and coral reefs.
All of this wildlife makes the Osa Peninsula a nature lover's dream. It's an excellent place for birdwatching, spotting rare animals, and enjoying the incredible natural beauty of Costa Rica.
Places to Visit on the Osa Peninsula
There are two main places to visit on the Osa Peninsula: Drake Bay and Puerto Jiménez. They are both small towns with a laid-back vibe and plenty of things to do.
They also each act as a gateway to Corcovado National Park, but we'll get more into that in due time.
Drake Bay
Drake Bay was our favorite of the two towns. It's definitely prettier, and it's also right near Caño Island, where you can snorkel with dolphins, turtles, and a huge variety of fish.
There are so many adventurous activities to get up to in Drake Bay, from hiking to river-tubing. The beaches are also untouched and picturesque, and perfect for enjoying the sunset after a day of exploring (with a beer in hand, of course!).
Where to stay in Drake Bay
While it's a small remote village, there's still a wide range of accommodations – everything from no-frills cabins to luxury beachfront hotels, and everything in between.
For hotels, a personal favorite of mine is Cabañas Bajo Bosque Drake It's tucked away in the jungle outside town, offering a quiet atmosphere, a chance to see monkeys and birds up close, and a great view of nature! Rooms are around $83 USD per night and come with balconies facing the mountains. You can check availability and book Cabañas Bajo Bosque Drake here.
For more of our top picks for every budget, check our complete guide on where to stay in Drake Bay.
Puerto Jiménez
Although we didn't love Puerto Jiménez quite as much as Drake Bay, we still consider it to be a pretty underrated Costa Rican destination. There's an amazing variety of wildlife here and it's not very popular with tourists, so you'll often feel like you have the entire place to yourself!
You can spend your days here cycling around the tiny town, exploring nearby nature spots, whale watching and generally soaking in the tranquility of Puerto Jiménez and this authentic slice of Costa Rican life.
You can really get a sense of pura vida here – the "simple life" that Costa Rica is so famous for.
Where to stay in Puerto Jiménez
Close to the tip of the Osa Peninsula, this is one of the biggest towns along here with just over 3,000 people. There are plenty of accommodation choices and you can tailor what kind of experience you want depending on if you choose to stay right in town or at a remote property on the outskirts.
Cabinas Jimenez is one of the best hotels in Puerto Jiménez that is situated along the shore. It sits right by the beach of Gulfo Dulce and is close to the town center – the best of both worlds! The beachfront hotel also offers activities like kayaking and snorkeling. Rooms start at $70 USD/night and can be booked online here.
For more of our picks including budget hostels and luxury resorts, check out the full guide on where to stay in Puerto Jiménez.
The BEST Things to do on the Osa Peninsula
1. Explore Corcovado National Park for the day
No Osa Peninsula guide would be complete without a mention of Corcovado National Park, so that's what we're kicking off with.
Corcovado National Park is one of the best national parks in Costa Rica. It's among the most biodiverse places on Earth and definitely the highlight of the Osa Peninsula. It's also one of the largest national parks in the country, covering a whopping 163 square miles (424 square kilometers).
The park is home to some of the country's rarest and most iconic animals, such as Baird's tapirs, harpy eagles, and scarlet macaws.
You really can't visit the Osa Peninsula without visiting Corcovado National Park – that would be like visiting Paris and not seeing the Eiffel Tower!
You must visit Corcovado National Park as part of a guided tour. This rule is in place to ensure public safety since the park's terrain can be difficult to navigate alone, and to protect the park's delicate ecosystem from over-tourism. All Corcovado guides must be accredited by the Costa Rican tourism board, so you can be sure that any tour you book will be professional and eco-friendly.
You can take a tour from either Drake Bay or Puerto Jiménez. The tours typically last around 8 hours and include transportation, food, a park entrance fee, and a bilingual guide.
From Drake Bay, you can take this day tour to Sirena Station, the park's main ranger station. The day starts with a scenic boat trip along the coast of the Osa Peninsula before exploring the park with your guide. These guides know exactly where to go to spot creatures here, so you're sure to see animals you never would have spotted on your own including sloths and howler monkeys! The tour is $125 USD and includes all transportation, admission fees, and a yummy lunch.
From Puerto Jiménez, you can take this hiking tour which has a fairly similar itinerary. You'll take an early morning boat ride to the main ranger station and then walk the rainforest trails for about 5 hours. While it's a long time in the park, the hiking isn't too strenuous, so it's good for kids to tag along. The tour cost is $135 USD and includes transportation, a guide, and your park entrance fee.
2. Spend a night in Corcovado National Park
What's better than a day trip to Corcovado National Park? An overnight trip, of course!
Many of the most interesting animalss in Corcovado National Park are nocturnal, so an overnight tour is the best way to fully immerse yourself in the park's incredible ecosystem and have the chance to spot some of its rarest animals, including jaguars.
You stay overnight at Sirena Station, in bunk accommodation that is basic but perfectly comfortable. You'll also have the chance to go on night hikes and see things that you would never be able to see during the day.
You can either take this 3-day, 2-night tour from Puerto Jiménez or this 2-day, 1-night tour from Drake Bay. Both tours include meals, park fees, and a guide, you just have to pick how long you want to stay.
Obviously, the more time you can spend in the park, the higher your chances of seeing some seriously cool wildlife! The Drake Bay option may suit your timescale, itinerary, and budget better with its $410 USD price tag, but the Puerto Jiménez option at $740 USD does include a lot more time in the park.
Related read: One of our other favorite night adventures was taking this night tour inside Manuel Antonio National Park!
3. Dive or snorkel at Caño Island Biological Reserve
Caño Island Biological Reserve is one of the top places in Costa Rica for diving and snorkeling. In fact, it's considered the second-best place to snorkel in the entire country, only after the famous Cocos Island.
Caño Island is about a 45-minute boat ride from Drake Bay and although you can't visit Caño Island itself, there's plenty of marine life to see in its surrounding waters.
The island is surrounded by a coral reef, which is home to an incredible array of tropical fish, sea turtles, octopuses, and even the occasional blacktip reef shark (they're not dangerous, so don't worry).
A snorkeling tour to Caño Island costs around $100 USD for a half-day tour and includes lunch, equipment, a bilingual guide, and beers. What's great about this tour is you'll get the chance to snorkel in two different spots, increasing your chances of seeing some pretty neat creatures. Snorkeling in Caño Island Reserve was one of our absolute favorite things we did in Drake Bay and for us, it was totally worth every cent!
It's possible to get your diving license from one of the diving schools in Drake Bay, and this certainly is a beautiful place to do it. Plus, if you go diving here, you can visit deeper sites which are often frequented by dolphins!
Related read: The snorkeling is also fantastic around Tortuga Island – the water is SO clear!
4. Sunrise or sunset kayaking tour
You may not be able to visit Caño Island from Puerto Jiménez, but you do have the chance to go kayaking and snorkel among bioluminescent plankton and even dolphins! This is a totally magical experience that is one of the best things to do in Costa Rica!
The plankton here emit a bright blue light when they are disturbed, and this is best seen at night. It's like gliding over a starry sky.
On this sunset kayaking tour, you'll paddle out as the sun sets and then watch the water come alive with wildlife both in the ocean and mangrove. If you're lucky (like us) you may even get to paddle next to dolphins!
The tour leaves from Puerto Jiménez and includes all the equipment you need along with a guide to show you the way – no prior kayaking experience is needed either.
One of the highlights is getting to jump in the water and try snorkeling with the plankton to see what they look like from underwater. The tour starts at $54 USD per person and also includes fresh fruit to snack on – which you'll need after all that paddling!
5. Chocolate tour at Rancho Raices de Osa
We absolutely loved the chocolate tour at Rancho Raices de Osa. This is a totally organic working farm, set amidst the rainforest, that grows a variety of fruits and vegetables such as cacao, bananas, and pineapples, all of which you'll get to sample as you go.
On a tour here, you'll learn all about the chocolate-making process, from bean to bar, and get an insight into what life is like on a working farm in Costa Rica. You get to finish with an organic cocoa face mask, which will leave your skin feeling radiant and baby-soft.
I won't lie to you, there are hundreds of chocolate and coffee tours you can take in Costa Rica, and we've done a ton of them on our travels through Central and South America. However, this one really is special.
The hundreds of five-star reviews were what twisted our arm to do it – and we're so glad that we did. We learned so much more than we ever thought possible about farming, and the whole experience was super fun.
Rancho Raices de Osa is located around 15 minutes from Puerto Jimenez. You can easily reach it via the bus or collectivo and the tour costs $40 USD.
6. Go dolphin or whale watching
Drake Bay and Puerto Jiménez are two of the top places to go on one of the best tours in Costa Rica – dolphin and whale watching cruises! These waters are home to a variety of species including dolphins, humpback whales, and pilot whales.
So what's the best time to visit Costa Rica to see these animals? Dolphins can be spotted year-round and love to glide along the boat and jump out of the water to give you a show! For whales, it's good to time your visit during one of the whale watching seasons either between July and November (the better season) or December to March.
From Drake Bay, you can take this tour and enjoy the insights of an experienced marine biologist as you look for whales and dolphins. You'll also be able to use a hydrophone to hear the underwater sounds they make! The $128 USD price tag also includes lunch and snorkeling gear, giving you the chance to swim alongside these amazing marine mammals.
Related read: Seeing whales and the incredible "Whale Tail" sandbar are some of the best things to do in Uvita!
7. Horseback riding
Horseback riding tours are available in both Drake Bay and Puerto Jiménez. This is a super fun and adventurous way to explore the peninsula's incredible scenery, and you don't need any previous experience to join in.
Drake Bay Getaway offers a 4-hour morning tour for $70 USD, which takes you through mountains and rainforest, and along several beautiful beaches. There's also a swimming stop at a waterfall where you'll have a chance to cool off and refresh.
In Puerto Jiménez, horseback tours are conducted by Rancho Tropical and last for 3 hours. They're marginally cheaper at $68 USD but you will need to find your own way to the farm where the tour begins. Again, you'll experience a variety of landscapes on this tour, and you'll almost certainly see some amazing creatures along the way.
8. Sportfishing
Sportfishing – aka recreational fishing – is hugely popular in Costa Rica, and the Osa Peninsula is one of the best places to do it due to the enormous variety of marine life in this region. Plus, there are heavy restrictions on commercial fishing on the Osa Peninsula, so it's an ideal spot to catch great fish.
It costs around $500 USD per boat for a half-day tour, or $700 USD for a full-day tour. There are plenty of local companies who organize tours but we recommend going through Chosa Manglar Nature Hotel because they work with the most reputable and knowledgeable guides in the Osa Peninsula.
If you're a fishing fan, this is undoubtedly one of the best things to do on the Osa Peninsula – and maybe in the whole of Costa Rica!
9. Go on a night wildlife tour
Much of Costa Rica's most fascinating wildlife is seen after dark, so this Osa Peninsula guide simply wouldn't be complete without mentioning night tours!
Not only do you get to see a totally different set of animals at night, but it also feels like a real adventure as you venture into the darkness with only a headlamp and your guide's knowledge to guide you. It's exactly the kind of experience you come to the Osa Peninsula for!
This small-group tour from Drake Bay will take you to a family-run farm where you'll explore the surrounding forest in search of sloths, snakes, frogs, and other nocturnal creatures. If you're lucky, you might even glimpse a puma!
Your guide will share fascinating insights about the animals you see, and help you to spot creatures you might otherwise not have noticed. The three-hour tour is $50 USD which includes transportation and has a max of 6 people.
Similarly, this night trek from Puerto Jiménez will give you the chance to spot frogs, snakes, raccoons and so much more. You'll be exploring the surroundings of the El Ñeque hamlet, which is a 15-minute drive from Puerto Jiménez during a hike of about 4 km (2.5 miles). The tour includes round-trip transportation and lasts for approximately 3 hours.
10. Enjoy some of the best birdwatching in Costa Rica
Both Drake Bay and Puerto Jiménez are excellent places for birdwatching. You can simply go birdwatching yourself around either town or if you hike the Drake Trail you're bound to see plenty of birds – and by plenty, we literally mean thousands of birds. It really is a sight to behold.
If you're in Puerto Jiménez, head down to the water for sunset one night and again, you'll see more birds than you could possibly hope to count. It's a truly magical experience and not one to be missed.
Alternatively, you can sign up for a guided tour with an experienced guide who will help you spot the most interesting birds in the area and teach you all about them.
The Early Birds tour from Drake Bay is (unsurprisingly) an early morning bird walk which takes you along a nice, easy hiking route. You'll be guided by expert bird watchers who can help you spot some of the most exciting species in the Osa Peninsula and share their knowledge about the birds with you. The $52 USD cost includes the use of an HD spotting scope for those feathery friends hiding high in the trees. Plus, if you have a bird or two on your must-see list, let them know and they can customize the route!
This birdwatching tour from Puerto Jiménez is a great option if you're staying in that town. You'll explore local mangroves and stroll along the El Bambú Birding Road, where you're sure to spot plenty of birds. The tour lasts for approximately 2.5 hours and you'll need to make your own way to the Monar Bakery, where the activity begins and ends.
Getting to the Osa Peninsula
As discussed, the Osa Peninsula is pretty remote, so getting there requires some planning in advance.
The Osa Peninsula is located 365 kilometers (226 miles) from San José, and you've got the option to drive, fly or take the bus.
Drive
If you've got your own four wheels with a rental car, it's possible to drive to the Osa Peninsula from San José. The roads are much better these days than they used to be, and driving in Costa Rica is getting very popular.
Google says it's a 5.5-hour drive, but you should factor in some extra time for fuel stops, breaks, and photo opportunities. It's a mostly coastal drive, so you'll be able to enjoy some spectacular ocean views and see places like Jaco, Dominical, and Uvita along the way. We recommend setting aside a full day to get here if you're planning on driving.
There are lots of gas stations along the way down the coast, but when you reach the Osa Peninsula itself, they are relatively few and far between, so make sure to refuel as you get close. You really don't want to run out of gas when you're almost there!
This isn't a quick and easy drive. There are lots of twists and turns, not to mention bumpy roads and uneven terrain. However, it is beautiful and definitely worth the effort. If you enjoy road trips, then you'll probably love driving to the Osa Peninsula.
Fly
If the thought of a 6-7 hour drive doesn't appeal to you or you don't want to rent a car, you can take a 45-minute flight from San José to the Osa Peninsula. This is definitely a big time saver and probably the most popular mode of transport.
You can take a Sansa Air flight from San José Juan Santamaria International Airport (SJO) to either Puerto Jiménez or Drake Bay. It costs around $159 USD each way and there are flights most days, but be sure to check the schedule before you go.
Bus
The public bus from San Jose to Puerto Jiménez takes around 9 hours and costs $13 USD, which is a total bargain if you don't mind the long journey. It departs at 12 pm each day from the San Jose terminal, so you'll need to make your way there in advance.
Related read: Fancy exploring another peninsula? The Nicoya Peninsula is THE place to go for surfing and stunning beaches.
Getting Around Costa Rica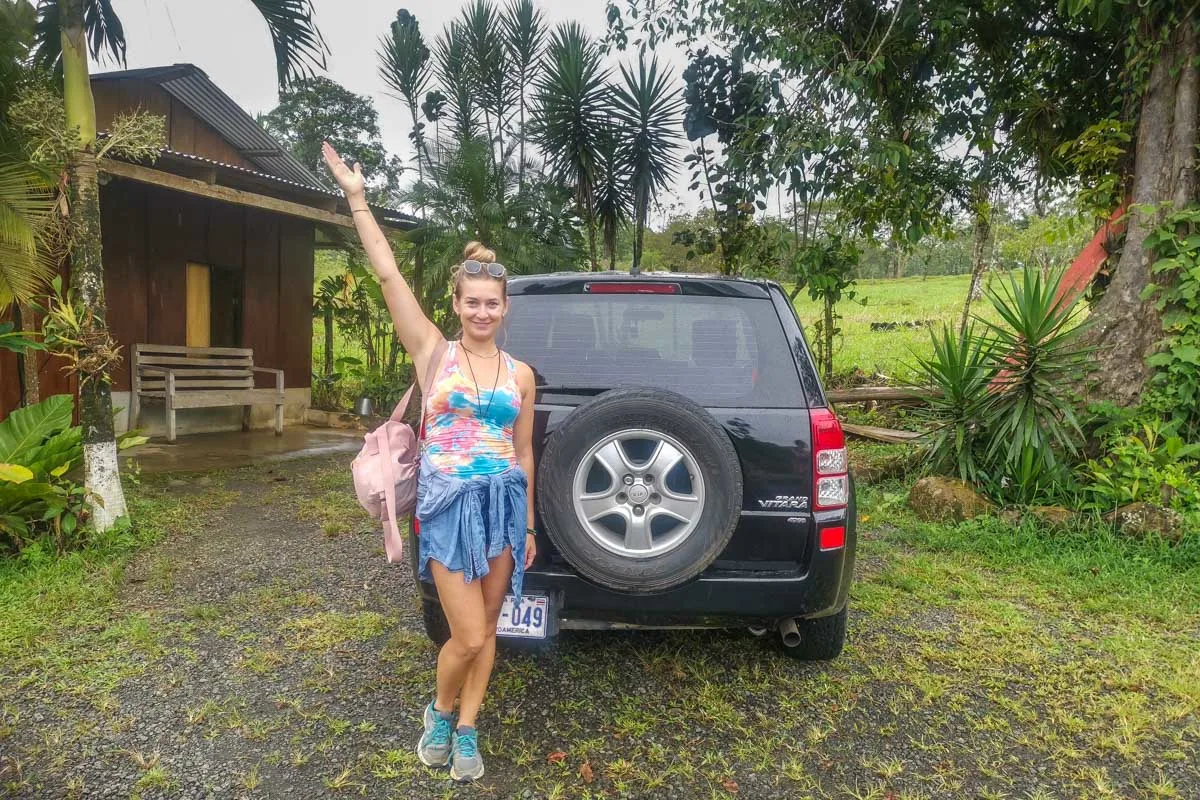 How you choose to get around Costa Rica is one of the biggest decisions you'll make when planning your holiday here! How you do it depends on your budget, travel style, and comfort level.
Renting a Car
Without a doubt, the number one way to explore Costa Rica is in a rental car. We book rental cars on the Discover Cars website as we have had good experiences with them in the past.
One of the things you need to watch for when renting a car in Costa Rica is the mandatory insurance that the government requires you to have. There are a lot of very cheap rentals that don't include this mandatory insurance (TPL) in the original booking price, but there are also ones that do. To avoid additional surprise charges when you pick up your rental car, be sure to rent a car that includes the mandatory insurance when you book.
Thankfully, on Discover Cars it's easy to tell apart the companies that include the mandatory insurance and those that don't. The trick is you can't pick any car on their website. In the picture below, you can see this rental car, with pick up in Jaco, includes the TPL. That means the mandatory insurance is included in the price. Any cover you get above that is extra.
Of course, I still suggest getting the full coverage offered by Discover Cars, which covers you even more.
You can browse cars on Discover Cars here.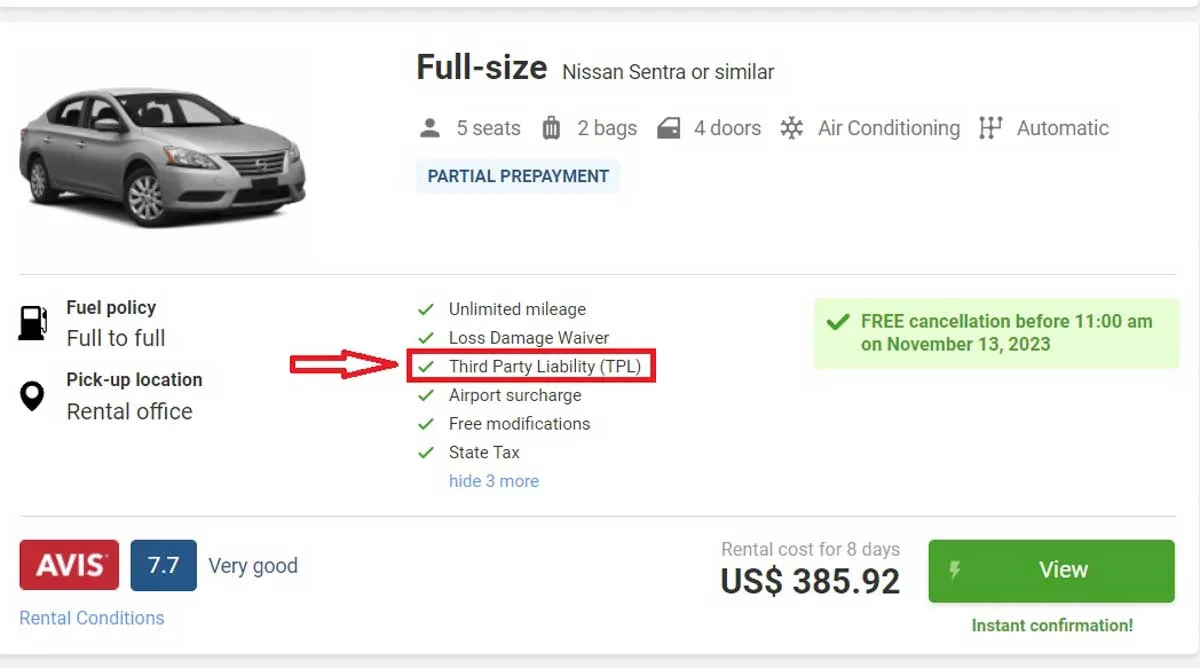 Book Shuttles
If renting a car isn't in your budget, you don't feel comfortable driving in Costa Rica, or you just don't like driving, shuttles are the next best option. There are hundreds of shuttle routes available all over the country, and they are very affordable.
Shuttles in Costa Rica are specifically for tourists and often include pick up and drop off at your selected hotels and airports. The drivers also speak some English, and the vehicles have air conditioning. You'll also be guaranteed a seat when you book a shuttle (which isn't the case with the public bus system.)
To get the best price, use the website Bookaway. They compare all the offers and prices of shuttle companies in Costa Rica so you get the best price! Honestly, we have saved so much money using Bookaway!
You can search for shuttles online on Bookaway here.
Public Bus
Lastly, you can use the public bus system. On short journeys, such as from San Jose to La Fortuna or Uvita to Manuel Antonio, this system is great. However, the longer the journey the more hassle and time spent on a bus. It's undoubtedly best to save the public bus in Costa Rica for short and straightforward trips!
The public buses are definitely the cheapest way to get around Costa Rica, but they are not always very reliable and schedules often change without notice and delays are to be expected. The buses can also be very crowded and hot – so just be prepared!
It's also good to speak some Spanish if you plan on riding the public bus since most drivers and ticket booth operators don't speak English.
Invest in Travel Insurance
Paying out of pocket for trip interruptions or medical treatment will add to what might already be a stressful situation. Not to worry, SafetyWing is here to help!
This affordable travel and medical insurance is perfect for digital nomads, long-term travelers, and remote workers. The best part is that it only costs $45 USD per 4 weeks.
To start coverage you must purchase it after leaving your home country. We usually purchase it as soon as we land at the airport.
Since using SafetyWing we've been reimbursed thousands of dollars when we've gotten sick. During the pandemic, they've even gone as far as to pay for our last-minute flights back to Canada before the border closed!
Pura Vida!
The Osa Peninsula is one of the most beautiful areas of Costa Rica. While it takes a little extra planning to get here, it's totally worth it once you arrive. I hope this ultimate guide to the Osa Peninsula has helped give you a better understanding of what this unique spot has to offer.
While you're planning your Costa Rica getaway, make sure to browse around our other blogs. We've visited here, lived here, and come back often, so we've got all those insider tips to make your vacation the best it can be!
12 Best Places to go Surfing in Costa Rica & Complete Surfers' Guide
Is Costa Rica Safe? Travel Scams, Safety Advice & More
18 Things to Know About Visiting Nauyaca Waterfalls, Costa Rica