This blog may contain affiliate links. Read our disclosure policy for more info.
If you're looking for a unique activity, one of the best things to do in Costa Rica is visit the crocodile bridge!
This bridge passes over the Tarcoles River near Jaco and it's a great spot to see crocodiles in the wild. Plus, it's a completely free activity in Jaco!
You'll often hear this area referred to simply as the 'Costa Rica crocodile bridge,' but you might also hear the 'Jaco crocodile bridge' to describe this popular spot. In fact, if look up the bridge on Google maps, you'll see that it is simply tagged as 'Crocodile Bridge.'
If you're planning on stopping by during your Costa Rican vacation, you might have a few questions.
After visiting this spot, I have some tips and tricks to share. So, stick around and read on for the things you should know before visiting the Costa Rica crocodile bridge.
Don't have time to read the full article? The crocodile bridge is actually a highway bridge that goes over the Tarcoles River with amazing views of saltwater crocodiles. There is free parking on either side of the bridge. You'll typically find fewer crowds here earlier in the morning. The crocodile bridge is a free attraction, but if you'd like to see even more wildlife, you can book this boat tour of the Tarcoles River.
1. About the Costa Rica crocodile bridge
The Costa Rica crocodile bridge is actually a highway bridge, on the Carretera (highway) Pacífica Fernández Oreamuno. This bridge goes over the Tarcoles River and offers an unbelievable view of large saltwater crocodiles.
Since this bridge is open to drive over as part of the highway, the crocodile bridge is completely free to visit. Think of it as a roadside attraction, like your stereotypical 'World's Best or Biggest Something." It's sort of like that, but instead of a gimmick, you get to see real crocodiles doing their thing.
A hot tourist spot thanks to its incredible views of crocodiles, the Tarcoles River is now the most well-known river in the country. The power of a good viewpoint should never be underestimated!
The river is, unfortunately, one of the most contaminated in the country, as well. However, the location is so important for wildlife that they continue to gravitate toward the Tarcoles, and there are initiatives by both the government and the community to get this important river clean again.
This is a well-known area, so keep in mind that you're likely to see another car or two (or twenty) around. Not to worry, that's part of the fun! You'll get to see some incredible wildlife and might even make a friend or two along the way. Oh, and there's plenty of space for everyone to get a glimpse of the crocs for as long as you'd like.
2. Where is the Costa Rica crocodile bridge?
You can find this bridge, and its crocodiles, on the Pacific Coast of the country, north of Jaco and south of Punta Arenas.
If you're based in San José, it's about an hour west, making it one of the best day trips from San José. If you keep driving on the same highway for 9 more minutes to the west, you'll be at the ocean.
Its proximity to San José means that the crocodile bridge isn't just easy for residents of the country to see. You can drive your rental car out to this spot and enjoy the views just like the locals do.
If anything, this is a great place to stop and get out of the car for a bit if you're headed down to Jaco from San José. The bridge is directly on the route and can serve as a good location to stretch your legs and buy some snacks from the vendors in the area.
If you're headed to Puntarenas, it's only a short detour!
Related Read: The Crocodile Bridge is one of our stops on our 7-day Costa Rica travel itinerary!
3. Is the Costa Rica crocodile bridge free?
Since the crocodile bridge is located on a main highway, it is free to visit. That makes it one of our favorite things to do around Jaco!
When it comes to parking, though, you'll want to be smart. You can park on either side of the bridge and there is free parking around, depending on how busy the area is. Some restaurants nearby will try to charge for parking, so remember that you have options and don't have to pay to park just because some places say you do.
When I was there, we made a deal with a guy that we would come back and buy a smoothie after we saw the crocodiles. It seemed to make up for parking, and we got a good drink out of it! In most areas like this, if you're willing to talk to people and are flexible, they'll work with you.
Related Read: Visiting Jaco on a tight budget? Check out all of the other cheap and free things to do in Jaco!
4. When is the best time to visit the crocodile bridge?
If you're looking for the best experience of this cool pit stop, I recommend going in the morning or even the early afternoon.
We found that there are almost always crocodiles there to see, but when it's cool when more of them come to the surface near the bridge.
Of course, you'll likely see crocodiles at any time of the day, but you might have a better view of more crocodiles if you can come earlier in the day.
I've also found while traveling that if you can show up somewhere a little earlier in the morning, you'll beat the crowds and be able to have more of an individual experience.
Related Read: Before you plan your trip to the crocodile bridge, make sure to read our guide to the best time to visit Costa Rica!
5. What are the best tours down the Tarcoles River?
When you're looking for some of the best tours in Costa Rica, there are options to get closer to the Tarcoles River itself. There are some pretty incredible tours offered from multiple locations in the country. What's great is that you also don't need a rental car for these, because they'll include transportation.
So, here are the best tours down the Tarcoles River:
From San José
Staying in San José? Check out this full-day tour of Carara National Park and Tarcoles River. I love this one because it combines hiking trails, birdwatching, getting to learn about the biodiversity of the area, and enjoying a relaxing end to the day on the beach.
If you're interested in seeing multiple different landscapes of Costa Rica in just one day, this tour is an amazing way to learn about and experience the area for yourself. The local guides are awesome and take great pride in educating guests about all that the country has to offer, even providing binoculars for birdwatching.
The tour doesn't include everything, though, and you can expect to pay $12 USD for the entrance to the National Park and for the boat tour part of the trip, which costs $28 USD. That's on top of the $133 USD tour cost.
Some of the earnings of this tour go to a non-profit conservation foundation so you know your visit to these places has helped give back to the nature you'll be seeing. You can book this tour online here.
From Jaco
If you are staying in Jaco, you'll already be a little bit closer to the crocodile bridge area, which means that you can opt to take a shorter tour and still have time for other activities during the day!
The Jaco Crocodile River Cruise is set up like a safari but on the water. This 3-hour river cruise takes place on a covered boat that allows you to stay out of the sun while you search for crocodiles and native birds with your captain and guide.
Afterward, you'll get an included lunch to enjoy before heading back to your drop-off location.
Thanks to the shorter length of the trip, this one is a family-friendly option that can provide seats for infants and small children as long as you notify them ahead of time. Tickets are around $89 USD and you can purchase them here.
From Puntarenas
This tour from Puntarenas falls somewhere between the lengths of the first two, at 6 hours long. You'll still get the same few stops that you would if you were on the tour coming from San José because this one includes Carara National Park and the Tarcoles River.
Instead of ending at the beach, you'll finish the day at El Jardin de Orotina, which is a beautiful complex with shops and a restaurant to enjoy.
Your admission to each site is included in this $135 USD tour, so all you have to worry about is grabbing whatever you want to eat at the lunch stop and then sit back and enjoy the rest of this inclusive trip.
From a nature walk to a crocodile boat tour, the site visits are incredible, but you'll also enjoy beautiful views of the Costa Rican countryside as you travel through scenic parts of the country. This tour can be booked online in advance here.
From the bridge
Driving yourself but still looking for a tour of the crocodile bridge and its surrounding areas? This Crocodile Tour is such a cool option and allows you to see more of the area than if you were to stop off for a few minutes and continue driving.
You'll meet the group at Mangrove Birding Journeys, just a few minutes off of the highway, and spend 3 hours floating along the Tarcoles and seeing not only huge crocodiles but also numerous species of birds. You can book this tour here online for around $90 USD.
After your tour, since you'll have your rental car or other transportation, you can head to the beach for the rest of your day or go back into town for a meal.
If you want to stay in the area, check out our guide for places to stay near Jaco. Of course, just remember a tour isn't required to see the crocodiles, just to get a closer look and learn about them.
Related Read: Learn all about renting a car in Costa Rica!
Why We Book Tours with Viator
Viator is a trusted online booking system for tours around the world! We almost always book our tours using Viator for a couple of reasons:
Free cancellation on most tours – Most of the tours on Viator allow you to cancel and get a full refund up to 24 hours in advance. This is handy in case plans change, or if booking an outdoor activity, the weather forecast is looking grim.
Reserve now and pay later – You can secure your spot on some of the most popular tours well in advance and not pay until closer to the day of the tour.
Pay in your chosen currency – Avoid costly international transaction fees by choosing to pay in your home currency.
Peace of mind – When booking with tour operators you find in person on the street or in small booking offices, you are often promised one thing and given another. This online platform holds tour operators accountable with a written description of inclusions as well as the opportunity for customers to leave reviews.
Check out the Viator website here!
6. How do you get to the Costa Rica crocodile bridge?
Driving here is going to be the way to go! Regardless of whether you have a rental car or decide to take a tour from one of the nearby cities, you'll get a chance to pull off and walk along the bridge while you work to spot any crocs that are wading close by.
There are also buses that you can take separately from tours if you want to check out Costa Rica's public transportation system.
If you're coming from Jaco, the 655 Jacó bus will run every 4 hours and takes just 40 minutes to get to the bridge. Just let the bus driver know where you are going.
This same line, 655 Jacó, runs from San José, too, in the opposite direction. So, you could take the bus from either location and then stop at the bridge. On the way back, you'll need to wait for a bus heading in the other direction. This can take some time, so be patient and get a fruit smoothie!
From San José, the 601 San José bus will take you to Pozón, and from there it's just a 13-minute taxi to the crocodile bridge.
From Puntarenas, you can get the bus to Jaco and just get off at the crocodile bridge.
Taxis are also not a very expensive option in this case if you're looking for a direct way to get around without a rental car or tour. For example, you may pay about $50 USD for an hour-long drive across Costa Rica.
One time, we actually rented a scooter for a few hours, which only cost $25 USD. We drove to the bridge and even made some other stops along the way. It was really fun!
Whatever transportation method you choose, know that there are many ways to get to the crocodile bridge so that you can see the Tarcoles River and all its biodiversity.
7. Facilities at the crocodile bridge
There are a few small restaurants in the area to grab a bite at before or after your visit to see the crocodiles. You will also find plenty of shops that sell food, smoothies, and other goods for you to enjoy during your day trip to the area. I found a beautiful sarong.
These restaurants and some of the shops can also be good places to use the restroom, so long as you purchase something, too.
Pops Tarcoles is a fun ice cream place nearby and serves as a great place to cool off with a sweet treat, especially if you've just spent hours on a tour or searching for crocodiles.
Nambi Restaurant is also a popular spot to grab food and is right on the southeast side of the bridge once you drive over it. If you're looking for burgers, tacos, fries, and other filling dishes, this place has you covered.
Related Read: Another great way to cool off after spending time at the crocodile bridge is with a visit to one of Costa Rica's best breweries!
8. Is the Crocodile Bridge suitable for children?
Crocodile bridge is a great spot to bring the kids on your trip. They'll love getting to see the wildlife, and most of the tours I've seen have been great at accommodating kids.
Just keep little ones close and watch them because, while this is a great location for them to experience, the bridge is still part of a highway and has cars coming by quite often.
9. Can you feed the crocodiles/get close to them?
As exciting as it is to see the crocodiles, getting too close to them is a big hazard. Crocodiles are still dangerous animals, and you should never attempt to get close to them. This includes feeding. If you are close enough to try to give them food, you are too close.
Tours take safety precautions that you may not always see the ins and outs of and can allow you a way to feel closer to the animals without being in danger.
When you're visiting independently, you need to plan on staying on the bridge and enjoying the view from a safe distance.
10. Is visiting the Tarcoles River crocodile bridge worth it?
Yes, I fully recommend stopping by the Tarcoles River and its crocodile bridge – to me, it's one of the best things to do in Costa Rica!
No matter how you decide to plan your visit, from transportation type to the length of your visit to the area, this is something you won't want to skip.
Costa Rica has such diverse nature, and driving through the countryside to get to this bridge is half of the fun, in my opinion. You'll see beautiful landscapes on your way to see even more incredible wildlife.
So, if you're headed to Costa Rica, the crocodile bridge should be given a spot on your bucket list.
The BEST Things to do in Costa Rica
While there are so many fun things to do in Costa Rica, a couple of specific attractions and activities stand out amongst the rest. They are:
Explore Volcanoes
There are some impressive (and beautiful!) volcanoes that you'll want to check out while you're here.
Poas Volcano is known for its bright blue crater lake. Poas Volcano is most commonly visited on a day trip from San Jose. This Poas Volcano tour from San Jose is one of the best you can do since it also includes a visit to the La Paz Waterfall Gardens as well as a coffee farm.
Arenal Volcano is also one of Costa Rica's top attractions. Arenal Volcano is located closest to the town of La Fortuna. You can book this full-day tour from La Fortuna that takes you to the volcano to hike, the famous La Fortuna Waterfall and even a hanging bridge – it's a full day of adventure!
Chase Waterfalls
La Fortuna Waterfall is one of our favorite waterfalls in all of Costa Rica. You can easily visit it on this full-day tour in La Fortuna that also visits hot springs.
Rio Celeste is another beautiful waterfall that is famous for its bright blue water. Rio Celeste is a popular attraction to visit from Guanacaste Province and this particular tour includes transport from there. Alternatively, you can book this tour from La Fortuna or this tour from San Jose.
Getting Around Costa Rica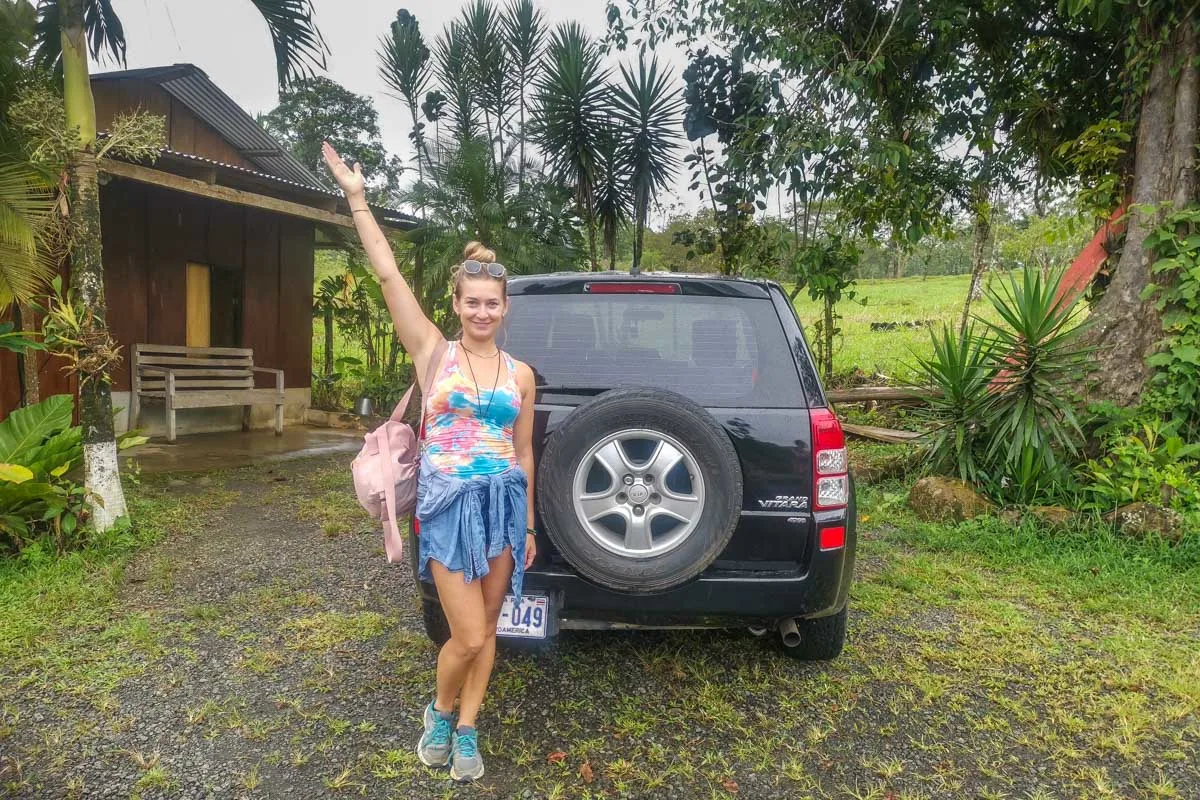 How you choose to get around Costa Rica is one of the biggest decisions you'll make when planning your holiday here! How you do it depends on your budget, travel style, and comfort level.
Renting a Car
Without a doubt, the number one way to explore Costa Rica is in a rental car. We book rental cars on the Discover Cars website as we have had good experiences with them in the past.
One of the things you need to watch for when renting a car in Costa Rica is the mandatory insurance that the government requires you to have. There are a lot of very cheap rentals that don't include this mandatory insurance (TPL) in the original booking price, but there are also ones that do. To avoid additional surprise charges when you pick up your rental car, be sure to rent a car that includes the mandatory insurance when you book.
Thankfully, on Discover Cars it's easy to tell apart the companies that include the mandatory insurance and those that don't. The trick is you can't pick any car on their website. In the picture below, you can see this rental car, with pick up in Jaco, includes the TPL. That means the mandatory insurance is included in the price. Any cover you get above that is extra.
Of course, I still suggest getting the full coverage offered by Discover Cars, which covers you even more.
You can browse cars on Discover Cars here.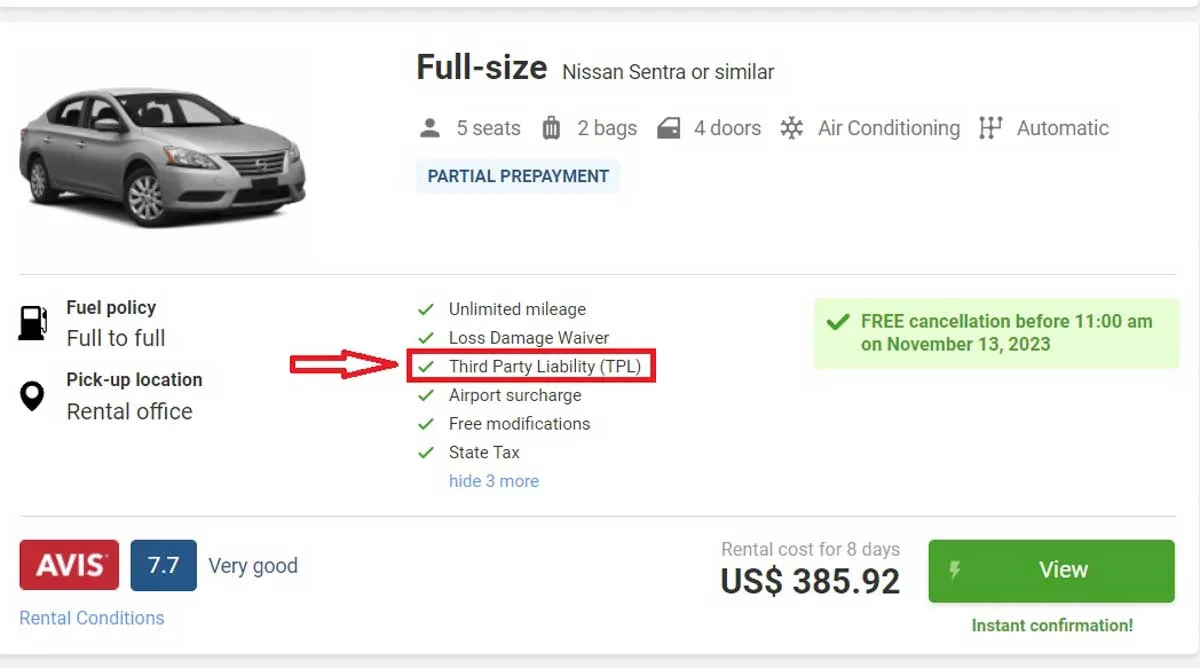 Adobe Rental Rent A Car is another rental company that we most often use in Costa Rica. We love them because Adobe has 15 offices around Costa Rica and delivers door-to-door around their offices at no extra cost. We also are pleased that all of their cars are new. In fact, they are never older than 2 years to the date. They are also the only company to include mandatory insurance and promise no hidden fees. You can get a free quote for a rental car from their website here.
Book Shuttles
If renting a car isn't in your budget, you don't feel comfortable driving in Costa Rica, or you just don't like driving, shuttles are the next best option. There are hundreds of shuttle routes available all over the country, and they are very affordable.
Shuttles in Costa Rica are specifically for tourists and often include pick up and drop off at your selected hotels and airports. The drivers also speak some English, and the vehicles have air conditioning. You'll also be guaranteed a seat when you book a shuttle (which isn't the case with the public bus system.)
To get the best price, use the website Bookaway. They compare all the offers and prices of shuttle companies in Costa Rica so you get the best price! Honestly, we have saved so much money using Bookaway!
You can search for shuttles online on Bookaway here.
Public Bus
Lastly, you can use the public bus system. On short journeys, such as from San Jose to La Fortuna or Uvita to Manuel Antonio, this system is great. However, the longer the journey the more hassle and time spent on a bus. It's undoubtedly best to save the public bus in Costa Rica for short and straightforward trips!
The public buses are definitely the cheapest way to get around Costa Rica, but they are not always very reliable and schedules often change without notice and delays are to be expected. The buses can also be very crowded and hot – so just be prepared!
It's also good to speak some Spanish if you plan on riding the public bus since most drivers and ticket booth operators don't speak English.
Invest in Travel Insurance
Paying out of pocket for trip interruptions or medical treatment will add to what might already be a stressful situation. We always travel with SafetyWing travel medical insurance.
The best part is that it costs only a fraction of what most insurance policies charge, which makes it perfect for digital nomads, long-term travelers (like us), and budget travelers. It only costs $45 USD per 4 weeks!
To start coverage, you must purchase it after leaving your home country. We usually purchase it as soon as we land at the airport.
Since using SafetyWing we've been reimbursed thousands of dollars when we've gotten sick. During the pandemic, they've even gone as far as to pay for our last-minute flights back to Canada from Colombia before the border closed!
You can click here to get a quote and read all the details!
Pura Vida!
As you can see, the crocodile bridge is a great spot to see some crocodiles in the wild (and at a safe distance!) while you're visiting Costa Rica. Hopefully, our tips will help you know what to expect before you go so you can have fun once you arrive.
If you're looking for more travel inspiration and tips, make sure to browse around our other in-depth guides. And if you go to crocodile bridge, let us know how many crocodiles you spotted!
Is Costa Rica safe? Travel scams, safety advice & more
Best places to go surfing in Costa Rica & complete surfers' guide