This blog may contain affiliate links. Read our disclosure policy for more info.
Costa Rica's incredible wildlife is one of the country's biggest draws, and there's really no better place to experience the country's biodiversity than Corcovado National Park.
Located on the Osa Peninsula in southwest Costa Rica, Corcovado is one of the largest and most biologically diverse national parks in the country – and believe me, that's saying something!
Here, you can feel like you're a million miles away from civilization, surrounded by dense rainforest, pristine beaches, and an incredible array of wildlife. It's precisely the kind of experience that we traveled thousands of miles to Costa Rica for.
However, there are a few things you need to know before visiting this amazing place. There are quite a few rules and regulations in place in order to protect the park and keep the public safe, so we've put together a guide containing absolutely everything you need to know before visiting Corcovado National Park!
Don't have time to read the full article? Corcovado National Park can only be visted on a guided tour. A full-day tour like this one is a good introduction to this incredible area. However, if you have the time, we recommend this overnight tour which allows for more time to explore and gives you a chance to spot some of the park's nocturnal animals.
1. About Corcovado National Park
History of Corcovado
The first thing that you should probably know about Corcovado National Park is that it's located on a super remote peninsula. This actually helped to protect the park for much of the 20th century, but in the 1960s, logging (the process of cutting down trees) began. There were also increasing numbers of gold miners in the area.
In 1975, plans were made to set up a major logging operation, which most likely would have destroyed the area – just think of the movie "The Lorax."
Researchers began petitioning the Costa Rican President, Daniel Oduber, to protect the area. He made the area into a National Park but allowed the gold miners to stay. However, in 1986 they were evicted because they were hunting wildlife. Unfortunately, though, there is still some illegal (and destructive) mining going on in the area.
Importance of Corcovado National Park
Corcovado National Park is one of the last remaining patches of lowland tropical rainforest in Central America.
The area is also home to an incredible amount of wildlife, much of which is rare and/or endangered. It is famously home to Baird's tapir, which is the largest land mammal in Central America.
It's also one of the few places in Costa Rica where you can find the Harpy eagle, which is one of the largest and most powerful eagles in existence.
There are also ocelots, Bull sharks, pumas, and White-faced capuchin monkeys in the park, to name but a few species that can be found here.
And if that weren't enough, it's also home to 37 km (23 miles) of beaches and encompasses 13 different ecosystems. It's truly one of the most biodiverse places on the planet and holds over 50% of the species found in all of Costa Rica.
Ranger Stations
There are several ranger stations located throughout Corcovado National Park. Here, you can buy food and drinks, use the bathroom, and stay the night in bunk-style accommodation. Of course, if you want to spend the night, you'll need to organize that in advance as beds are limited, but more on that later.
The main ranger station is the Sirena Ranger Station. The others are San Pedrillo, La Leona, and Los Patos – but we'll go into more detail about those later on as well.
2. Where is Corcovado National Park?
Corcovado National Park is located on the Osa Peninsula in southwest Costa Rica. The peninsula is one of the most remote and sparsely populated areas in the country. In fact, it's so remote that the only way to get there during certain times of the year is by boat or plane.
The roads to Corcovado/Osa Peninsula often flood during the wet season and prevent access. If you have a rental car, this is something to be aware of before you drive yourself there.
When we last visited Corcovado National Park, it was in early November, so we flew with Sansa Airlines from San Jose to Puerto Jimenez, then did a tour to Corcovado from there.
3. Where can you visit Corcovado National Park from?
When we say, "where can you visit the park from," what we mean is, where to start your journey into Corcovado National Park. This park MUST be accessed on a guided tour, and these tours typically start in one of two main towns on the Osa Peninsula: Drake Bay or Puerto Jimenez.
Drake Bay
Drake Bay is a true Costa Rican gem and the gateway to Corcovado.
It's a small, sleepy fishing village with a laid-back vibe. You won't find any big resorts or luxury hotels here, but there are plenty of small, family-run hotels and lodges.
Here, you can enjoy river tubing, horseback riding (unless you're allergic like me!), whale and dolphin watching, and plenty of incredible sunsets. The town is located right on a gorgeous beach, which is what really sets is apart from Puerto Jimenez, if you ask me.
For nature lovers who enjoy remote locations, this place is pure paradise.
Related Read: Horseback riding is also one of the best things to do in Santa Teresa, Costa Rica!
Puerto Jimenez
Granted, Puerto Jimenez isn't as pretty as Drake Bay, but we still think it's seriously underrated.
It's located on Golfo Dulce Bay and is a short boat ride away from Piedra Blanca National Park and Golfito National Wildlife Refuge.
There's plenty for adventurous travelers to enjoy here, from coffee tours to kayaking with dolphin and bioluminescent plankton. Like Drake Bay, it's great for anyone who loves off-the-beaten-track destinations.
Of course, you don't have to choose between the two towns – if you've got time, you can visit both like we did! We stayed in Puerto Jimenez first and visited Corcovado National Park from there, then took a boat onto Drake Bay afterwards.
But if you do have to choose one over the other, then we'd recommend Drake Bay. The beaches are much cleaner and prettier, and it's also close to Cano Island, where you can enjoy some incredible snorkeling. It's also the easier to reach of the two towns, although both are admittedly pretty remote.
Note: There are a couple of even smaller towns on the Osa Peninsula where you can base yourself before/after visiting Corcovado National Park. However, Drake Bay and Puerto Jimenez are the easiest to get to, have the most facilities, and offer the most tours. So for those reasons, these are the towns we focus on.
4. How do you get from San Jose to Corcovado National Park?
If you are making your way from San Jose to Corcovado National Park, you'll first need to get yourself to either Drake Bay or Puerto Jimenez, where you can book tours. Below are your options:
Fly
Flying is definitely the easiest and fastest way to reach either destination. Sansa Airlines offers direct flights from San Jose to either Puerto Jimenez or Drake Bay. Flights are short in duration, at less than an hour long. However, they are on a tiny plane, so if you are afraid of flying this might not be the best option for you.
It's also important to note that these flights can be pricey, especially once you start adding in heavy baggage.
With that said, we flew from San Jose to Puerto Jimenez and loved it! Flying over the coast of Costa Rica in a tiny plane felt like an adventure all on its own. And the views were actually incredible! We would do it again in a heartbeat!
Shuttle
Shuttles in Costa Rica are one of our favorite ways to get around. They are faster and more organized than the public bus system, but also super affordable. Shuttles also offer hotel pick-up and drop-off, so you save on taxis to/from the bus station as well.
You can book a shuttle from San Jose to Puerto Jimenez that costs around $100 USD and takes about 6.5 hours.
Alternatively, you can book a private car to Drake Bay here, but this is pricey and only recommended for a group traveling together.
Bus/Public Transport
Getting to Puerto Jimenez by public bus isn't too difficult since Groupo Blanco offers a daily direct service. The bus costs roughly $15 USD and takes about 8 hours. However, you should book it in advance to avoid it fully booking and be prepared for a bumpy ride. Those who suffer from motion sickness should avoid this ride at all costs.
Getting to Drake Bay via public transport is a little more difficult. First of all, you can catch a public bus from San Jose to the town of Palmar Norte. From there, take a taxi to Sierpe (about a 15 km/9.3 mi journey), or ride the local bus if the timetable lines up.
Once you are in Sierpe, head to La Perla Del Sur Restaurant, where you can take a boat directly to Drake Bay. This boat ride is a lot of fun and you'll actually go through mangroves! Boats depart at 11:30 am and 4:00 pm; however, these times are subject to change. Expect to pay about $20 USD for the ride.
Drive Yourself
Getting around Costa Rica with your own wheels is a lot of fun, but it can be stressful too. If you want to drive yourself to Corcovado National Park, it's best to do so only in the dry season. This is the best time to visit Costa Rica anyways since you won't have to deal with the humidity and pouring rain each day.
During the wet season, floods cause road closures, and you won't be able to make the journey.
You should also be sure to have a 4wd vehicle. You can rent one online in advance here.
Related Read: While in San Jose, be sure to check out the best restaurants – there are some really amazing ones!
5. When is the best time to visit Corcovado National Park?
The best time of year to visit Corcovado National Park is during the dry season, which runs from December to April.
During the wet season, which begins in May and ends in late November or early December, the park receives heavy rainfall. The wettest months are September and October and during this time, many of the lodges close down, so this isn't a great time to visit.
The park is open year-round, but some of the trails can be impassable during the wet season due to flooding.
6. Can you visit Corcovado National Park without a tour?
No, you have to visit as part of a tour.
This wasn't the case until 2014, but the government changed the rules for two reasons: safety and conservation.
There were several accidents and even a few deaths due to people getting lost in the park. The terrain is incredibly dense and can be tricky to navigate, not to mention the fact that the park is also home to many deadly animals. Safety was a big reason that independent visits to Corcovado were banned.
It's also really important to preserve the park and protect it against overcrowding and damage. Corcovado National Park is home to so many rare flora and fauna, and it's crucial that we do everything we can to protect it.
Certified tour guides help protect the park by ensuring people aren't littering, feeding animals, and going off designated trials, among other things.
Besides, visiting as part of a tour really does help you to get the most out of your experience. You'll have a knowledgeable guide who can show you all the best bits and tell you all about the park's history, ecology, and wildlife.
7. What are the best tours of Corcovado National Park?
The main place to visit inside Corcovado National Park is Sirena Ranger Station, where many visitors choose to spend the night. It's a small and fairly basic facility, but it's in a stunning location and is the perfect place to truly appreciate the park's natural beauty. Even if you don't want to spend the night, the hike to the station and back offers the best chance of seeing animals!
On top of that, there's also San Pedrillo, which is closer to Drake Bay but doesn't have as many mammals nearby as Sirena.
Then you've got La Leona, which is closer to Puerto Jimenez at the southernmost tip of the park. You used to be allowed to camp here, but the rules have changed. Now, it's bunk accommodation only.
Finally, there's Los Patos on the eastern side of the park. There are many hiking trails here and you can also enjoy horseback riding during the dry season when the ground is firmer.
You'll visit at least one of these stations on a guided tour of Corcovado National Park, and probably more if you're on a longer tour.
The best tour for you to take depends not only on your interests and schedule, but also which town you're coming from.
From Drake Bay
San Pedrillo Station Day Tour
This particular tour is a great option if you want to see as much of Corcovado as possible in one day. Although just a short trip, you'll still get to enjoy some of the park's lesser-known hiking trails thanks to the insider knowledge of a local guide.
On the 12.5-mile (20-kilometer) hike, you will explore waterfalls and beaches, as well as have lunch in the rainforest – and of course, you'll see plenty of wildlife!
Now, bear in mind that this is a full-day hike and is almost as long as a half marathon. You'll be super tired by the end, but Corcovado National Park is a destination for active and adventurous travelers.
Sirena Station Day Tour
Visit the park's best-known station and enjoy a shorter, easier hike on this Sirena Station day tour. You'll have a chance to spot many of the reserve's most famous animals, including Baird's Tapirs, and Scarlet Macaws. It's a great option for those who want to see Corcovado without staying overnight.
The tour includes a boat ride to and from Corcovado from Drake Bay as well as a picnic lunch. You will walk for about 5 hours in total, so this is a good option for anybody with a moderate level of fitness.
Overnight Sirena Station
If you've got a little more time on your hands, then we highly recommend this overnight tour to Sirena Station. There's so much to see and do inside Corcovado, and visiting really is a once-in-a-lifetime experience, so why not make the most of it?
This is a small group tour with a maximum limit of 6, so you get a really personal experience. On the first day, you'll hike to Sirena , enjoy dinner and a night in the park, and then wake up early the next morning to explore the area further as you wend your way back to Drake Bay.
An overnight tour gives you the best chance of spotting wildlife since most animals in the park are nocturnal. Not to mention, they are also most active early in the morning before the hoards of boats full of tourists arrive in the park for the day.
Honestly, if you can make it work, this overnight tour is the best way to explore Corcavado National Park!
From Puerto Jimenez
Sirena Station Day Tour
This day tour is less physically demanding than some of the overnight trips, making it a great option if you're traveling with kids or just don't want to walk so much. You'll visit Sirena, Corcovado's best-known station, by boat, and see some of the park's most iconic animals.
La Leona Station Day Tour
This tour takes you to La Leona and is a great option for birdwatchers. You'll get to experience some of the park's most picturesque trails and see plenty of beautiful birds, including the Resplendent Quetzal.
Multi day tour
This three-day tour includes two nights accommodation and all of your food. All you need to worry about is enjoying the park's natural beauty – and surviving the hikes!
You'll be in a small group, with a maximum limit of six, so you get a really personal experience. If you've got the budget for it, this tour lets you really make the most of your time in Corcovado and gain a deeper appreciation for its natural wonders.
Kayaking tour
Why walk when you can kayak in Costa Rica?
Traveling via the park's rivers, mangroves, and lagoons on this kayaking tour allows you to enjoy the beauty of Corcovado from a different perspective. You'll see plenty of exotic wildlife both on land and in the water, and your local guide will be on hand to teach you all about the park's ecology.
Most of the tour takes you along a gently descending river, so it's not too physically demanding, although you will still need a decent base level of fitness. Your arms will probably ache the next day!
It is also an early morning tour – perfect for bird watching! It is one of the best tours in Costa Rica!
Why We Book Tours with Viator
Viator is a trusted online booking system for tours around the world! We almost always book our tours using Viator for a couple of reasons:
Free cancellation on most tours – Most of the tours on Viator allow you to cancel and get a full refund up to 24 hours in advance. This is handy in case plans change, or if booking an outdoor activity, the weather forecast is looking grim.
Reserve now and pay later – You can secure your spot on some of the most popular tours well in advance and not pay until closer to the day of the tour.
Pay in your chosen currency – Avoid costly international transaction fees by choosing to pay in your home currency.
Peace of mind – When booking with tour operators you find in person on the street or in small booking offices, you are often promised one thing and given another. This online platform holds tour operators accountable with a written description of inclusions as well as the opportunity for customers to leave reviews.
Check out the Viator website here!
8. How much does it cost to visit Corcovado National Park?
Day tours to Corcovado National Park start at $110 USD, but overnight tours cost significantly more. For a 3 night tour, you can expect to pay around $582 USD per person.
It's not possible to cut costs by visiting Corcovado independently because you're not allowed to enter without a tour guide.
The price of your tour includes the entry permit for Corcovado National Park, which is $15 USD per person, per day. Refreshments are usually included too, and some tours include full meals.
It's also worth noting that your guide can't be just anyone – they have to be certified by the Costa Rican government. This means that you're always in good hands when visiting Corcovado.
Even when you were allowed to visit without a guide, it was far more sensible to join a tour because the park can be a dangerous and confusing place for a newbie to visit.
If you're on an overnight tour, the price will also include the ranger station fees. It costs around $30 USD per night for accommodation and $20 to $25 for a meal at the ranger stations. There are also extra fees to consider, like locker rental.
So all in all, although the tours may seem expensive at first, they actually offer pretty good value for money. Visiting Corcovado National Park is definitely not a cheap activity, but it's also a real bucket list experience in Costa Rica.
The higher prices and tight regulations help to preserve the park and prevent over-tourism, which would quickly destroy the delicate ecosystem. And once you've seen this place, you'll definitely agree that it's worth protecting.
9. Are the tours to Corcovado National Park worth it?
100%, yes!
First of all, it's not easy to get to somewhere so remote. Even if you could make your own way there, it's not worth the risk. The guides know the park like the back of their hand and can keep you safe.
Secondly, the guides are so knowledgeable about the park and its wildlife. They're passionate about conservation and will help you to understand and appreciate all that Corcovado has to offer.
Also, there really is nowhere else as wild as Corcovado in Costa Rica. It's the perfect place to disconnect from the outside world and experience some true wilderness. If you want an insane adventure that makes you feel completely alive, Corcovado is the place for you.
10. What wildlife can you see in Corcovado National Park?
Corcovado National Park boasts 2.5% of the world's biodiversity, which is an insane statistic.
In other words, it's home to an incredible variety of plant and animal life.
One of the park's most famous animals is the Baird's tapir. We were surprised at how big these animals are in real life. They've got short, stubby legs and a long snout, and they're pretty cute, in a strange way.
Baird's tapir are normally very peaceful animals but ironically, the former Costa Rican Minister of Environment was attacked by one after he followed it off a trail in 2006. This is a great example of why it's worth paying for a guide!
Olive Ridley sea turtles lay their eggs on many of the park's beaches, and it's possible to see them hatching between July and December.
The park is also home to American crocodiles, which can grow up to 6 meters (20 feet) in length! These guys are seriously impressive, and you definitely don't want to get too close!
You can also find jaguars in the park, although they're one of the more difficult big cats to spot. Corcovado is also home to jaguarundis, which are a relatively small and slender type of feline that is closely related to the cougar.
Pumas also roam the park. You can even hike to Puma Valley, where the majority of sightings occur. However, they are shy animals, so there are no guarantees, but if you're lucky, you might catch a glimpse of one.
There are also plenty of monkeys in the park. We saw White-faced capuchins, howler monkeys, and Spider monkeys, all of which were really fun to watch.
As for birds, the Resplendent quetzal is one of the park's most iconic species. It's a brightly colored bird with an incredibly long tail, and it's actually the national bird of Guatemala. Other birds that you might see in the park include toucans, macaws, and kingfishers.
Related Read: For more wildlife, be sure also to visit Manuel Antonio National Park!
11. What should I bring to Corcovado National Park?
Corcovado National Park is a seriously remote location, so if you want it, bring it with you!
Clothing
You'll need comfortable footwear that's suitable for long hikes and wet conditions. Closed-toe shoes are a must, as there are lots of insects in the park, and you'll be walking over a lot of rocky and uneven terrain that's often covered in vegetation. A pair of flip-flops is also a great idea for getting on and off the boat at the beach (if that's what tour you're doing).
It gets pretty hot during the day, so light, loose clothing is a good idea. You'll also need good sun protection, so a hat, sunglasses and sunscreen are a must. Bring a waterproof sunscreen that's at least SPF 30 if possible.
Swimwear is also worth packing if you want to take a dip in one of the park's many rivers or waterfalls. It's also a good idea to bring a towel, although it won't take you too long to dry off in the heat.
Insect Repellent
As well as this, you'll definitely need insect repellent, as there are lots of mosquitoes in the park. Interestingly – and inconveniently – the mosquitoes aren't affected by DEET, which is the main ingredient in most repellents. DEET was developed for jungle warfare, so these are some seriously hardcore bugs.
The kind of repellent that does work is made with picaridin, so try to find something with this ingredient if you can. Citronella essential oils are also said to be effective against mosquitoes, although they need to be reapplied more frequently.
Refreshments
Bringing water and snacks is a good idea, although technically you're not allowed to bring your own food into the park. However, the guide let us keep ours but said we could only eat it when we reached the ranger station, which we felt was fair enough.
Overnight Necessities
If you're staying overnight, bring all the toiletries you want, and a battery pack for your phone as power is only available for a few hours each day at the ranger stations. For that reason, you should also bring a camping light or torch in case you need to get up and go to the toilet during the night!
A first-aid kit is always a good idea when you're traveling, and even more so if you're going somewhere as remote as Corcovado National Park. There are no pharmacies available inside the park, so we recommend stocking up on band-aids, paracetamol, disinfectant, and any other medication you might need.
You'll also definitely want to bring your camera to capture all the incredible wildlife in the park.
12. Facilities in Corcovado National Park?
The facilities in Corcovado National Park are pretty basic, and most of them are centered around the ranger stations, which is where the accommodation is located.
The accommodation is basic but comfortable – think dormitory-style digs.
There are a few bathrooms at each station, too. At Sirena, there are two flush toilets and three shower stalls. The facilities are only cleaned once per day, so they're not exactly glamorous, but they're perfectly adequate. You don't come to Corcovado for Ritz-level luxury.
As for other facilities, there's a small shop at each ranger station where you can buy snacks and drinks, although the selection does tend to be pretty limited and prices are inflated.
There's usually a small restaurant at each station, which serves three meals per day. The food is basic but tasty, and it's all included in the price of your accommodation.
There are also free drinking water refill stations at each ranger station, which is super handy.
13. Is the boat ride to Sirena Station rough?
We won't lie to you – yes, it can be very rough. In fact, it was almost scary.
You'll be bouncing around in your seat for the entire journey, and there's a good chance you'll get splashed with seawater.
It's definitely not for those who suffer from seasickness. You'll be better off visiting a different ranger station that doesn't require a boat in that case. I often do get seasick, but I prepared and took medication in advance, and was just fine.
With that said, we actually saw whales on our boat trip which was really special!
14. Special rules in Corcovado National Park
Since Corcovado National Park is a heavily protected place, there are quite a few rules in place that you'll need to observe.
The first is that you're not allowed to bring food into the park, but as we mentioned earlier, we managed to hang onto ours. We just had to promise to eat it at the ranger station.
You also have to be with your guide at all times – no wandering off by yourself. That's how the environmental minister got attacked by a tapir!
Only a limited number of visitors are allowed inside the park at any one time, so you'll need to book your tour in advance.
You're also no longer allowed to camp in the park. You have to stay at the bunk accommodation at the ranger stations. To be honest, we wouldn't really want to carry our tents on those tiring hikes anyway!
These rules might seem annoying but this park really is a special place that deserves to be protected, so we think they're totally worth it now that we've seen it for ourselves.
15. Is Corcovado National Park suitable for kids?
Yes, but not super young kids.
You definitely can't bring strollers into the park, and it's a pretty long boat ride to get there. And even if you opt to take the boat, the road is still very bumpy!
We think Corcovado National Park is best suited for kids aged 8 and up who are reasonably fit and enjoy hiking. Older kids and teens should be fine as long as they're the active type!
Just be sure to let your tour company or guide know beforehand. That way, they can tailor your visit to the park around their needs.
16. How long do you need in Corcovado National Park?
On a day tour, you'll spend about 6 hours inside the park itself, although there's a decent chunk of transportation time on either side, so the excursion will take the full day.
Day tours are a great introduction to the park but if you have the time and budget, an overnight tour is definitely the way to go. On an overnight tour, you'll have plenty of time to explore the different trails and really take in all of the wonder that Corcovado National Park has to offer.
This is the kind of place that most people only get to visit once, so it's worth spending as much time there as you possibly can!
17. Would I go to Corcovado National Park again?
Yes! However, next time I would love to spend more time in the park itself. You just can't experience this place in one or even two days. I would also spend more time in the area and try to visit more parts of the park.
Where to Stay near Corcovado National Park
As mentioned above, the best places to stay before/after your visit to Corcovado National Park are Puerto Jimenez and Drake Bay. Luckily, there are some great hotels suited for all budgets in both towns!
Puerto Jimenez
Iguana Lodge Beach Resort and Spa – $$$
If a luxury accommodation right on the beach is what you're looking for, then Iguana Lodge Beach Resort and Spa has gotta be your top pick! It sits on Playa Platanares, just 3.2 km (2 miles) from the center of Puerto Jimenez. Here, you can expect a terrace, a garden, an outdoor swimming pool, hot tub, fitness center, spa, free private parking, and water sports facilities.
Room rates start at $202 USD/night. You can check availability and book Iguana Lodge Beach Resort and Spa here on Booking.com.
Hotel Hoja de Ora Corcovado – $$
If you want a more mid-range option, Hotel Hoja de Ora Corcovado is also a top choice if you're wanting to stay right in Puerto Jimenez. It sits only 200 m (650 ft) from the town center. The hotel also houses a common kitchen, free private parking, and a shared lounge/TV area.
Room rates start at $55 USD/night. You can book a room at Hotel Hoja de Ora Corcovado here on Booking.com.
Palapa Hut Nature Hostel & Campground – $
For those on a tight budget, the Palapa Hut Nature Hostel & Campground is perfect. Here you can choose from dorms, private rooms with air con, or even a campground. Free Wi-Fi is available in public areas. The grounds are covered in gorgeous gardens with plenty of wildlife.
Rates begin at $32 USD/night for two guests. You can book a spot at Palapa Hut Nature Hostel & Campground here on Booking.com.
For more options, check out our complete guide to the best hotels in Puerto Jimenez!
Drake Bay
Las Caletas Lodge – $$$
If you're looking for a luxury hotel in Drake Bay, Las Caletas Lodge is one of the top choices to consider. The lodge only has 8 rooms on offer, making it a small boutique hotel where you can enjoy personalized service. It is surrounded by the jungle and perfect luxurious escape from the hustle and bustle – an ideal relaxing stay.
All of the rooms have private balconies. Rates begin at $291 USD/night. You can book a room at Las Caletas Lodge here on Booking.com.
Cabañas Bajo Bosque Drake – $$
In terms of mid-range Drake Bay hotels, Cabañas Bajo Bosque Drake is our personal recommendation. I personally love this place as it is tucked away in the jungle outside the town, offering a quiet atmosphere, a chance to see monkeys and birds up close, and a great view of nature! Another great aspect of staying at Cabañas Bajo Bosque Drake is that the town and beach are only a short drive away. It's also great value for money!
Room rates begin at $75 USD/night. You can book a room at Cabañas Bajo Bosque Drake online here on Booking.com.
Corcovado Jungle Hostel – $
Right near the beach and not far from the center of town, Corcovado Jungle Hostel is great for your adventures in the area. You're close to the water for swimming or snorkeling, and of course, the boat ride out to Caño Island, or there's good hiking or exploring at the nearby Corcovado National Park.
There's a wide variety of rooms so you can grab a cheap stay in a dorm room for about $17 USD per night or a private room for two for roughly $33 USD. Book your room either on Booking.com here or HostelWorld here.
You can learn more about the best hotels in Drake Bay in our detailed guide!
Getting Around Costa Rica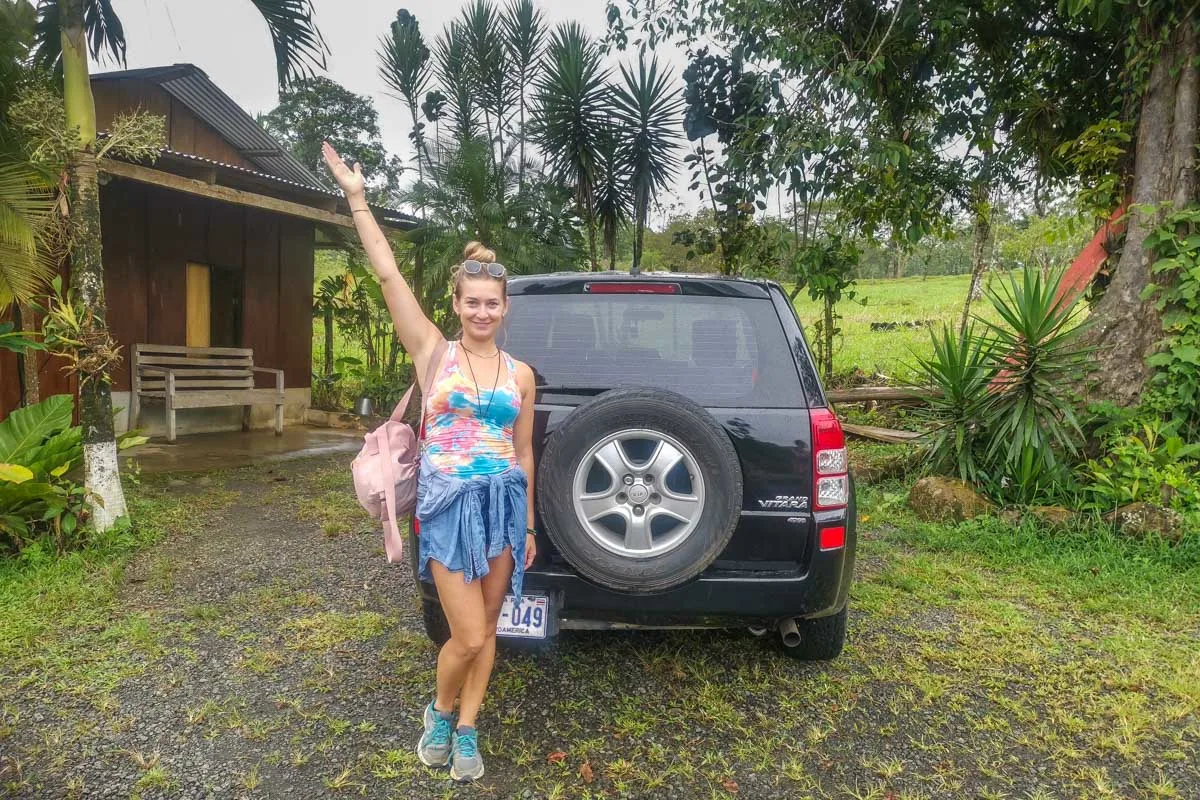 How you choose to get around Costa Rica is one of the biggest decisions you'll make when planning your holiday here! How you do it depends on your budget, travel style, and comfort level.
Renting a Car
Without a doubt, the number one way to explore Costa Rica is in a rental car. We book rental cars on the Discover Cars website as we have had good experiences with them in the past.
One of the things you need to watch for when renting a car in Costa Rica is the mandatory insurance that the government requires you to have. There are a lot of very cheap rentals that don't include this mandatory insurance (TPL) in the original booking price, but there are also ones that do. To avoid additional surprise charges when you pick up your rental car, be sure to rent a car that includes the mandatory insurance when you book.
Thankfully, on Discover Cars it's easy to tell apart the companies that include the mandatory insurance and those that don't. The trick is you can't pick any car on their website. In the picture below, you can see this rental car, with pick up in Jaco, includes the TPL. That means the mandatory insurance is included in the price. Any cover you get above that is extra.
Of course, I still suggest getting the full coverage offered by Discover Cars, which covers you even more.
You can browse cars on Discover Cars here.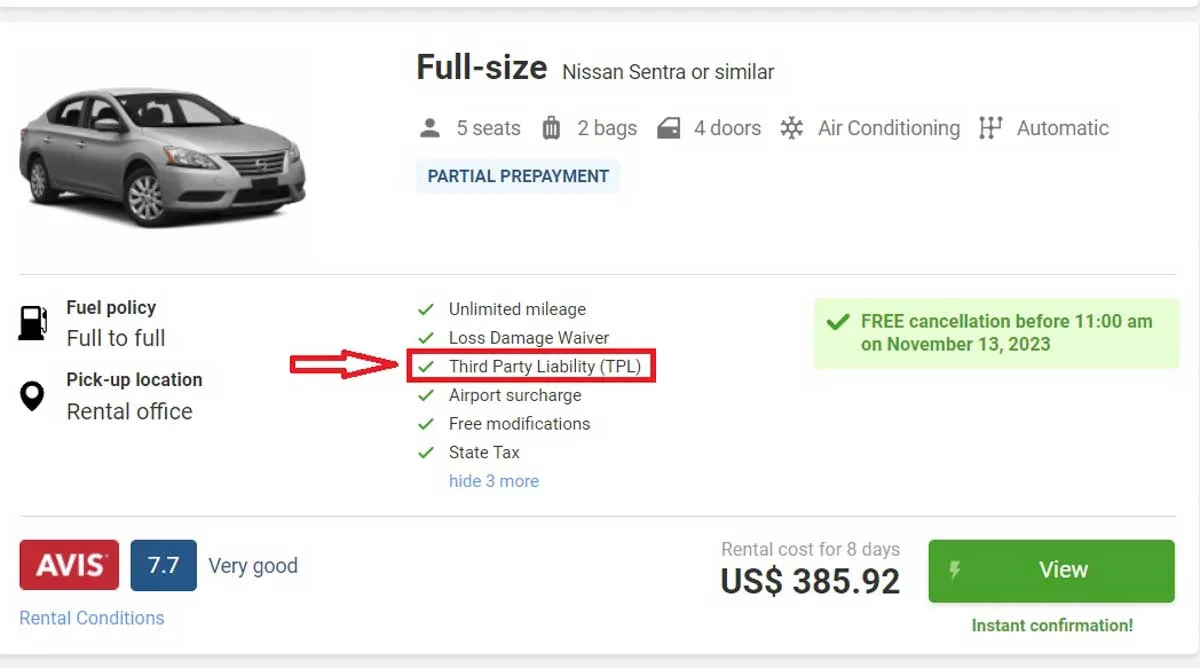 Adobe Rental Rent A Car is another rental company that we most often use in Costa Rica. We love them because Adobe has 15 offices around Costa Rica and delivers door-to-door around their offices at no extra cost. We also are pleased that all of their cars are new. In fact, they are never older than 2 years to the date. They are also the only company to include mandatory insurance and promise no hidden fees. You can get a free quote for a rental car from their website here.
Book Shuttles
If renting a car isn't in your budget, you don't feel comfortable driving in Costa Rica, or you just don't like driving, shuttles are the next best option. There are hundreds of shuttle routes available all over the country, and they are very affordable.
Shuttles in Costa Rica are specifically for tourists and often include pick up and drop off at your selected hotels and airports. The drivers also speak some English, and the vehicles have air conditioning. You'll also be guaranteed a seat when you book a shuttle (which isn't the case with the public bus system.)
To get the best price, use the website Bookaway. They compare all the offers and prices of shuttle companies in Costa Rica so you get the best price! Honestly, we have saved so much money using Bookaway!
You can search for shuttles online on Bookaway here.
Public Bus
Lastly, you can use the public bus system. On short journeys, such as from San Jose to La Fortuna or Uvita to Manuel Antonio, this system is great. However, the longer the journey the more hassle and time spent on a bus. It's undoubtedly best to save the public bus in Costa Rica for short and straightforward trips!
The public buses are definitely the cheapest way to get around Costa Rica, but they are not always very reliable and schedules often change without notice and delays are to be expected. The buses can also be very crowded and hot – so just be prepared!
It's also good to speak some Spanish if you plan on riding the public bus since most drivers and ticket booth operators don't speak English.
Invest in Travel Insurance
Paying out of pocket for trip interruptions or medical treatment will add to what might already be a stressful situation. We always travel with SafetyWing travel medical insurance.
The best part is that it costs only a fraction of what most insurance policies charge, which makes it perfect for digital nomads, long-term travelers (like us), and budget travelers. It only costs $45 USD per 4 weeks!
To start coverage, you must purchase it after leaving your home country. We usually purchase it as soon as we land at the airport.
Since using SafetyWing we've been reimbursed thousands of dollars when we've gotten sick. During the pandemic, they've even gone as far as to pay for our last-minute flights back to Canada from Colombia before the border closed!
You can click here to get a quote and read all the details!
Thanks for reading!
I am so excited for you to explore Corcovado National Park, and now that you're totally prepared for your visit, I'm sure you'll have the best time.
If you found this blog helpful, be sure to browse around our website a little more. We have other blogs about the Osa Peninsula as well as some great Costa Rica travel inspiration. Some of our favorite blogs include:
The BEST Hot Springs in La Fortuna
Complete guide to visiting Jaco, Costa Rica